Shine Again
The Philippine fashion accessory industry had been a robust and dynamic market these past few years. With the Heritage Reimagined theme launched last year at Manila FAME, the "Buy Local Go Lokal" campaign, along with various fairs such as MaArte, ArteFino, and Katutubo, a bold, proudly-Philippine-made jewelry piece was the only accessory any stylish person would wear.
And then fast-forward to March of 2020, when suddenly, the whole industry (among many others) came to a stasis. Beatriz's founder and chief designer Carissa Cruz Evangelista recalls the whole scenario: "Locally, there were no more pop-ups and sales; for the export market, trade shows were cancelled; for all accessory makers, issues of lack of payroll because of low or zero sales, fear of retrenchment, high inventory, dwindling savings." There was also the concern for the welfare and health of the artisans and craftsmen who made these accessories, as production was momentarily halted.
Strength in numbers
Thankfully, for the local fashion accessories industry, there is strength in numbers, and their group is a pretty tight bunch. They eventually set up the Fashion Accessories Makers of the Philippines or FAMPh in May 2020, an organization that will "…pave the way to help the fashion accessory designers and makers adapt to the new normal and create innovative ways to keep their businesses afloat and provide sustainable income for its artisan workers and cultural communities," Cruz-Evangelista explains.
"Gina Nebrida Ty of Agsam Fashion Fern had messaged me if we could make a video to support our fashion accessories brands like that one she saw that Amina Aranaz Alunan had posted," Cruz-Evangelisa recalls. "The Magic 8 brands that had joined the CITEM delegation of the Las Vegas Magic trade show invited other brands to join the #healingforfashion movement of Jackie Aquino and the #beloyaltolocal advocacy of Carmina Jacob and we made the Healing for Fashion 2 video (you can watch the video here). We started our campaign to #craftourfuturetogether with our craft and weaving communities and makers in the industry. We are now 48 brands in the group and are interviewing potential partners and applicant brands and interns."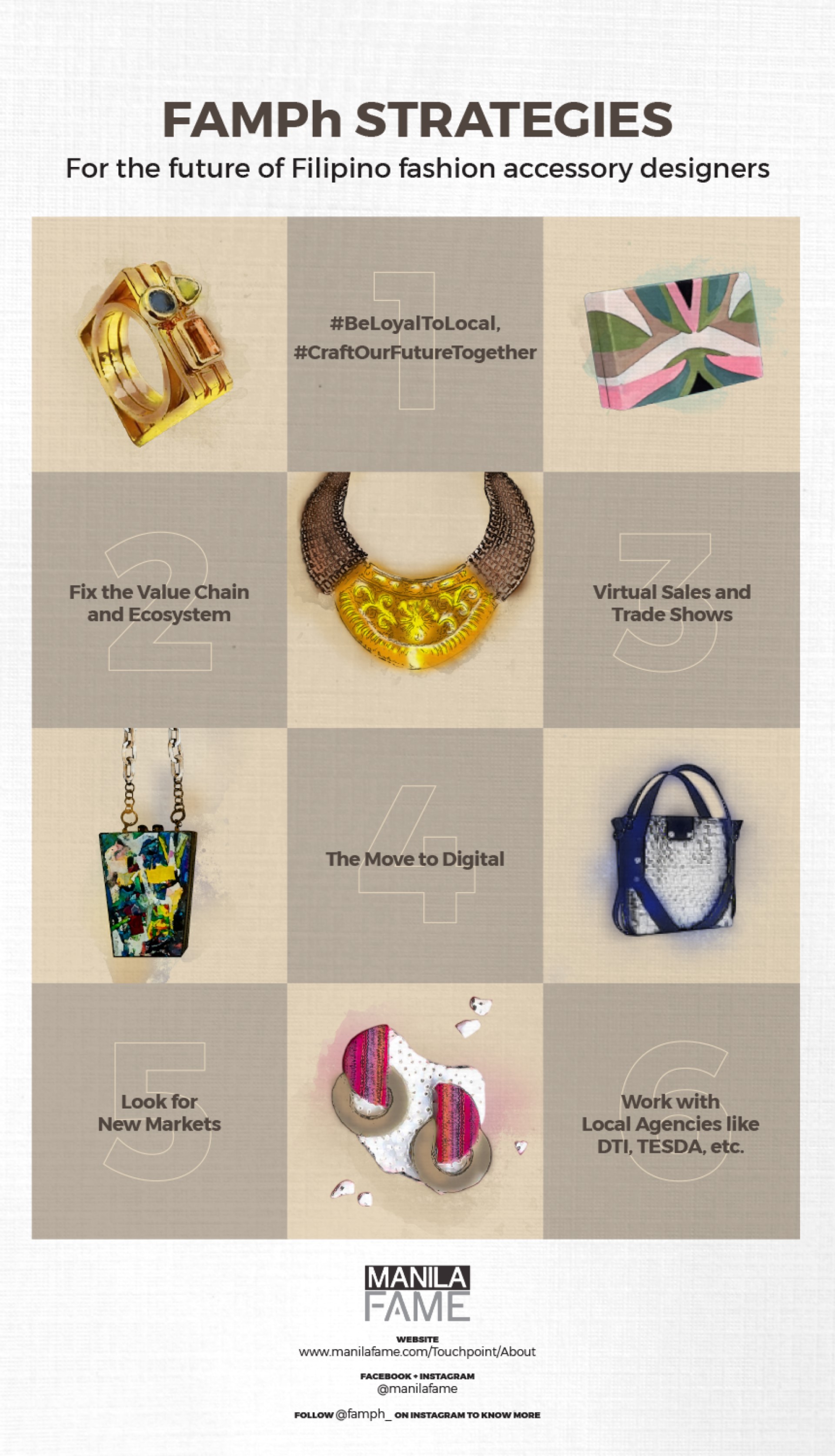 (Illustrations of products, from top to bottom): Ring by Alchemista; clutch by Beatriz; necklace by Agsam Fashion Fern; Bags by Virtucio and Maco Custodio; earrings by Tropik Beatnik.
Fixing the system
The designer also explains that FAMPh can go beyond the pandemic, as quite a number of fashion accessory designers need help in many aspects of their production and manufacturing and distribution processes. "FAMPh did not exist pre-pandemic, but we hope to address the long-standing issues of footwear, costume and bridge jewelry, bags and other wearable accessories. FAMPh hopes to address issues related to our value chain, ecosystem for our subsectors of fashion accessories, and also look for markets locally and abroad that our members can sell at. We also need to address how we do product development for our different markets and see maybe how we can buy components or materials as a group, or sell as a group for trade shows with the help of CITEM and DTI and its attached agencies and bureaus."

They seek to address also, the much-needed—and swift—transition to digital. Cruz-Evangelista mentions that formerly traditional brands who did not have e-commerce websites were finally pushed to create them; while others shifted to social media and email updates to market and sell their products. Virtual pop-ups and trade shows are now the norm, with the first ever FAMPh Virtual Sale held last September 12. "We are also studying now how to have a selling platform online for all the members that are willing to sell on our planned FAMPh e-commerce space," Cruz-Evangelista adds. "And to learn, we started our e-learning webinars, featuring our first speaker who is teaching us about Customer Relationship Management and Digital Marketing. We are planning to have other webinars to supplement our learning for business."

With this collective effort, Cruz-Evangelista believes that the industry will soon shine again. "The bright light in our lives is our strength in our numbers, and the knowing we are all trying to help each other where we can."