7 MATERIAL MANIPULATION MARVELS
The ingenuity of Filipino designers and manufacturers is the secret to creating unique and unexpected examples of Material Manipulation. This is a design term that describes the use of different fabrication methods to transform a specific material into a desired product.
Material Manipulation is also about creating a process or innovation to push a material further from its expected outcome or use. For example, solid metal can appear almost liquid-like or translucent by hammering them into fine sheets or grids; and plastic can be made to appear like a soft fabric. Here's what we saw at the recent editions of Manila FAME:
1. Rattan/Abaca/Natural Fibers
From abaca fibers bound with wire to mimic coral at Tadeco (see main photo above), and Hacienda Craft lamps woven to look like Barong Tagalog, to a wicker jeepney that is also a dress, these pieces prove our indigenous fibers can take any shape or form.
Clockwise from top left: Abaca fiber wrapped with aluminium wire lamps by Tadeco; lamps with Barong Tagalog-inspired embroidery by Hacienda Crafts; Native Crafts and Arts lamps by Stanley Ruiz; The Jeepney Saya by Zarah Juan.
2. Metal
Translucent marble globes contrast against an iron web in Industria's wall lamps, tiny, washer-like pieces complete a coffee table for Zarate; while pressed metal sheets appear light and graceful in MCCA's collections.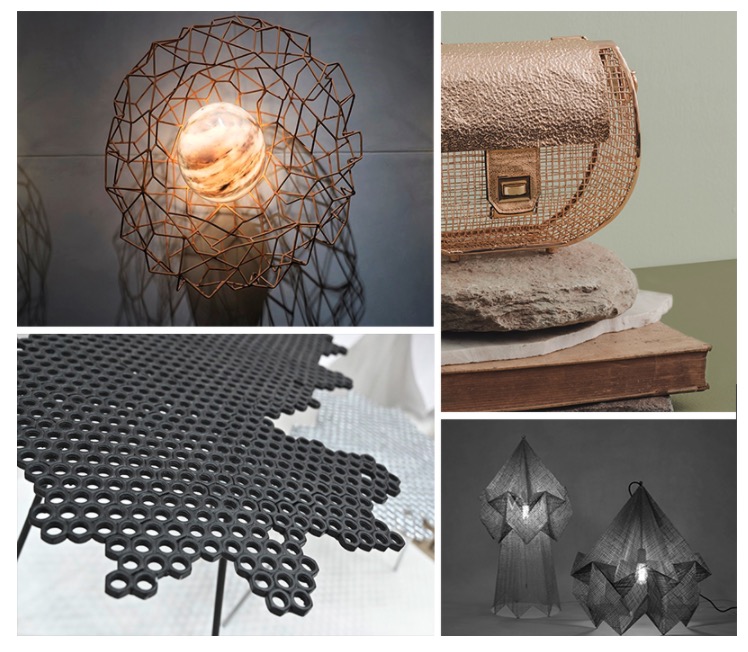 Clockwise from top left: Chateau wall lamps by Industria Edition; Melecio Cage bag by Mele +Marie; droplights by MCCA; Aerial table by Zarate Manila.
3. Wood
Delicate wooden sheets are layered to create sculptural lamps for Triboa Bay Living, wood veneer is interspersed with mirror in Art Deco-style wall décor, while indigenous tattoo patterns add depth and texture to dainty wooden clutches.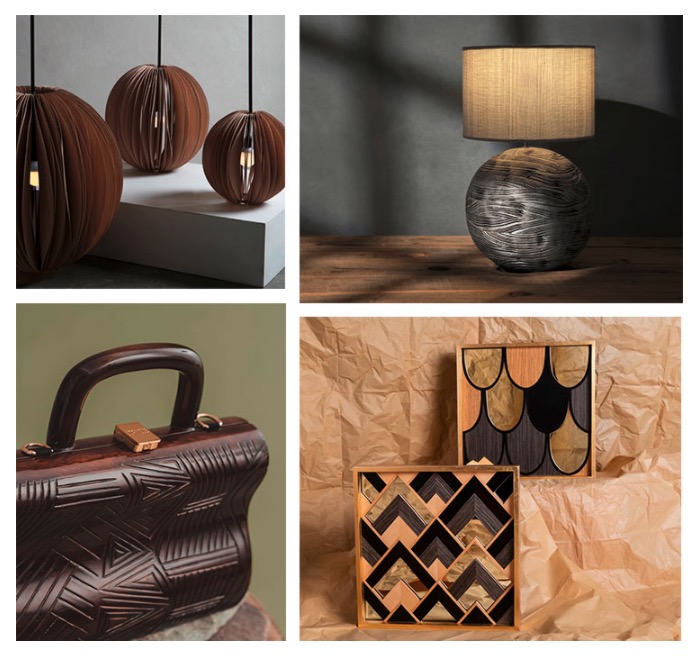 Clockwise from top left: Zola lamps by Triboa Bay Living; table lamp by Vito Selma; Gatsby and Luna wood veneer and mirror wall décor by Southsea Veneer; Pintados bag by Joanique.

[CONTACT DETAILS]

HACIENDA CRAFTS
URL: haciendacrafts.com
INDUSTRIA EDITION
URL: industriaedition.com
JOANIQUE
URL: joanique.com
MASAECO
URL: masaecopaper.com
MCCA
E-MAIL: vulcanresources2015@gmail.com
MELE + MARIE
URL: melleandmarie.com
NATIVE CRAFTS AND ARTS
URL: @ncabiz.com
NATURE'S LEGACY
URL: natureslegacy.com
TADECO
URL: tadecohome.com
TRIBOA BAY LIVING
URL: triboabay.com
VITO SELMA
URL: vitoselma.com
ZARAH JUAN
Instagram: @zarahjuan
SOUTHSEA VENEER
URL: southseaveneer.com
ZARATE MANILA
Instagram: @zaratemanila