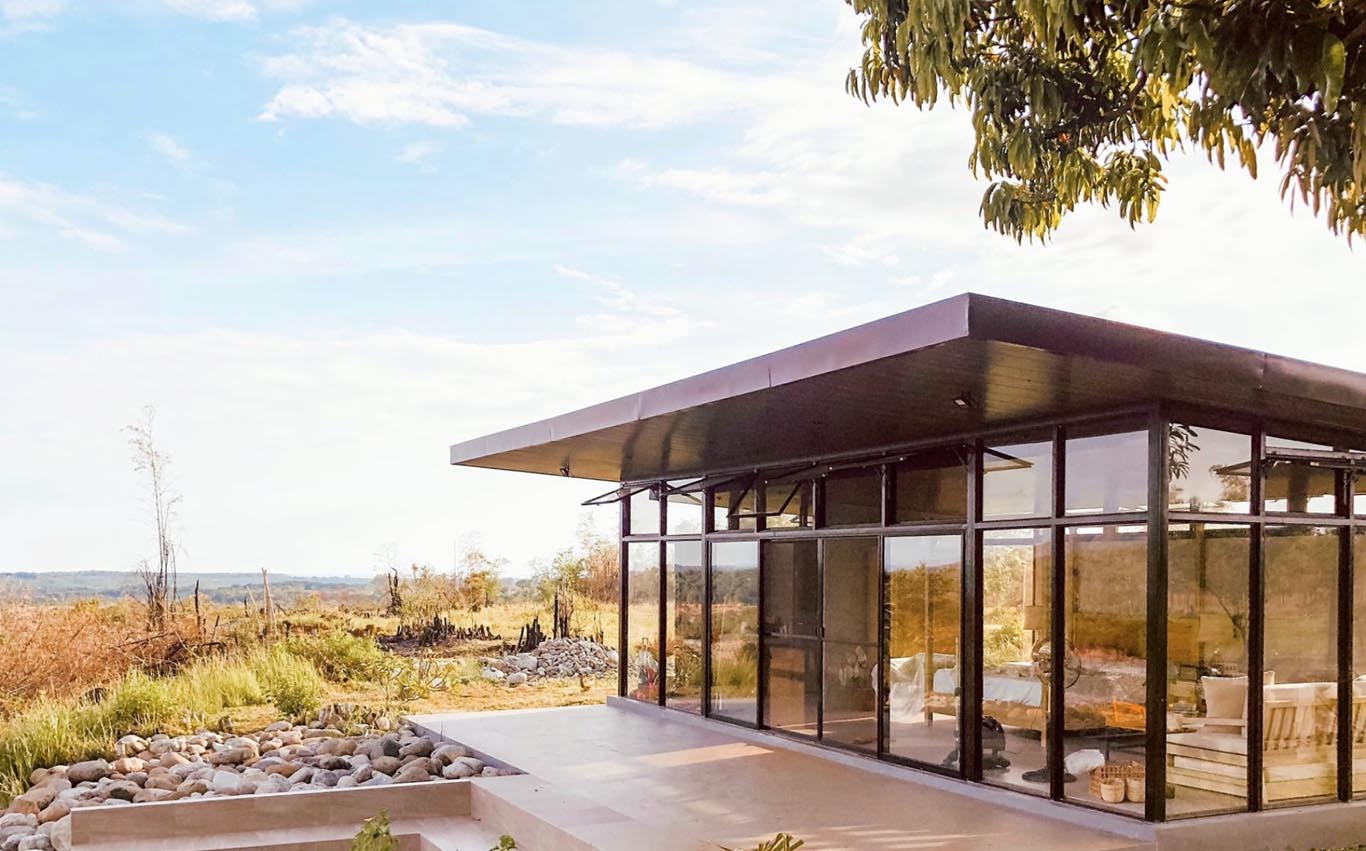 Albero Creates Pieces for "Stress-Reliever" Cabin
Have you ever wanted to escape from the chaotic, unpredictable mess of everyday life? Even on quarantine, the stress of work does not go away—in fact, it gets even more hectic, with our daytime jobs seeping into household life and vice versa. But at this time, where could one head to safely for a quick retreat?
This is the exact purpose of Cabina Paz—a modern, glass cabin situated in the middle of the sprawling Monte Rio Farms in Zambales, a province located north of Metro Manila, which was built as a quiet haven.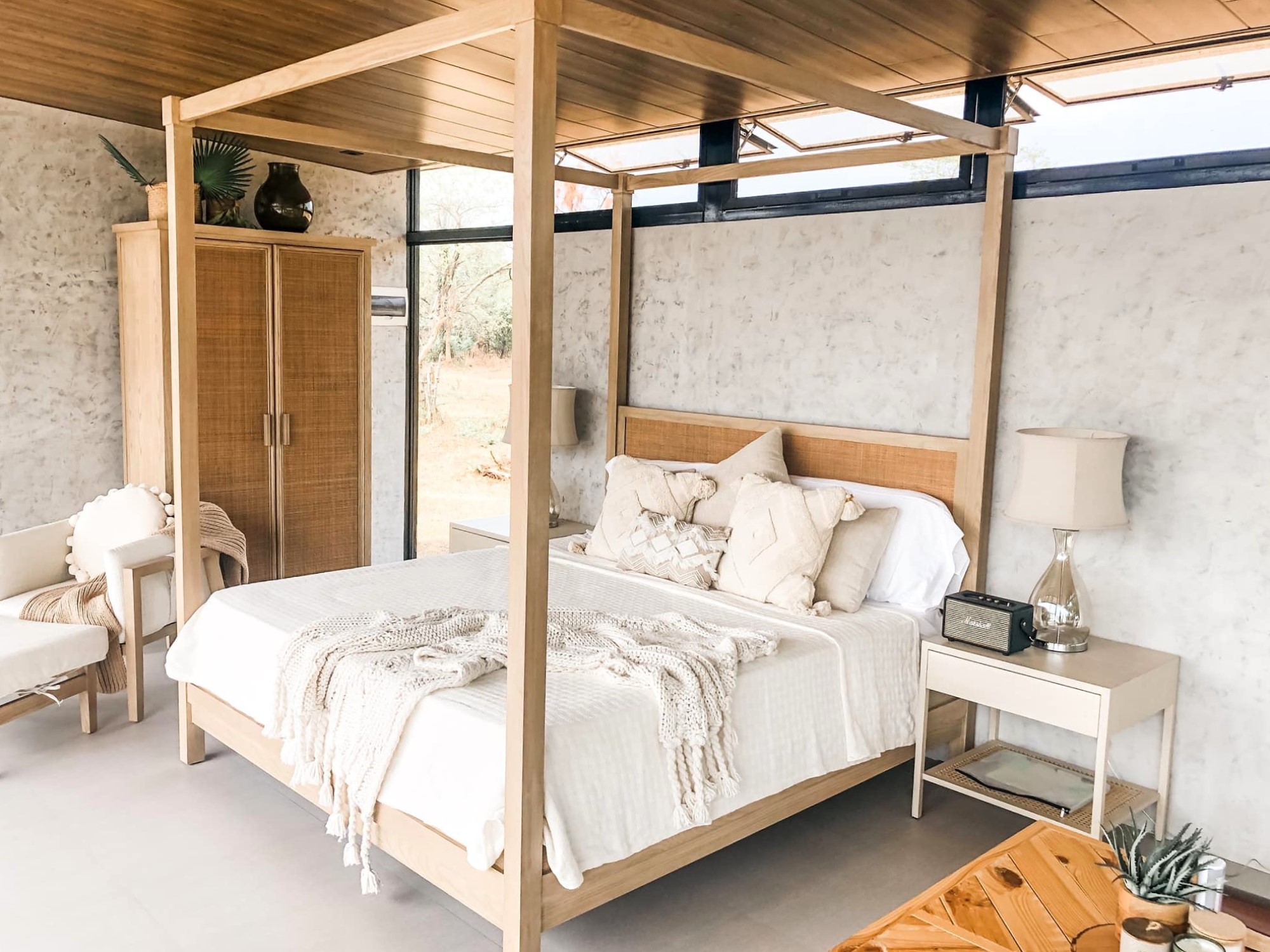 Cabina Paz was inspired by the 72-hour cabins in Sweden, where stress levels can be reduced by 70 percent. The owners of Monte Rio thought of creating a similar space where you can just bask in nature and feel peace and tranquility.
Cabina Paz, which translates to "Peaceful Cabin," was inspired by the 72-hour cabins in Sweden. These cabins, which are fitted with Scandinavian furnishings of the bare minimum—at most, just a bed and a couch—are entirely made of glass to allow a 360-degree view of nature. The cabins are situated off-grid, and guests are encouraged to unplug, engage in outdoor activities such as hiking and swimming, or simply relax.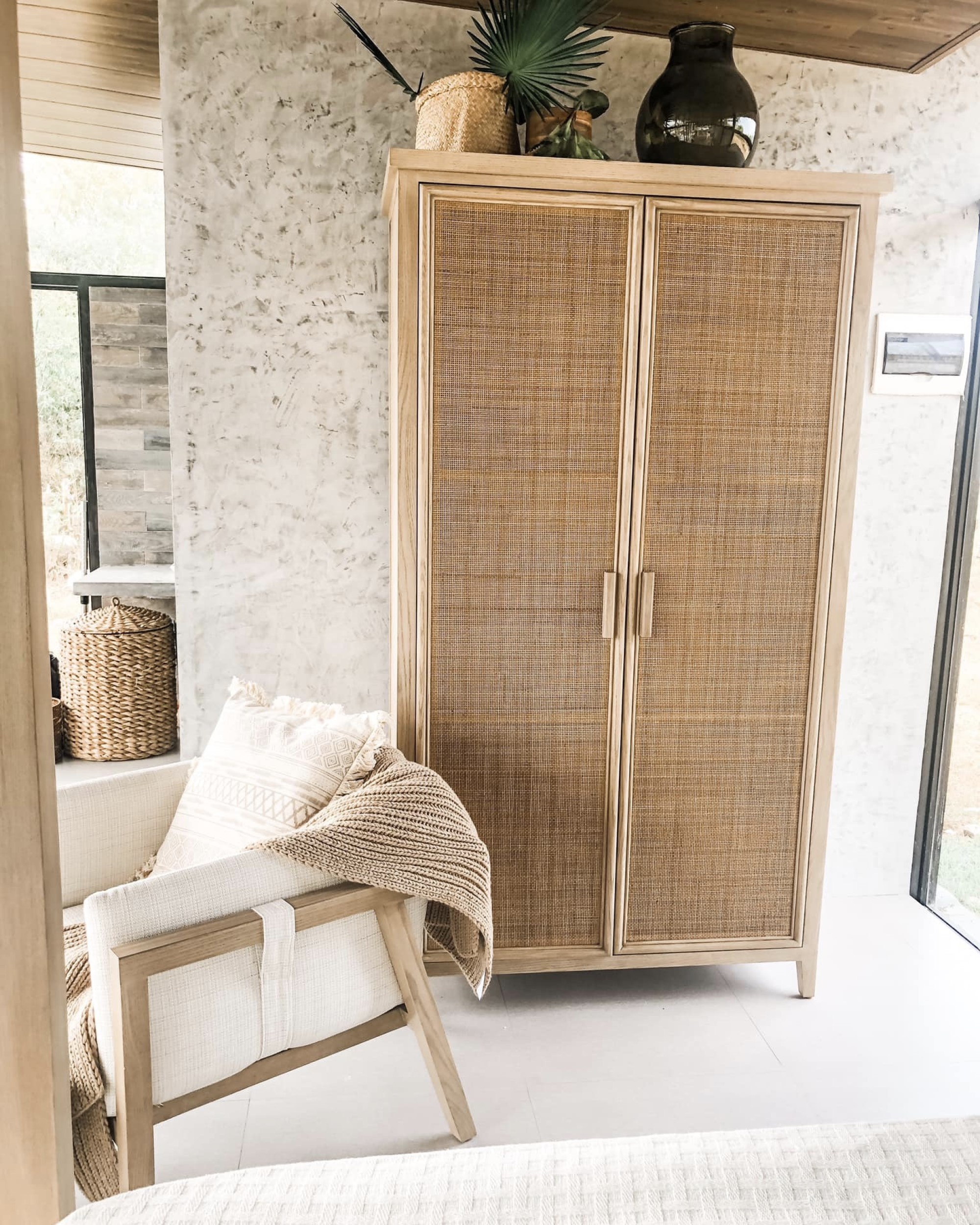 Albero supplied the customized furniture pieces for Cabina Paz. Seen here is their Aiden Lounge Chair paired with a custom wardrobe cabinet with rattan mesh panels.
Studies from the Karolinksa Institute in Stockholm showed that after study participants stayed in these cabins even for just 72 hours, their stress levels decreased by 70 percent. Their blood pressure and heart rate dropped, anxiety was significantly decreased, and their overall wellbeing improved from their short stay.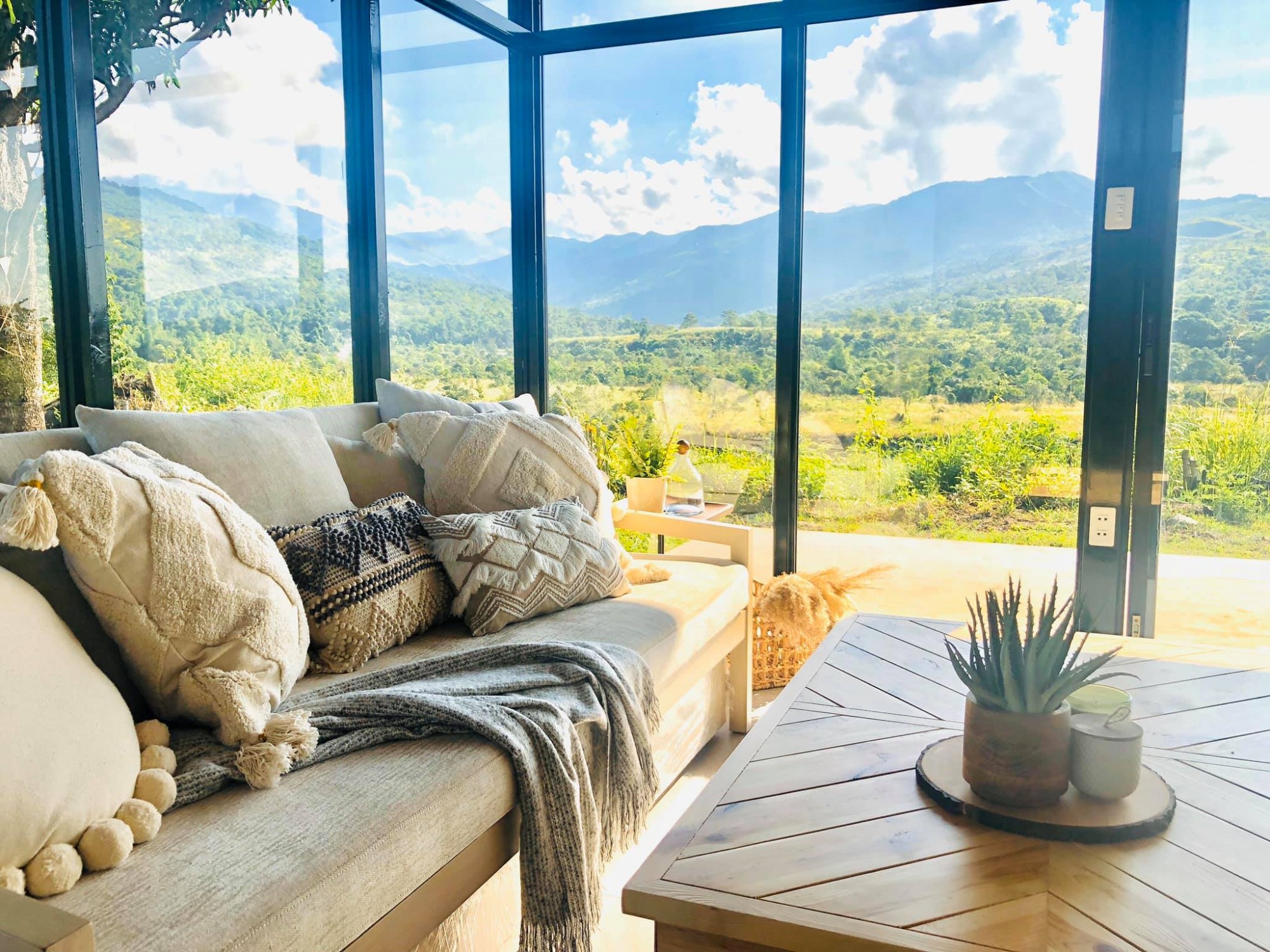 The furnishings have a Scandinavian-inspired vibe with pale finishes and a subtle, neutral color palette so as not to compete with the surrounding views.
The owners of Monte Rio Farm wanted to apply this concept to a local setting, and so created Cabina Paz in collaboration with Pampanga-based furniture maker and creative group Albero. "We believe that furniture brings warmth to a space…and together with the human element, we aim to breathe life into living spaces, suiting the lifestyle of the people living in it as well," says Albero's Lance Tan.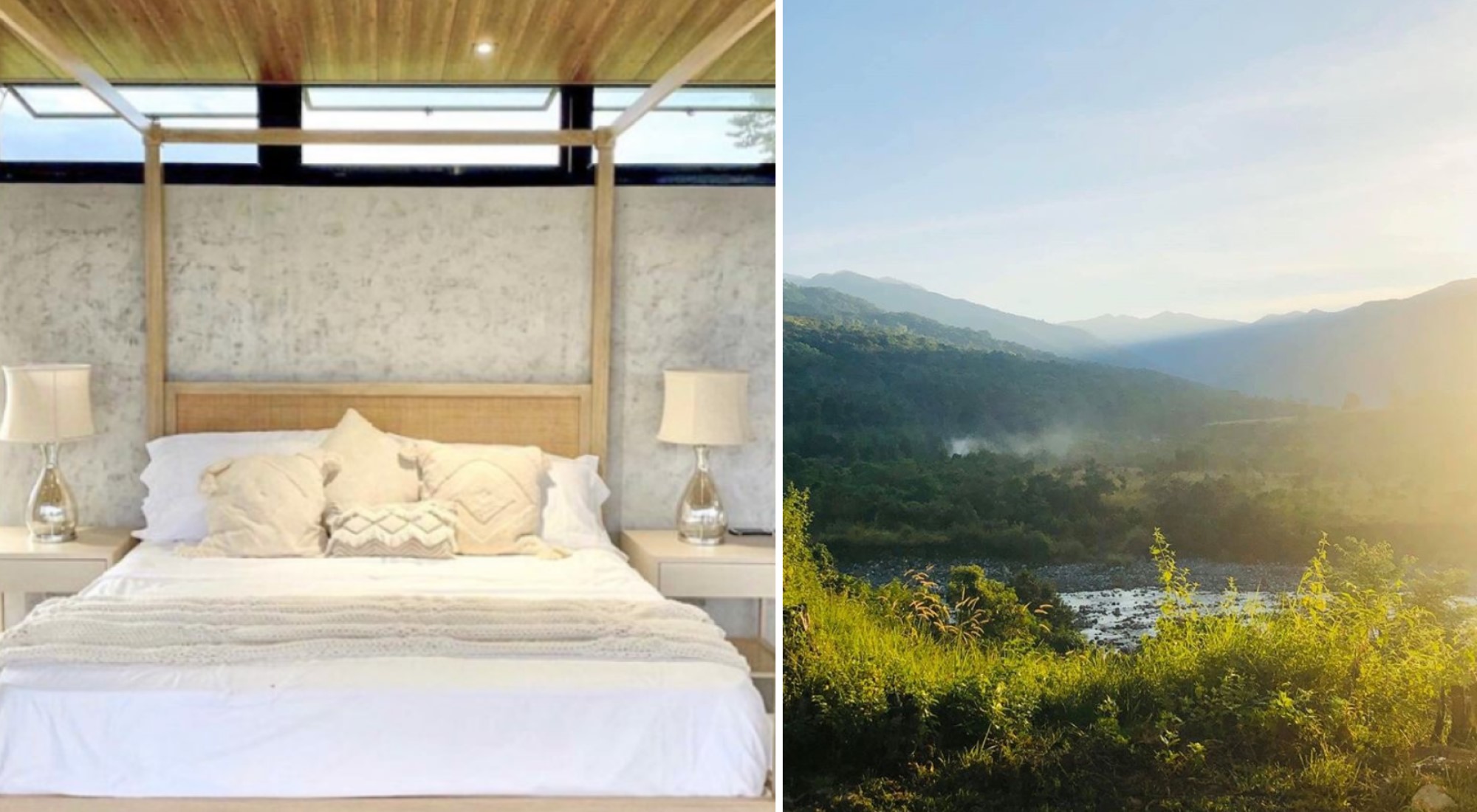 "Our Albero furniture totally transformed our Cabin by bringing the beauty of nature in. It makes us feel calm and relaxed as we enjoy the comfort they bring," says Cabina Paz's owners.
To complement Cabina Paz's "close-to-nature" setting, the Albero team created customized pieces in simple forms for that Scandinavian-inspired feel. The pale wood finishes and neutral upholstery and soft furnishings add to the snug and comforting vibe of the cabin, and are subtle enough so that guests won't be distracted, so they could enjoy the most important part of the cabin—the view.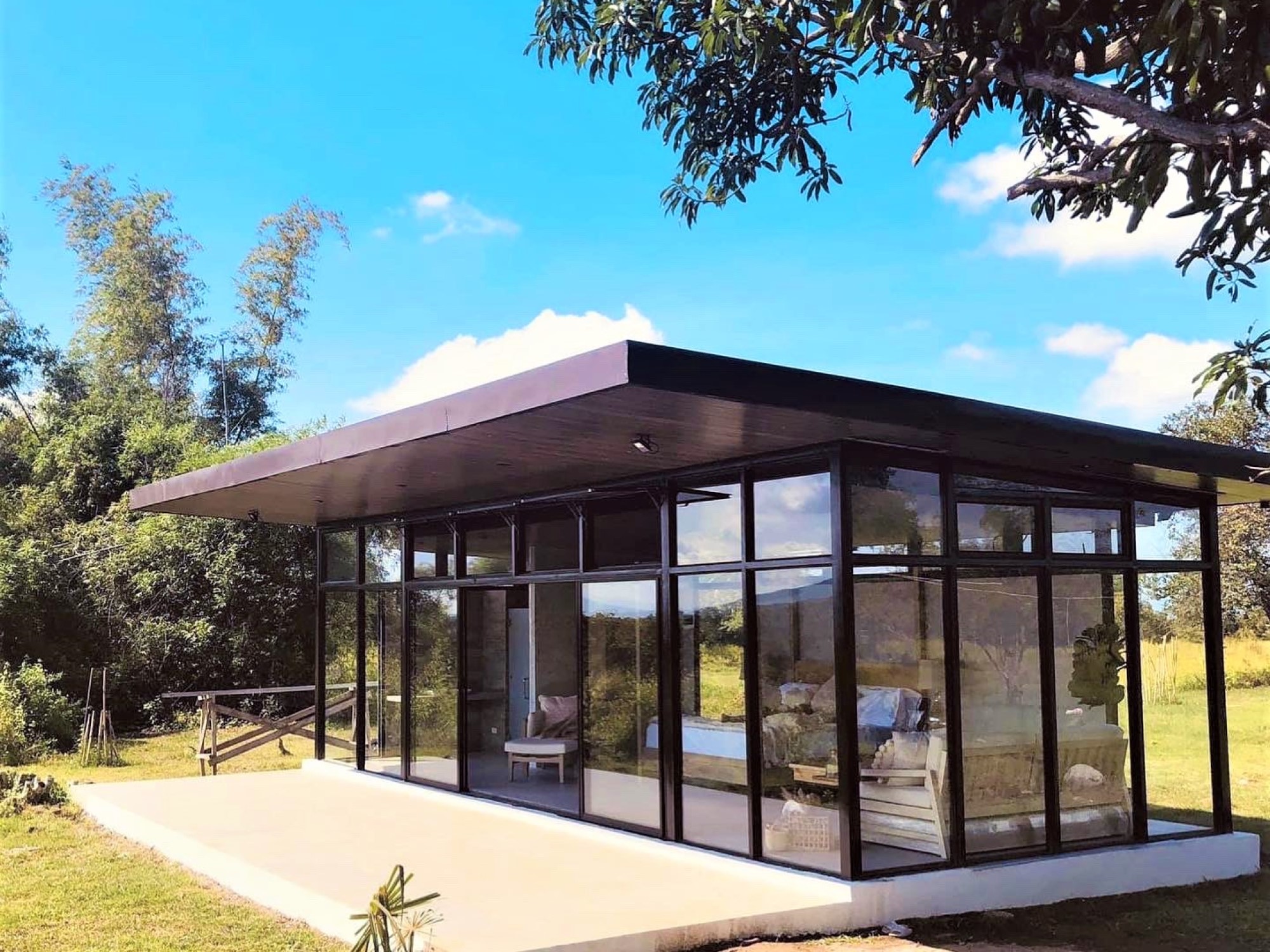 The typical 72-hour cabin is made out of glass panels to allow tenants to be closer to nature. Because of this, guests wake up at sunrise, and slow down at sunset; and experience a deeper connection with their environment.
Even though Albero's furniture pieces are Nordic-inspired, they still have subtle Filipino accents in terms of materials, such as abaca, rattan, and solihiya (woven cane). Their recent launch was of their Yugen Collection, which were of streamlined furniture pieces with a Japanese-Zen touch. "As we move on towards the next year, we aim to constantly elevate furniture design by creating more timeless and iconic pieces," Tan adds.
Images courtesy of Albero