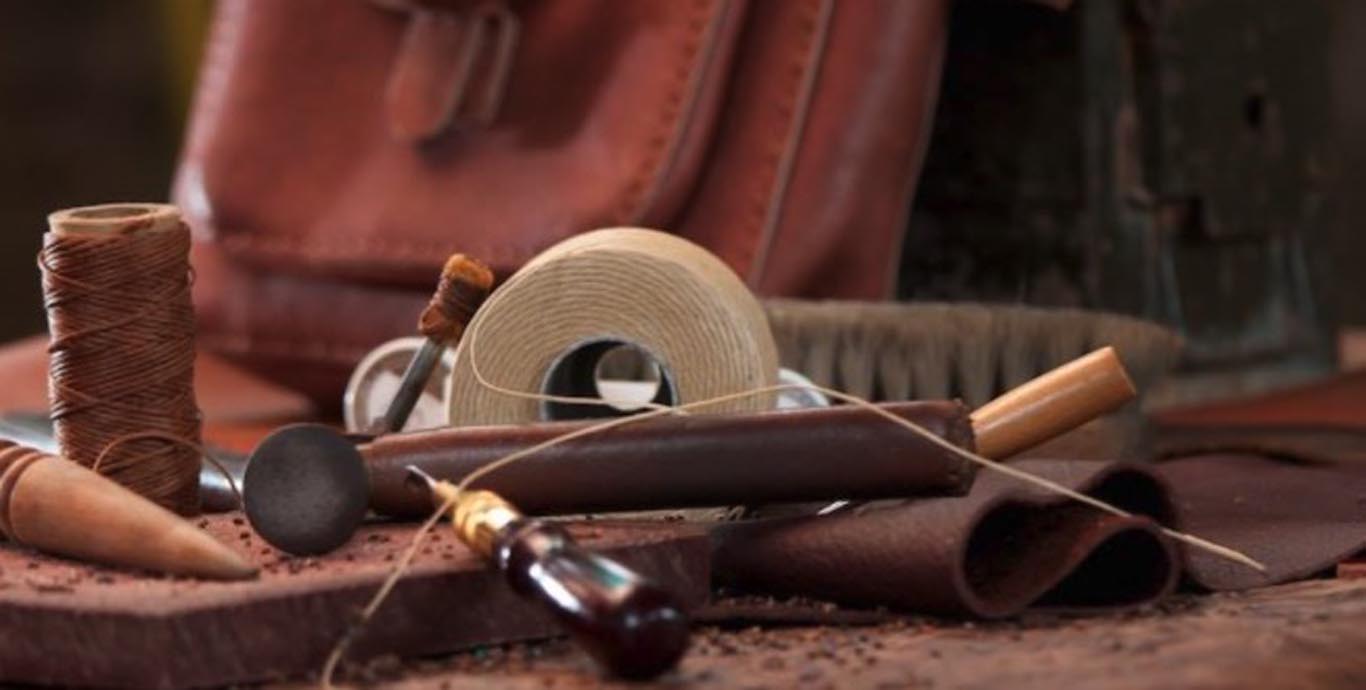 MADE BY HAND AND HEART
Whatever the product, nothing beats a handcrafted creation. But what if the hands that made it belong to someone who is disadvantaged and underprivileged? It then becomes a product of immeasurable value.
Beltran was inspired to go into this line of business when he met a leather crafter while he was employed in an airline company. But his knack for establishing connections would still be put to good use.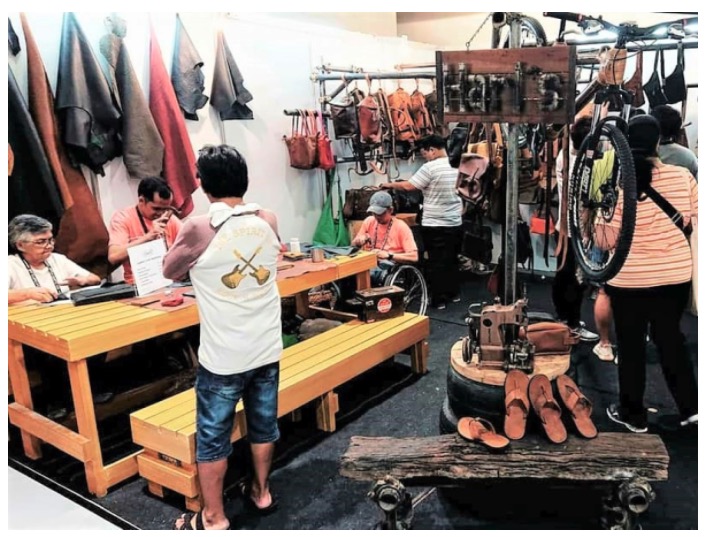 Making solely handcrafted leather items means founder Harley Dave Beltran cannot match the turnaround time of other producers with high-powered equipment, but he is determined to keep crafting leather items by hand.
A chance meeting on the street
Beltran began by selling European-inspired leather bags, wallets, and other leather items at bazaars and events. While walking home from church one day, he met Ronaldo Polo, a person with disability (PWD) who would beg for food and money. Beltran told him, "I have no extra money, but I can offer you a job."
Polo immediately accepted the offer even if he had no prior experience in leather crafting, believing that "everything can be learned." All he wanted was to find a means to provide food for his family. Polo was the first PWD worker at Handcrafted by Harl's.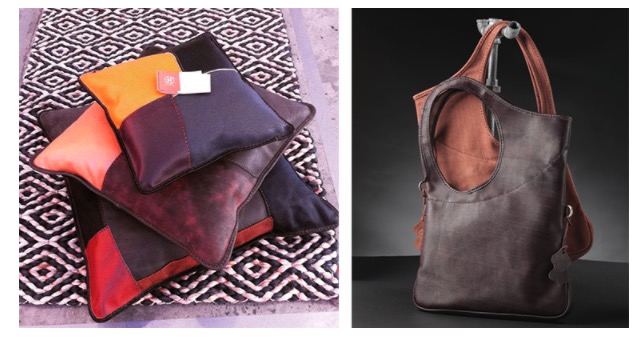 Left to right: Pillowcases made from leather and fabric are among the unique products offered by Handcrafted by Harl's; their asymmetrical Gilda two-way handbags seen at Manila FAME.
Opportunity knocks
In the Philippines, employment opportunities for PWDs remain limited for a variety of reasons, among which are lack of education and discrimination. PWDs themselves sometimes feel discouraged and do not have enough confidence to pursue work prospects.
One of Beltran's friends heard about Polo's hiring, and asked that Beltran invite some PWDs from their church. At first, the objective wasn't even to give them a job; it was just to train them in leather crafting. Eventually, when demand for his products increased, he hired these PWDs as leather crafters.
"That same week, I had the chance to set up a boutique at a mall, which only required me to pay the rental fee after a month. It was a great opportunity that came [after I felt like I took a risk hiring additional PWDs]," Beltran shares.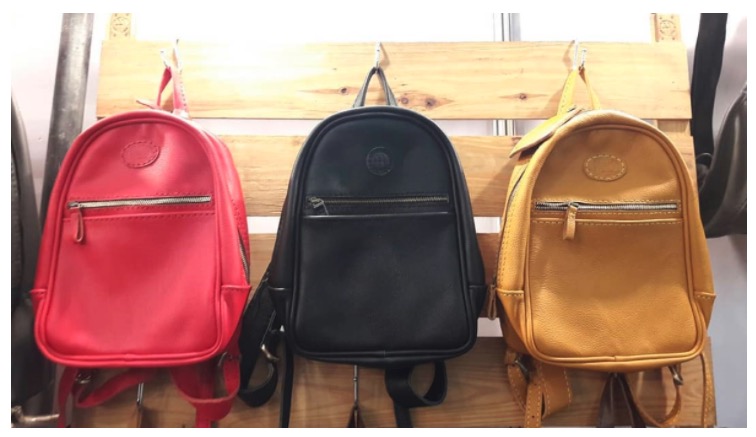 Harriet backpacks in three different colorways.
PWDs on board
When Beltran was invited in 2017 to showcase his brand in Germany, that's when he realized that his business had evolved into a social enterprise. Of the representatives from 16 countries who were present there, Handcrafted by Harl's stood out because PWDs form part of its production team.
"PWDs are the segment of society left behind in terms of education, employment, and transportation. Micro and small to medium enterprises are the only vehicle [that can move them forward]," explains Beltran.
JC Lebumfacil, another PWD leather craftsman, underscores the importance of hard work and perseverance on his part. "At first, it was difficult, but I just had to focus on my work. I am excited and happy to have a job. I feel that I've found my place here. We need to trust ourselves and have courage in whatever we do," he adds.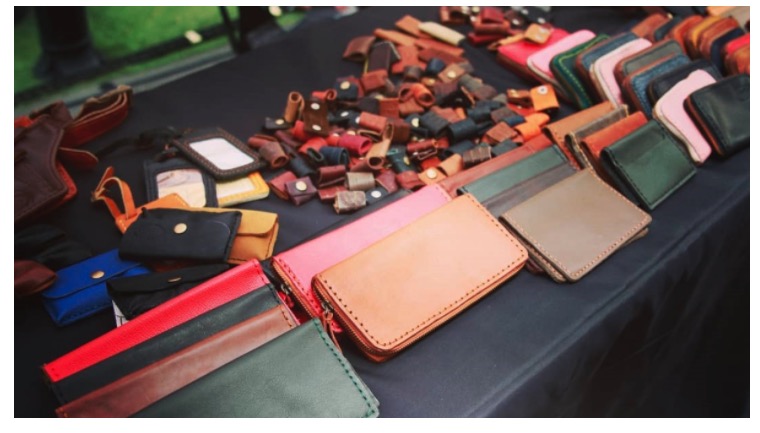 Small items such as wallets, bag tags, and cable organizers are some of the best sellers during the holiday season. Photos courtesy of Handcrafted by Harl's.
Preserving the art of leather crafting
Today, Polo is the breadwinner in his family, and serves as senior leather craftsman and salesman. The stories of Polo, Lebumfacil, and many others in their workforce have made Beltran realize that leather crafting is "just a platform for us to create an impact."
"We build hope for the disadvantaged. We transform disability to ability. [We are in awe of their] resilience; how strong they are despite experiencing rejection," says Beltran.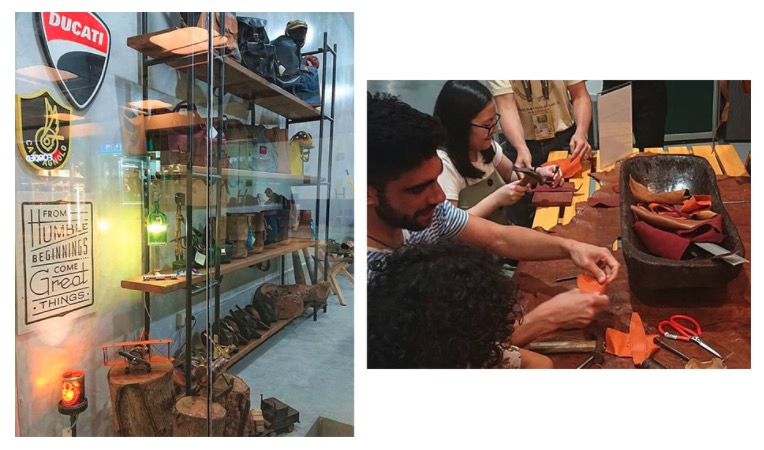 Left to right: Harl's Concept Store at the basement of Makati Central Square in Makati city allows Beltran to personally share the brand's story with their customers; leather crafting workshops are also held at Harl's Concept Store for hobbyists and enthusiasts. They have also conducted leather workshops at Manila FAME in the past.
Beltran admits there are challenges in declining to go mainstream, but he remains firm in his resolve to keep producing handcrafted leather items and maintain the artisanship they showcase. "Our leather creations—we will do everything to protect it. We want to maintain the quality and continue educating buyers on the value of handcrafted leather items."
He strongly believes, "If you're willing to extend what you have, help will come. God provided the support that I needed [to make Handcrafted by Harl's what it is today]."
[CONTACT DETAILS]
HANDCRAFTED BY HARL'S
Facebook: @handcraftedbyharls
Instagram: @handcraftedbyharls; @harlsconceptstore
URL: www.handcraftedbyharls.com