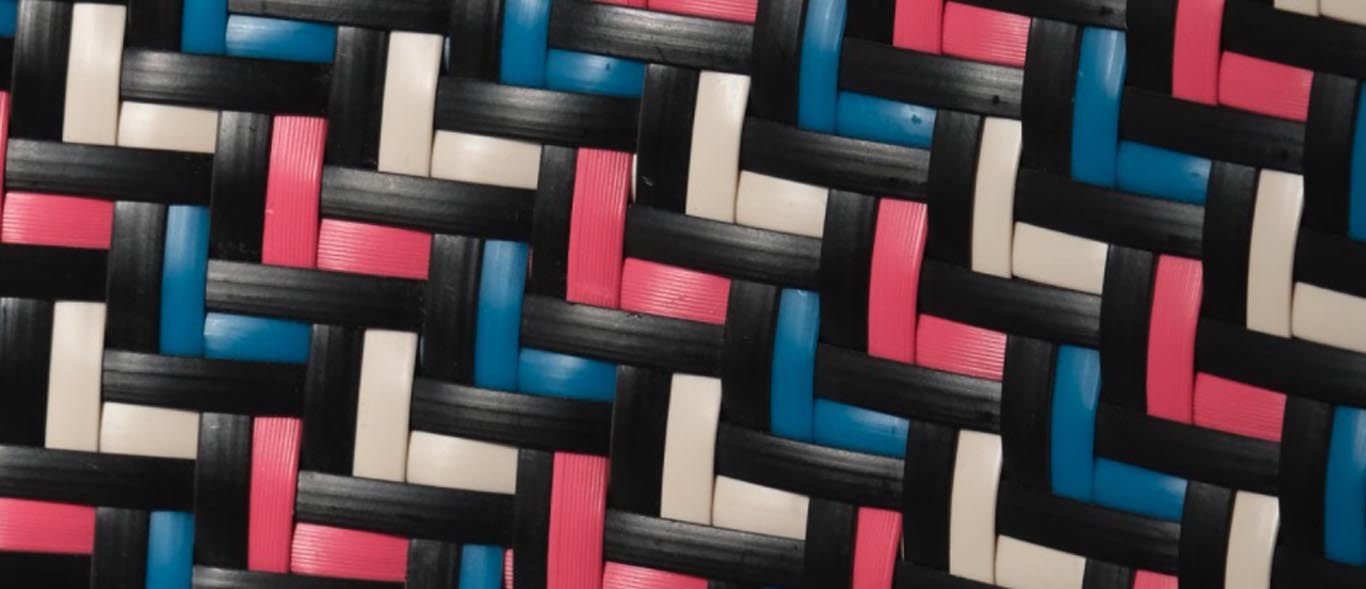 SOUTHERN COMFORT
Cebu is best known as the oldest province in the Philippines, the birthplace of Christianity in the country, and for its pristine beaches coupled with a cosmopolitan city. It is also Ground Zero for Philippine export and manufacturing, as it is rich with design talent, skilled craftsmen, and natural resources.
Export in Cebu reached its peak in the late 1980s to '90s, but renewed local and international markets, younger designers, and a more dynamic and diversifying approach to the products have created a revitalized Cebu design industry. Here are some of its players: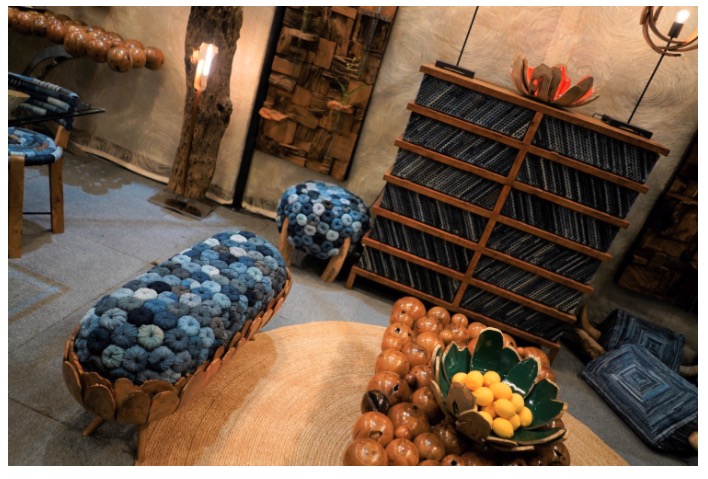 Cebu Homecraft's Denim and Driftwood: Reengineered collections at the 70th edition of Manila FAME combine discarded denim scraps and driftwood to create modern bohemian pieces.
Arden Classic
Two silver sparrows in mid-flight. A tortoise slinking along with its iridescent, mother-of-pearl shell. A mother cradling her child wearing a skirt made of conch. These fantastical creatures and figures all inhabit the magical world of artist Arden Siarot. As one of the manufacturers in Cebu's first wave of exporters, Siarot went on to create his own dramatic, elegant, and exquisitely detailed designs for his company.
Cebu Homecraft
The materials are usually the highlights of Cebu Homecraft's pieces. Using what would often be considered rejects in manufacturing—scrap wood, driftwood pieces, discarded denim offcuts, along with unusual natural fibers such as agave—the company manipulates these materials into pieces that highlight each material's unique composition and textures. Cebu Homecraft has participated in many Special Settings projects and in Design Commune collabs.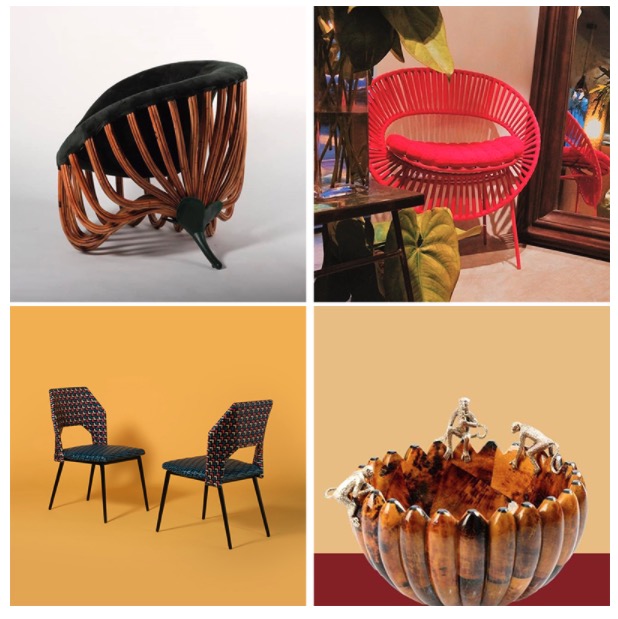 Clockwise from top left: Finali Furniture's Fiori Chair won in the last Katha Awards; Debbie Palao's Pout Chair; a shell and metal bowl handcrafted by Arden Classic; multi-colored dining chairs by Coast Pacific.
Coast Pacific
If you've ever sat on a beautiful, modern piece of outdoor furniture in a luxury resort, it's most probably from Coast Pacific. Established in 1993, the company started out producing furniture in wicker and rattan. They eventually expanded into all-weather, high-performance materials in designs that could be used indoors or out. A consistent winner of design awards, their Rasty Chair won a Katha Award in the 69th edition of Manila FAME.
Debbie Palao
Designer Debbie Palao's manufacturing company Design Ventures took root in the early heyday of Cebu exports. Her unusual approaches to furniture design, along with some groundbreaking material manipulation on wood, rattan, steel, and various fibers have made her an inspiration for notable young Cebuano designers such as Vito Selma. Palao's works won the Good Design Award in 2005. She also set up the collective Holicow PH that sells curated, entirely-sustainable home and fashion accessories by various Cebuano designers such as Selma, Neil Felipp, Avatar, and Strozzi.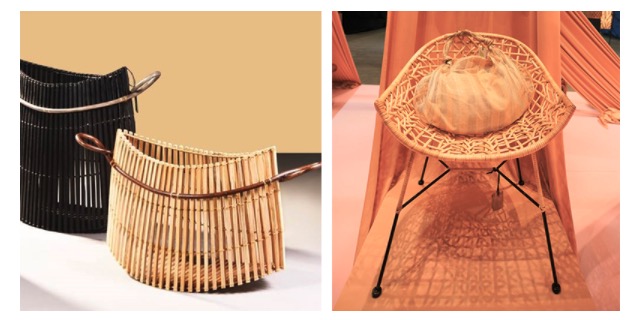 Left to right: Finely made furnishings and accessories in sustainable, natural materials are hallmarks of Obra Cebuana pieces; this chair is a collaboration between Obra and designer Nix Alañon at the recent Design Commune at Manila FAME.
Finali Furniture
The Mandaue-based furniture maker specializes in highly striking and sculptural pieces and have garnered a number of awards. Their Largo Lounge, with its sinewy, twisting frame of natural materials won the Katha Award in 2016, while their Fiori Chair, which looks like a blossoming flower bud, won the Katha Award for Best Product Design for Furniture at the 70th edition of Manila FAME.
Obra Cebuana
The beauty of rattan and other ecologically sustainable materials shine in each Obra Cebuana piece. After acquiring this well-established Cebu company from the Arcenas family in 2014, new owners Justin and Selina Romualdez have infused their collections with fresh and modern designs. Obra Cebuana pieces have been used in projects by the likes of international designers Thom Felicia and Zoe Feldman.
[CONTACT DETAILS]
ARDEN CLASSIC
EMAIL: marketing@ardenclassic.com
URL: arden.ph
Facebook: @ardenhomedecor
Instagram: @ardenhomedecor
CEBU HOMECRAFT CONSOLIDATED INC.
Telephone no.: +6332 414 0152; +6332 238 3923
URL: cebuhomecraft.com.ph
COAST PACIFIC
EMAIL: info@os-furniture.com
URL: coast-pacific.com
DEBBIE PALAO FOR
DESIGN VENTURES
EMAIL: kae@debbiepalao.com
URL: designventures.com.ph
FINALI FURNITURE
EMAIL: rbsalazar2004@yahoo.com
Facebook: @finali.furniture
OBRA CEBUANA
Facebook: @obracebuana
Instagram: @obracebuana
URL: obracebuana.com