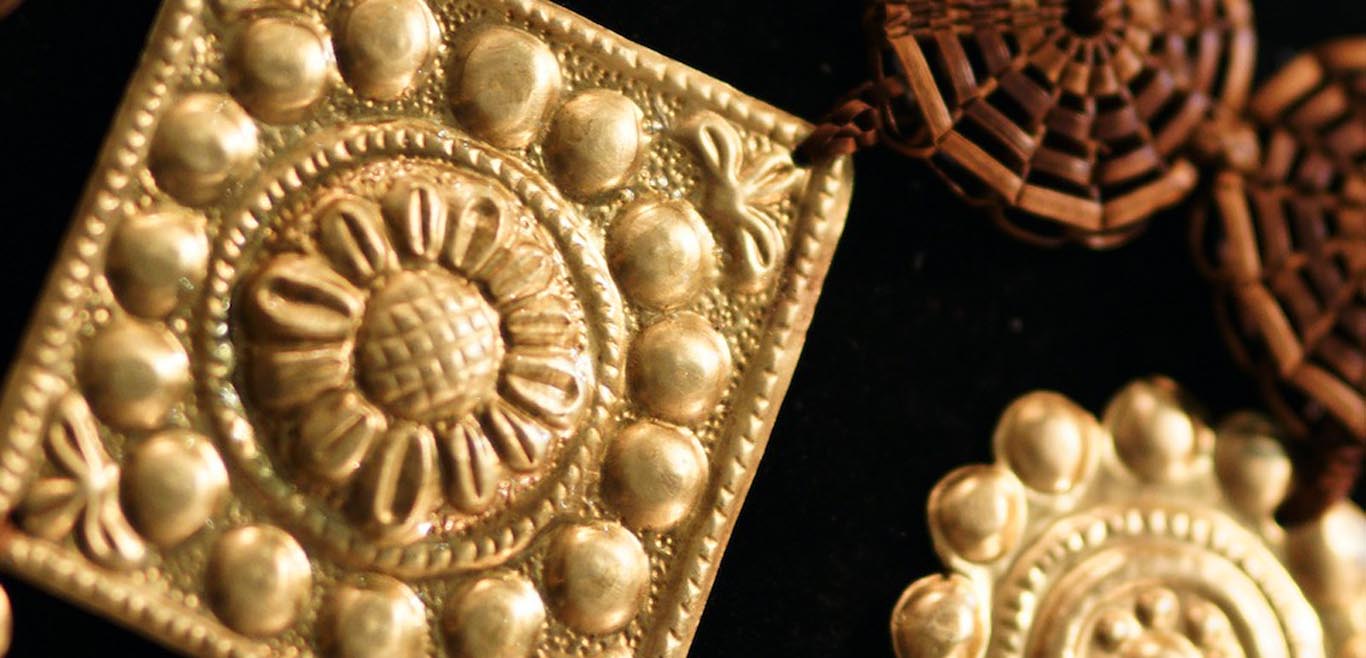 A National Treasure
Visitors to Manila FAME's October 2018 edition got a very rare treat with Agsam Fashion Fern Accessories' special collaborative collection featuring Eduardo Mutuc. Eduardo is one of Pampanga's renowned artisans who was accorded the National Living Treasures Award by the National Commission for Culture and the Arts way back in 2004.
He was recognized for his practice in a traditional metalcraft called pukpuk, a meticulous embossing method that flourished during the Spanish colonial times. The process entails carving a design on a piece of wood, over which Eduardo adds a metal sheet. He then proceeds to emboss the design by pounding the metal gently using a mallet and an old rubber slipper. The piece is usually plated in gold or silver, which is buffed and polished to enhance the details of a design.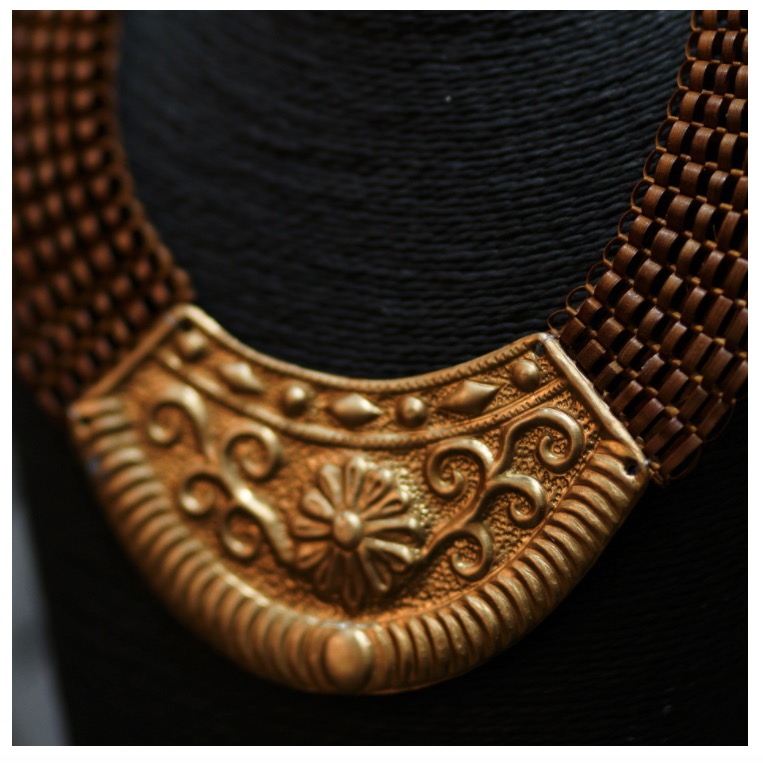 A gold-plated pendant set against agsam fern weavings.

Eduardo has devoted his life to the creation of both ecclesiastical objects - such as retablos or altar pieces, candelabras - as well as home decor. At Manila FAME October 2018, the artist parlayed his skills for a limited edition jewelry line that recalls particular moments in the histories of Pampanga, where Eduardo was born and raised, and Surigao, where Agsam Fern Fashion Accessories is based.
For the project, Agsam Fern Fashion Accessories' founder, Gina Nebrida Ty, envisioned a conversation between Eduardo and Surigao's indigenous crafters. Using the pukpuk technique, Eduardo created pendants that bring to mind the ancient gold jewelry accidentally unearthed in Surigao in the early 80s. The famous collection is considered an important archeological discovery that revealed the sophisticated jewelry-making techniques already in use in the Asian region way before the arrival of the Western explorers.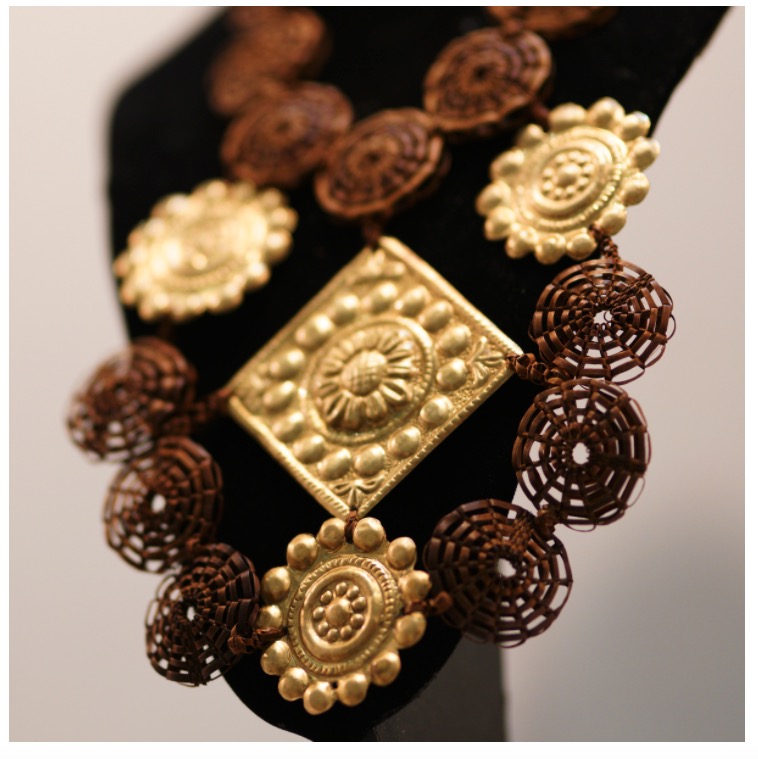 A bib necklace made from agsam fern and gold-plated pendants.
Surigao's indigenous weavers created their own pendants using dried agsam ferns, a plant native to the province. The components were then assembled into necklaces to create a dramatic contrast between Eduardo's gleaming metal plates and the rustic agsam fern pieces.
The collaborative series is an ambitious undertaking that unites the diverse influences that helped shape the Philippines' cultural identity. It is also a reminder of a great past that we don't know much about, immortalized in metal and the humble agsam fern.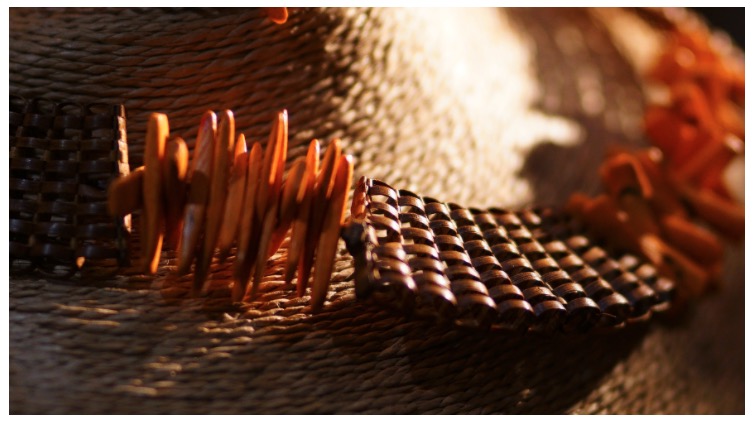 Agsam Fern Fashion Accessories' signature look features the agsam weavings which are combined with other natural materials.
CONTACT INFORMATION
6374 4443443
www.agsamfashionfern.com
Two Serendra, McKinley Parkway Bonifacio Global CityTaguig City, Metro Manila, Philippines