MODERN PLAY
Bicol, a region located southeast of Metro Manila, is best known for its beaches and natural resources, Mayon Volcano, and its tradition of abaca and sinamay weaving, basket-making, and other handicrafts. The province of Sorsogon in particular, is a main hub of these artisanal crafts.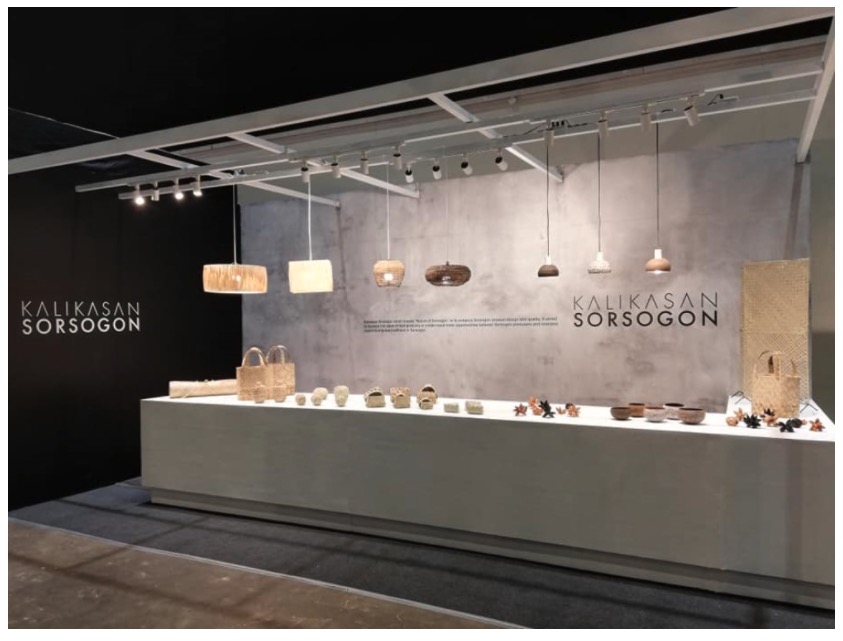 The Kalikasan Sorsogon booth at the 69th edition of Manila FAME was a decidedly minimalist affair
One exhibitor caused a stir in the past edition of Manila FAME, and that was Kalikasan Sorsogon. But instead of the expected rustic-looking bags, baskets, and bowls, what they presented was a strikingly modern collection, with the most streamlined of forms and minimal ornamentation that highlighted the nature of the material, be it coconut shell, buri, or palm leaf. One designer at FAME lauded Kalikasan's products as some of the best examples of material manipulation that she had seen.
A unique collaboration
The secret to all this was a collaboration between the Sorsogon manufacturers and designers at the Musashino University in Tokyo, Japan. It all started in 2016, when JICA (Japan International Cooperation Agency) volunteer worker Makiko Deguchi at the DTI (Department of Trade and Industry) Sorsogon office contacted Musashino Art University, which had previous experiences designing handicrafts in Indonesia.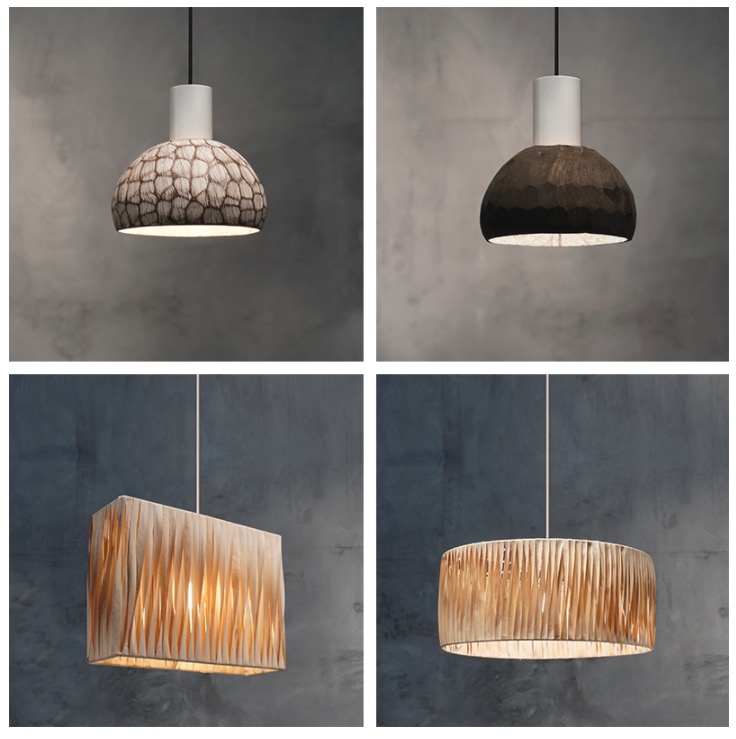 Clockwise from top left: The Cocoshell Hanging Lamps in black and white wash by Shinichi Ito and Shinya Mitomi for Biday's Bagol Handicraft; the Twisted Buri Hanging Lamps in Round and Rectangular by Shinichi Ito for Lovehandkrafted Shop.
Musashino's professor Shinichi Ito of the interior design department proposed a design development project wherein both the professors and students of Musashino would work with the Sorsogon producers and Bicol University. The set target was to exhibit the finished product collection at Manila FAME by April 2017.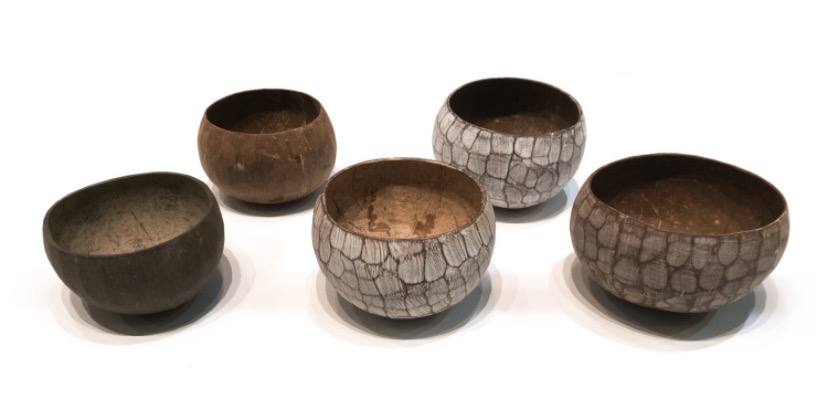 Pure and modern Cocobowls in white wash, pale wash, black and natural by Shinya Mitomi and Shinichi Ito for Biday's Bagol Handicraft.
Immersion in Sorsogon
The ensuing collaboration was challenging, but rewarding. The professors invited students to participate in the product design, and they had to go to Sorsogon to meet the manufacturers and observe the production. This also entailed making an on-site prototype, and immersion in the daily life of Sorsogon to learn not only about their handicraft, but their cultures and traditions.
After this immersion, the students returned to Tokyo to develop their first prototypes, with final drawings sent to the manufacturers in Sorsogon for actual production. Prior to Manila FAME, these products were curated into a tight collection with different manufacturers.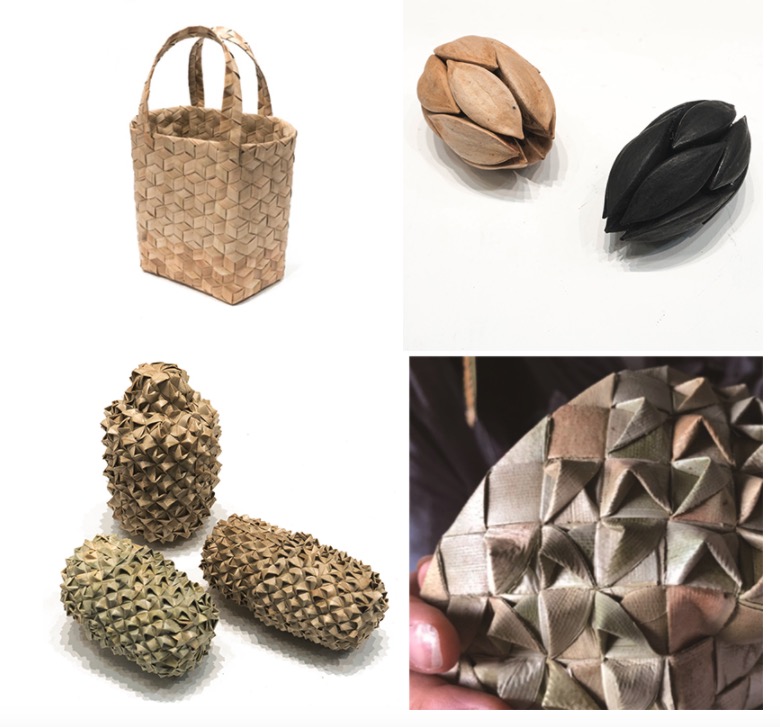 Clockwise from top left: Bariw woven bag by Junko Suzuki for JLND Handicraft; Pili Egg Paperweights by Kazuki Taguchi for Ning's Creations (also seen at top photo); palm weaving details by Sorsogon craftswomen; the Bariw Durian Capsule Set composed of woven palm containers designed by Josephine Dollesin and Junko Suzuki for JLND Handicraft.
Modern-minimalist sensibilities
Because of the students' immersion in the province, many of the things that are usually identified with the Bicol region—such as the coconut and pili nuts—all were given a modern-Zen twist, with a soothingly neutral color palette of gray, brown, black, and beige, and clean lines.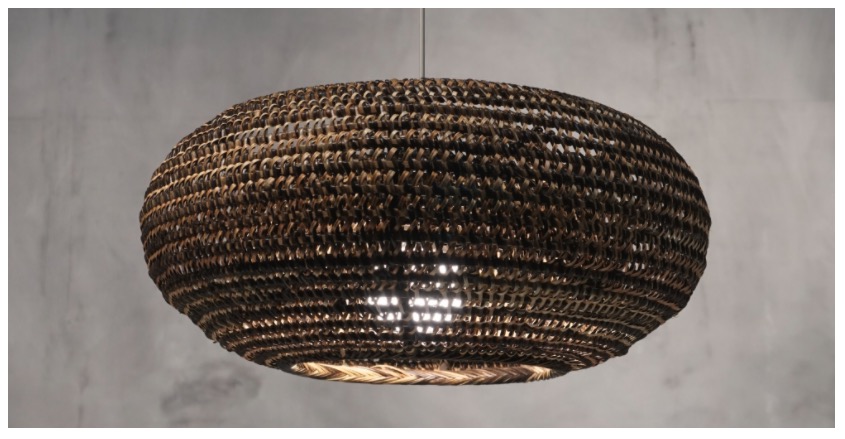 Nito Vase Hangling Light by Pan Zehsheng for New Life Crafts.
"Our design concept is 'Simplicity in Nature,'" says Professor Ito of the collection. "Designers evaluate the value of the material and extract its own beauty without much manipulation." This modern simplicity brings out the true nature of the nito, the palm, the buri, and the pili nut—but with beautiful, minimalist forms.
This collaboration of the two countries created a unique opportunity for Sorsogon's eight producers and manufacturers to improve on their quality control, and take a more modern approach to their designs. It was a way to give recognition to Sorsogon products, and introduce them internationally.
[CONTACT DETAILS]
KALIKASAN SORSOGON
Katherine Espedido (contact person)
Mobile: +63915 478 5625
Email: lovehandkrafted@gmail.com
Facebook: @kalikasansorsogon