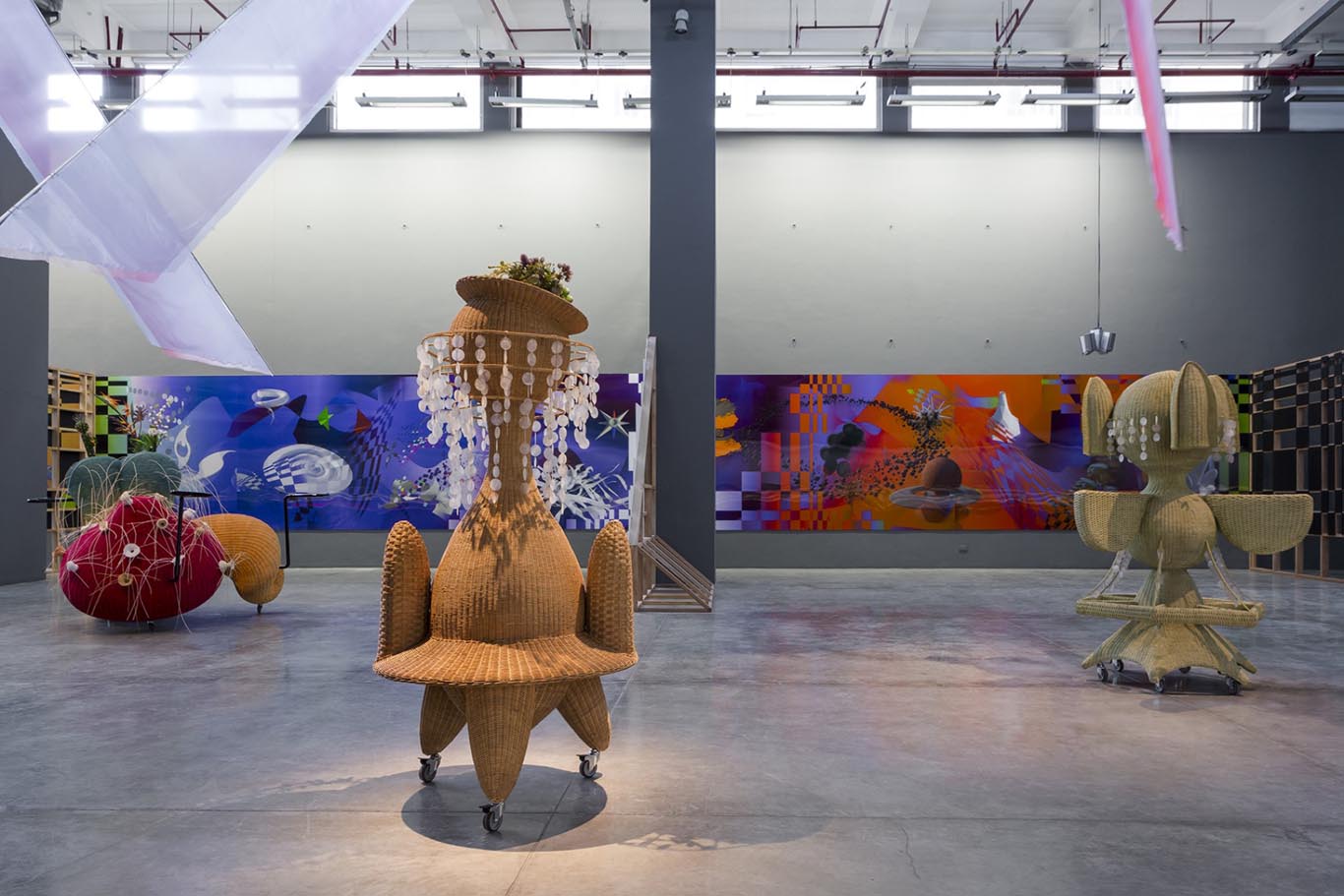 SC Vizcarra's Works Feature in Groundbreaking Exhibit
Motion, weather, and weaving are all themes of The Cone of Concern, which is South Korean artist Haegue Yang's first solo exhibit at the Museum of Contemporary Art and Design in Manila.
The title refers to the actual "cone of concern," a graphic tool to track the center of a tropical cyclone. According to MCAD, "…this system built to predict the path of a typhoon presents how the human will attempts to confront the nature of natural phenomena. The artistic proposal in the midst of this constellation is to draw out the metaphoric towards the notion of solidarity amongst those of us facing difficult circumstances, and with human imagination, understand our very own condition in the universe."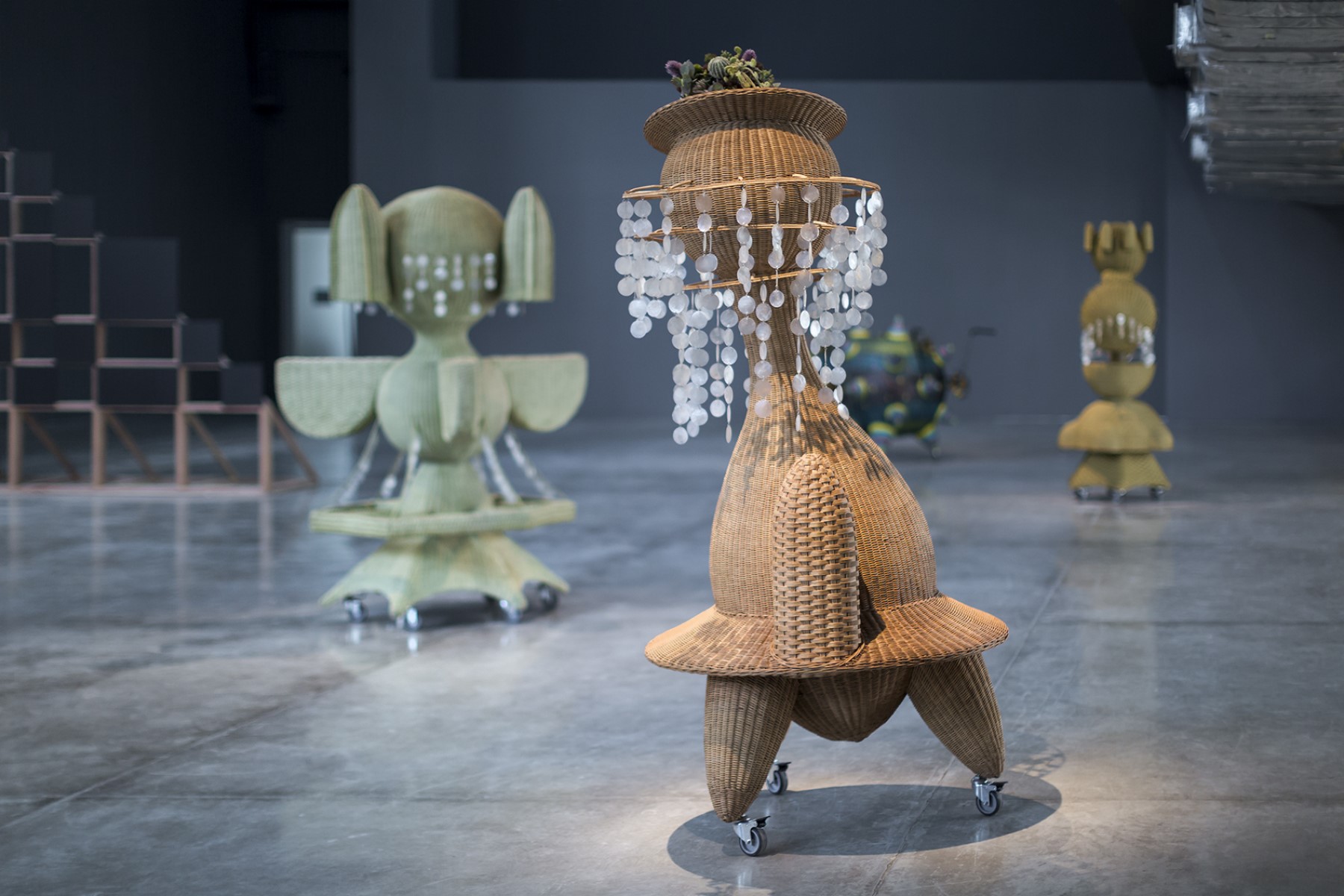 South Korean artist Haegue Yang's exhibit, The Cone of Concern, at the Museum of Contemporary Art and Design in Manila, includes these freestanding sculptures that were handwoven by artisans at SC Vizcarra. They bring to mind "…collective memories of the fairy tale, of mythology, Korean animism, Cuban Santeria, Haitian voodoo."
Part of The Cone of Concern's installation is Yang's "The Fantastic Warp and Weft of Tropical Depression", an enormous mural that is a printed as a lenticular wall piece. Because of the treatment, the motifs printed on it have a floating, 3D effect, and its perspective changes as you walk past it. Right next to this mural are wooden panels emulating the black and white binakol woven pattern from Ilocos. In Yang's multiple visits to the Philippines, she was struck by the similarity of the whirlwind binakol with dizzying motifs found in 1960s Op Art pieces.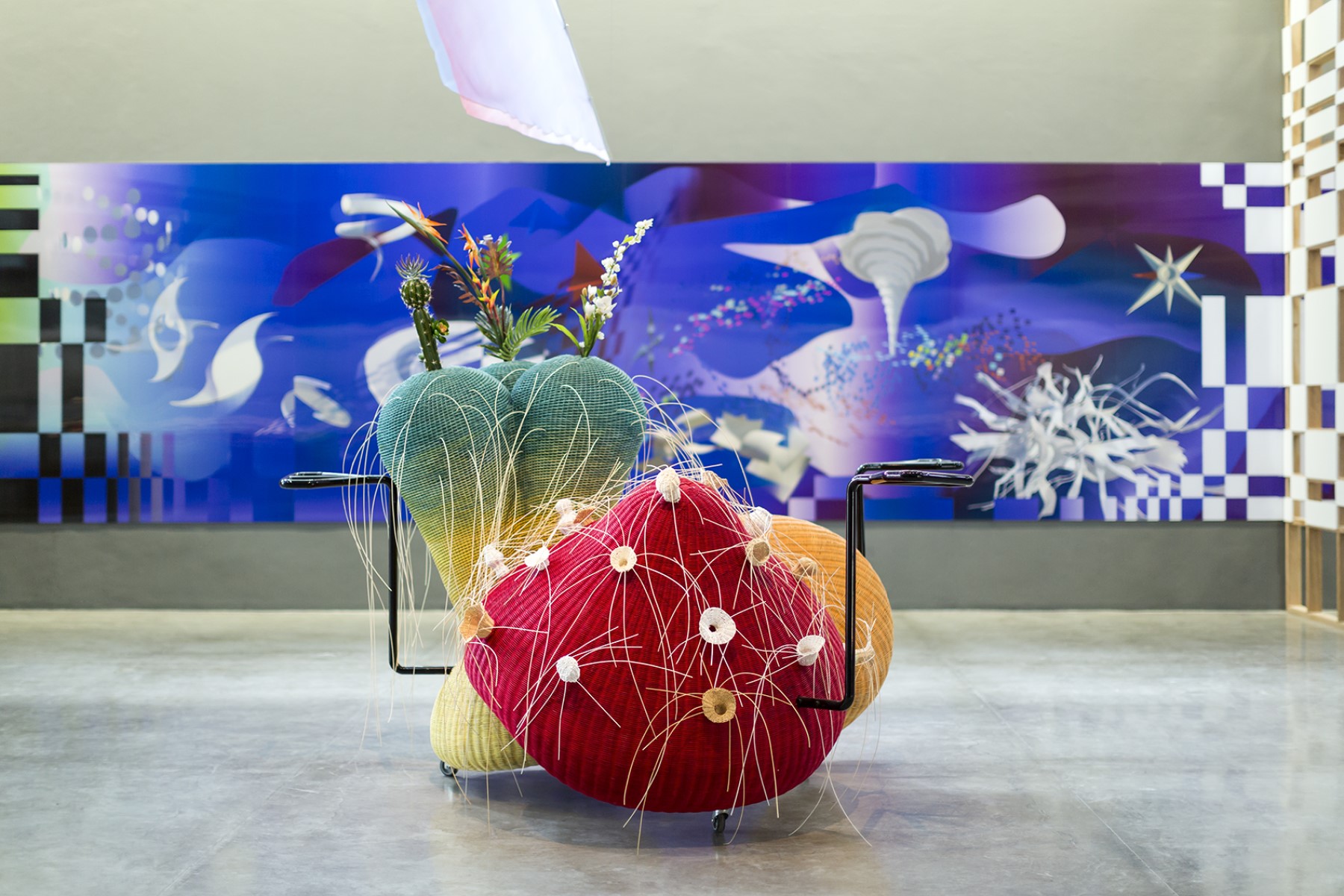 "The Randing Intermediate – Underbelly Alienage Duo" sculpture in front of "The Fantastic Warp and Weft of a Tropical Depression," a large panoramic mural in three parts. You can see parts of a binakol woven pattern on the outer edges of the mural.
Other elements related to Filipino weaving are Yang's six, free-standing, handwoven rattan sculptures. These anthropomorphic sculptures are "hybrid creatures…with animalesque and arthropod-like features." The rattan sculptures are a collaboration of the artist and heritage manufacturer SC Vizcarra, which is known for their finely handwoven bags and accessories. According to SC Vizcarra's Rita Nazareno, Manila FAME curator and creator of Zacarias 1925, the collaboration started last year, with the artist coordinating with the Manila studio throughout the pandemic until the exhibit's opening last October 15, 2020.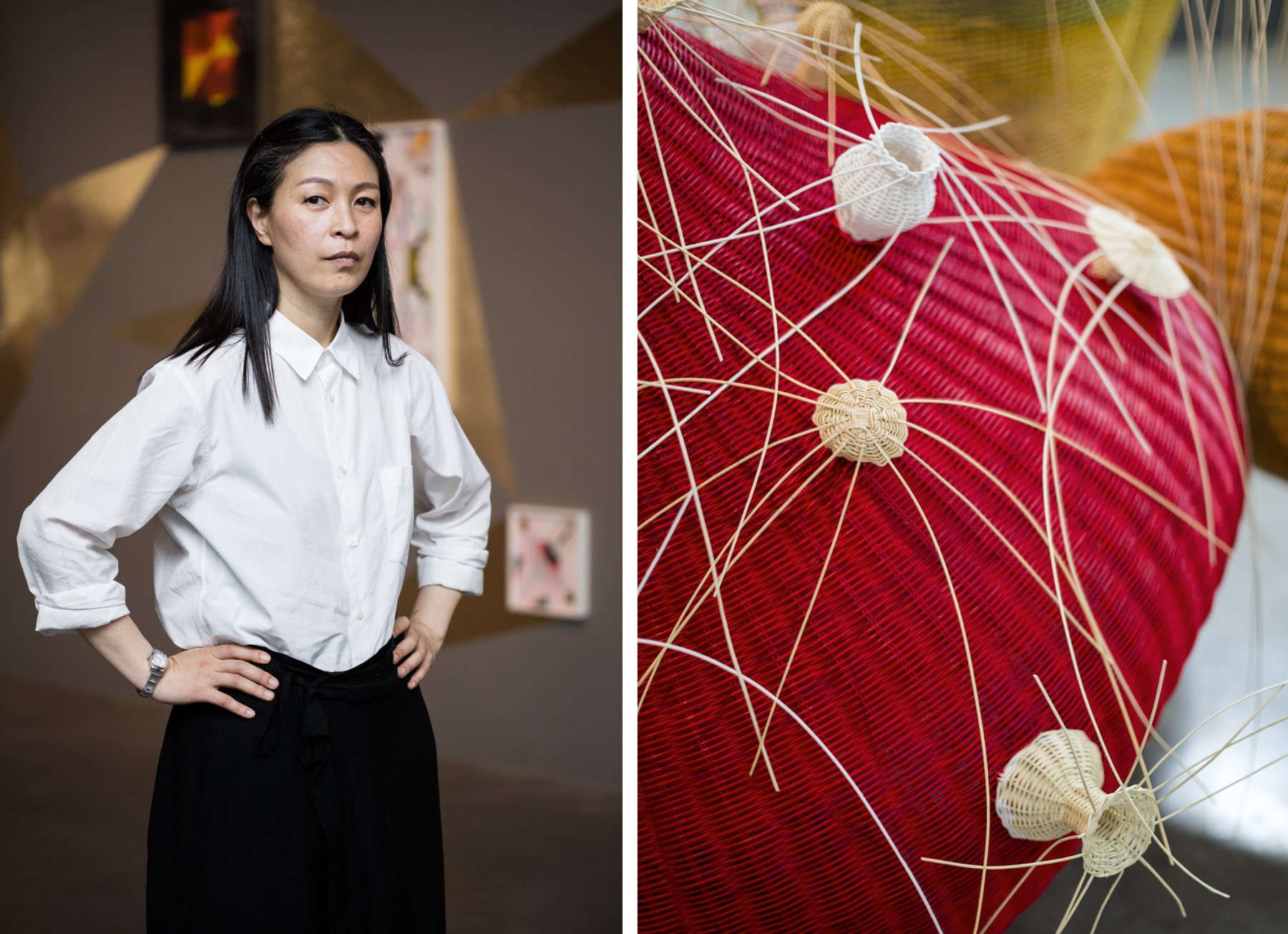 Yang (left) is a celebrated South Korean artist who lives and works in Berlin and Seoul and has exhibited at MoMA, the Tate, and the Guggenheim in New York, among many other museums. (Right) The intricately woven details of the "Underbelly Alienage Duo".
Her first encounter with Yang, however, dates back eight years. "It all started when I went to Germany with a friend in 2012," Nazareno recalls. "We went to dOCUMENTA 13 in the town of Kassel, and it was this big art event. When we got there, there was an abandoned train station with an installation had motorized blinds opening and closing called 'Approaching: Choreography Engineered in Never-Past Tense,' and it was by Haegue. It left an impression on me. She was so brilliant!"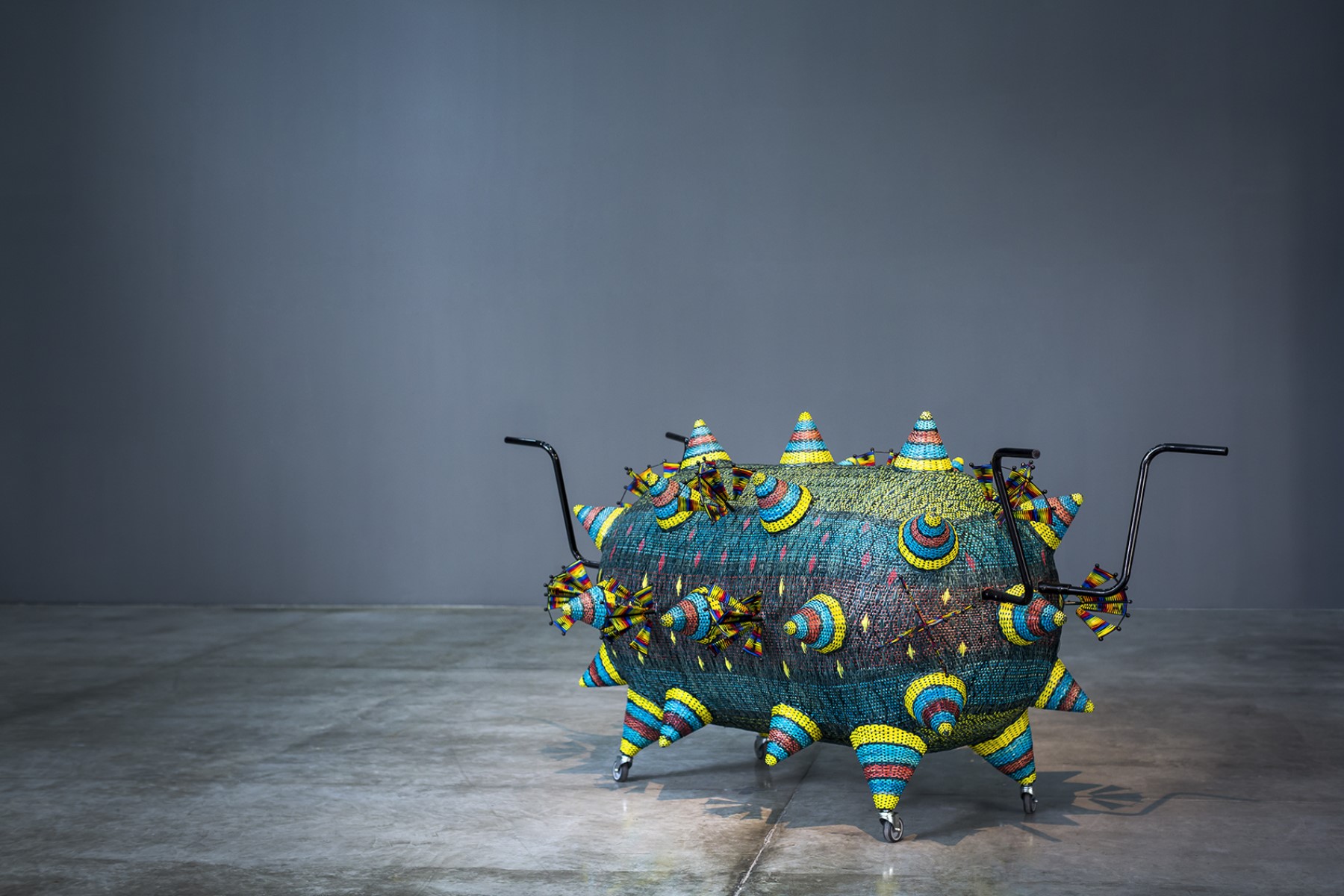 The only sculpture woven in chaircane among the six freestanding pieces is "The Randing Intermediate – Sea Alienage Fanned-Out Bang". "It was the only one in chaircane because its even surface afforded it," says Nazareno of the submarine-shaped piece. It also has a distinct Filipino indigenous pattern woven onto it.
The maker finally met the artist in person last year when Yang held a talk at MCAD. Nazareno invited Yang to visit the SC Vizcarra offices, where she was introduced to the weavers, and showed the weaving processes at the factory. They also made a pit stop at Len Cabili's Filip+Inna pop-up store in Makati, where Yang bought a book about weaving, as she was so interested in the craft. It was after this meeting that the artist decided to collaborate with the manufacturer. "My mom makes large-scale pieces, like these sculptures for an artist for a show before, and those giant Christmas trees at the Fort; so, we can definitely produce these huge pieces," Nazareno says.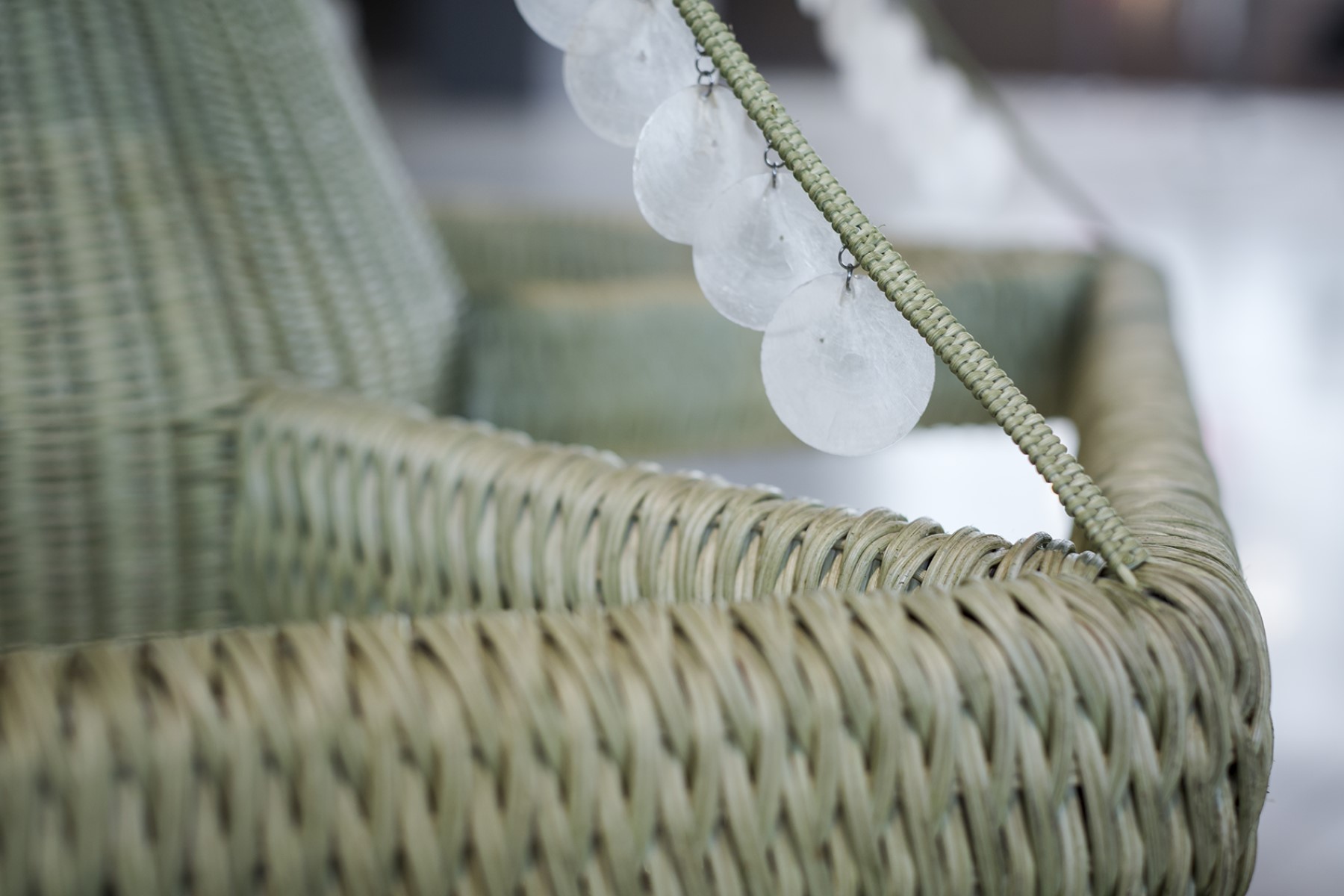 Detail of the weaving and capiz accents of "The Randing Intermediate – Open-Armed Long-Eared Monarch". Yang uses weaving terms such as "randing" (the process of weaving a single rod around the stakes in basketry) and "warp and weft" (longitudinal and transverse fabric components) in the titles of her works for this installation.
SC Vizcarra then produced the five sculptures in wicker, and one in chaircane with an indigenous weaving pattern. These were all woven on a complex frame, and each piece is mounted on casters. The artist also included some of her own weaving patterns, and embellished the forms with capiz shells and artificial plants.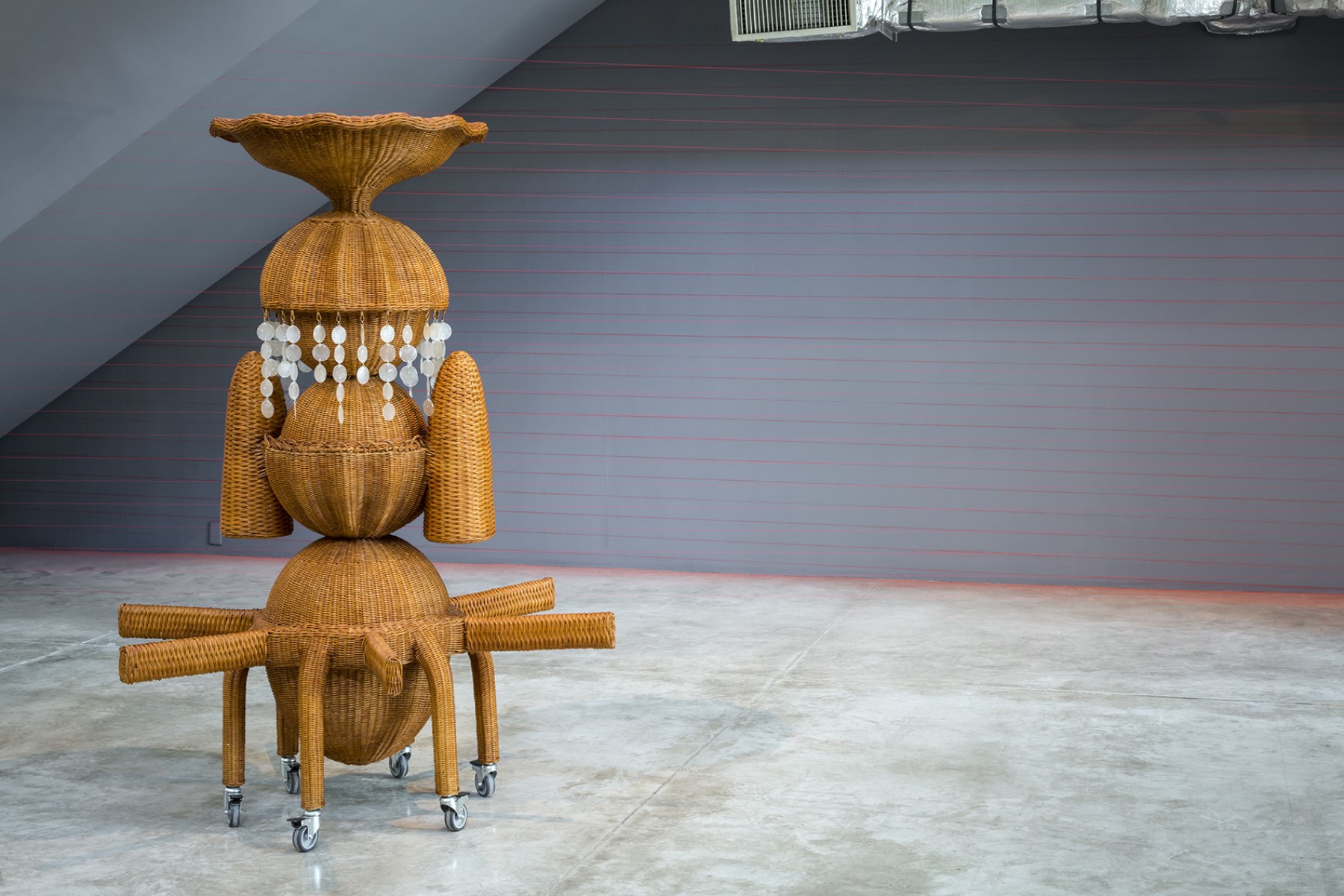 "The Randing Intermediate – Lotus Fountain Queen Ant" in front of "18.87sqm x 21.33sqm", a chalk and thread installation.
More than just an ornamental art, Yang proves that the weaves shown in this exhibition are an "intertwining of ideas, materials, and traditions under the phenomena of weather, a temperamental and all-encompassing natural phenomenon that speaks a language understood across countries and populations". Theme-wise, it is an exhibit that is quite appropriate for a country that appears to weather many storms.
The Cone of Concern can be viewed by appointment (from Tuesdays to Thursdays only) at the Museum of Contemporary Art and Design until February 28, 2021. Photos of the exhibit are by At Maculangan, courtesy of the museum.