Weaving The Islands
Weaving in the Philippines is an art that dates back to pre-colonial times. Many of the provinces in this country, from the Northernmost tip of Luzon to the Southernmost island of Mindanao, has its own unique weaving culture.
Each province or village uses materials that are endemic to its area, and motifs or colors that are tied to the traditions of the indigenous people who live there. You may have encountered a sofa throw or trendy dress made out of these Philippine fabrics—get to know where they were made and the story behind its weaves in our map of popular indigenous fabrics.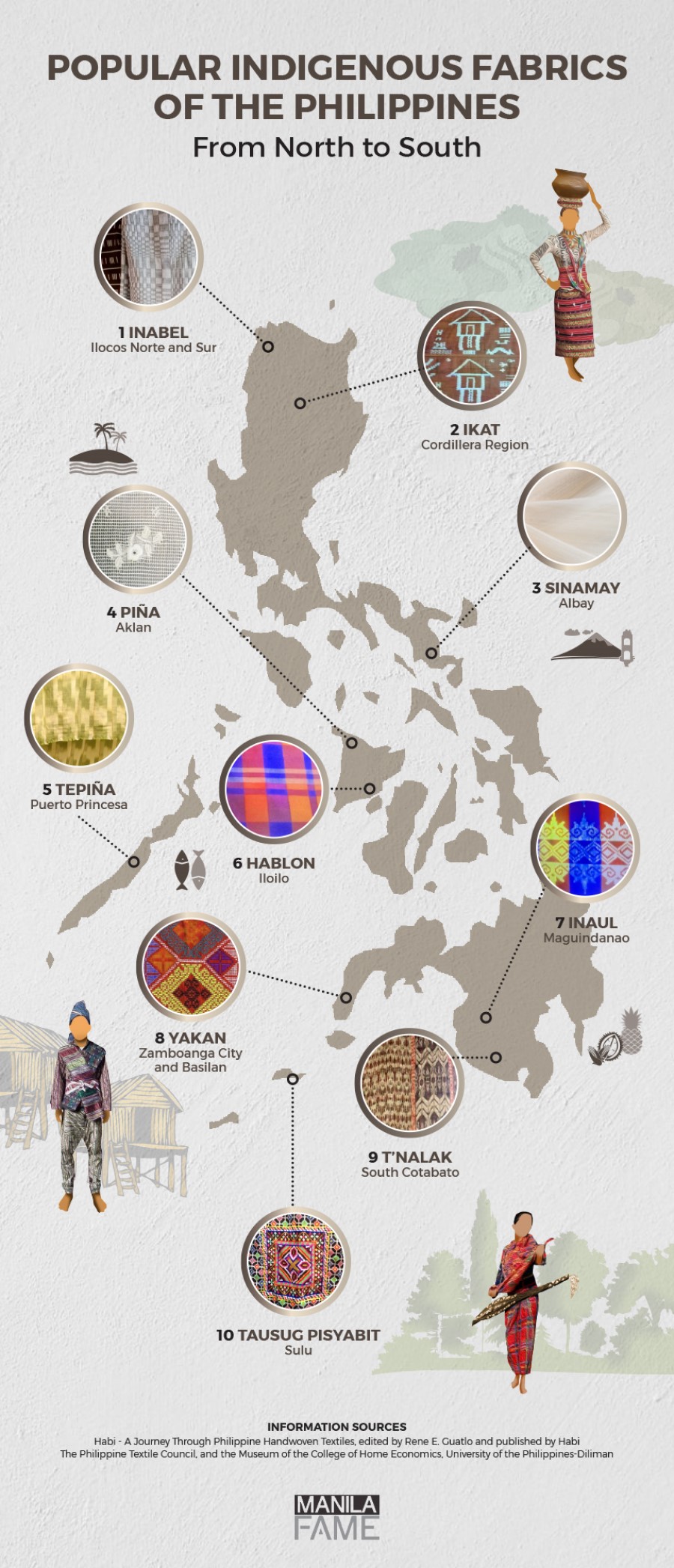 1. Ilocos Norte and Ilocos Sur: Inabel
Abel from the Northern provinces of Luzon may look simple, but the patterns are actually complex, like the kinurkurus (plaid), banderados (stripes) binakul (dizzying whirlpools), and insukit (inserted designs). Inabel is used mainly for clothing, blankets, table cloths and runners, napkins, and more.
2. Cordillera Region: Ikat
The provinces of Abra, Benguet, Ifugao, Kalinga, and the Mountain Province have a large variety of fabrics. Their blankets, tapis (skirt), and funerary cloths are woven with simple stripes and diamonds, or with meaningful motifs as seen in the Ifugao ikat or Bontoc blanket, which represent social rank or a stage in life.
3. Albay: Sinamay
Textiles made out of abaca fiber are called Sinamay. In the Bicol region, abaca is woven to make sheer Sinamay sheaths, which are used as material for shawls, hats, gift bags and wrappers, and other decorative objects.
4. Aklan: Piña
The elegant piña cloth is made out of a specific pineapple species—the Red Spanish Pineapple, which has large leaves that result in long fibers. The thin and translucent piña cloth is embroidered and sewn into exquisite dresses, blouses, and barong Tagalog (a buttoned formal shirt).
5. Puerto Princesa: Tepiña
The indigenous people of Palawan, an island southwest from Luzon, were known for weaving baskets, and this possibly evolved into weaving cloth like Tepiña, made out of knotted pineapple fiber and raw silk. The combination of luxurious silk and textured piña creates a delicate fabric that is favoured by fashion and accessory designers.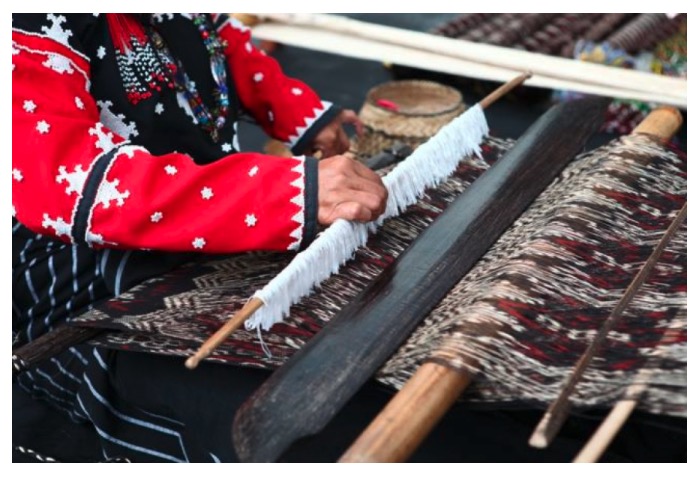 A T'Boli woman weaving T'nalak cloth.
6. Iloilo: Hablon
The vibrantly hued plaid fabric of Hablon is mostly woven in Miag-ao, Iloilo in the Visayas. In the colonial past, women used this colorful cotton fabric for their patadyong, or work skirts. Hablon is now used in modern times for dresses, tablecloths, table napkins, blankets, turbans, and hammocks.
7. Maguindanao: Inaul
Inaul literally means "woven" in Maguindanaoan language. The exuberantly colored and ornate cotton and silk fabrics, some of which have metallic thread, are decorated with patterns that have rich meanings that symbolize emotions and stories, or are designs that only royalty could wear.
8. Zamboanga City and Basilan: Yakan
Many of the Yakan people have relocated to Zamboanga City from Basilan because of political unrest, but they still produce their intricately designed weaves. Contrasting threads are worked into stripes or symmetrical and large, geometric patterns. These multicolored fabrics are sewn into jackets, headscarves, aprons, sash, trousers, and shirts.
9. South Cotabato: T'Nalak
Weaving this beautiful, sacred cloth is considered a mystical practice. The T'boli women of Lake Sebu in South Cotabato, Mindanao, are said to believe that the spirit Fu Dalu appears in their dreams to inspire them with these designs. The tri-color textile is used by the T'boli as blankets and clothing, and as barter for food and supplies.
10. Sulu: Tausug Pisyabit
The complicated patterns of the Pisyabit (or Pis Syabit), made in one of the southernmost islands of the Philippines, make it highly coveted. The skilled weavers of Sulu create a fabric with a perfectly symmetrical composition of squares, X's, and crosses. It is traditionally used as head scarves for men.
[CONTACT DETAILS]
ANGIE'S YAKAN CLOTH
Mobile: +63917 854 6111
Facebook: @AngiesYakanCloth
BALAI HABLON
Email: balaihablon@gmail.com
Facebook: @BalaiHablon

BALAY NI ATONG
Mobile: +63949 886 0837
Email: balayniatong@gmail.com
Facebook: @BalayNiAtong
MARANAO COLLECTIBLES
Mobile: +63995 873 3948
Facebook: @MaranaoCollectibles
Email: misissamad@gmail.com
Instagram: @paperbound.ph
NARDA'S HANDWOVEN ARTS AND CRAFTS
Tel. no: +6374 443 4360
Email: nardas.com