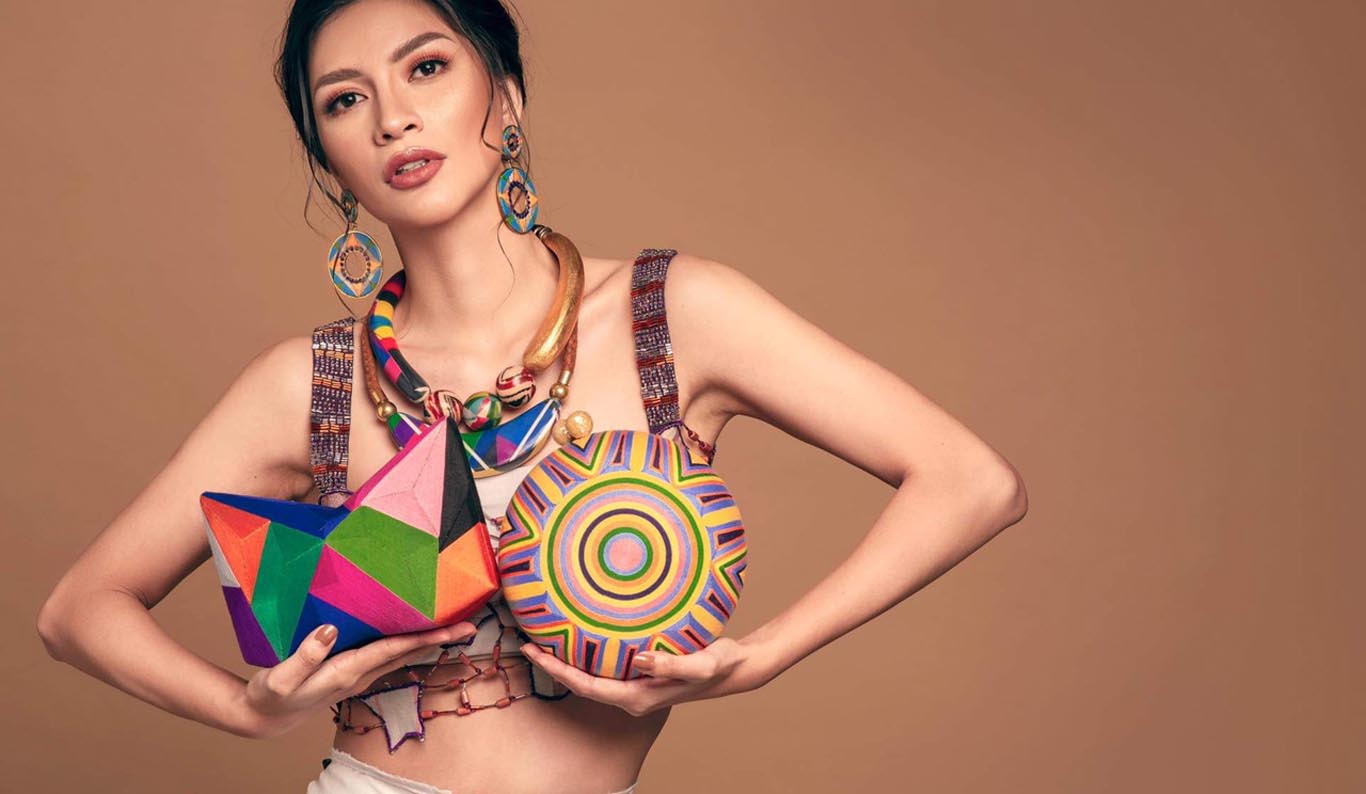 Filipino Fashion Accessories Makers Unite and Take On the Digital Realm
Driven by resilience, a commitment to innovation and an unmistakable survival instinct, the Fashion Accessories Makers of the Philippines (FAMPh) charts new territory on FAME+. Founding members of the collective talk about how FAMPh brands are pivoting and gearing up for this most exciting venture into the digital realm.

As a response to the drastic changes brought about by the pandemic, makers of shoes, bags, and fashion accessories banded to find ways to survive and thrive amidst a time of crisis, forming the Fashion Accessories Makers of the Philippines (FAMPh) in May 2020.

"There were many cancelled orders and closed stores and factories due to lockdowns. Many of us working in the accessories category depend highly on trade shows," shares Creative director for Beatriz, Carissa Cruz Evangelista, who helped spearhead the Fashion Accessories Makers of the Philippines (FAMPh). "Now without sales from brick and mortar shops as well as physical trade shows, we have to find ways to survive and pivot."

"The pandemic was an obstacle that made us search for ways to sustain our businesses and promote our brands but this led us to unify under one collective and strengthen our relevance albeit this unprecedented times," shares Gina Nebrida Ty of Agsam Fashion Fern, also a founding member of FAMPh.

THE GREAT DIGITAL MIGRATION

Under the FAMPh umbrella, a total of 45 members work together by sharing expertise, network, insight and business acumen. As a unified whole, they aim to create a national plan for the fashion accessories industry. Carissa shares, "We also seek to grow membership and find advocates in government and private sectors as well."

On top of their agenda was to create a strong digital presence for the collective and its members. They understand that in a digital-first era, virtual presence is necessary for the industry's survival. Along with the launch of FAMPh, the collective began a digital campaign dubbed #CraftingOurFutureTogether. Intended as a year-long digital campaign, this series of online activations was envisioned as material that would once again forge an emotional connection with a market also adjusting to a new way of life.

Gina is convinced that the old way of doing business isn't going to return anytime soon so an online platform, coupled by social media presence, was how the companies decided to pivot. From among the roster, only a few have managed to establish their own e-commerce platforms. Some have only just begun sprucing up their social media channels.

"The initiatives we've started revolve around online channels in response to changes in the trade show environment and buyer behavior," founding member Frederick Ong of Alchemista adds.

FamPH has since produced several fashion films featuring pieces by members for online dissemination. They have also mounted virtual selling shows and conducted online artist features. More recently, the collective has also started working towards building its own website which will serve as an aggregate platform for members who need an online presence in order to reach overseas customers outside of physical trade shows.

FAMPh Marks A New Chapter In Trade Shows at FAME+

This year, FAMPh is also participating in FAME+, the new digital trade and community platform of Manila FAME that aims to open opportunities for the Philippines' home, fashion and lifestyle industries by connecting businesses to global markets digitally. The physical booth and spaces are now translated beautifully onto the screens of buyers.

A total of 20 FAMPh members will be joining this most exciting new venture. In preparation for the new format, participants are quickly adapting to a virtual environment. "Since presentations are virtual, everything hinges on photography and brand stories which are different from how it was before when the focus was booth-centric and product-centric," Frederick adds.

FamPH members joined E-learning sessions as part of their preparations for a virtual trade show set up. These tools help companies enhance their skills in branding, customer relations and online selling.

Members of FAMPh, most of whom are seasoned exhibitors in trade fairs around the globe, recognize that they have their work cut out for them as they transition into a new model. "The physical aspect for reading non-verbal cues of potential buyers, the scoping and interaction is lost. Also, the visceral exposure to trends and the atmosphere of a physical show," Carissa elaborates. "We've had webinars on understanding selling over the web. We have also banded internally to look at both local and foreign selling opportunities. Other preparations also include consulting with other members who have had previous experience with virtual trade shows."

Designer Trunk Shows Powered by Patrons of Philippine Craft

Finding government and private advocates to support the industry has also been a top priority for members of FAMPh. The collective, in close collaboration with HSBC has found a common thread in championing a pivot for local craft through their "Together, Let's Love Local campaign." This initiative aimed to support world-class, Philippine-made brands and encourages consumers to buy locally generates work and livelihood for those who work in local industries.

To engage consumers, HSBC is bringing exclusive offers for purchases of locally-made products. "In partnership with HSBC, some of our FAMPh members will be giving out special discounts for cardholders shopping with their HSBC Credit Cards," says Frederick. Most of these online selling events will run simultaneously with the FAMPh launch on FAME+. Members of the collective are also looking to mount exclusive trunk shows where cardholders get access.

FAMPh and HSBC are also going to produce the Artist Talks Series where members can share their stories. Aligned with HSBC's 'Together Let's Love Local' campaign, these digital assets are intended to spark interest, inspire creativity, and re-establish the connection between local brands and their consumers.

For the past 145 years, HSBC has been a partner in helping build the nation. Now more than ever, the company strengthens this commitment by forging partnerships and collaborations that enable cardholders to support a worthy cause. Beyond the call to support local businesses and industries, HSBC has also been front and center in establishing initiatives that help the medical community bring more access to online education as well as providing more livelihood for millions of Filipinos.

The Country's Best in Wellness, Home and New Normal Essentials

Much like the format and interface, product offerings have also evolved to suit the times. Carissa cites several emerging trends from FAMPh at FAME+. "Cocooning from home seems to be something that clients resonate with. Most meetings are now done online so dressing from the torso up or neck up calls for interesting details on the neckline." Colors applied to the lounge or home wear are also a huge draw as it balances out the sober mood of the times.

Protective gear items like masks, carry-all bags and pouches for new normal essentials are pivot items that members of FAMPh are looking to showcase. Local weaves, patterns and fabrics are integrated into these pieces as a means for creating differentiation for the wearer, says Carissa. It is also a testament of FAMPh's commitment to empowering craft and community moving forward towards a new world order.

"We are also renewing focus on home and wellness," declares Frederick. Home décor items that help to enhance a sense of comfort and contentment, are now deemed worthy investments for a work-from-home clientele. With health as a top priority for most, items that promote wellness and safety have also become intrinsic to the product mix. "We are also keen on creating in lower volumes but more variety," adds Frederick.


High Hopes In A Digital Age

Possibilities are endless in the digital realm. Borders are blurred and the time constraints of a three-day trade show are now extended to 24/7, thanks to an online platform orientation. Carissa ponders: "We have no expectation, but have high hopes. If anything, we hope to learn and book orders."

Joining the FAME+ roster is an opportunity for FAMPh members to gain exposure on the world stage. "This will help increase our ability to reach customers 24/7," Frederick ends.