BACK TO NATURE
This is the irony of the digital age. With an excess of information at our fingertips, and with our focus on online multitasking, it isn't a surprise that outside of this, we crave the comfort and soothing familiarity of natural things.
The perfection and sleekness of typical modern design with its straight, rigid lines and cold colors won't cut it for this day and age. According to organic modernist Becky Shea in Elle Décor homeowners and designers look to our primitive roots with nature and the earth and how all these positively affect our moods.
Clockwise from top left: Aubrey Necklace from Floreia; Bauhaus Terracotta Vase from Red Slab Pottery (where necklace is draped on); Ai-she Mules; Necklaces from Floreia; woven bags from Great Women; Money Envelope from the Springtime Collection by Paperbound; Handpainted Paper Bags from Tuy Arts and Designs; Monstera Tray by Vito Selma; Metal Apple from Enpekei; Wedges from Ai-She.
These trends that take include natural materials like raffia and textured wood, nature-inspired designs like foliage and flower motifs, and also live plants or an entire live green wall to provide a space with its own ecosystem, and to help purify the air.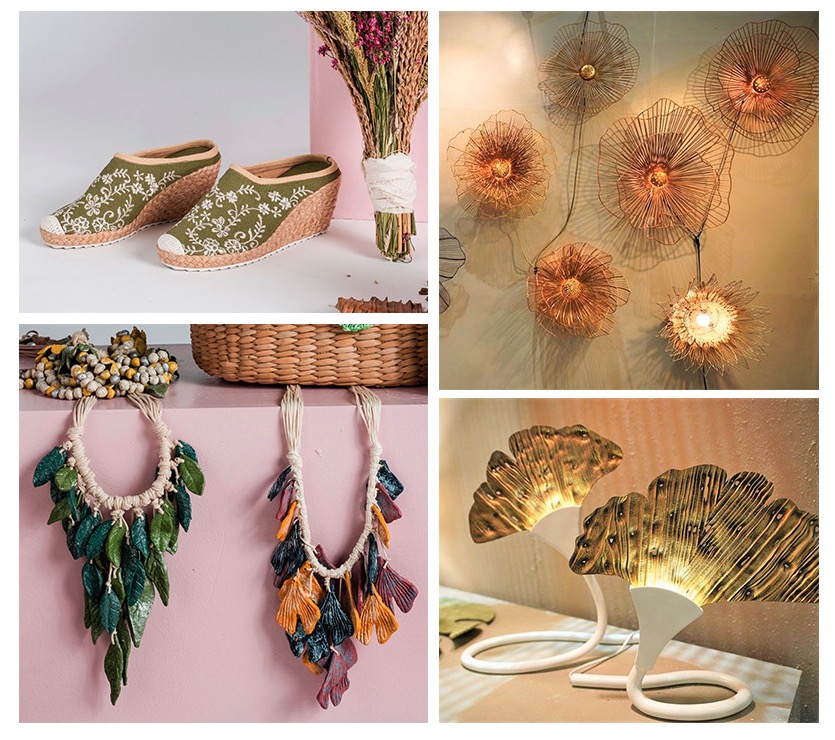 Clockwise from top left: Embroidered Andrea Wedges from Ai-She Footwear; delicate floral wall lamps from Prado are made out of iron and galvanized wire; highly textured surface finishes can be seen in these lamps by Vito Selma; Flor, Eden, and Cameron necklaces by Floreia are created from Nucast, a recycled paper material.
Nature-inspired looks were spotted on both fashion and interior accessories at the recent edition of Manila FAME. These ranged from Floreia's necklaces of sculptural leaves and flowers made out of eco-friendly Nucast, a recycled paper composite and the delicate, barong tagalog-inspired floral embroidery of Ai-She's shoes to Vito Selma's trays that are inspired by the giant leaves of the Monstera Deliciosa plant.
[CONTACT DETAILS]
AI-SHE FOOTWEAR
Mobile: +63917 502 6780
Instagram: @aishefootwear
ENPEKEI INTERNATIONAL
Twitter: @enpekei
Facebook: @enpekei
FLOREIA
Instagram: @floreiafashion
GREAT WOMEN
URL: greatwomenglobal.com
PAPERBOUND PH
EMAIL: ph.paperbound@yahoo.com
Instagram: @paperbound.ph
PRADO FILIPINO ARTISANS, INC.
Facebook: @pradofilartisans
RED SLAB POTTERY
EMAIL: ecsanchezredslabpottery@gmail.com
URL: redslabpottery.com
TUY ARTS AND DESIGNS
URL: tuyartsdesigns.weebly.com
VITO SELMA
EMAIL: info@vitoselma.com
URL: vitoselma.com