THE GREGORIA II, UP CLOSE
While others were gardening and baking during quarantine, Ito Kish decided to use the lockdown as an excuse to get more creative.
The designer and visual storyteller took advantage of this downtime to set up his new furniture and lifestyle store in Makati City. "With pop-ups in the store, I didn't want to get another brand for no reason, so we decided that everyone who's going to a pop-up here has to do a collaboration," he explains. Initially, he did collabs with Apol Lejano of slow living brand Good Luck, Humans, pottery artist Joey de Castro, and fashion brand Filip+Inna's Len Cabili, and with Zarah Juan for next month.
Kish's project with Cabili was quite special, as the two friends decided to work on the Gregoria Chair, one of Ito's signature pieces. The original Gregoria—which is named after Kish's mother—won a Katha Award at the 55th edition of Manila FAME in 2012, and is part of the Baluster Collection, which was his first foray into furniture design.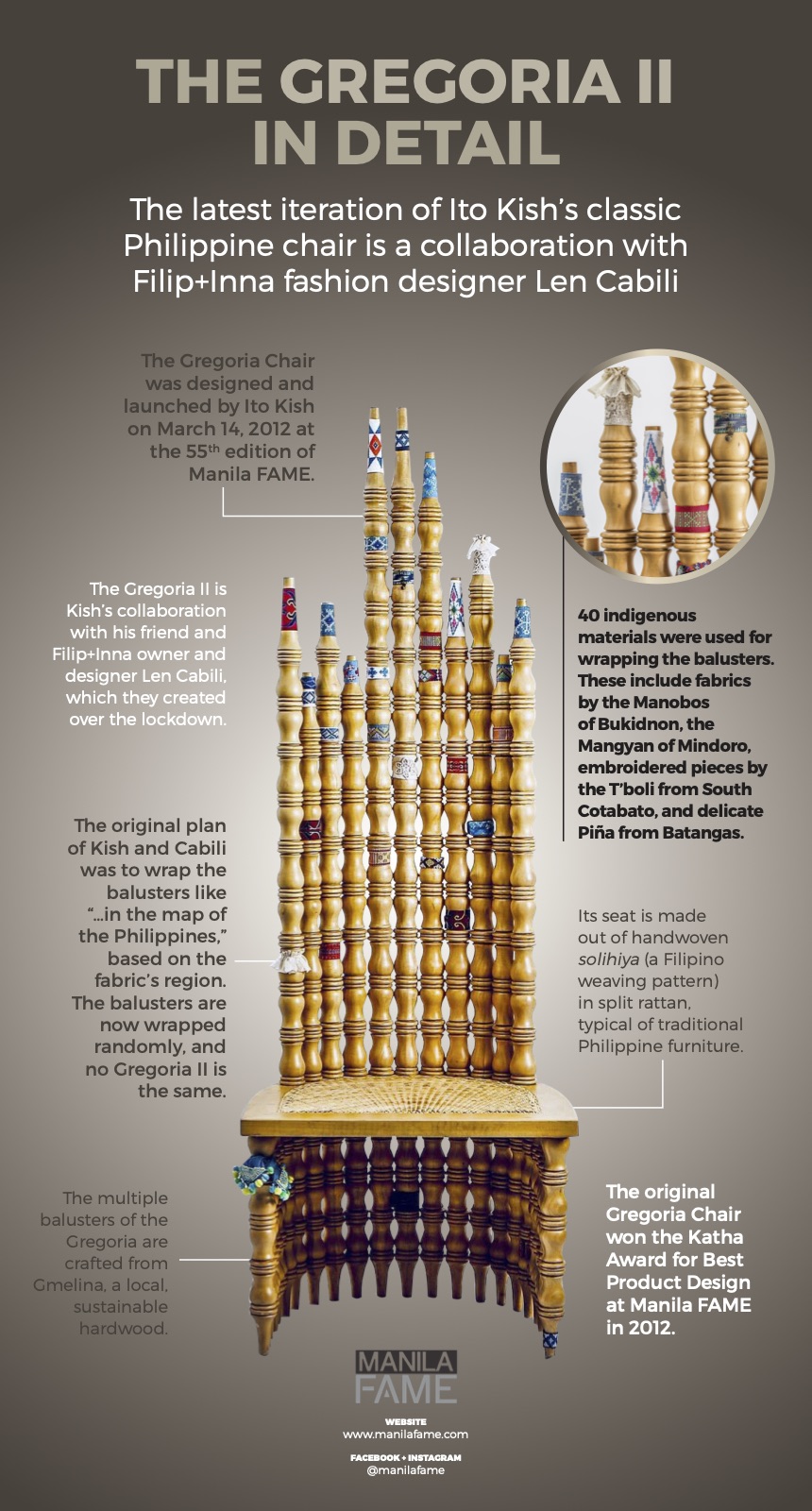 "In this collaboration with Len, we wanted something that was pretty easy to navigate, given the pandemic, since it would be difficult to go through the motions of prototyping, product development, in a few months," Kish relates. "So, I came up with an initial design [of Gregoria II], and I said: 'Why don't you just wrap it, Len?'"
Approximately 40 woven indigenous Filipino textiles can be found wrapped around the smooth balusters of the Gregoria II. You might find a subtle, neutral-colored inabel band from the North right next to an exuberantly hued Yakan fabric from the south; and then see a delicately embroidered piña (pineapple fiber) fabric beneath it.
These fabrics are the signature touches of Filip+Inna and Cabili herself, whose advocacy is to keep Philippine weaving traditions alive. "Everything is one-of-a-kind, the patterns change, and so your chair is different from the last one," Kish says.
CONTACT INFO
ITO KISH
URL: itokish.com
Facebook: @ITOKISHOFFICIAL
Instagram: @itokish
FILIP+INNA
URL: www.filipinna.com
Facebook: @FilipandInna
Instagram: @filipinna