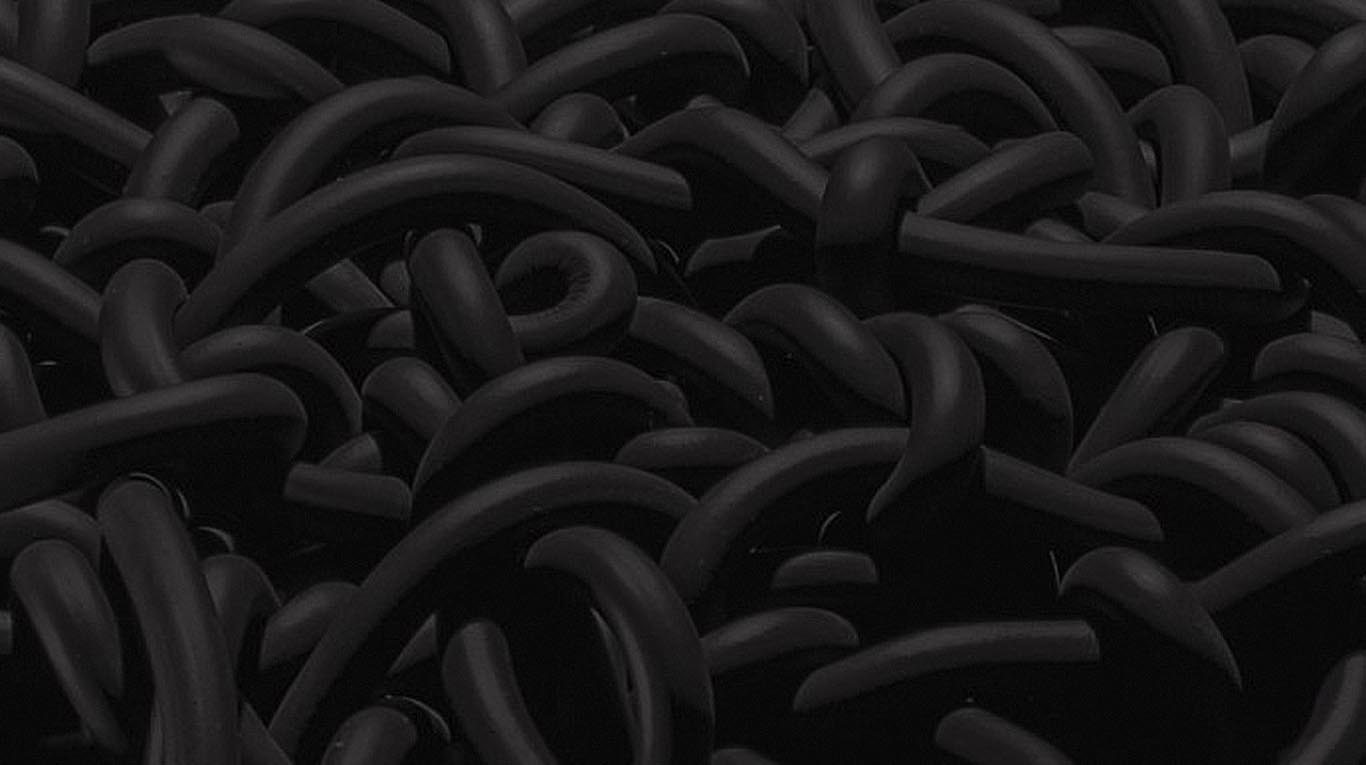 Black is the New Black
"It was like we were giving these concepts a second chance."
Every year, since the 1980s, the Fuorisalone at the Milan Design Week was a much-awaited event, a "companion piece" of sorts to the main Salone Internazionale del Mobile fair. Spread out in different pavilions and venues in Milan's Brera district, the Fuorisalone couldn't even be called a selling fair; it went beyond that to become a showcase of creativity, design, and art.
Initially slated for March 2020, the Fuorisalone was postponed for June because of the COVID-19 pandemic that greatly affected most of Italy. In June, however, it was eventually canceled and replaced with Fuorisalone Digital, a virtual event.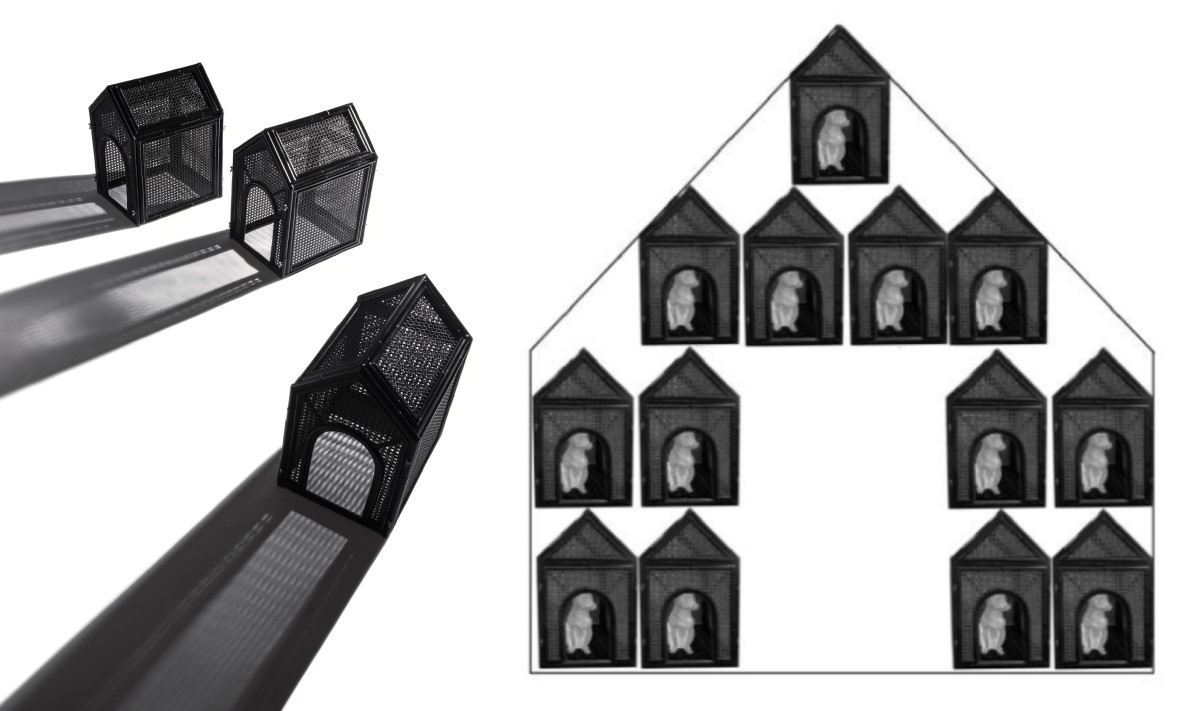 Another early rendering (right image) for the Fuorisalone, which didn't push through: an installation of E. Murio's playful Irooo dog houses by artist Patty Eustaquio (left). The dog houses are stacked this way to create a larger "house."
Design Philippines' intended exhibit for the physical June Fuorisalone event was ITIM: Material Manipulations in Black, curated by Gabriel Lichauco and Rita Nazareno ("itim" is Filipino for the color "black"). However, the container van with the said pieces were already at sea when the June leg of Fuorisalone was canceled.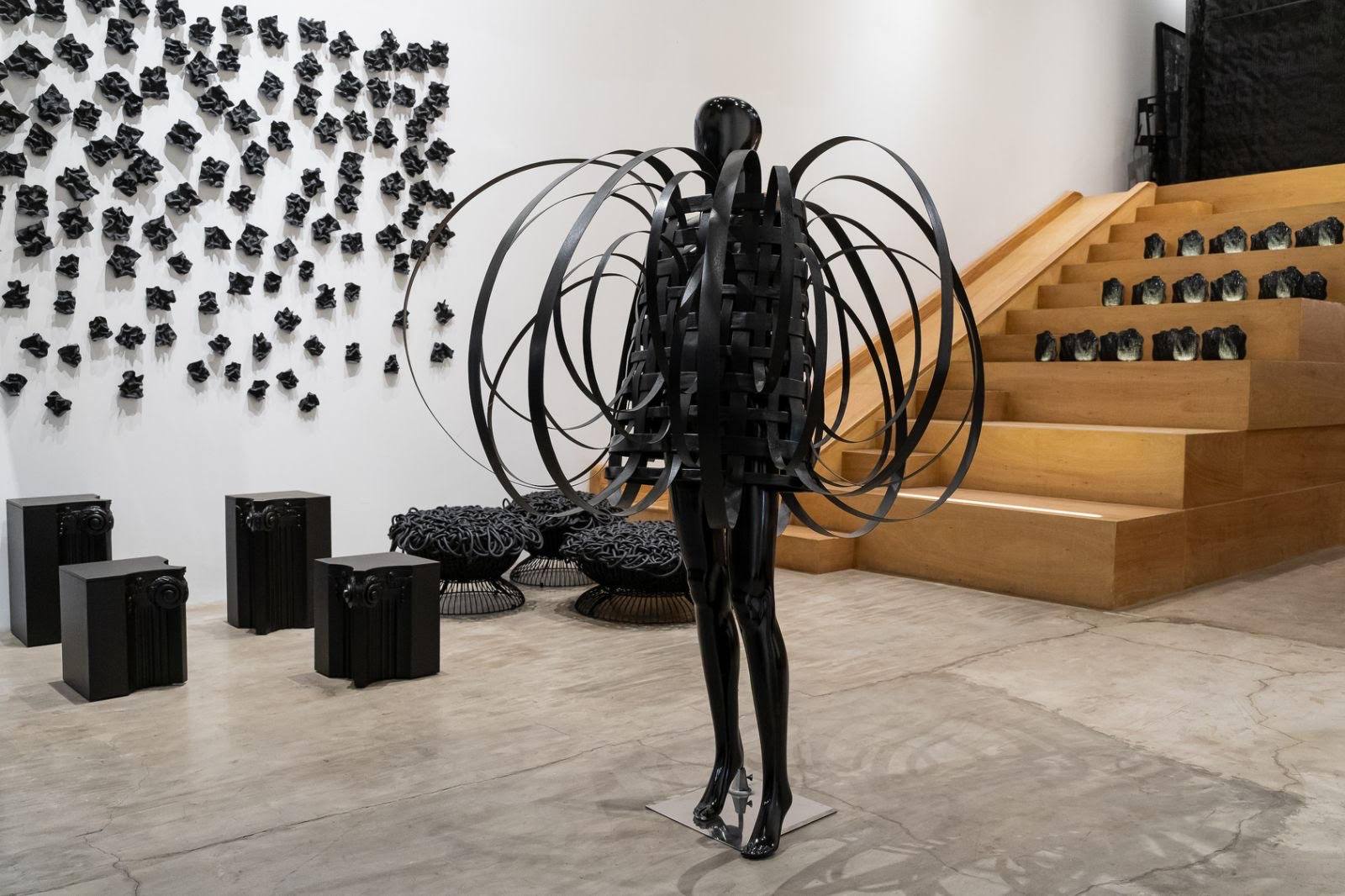 At the ITIM exhibit at Aphro Living in Makati City, JB Woodcraft's stools and Vito Selma x Andrei Chang's dramatic "The Barrel" dress dominate the gallery's main floor.
CITEM's Executive Director Pauline Suaco-Juan explained the situation most poignantly in her Philippine Star article: "When I first heard that Milan had gone on lockdown because of COVID-19, I immediately thought of that container at sea—the container representing the hopes and dreams of about a dozen designers and manufacturers eager to be the new face of Philippine design."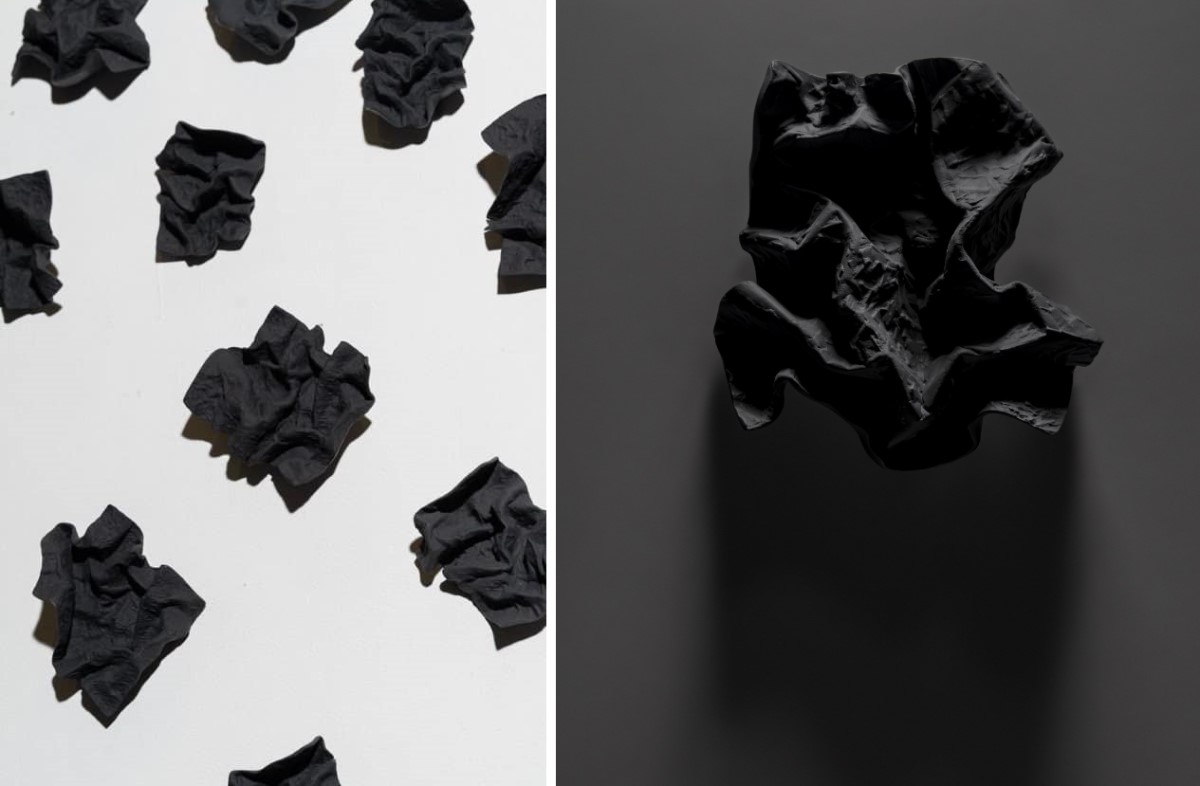 CSM Philippines, known for their pristine white bone china, crosses over to the dark side with their installation of all-black "crumpled" bone china objects on Aphro's walls.
ITIM was intended to be more of a conceptual show than one for selling; with pieces from nine different Philippine manufacturers to be done all in black. With this theme, ITIM aimed for uniformity, and the focus on texture and form because of the absence of color.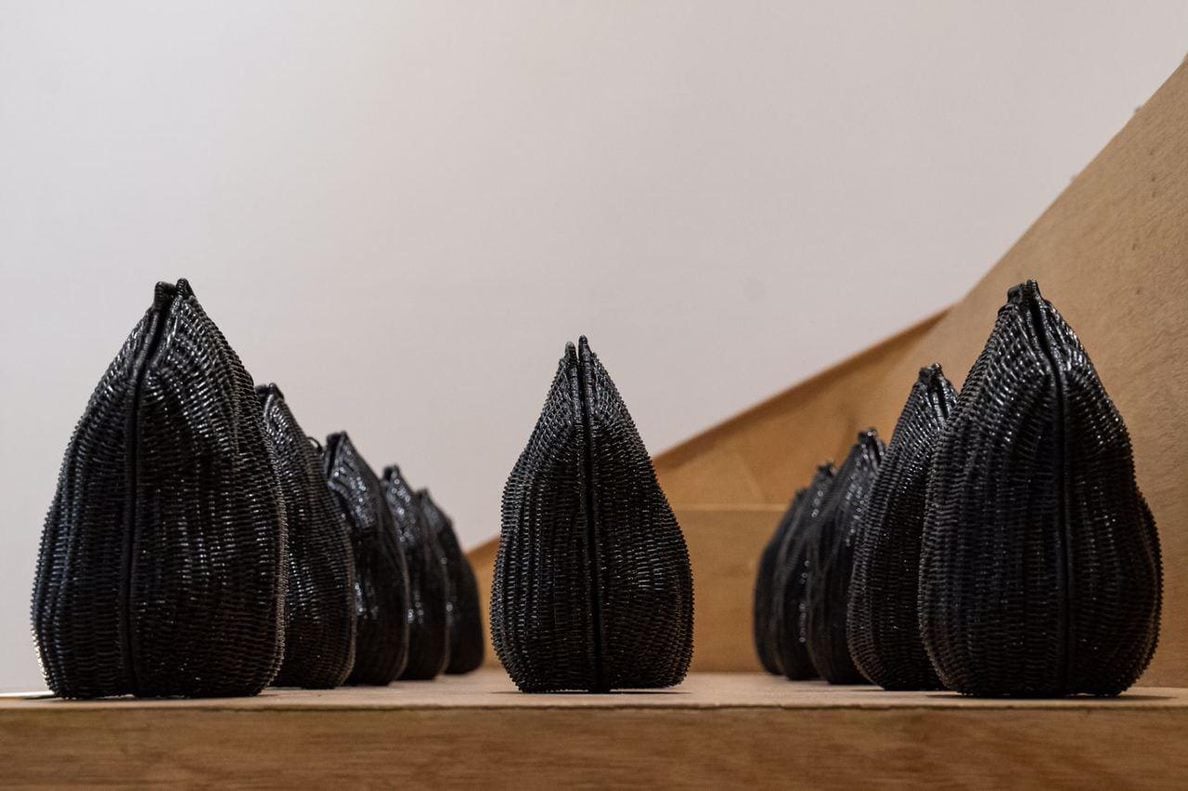 Zacarias 1925's Monolith Sedona Clutches in handwoven wicker climb up the stairs at Aphro Living.
With the pieces eventually recovered, the curators immediately went to work to set up the show on local shores, only this time reinvented to fit Aphro Living's gallery space. "Of course, the venue is now entirely different, as ITIM was supposed to represent the Philippine design market when we were to set it up in Milan," Lichauco explains. "Now, we agreed to set it up at a much earlier time in Aphro to coincide with the Manila FAME Plus launch."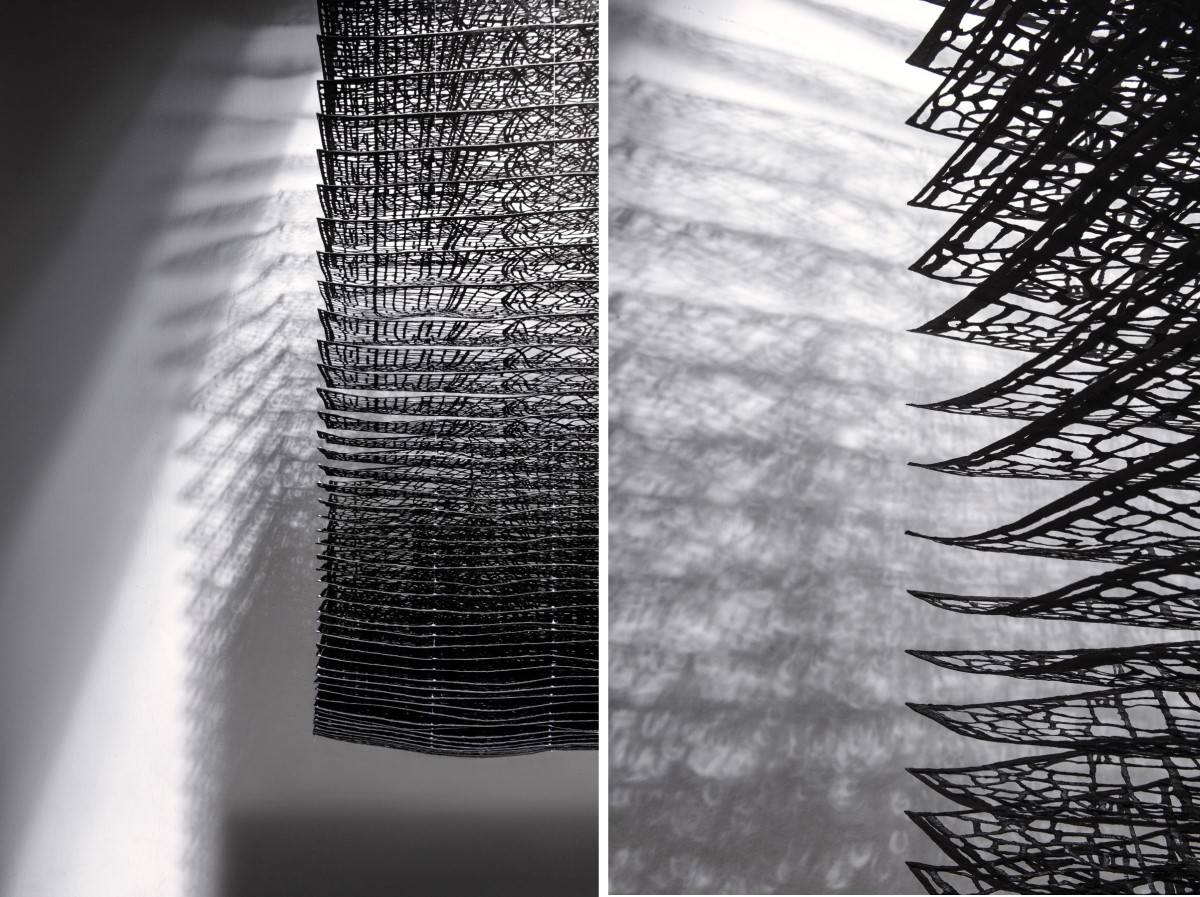 Lichauco recalls how they came up with these paper "maps" from Masaeco: "When we visited Wataru Sakuma's workshop in Silang, we saw his digital map series [in paper] in a room upstairs…we asked him to redo it for ITIM, so he made a map of Milan and produced 60 pieces of it and labeled each one with Milan's streets."
Viewing the all-black pieces in the gallery, in various heights of the exhibition space's flight of stairs, is a stunning visual experience. Vito Selma's "The Barrell" dress dominates the main floor; while CSM's crumpled bone china pieces dot a nearby wall. These lead to a village of E. Murio's solihiya and rattan dog houses and Zacarias1925's amorphic wicker clutches climbing the stairs. And then it all culminates in the grand reveal of Selma's magnificent Peacock chair at the top of the gallery.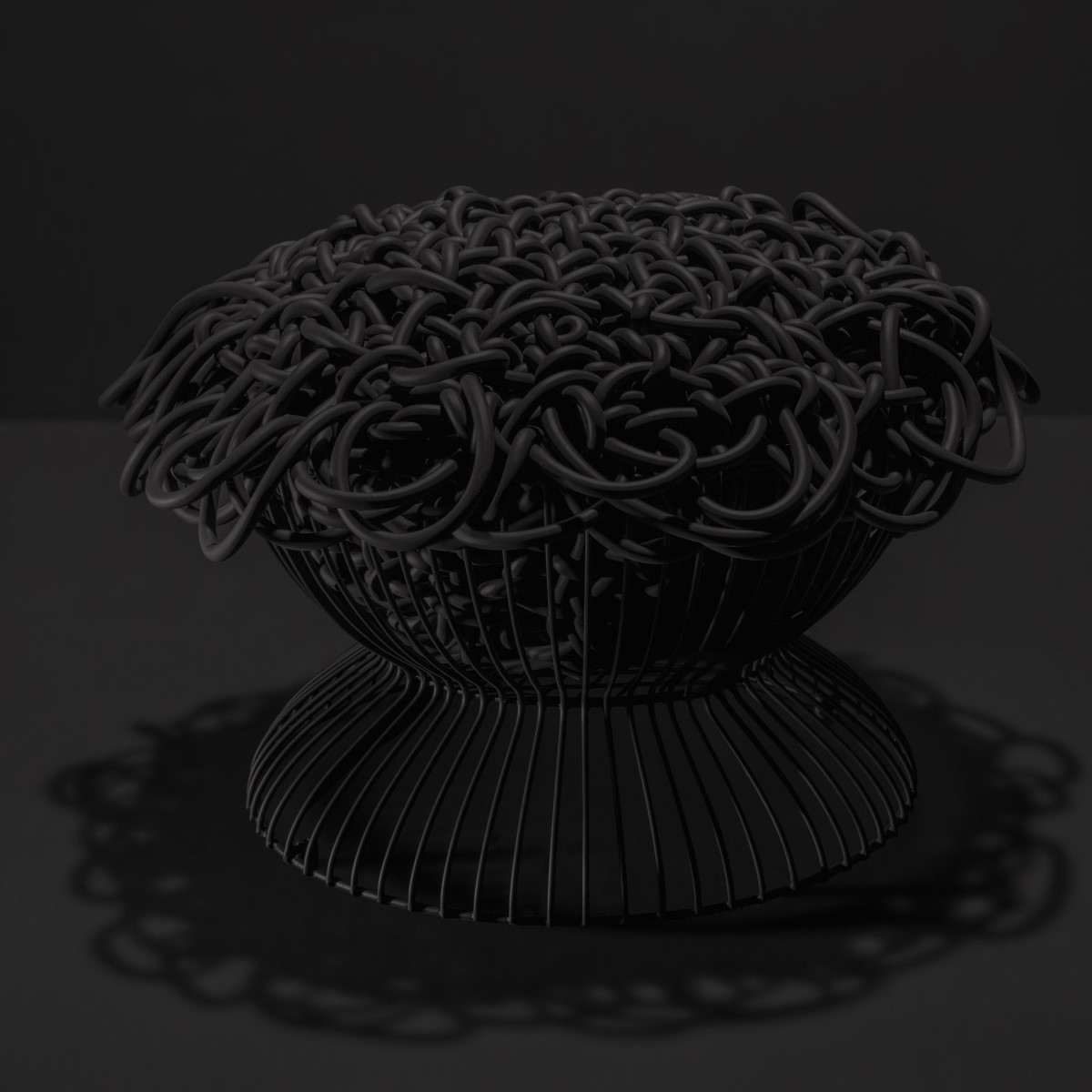 Part of the curators' job is to develop the products for the theme of the show, but some pieces don't need it, like Jude Tutuico's Luglog chairs of tangled inner tire tubes (named after a local noodle dish) for Industria Edition.
"What we wanted for ITIM was for people to engage with the pieces. Now, these are not art pieces; these are all designed for function," says Lichauco of the setup. "And when we picked the products for ITIM, we wanted pieces that were not necessarily for selling. It was like, they took it out of storage, and we were exploring what other pieces they had in their workshops. It was like we were giving these concepts a second chance."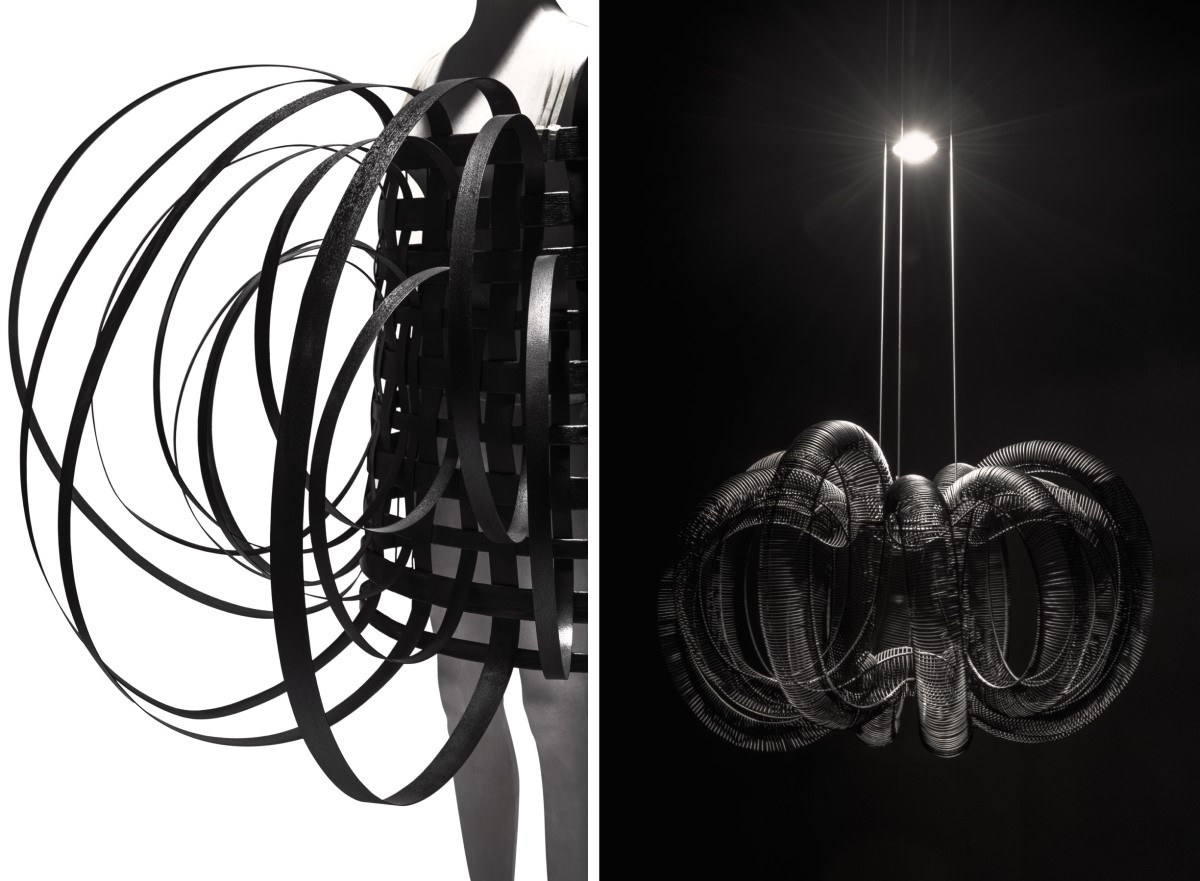 Vito Selma's wooden "The Barrel" dress (left) somehow echoes the spiraling curves of Schema's Cumulus Lamp by Leeroy New in spot-welded metal wire (right).
Even if the Milan event had been canceled and the container van of dreams sent back, the skills and craftsmanship of the manufacturers and the subtleties of form and function of all these dark and beautiful pieces can now be appreciated up close, by those who wish to venture out.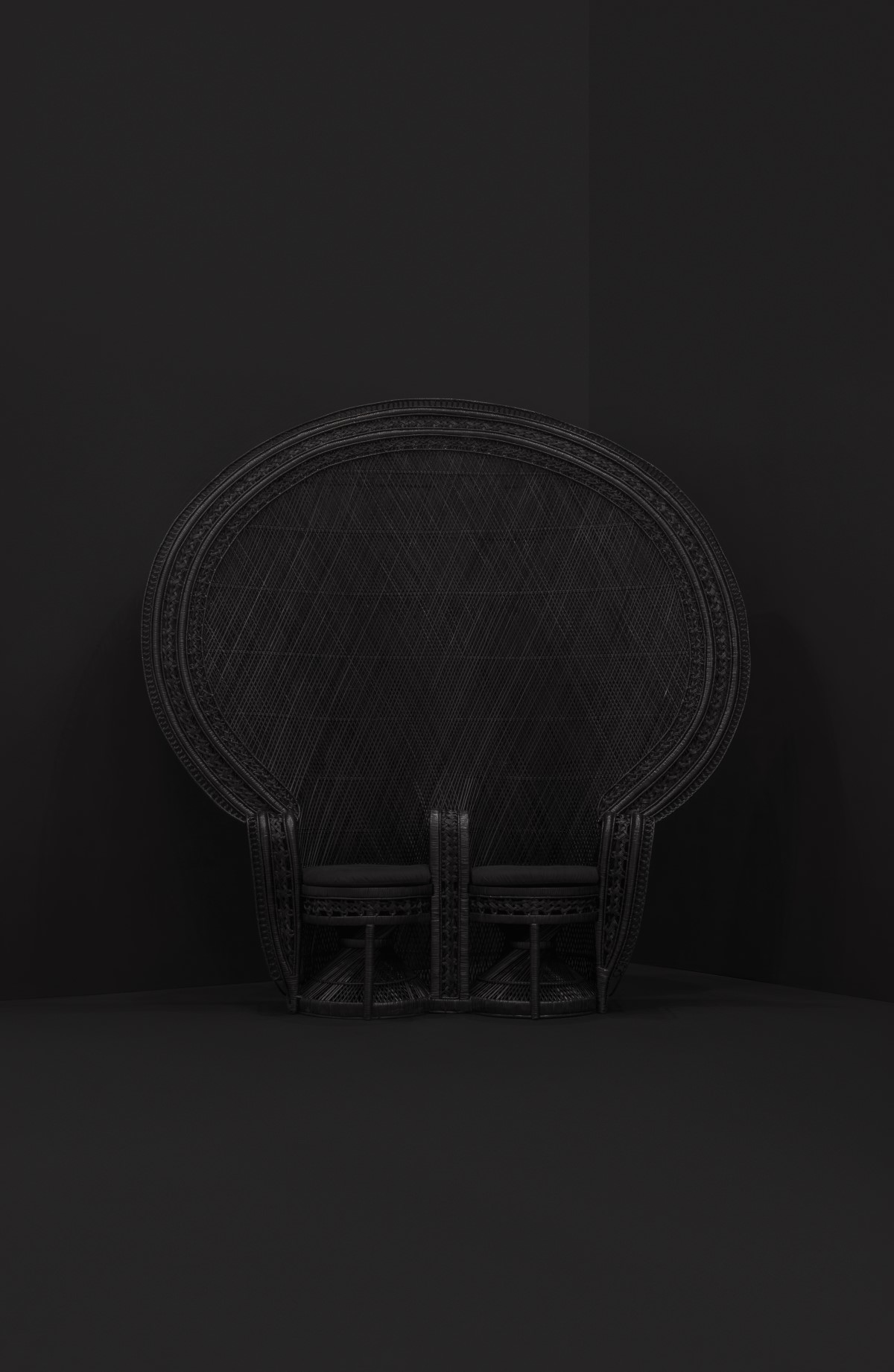 The exhibit at Aphro culminates with Selma's regal Peacock Chair. "One of the pieces we envisioned people would be taking a lot of photos of at Fuorisalone was Vito Selma's peacock chair," Lichauco shares. "It's really big, so we put it there at the top of the stairs in the gallery. It's larger than life!"
ITIM: Material Manipulations in Black will run at Aphro Living in Makati City until the end of October 2020 (open from Tuesdays to Saturdays, 11am to 8pm), and can be viewed online as a virtual event on Manila FAME Plus.
[CONTACT INFO]
APHRO LIVING
The Alley at Karrivin,
2316 Chino Roces Ave.,
Makati City, Metro Manila
Instagram: @aphroliving
CSM
URL: csmphilippines.com
E. MURIO
URL: www.emurio.com
JB WOODCRAFT
URL: www.jbwoodcraft.com
INDUSTRIA
URL: www.industriaedition.com
MASAECO
URL: masaecopaper.com
NATURE'S LEGACY
URL: www.natureslegacy.com
SCHEMA
Instagram: @schema_product
VITO SELMA
URL: www.vitoselma.com
ZACARIAS 1925
URL: www.zacarias1925.com