7 MEMORABLE KATHA AWARD WINNERS
Each year, Manila FAME caps its fair with its famous Katha Awards, which is intended as a hallmark of design excellence through recognition of product design and innovation in the categories of furniture, home and décor, fashion, eco-design and others.
These awards are given to original pieces exhibited at Manila FAME that exemplify the best of Philippine product design by a changing panel of esteemed judges from the design industry. And aside from the prestigious recognition, a Katha Award-winning product often gives us a glimpse of what will be on-trend in that category for the next year.
Check out our infographic below to see which pieces are some of the most memorable examples of Filipino design and material manipulation in recent Manila FAME editions.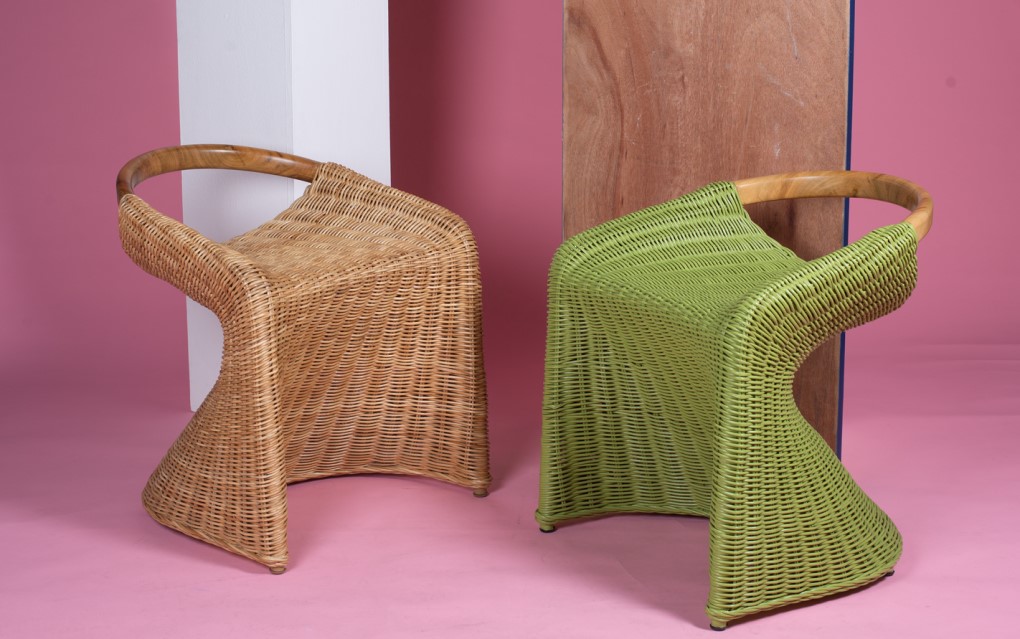 Cebu manufacturer Coast Pacific's ingeniously cantilevered woven Rasty Chairs won the Katha Award in the April 2019 edition of Manila FAME.

Benjamin Lamps
By Stanley Ruiz for Venzon Lighting (April 2016)
Pampanga-based manufacturer Venzon Lighting has long been known for their groundbreaking but elegant designs. For their Benjamin Collection, industrial designer Stanley Ruiz reimagined vintage searchlights and added a Filipino touch with woven solihiya inserts.

Gregoria Lounge
By Ito Kish for KISH (March 2012)
The intricately carved balusters of this lounge chair made of Gmelina wood and woven rattan solihiya seat by visual storyteller Ito Kish made it a standout when presented at FAME in 2012. It also won design awards in Korea and Italy.

Rasty Chair
By Florian Barrete Jr. for Coast Pacific (April 2019)
What looks like a precariously angled furniture piece is actually a perfectly engineered chair by the iconic Cebu manufacturer Coast Pacific. Its woven wicker cantilevered seat embraces the sitter safely and comfortably, all the while giving the piece a sleek silhouette.

Bagwis Malacca Daybed
By Tony Gonzales for Locsin International (October 2012)
Multiple-award-winning designer Tony Gonzales pushes the traditional form of the daybed with his playful version in curved rattan and solihiya weaving for Locsin International—a manufacturing company that also has many awards under its belt for their modern-tropical designs.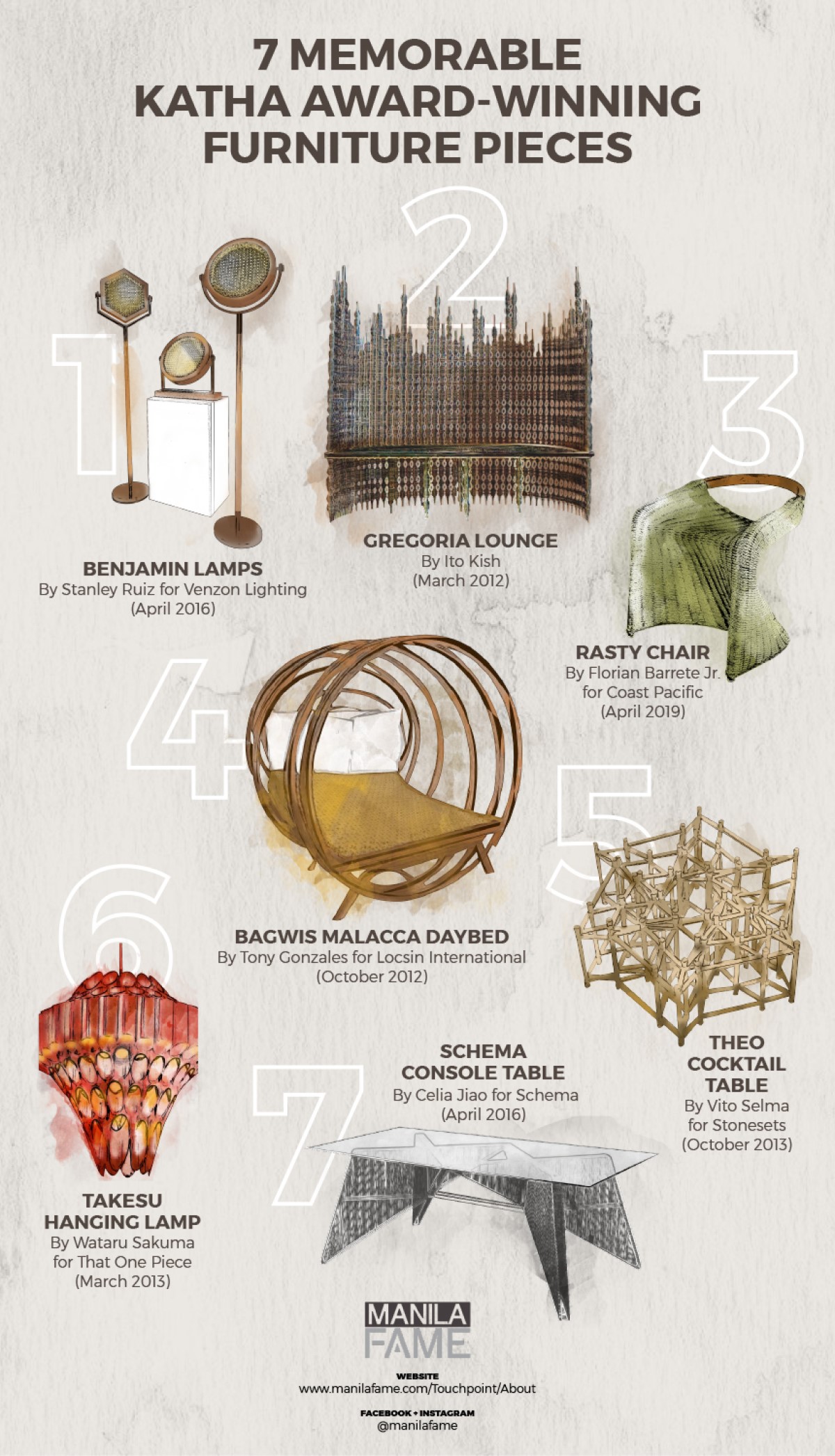 Theo Cocktail Table
By Vito Selma for Stonesets International (October 2013)
This ingenious furniture piece by the Cebuano designer has moving parts that can be rearticulated into many variations to form a small or large table base, and if you ditch the glass top—it could even become wall art.

Takesu Hanging Lamp
By Wataru Sakuma for That One Piece (March 2013)
Masaeco's owner and designer Wataru Sakuma's carefully gradated layers of bamboo offcuts to lend a sculptural quality to this pendant lamp for TOP. The Takesu won the Eco-Design award for this edition of Manila FAME.

Schema Console Table
By Celia Jiao for Schema (April 2016)
The Antipolo-based company used to be Christmas décor manufacturers, but they have recently made waves in the Filipino design industry with their metal creations. Jiao, Schema's owner, designed this table—with negative and positive spaces—inspired by modern architecture.


[CONTACT DETAILS]
COAST PACIFIC
info@os-furniture.com
www.coast-pacific.com

KISH
@itokishhome

LOCSIN INTERNATIONAL
locsin@locsin.com
www.locsin.com