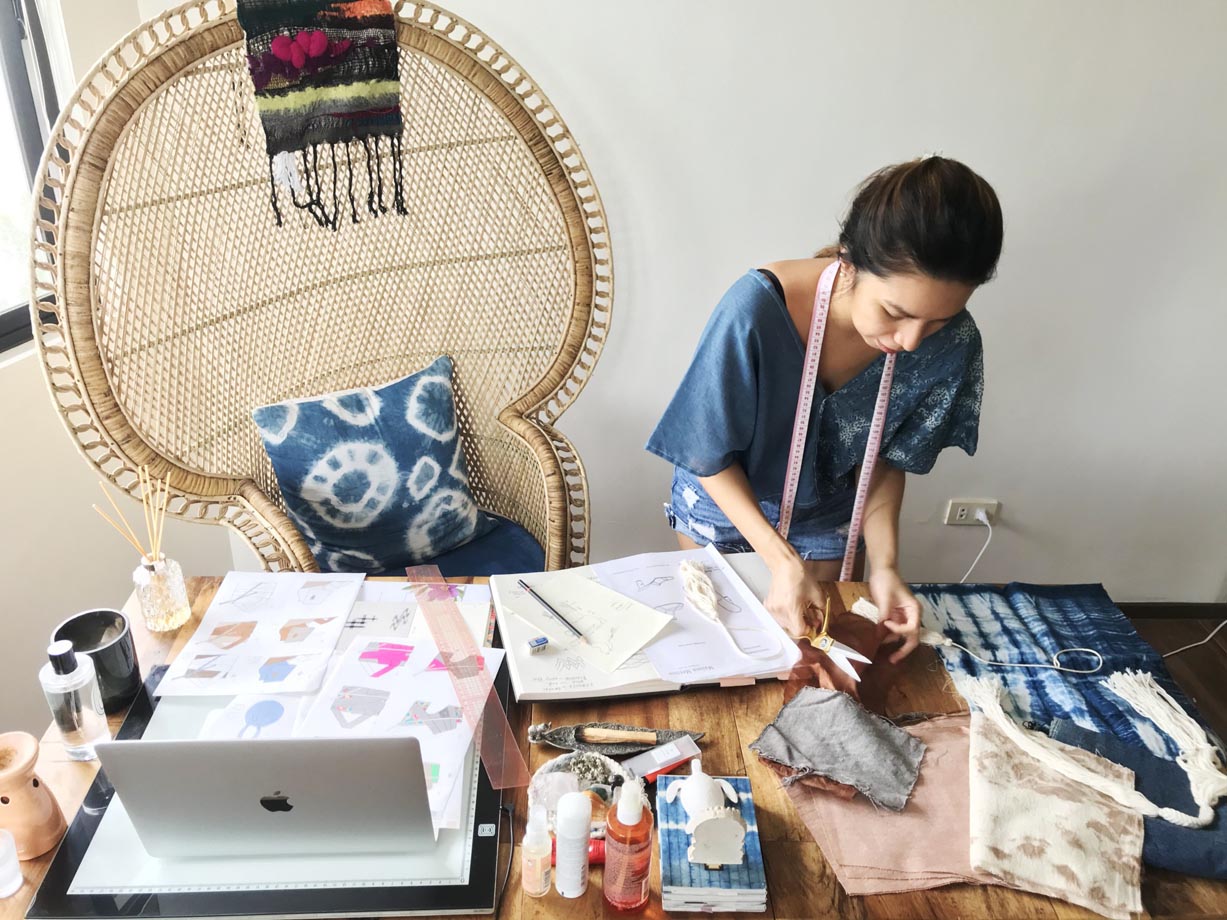 This Artist Focuses on Slow Fashion and Handmade Style
"We are focusing on the lost craft of handmade… slow fashion is no longer an option, but a necessity."
These statements from mindful lifestyle brand Maison Métisse's artist, designer, and founder Adrienne Charuel struck us as thoughtful and very relevant to the times. The quotes, along with her painstakingly handmade Filipino pieces, are refreshing to hear and see in the midst of all the mass-produced fashion we are bombarded with daily.
Charuel, who studied fashion design in Esmod, Paris, set up Maison Métisse in New York in 2016 (Métisse is French for "a woman of mixed ancestry), where she learned various artisanal crafts such as Japanese Saori weaving. This led her to pursue other crafts such as Ai-Zome (traditional hand-dyeing), Shibori (Japanese tie-dyed indigo), and hand-embroidery, which are used in the creation of the brand's products.
The end result of this craftsmanship are dreamy dresses, floaty tunics, and wraps in subtle abstract patterns created by the hand-dyeing. These pieces are accented with hand-knotted tassels and sacred hand-embroidery by Philippine indigenous tribes.
Another noteworthy aspect of Maison is its ethical side, wherein various Filipino communities benefit directly from creating these products. "As a social-cultural enterprise and advocate of ethical fashion, we believe in honoring traditions while moving forward," says Charuel. We talk to her about her work, and her advocacies.
Maison Métisse's products are rooted in heritage, craft, and community. (Left) The Kaftan Dress features Shibori dyeing and embroidery by the Itneg. (Right) Details of the Amor Kimono show Philippine weaves and hand embroidery up close.
Q: What is your vision for Maison Métisse?
Adrienne Charuel: "Honest, Ethical, Handmade. We are a value-based, social-cultural enterprise. Sustainability is in the heart of the brand. It is the philosophy and lifestyle of having a positive human impact on the environment and social responsibility.
We are also focusing on the lost craft of handmade, showing the amazing capacity of the human hands when left to create without the interventions of modern technology. We also like to celebrate universal and Philippine heritage. [We are] always combining different techniques or traditions like for example, our Kaftan Dress—we create the textile with natural dyes using the Japanese art of Shibori, and then, it is adorned with sacred hand embroidery by the Philippine Itneg Tribe."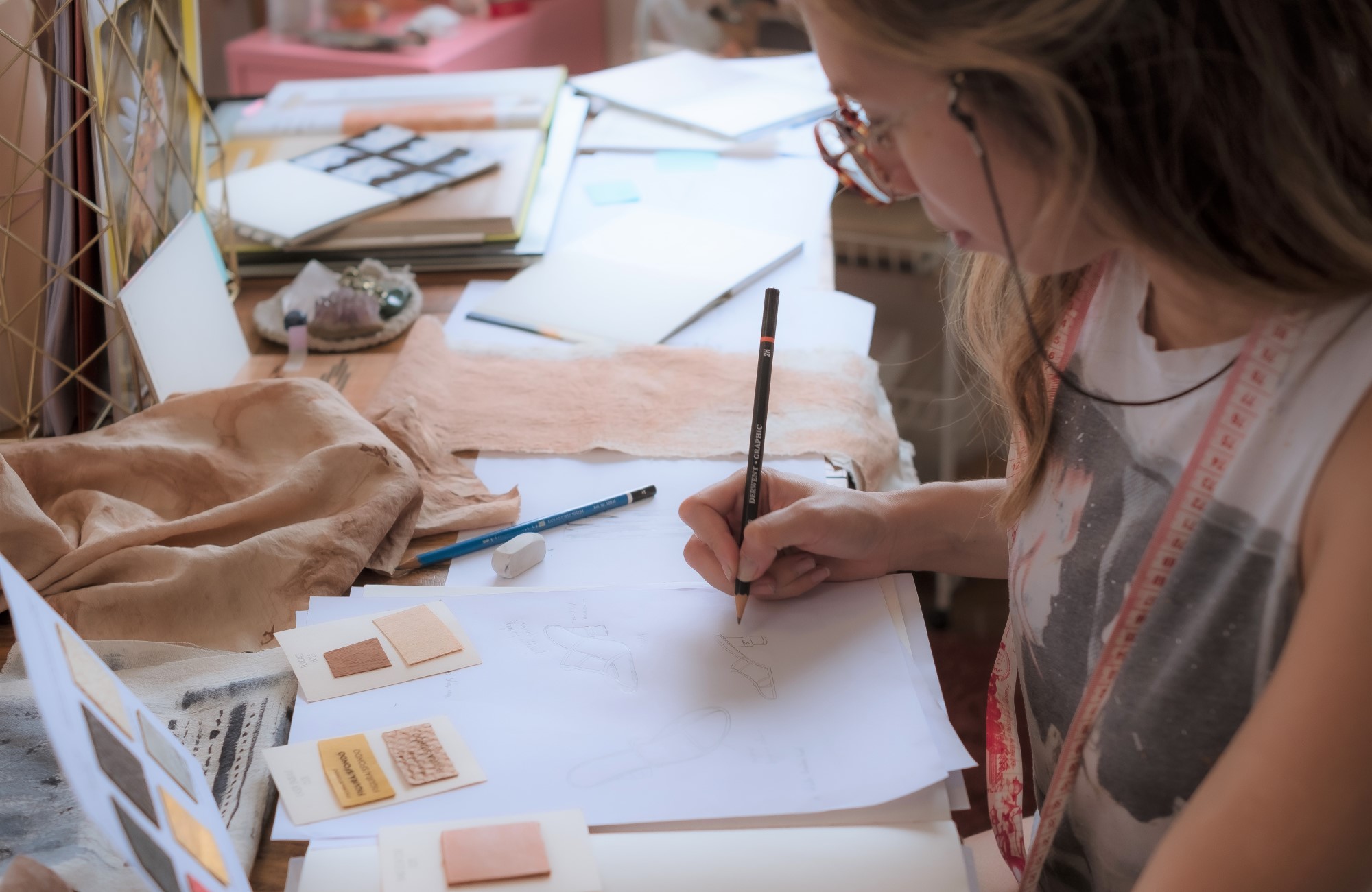 Maison Métisse's founder and designer Adrienne Charuel at work in her home atelier. Of her inspirations: "I have to say Japanese Art is highly inspiring to me. The way they do their craft and how they master it is amazing."
Q: How did the idea of Maison Metisse begin?
AC: "I originally started the brand in New York last 2016. I discovered Saori Weaving and enjoyed it so much that I created pieces to sell in New York. It started out more as a hobby and just seeing how people reacted to the pieces."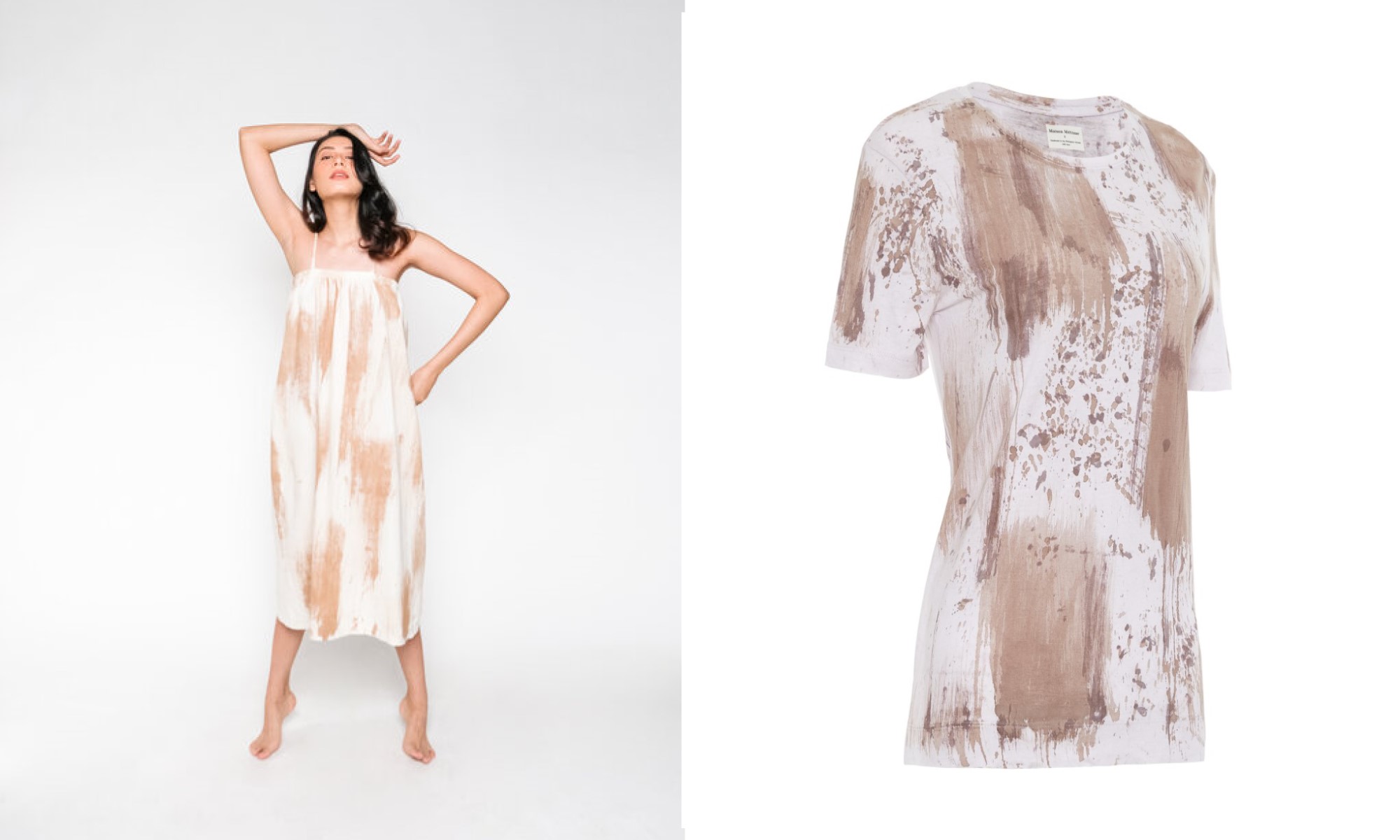 The brand's most recent collection features the breezy Poupette Dress made out of Philippine pineapple textile and cotton in natural earth dyes (left), and the painterly Hariya Tee (right), of which every piece is unique.
"Unexpectedly, we decided to move to Manila in 2018 and it was great, as it gave me a chance to go back to my roots and incorporate it in my creations. I was doing some self-studies in natural dyes and found out that we had Philippine Natural Dyes and there was a tribe in Northern Luzon who does it."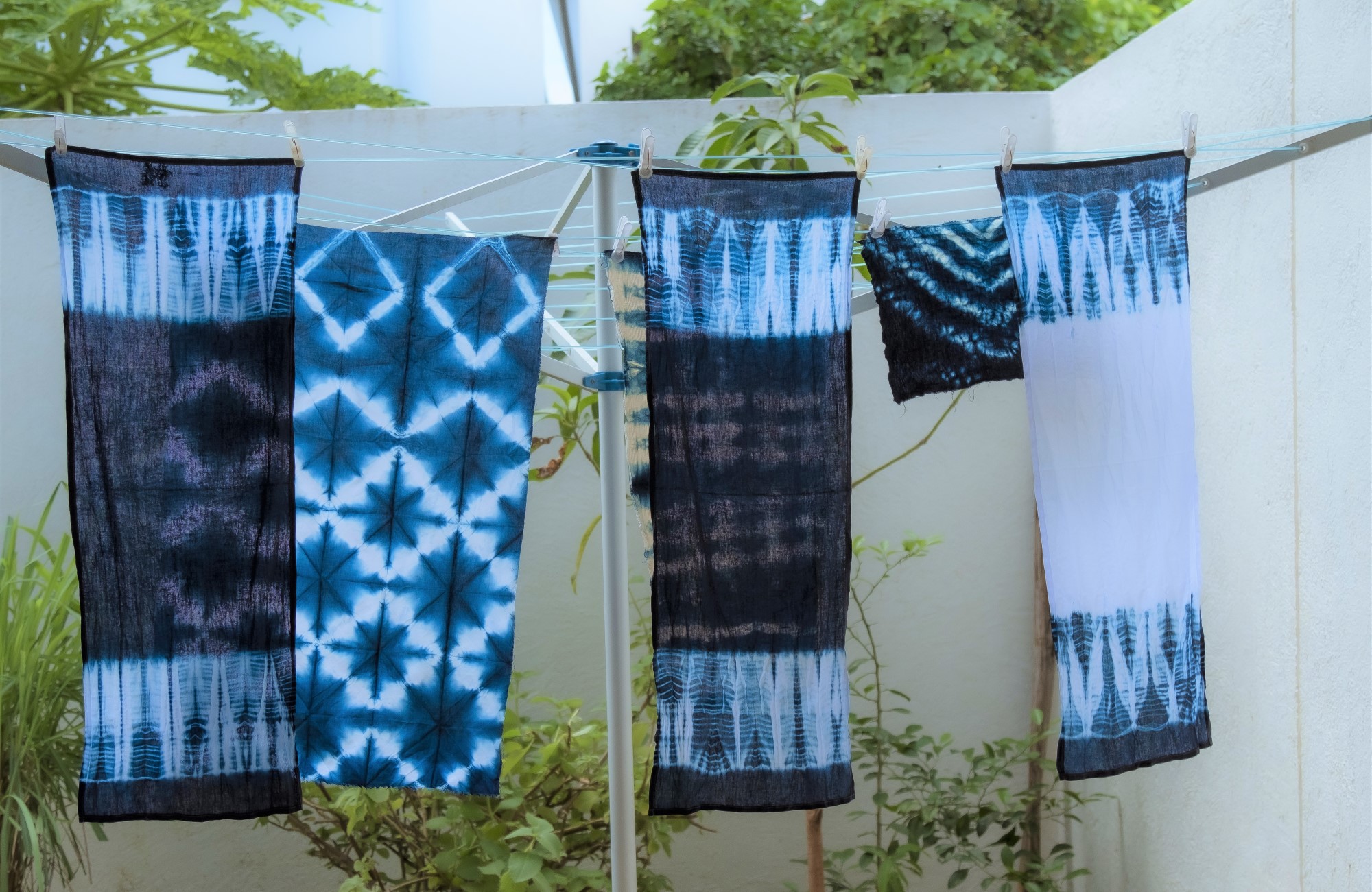 Many of Maison Métisse's fashion pieces are made of Shibori fabrics. Shibori is the Japanese art of resist-dyeing white fabric using indigo or natural dyes.
"I decided to visit them and take a three-day workshop and accidentally discovered as well their beautiful embroideries, which I decided to incorporate into my creations. It also made it clear to me that I wanted to help empower this community by partnering with them, and contributing in improving their living and work environment. It was wonderful, as I am now able to realize my dream of having a positive impact on the environment as well as social responsibility."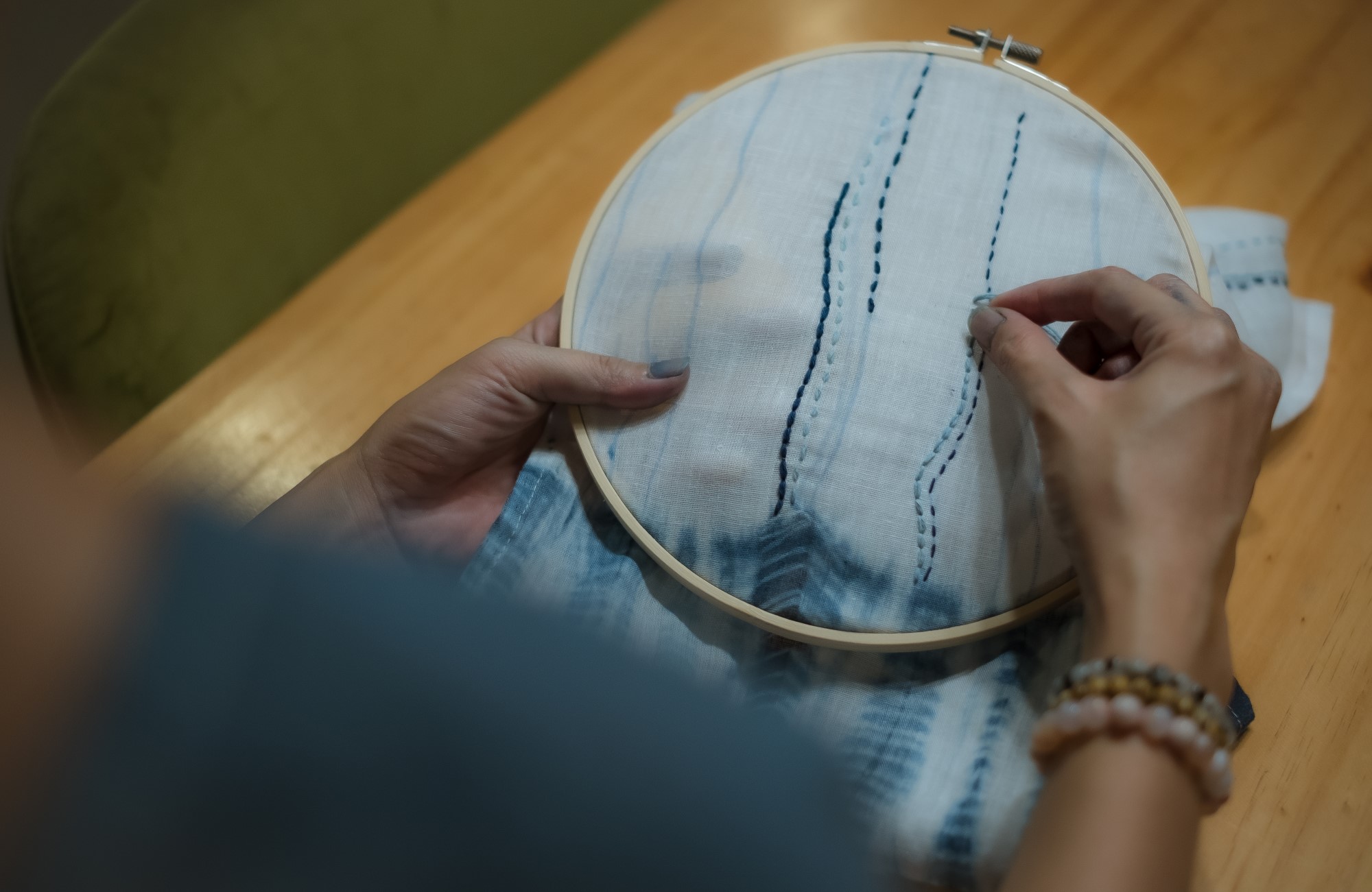 After each Maison Métisse clothing is hand-dyed, the piece is hand-embroidered, "…showing the amazing capacity of the human hands when left to create without the interventions of modern technology," as Charuel shares.
Q: As a designer, what specific look are you going for Maison Métisse?
AC: "I adore the concept of wabi-sabi. You can see it in all my creations. Wabi-sabi invites a pause. The Japanese philosophy encourages us to focus on the blessings hiding in our daily lives, and celebrating the way things are, rather than how they should be. Wabi-sabi prizes authenticity. 'Wabi' is said to be defined as 'rustic simplicity' or 'understated elegance' with a focus on a less-is-more mentality. 'Sabi' is translated to 'taking pleasure in the imperfect.'

I have to say Japanese Art is highly inspiring to me. The way they do their craft, and how they master it is amazing…I learned so much about how sacred craft/art is to them when I did an intensive AI-Zome Indigo Shibori workshop in Japan last 2019, and it really moved me."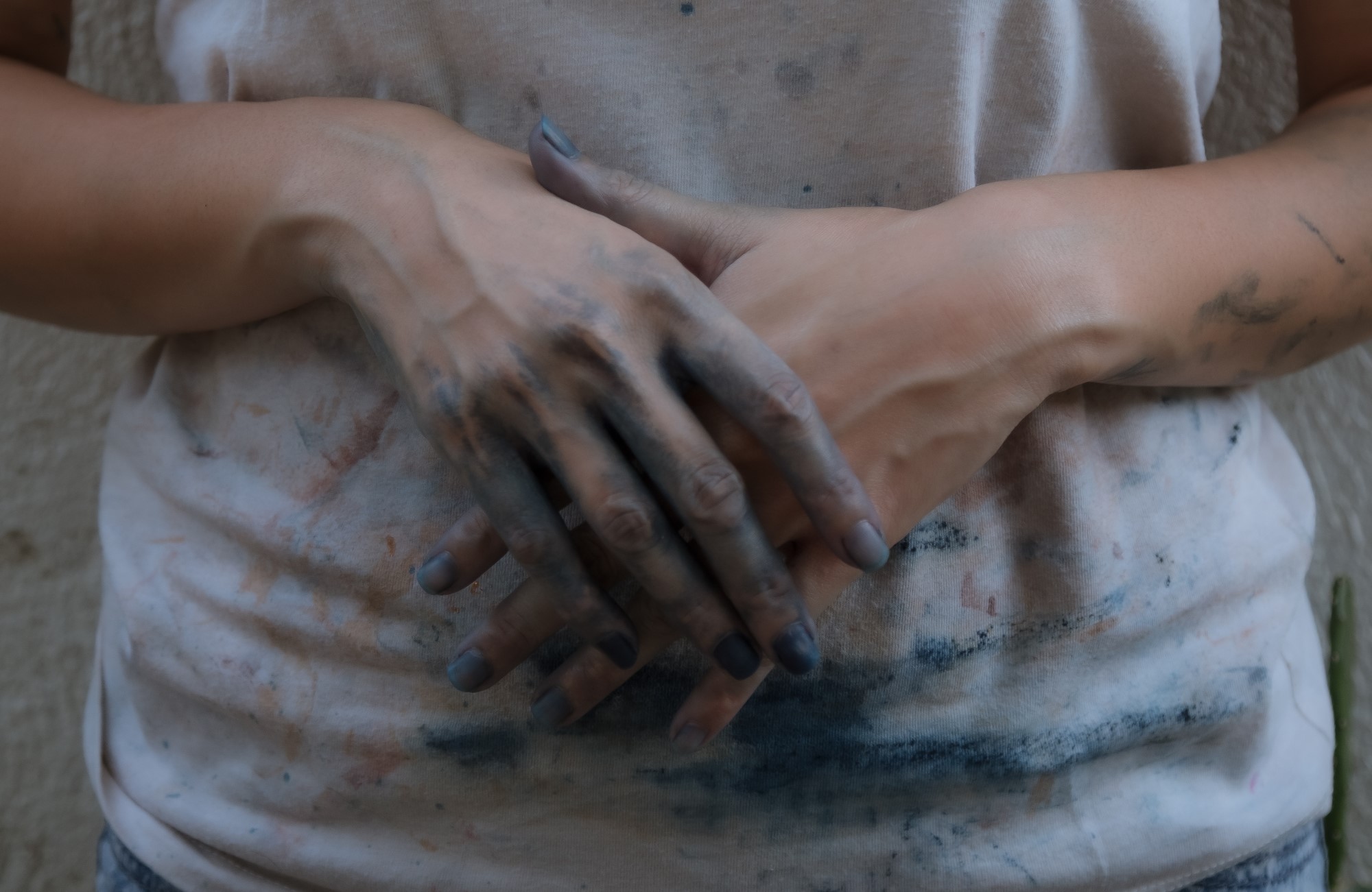 Indigo-stained hands, a beautiful reminder that shows their products are handmade.
Q: What are your advocacies?
AC: "Shifting from fast consumption and disposal to ethical choices and mindful living with sustainability at its heart, we recognize that slow fashion is no longer an option, but a necessity.
Our creations are well crafted, carefully designed, and thoughtfully made. We do our part to take care of Mother Earth in our own way and mindfully aim to minimize waste and formulate eco-friendly methods of crafting our creations while preserving and respecting heritage and traditions…We recycle and upcycle what we can. We use recycled/ eco-friendly seed paper for our hang tags and business cards.
We build strong personal relationships with our local communities by visiting [them] every one or two months. We get to know them personally and make sure they have good working conditions. We respect the amount of time required to produce hand crafted pieces and therefore only produce in small batches. We empower our communities by practicing Fair Trade. It is about empowerment not charity.
We give them the right to price their fee and service, making sure that they get paid a fair price for sharing their cultural heritage and traditions through our collaborations…We do not over produce or [add a high] mark-up. We pay a fair price to our artisans and our clients pay a fair price to us."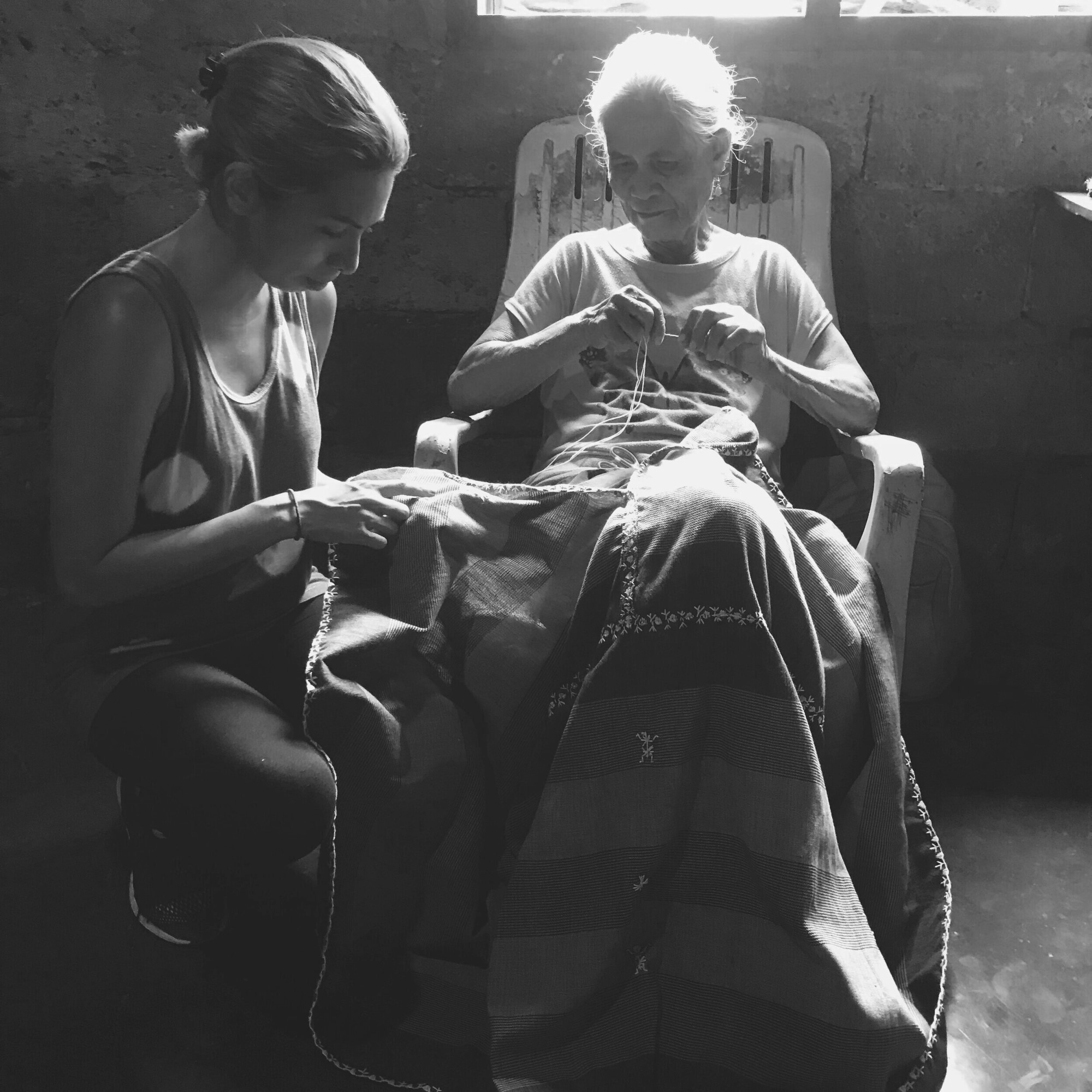 Aside from the Itneg tribe, which Charuel has worked with for three years, the designer works with two other communities. "I visit these communities every one or two months not just to create pieces, but to also spend time with them and share a meal together. The only way I can truly empower the communities is to get to know them…It helps me get a better idea on how I can continue and improve helping them."
Q: Do tell us more about your artisans, and your Artisan Fund.
AC: "We recently launched the Maison Métisse Artisan Fund where we help our local communities by selling their traditional creations through our website. Eighty percent of the sales go to them. We decided to do this because they live in remote areas and have little to no access to online platforms. For the Artisan Fund, we currently we work with three communities: Itneg Tribe, La Paz Weavers, and DAWN Community.
The Itneg Tribe is the first tribe I worked with…This is the tribe I mentioned in the beginning—they make natural dyes and have beautiful embroidery. I love their sacred embroidery. Every symbol has a meaning and it was beautiful hearing about how their weaving and embroidery traditions came to be. I was immediately drawn and knew I had to have it on my creations.
I discovered La Paz Weavers through them as well. The La Paz weavers are about 30 to 40 mins from the Itneg Tribe. It was a small charming town of weavers where almost every home had a loom. Some looms were outside their home by the lanai and it was just a town that tells a story through their looms and weaves. Their intricate weaves were beautiful and they do it so well.
They have energy poverty and lose electricity three to four times a week which negatively impacts their life, so we were able to donate some solar lamps earlier this year and it has helped them so much. They are able to weave and embroider at night when they want when their kids are asleep. Some of them are full-time mothers and can only work on their craft in the evenings.
As for the third community—DAWN (Development Action for Women Network)—I was introduced to them by Celia Elumba, the director of PTRI (Philippine Textile Research Institute). DAWN is a non-government, non-profit organization established in 1996 to assist distressed women migrants from Japan, as well as their Japanese-Filipino children, in the promotion and protection of their rights and welfare."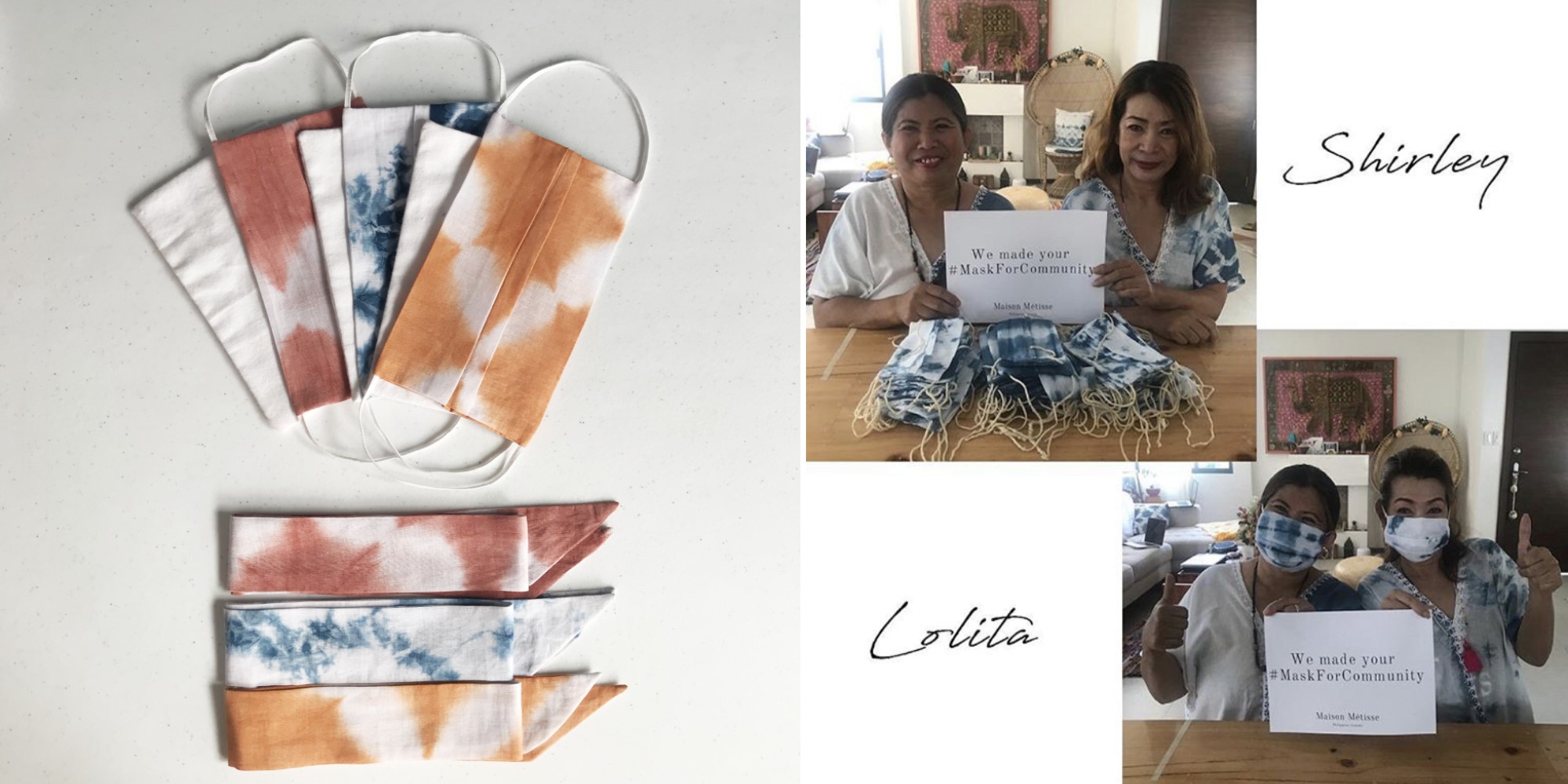 These eco-friendly, natural-dyed cotton masks (with a pocket for filter) are created for #MaskForCommunity, wherein 50 percent of the sales go to local communities in need.
Q: You also have a lot of social impact projects. What was the most recent one?
AC: "On the day that there was news of an ECQ [enhanced community quarantine] in Luzon, the tribes messaged me sharing their worries since the ECQ won't allow them to have any source of income and their main source of income was mostly through the artisan goods and worse, we were restricted because only essentials could be delivered, so I had to be creative and find a way to help my local communities.
This is where I created #MaskForCommunity where we donate fifty percent of the sales to the local communities. It's really just me, my mom, and our household help behind the production. Everything is hand-dyed, hand-sewn in small batches. We were overwhelmed with the response as we were almost sold out right away, and we are now in our second batch of production.

Our two recent initiatives, #MaskForCommunity and Artisan Fund, are initiatives that will be permanent for the brand as we also continue to build our main collection. I am lucky as I am pretty secure and this allows me to help my communities. It goes beyond the brand / business now. Its humanity. It's People, Planet, and Purpose. We need to help as much as we can and reach out especially if we have the ability to do so even in our small ways."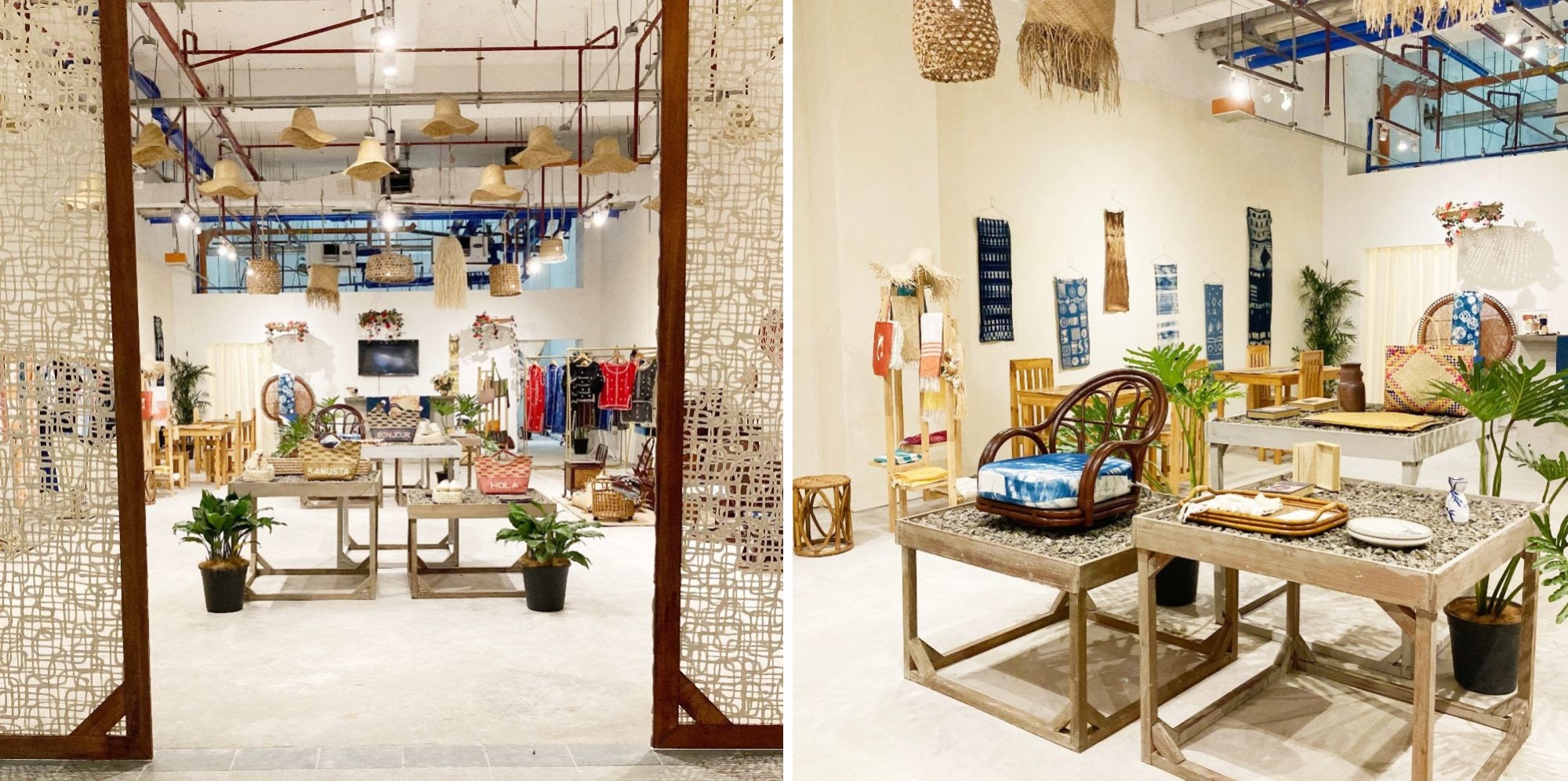 Maison currently has a pop-up at Power Plant Mall in Makati City. "Visitors will experience our new collection through the different materials we work with and a peek at our creative process," says Charuel of the pop-up. "We also have a capsule collection called Re: Love where we curate pre-loved /vintage items and give it new life such as vintage rattan furniture featuring Shibori hand-dyed cushions (seen right)."
Maison Métisse's Pop-up Boutique is located at R2 Power Plant Mall, Rockwell Center, Makati City, and will run until February 28, 2021. All images are courtesy of the brand.