Wall-to-Wall Filipino Style
The traditional wallpaper patterns we are familiar with are calming pastel blooms, preppy nautical stripes, and ornate damask vines. But what about wallpaper with historical churches, whale sharks, and folk dances printed on it?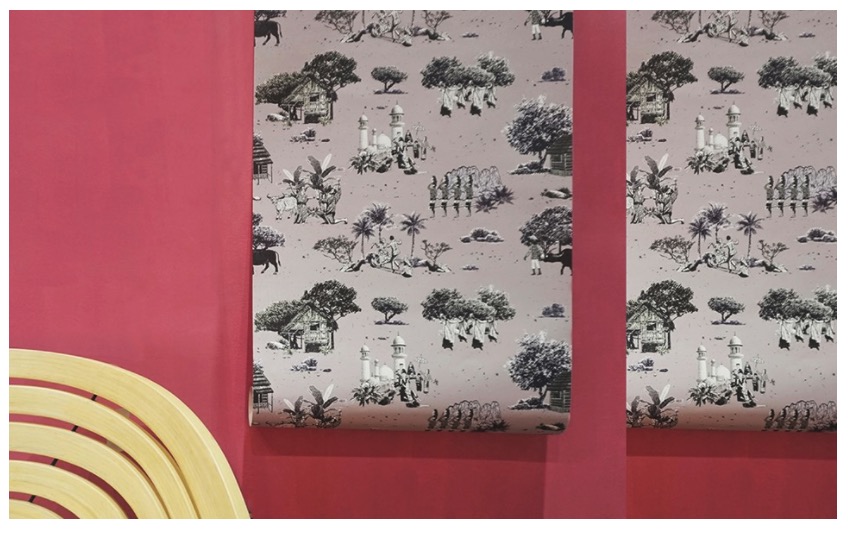 Paperbound's Sayawan (Dance) wallpaper won the Katha Award for Home Décor in the April 2019 edition of Manila FAME. T
his pattern celebrates the folk art of Philippine dance, from Luzon to Mindanao
Such are the creations of Henry Chua, self-proclaimed "paper architect" of Paperbound PH, the Quezon City-based purveyors of Filipino-themed paper products. Paperbound is now known for its fancifully designed wallpaper, fringed pendant lamps, and tasselled brass boxes, but his company had humble beginnings.
"We started as a small print store that made photocopies, blueprints, and other printing jobs, but then the odds were against us, and we had to close down the first store in 2016," Chua shares. "But we had a list of clients who knew us already, so when the store closed, as a rebound, we delved into this creative aspect of decorative objects, like wallpaper, stationery, paintings, and fine wall décor."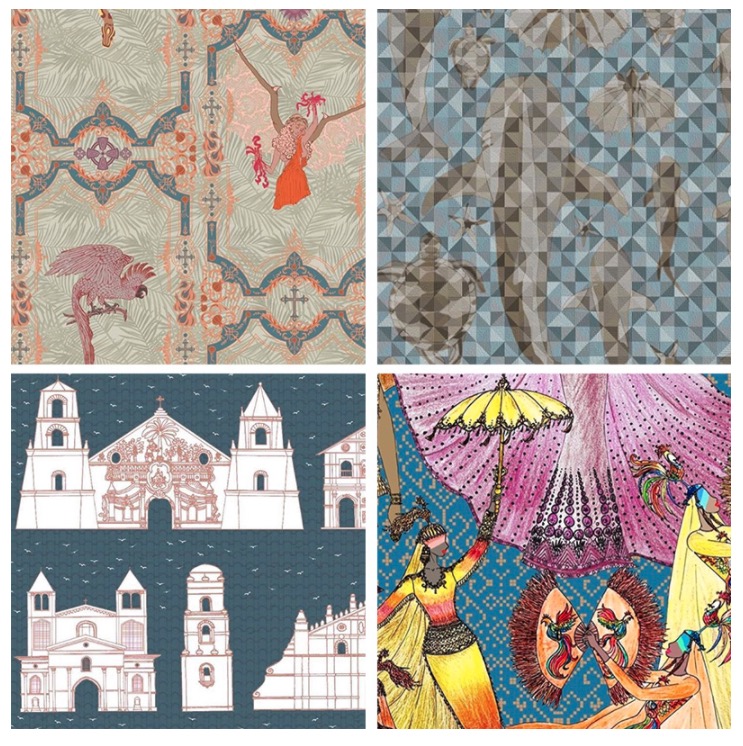 Clockwise from top left: Aswang wallpaper is an Art Nouveau take on the blood-sucking creature, complete with crucifixes and garlic bulbs;
Butanding depicts Donsol's whale sharks; Singkil Queen portrays the famous Mindanaoan dance;
and Visita Iglesia shows the Philippines' heritage churches, from the Miag-ao church in Iloilo to the Paoay Chuch in Ilocos.
Their decorative products eventually became more successful than their former printing business, and Paperbound was soon exhibiting in many major Philippine fairs, including Manila FAME. At first, Chua was printing European designs on his wallpaper, like toile de Jouy and Victorian patterns. But then one day, he thought of shifting to Filipino themes.
"I knew the foreign designs were beautiful, but I thought we could do something better. Why not Filipino? Why not something for us, this time?" Chua relates. He then came up with the Sayawan collection, which depicts various Filipino dances in the toile de jouy style. His recent designs that made it to the 70th edition of Manila FAME include a butanding (Donsol whale shark) pattern, and an art nouveau-inspired wallpaper that tell the eerie story of a manananggal, a blood-sucking mythical creature.
El Sillo (The Chair) wallpaper is a collaboration with artist Feanne Mauricio, and shows the traditional 1800s Mariposa and Butaca chairs against a capiz (laminated shell) window background.
Other Filipino themes on their wallpaper and gift envelopes include vintage maps of Intramuros, illustrations of Malacañang Palace (the official Presidential residence), and Jose Honorato Lozano's paintings of 19th century Filipinos at work, as seen in the main photo above. No matter where Paperbound's products end up in, anyone who is lucky enough to pick up an envelope or admire the wallpaper from his seat would get a little glimpse of our country's culture.