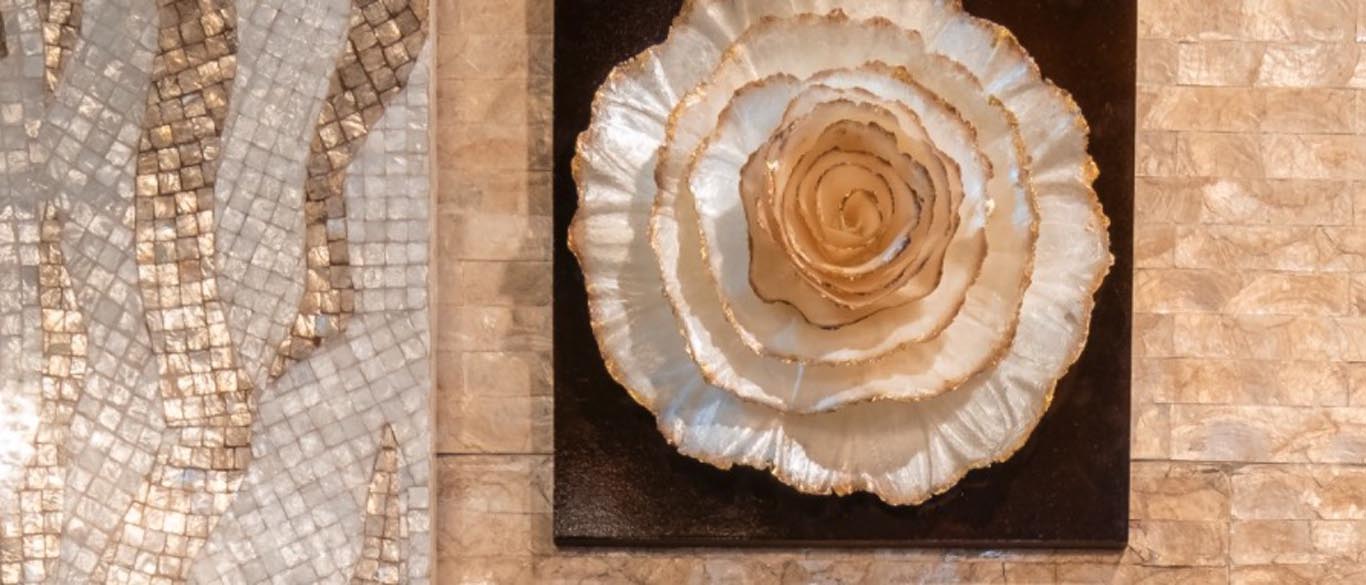 I See Sea Shells
The capiz shell starts out in a very humble way: the bivalve mollusc, also called the Windowpane Oyster, is harvested from the shores of Capiz, a district in a Western Visayan island. The flat molluscs are then cleaned and processed, revealing its shimmering, translucent shells that are then transformed into beautiful capiz windows, lamps, jewelry, and other accessories.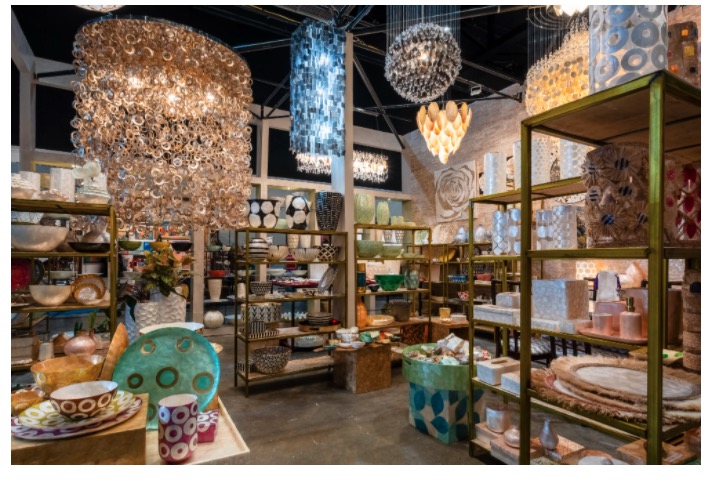 The Shell Arts booth at the 70th edition of Manila FAME showcases designs from the past and present collections. Seen here is the colorful Pop Collection of dinnerware, and the Maltezers Chandelier in the middle.
Much like the mollusc that it uses in its products, Shell Arts Co. Inc. started out in a simple way 90 years ago manufacturing mother-of-pearl buttons under the management of an American couple. And like most companies that diversify their products and evolve, the design arm of Shell Arts has, for more than two years, been passed on to its third generation of owners. Meyte Chan, an Australian-bred, De La Salle-Benilde-SDA-schooled industrial designer who now handles Shell Arts' design arm, shares that she sometimes looks to the past to create new, reimagined designs.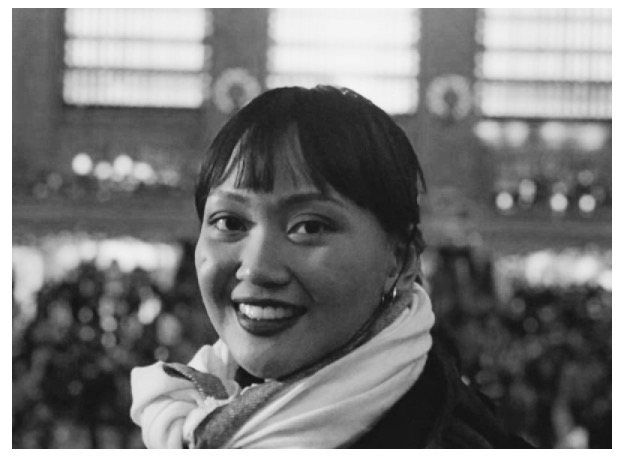 Meyte Chan returned to the Philippines from Australia to study and work at her family's company. "After coming back, I loved my culture, and I really felt the energy of the Philippines."
Grandmother knows best
"This company started in 1929, and my grandmother came in around 1966 as a secretary and eventually she fell in love with the craft. It was owned by this American family and she didn't even know how to speak English at that time, but they took care of her. This was one of her first jobs after giving birth, and she was very grateful for that," Meyte shares about her grandmother Virginia Chan and her history with the original company.
When the owner's family moved back to the US in the 1980s, Virginia Chan realized that she had saved enough money to buy the company, and took over the shell business that she had grown to love. "She cherished this company and she instilled that to my father and me. This is something very Filipino. I think it's such a beautiful thing to see for this legacy to go on," Meyte adds.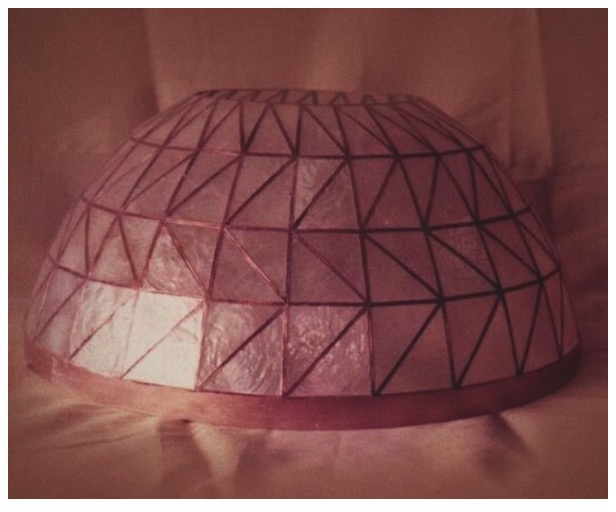 Shell Arts mined its extensive archive of product catalogues to find new design inspiration. Part of this was the "Men at Work Series 1976" inspired by their vintage brass-bound capiz lamps.
Archival inspiration
Shell Arts' product line has since grown from buttons to an extensive collection of lighting dinnerware, decorative accessories, wall panelling, and architectural materials that all feature the lustrous laminated capiz shell. Meyte joined her family's company two years ago, and one of the first things she did was dig into their massive archives of products.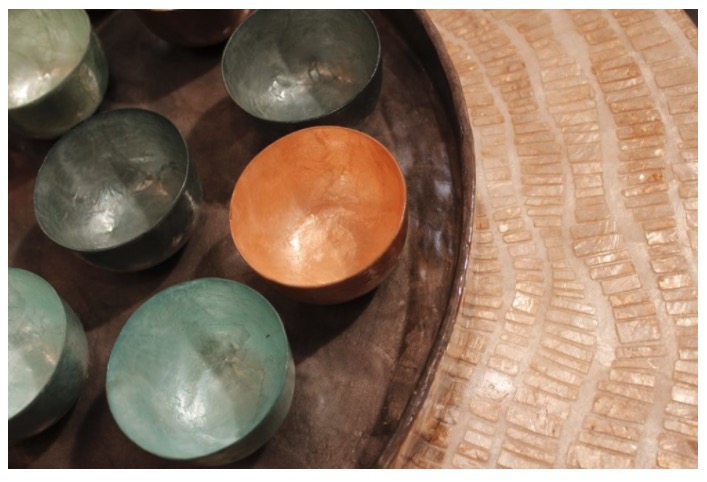 Multicolored cups and bowls on a capiz laminated tray.
"Since the business has been around for such a long time, we could literally pull something from every era," Meyte shares. "That's what I love about how design works. The older generation managed to see the growth of that product, and then over a period of time, a new generation comes along to see it and says: 'Oh! I've never seen that before!'"
A blue and white collection of vases and table ware set against their capiz mosaic wallcovering, one of their interior finishing products.
The industrial designer shows a capiz lotus-shaped bowl, and reveals that it has been around for more than 50 years, but its timeless shape and details remain fresh. She then shows us a pastel-colored line of table ware with whimsical polka dot inserts, which we had thought was a current design. "This was a collection that was so popular in the '80s, the Pop Collection, and I grew up with it."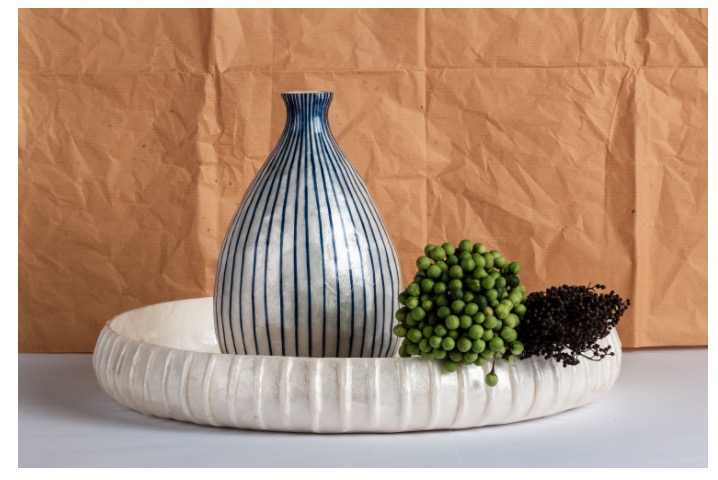 Shell Arts' Avocado Vase and Eliana Tray from their current collection
Looking to the past to create something future-forward is something that Meyte is happy to embrace. "I think that it's great that CITEM did give us the opportunity to show all of these companies that have been around for such a long time," she says. "It's hard for a new business to come into this industry, but it's also difficult to stay on trend. It's hard work, but my grandmother knows that."
[CONTACT DETAILS]
SHELL ARTS CO. INC.
Email: studioconchas.meyte@gmail.com
Mobile: +63917 511 1642/ +63917 525 8197
Instagram: @shellartsco
URL: www.saciseries.com/