A CHRISTMAS STORY
Mention Christmas décor and the immediate image that comes to mind is a red-and-green holiday theme, with a fire crackling in the background.
A traditional Christmas is one that many of us are familiar with, but with seasonal décor manufacturers, there are many other themes in terms of materials and style that can be used for this holiday. At the international trade fair Messe Frankfurt in Germany (the "birthplace" of the Tannenbaum, no less), three main Christmas décor trends for 2020 were identified: Green Ritual, Silken Party, and Happy Get-Together.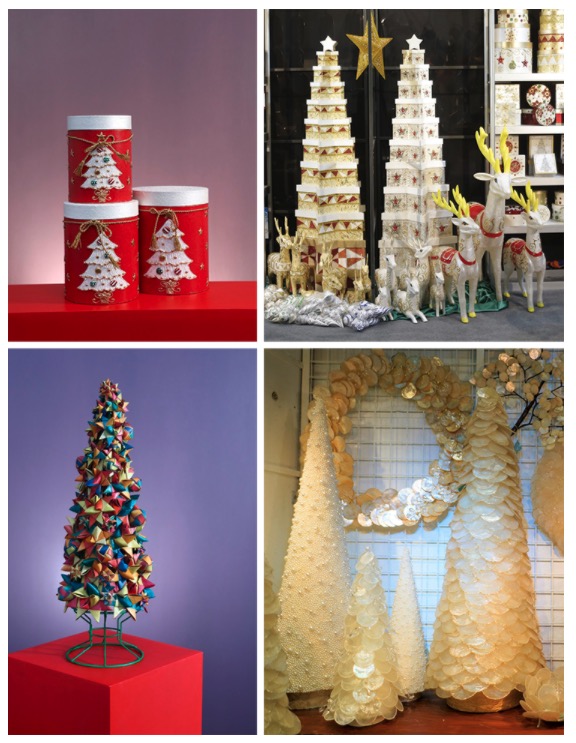 Christmas trees of various materials and sizes. Clockwise from top left: Christmas tree motifs can also be seen in these gift canisters from Balex Boxes; these Balex gift boxes can be stacked to create a tree; beautiful, translucent capiz trees by Philippine Treasures; miniature woven star forms all come together to create a modern tree for GSG.
Natural materials such as straw, wood, and clay plus deep, dark colors figure in the Green Ritual Trend, while pastel tints and precise, modern, and sleek shapes are the hallmarks of Silken Party. The Happy Get-Together trend is characterized by vibrant colors, playful shapes, and recycled materials.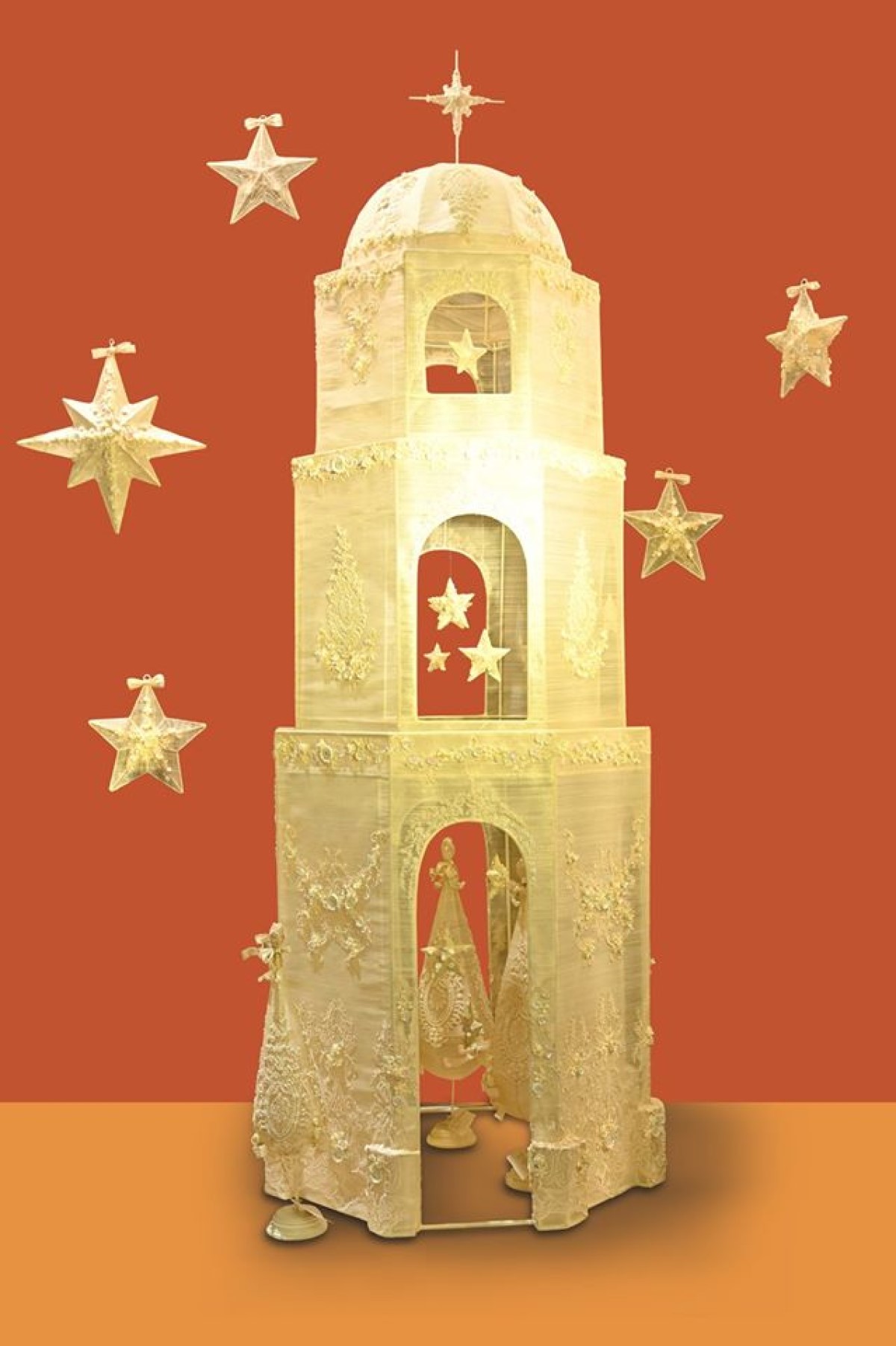 This dramatic abaca seda tree, which resembles a bell tower of a traditional Philippine church, is by PMP Social Enterprises. It won the Katha Award for Seasonal Décor at the 69th edition of Manila FAME.
The holiday décor exhibited at the 69th and 70th editions of Manila FAME focused on a play of materials, colors, and techniques. Rustic ornaments and crèches in hand-painted driftwood scraps were spotted at Jalikee. Nativity scenes by Touch of Craft were given a whimsical folk-art flavor. On the other end of the holiday spectrum, highly detailed figures in the old European, classical manner for the Holy Family by Saint Jude.
Crèches spotted at the last Manila FAME range from the rustic to the traditional. Clockwise from top left: A folk-art Holy Family can be seen at Touch of Craft; driftwood pieces by Jalikee; this manger scene in driftwood, also by Jalikee, has a childlike quality to it; classical Nativity scenes are the specialty of Saint Jude International Export.
And it wouldn't be Christmas with a proper tree. Many of the manufacturers got clever with it, incorporating it into packaging products by making a gift box tree (Balex Boxes), while GSG by Flora Creatives utilizes their signature sustainable paper by creating a playful tree that is inspired by local palm weaving.
[CONTACT DETAILS]
BALEX BOXES
Telephone no.: +6349 557 1114
GSG BY FLORA CREATIVES
URL: http://gsg.com.ph
JALIKEE ARTS & CRAFT
Telephone no.: +6349 557 2768
PHILIPPINE TREASURES
Mobile: +63917 720 3040
URL: www.philippinetreasuresinc.com
PMP SOCIAL ENTERPRISE, INC. (PRECIOUS MOMENTS MANILA)
Facebook: @preciousmomentsmanila
SAINT JUDE INTERNATIONAL EXPORT
Email: sjiec_vergel@yahoo.com
URL: http://saint-jude-intl-export-corp.business.site
TOUCH OF CRAFT, INC.
Facebook: @preciousmomentsmanila