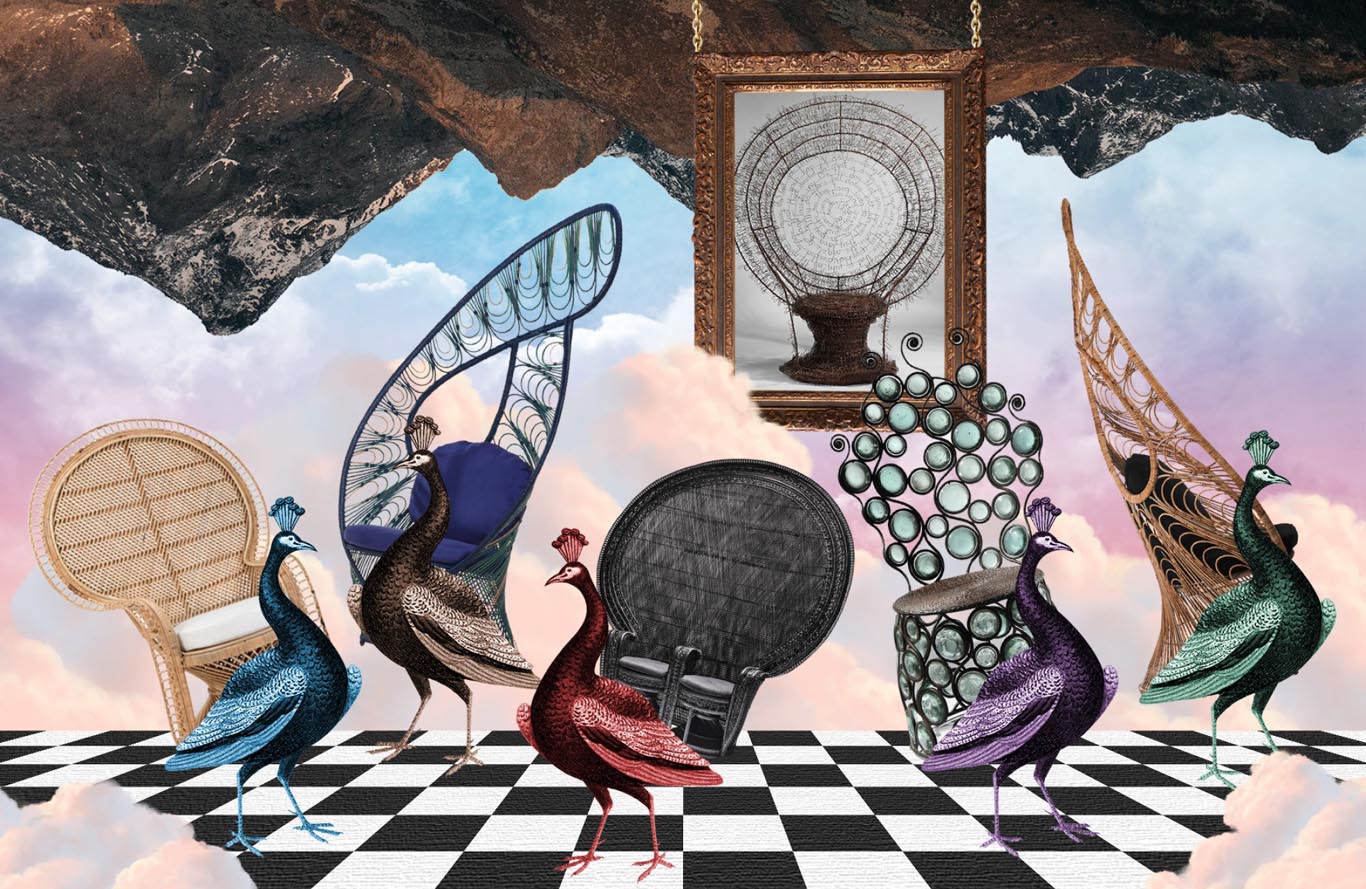 The Colorful History of the Peacock Chair
It is a chair that has seated everyone who mattered—from beauty queens to rock stars and presidents—but it is also a chair from our childhood; that large, familiar chair found in our parents' and grandparents' homes in the 1960s and '70s.
We are referring, of course, to the iconic Peacock Chair. This wicker chair, with a towering, semi-circular back that is somewhat disproportionate to its small, hourglass base, has a show-off structure that is as flamboyant as its namesake bird. But when exactly did this chair start gaining its popularity? We can trace it back to Victorian times, when wicker furniture was seen as an exotic, ornate, must-have piece for the traditional home.
Vincent Louie Tan, Ph.D., associate professor of Interior Design History at De La Salle College of Saint Benilde – School of Design and the Arts, explains the relationship of wicker with the West. "When the Americans came here to the Philippines, they pretty much brought in the Victorian aesthetic. It's very folksy, very laidback, very low, and that became popular at the end of the 1800s when people had a different idea of comfort—things became looser, more intimate."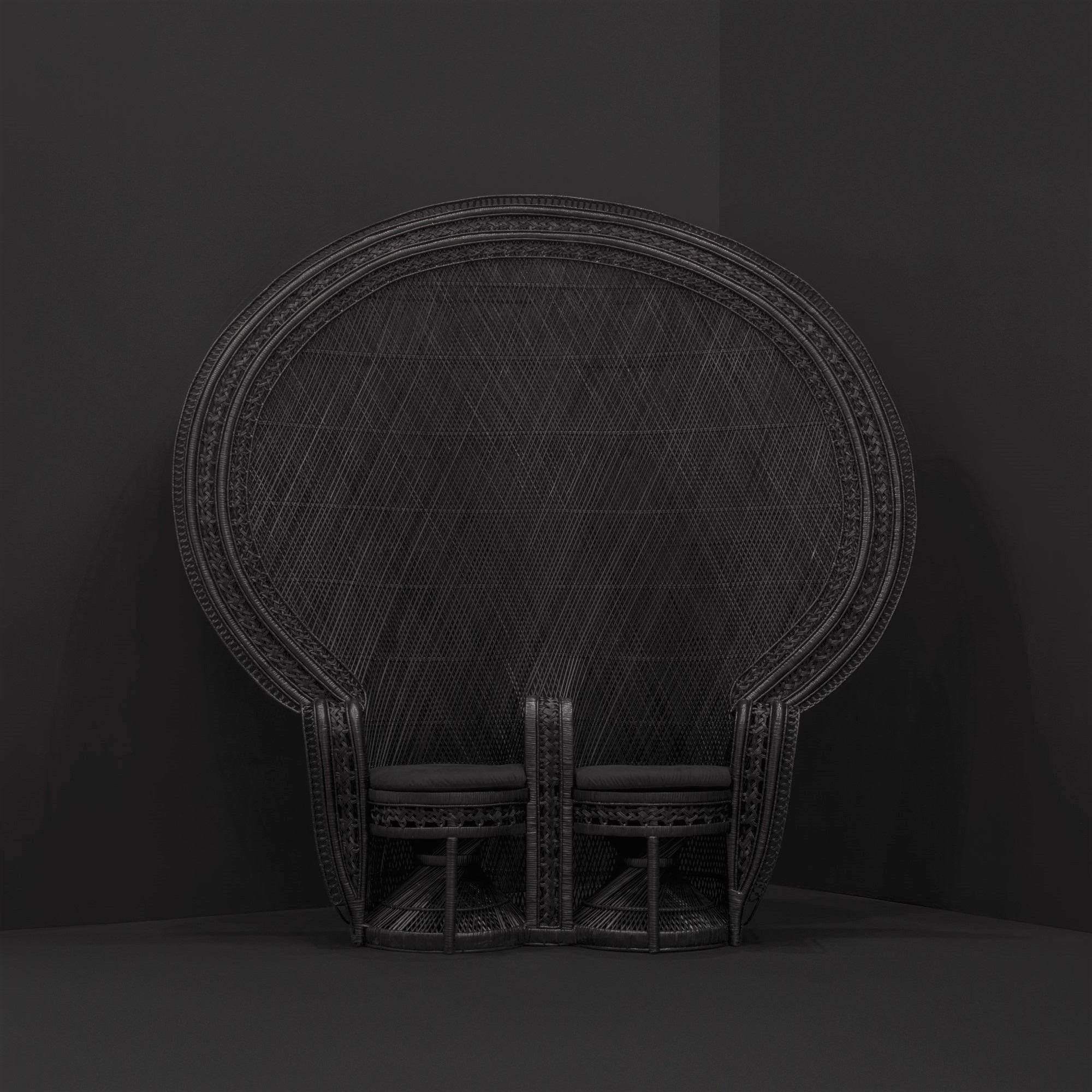 Vito Selma's Peacock Chair with double seat maintains the classic shape of the iconic chair, only finished in midnight black as part of the ITIM: Material Manipulations in Black exhibit intended for Fuorisalone at the Milan Design Week.
Its dark past
By the 1910s to the '20s, the majestic Peacock Chair had become the must-have piece of its era. In Chair: 500 Designs That Matter, published by Phaidon, the design book explains that the throne-like chair most probably originated in the Philippines, "which is why it is often referred to as the Manila or Philippine Chair." The book also details that the Peacock Chair can be traced to the inmates of the Bilibid Prison in Manila, who created these woven furnishings and accessories while incarcerated.
This detail hints at the Peacock Chair's roots in colonialism, and its seemingly dark beginnings. "It is true, this kind of program was present in many prison systems in the Philippines, and in the United States," Tan explains. "When they formed all these penal colonies, they instituted programs to help prisoners reintegrate into society later, by teaching them skills…it's supposedly done to help rehabilitate them."
Tan relates that the Bilibid Prison served as a "tourist destination" of sorts, wherein Americans and other foreign nationals visiting the Philippine islands would make a pit stop at the prison, watch the prisoners weave, and then buy the furniture and ship the pieces back to other countries. "They used the sale of the furniture to fund the prisons themselves! The money goes back to the prison system." Tan continues: "They had wanted to showcase these penal colonies to exhibit how much change or modernization they were bringing to the colonies…You can think of that chair as a product, or another symbol of empire."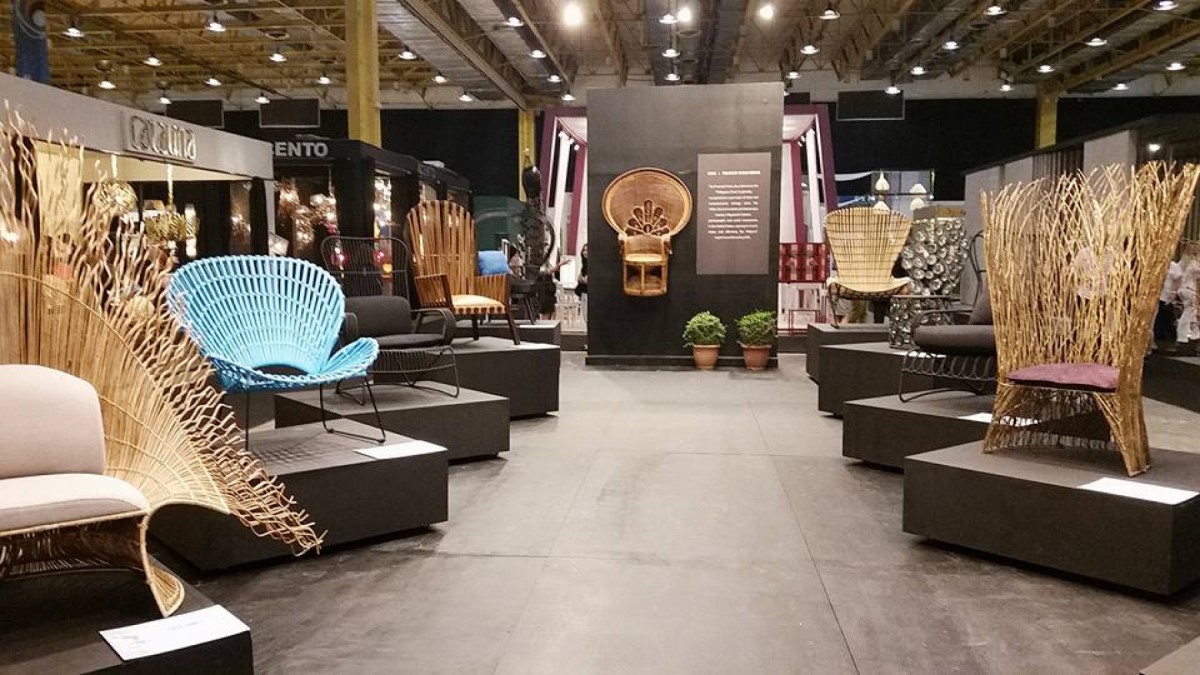 Reimagined peacocks. In Manila FAME's October 2016 edition, they exhibited ICON: Peacock Chair Redux show by noted Filipino designers. (From left to right): Leo Sano for Locsin, Val Padilla for LRI, Budji Layug, Jinggoy Buensuceso for Prizmic & Brill, Tes Pasola for Prado, the original 1900s-era-style Peacock Chair, Mark Rivera for Country Accents, Leeroy New for MCCA, Layug, and Jim Torres for Industria.
A nostalgic present
The Peacock Chair also served as a favorite photography prop, as its sweeping back provided the proper, regal-looking frame for whoever sat for the photo, be it a celebrity or an ordinary citizen. This continued on to the 1970s to early '80s, with its visage gracing hundreds of record covers, as documented in that now-famous Vox.com video. And the Peacock Chair gained quite a bit of notoriety when Black Panther Party leader Huey Newton was photographed in one in the 1960s. It then became a symbol of Black Power, and the chair was even referenced in a stylized throne in Marvel's 2018 Black Panther movie.
You can attribute the chair's enduring charm not only to its magnificent form, but to its breezy construction. "The design itself is the structure of the chair. It's made of lightweight plant materials, making it quite light and portable, even with its huge size," Tan explains. "Looking at it from a functional perspective, it's kind of like a Wing Chair, because you can't directly see the person behind you—it gives you more privacy, it envelops you, it's very queenly. In a symbolic sense, it's popular because it's very big, very striking. People will really notice it."
And then, after being forgotten in attics for more than 30 years, the Peacock Chair had a renaissance of sorts around seven years ago, appearing in many hip and trendy spaces of Generation Y homeowners. "If you think about it, in the 20-to-30-year cycle of things, nostalgia is a factor here," Tan says. "The younger generation don't have an actual memory of it. But I don't think the Peacock Chair is being used the same way—it is now more of an accent piece now, a statement piece; unlike before, when it was really functional."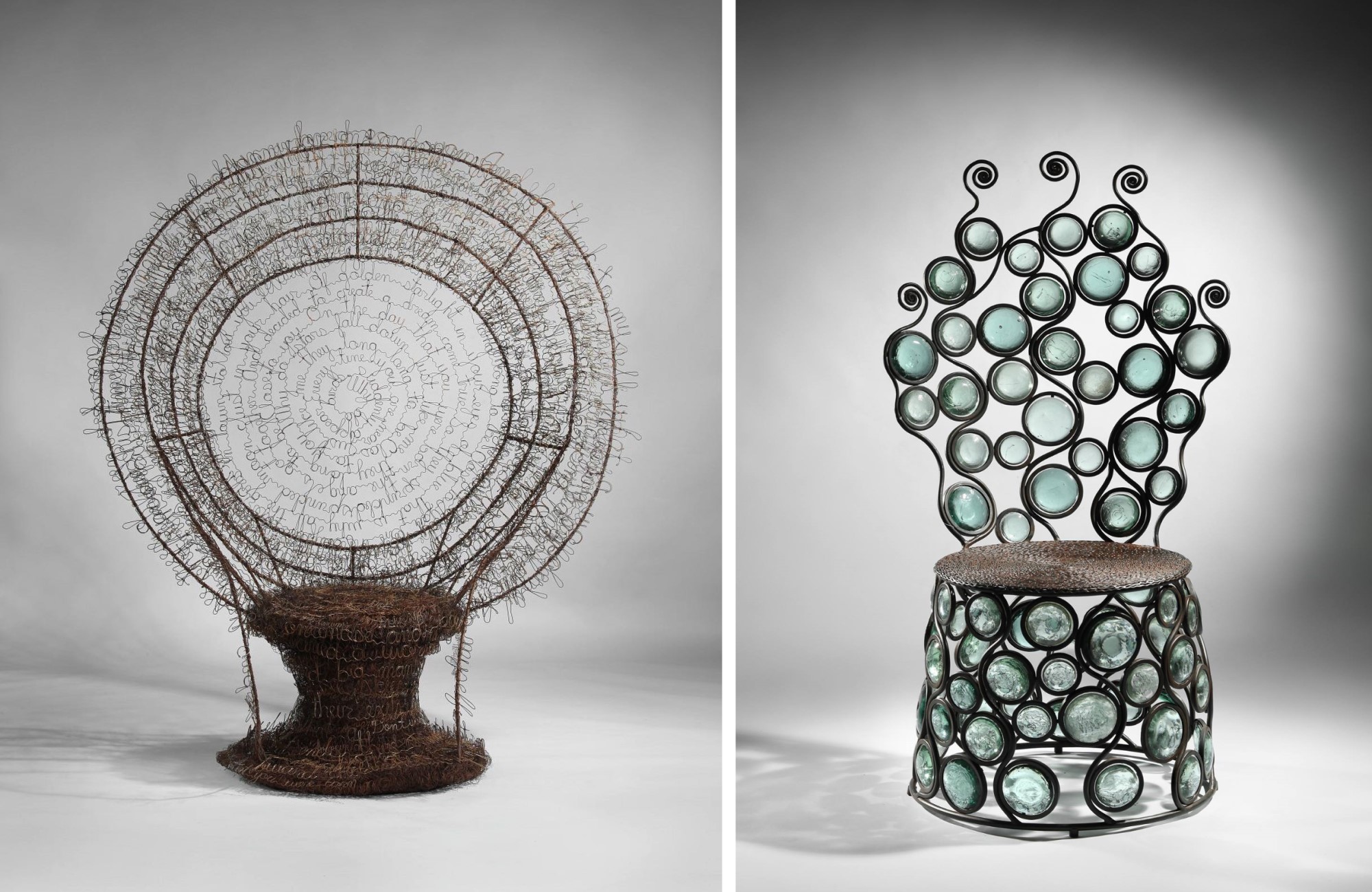 Two standout Peacock Chairs from the ICON exhibit: Tony Gonzales's chair with a back made out of wire wound up to spell out the lyrics of "Close to You," artist Leeroy New's sculptural chair with glass insets in an amorphic metal frame for MCCA.
The Peacock's designer future
In spite of the Peacock Chair's grim beginnings, times have definitely changed—so leave it to Philippine designers to do a modern (and positive!) update of this chair. In 2016, Manila FAME's October edition showcased ICON: Peacock Chair Redux, which was an exhibit of nine Filipino designers' reinterpretations of the chair.
Participants included noted designer Budji Layug for Kenneth Cobonpue, Leo Sano for Locsin International, Mark Gerby Rivera for Country Accents, Jinggoy Buensuceso for Prizmic & Brill, Val Padilla for Luzon Rattan Industries, and Tes Pasola for Prado Filipino Artisans. Artist Leeroy New integrated jewel-like glass inserts onto an undulating metal chair for MCCA; Jim Torres, who worked back then for Industria, created a gilded metal chair with a dramatic fanned back, and Tony Gonzales crafted a breathtaking metal Peacock Chair with the lyrics of "Close to You" forming its back.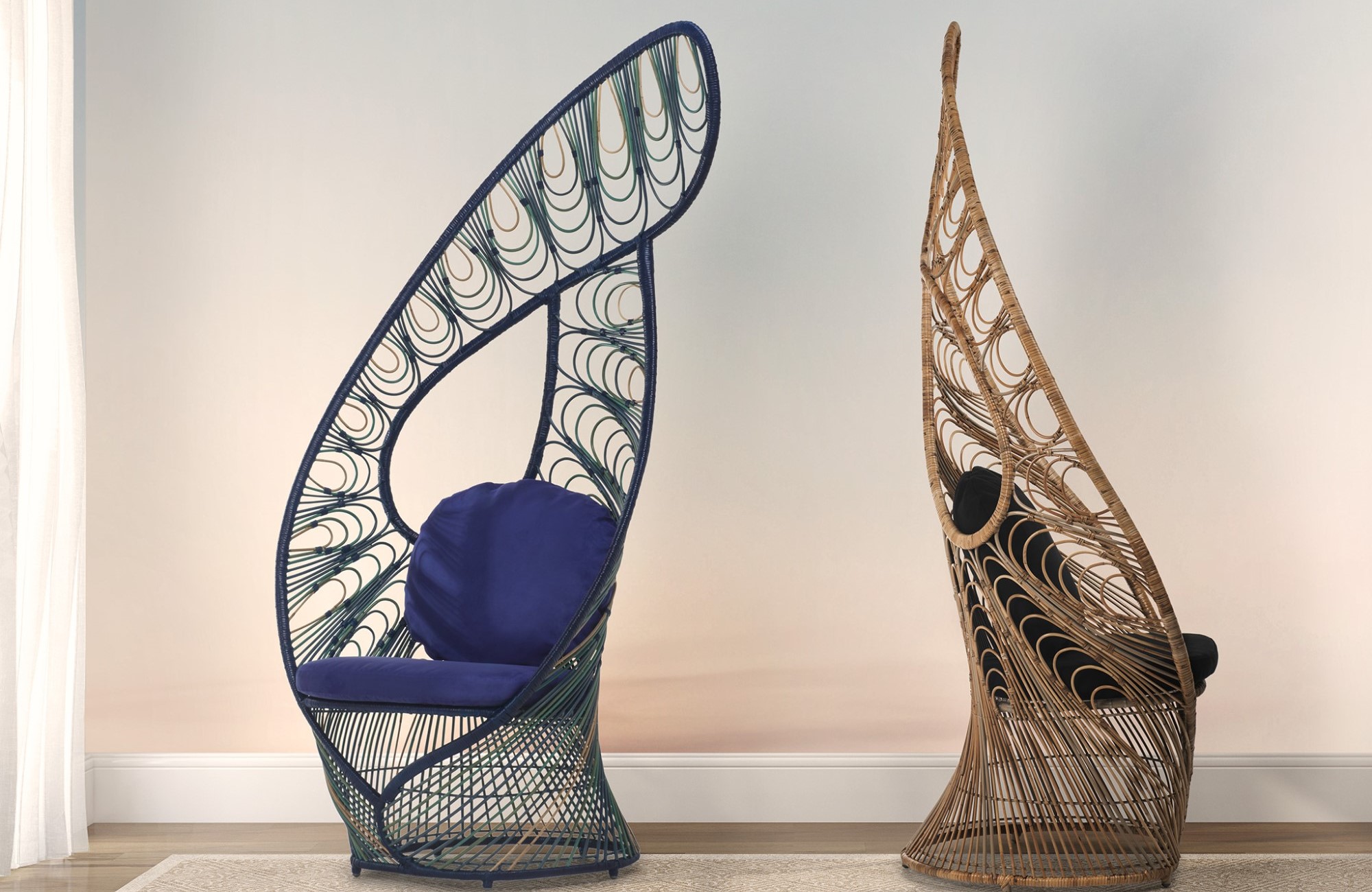 Internationally renowned Filipino designer Kenneth Cobonpue's updated Peacock Easy Chairs of rattan on metal frame are described as "a modern take on the traditional wicker chair of the same name."

In 2018, superstar designer Kenneth Cobonpue created his own Peacock Easy Chair, this time in blue and green rattan woven on a metal frame. The chair retains the original chair's sweeping, majestic high back, but then the peacock tail's "coverts" are interpreted in a streamlined way in the back's details. The chair won Cobonpue an IIDA/HD Product Design Competition Award in the same year.
These modern iterations prove that the Peacock Chair, once a photography prop and a symbol of colonization, subversion, and inevitably, hipster style, will continue to seat and fascinate us—rather regally—for many more decades to come.
Photo collage by JP Meneses. Kenneth Cobonpue's Peacock Chairs from kennethcobonpue.com. Other images are from Manila FAME archives