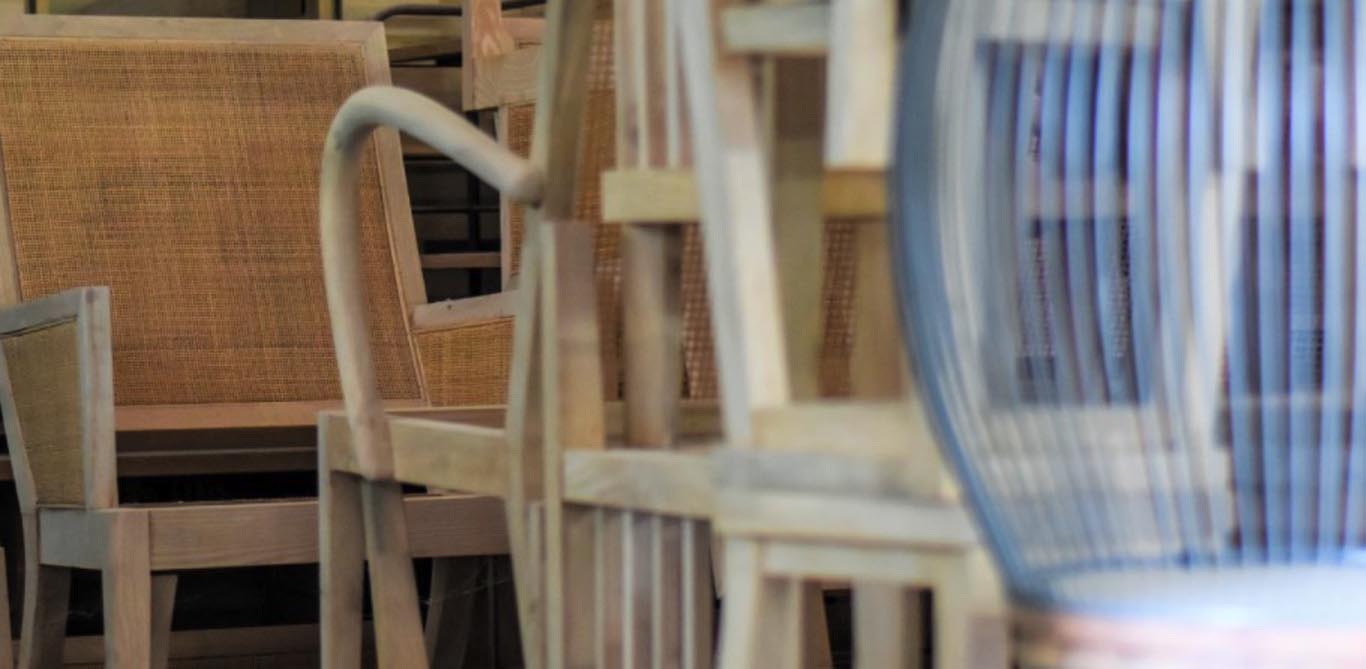 PAMPANGA'S BEST DESIGN
Pampanga, a province located north of Metro Manila, is best known for its heritage and its popular food culture. It had also come into the international spotlight almost 30 years ago when Mount Pinatubo erupted, ravaging most of its land and its outlying areas.
The province has since risen from the ashes. And because of its population of skilled artisans, woodworkers, and other craftsmen, Pampanga has returned to its seat as one of the prime manufacturing districts for furniture and accessories. Here's a sampler:
JB Woodcraft and South Sea Veneer
The Bituin family established JB Woodcraft way back in Betis, Pampanga, 1972. They have since grown their business to three other brands (South Sea Veneer, Betis Crafts, and More than a Chair) run by their children. JB Woodcraft specializes in hard-carved, ornate furnishings Pampanga craftsmen are known for, while South Sea Veneer creates more streamlined pieces with fine marquetry details.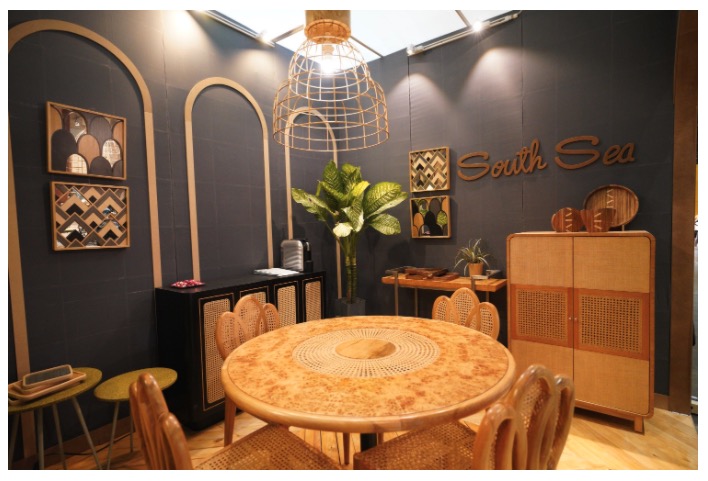 South Sea Veneer's fine inlaid wood, marquetry, burl, and solihiya (woven cane) pieces.
Industria Edition
Jude Tiotuico started out with VICO in the 1990s, manufacturing furniture for other companies. In the 2000s, it became Industria, which formed a solid brand that is known for their hand-hammered, powder-coated, sculptural-looking furnishings and accessories.
Prizmic & Brill
Director Matthew Brill taps into the nostalgia of old-fashioned travel and adventures, and these are interpreted into furnishings that mimic the look and sheen of retro valises, trunks, and campaign tables. Prizmic & Brill's award-winning booths are spectacles on their own, and they won the Katha Award for Best Booth last year.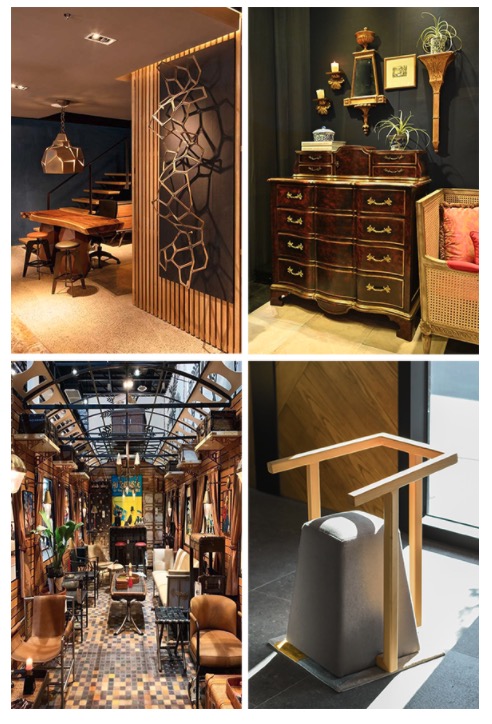 Clockwise from top left: Industria's signature hand-hammered pieces; the exquisite period furniture of JB Woodcraft; the Milano chair by Albero is slim yet comfortable; Prizmic & Brill's furniture fantasies are some of the most awaited booths at design fairs.
Albero
Second-generation furniture manufacturer Lance Tan's idea for Albero was born from a thesis idea. "The brand's design ethos is characterized by clean lines, subtle curves, and the beauty of natural wood," he says, describing Albero's young and contemporary pieces, with subtle Filipino touches like rattan and cane weaving.
Chrysara
National Artist Alice Reyes established Chrysara more than 30 years ago. Their factory in Bacolor, Pampanga, still produces their nostalgic, vintage-themed home accessories, from flower and bird figures to gilded saints, or European-style wooden poupettes and Victorian silhouette art.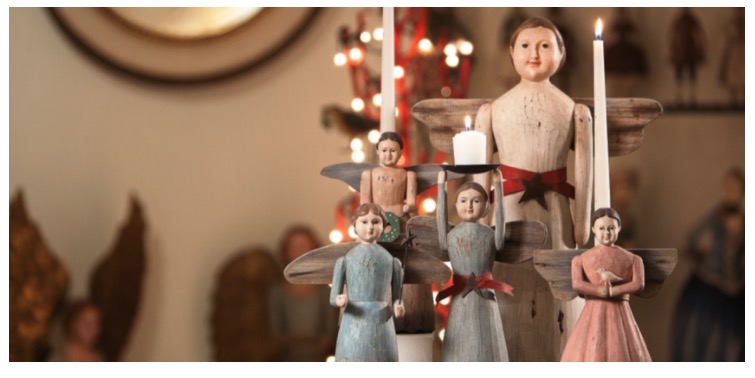 Romantic, nostalgic, and retro-themed home accessories are the hallmark pieces of Chrysara.
A. Garcia Crafts
Alex Garcia founded A. Garcia Crafts in the 1990s as a manufacturer of outdoor furniture. The company, under son Andy Garcia, has since ventured into high-design pieces of wire or plastic in bright colors of red, orange, and teal. They also developed a product called +teak (pronounced "plas-teak") that merges teak wood and plastic solihiya-style weaving.
Asia Ceramics Corporation
While other suppliers have succumbed to mass-produced, imported ceramics, Asia Ceramics of Santo Tomas, Pampanga, soldiered on with bespoke pieces that break the mold of the usual ceramic design. Midcentury modern geometry, botanical patterns, and sculptural forms make for an unexpected collection every year.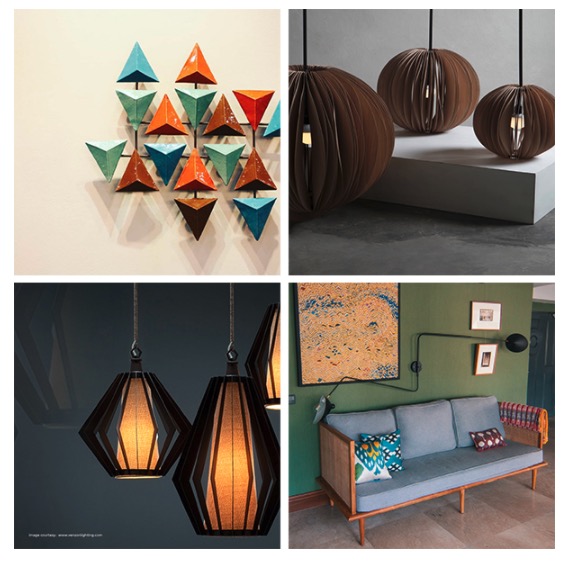 Clockwise from top left: Sculptural wall décor from Asia Ceramics, Zola lamps by Triboa Bay Living; A. Garcia Crafts' Blanche sofa at Casa Collective in Makati; Santorini Lamp Set by Venzon Lighting.
Venzon Lighting & Objects
Whether it's an ethereal metal chandelier or a table lamp that resembles traditional capiz shell windows, Bacolor-based Venzon Lighting (which also has branches in Clark and Makati City) has a designer piece for you. They collaborate with the likes of industrial designer Stanley Ruiz to create award-winning lighting, and could also produce bespoke pieces in different sizes for commercial or residential interiors.
Triboa Bay Living
This furniture company, which is named after a bay in Pampanga, is known to for their contemporary wood and metal furniture and accessories that are striking enough to stand out, yet versatile enough to blend in with existing interior styles. Their latest collection, Conversation Starters, uses modern, sculptural forms merged with traditional wood joinery.
[CONTACT DETAILS]
A. GARCIA CRAFTS
URL: agarciacrafts.com
Instagram: @a.garciacrafts
ALBERO
URL: albero.ph
Instagram: @alberoph
ASIA CERAMICS CORPORATION
URL: asiaceramics.ph
Facebook: @Asia-Ceramics-Corporation
CHRYSARA
EMAIL: chrysara@chrysara.com
URL: chrysara.com

INDUSTRIA EDITION
EMAIL: sales@industriaedition.com
URL: industriaedition.com

JB WOODCRAFT
EMAIL: sales@jbwoodcraft.com
URL: jbwoodcraft.com

TRIBOA BAY LIVING
EMAIL: info@triboabay.com
URL: triboabay.com

SOUTH SEA VENEER
EMAIL: a.southsea@yahoo.com
URL: southseaveneer.com

PRIZMIC & BRILL
EMAIL: info@prizmicbrill.com
URL: prizmicbrill.com

VENZON LIGHTING & OBJECTS
URL: venzonlighting.com
Instagram: @venzonlighting