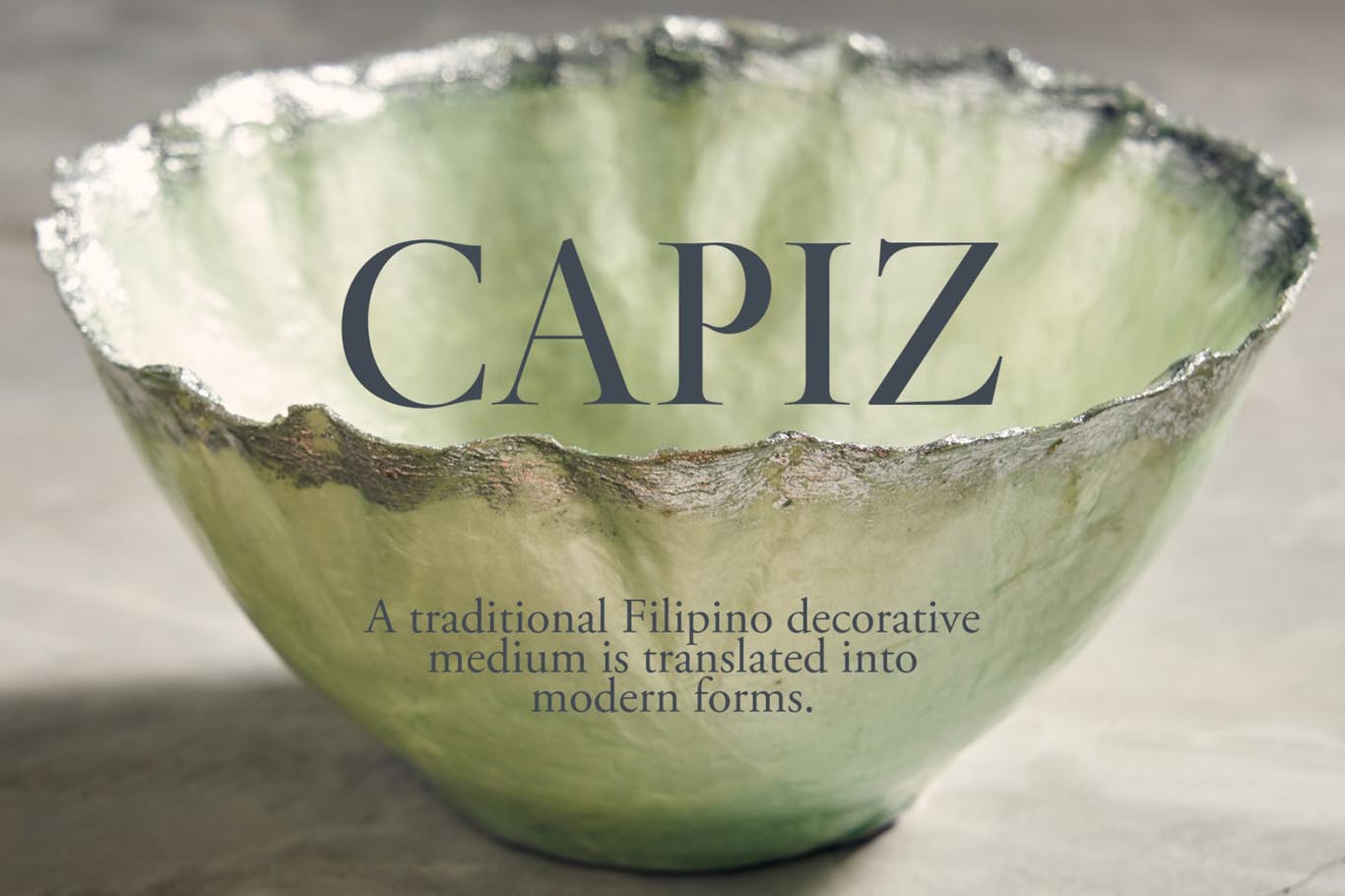 Capiz
Who would've thought that the shell of a humble mollusk would become a highly coveted decorative material? From the sea to the windows of old houses, capiz, also known as the Placuna Placenta mollusk, has been plunged into the design world.
Translucent past
Because of its translucent quality, capiz was traditionally used in the Philippines in Spanish-colonial times as a substitute for glass in windows—it is also called the "windowpane oyster" for this reason. Tiny square pieces of the concave shell were inserted into a wooden grid panel to let in sunlight while keeping out the wind, rain, and dust, according to the book Philippine Style: Design and Architecture. It also diffused the harsh tropical light, casting the interiors of the heritage homes in a soft, warm glow.

From being used as a building material, capiz evolved into an affordable alternative to mother-of-pearl and other precious shells in décor. The material reached its zenith in the 1960s-70s with the capiz lamp, becoming the mid-century modern era's ubiquitous tropical accessory. The shells, after being treated and dried, were carefully clipped and shaped, and then bound together with thin brass strips to create lampshades, Christmas ornaments, tabletop décor, and other home accessories.
Glowing present
Eventually, these capiz lamps and décor had oversaturated the local market, and the quaint pieces were soon regarded as kitschy, rather than retro. But in a few decades, Philippine manufacturers updated the shiny shell into something that was sophisticated and on-trend with new methods of material manipulation.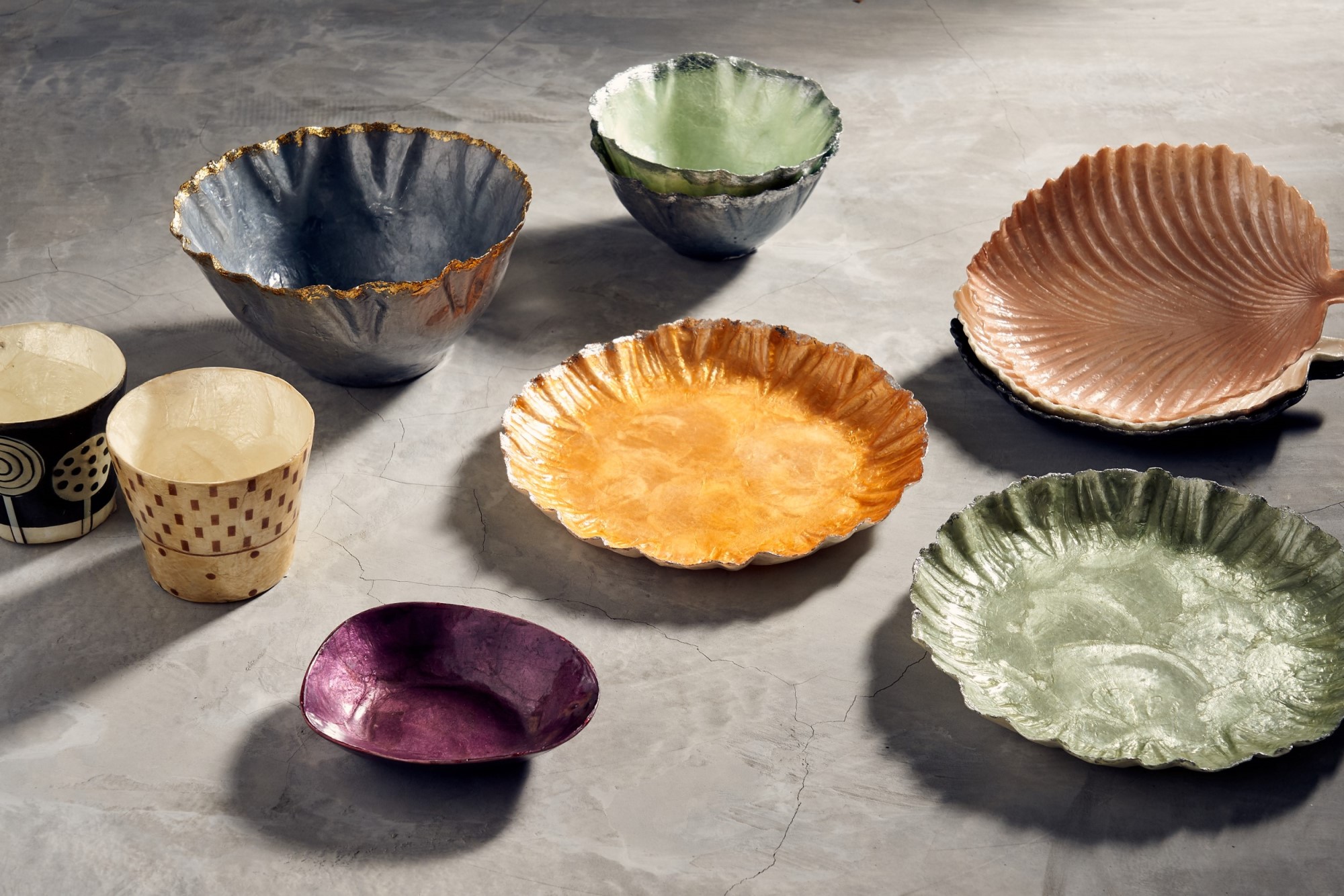 I see seashells (clockwise from top left): Potter Cups; Large Sunflower Bowl in Blue with Gold; Small Sunflower Bowls in Lt. Aqua and Blue with Silver; Shell Plates in Blush Coral, Natural, and Charcoal; Sunflower Plates in Lt. Green and Orange; Oval Bowl in Plum; all in capiz, from Shell Arts, Co. Inc.
One of the manufacturers is Shell Arts Co. Inc., who were able to elevate the shell to suit modern times. A heritage company and long-time FAME exhibitor, Shell Arts has decades of experience in creating these pieces. "Capiz is always quintessentially something we associate with the Philippines," says industrial designer Meyte Chan, who is the third-generation member of the family that runs Shell Arts and handles its design arm. "It's not everyone's cup of tea, but I believe that's not bad either."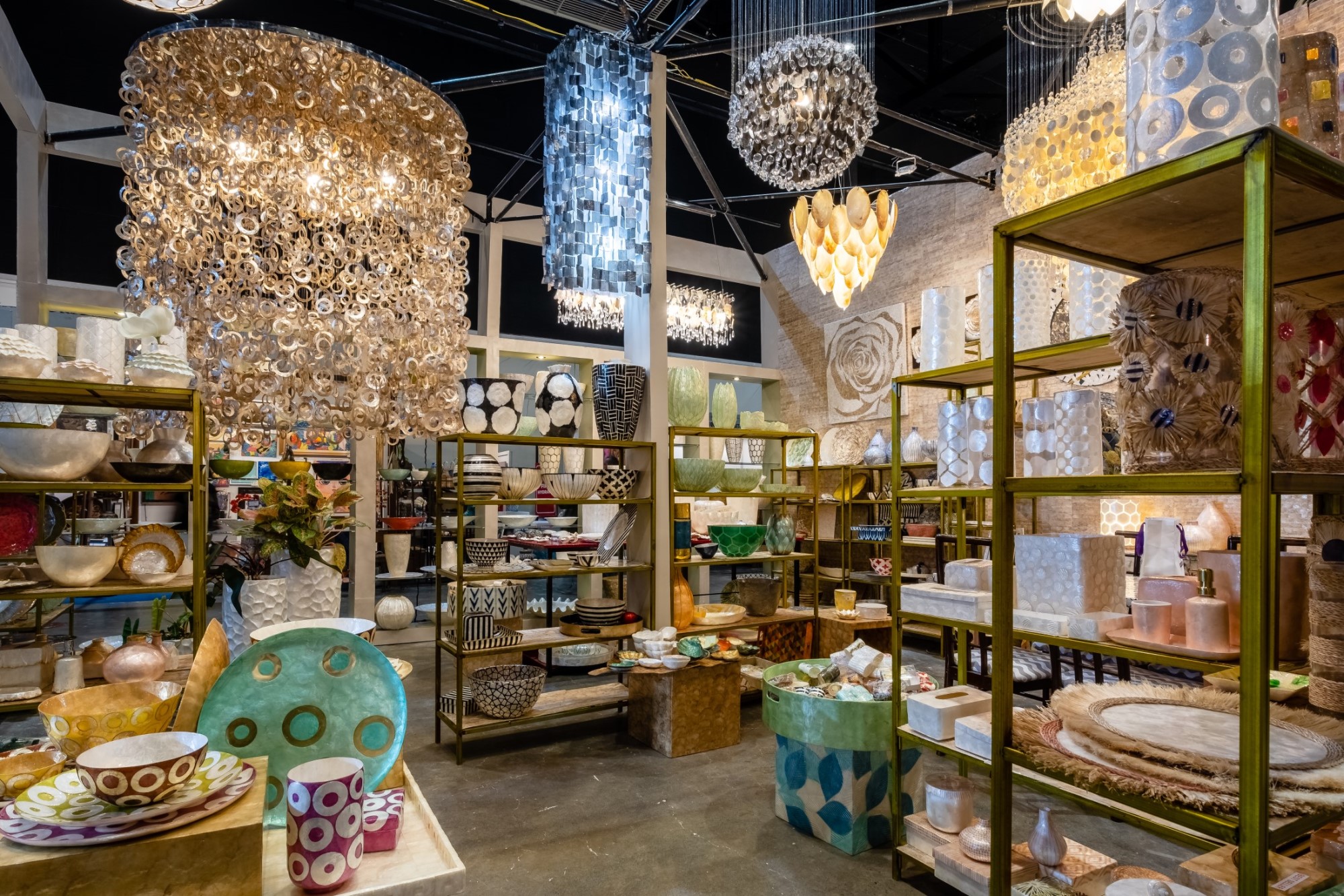 The Shell Arts Booth at the 70th edition of Manila FAME in 2019. "We've been riding the mid-century modern wave pretty well in recent years since it's also the design trend I'm very much interested in," says Shell Arts' Meyte Chan.
From the funky disc capiz chandeliers and the retro globe lamps (which the company still carries), Shell Arts now produces sculptural, almost wabi-sabi-style vases and serving vessels in layered, laminated capiz coated with food-grade resin. There are no more brass bindings, hand-painted touches, or other accoutrements in the pieces; only a minimalist presentation of the glowing material at its purest.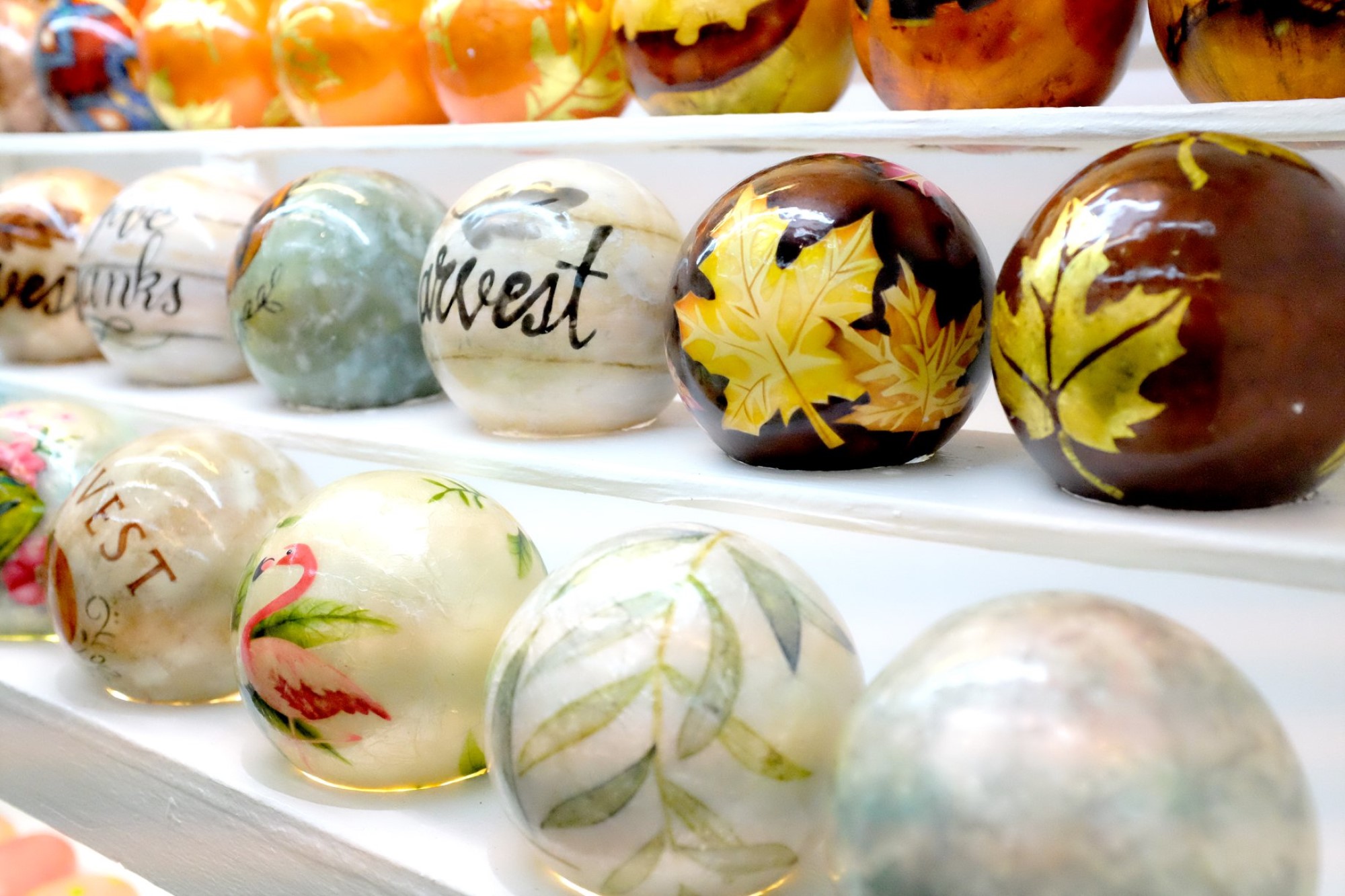 Capiz will always be part of Filipino holiday décor, but North Wing Export gives its capiz Christmas balls and ornaments a nostalgic, Western twist to appeal to the international market.
Shining future
Not just relegated to local shores, the shell has made waves in international design shows as well. In Sarah Hucal's report on 2019's Salone del Mobile for curbed.com, two of her most memorable picks were the elegant Nature Squared capiz side tables by British designer Bethan Gray—who laid out the pieces of shell in a feathery grid, and touted the material as the "bamboo of the sea."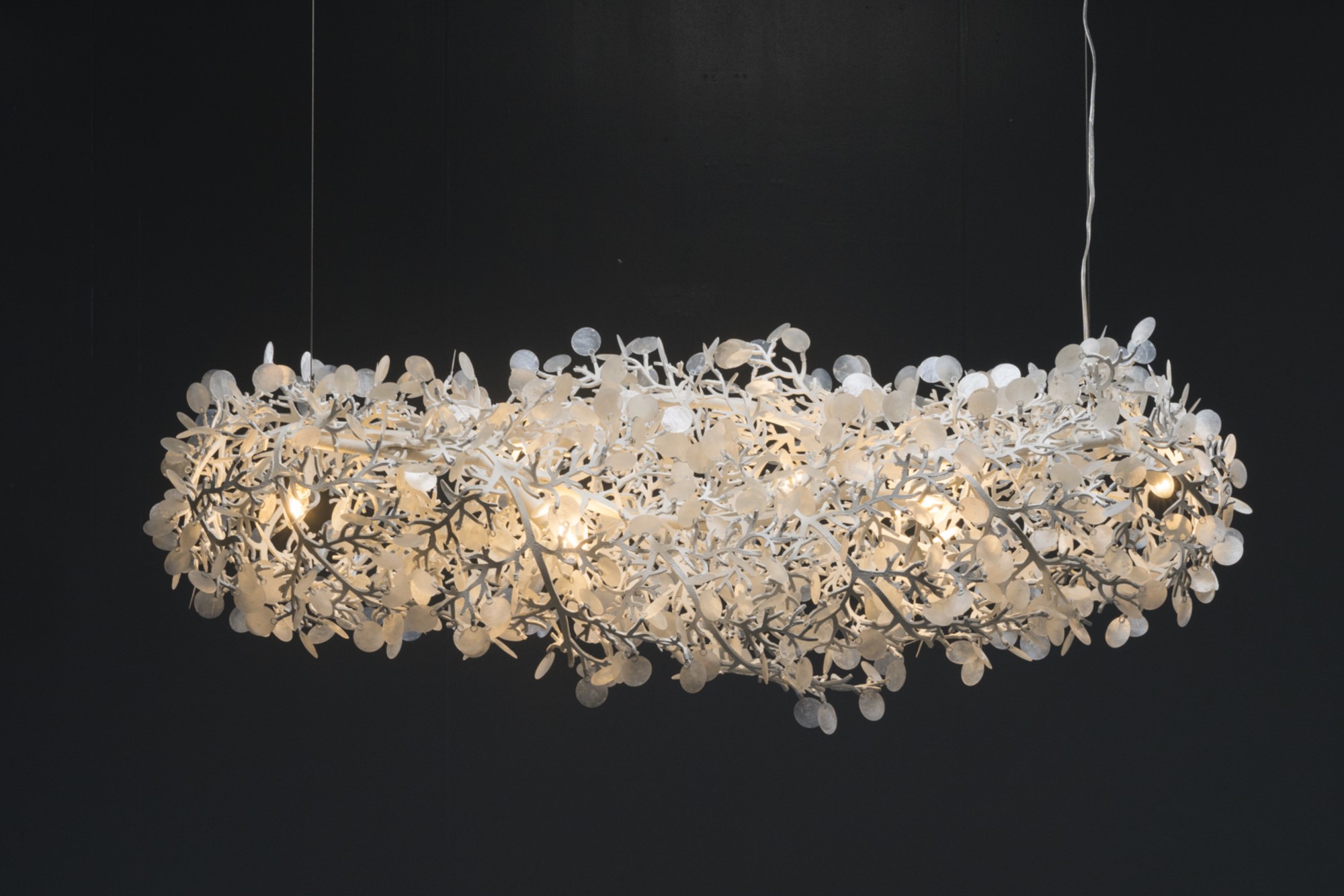 One of the standout pieces at the Maison & Objet Digital Show's Bubble Living shoot was the Cherry Blossom Lamp by Venzon Lighting. "Once we added the capiz petals [to this,] its natural beauty evoked a cherry blossom—hence the name," says Jackie Venzon.
Another international fair that recently featured capiz was this year's Maison & Objet Digital Show, in the form of Venzon Lighting's ethereal Cherry Blossom lamps for the Bubble Living theme. "We decided that capiz would be a nice material combination with the aluminum branches, which worked perfectly because aluminum allows for easier forming due to its flexibility," explains creative director Jackie Venzon.
"We're always on the lookout for the newest material technology," Chan says of her work with Shell Arts. "Our base materials will always be capiz, since it's the material we pride ourselves with, but we always find better materials to complement it." So, it's safe to say that Philippine manufacturers will continuously find a way to balance respect for capiz's past with modern-day innovations and applications.
Photo credits: Dairy Darilag (Shell Arts Products); Michael Angelo Chua (Shell Arts Booth). Resources: Philippine Style: Design and Architecture by Luca Tettoni/Elizabeth V. Reyes; culturalelements.com, and curbed.com
CONTACT INFO
NORTHWING EXPORT CORPORATION
Email: customerservice@northwingexport.com
URL: northwingexport.com
SHELL ARTS CO.
URL: www.saciseries.com/
Instagram: @shellartsco
VENZON LIGHTING & OBJECTS
URL: venzonlighting.com
Instagram: @venzonlighting