Trash into Treasure
Since her college years, interior designer Wilhelmina "Willie" Garcia and Junk Not! Eco Creatives owner has been involved in projects that have an impact on society and the environment. So, when the Department of Energy and Natural Resources called her in 2015 to work on a livelihood project in San Nicolas, Batangas, an island town three hours from Manila, she immediately said yes.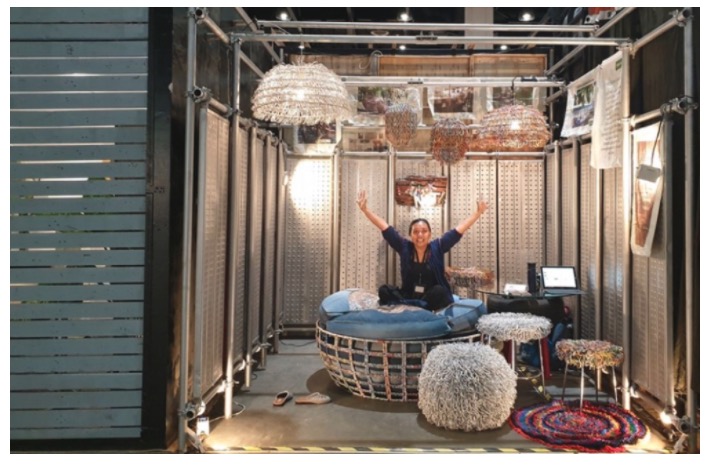 Interior designer Wilhelmina "Willie" Garcia at her Junk Not! booth at the April 2019 edition of Manila FAME. Garcia is currently participating with other eco-designers in the Pure Gold – Upcycled! Upgraded! Exhibit by the Goethe-Institut.
Not wasting an opportunity

Garcia performed a WACS (Waste Analysis Characterization) audit in every household in the town, and the number one waste product wasn't surprising: plastic bags. She also discovered that since they didn't have any waste processing facility on the island, residents burned the plastic, contributing even more to the island's pollution.
In Batangas, waste plastic wrappers, foil packaging, and noodle packs are cleaned, cut, and processed into braided strips that Garcia uses for the webbed seating and upholstery of her furniture and décor.
The designer saw an opportunity, and after conducting a waste management workshop, taught the women how to process and braid the plastic and packaging waste for use in the making of Garcia's furniture pieces. "Sustainability begins at home," she stresses. "It is our contribution in paying back our environment."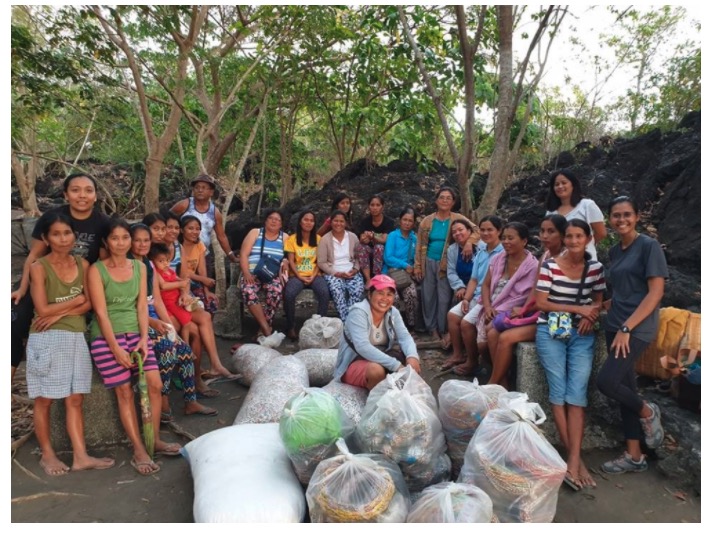 Garcia with the women of San Nicolas, Batangas, who recycle material for her furnishings. The town is now a zero-waste community.
From Laguna to FAME

These braided strands of plastic waste are then transported to Garcia's home/workshop in Biñan, Laguna, which are woven by a group of housewives from the nearby community. They weave the plastic into webbed or looped seating for chairs, accessories, and lounges. Aside from these, she also dabbles with other recycled materials like plastic film rolls and water lily stems, which she transforms into tables, benches, and headboards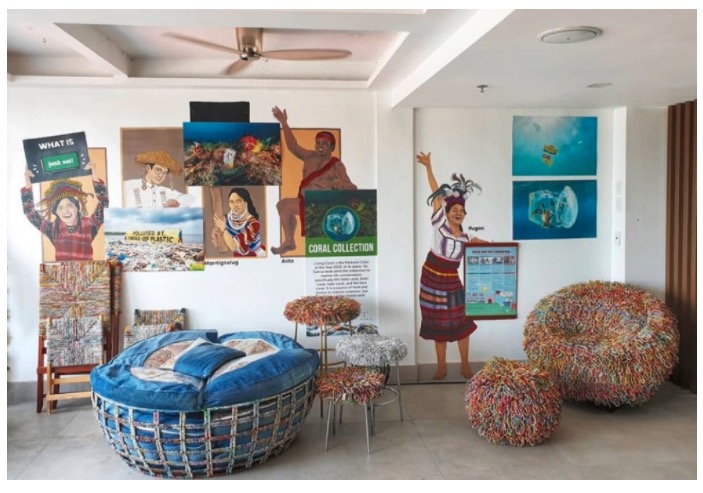 The Junk Not! showroom at Selah Pods Hotel in Pasay City shows the versatility of recycled waste—from plastic bags and film rolls to denim scraps and upcycled wood.
Garcia makes it a point to indicate exactly how many kilograms of waste are saved whenever she posts a newly completed project on social media. This is what she did when she completed Anak ng Tupa (literally, "Son of a Sheep"), a fluffy lounge chair and ottoman made out of 15 kilograms of plastic waste. The furniture piece won the Katha Award for Best Eco Product Design in the April 2018 of Manila FAME. The Eco-Design Award is conferred based on concept, as well as manufacturing processes and environmental benefits.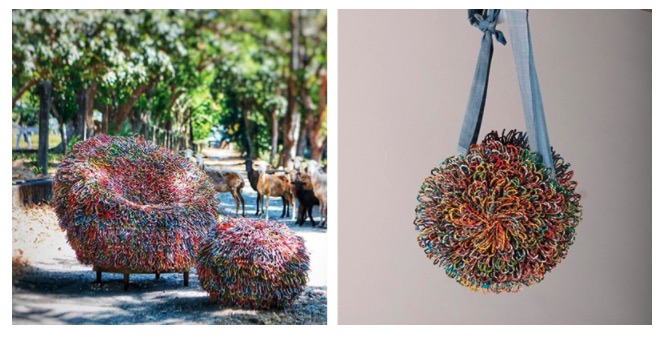 Anak ng Tupa won the Katha Award for Eco Design in April 2018. Junk Not also won the Katha Award-Judge's choice in October 2019 for Your Trash, My Bag.
Healing by making

One of Garcia's latest projects are the 2019 trophies and medals commissioned by the University Athletic Association of the Philippines (UAAP). Each component has a socially relevant meaning: the plastic waste is from San Nicolas, the wooden figures are carved by Ifugao artisans, and the metal are from iron scraps and bullet shells from the Marawi siege in Mindanao. "So many communities benefited from this. It's a project that's full of people's stories."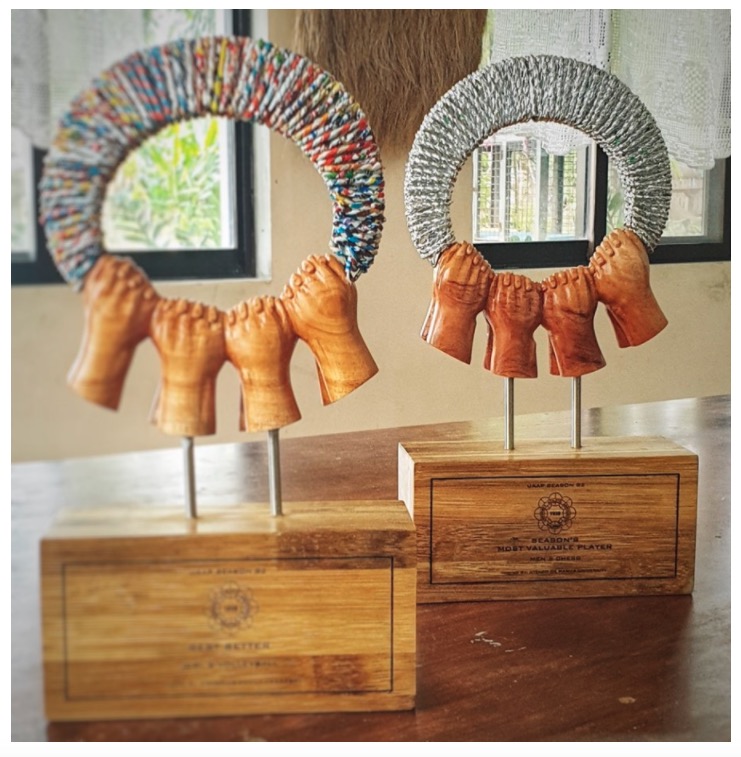 The 2019 UAAP trophies by Junk Not! are unique because of its social impact on the three different communities who worked on the project.
Garcia dreams of the day when all furnishings would produce zero waste, and use sustainable materials. When she was starting out, she sold her pieces online and in Paris-based social design shop Rue Rangoli, but she is optimistic that eco-conscious design practice is picking up. "Greening is a big market internationally, and a lot of designers are now willing to do it," she muses. "You just have to think about the social impact first before profit or anything else."
Learn more about Garcia's Junk Not! journey on this clip from ANC's Shoptalk.
JUNK NOT! ECO CREATIVES
Mobile: +63 917 5418886
Email: design@junknot.ph
URL: junknot.ph