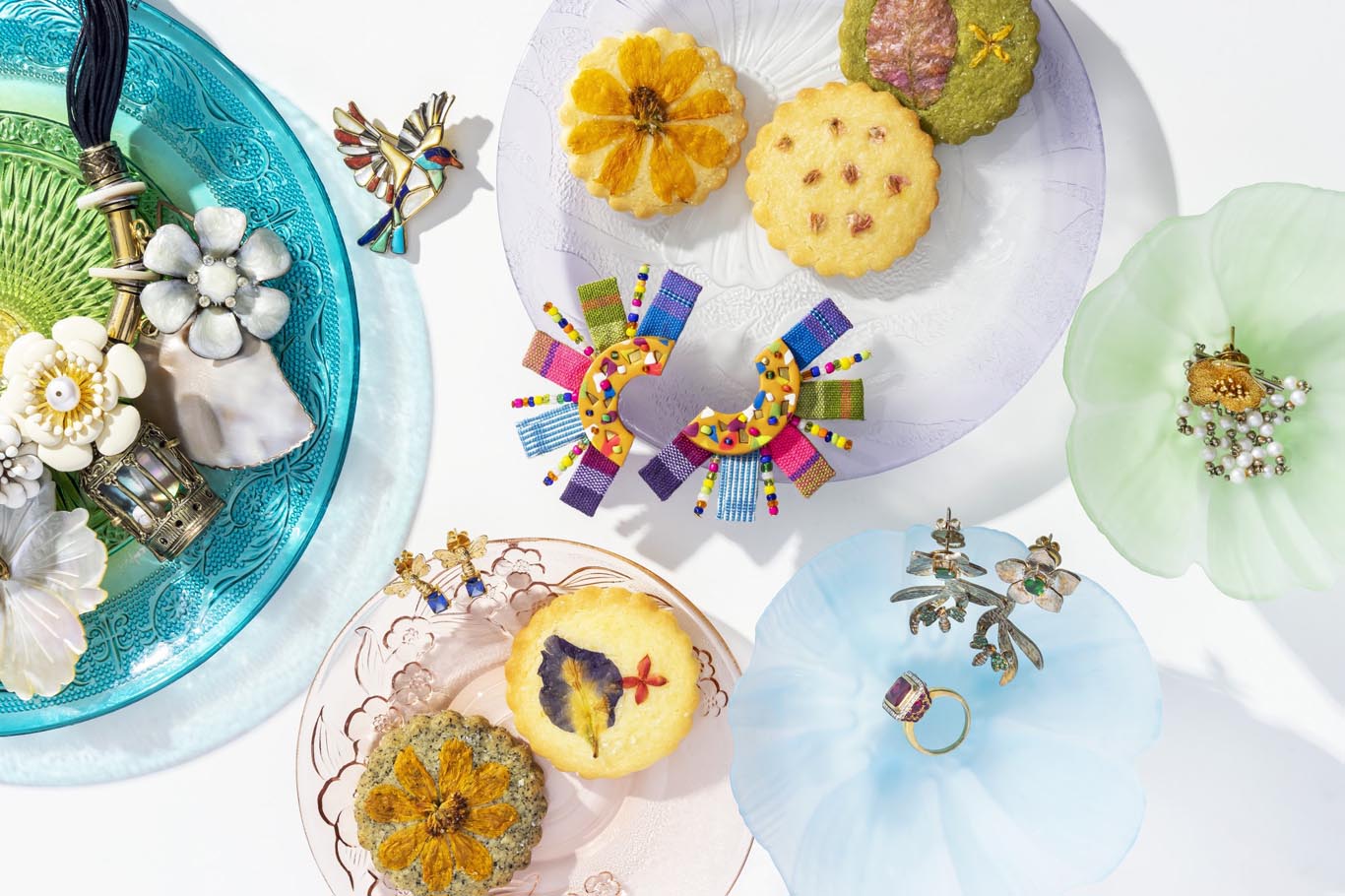 Eye Candy
Stand out in a virtual crowd with these bejeweled confections.
Let's face it—Zoom fatigue is real. If you need a little help keeping interest, these dazzling and downright delectable accessories may do the trick. From subtle, sweet gems to bold conversation pieces, take your pick from these proudly Filipino creations.
Garden Party
These bejeweled flora- and fauna-inspired pieces will have your friends buzzing with delight. Jewelry designer Tim Tam Ong's love for nature inspired her intricately hand-made creations, while Strozzi Rosende's designs made with inlaid turquoise, lapiz lazuli, malachite, orange spiny oyster, paua shell, and mother-of-pearl are inspired by the delightful winged creatures that visit her hillside home overlooking the Cebu sea.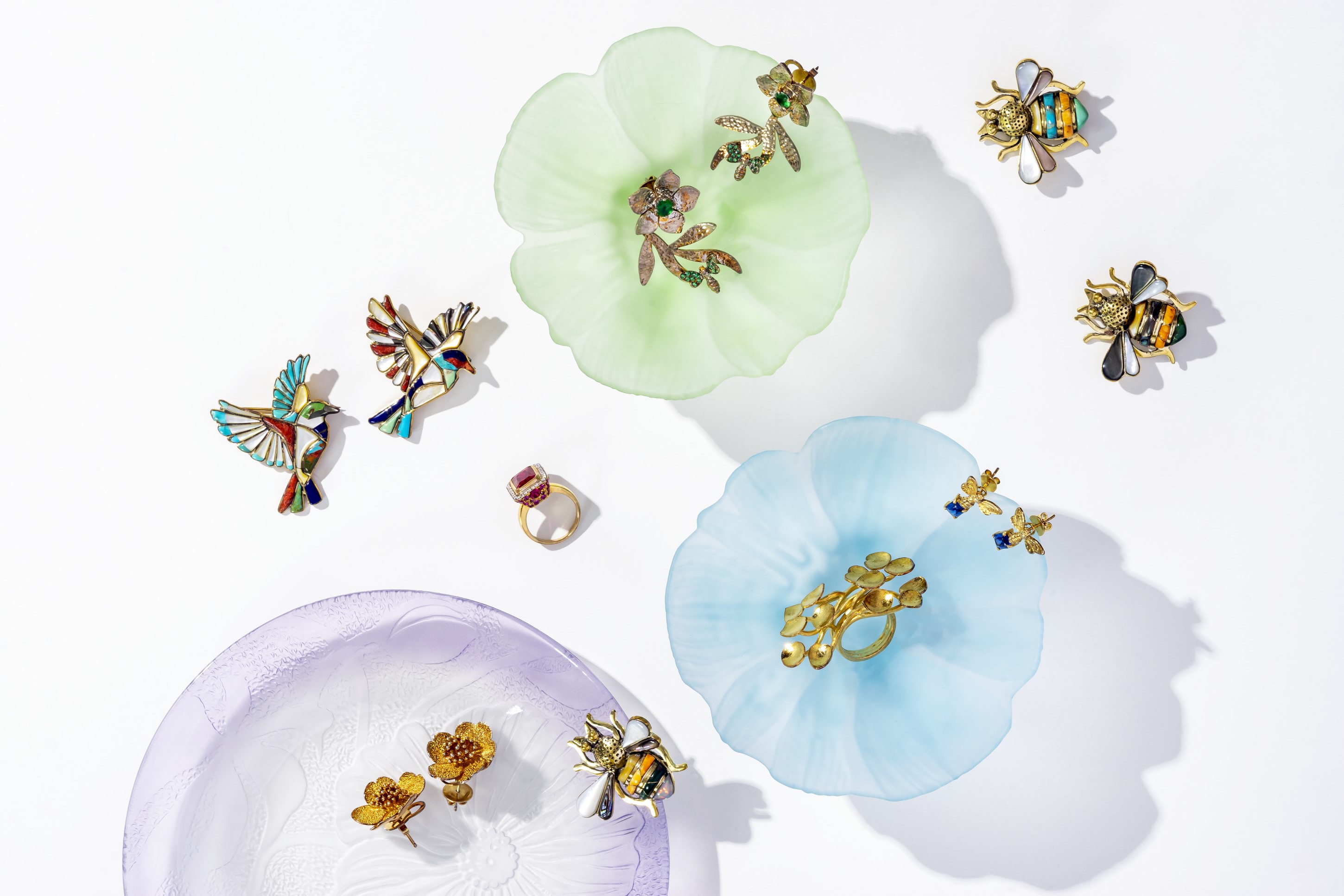 Winged attendants (top left, and top right): Bird of Hope and Bibo Bee Brooches of semi-precious stones inlaid in brass by Strozzi. Precious Blooms (bottom row and middle dish): Gold Floral Studs (with detachable freshwater pearl danglers), one-of-a-kind Ruby and Diamond Ring, Gold Floral Dangling Earrings set with emeralds, Gold Vine Ring, and Gold Dragonfly Studs Set with sapphires, all by Tim Tam Ong.
Layout 2: Vavazoom
Big, bold pieces instantly put you in the spotlight, whether online or IRL. Tina Campos uses responsibly-sourced stem corals, freshwater pearls, citrine. and butter jade for her neckpieces, and designer Adante Leyesa adorns his necklaces with a mix of mother-of-pearl discs, metallic rings, acrylic, fabric, and mixed media charms.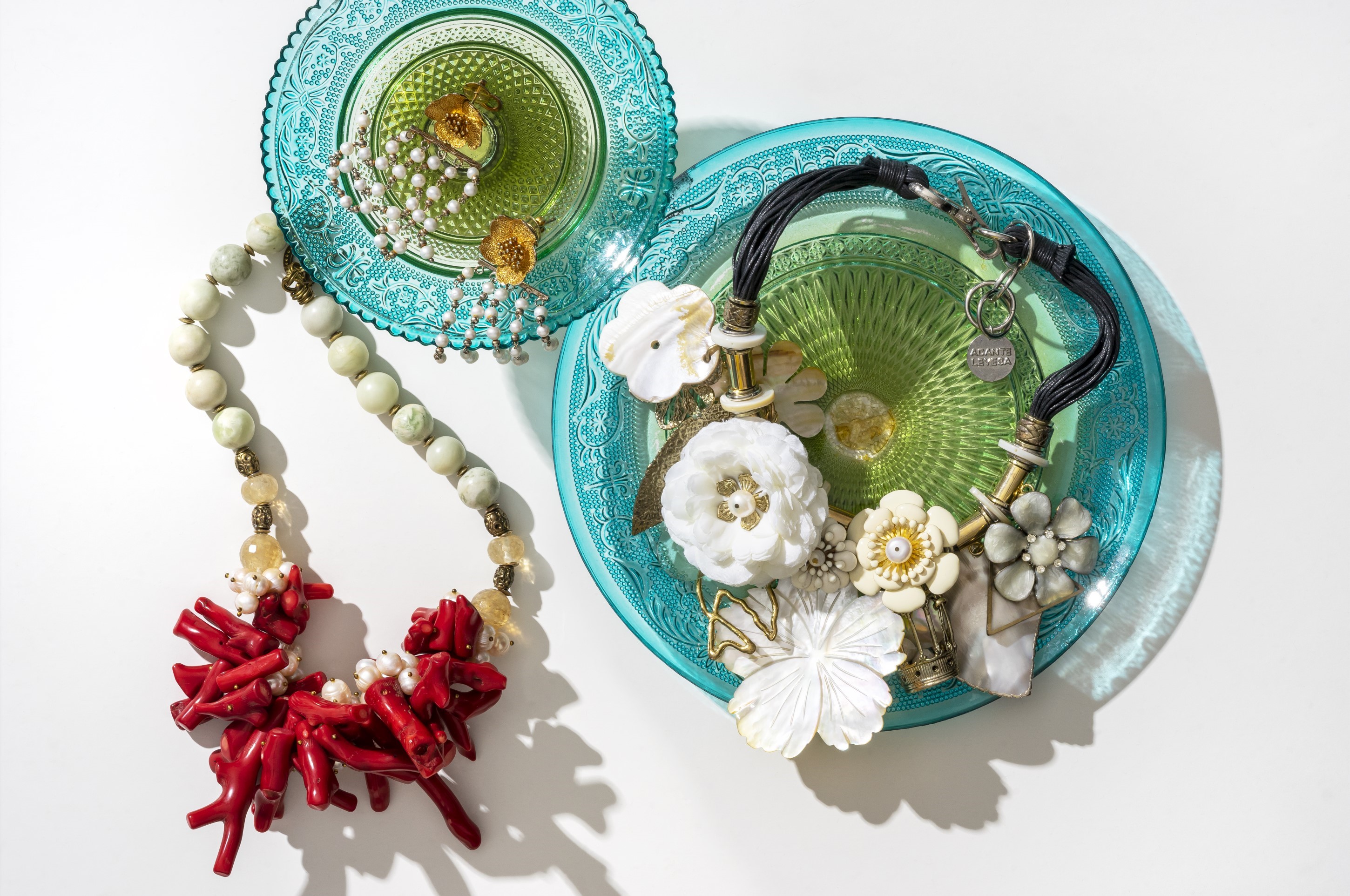 (Clockwise from lower left) Coral Harmony: Neckpiece by Tina Campos Jewelry. Flower Power: Gold Floral Earrings (with detachable freshwater pearl danglers) by Tim Tam Ong; Statement Necklace with multi-strand cord by Adante Leyesa.
Layout 3: Sweet Minimalist
Channel low-key chic in classic yet intriguing pieces, or layer them for a more eclectic look! Lily Jewelry's nostalgic, limited-edition collection features gold-plated stainless steel and mother-of-pearl shell, inspired by Santan, the star-shaped blooms of our childhood.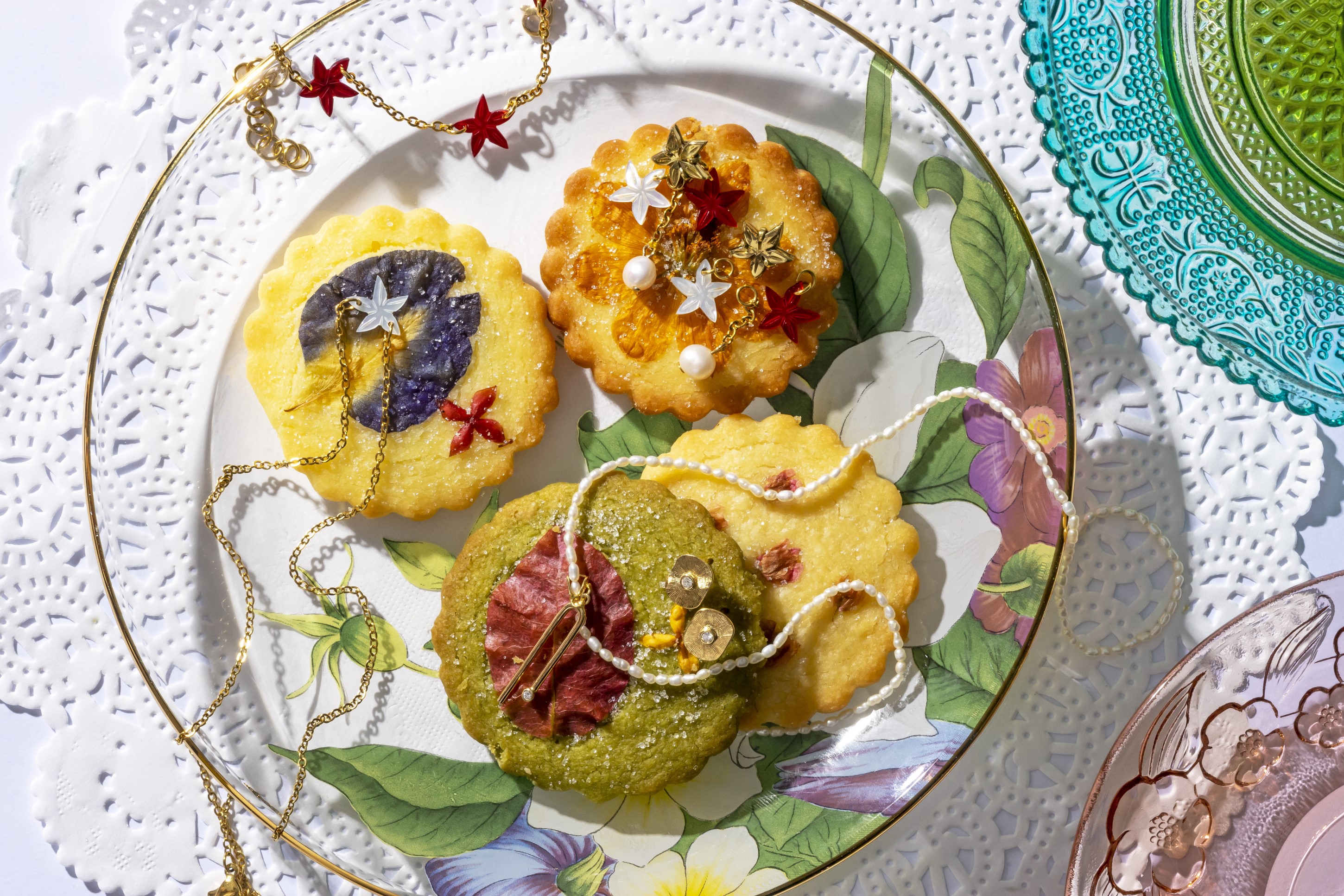 Santan for all seasons (top half): Cinque Santan Necklace in Red (6 inches), Una Santan Necklace in Ivory, and Santan Stud Earrings in Gold with detachable danglers, all by Lily Jewelry. Elevate the everday (bottom half):Patricia Earrings in 14K yellow gold and 0.06 cts round brilliant natural diamonds, Polaris Necklace and Single Ear Dangler in 14k yellow gold and 0.03 cts round brilliant natural diamond on a 16-inch freshwater pearl necklace, Unif0rm X PS ILY capsule collection.
P.S. I Love You
Another fresh pick is the modern and versatile Unif0rm X PS ILY capsule collection, a collaboration between everyday chic fashion brand Unif0rm and fine jeweler Paul Syjuco, that can be worn in different ways.
(Left) The inverted U pendant from the Unif0rm X PS ILY Polaris Necklace can be worn as a single ear dangler on the art deco-inspired Patricia Earrings for a unique, nonchalantly cool statement. (Right) Lily Jewelry's delicate necklaces are inspired by the Santan (also called Ixora), a tiny tropical flower.
Layout 4: Happy Hour
Be the life of the party in geometric, gorgeously festive pieces that make a difference. Adante Leyesa's Circo Neckpiece takes inspiration from the wonder of a child watching a circus performance for the first time, designer Adante Leyesa shares that the textures and colors of Circo are meant to depict joy and "juxtapose negative emotions caused by the current pandemic condition."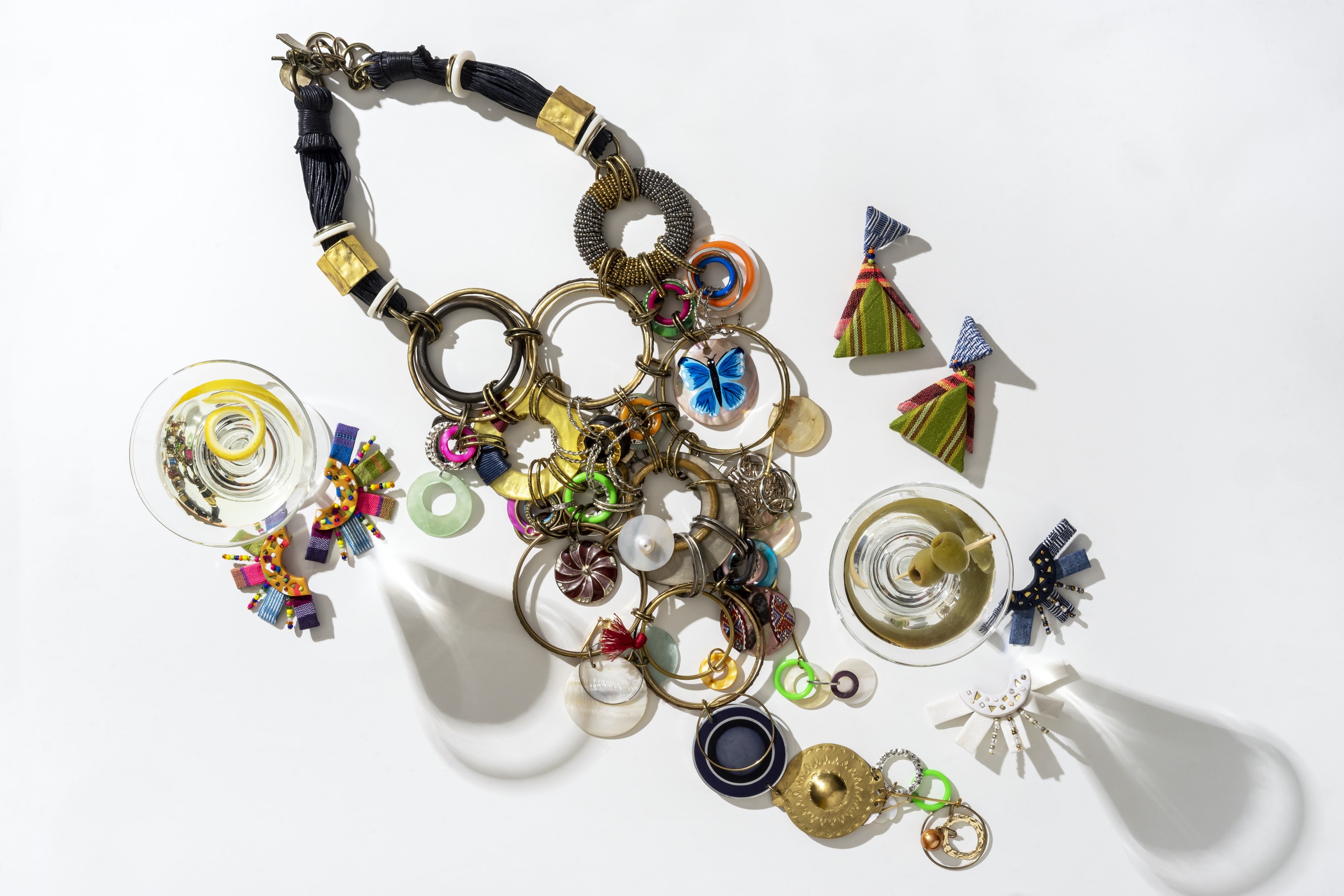 Celebrate Life (left to right): Araw ni Bahaghari Earrings from the Sibol Collection with repurposed handwoven fabric from Anthill Fabric Gallery; Circo Neckpiece in brass, mother-of-pearl, beads, wood, resin, acrylic, and horn by Adante Leyesa;
Mayon Luntian Earrings by Tropik Beatnik, inspired by the perfect cone of the Mayon Volcano in Albay, and Araw Brooch in clay and brass beads, all by Tropik Beatnik.
The Araw ni Bahaghari Earrings by Tropik Beatnik is part of a pandemic initiative to empower and provide sustainable livelihood to partner communities, the proceeds from this collection will go directly to partner mothers at Gawad Kalinga Sitio Pajo.
Tropik Beatnik's Araw Brooch (seen here in black and in white) is made from clay embedded with glass beads and brass, with rays made out of repurposed handwoven fabric. Fun fact: the Araw Brooch was commissioned as the signature accessory of the Philippine Fashion Coalition, and every purchase of the PFC Araw Brooch via basicmovement.ph helps support the movement to uplift the Philippine fashion industry in these trying times and beyond.
Photography: Toto Labrador; words and styling: Pierra Calasanz-Labrador
CONTACT INFO
ADANTE LEYESA
Instagram: @adanteleyesa
URL: www.adantecollections.com
ANTHILL FABRIC GALLERY
URL: anthillfabricgallery.com
BASIC MOVEMENT
URL: basicmovement.ph
LILY JEWELRY
Instagram: @lilyjewelry
URL: lily.ph
STROZZI
IG: @strozzihandcraftedjewelry
URL: www.strozzimeowvellous.com
TIM TAM ONG JEWELRY
Instagram: @timtamongjewelry
TINA CAMPOS JEWELRY
Instagram: @tinacamposjewelry
Facebook: @Tina-Campos-Creations-Jewelry
TROPIK BEATNIK
Instagram: @tropikbeatnik
UNIF0RM
Instagram: @unif0rm
URL: unif0rm.com