Think Big
Arnel Papa has witnessed Philippine export's golden years - as a young supplier of beads and components who started selling at trade shows back in 1984 - and its decline triggered by a worldwide financial crisis during the late 1990s. By then, Arnel had already built his reputation as a jewelry-maker with a taste for fabulous scale.
"Big and chunky" was how Arnel described his eponymous brand's exuberant style. Through the years, he stayed with the look but adapted to changing trends by adding new materials, like pearls, metal and semi-precious stones, and deploying different techniques. "The design has to be unique and current, but still faithful to my brand."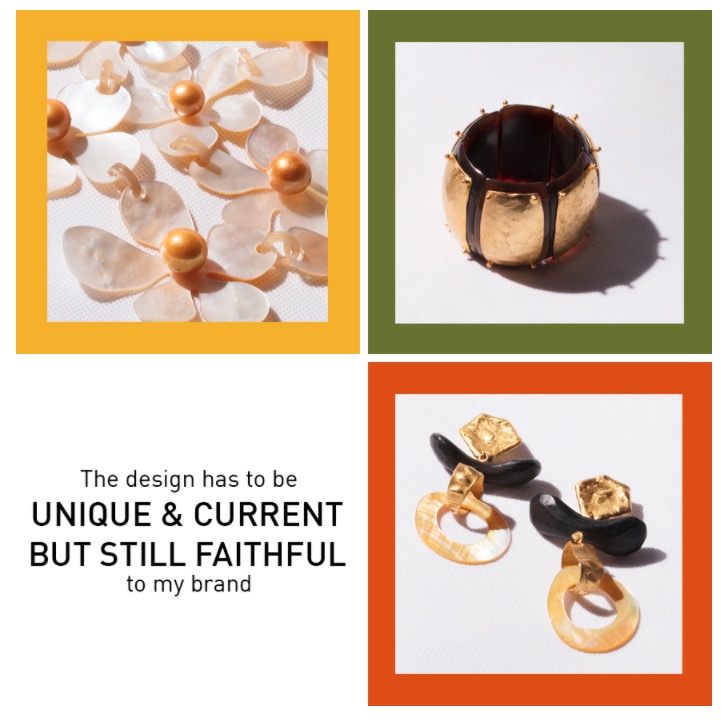 Clockwise from top left: Detail of mother of pearl and golden pearl necklace;
Carabao horn bangle with gold-plated accent; earrings made from mother of pearl and carabao horn with plated-gold settings.

Arnel is one of the few survivors of the Philippine fashion accessories industry's downward spiral. The country used to be a top resource for casual jewelry made from various local materials, such as shells, carabao horn, wood, coco beads, etc., with Cebu considered as the industry's heartland.
Realizing the talent of Cebu's craftsmen, Arnel recruited some of them when he started his export business. Up to now, those workers - including others who hail from different parts of Mindanao - are still with Arnel's company. "Mula nung binata at dalaga pa sila, hanggang nagka-anak at apo na," Arnel exclaimed.
A low turnover, which ensured quality and a smooth production flow, is one secret to Arnel's success. The designer's shrewd assessment of the export landscape was also key to his survival in times of global upheavals and growing competition. "Everyone was doing low-end jewelry, na halos pare-pareho ," he said of the export industry's early years, "so I decided to create unique high-end pieces."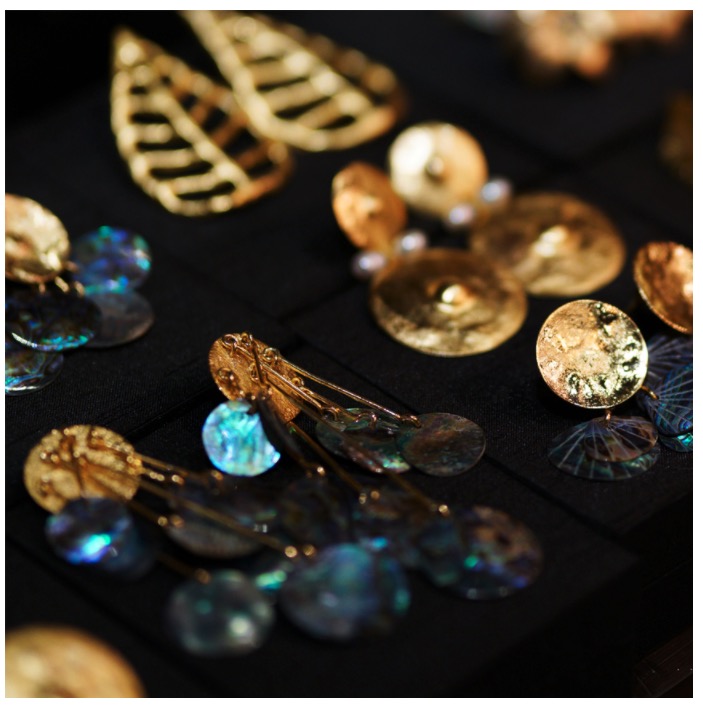 Earrings made from gold-plated discs and hand-carved black mother of pearl pendants.

Arnel also emphasized the importance of maintaining good relationships with buyers, to make sure that they are protected from disruptions as well as competition. "My buyers from way back are still with me, especially the ones from Europe. What I do is create designs that are exclusive to my clients."
These days, Arnel is kept busy attending to his boutique store in one of Manila's upscale malls, while also managing his export business. There's still one big step that Arnel has been thinking about. "I want to open a boutique store abroad," he revealed. Expansion and brand visibility are two reasons for the move. More than that, the store will ensure his loyal workers' continued tenure. "It's really for them."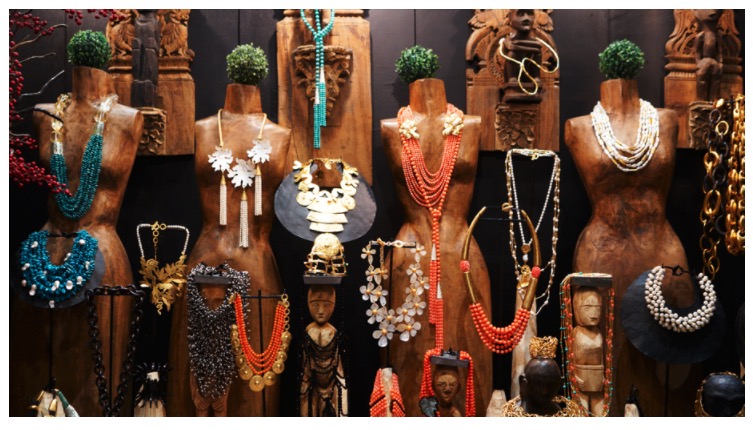 Arnel Papa's tantalizing tableaux seen at Manila FAME October 2018.
Top photo: A multi-layered necklace made from freshwater pearls.
CONTACT INFORMATION

Arnel Papa
General Manager/Owner

63442487070
ershellcraft@yahoo.com
Pag-asa St., Patubig,Marilao, Bulacan, PHILIPPINES