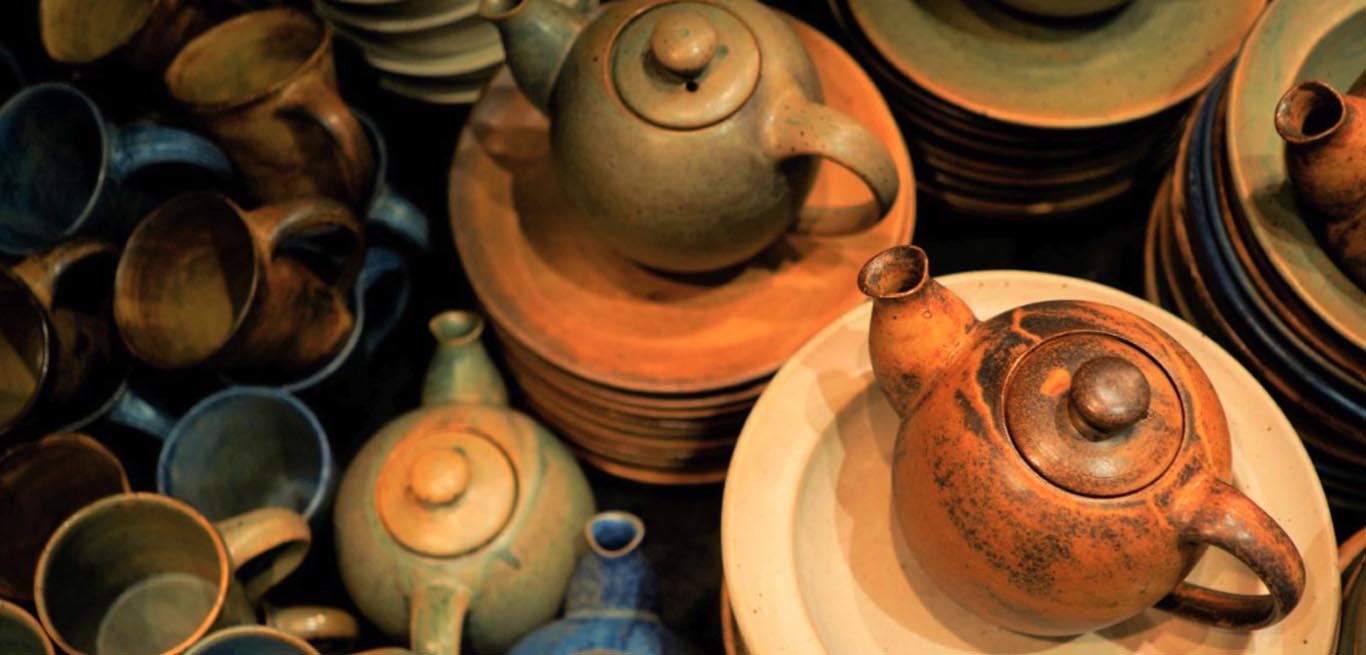 BEAUTIFUL, NOT BROKEN
Ceramics and pottery have been part of Asian culture for millennia. The art of pottery in Japan, China, and South Korea, for example, have developed over thousands of years. In the Philippines however, centuries of colonization resulted in our pottery culture having been impeded in a rustic, basic phase for generations.
Philippine pottery has since picked up in the 20th century, and is enjoying a renaissance of sorts. Aside from the various Filipino artists practicing this craft such as the Pettyjohns, Pablo Capati, Rita Gudino, and Joey de Castro exhibiting it widely, and there are a great number of artisanal manufacturers who mould their clay into functional works of art. These are some that we've spotted in the 2019 editions of Manila FAME: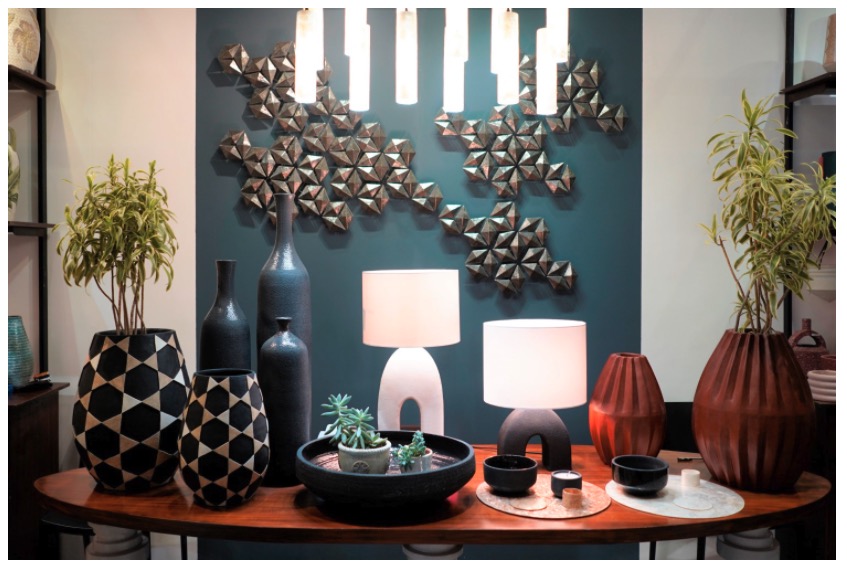 Asia Ceramics Corporation, which is based in Santo Tomas, Pampanga, and in Quezon City, has been manufacturing decorative home accessories such as wall décor, candleholders, vases, and lamp bases in edgy, modern designs for more than two decades.
Ceramics
Various trends for 2020 include deconstructed forms, highly textured surfaces, geometries, stirring and swirling on glazes, stylized figures, and portraiture. All these were seen in the products of Asia Ceramics Corporation, which run the gamut from wall décor and vases to votive candleholders and decorative busts.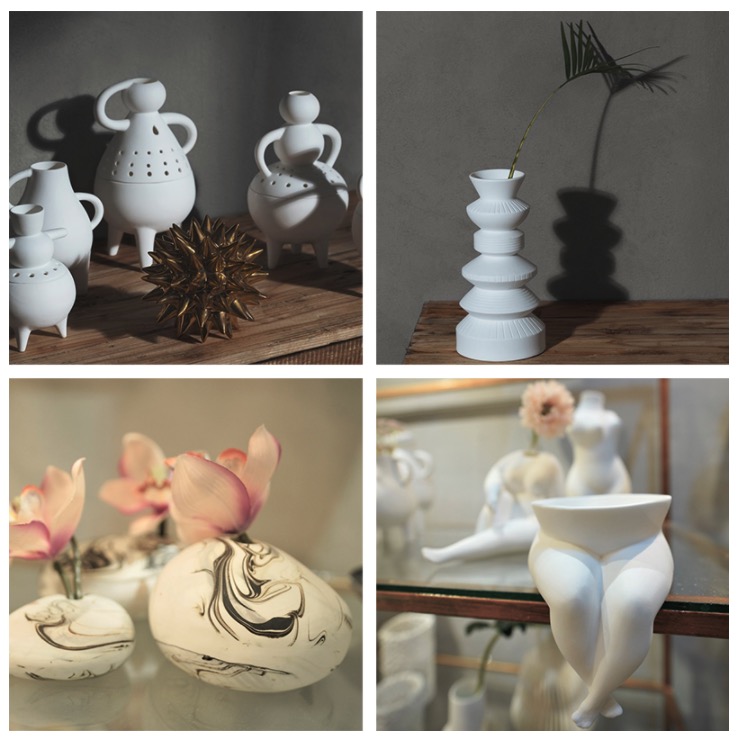 Clockwise from top left: CSM's Mr. Pots vases for KINDRED: A Design Collective; CSM created modern but whimsical pieces for KINDRED; their new pieces for the 70th edition of Manila FAME have a sense of humor; egg-shaped bud vases with marbling, all from CSM.
Bone China
CSM Philippines, a manufacturer based in Biñan, Laguna, has been creating their handmade bone china products since 1994. Their pieces are ethereal yet organic, delicate-looking yet design-forward all at the same time. For the KINDRED: A Design Collective exhibit at Maison et Objet in Paris, they created pieces that were cheeky and whimsical, but still very modern.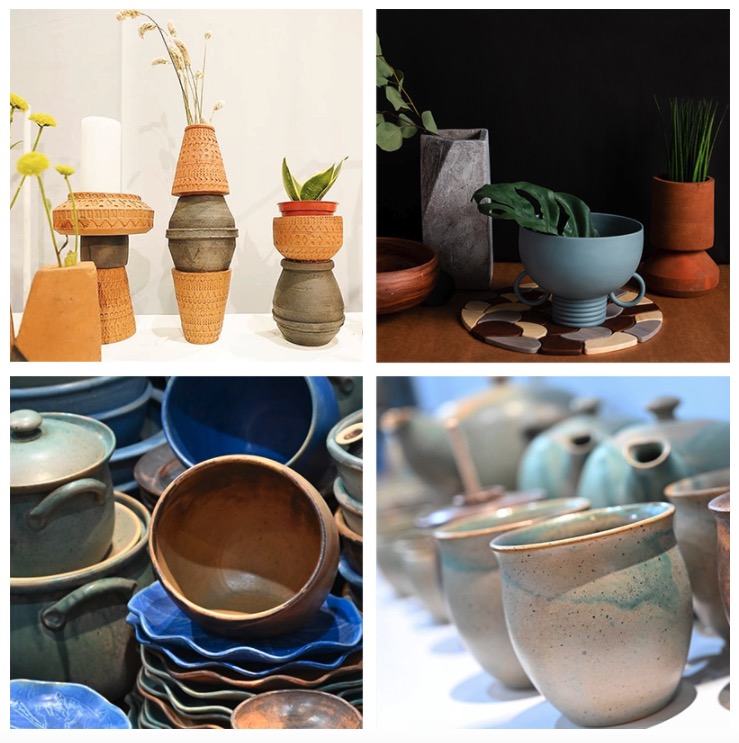 Clockwise from top left: Bauhaus Terracotta Vases with Kalinga patterns from Red Slab Pottery; Vase from South Sea Metro Arts, Blue Bowl by CSM, and Bauhaus Terracotta Vase from Red Slab Pottery; cups with white and green glaze from The Stoneware Pottery; beautiful cobalt blue and mottled brown dinnerware from The Stoneware Pottery.
Pottery, terracotta, and stone
These products all focus on their material, with stoneware makers favoring more natural and earthy glazes. Red Slab Pottery's Eric Sanchez also refers to the "Ethno-Bauhaus" theme for his collection of terracotta vases and containers, which have stacked, simple geometric Bauhaus-inspired forms, but with indigenous stamping with Kalinga motifs.
[CONTACT INFORMATION
ASIA CERAMICS CORPORATION
Facebook: @Asia-Ceramics-Corporation
URL: asiaceramics.ph
CSM PHILIPPINES
EMAIL: info@csmphilippines.com
URL: csmphilippines.com
RED SLAB POTTERY
EMAIL: ecanschez@redslabpottery.com
URL: redslabpottery.net
SOUTHEAST METRO ARTS
EMAIL: salesinfo@southeastmetroarts.com
URL: southeastmetroarts.com
THE STONEWARE POTTERY
EMAIL: info@stonewarepottery.com
URL: stonewarepottery.com