Hot Metal
Delicate, graceful, beautiful.
These aren't words one would immediately associate with galvanized iron wire and metal sheets. But Filipino artisanship makes it possible for such an industrial material to be transformed into elegant designs.
According to Miguel A. Prado, Jr., President and CEO of PRADO Filipino Artisans, Inc., the key lies in the malleability of the material, but just as important is the talent of the gifted artisans who use it.
PRADO was established in 1974 as M.A. Prado International Trading, and expanded as Miles Ahead Corp. In 2013, the name was changed to PRADO Filipino Artisans, Inc. Today, it is an award-winning manufacturer and exporter of home decor, lighting, and furniture, handcrafted by skilled artisans.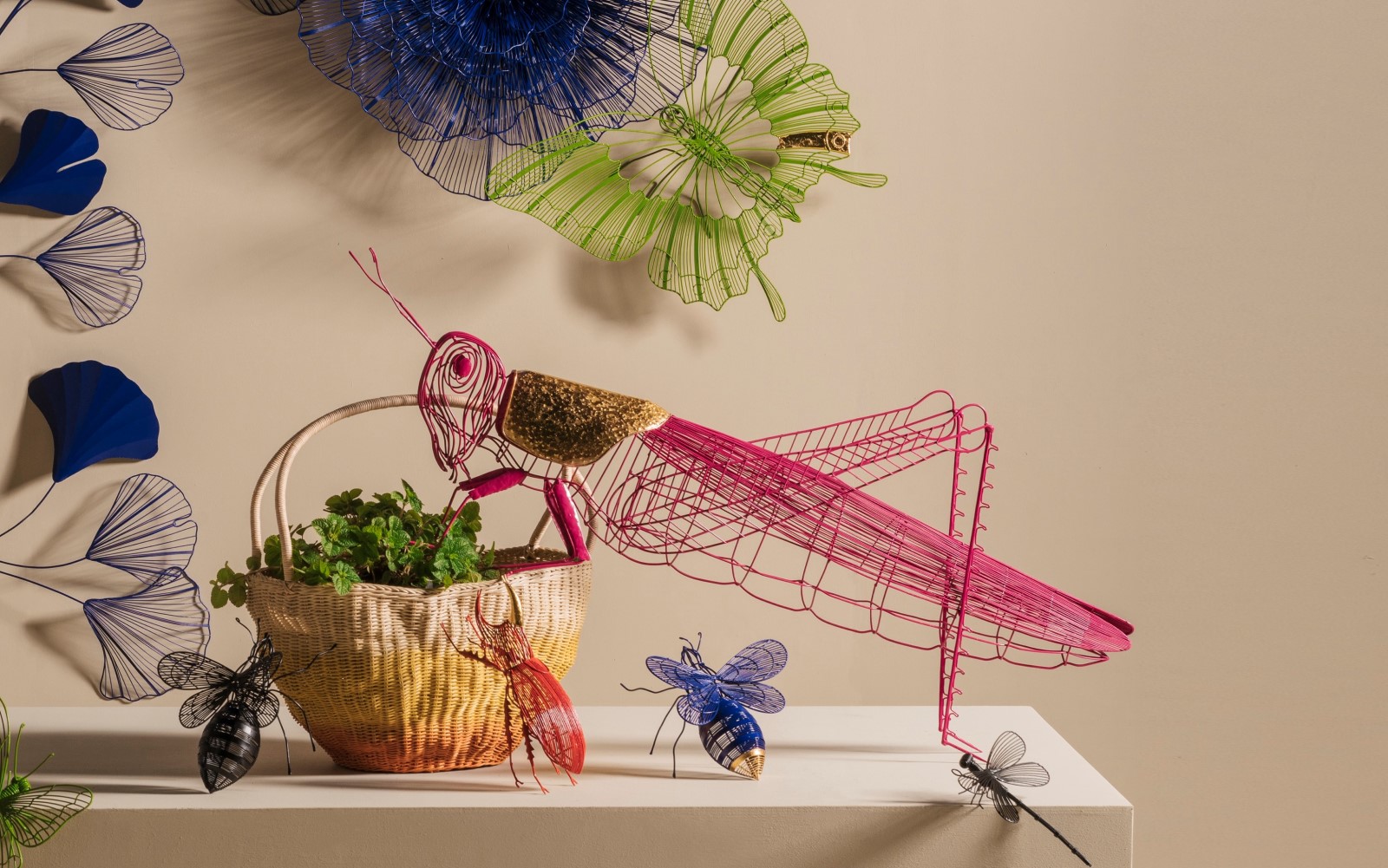 According to Maison & Objet Digital Fair-Kindred curator Gabriel Lichauco, "This grasshopper is an existing piece; we just asked them to make it much bigger—like about a meter long." Other pieces in this vignette for MOM Digital include the Gingko leaves, Cabbage Rose, Butterfly with Tail, Black Bug, and Rhino Beetle.
Nature-inspired designs
"All our products are inspired by nature," says Prado. From the charming shape of a ginkgo leaf to the intricate fibers of a cabbage rose, these are among the natural elements recreated in their designs.
To be able to fashion these out of iron wire and metal sheets, artisans need skill, patience, and creativity. PRADO considers it its mission to see to it that their work is appreciated by whoever sees it. Artistry at its finest, ingenuity at its peak. This is the core of the designs conceptualized and produced by PRADO.
"It is a great pride for us to showcase products made in the Philippines because they really are something other countries must have. They are well-made, beautifully designed," Prado adds.

The insects featured in the MOM Digital Show are existing pieces by PRADO, but updated with vibrant colors and a bigger scale.
International mettle (for metal)
PRADO's participation in various international exhibitions has given its designs the attention and recognition it truly deserves. International buyers like Hollander in Germany, Dialma Brown Srl. in Italy, and Rorica in Taiwan are all part of PRADO's clientele.
In several international trade shows, PRADO has been chosen to represent the Philippines. Among these are Ambiente in Frankfurt, Germany; Maison & Objet in Paris, France; FFT/Interior Lifestyle Living in Tokyo, Japan; Seoul Furniture & Home Living in Seoul, South Korea; Index in Dubai; and IFT Show in Singapore. At these exhibits, PRADO's products have been prominently featured in the organizer's main showcase, as well as in the host country's media coverage.
PRADO has also earned the nod of award-giving bodies in the field of design. In the Philippines, they have won the esteemed KATHA Award several times. It also won the grand prize in the Swarovski Home Décor Design Competition, which celebrates unique design concepts.
The ethereal quality of the hanging Cloud Light, Boat Vessel, and Cocoon Table Lamp come from the delicacy and intricate workmanship of the handmade galvanized iron wires.
Entering the digital showroom
In 2020, PRADO marked another milestone as it joined thousands of other brands in the prestigious Maison & Objet, where PRADO showcased its collection of nature-inspired decor in a digital platform.
These handcrafted decorative items capture not only the wonder of nature but also its intricate form and detail that can only be achieved through a meticulous creation process. The illusion of a delicate texture of the products are telling of the exquisite artisanship at work behind the scenes.
"It is very exciting because it is our first time to experience being a part of an international digital show," says Prado.
Curated by artist Gabriel Lichauco and creative director Rita Nazareno [insert linkhttps://www.manilafame.com/Touchpoint/Philippine-Design-Brands-Joins-Maison-et-Objet-Digital-Fair], the collection highlighted "innovative and interesting products and unique designs that have universal appeal."