FROM FARM TO TABLE, LITERALLY
These days, one would think twice before using wood for accessories or the home. Aside from its scarcity and the ecological aspects of harvesting yet more wood, one's option is to use reclaimed wood, or no wood at all.
But one manufacturer—Sustainably Made by Marsse Tropical Timbers—decided to take things into their own hands by putting up their own tree farm to provide sustainable wood for their own projects and others. And staying true to its name, the offcuts of their production process find their way into the fine kitchen and home accessories.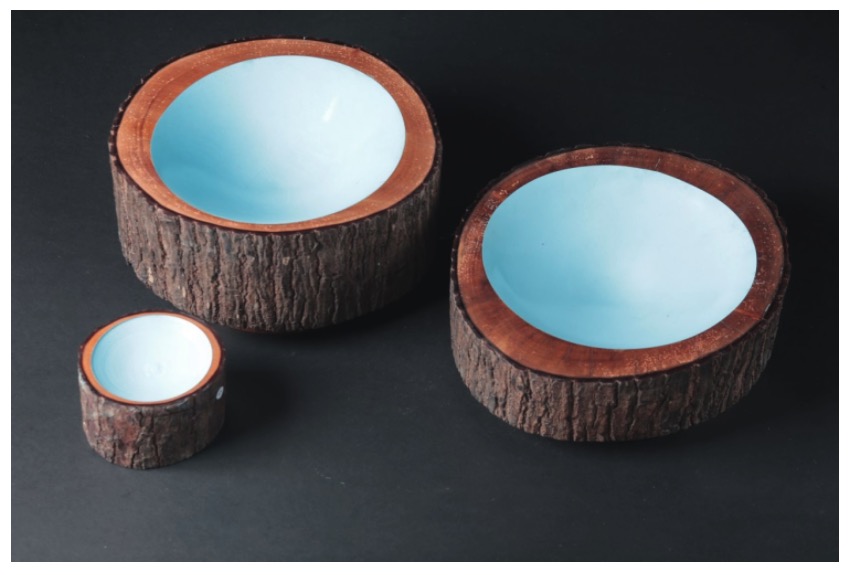 Shallow bowls with bark that are part of a Special Setting curated by Detlef Klatt for the April 2018 edition of Manila FAME.
Patience in planting
Sustainably Made's Mara Sebastian recalls how they established Marsse Tropical Timber Plantation Inc. in Umingan, Pangasinan. "So the farm was started in 1992, but we started planting in 1990 our nursery, so it was about 30 years ago. And we did our first harvest when the trees reached 20 years old, so that's about 2012," she says.
"We mostly plant Honduras Mahogany and Indonesian teak as foreign wood species. And we also plant southeast Asian Gmelina, which is a white colored wood, and then there are the local species kamagong, narra, molave, but we can't harvest those, because there's a moratorium on harvesting local species," she continues.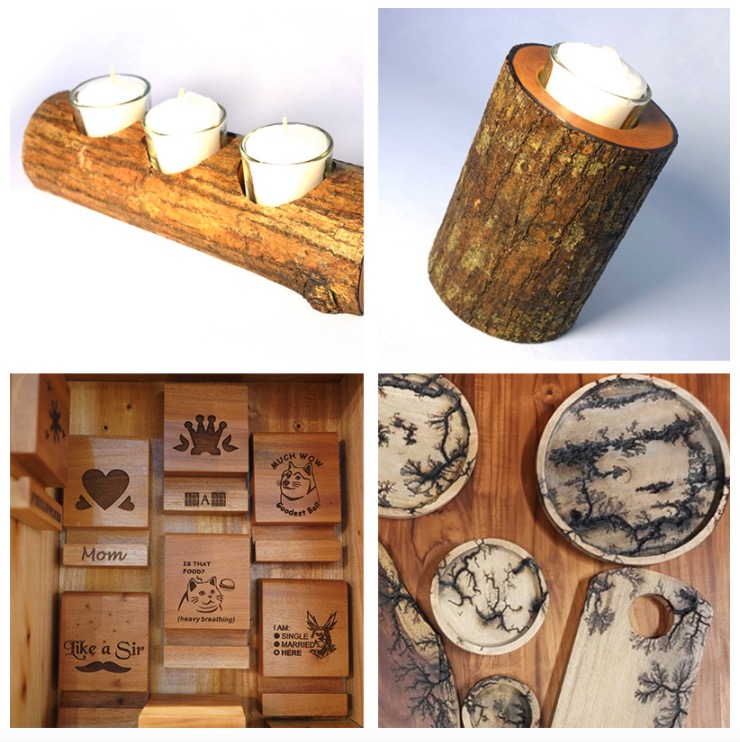 Clockwise from top left: Log Candleholder, Stomp Candleholder; Gmelina serving boards and nesting plates with Lichtenberg-technique fractal patterns; assorted cellphone and table holders.
Taking root
After their first harvest, Marsse started producing architectural wood for flooring, kiln-dried lumber, and processed wood, among other products. But then there was so much waste. "We produced flooring, and furniture, mostly big pieces. And then, we noticed we had a lot of offcut pieces, trees that aren't straight, or knotty wood; those trees that the wood manufacturers don't like to buy," says Mara.
They then created a "no wood wasted policy" for their production, and used these wood scraps and rejects to create unique consumer products for the home or personal use. These include gourmet kitchen accessories such as cheeseboards, pizza boards, grazing platters, service ware, and bowls. Other popular items are candleholders, and cellphone and tablet holders with different motifs and patterns.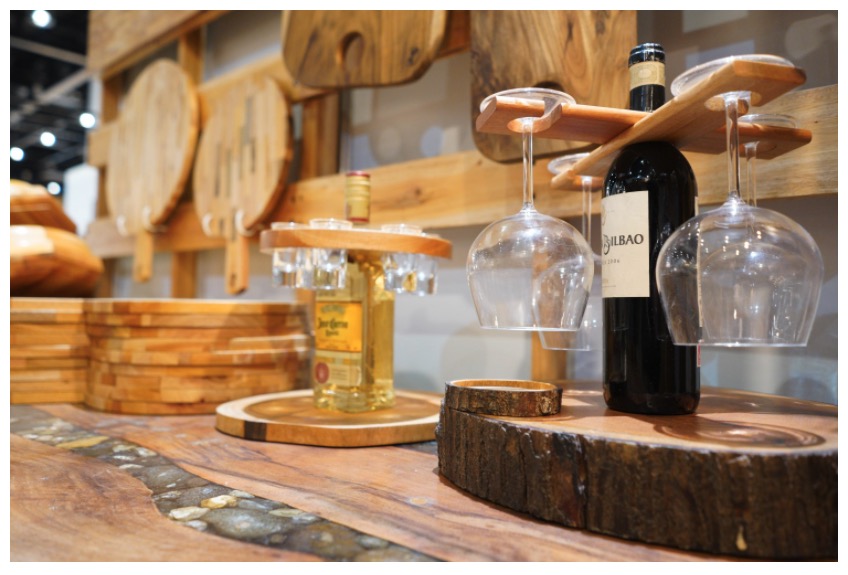 Assorted pizza boards (hanging in background), shot and wine glass racks.
From tree farm to table
Sebastian says that they tried different finishes and techniques to enhance the designs of the pieces. "We use the Lichtenberg technique, it's a wood-burning technique where you run about 3,000 or 5,000 volts of electricity into the wood, and each wood will have its own unique fractal pattern and color, depending on where the electricity wants to flow."
But more than just design, Sustainably Made's mission is to let the consumers know that the wood that they use are mindfully harvested. "For us, we really say our products are unique—it goes from our tree farm to your home, so you know exactly where the wood comes from—a tree farm registered at the DENR," Sebastian stresses. "Not everyone can say that their wood came from their backyard."
[CONTACT DETAILS]
SUSTAINABLY MADE BY MARSSE TROPICAL TIMBER
Instagram: @sustainablymade
Email: sustainably.made@gmail.com
Facebook @SustainablyMade