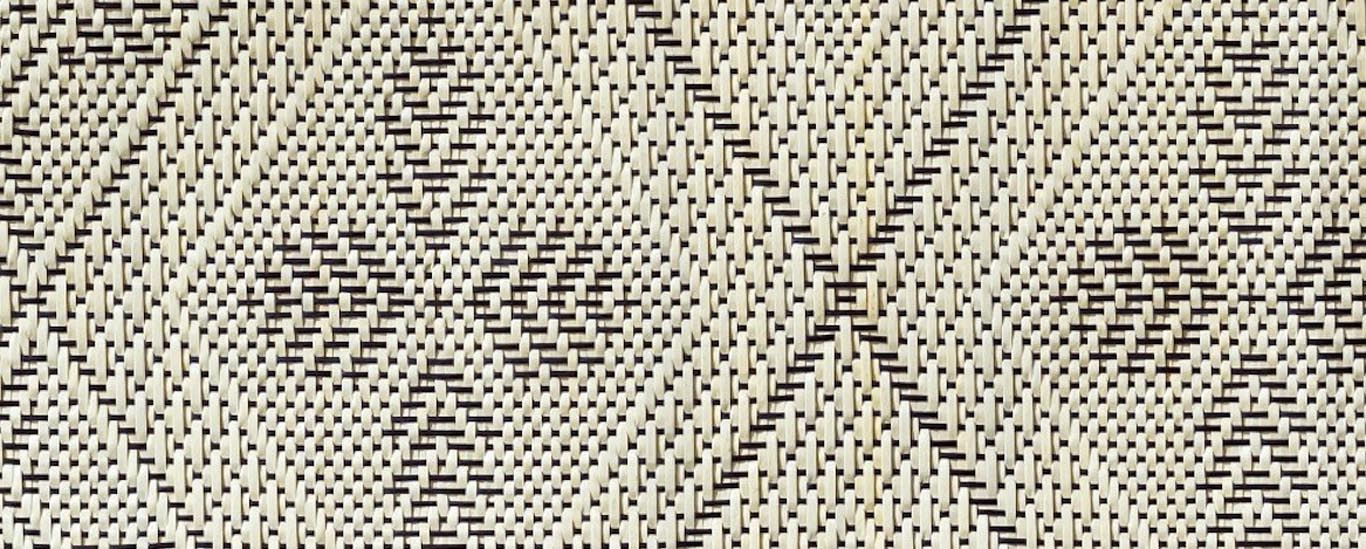 Weave Got This
When the going gets tough, we go back to the basics. At the root of our indigenous handicrafts is a rich weaving tradition, a common thread that binds our colorfully diverse islands. From basket weaves and woven mat innovations, to heritage handloomed textiles adapted to contemporary trends, we only have to mine the infinite potential of our artisanal traditions to move forward.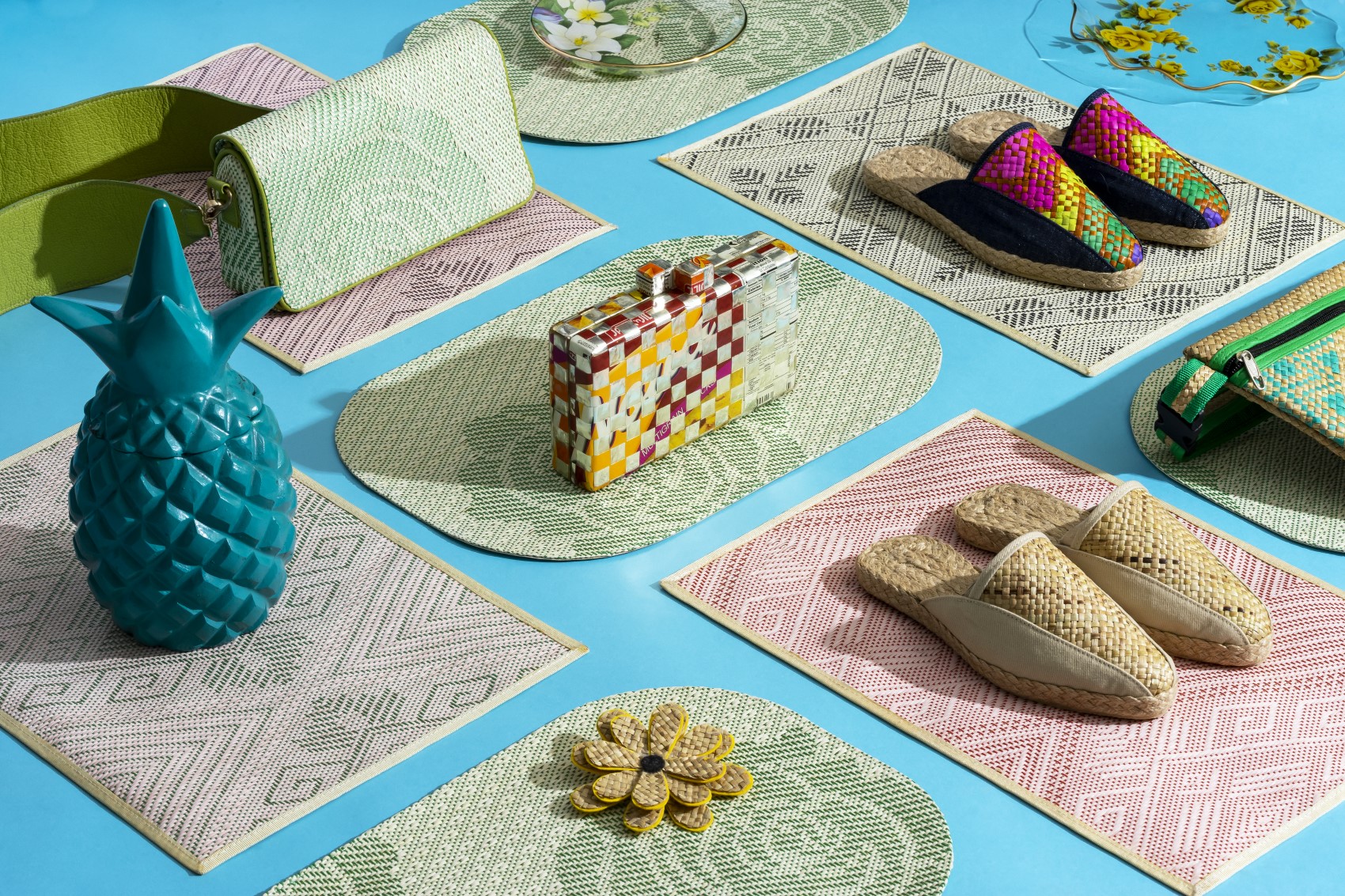 Beautiful banig (Top row): Sobre Clutch of recycled plastic banig, HaloHalo; (second row, left to right): KALATch Minaudiere made of upcycled junk food wrappers, Maco Custodio; Multicolored Abaca Banig Mule with Denim, Ai-She; (bottom row, left to right): Flower Brooch made from scrap banig, Abre Linea; Nude Abaca Banig Mule, Ai-She; Banig Fanny Back, Lara Samar (just seen); Recycled Plastic Banig Placemats (used as backdrop), set of four, all by HaloHalo.
BANIG: What really MATters
A common fixture in a typical Filipino household is the banig—a handwoven mat usually made of woven strips of dried seagrass, tikog (arrowhead plant), or palm leaves, and traditionally used for sleeping, eating, and lounging in lieu of a blanket. Deceptively humble, the banig actually takes patience, skill, and artistry to create the gorgeous geometric patterns and intricate designs that vary per region. Here, we see how the familiar mat is used to create contemporary fashion pieces and even inspire sustainably chic innovations.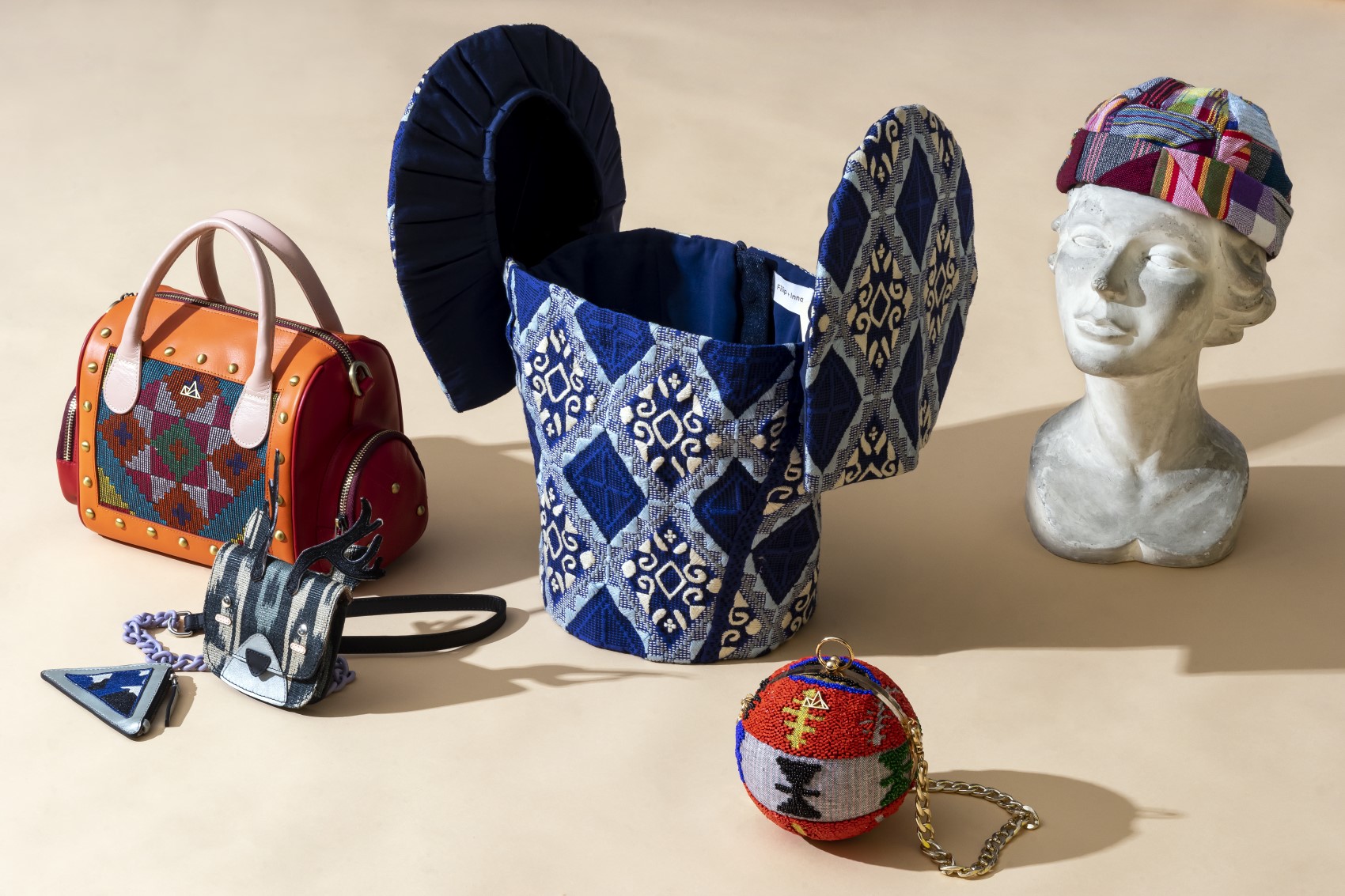 Handloomed loveliness (Left to right): Jetsetter 2.0 Mini Bag in Michaela, with Yakan panels, Cassandra the Caribou + Mountain Set Kid's Purse, both by Vesti; Hand-embroidered Terno Bustier of Yakan Fabric, Filip+Inna; Convertible Beaded Disco Bag in Tausug Pis Siyabit, Vesti; Skull Cap with Camarines Sur Buhi Weaves Patchwork, Maco Custodio.
HANDLOOMED: Life in Technicolor
It's only over the past few years that the appreciation for indigenous handloomed weaves finally crossed over into the mainstream, and just in time. Thanks to a growing movement to support local, the renewed demand is giving the younger generation of artisans a reason to stay, continue the craft, and ultimately help preserve our heritage. Techniques, patterns, and color palettes vary across regions, each weaving its own unique story in the Filipino technicolor dreamcoat.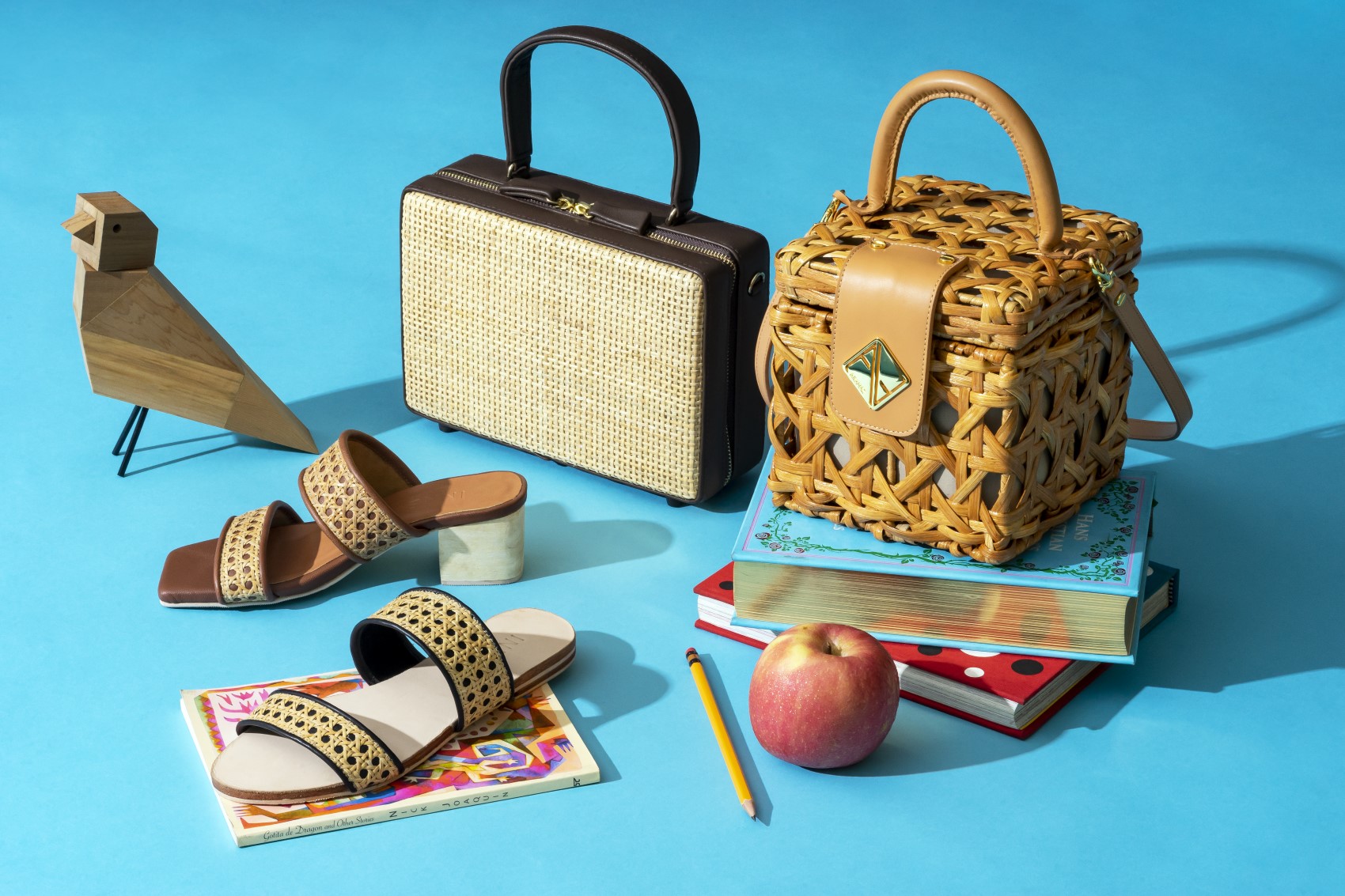 Caged glory (left to right): Liria Double Strap Heel in Tan and Sinta Double Strap Slide in Black, featuring the six-way solihiya weave, and Guita Mini Box Bag in Cacao from the Forma Ltd. Series, all from from Inné; Six-Weave Solihiya Handbag with genuine leather strap, from the waitlisted Charlie series, Aranaz.
SOLIHIYA: Feeling Cagey
With thin, lightweight straps of rattan handwoven into a cage pattern that allows airflow, the solihiya weave is a popular choice for tropical interiors. There are actually several different types of solihiya weaves, with the sunburst pattern six-way weave and the square four-way weave as the most popular. Though it's typically used for furniture, baskets, and home accessories, solihiya lends itself well to fashion accessories, evoking an effortlessly chic vibe.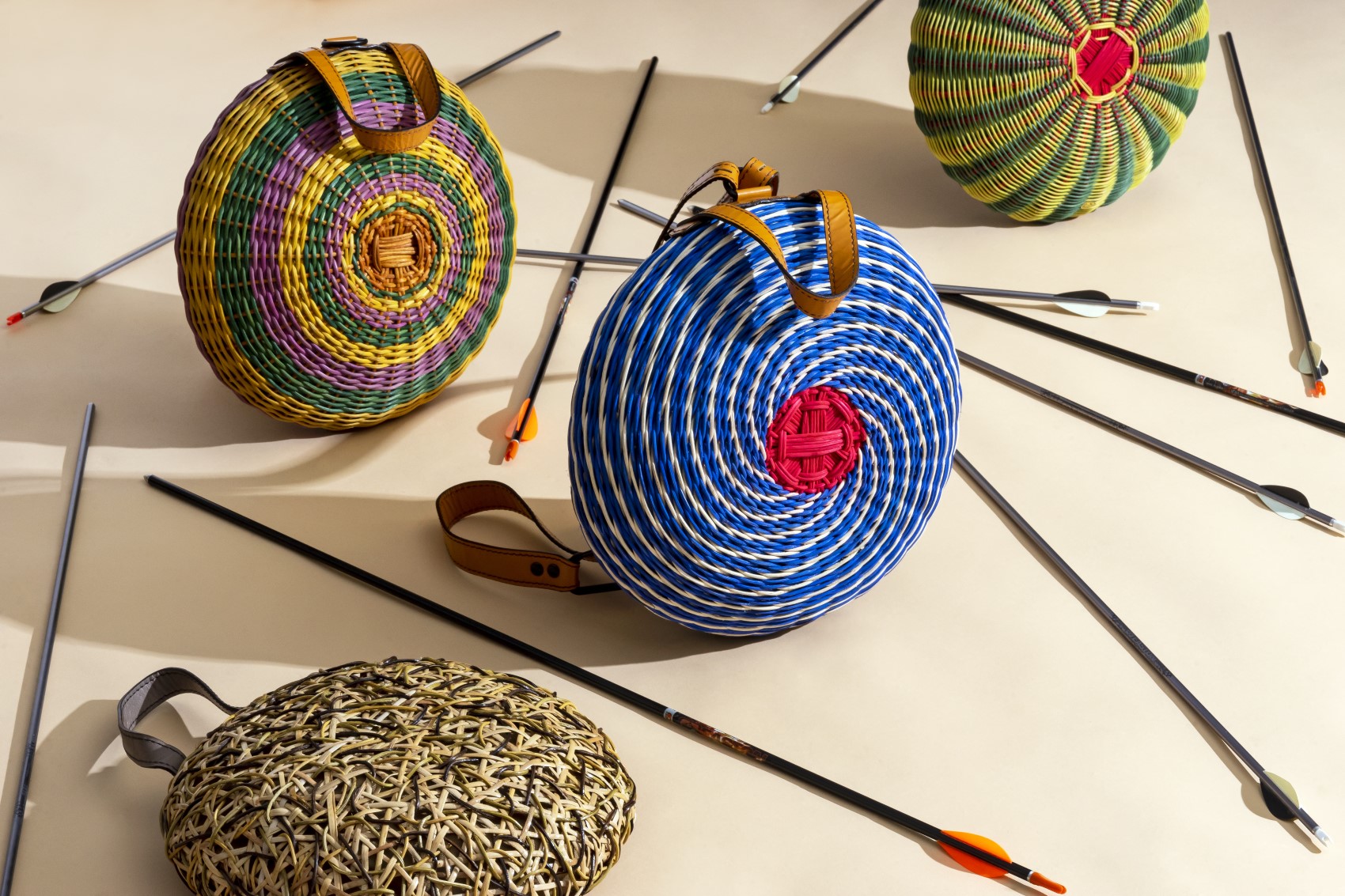 Totally wicked wicker (top three bags): Handwoven Wicker with Leather Details; (bottom left bag) Handwoven Bag with Random Weave Chaircane with leather details; all by Zacarias 1925.
WICKER: On Target
From resort lounges, lamps, and the famed peacock chair, to luxury totes and Birkin-esque baskets, we produce some of the finest handwoven wicker furniture and fashion accessories in the world. Manila FAME stalwart and heritage brand S.C. Vizcarra is among the pioneer companies that have put the Philippines on the export map with its quality handcrafted creations.
Its rebel daughter label, Zacarias 1925, honors the Vizcarra legacy of luxury artisanal wicker while taking things in a wildly imaginative, witty new direction. Case in point: the Zacarias 1925 Shields, the coolest backpacks we ever did see. (These bags won the Katha Award in 2019.)
Photography: Toto Labrador; words and styling: Pierra Calasanz-Labrador
CONTACT INFO
ABRE LINEA
Instagram: @abre_linea
ARANAZ
URL: aranaz.ph
Instagram: @aranaz_ph
AI-SHE
Email: ai_shetsinelas@yahoo.com
Instagram: @aishefashion
FILIP+INNA
URL: www.filipinna.com
Instagram:
HALOHALO
URL: www.halohalostore.ph
Instagram: @halohalostoreph
INNÉ
URL: www.innestudios.com
Instagram: @innestudios
LARA SAMAR
www.larasamar.com
Instagram: @larasamarph
MACO CUSTODIO
Instagram: @macocustodio
VESTI
URL: www.vestifashion.com
Instagram: @vesti_ph
ZACARIAS 1925
URL: www.zacarias1925.com
Instagram: @zacarias1925