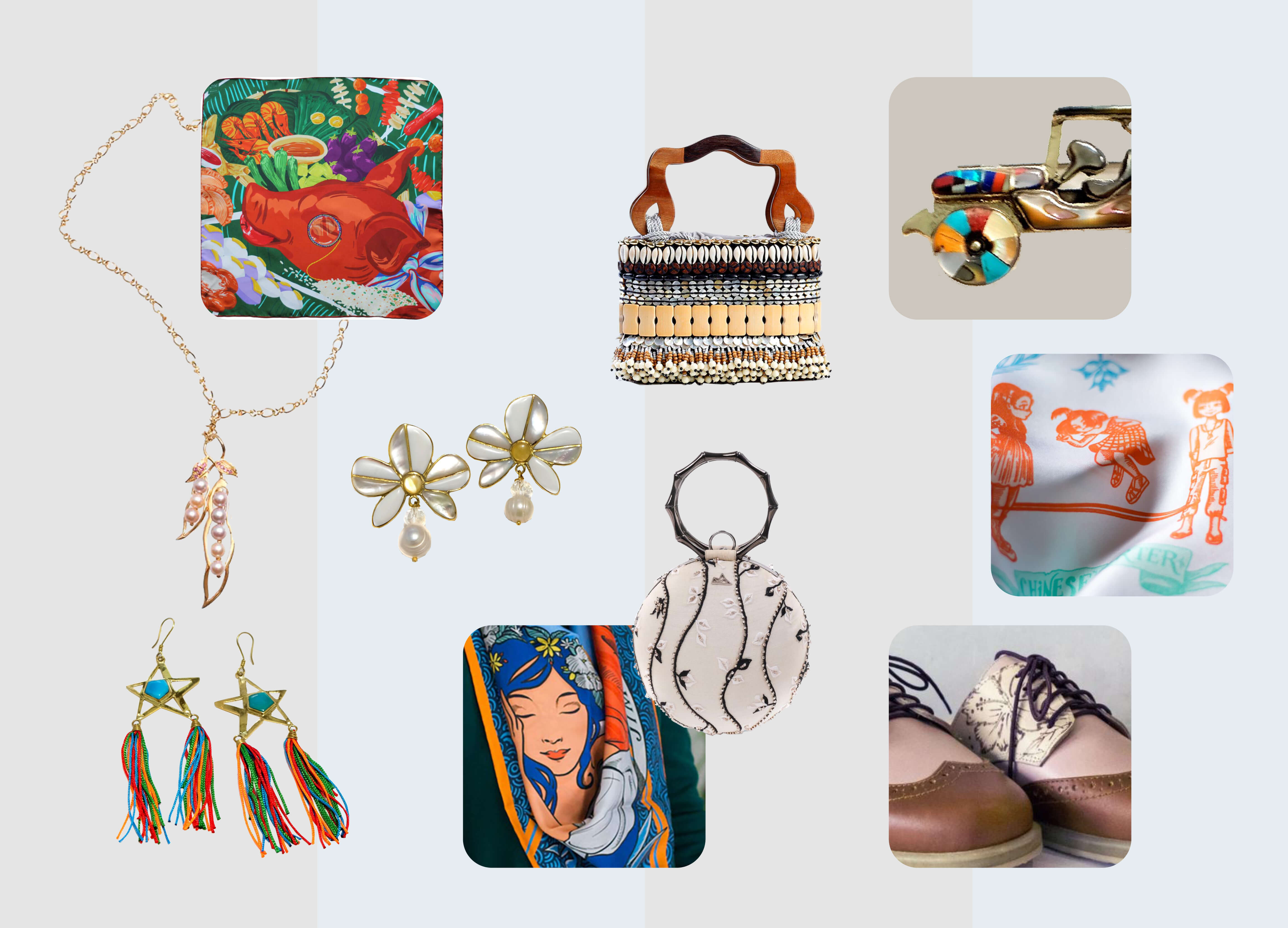 Pinoy Fashion Stories
A look into the rich collection of accessories inspired by Filipino folklore, tales, and culture on FAME+
by Patti Sunio
What do your accessories say about you or, in this case, your ancestry? Filipino designers have long been inspired by their childhood and lineage and have since taken wearing one's pride, culture, and heritage—in style—to the next level. From statement-making accessories to fine jewelry, quirky conversation starters to cotton silk scarves, we dig deep into the interesting Filipino histories behind these prized pieces from the FAME+ catalogue.

FLOWERS FOR YOU
For many of us who spent our childhood years before computer games and technology became the norm, our early memories are abundant with summers spent playing outside, of sunny days and flowers in the garden. The beauty of nature around us left us curious and with much to do and explore. It has inspired fine jewelry makers to make accessories out of the santan and gumamela flowers and, of course, the sampaguita, our national flower.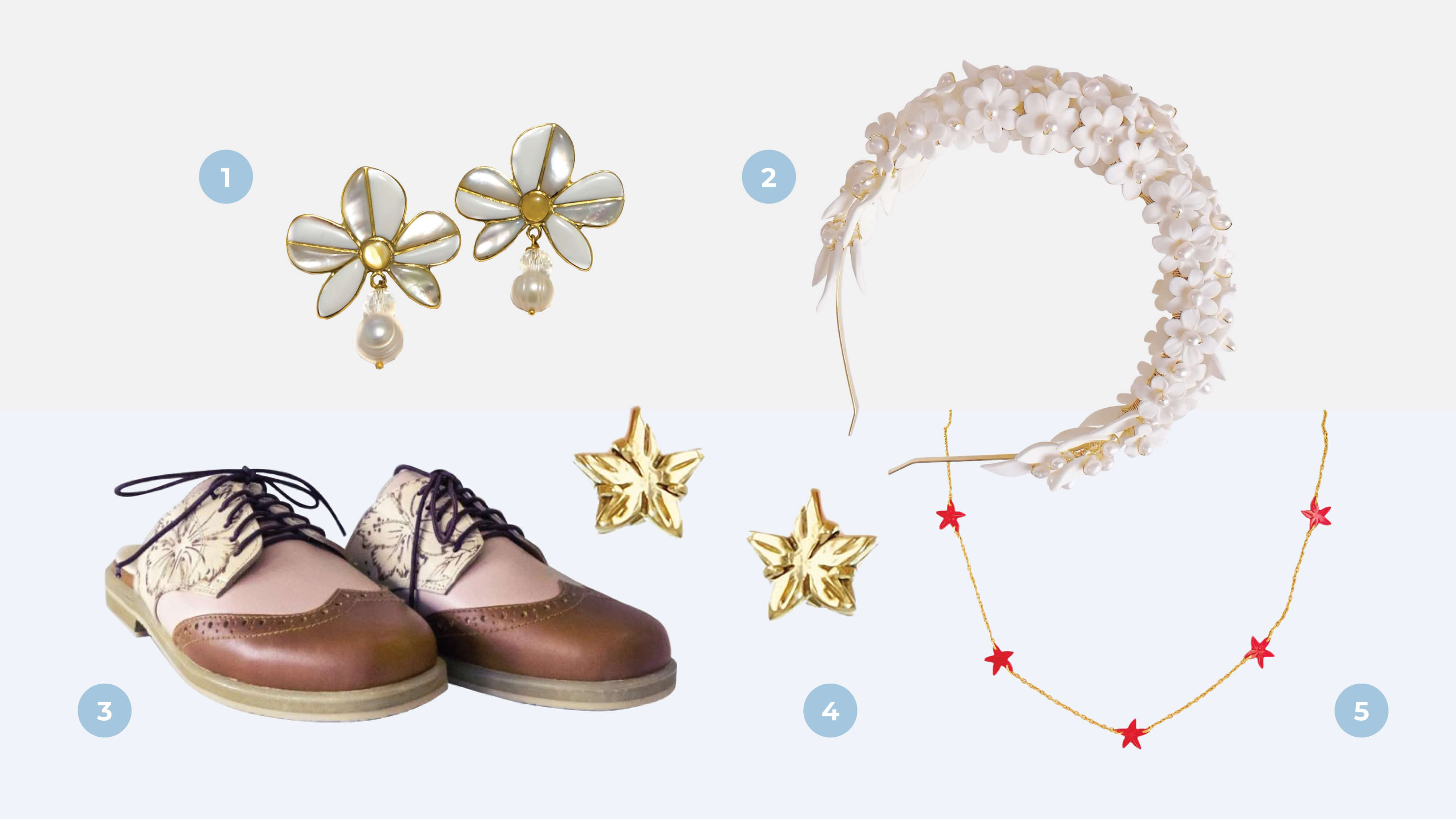 1-2) Sampaguita Full Tiara, MIRTH & YIFT and Sampaguita Earrings, STROZZI JEWELRY. Sampaguita flowers fill up our memories of our grandmothers and mothers buying garlands after hearing mass on Sundays. 3) Mela Brogue Slides, STRIDE COLLECTIVE. A big and beautiful gumamela flower adorns its leather make. We remember the gumamela from our days in school, when we were taught the parts of a flower. 4-5) Santan Stud Earrings in Gold and Cinque Santan Necklace in Red, LILY. This santan flower series draws inspiration from childhood memories making jewelry out of the flowers' little blooms in warm colors of red, yellow, and orange. Other children may probably remember trying to eat the nectar of the santan flowers.

FIESTA TIME
Feasts of food, singing and dancing, and hours of merrymaking—these are the signs of a bountiful Pinoy celebration. In the Philippines, fiestas or festivals are a year-long event: there are about a hundred different kinds to celebrate right before the much-anticipated holiday season, which begins in September. Find iconic "fiesta" staples made into silk scarves and funky earrings, to name a few.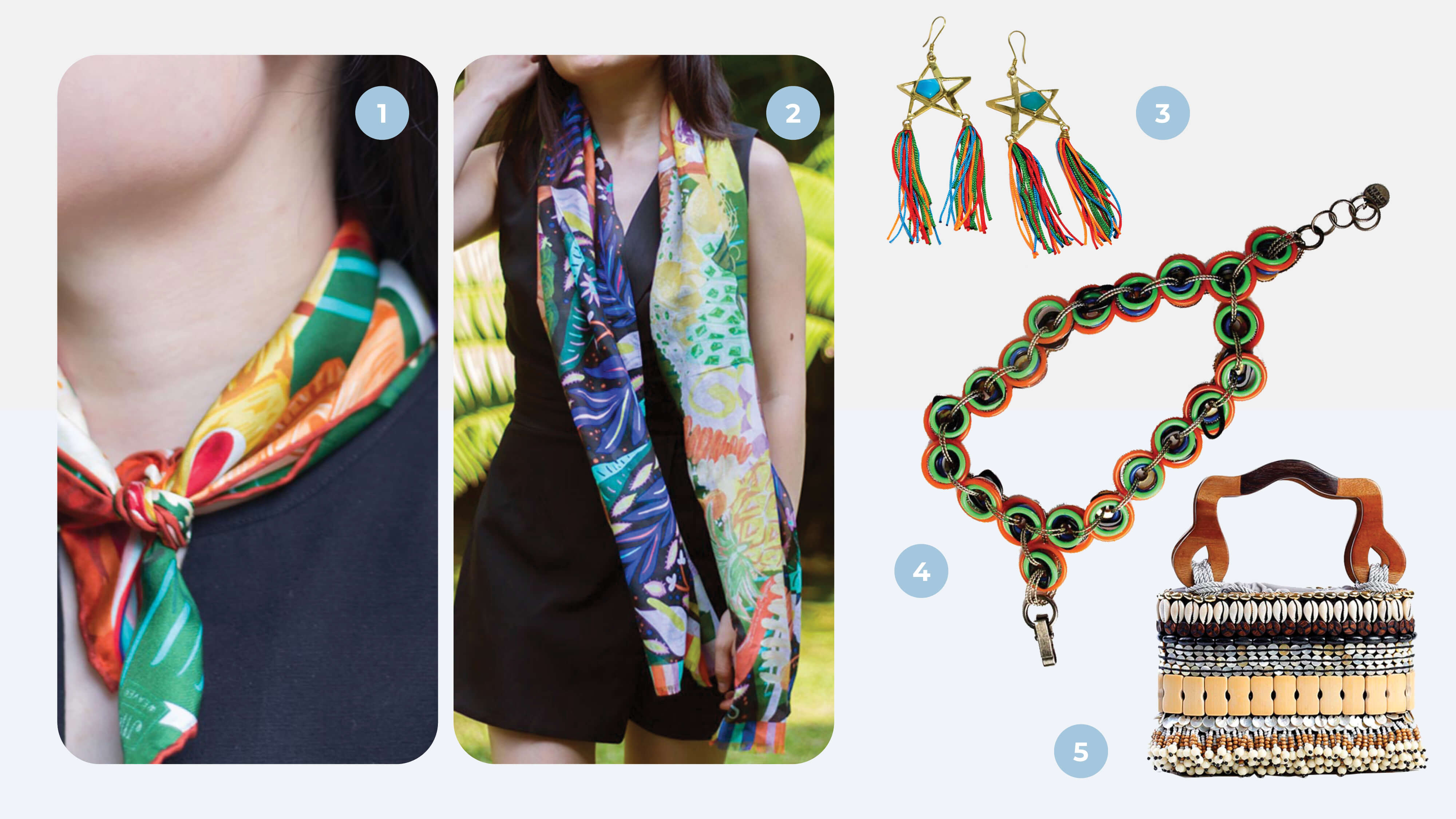 1-2) Boodle Fight Silk Cotton Long Scarf and Lechon Silk Pocket Square/Scarf, JIM WEAVERS, features the ultimate Pinoy fiesta staples: the lechon ("whole roasted pig") and the boodle fight, where rice and viands are spread on a huge banana leaf. Everyone partakes in the meal sans the utensils, a practice also known as kamayan or "eating with the hands." 3) Parol, STROZZI JEWELRY, a celebratory accessory that Christmas-loving fashionistas will adore. When the 'ber months arrive, the fiestas are replaced with Christmas festivities, characterized by the hanging of the parol or 'Christmas lanterns.' 4) Circo, ADANTE LEYSA, mimics the joy and wonder in the same way that the perya or carnivals and circuses delight young Filipino children. 5) Reina, ADANTE LEYSA, a bag in a design inspired by the Dinagyang Festival in Iloilo.

SLICE OF LIFE
The Filipinos' ingenuity has long been ingrained in our heritage and the culture and tradition passed on to us. From the simple games we used to play, which only required our free-spiritedness and whatever we found available to play with, to the jeepneys that date back to the Second World War and are still being utilized today, these are just a few examples that showcase our inherent creativity. See how accessories designers have turned these into fashion statements fit to your liking.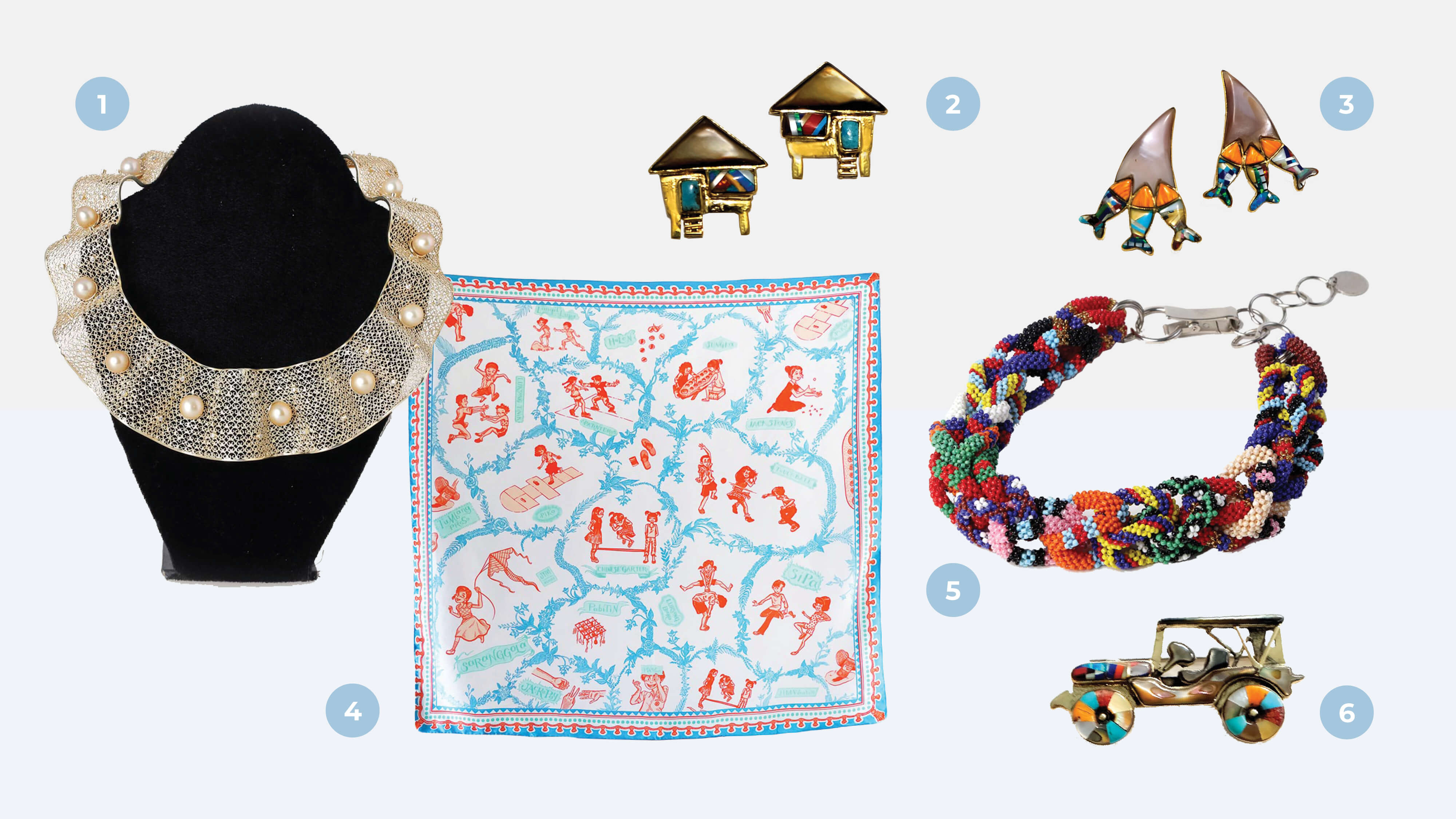 1) Batya Filigree Necklace, KITSILVER JEWELLERY, inspired by the batya or the "traditional tin laundry basin." 2-3) Tinapa Tri-Set and Kapitbahay, STROZZI JEWELRY, remind us of the simple life and how we can make the most out of so little. 4) Laro, atbp 90x90 Silk Scarf, JIM WEAVER DESIGNS, illustrate how, as children, we used our yards, empty lots, or the streets, and made do with sticks and stones, our slippers, empty cans, and whatever we could find for play. Afternoons were spent enjoying these Filipino games. 5) Lastik, ADANTE LEYESA, mimics the rubber band, a simple yet popular toy that provided us with multiple uses for fun and games. 6) Jeep-glee, STROZZI JEWELRY, a symbol of the Pinoy's creative feat, a modification of the U.S. military jeeps from the Second World War, which we turned from a military vehicle to one for public transportation.

NATURAL ATTRACTIONS
No doubt the Philippines' rich flora and fauna offer an endless wellspring of inspiration that artists, makers, and designers alike draw from. On land and in sea, the archipelago is rich with living tropical treasures we all ought to take care of and protect with our laws.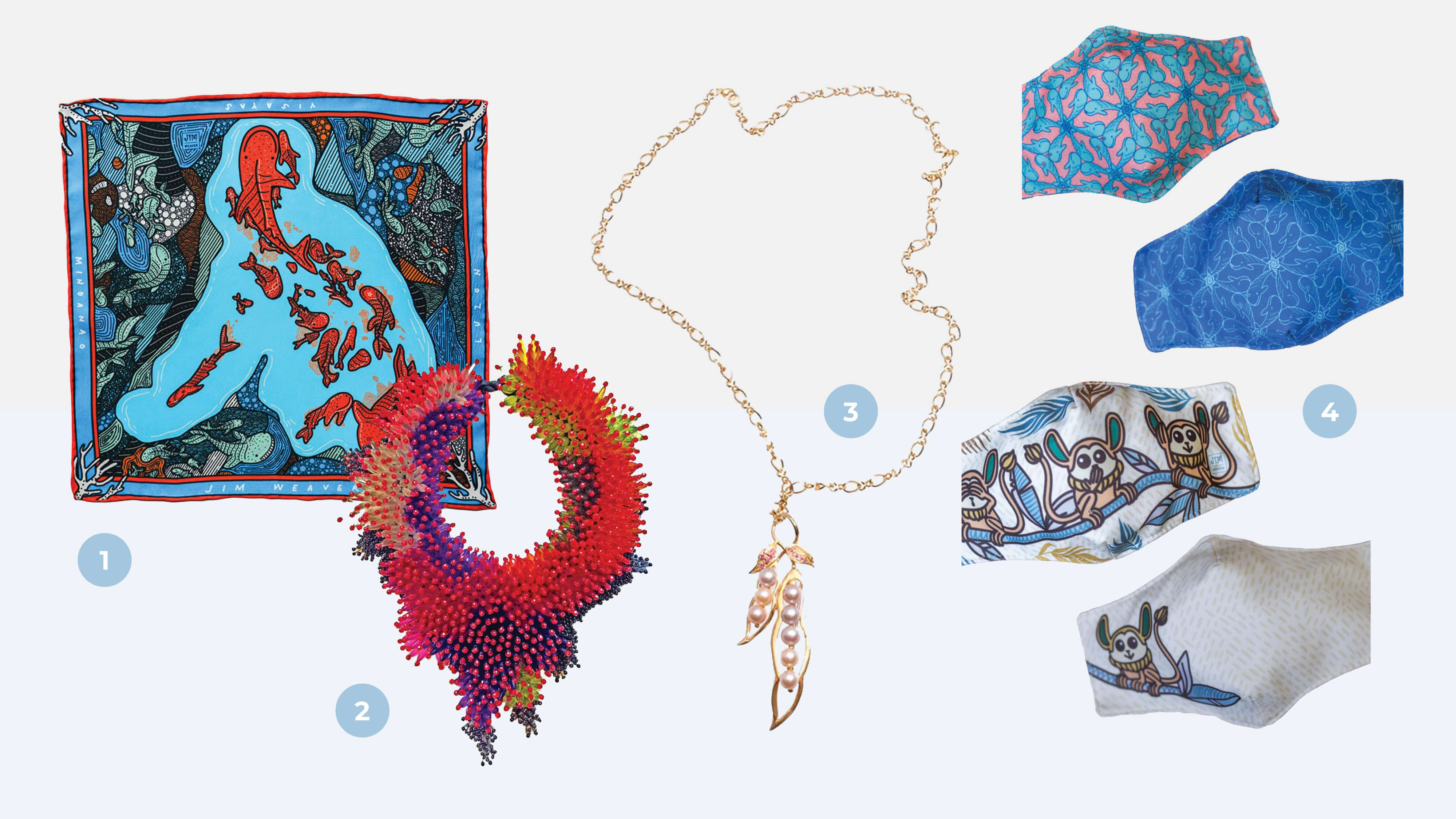 1 & 4) Butanding Silk Pocket Square/Scarf, Whale of a Time (Salmon and Blue) Reversible Face Mask, and Tarsier No Evil Reversible Face Mask, JIM WEAVER DESIGNS. Our butanding or "whale shark" and the tarsiers are sights to see! 2) Coron Necklace, MATTHEW AND MELKA. A funky tribute to one of our famed tourist attractions. 3) Chicharo Pendant / Brooch, ALCHEMISTA. The chicharo or "snow peas" are commonly used in Filipino dishes, mixed with other veggies.

MYTHS AND HEROES
The first form of history was told and passed on to generations verbally and through stories. There were mythical tales and creatures that many generations used to explain the origin of things. These stories have then been translated to wearable, fashion pieces.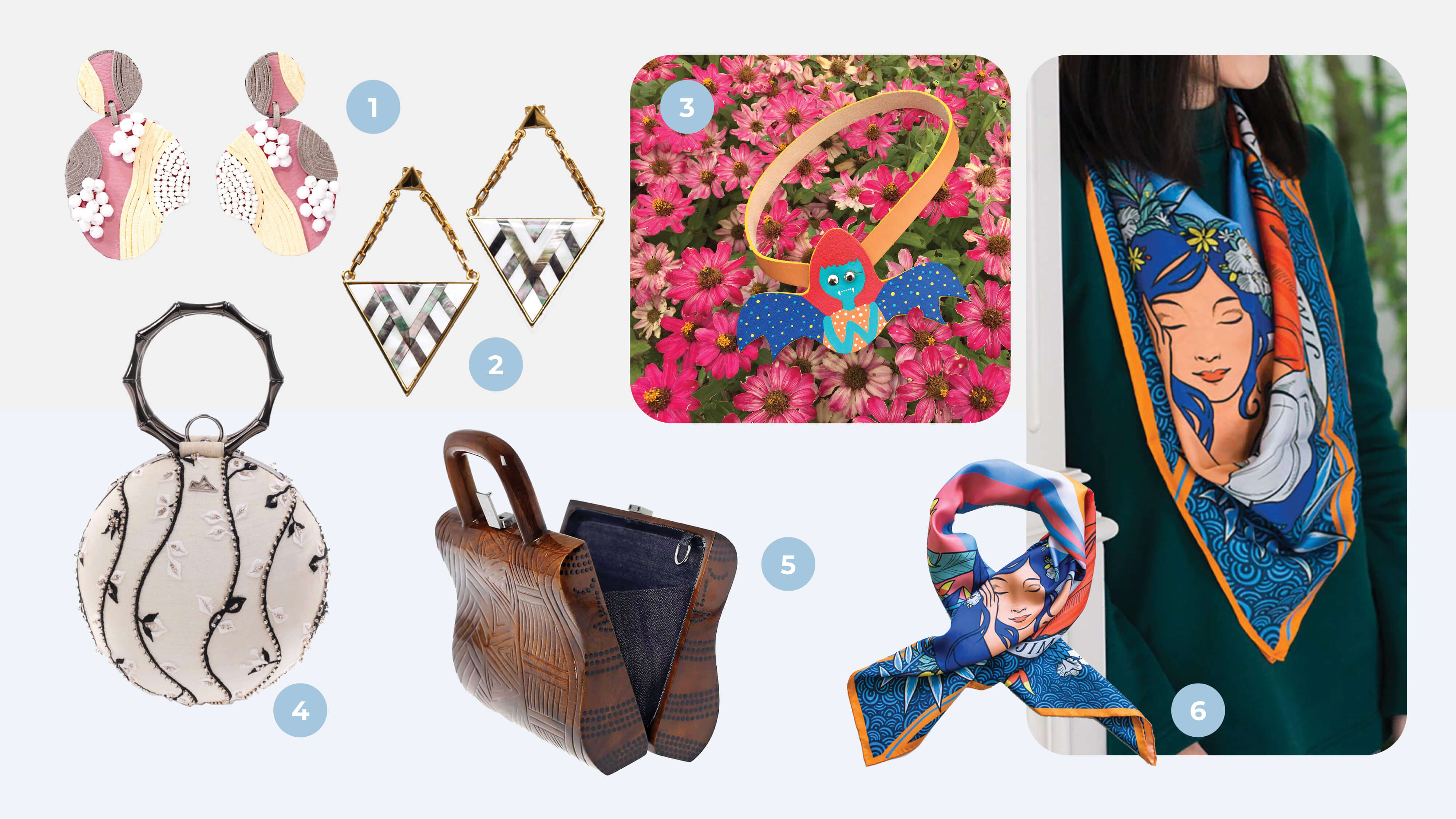 1) MAHARLIKA Leather Hand Beaded Clip-on Earrings, O'EL DESIGNS. The meaning of maharlika has been much debated upon. While some consider the maharlika, or "warrior class" as noblemen, other historians argue that it simply refers to people or slaves who were free. 2 & 5) Mayari Earrings, SUSANNE VERALLO and Pintados Doll Bag, JOANIQUE. Both take inspiration from the tattoo patterns of the pintados or "painted people," known as one of the ethnic groups who have preserved their cultural and traditional roots despite colonization. 3) Manananggal Choker, QUIDDITY. The manananggal, or the vampire-like creature that can separate its upper torso from its lower half, looks uncharacteristically friendly in this choker. 4 & 6) "Diwata" Liwayway Series, VESTI and Diwata 90x90 Silk Scarf, JIM WEAVER DESIGNS. One of the more popular figures in Pinoy myth stories would be the diwata or "fairy gods or deity," often associated with female guardians of nature, such as forests, bodies of water, or even trees. They are depicted as beautiful, ethereal creatures, inspiring many fashion accessory designs.