LIGHT ME UP
International lighting trends for 2020 all lean toward more powerful LED bulbs, large-scale sizes, and smart technology. Filipino lighting and lamp designs, however, have been going back to basics, focusing on all-natural, sustainable materials, and forms that range from the simplistic to the dramatically modern.
Paper
Recycled paper pulp is put into good, sustainable use for pendant and floor lamps with a rattan or wire frame. CDO Handmade, Masaeco, Tuy Arts and Designs, and That One Piece (TOP) all make use of paper for their lamps.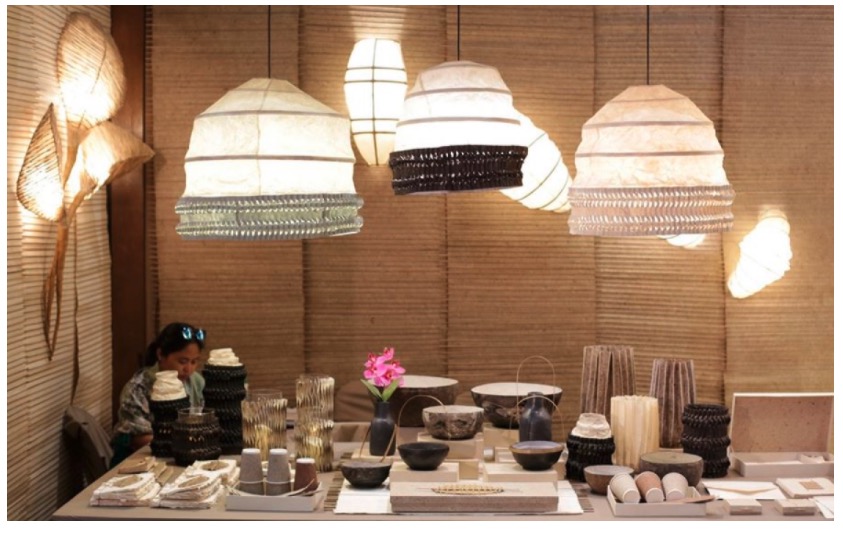 CDO Handmade's sculptural lamps are all created from paper pulp and natural materials.
Natural materials
The biophilic trend focuses on both natural materials and design references in furniture and accessories. Indigenous fibers, wood, a soft, neutral palette, and organic, nature-themed forms (as seen in the Goltrio tree lamp) are key design points in these lamps.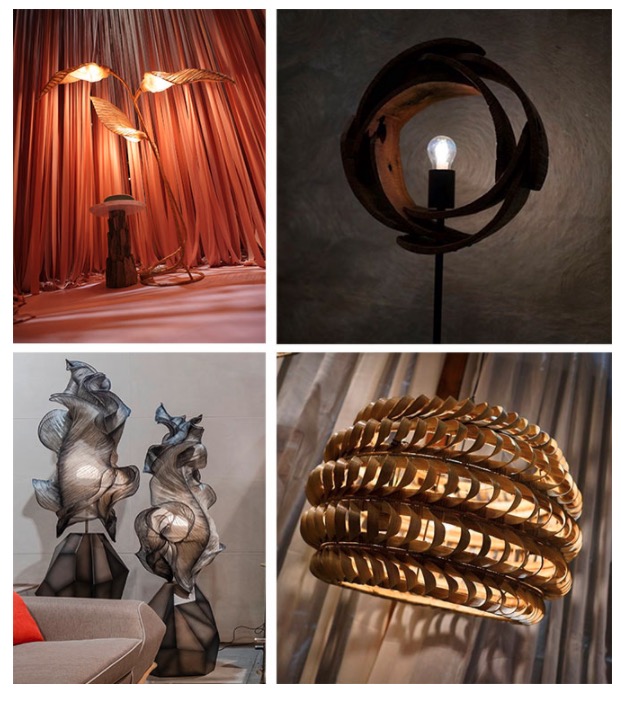 Clockwise from top left: This Goltrio lamp was featured in the Design Commune in the 17th edition of Manila FAME; driftwood scraps are up-cycled into this dramatic floor lamp by Cebu Homecraft; pendant lamp by Obra Cebuana; banana-abaca fiber by Studio Mirei gives an ethereal quality to Industria's metal floor lamps.
A play on patterns
Classic and traditional patterns and shapes are updated for the next decade in natural materials that are given a unique twist. We love how specific patterns are witty references to the lamp's brand name or function: Buwan for Artesania's rustic bedside lamp, fishermen's net patterns for Coast Pacific. While intricate geometric patterns are used in the Hush-Hush suspension lamps (main photo above), which won them the Katha Award for Best Product Design.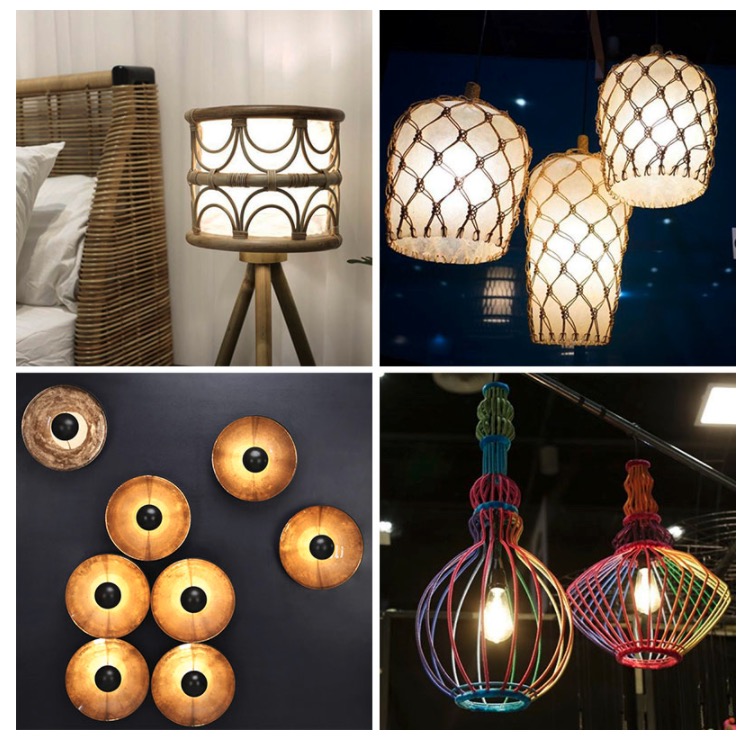 Clockwise from top left: Rattan and bamboo Buwan table lamp by Artesania; Solomon hanging lamps from Coast Pacific are reminiscent of fishermen's nets; Our Handmade Heritage is known for their luxurious tassels, and this is reflected in their whimsical and colorful wrapped metal lamps; the Tripo wall lamps of Gmelina wood by Triboa Bay Living double as accent art.
Minimalist designs
Azcor's multi-arm chandeliers are still around, but the major lighting brand surprised fair visitors with their simple, individual drum and paper-bag-shaped pendant lamps in a woven material. The latter product even garnered a Katha Awards nomination.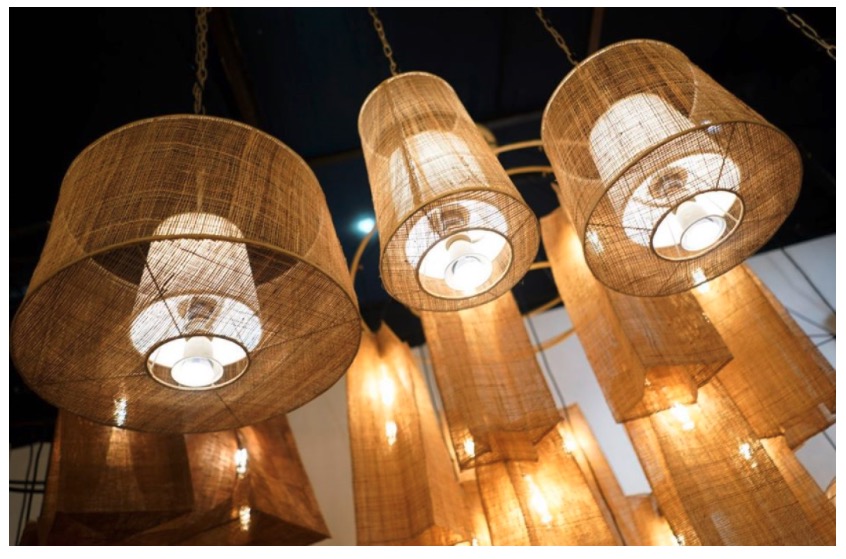 Azcor Lighting Systems is practically an institution in the Philippine lighting industry; and continues to push the envelope in terms of materials and fabrication.
[CONTACT DETAILS]
ARTESANIA
Instagram: @artesania
AZCOR LIGHTING
URL: azcor.com.ph
CDO HANDMADE
URL: cdohandmade.com
CEBU HOMECRAFT
URL: cebuhomecraft.com.ph
COAST PACIFIC
URL: coast-pacific.com
GOLTRIO
URL: goltrio.com.ph
INDUSTRIA EDITION
URL: industriaedition.com
OUR HANDMADE HERITAGE
URL: handmadeheritage.weebly.com
SCHEMA
Facebook: @schemaproduct
TRIBOA BAY LIVING
URL: triboabay.com