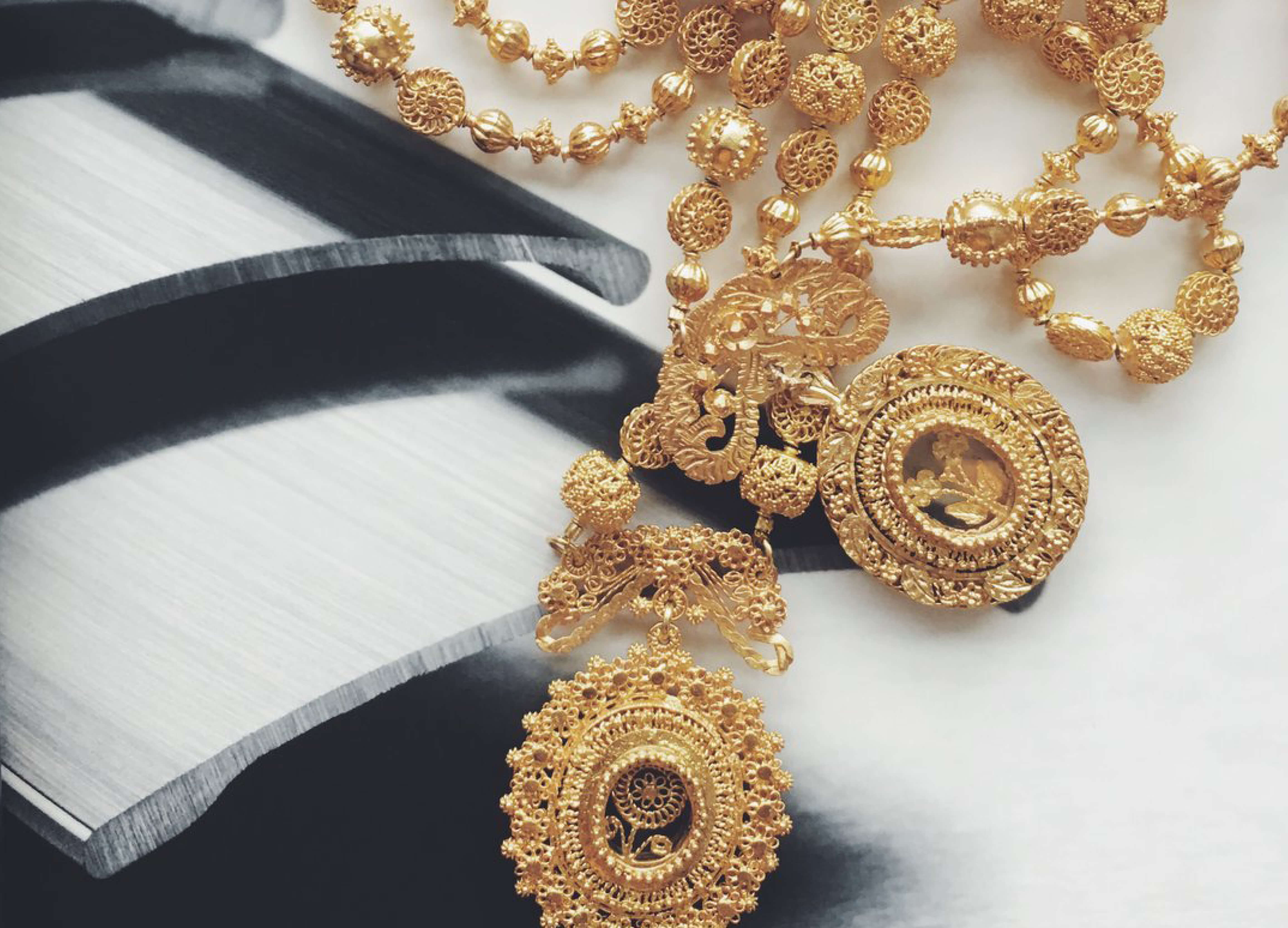 A Show of Devotion
These Philippine manufacturers dedicate their time and skill making religious objects, shining a light on both the Filipino faith and craftsmanship

by Patti Sunio
In a dominantly Catholic country like the Philippines, it comes as no surprise that many homegrown producers and manufacturers dedicate their craft to making religious figures. From glass to wire to recycled material, many have come up with unique ways to express their faith. The practice has likewise become a means to showcase our artisans' inherent creativity and talent.
From the FAME+ catalogue, find unique ways to show your faith.

RELIGIOUS JEWELRY
From cross pendants to rosary-inspired pieces, these are some of the ways you can wear religious symbols to feel comfort or peace, or to carry around with you what gives you faith, wherever you go. Made of glass or gold, choose how you want to wear your faith in style.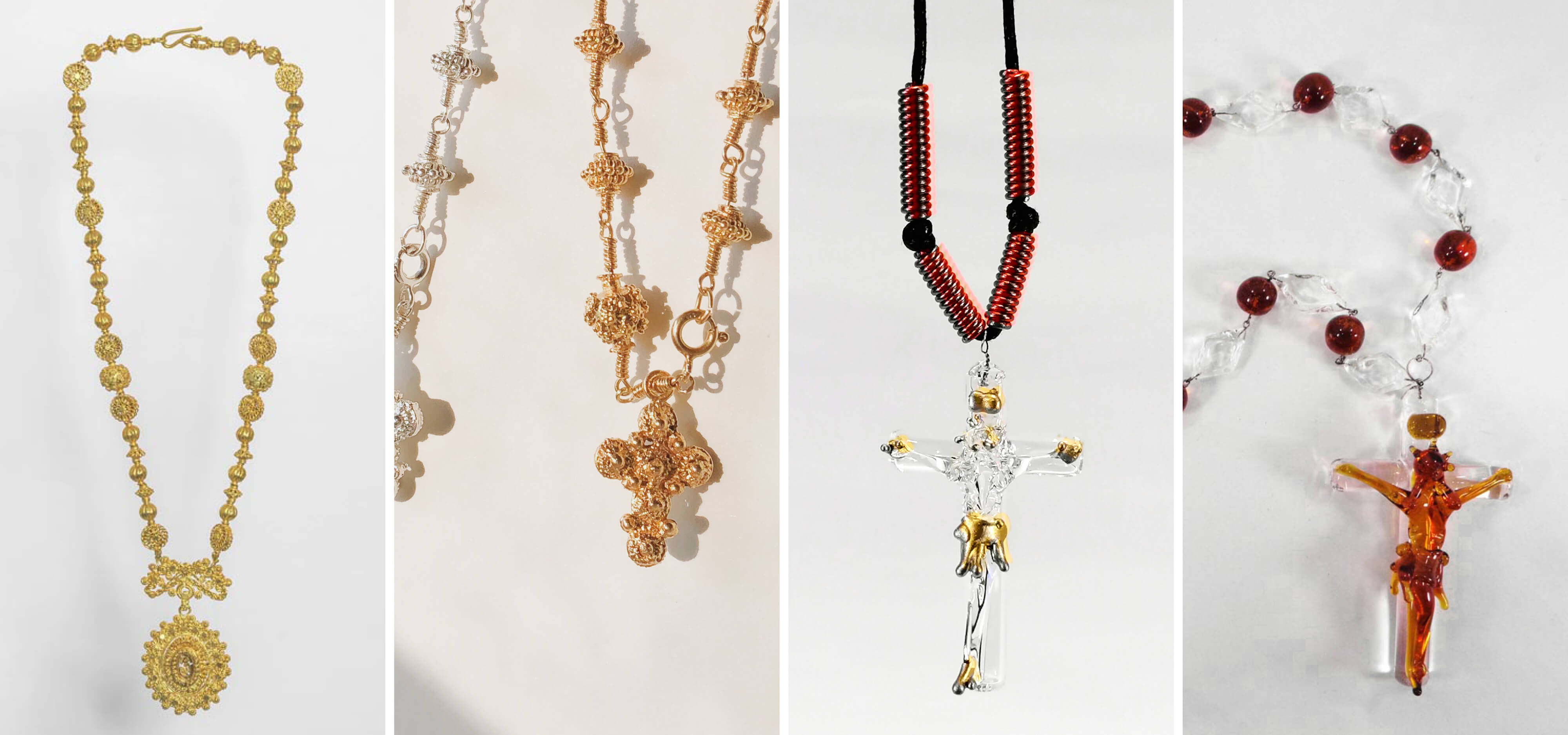 Amami Tambourine Necklace and Amami Tambourine Rosary Bracelet by AMAMI, both made of 985 pure silver and coated in 24-karat gold; Cross Necklace Glass Crucifix Jesus Pendant 9 Colors by Liman Glass Handcrafted, made of glass; Necklace Crucifix Cross Glass Pendant Catholic Accessory for Men & Women by Liman Glass Handcrafted, made of glass

SIGNS AND SYMBOLS
In every Filipino Catholic home, one is sure to find a crucifix, an image of the mother and child, and Jesus Christ. Make it extra special by choosing religious images in the form of a painting, a sculpture, or a work of art.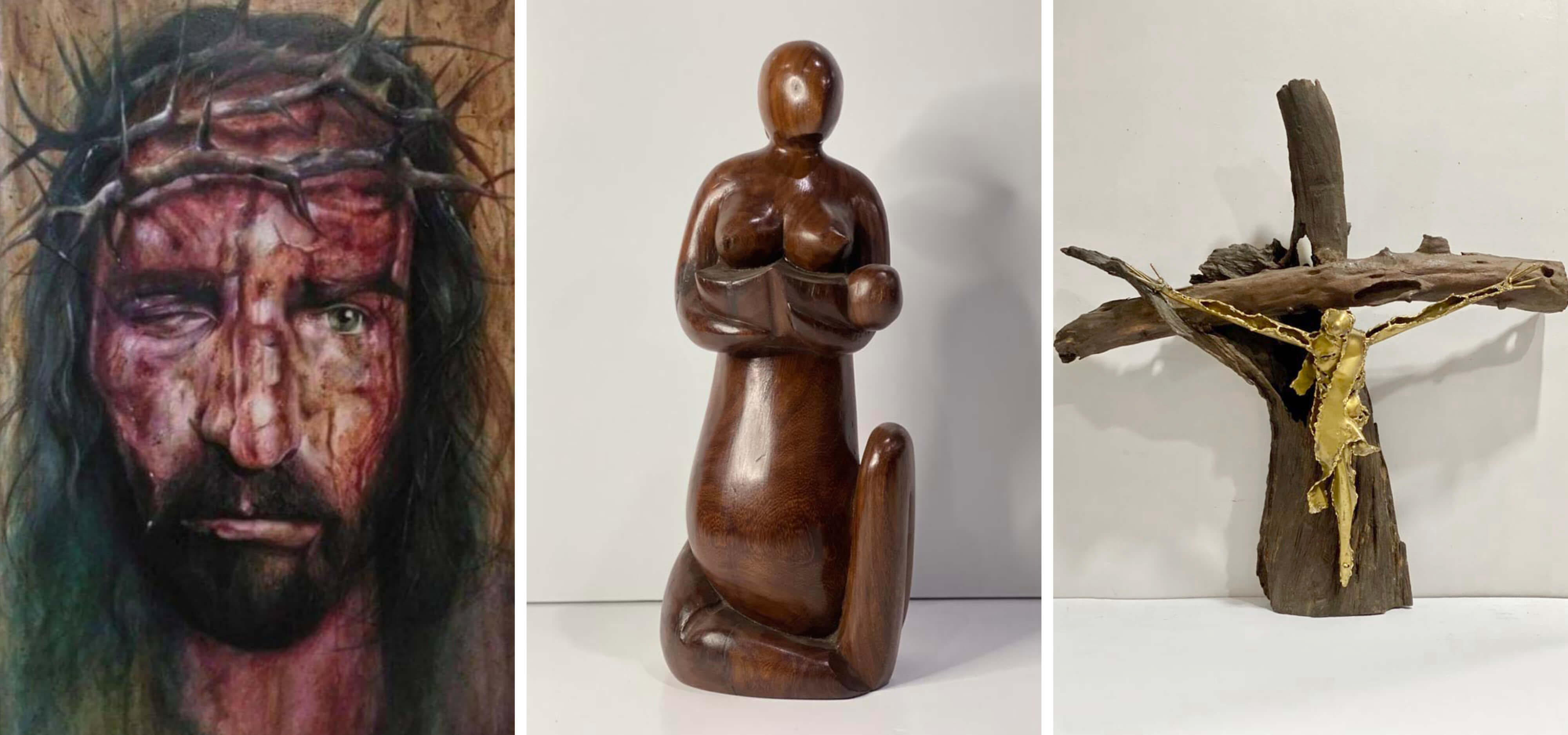 Jesus by Transwing Art Gallery, acrylic on canvas; Mother and Child - Folk artist by Galeria de las Islas, made of acacia wood; Crucifix by Raul Funilas by Galeria de las Islas, made of driftwood and brass

GUARDIAN ANGELS
Angels are great reminders of the divinity beyond us, and it's always reassuring to have them in places like the bedroom, the family room, and of course, the altar. From rustic-themed to elaborately hand-painted, find one to match your home aesthetic.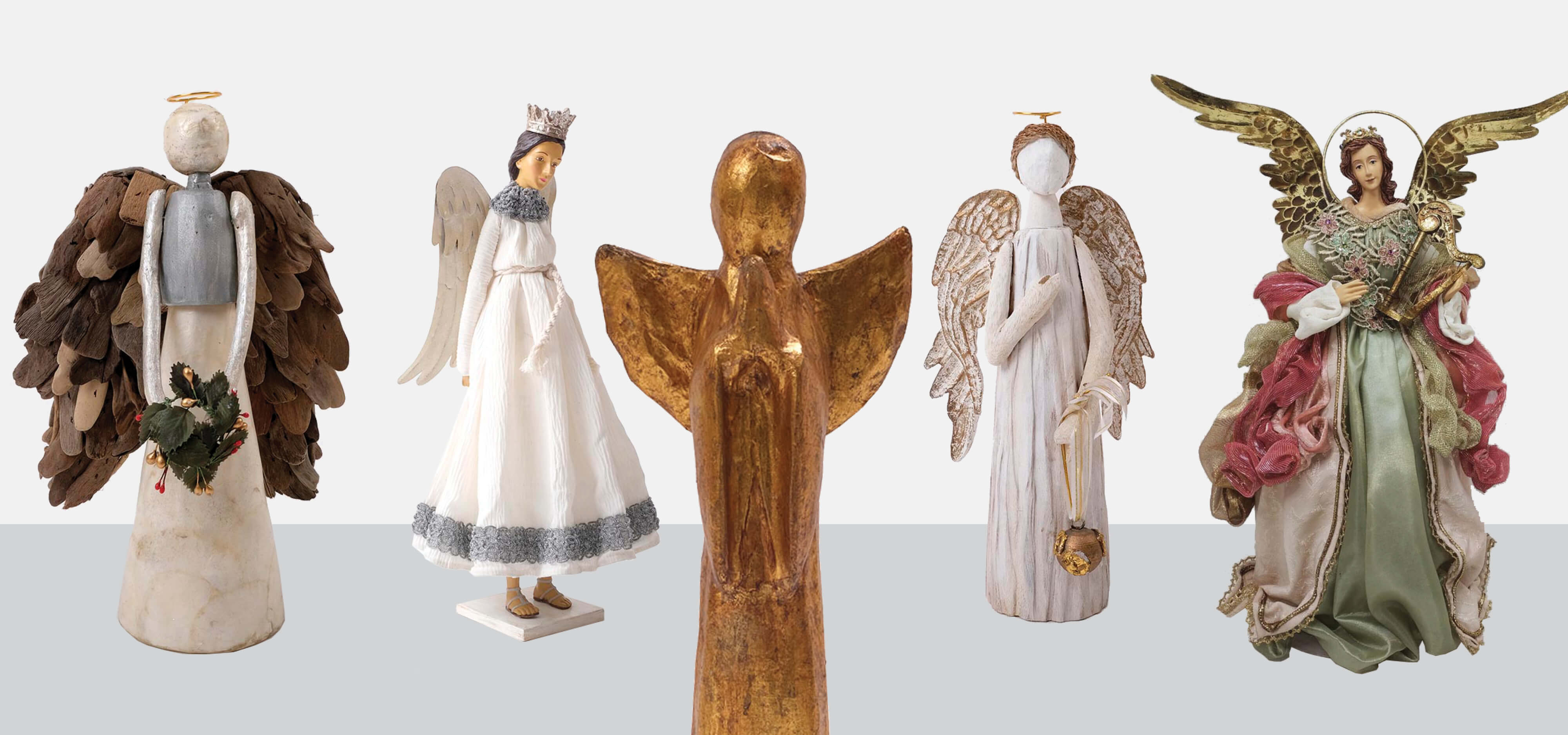 S2 Standing Angel with Driftwood Wings by Freden Export, made of capiz and driftwood; Vintage Royal Angel in Ivory (D24DEV11) by Department 24, hand-painted in resin; Praying Angel (Set 1) by Jalikee Arts and Craft, made of recycled papier mache and painted in gold; Wooden Standing Angel by Freden Export, made of driftwood and paper pulp; Pink Romance Angel by Alriver, made of resin, fabric, paper, metal sheet, and wire

THE HOLY FAMILY
Replicas of the Holy Family are a year-round staple in every Catholic family's home. You can go for a traditional set to suit your grand altar, or a minimal one made from natural material for a rustic look.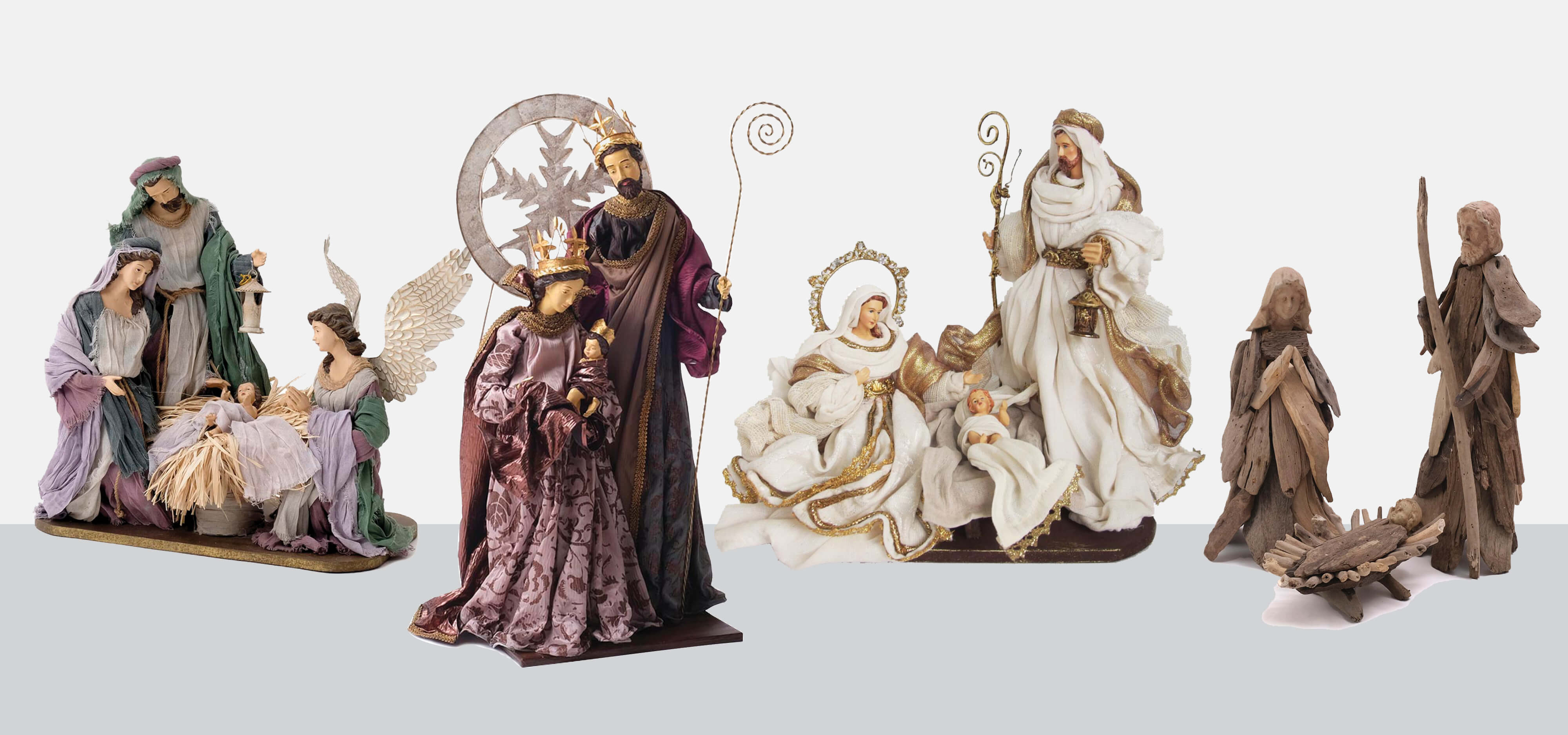 20HF-71 by Saint Jude International Export Corp, made of resin, textile, tin, wood, wire, and plastic cone; 24-inch Baroque Traditional nativity with Tin Background (D24DEV54) by Department 24, hand-painted in resin; Peace Holy Family Set by Alriver, delicately painted in cream and beige with gold accents; Holy Family Decor by Jalikee Arts and Craft, made of driftwood and resin

PATRON SAINTS
For true Catholic devotees, here are biblical characters and images of patron saints you are called to be devoted to. These make great gifts for families and loved ones, or displayed at your altar to commemorate a blessed day.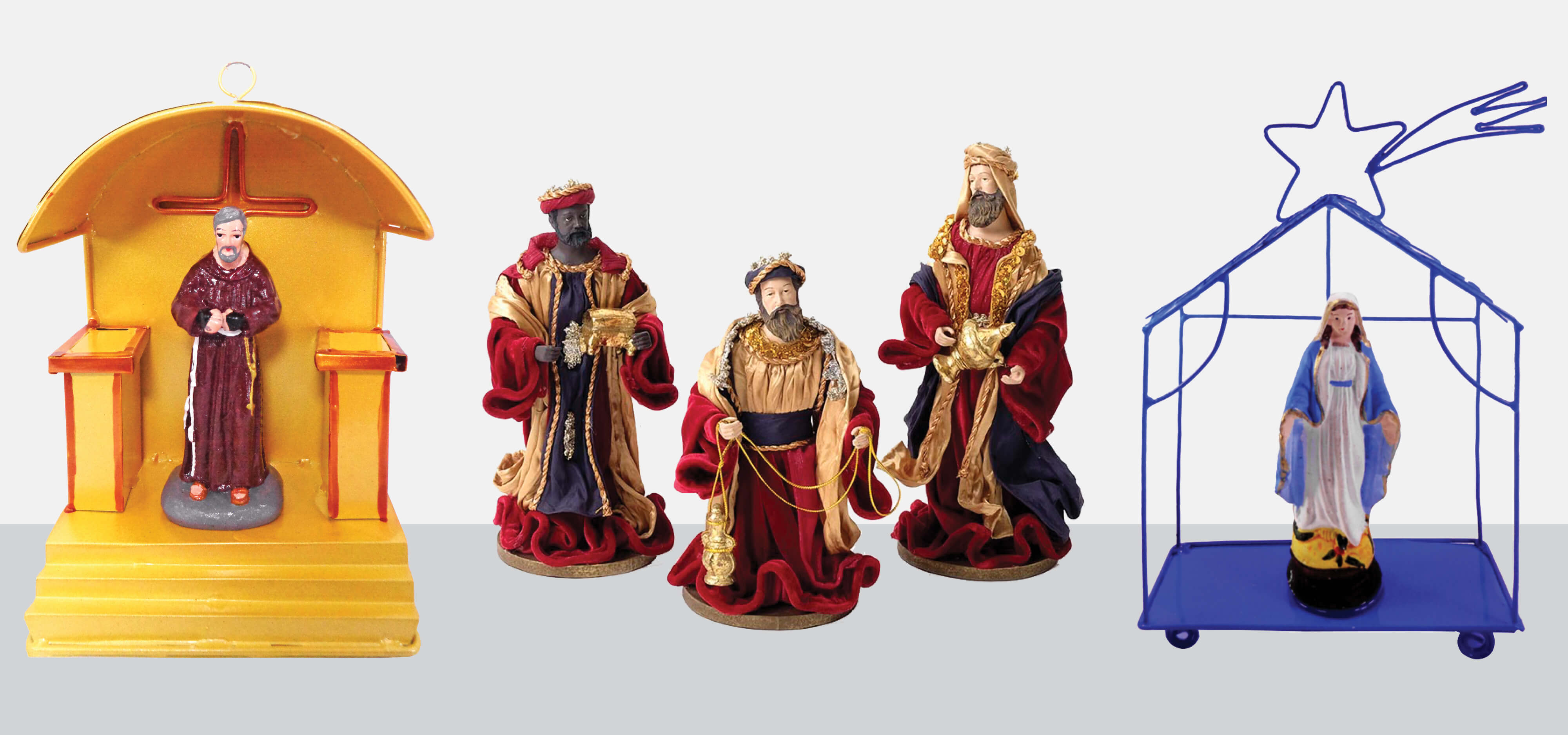 Saint Padre Pio Statue in Tin House - The Miraculous St. Pio of Pietrelcina for Home Altar Display {6.25" x 4" x 2.25"} by Liman Glass Handcrafted, made of plaster, tin, and wires; 20HF-21 by Saint Jude International Export Corp, handcrafted and hand-painted Three Kings; Mary Mother of God in Tin House (Blue) for Catholic Home Altar Table Religious Decor by Liman Glass Handcrafted, made of tin and wires