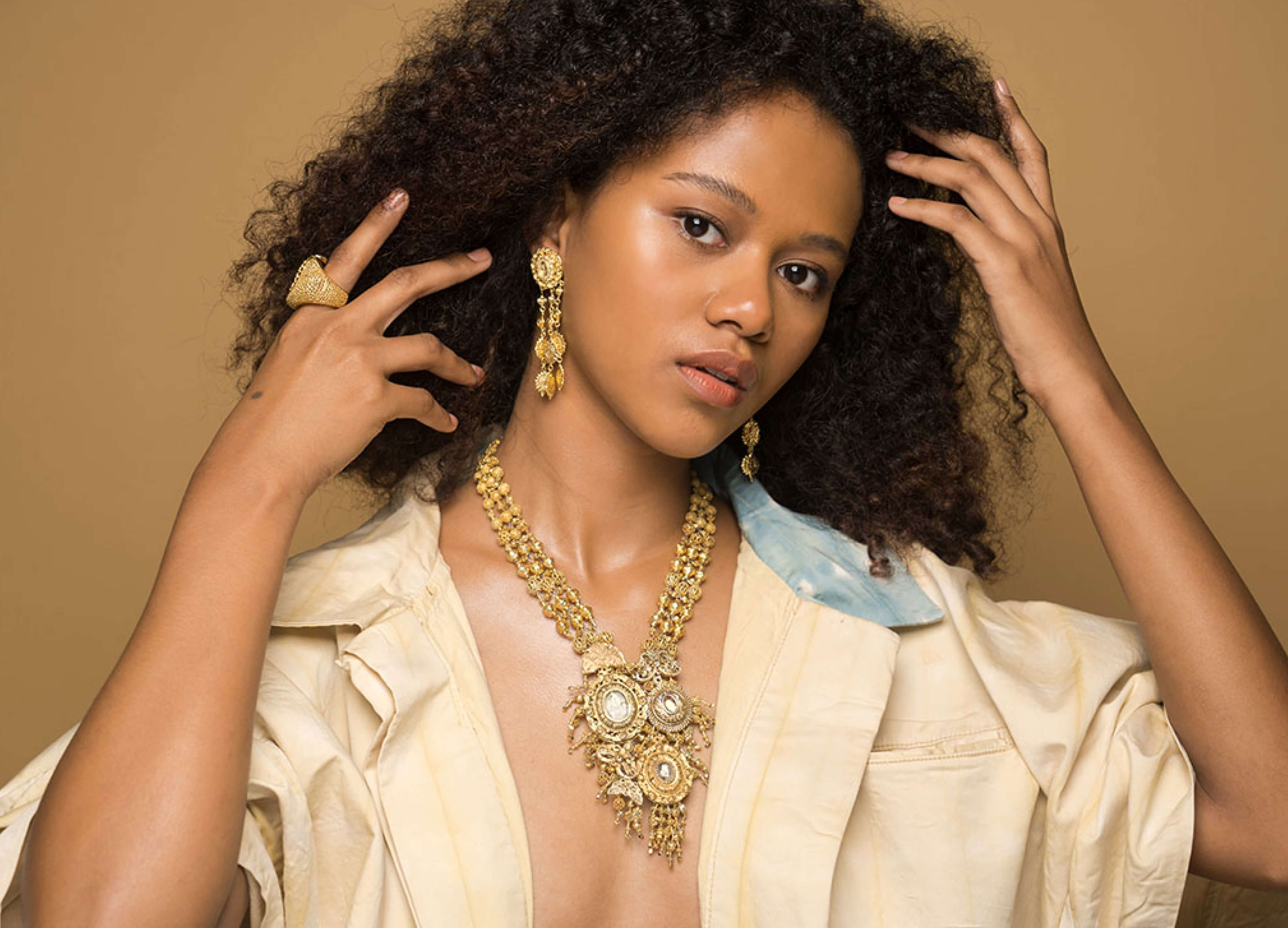 The Art of Wearing Heirloom
Gigi Bermejo puts decades of experience hunting down and collecting Philippine heritage jewelry into Maria Angelica, where she introduces a new generation to the beauty and craftsmanship of these wearable antiques

by Nana Caragay

It was while she was building and decorating her first home that Gigi Bermejo was introduced to the world of antiques, eventually leading to a lifelong fascination for heritage jewelry. Upon the advice of her architect, Rosalio Restubog, she decided to fill her place with old saints and collectible Chinese porcelain vases and jars rather than generic department store items because, as he put it, "You're not just going to hold a garage sale should you wish to sell these in the future." This kicked off a series of visits from antique "ahentes" (agents) who would come over to show her their wares, each with its own unique history attached. Apart from home accessories, they would bring along their stash of vintage Philippine jewelry.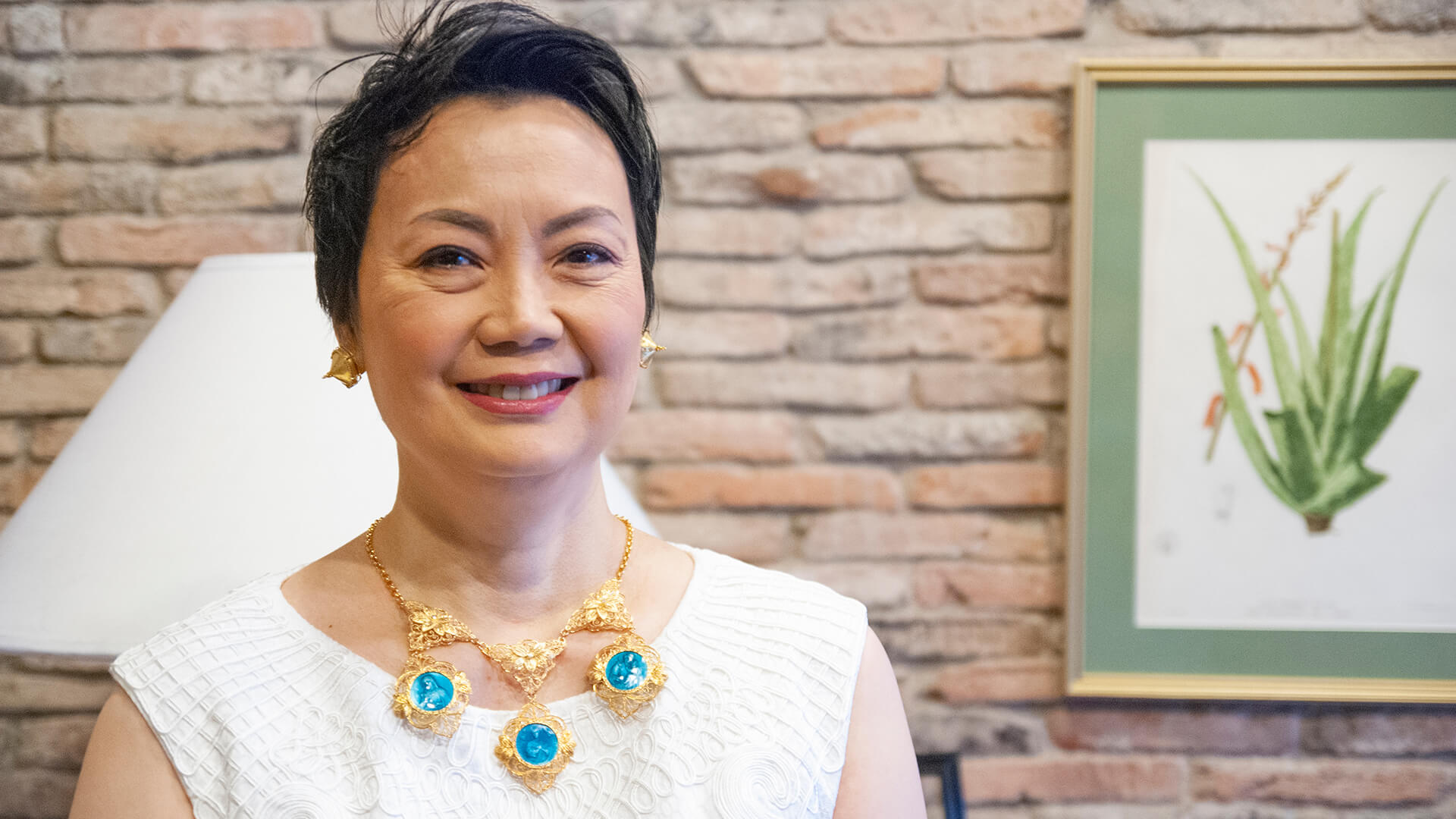 From acquiring unique pieces for her collection, Gigi Bermejo set out to designing jewelry pieces for her namesake brand, Maria Angelica
"My first purchase, I recall distinctly, was a Tamborine necklace," Bermejo says. A traditional piece dating back to Spanish colonial times, it is known for its filigree metalwork, fine wires, and granules formed within a tambour or circular frame. "I'd seen these pieces from both my paternal and maternal grandmothers and my aunts and uncles, and it gave me a deep sense of happiness to finally be able to buy a piece of my country's history with my own savings." This necklace began her collecting odyssey, as she slowly found herself becoming drawn to the process of acquiring these singular finds: "The hunt, the research, the knowledge, the special feeling of serendipity—how this special piece got to me from among the many. The appreciation of the art and our own culture, and the fascination of hearing the story… of owning not just the tale, but the actual holding of a piece that would make one visualize the story."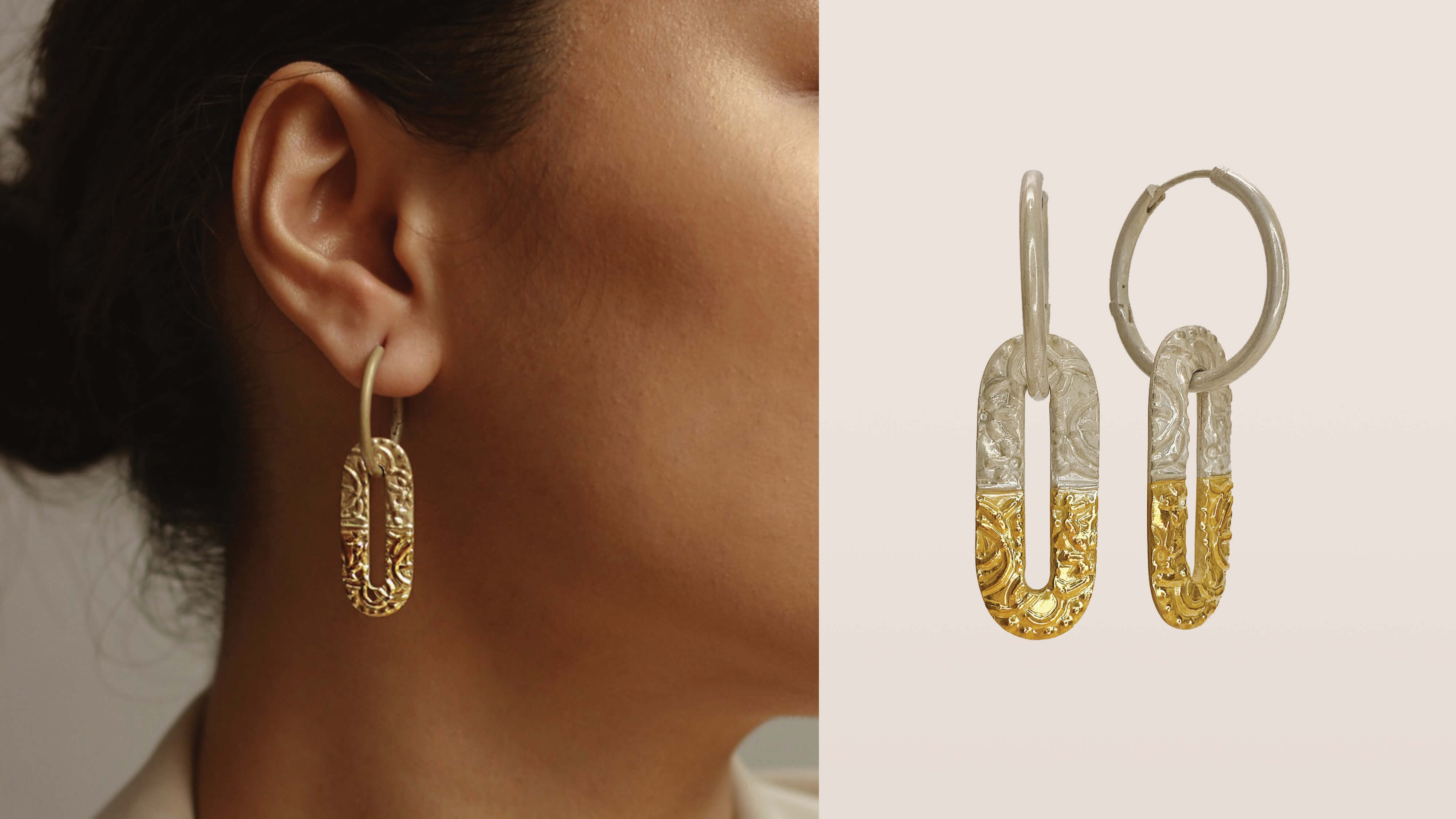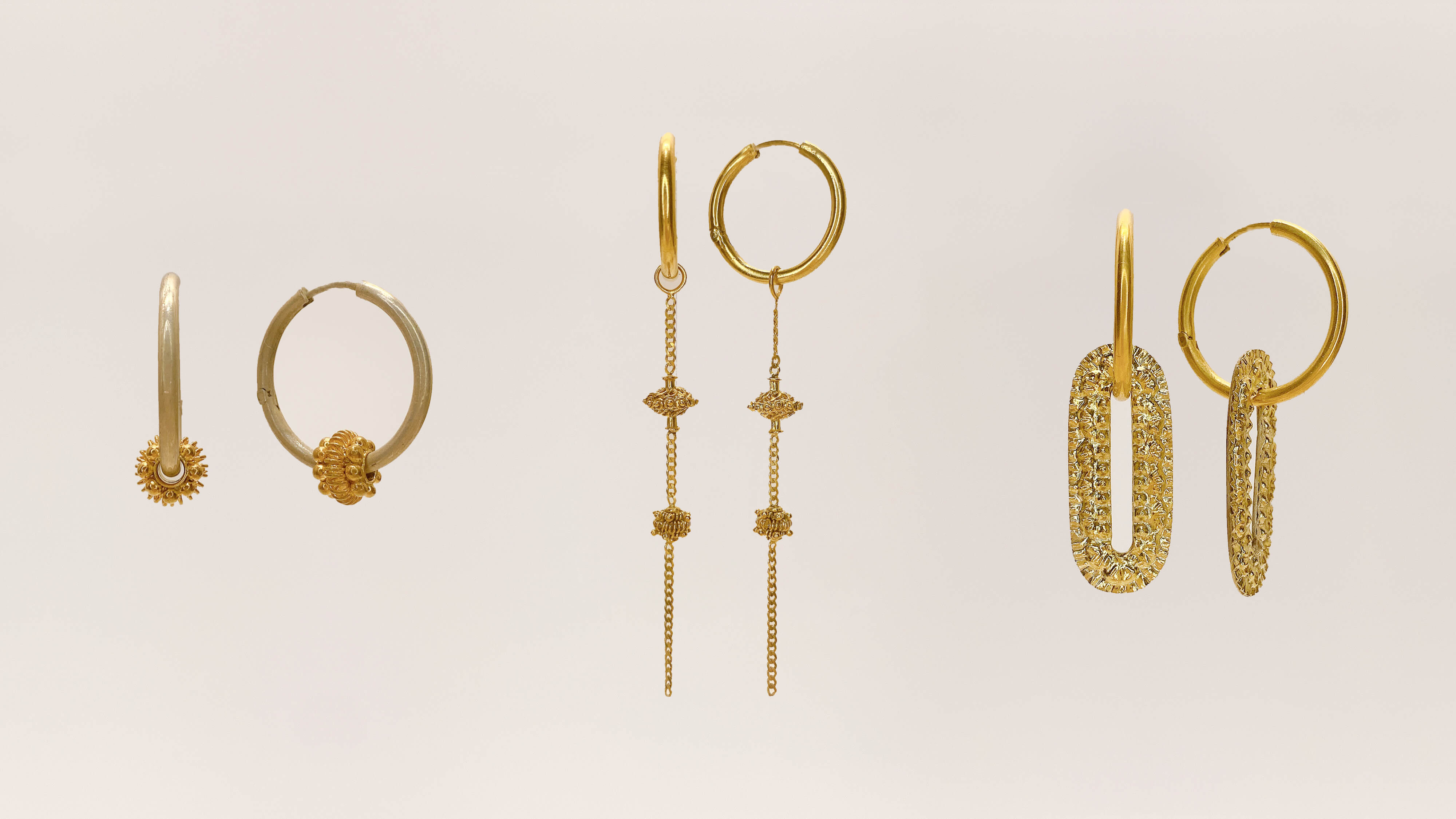 (Top photo) The Aurelia Argent Captiva Duo earrings evoke a modern interpretation of the Spanish Peineta (payneta). (Bottom photo, from left) Aurelia Argent Tamborine, Aurelia Mia, and Aurelia Captiva
THE NEXT GENERATION
With decades of collecting antique jewelry under her belt, inspiration struck when a trusted platero (goldsmith) offered her three pendants of enamel images of the Immaculate Conception, a sacred heart, and a saint, all set and framed in beautiful gold filigree. "I'm a believer in signs, and when the artisan gave me the price I was comfortable with, I took it as a chance to bring the broken, special antique jewelry I've kept back to life, of giving these pieces a new purpose," Bermejo says. "A broken brooch could become a statement ring, or a broken bracelet could turn into a set of earrings and a pendant. The second hat of being a designer was born."
Though she had never received any formal jewelry design training, Bermejo dove right in with the encouragement of her eldest daughter, a digital designer who earned her master's at the School of Visual Arts in New York City. She even suggested she call it simply Maria Angelica, Bermejo's first name. "It was fun reimagining, reworking, and repurposing the broken pieces of Payneta, Tamborine, or Criolla earrings that came my way. As friends would see them, what started as a hobby turned into a sharing experience. What would have otherwise been leftover antique jewelry pieces, I've given a new life! I'm just so happy that I've saved cultural pieces from getting melted down, locked inside drawers, or thrown away."
Bermejo's inner circle continues to be the inspiration behind her work. Each of the six collections she has released so far are named after family and dear friends, and despite the antique roots, they are created with the modern-day Filipina in mind. Pieces fall under four categories: Revive, where genuine heritage pieces are restored to pristine condition; Recreate, which are new jewelry crafted with traditional techniques; Remix, where heirloom pieces are given a second life by being blended with new materials or updated with modern styles; and Recollect, an archive of pieces with historical value that would make any true collector salivate.
"I think it's the trust that I've earned from 35 years of being in the antique world that I'm proudest of. Add the years of exposure to antiques, and the taste that has been ingrained," Bermejo says. "Return patrons are a good indicator—and the happy faces of patrons who have never forgotten."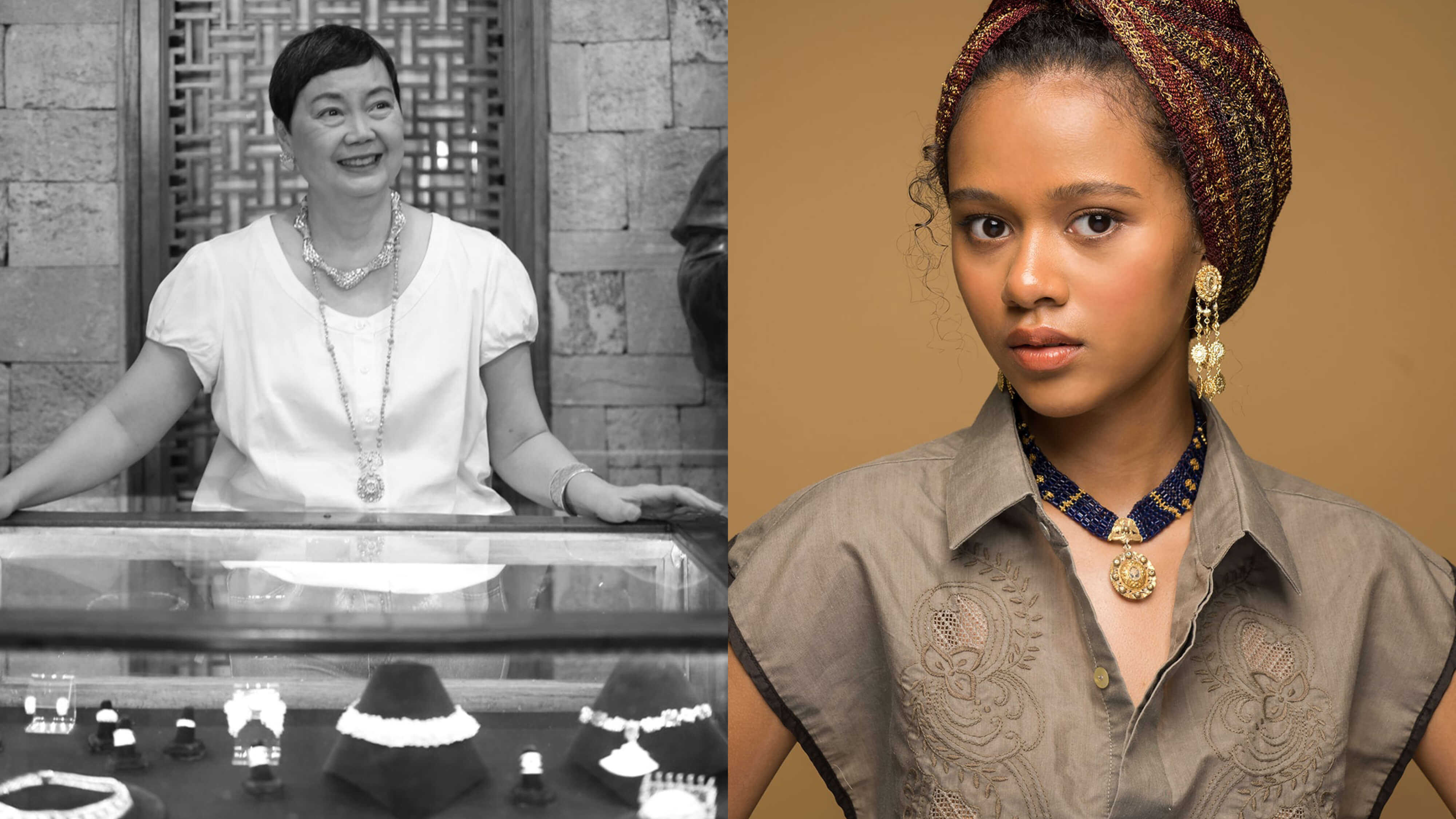 Bermejo has "this vision of sharing all these years of collecting Philippine heritage jewelry with the future generations of Filipinos to come."
A PIECE OF HISTORY
For those thinking about starting their own cache of heritage jewelry, she has this to share: "Go to people you trust for sound, credible advice, and check out any books or reading materials that may add knowledge to the heritage pieces you collect. Ask your own folks, your parents, grandparents, or other relatives who have perhaps been exposed to the types of old jewelry you are interested in. One can never grow a collection without putting your heart and soul into it. Jewelry collecting can be more gratifying when there is an educated decision when buying."
A good place to start would be Maria Angelica's collection of vintage-inspired pieces that are available in gold-plated silver if you're not quite ready for the major investment of real gold (there is also the option of ordering in 14k or 18k gold, if you are). The dainty and delicate A Daily Elegance earrings incorporate the design of those signature Spanish-era tamborine beads into sleek gold hoops, while the Aurelia Payneta Bar danglers take the hammered patterns seen on Peineta hair ornaments from the 5th century and suspend them on chains.
"Often the technique and style of old jewelry, especially the handmade ones, can never be duplicated. But new jewelry can be ordered any time," Bermejo points out. Maria Angelica is an attempt to bridge both worlds, and hopefully, the pieces you order today could become the heirloom jewelry of the future. "There is romance and enchantment in old jewelry pieces that tell the story of life then—how the pieces were made and loved, the character of the period when the pieces were born, how much time was spent in crafting the style, the precision and the art of it all. The glory of living in the past makes us appreciate what we are today. I have this vision of sharing all these years of collecting Philippine heritage jewelry with the future generations of Filipinos to come."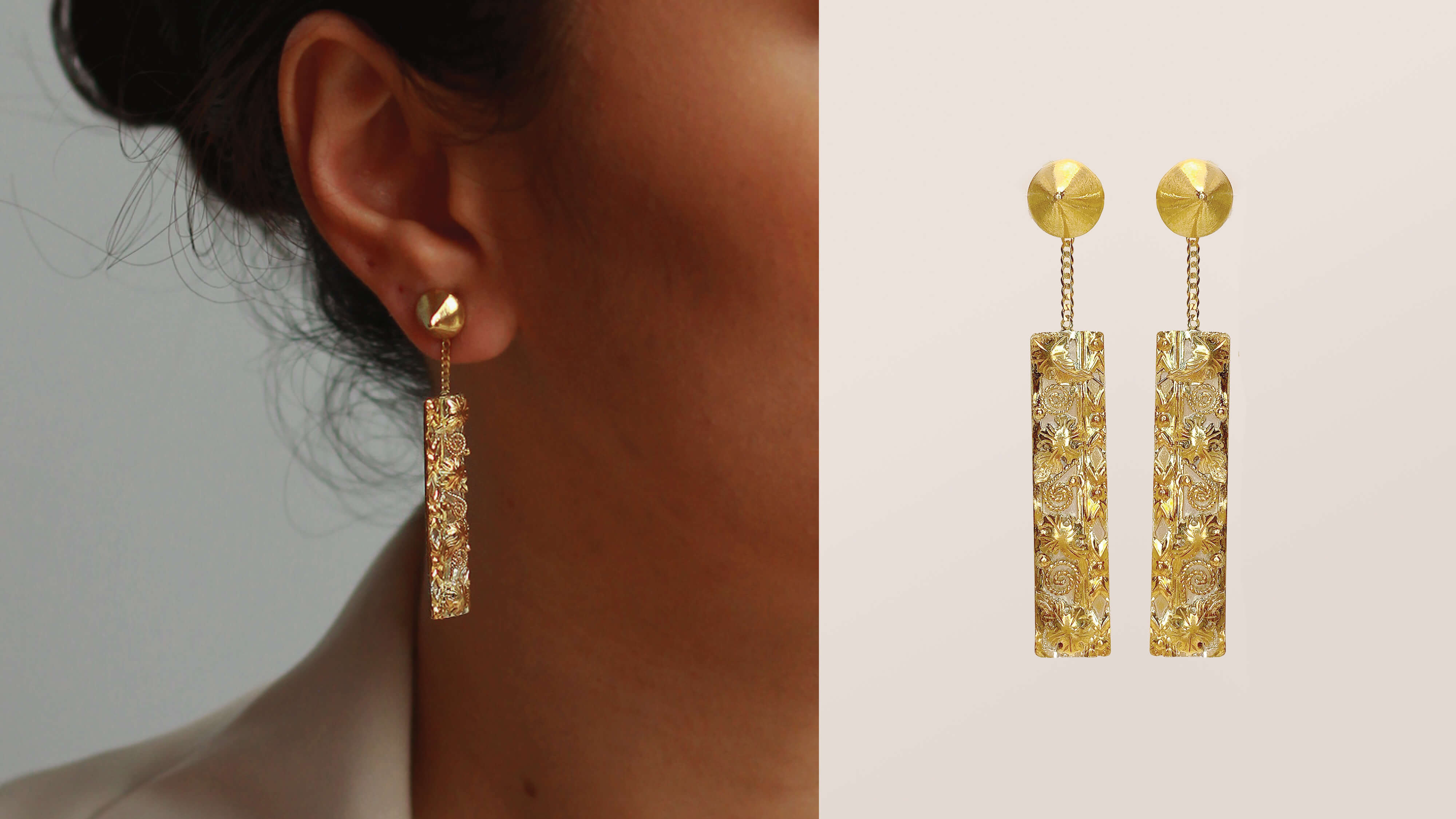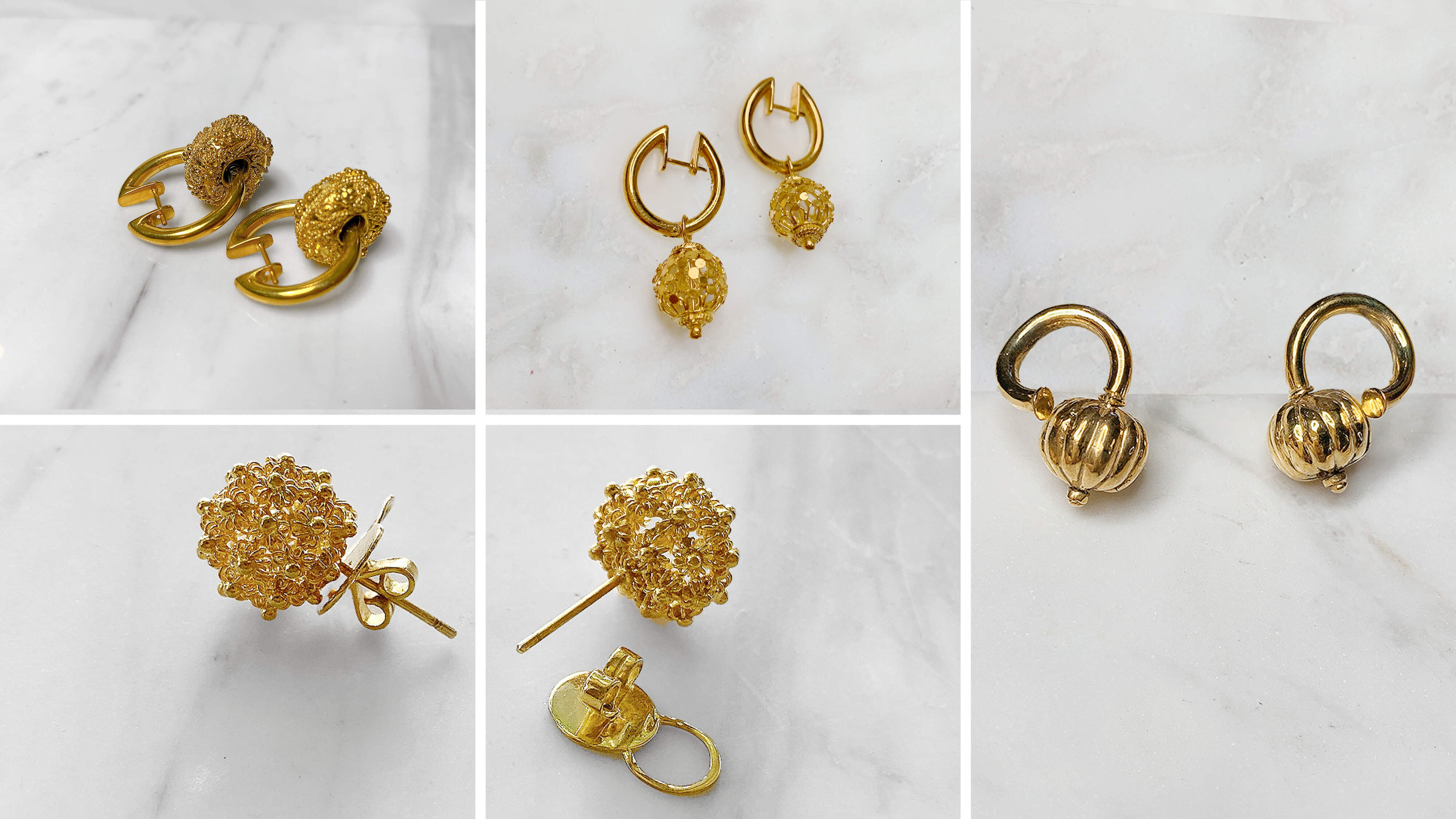 (Top photo) The Argent Callado Payneta earrings were inspired by the style of Philippine embroidery (callado). (Bottom photo, clockwise from top) A golden treat for every day: A Daily Grace, A Daily Surprise, A Daily Charm, and A Daily Elegance
And if you still have doubts on whether or not investing in heritage jewelry—or any real jewelry at all—is worth it, let the wise words of this long-time collector be your guide: "It is better to save up and buy one good piece a year that has value than buy many pieces a year with faint or little value," she says. "In the end, it becomes an heirloom piece that your children will surely behold, enjoy, and remember you by."
Besides, any vintage collector will tell you there is nothing that will haunt you more than the priceless piece you chose not to buy, a feeling that Bermejo knows all too well. "I always say, 'If you like it, buy it!'" she says. "One can never measure the amount of happiness of a great find."

Photos courtesy of Maria Angelica