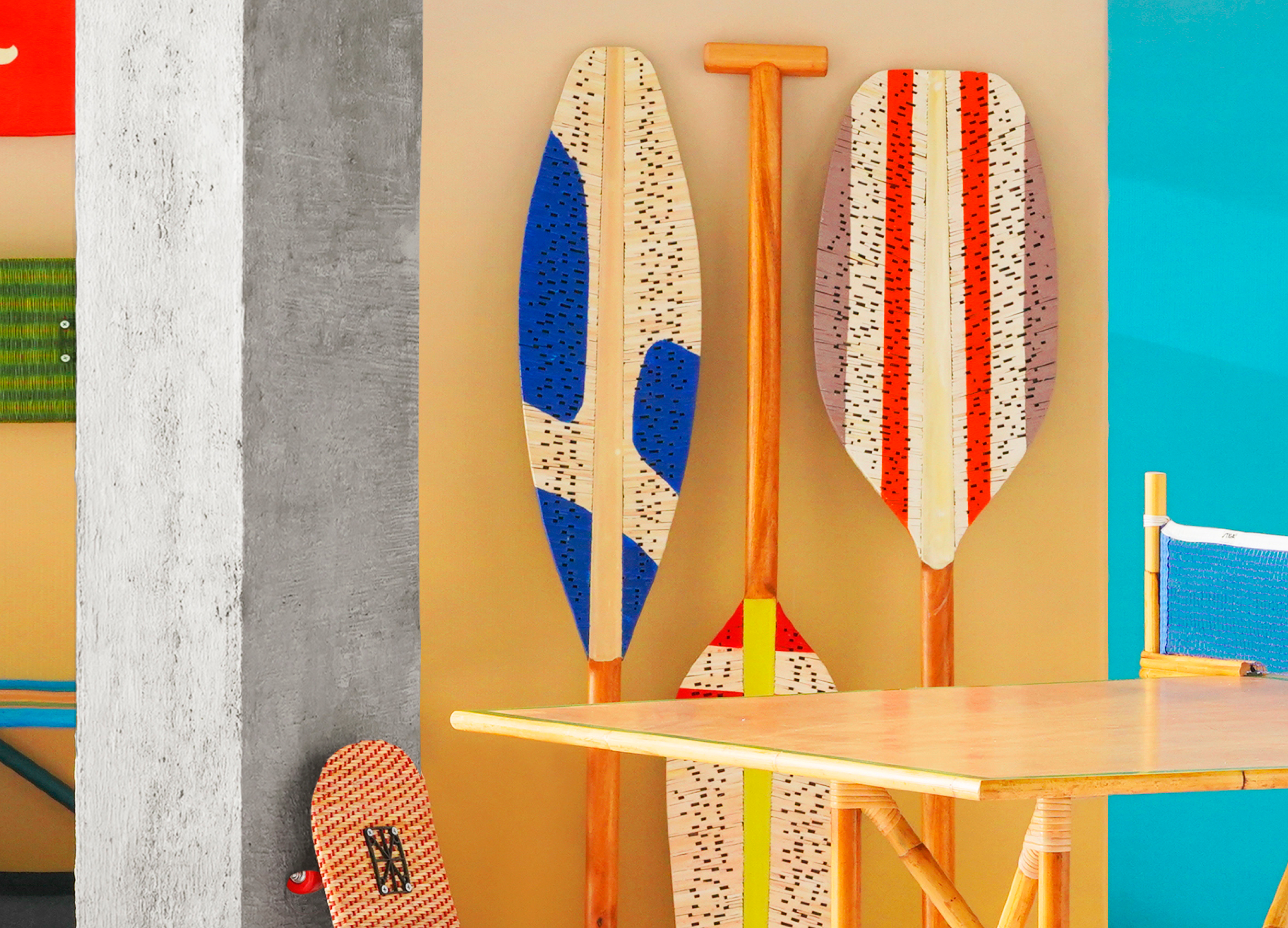 Navigating His Success
Owner Arnulfo Milambiling's career shift from marine engineer to furniture designer and relocation from Olongapo to Manila are clues to this furniture brand's success: the ability to evolve and embrace change
by Nana Caragay
"I was born and raised in the province of Marinduque," says Arnulfo Milambiling, the man behind furniture maker Contemporaneo Inc. "My family was very poor, so fishing was our only means of income." These humble beginnings would lead him to pursue a career in marine engineering, where he was able to hone skills in technical drawing and a creative eye for designing ships. He then spent five years practicing in the Middle East before deciding it was time to move back to the Philippines.
Upon settling in Olongapo in the '90s, then the location of the US naval base in Subic Bay, he started a furniture design business with a small team of just himself, two carpenters, and one varnisher. "Since there was a big demand for furniture for the Americans, we decided to put up a small production," he says. "Our number one clients were the American personnel. At first, we just copied what they wanted from the brochures that they would bring to us. But later, we began to understand that not all the things they were looking for were there, so we needed to do our own sketches to create what they wanted."
This was where his background and work experience abroad gave Milambiling the advantage. "In my course, marine engineering, of course we had engineering drawing and ship design," he says. "That's what I was able to use when I was dealing with them." But that was not the only thing he had up his sleeve. Apart from the technical know-how, he found a knack for incorporating his own creative input instead of merely recreating exactly what was shown to him. "Engineering drawing was only my basic tool, but I realized I also had a driving desire to do more than just copying from a magazine."
As we know from history, the American bases in Subic eventually closed down in 1992. This was preceded by the cataclysmic eruption of nearby Mount Pinatubo the year prior, putting a severe dent in his company's income and decimating his client base. So Milambiling packed up and moved to Manila in search of other opportunities.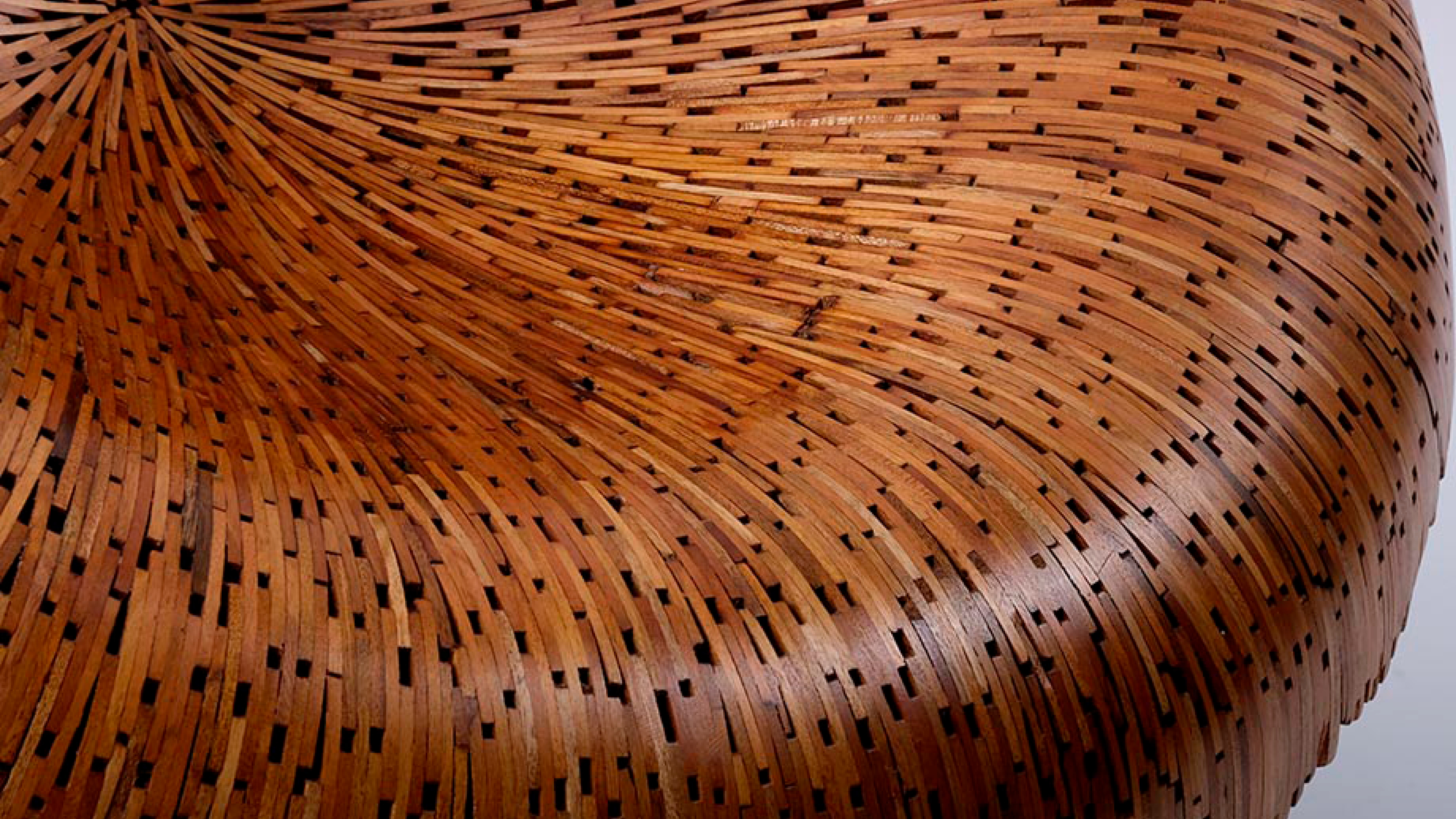 Contemporaneo's signature: a blend of wood strips in different shades and finishes that would form a wood chip pattern. It started when owner and principal designer Arnulfo Milambiling decided to make use of the discarded end cuts and rejected wood which had started to pile up
THE NEXT CHAPTER
These seemingly disastrous events proved to be blessings in disguise, as Milambiling found that his move from the province to the big city would work in his favor. Turns out it would not just be the American servicemen and military who were drawn to his style—once they were introduced to it, people in Manila were just as impressed with what Contemporaneo was producing.
"Eventually, after the Americans left the country, we needed to find other markets to continue the business," he says. "We moved to Manila and I found out that there were more opportunities here. We met a lot of clients who were demanding more furniture ideas for their houses, for their resorts, and more. That's where I discovered that I can do what I am doing now."
Later on, Milambiling discovered a technique that would become Contemporaneo's signature: a blend of wood strips in different shades and finishes that would form a wood chip pattern, giving his pieces a dappled look that reinforces the natural materials of their origin. They can be arranged in ways that call to mind the marine forms and ocean life he was surrounded by in his early life and former career. And like plenty of good things, it was the result of experimentation, problem-solving, and innovative thinking.
Milambiling has used the pattern on furniture, home accessories, and decor pieces—as seen in Contemporaneo's decorative fruit bowls, Dalis mirror frame, and Lotus accent chair
"The wood chip pattern started when our stock of discarded end cuts and rejected wood started to pile up," he relates. "We could not use it as firewood, so I decided to do some research into how to turn this wood into a product that would be acceptable to the market. It just so happened that at the time, in 2007, we were joining the Philippine International Furniture Show. Back then, the world was also suffering from a recession. Luckily, the reception to the design and our products was remarkable. That was the start of my wood chip collection."
TRASH TO TREASURE
Since then, Contemporaneo's distinct wood chip pattern has been formed into tables, stools, sunburst-like mirror frames, even an artwork map of the archipelago of the Philippines. The wood chip bowls and vases are available in the Boracay collection of LilyJuliet.com, and they have also been used in pieces that are custom-made. It's a way of taking materials that would have otherwise been discarded and repurposing them into something sustainable and brand new, a reflection of how Milambiling is able to approach a problem in a different way and make the best out of it.
The latest challenging situation Contemporaneo has found themselves in is, of course, the ongoing COVID-19 pandemic. Trade, shipping, and export have been disrupted, including the industry trade shows they regularly participate in to expand their market and clientele. But just as in the past, Milambiling has been quick to adapt. This month will mark his first time joining the virtual trade fair of Maison et Objet, Maison & Objet and More (MOM).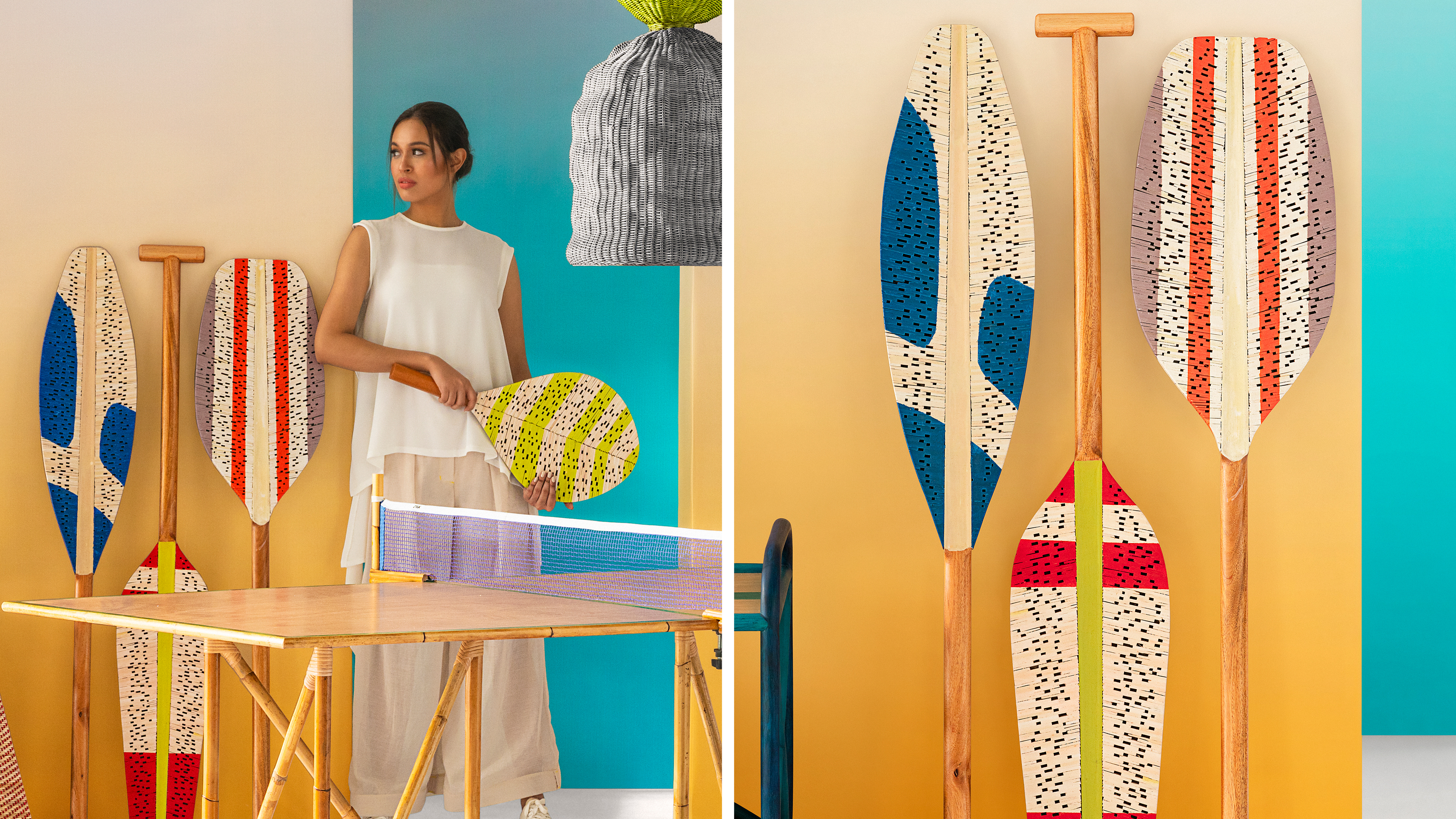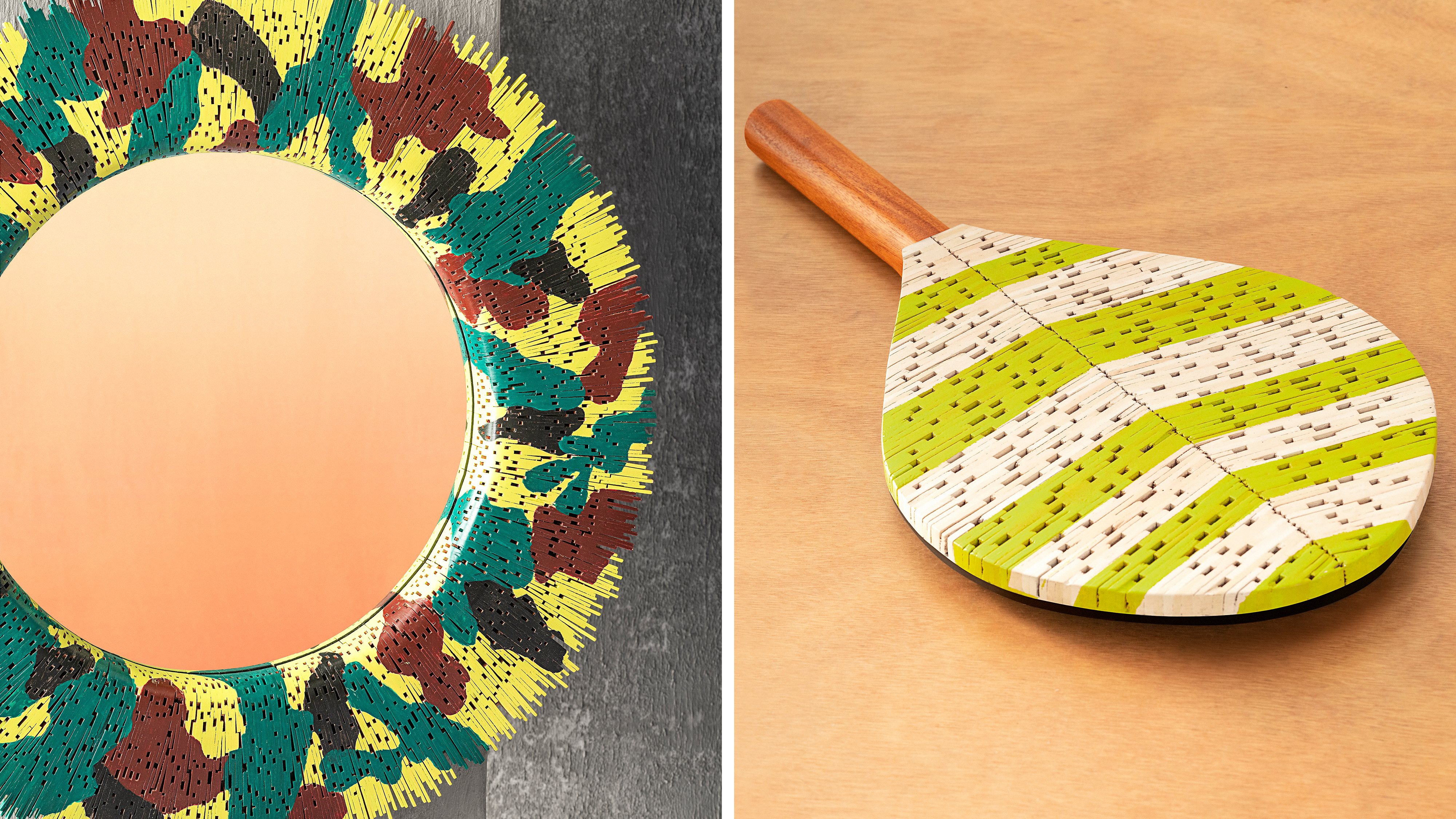 For this edition of Maison & Objet and More (MOM), Contemporaneo is showcasing decorative wooden paddles and mirror frames using their signature wood chip pattern, but this time, the chips display contemporary patterns and bright colors
"Many years back, I was enticed by Chiqui Veneracion to join Maison et Objet, but I had already committed to joining Ambiente in Frankfurt," Milambiling explains. "Besides, it can be very expensive joining international shows—other than paying for the booth per square meter, there are also personal expenses… it bothers me a lot." But as MOM is fully digital, he no longer has to worry about the miscellaneous expenses and instead, can focus on the new platform where his products will be showcased. "Now that it is virtual, I can't tell the difference," he says.
Among the items making their debut is a collaboration with two designers who created something that struck a personal chord: a decorative wooden paddle by Rita Nazareno of bag brand Zacarias 1925 and industrial designer Gabby Lichauco. "Rita and Gabby were introduced to me by CITEM. They looked at my work online and they became interested in the paddle's design. Rita is from Hawaii, so the paddle is an iconic piece for them." For Milambiling, it's a reminder of his family's fishing background: "The paddle has a very important role in my life."
"Both of them are very passionate, and every time we have a virtual meeting, they are very excited to see the result," he says of the design duo.
As Contemporaneo explores this new digital frontier, Milambiling maintains the same matter-of-fact, adapt-or-die attitude and optimism that has served him so well. It may be the best guarantee that they will have what it takes to move with the times. "There are more ideas that I have in mind for the wood chips collection. They are already lined up," he says. "But because of the pandemic, everybody is frustrated. Virtual is the only solution, so we have to live with it until the new normal is here. We are still hoping that time will come soon."