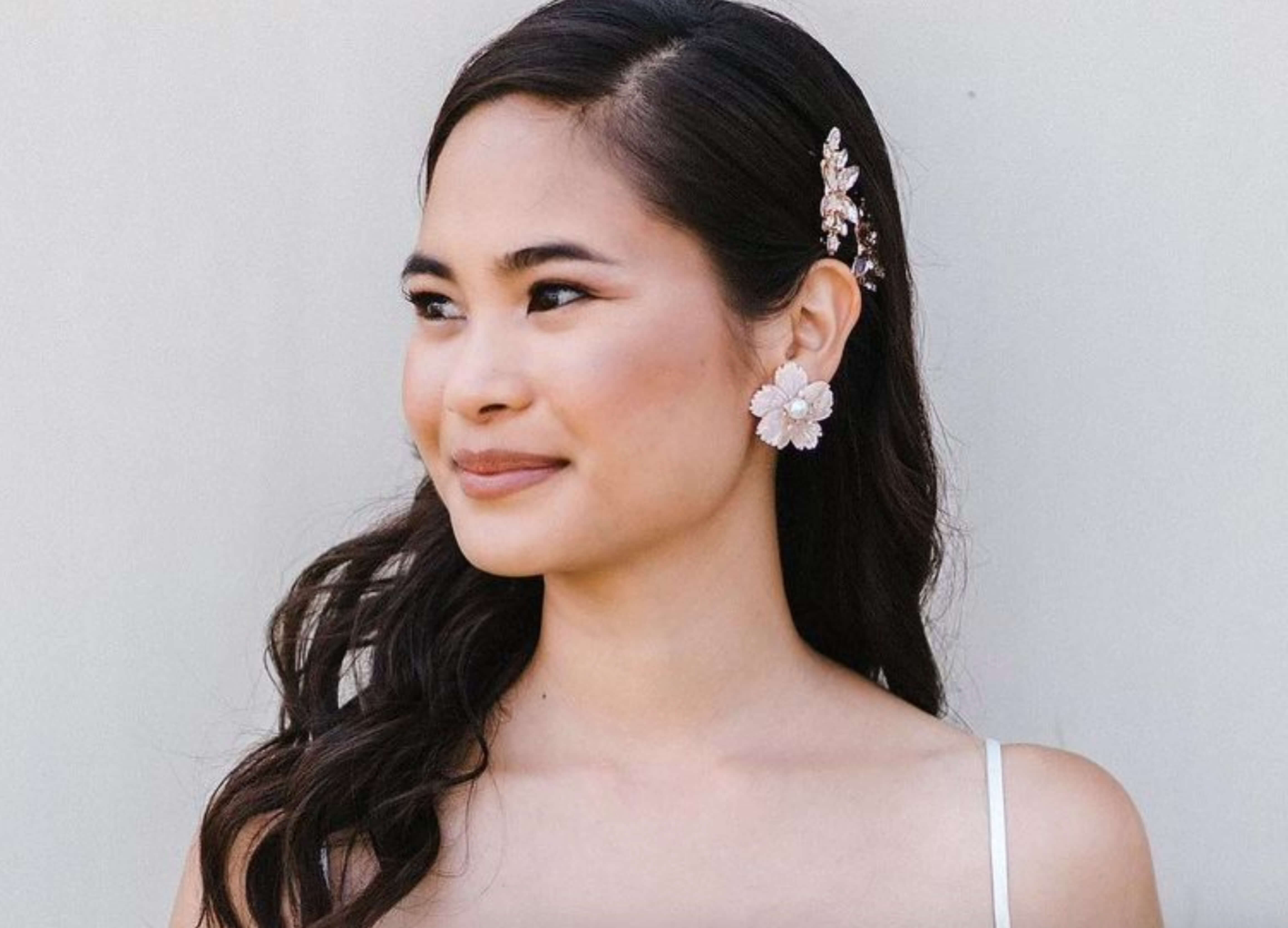 In Full Bloom
Everything's coming up roses for this young fashion accessories brand
by Sunshine Selga Funa

A few clicks on the Mirth & Yift website tells you that this homegrown brand is serious about crafting exquisite fashion accessories. Its products mirror the unabashed passion of its owner and chief designer May Samson-Lalata, who proudly professes her love for anything beautiful.
Even as a child, Samson-Lalata has always been interested in handcrafted accessories. And while she didn't have the opportunity to pursue it until a few years ago, she never missed a chance to make something with her hands. "I would always have time to create different handcrafted accessories like beaded necklaces or trinkets. I even tried knotting fabric into necklaces even before they became a trend," she narrates.
It wasn't until 2016, right before the holiday season, when she finally decided to leave her full-time job as a brand manager of a beauty brand. The timing proved to be propitious because it inspired the name "Mirth & Yift" ("mirth" denotes merriment and cheer, while "yift" is an Old English variation of "gift"). It was, indeed, a season of celebration for Samson-Lalata.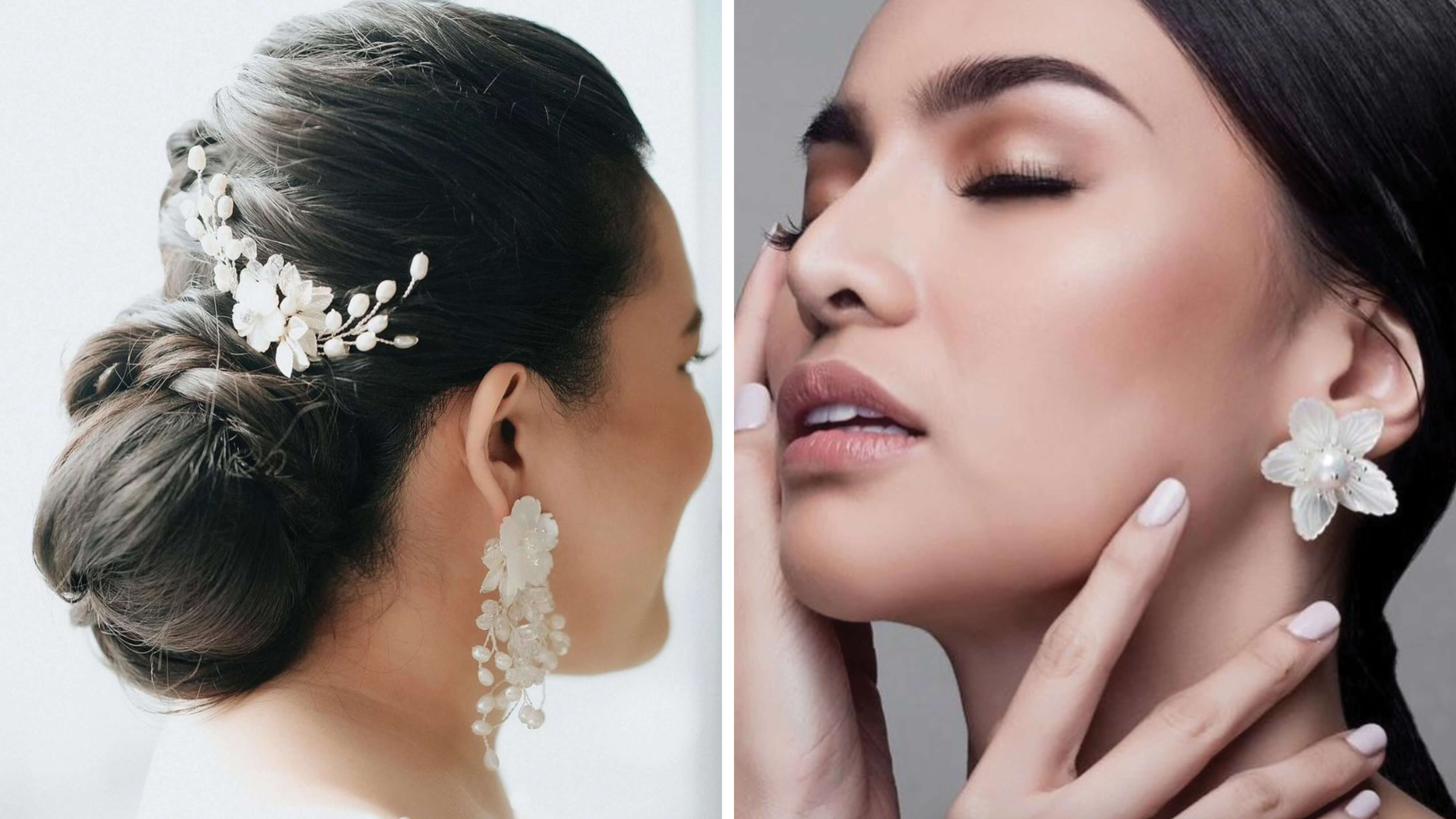 (left) Made-to-order bridal accessories, as seen here, provide brides-to-be with personalized, one-of-a-kind pieces. (right) Model and beauty queen Emma Tiglao wears the Astrid hand-carved mother of pearl stud earring in pure white

FROM THE GROUND UP
Armed with several years of experience in marketing, coupled with the desire to promote local artistry, Samson-Lalata set out to build Mirth & Yift. The chief designer admits it hasn't been smooth sailing. She relates, "It was a long road, a long journey preparing, thinking about what category you want to play in, choosing the products, trial and error… And when you're an entrepreneur who's really just starting out, you really don't know what to expect. It's not something that you just compute in a calculator, and then it happens."
In fact, Mirth & Yift looked quite different when it first joined bazaars during its early days in 2018. Vibrantly colored earrings and round, woven bags from Albay were a staple. But seeing how the market was already teeming with similar products, Samson-Lalata immediately realized that they had to make certain changes. When Mirth & Yift partnered with Rustan's in 2019, this need to set itself apart was further underscored. "We had to streamline, we had to think about what could be a category or product line in our assortment that would be there for a long time, that maybe other brands won't have," she recalls.
It didn't take long for Mirth & Yift to find its footing in the fashion industry. Through Samson-Lalata's tenacity and solid vision, the brand evolved into something that boasts a distinct identity. In place of the ubiquitous statement earrings and woven bags are intricately designed jewelry and bridal hair accessories made of mother-of-pearl and cold porcelain. This pivot turned out to be an astute decision.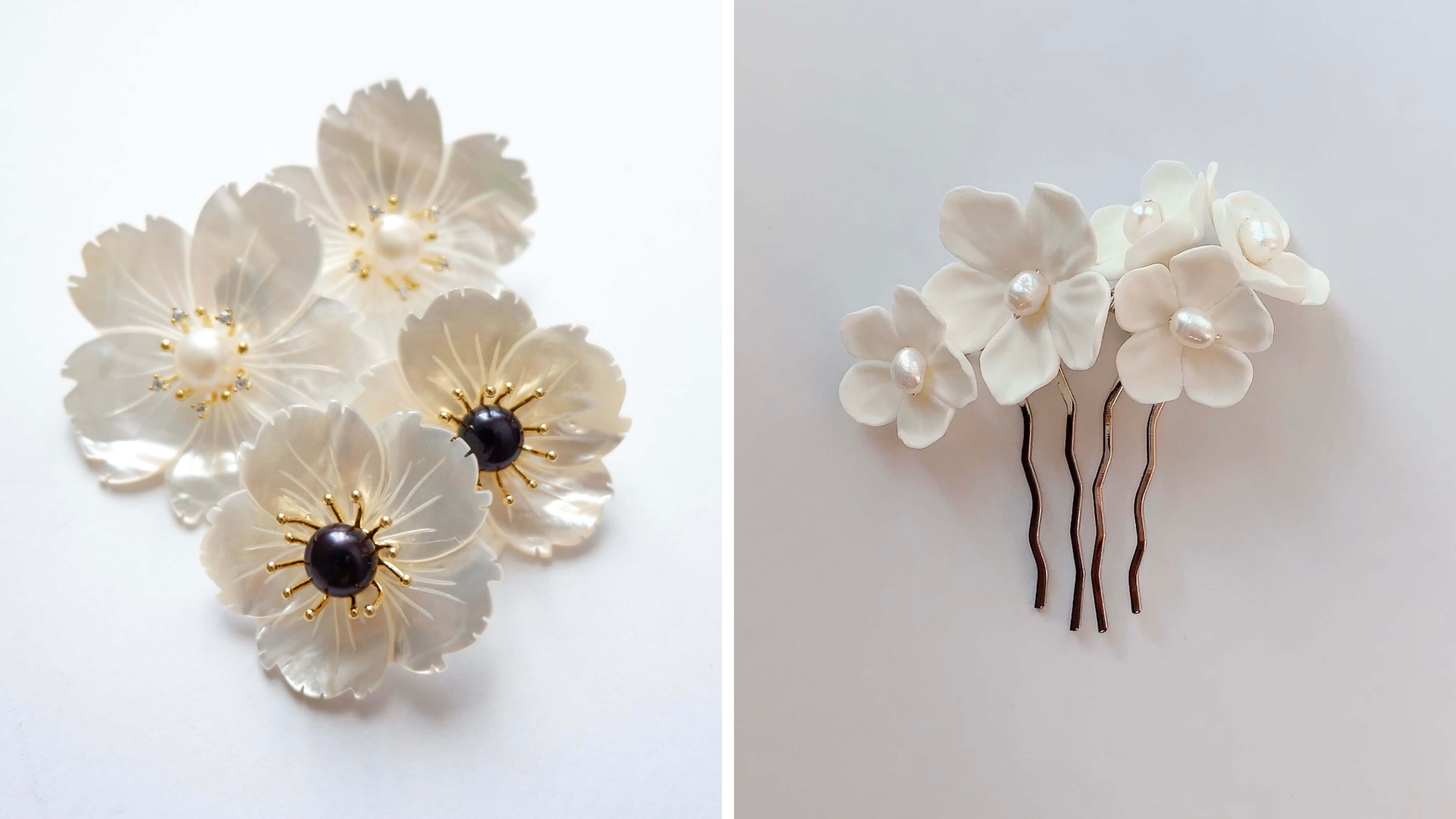 The Camila (back) and Belinda (front) earrings are made of hand-carved mother-of-pearl petals featuring brass accents and freshwater pearls. Either of these pairs makes for a sophisticated statement. The clean and classy Catherine Comb is popular among brides who prefer a chic, minimalist look

HERE COMES THE BRIDE
While Mirth & Yift's classic mother-of-pearl earrings appeal to a wide female audience, its line of whimsical cold porcelain accessories attracted brides during an unlikely time. As the pandemic catapulted the trend for intimate weddings, brides-to-be came to Mirth & Yift to help them on their big day. "A lot of brides still want to dress up even if they're very confined to doing the ceremony among [a small group], and then having the reception with just close family and friends," explains Samson-Lalata.
Call it serendipity—something that was especially needed amid the global health crisis that brought numerous businesses to their knees. But that's not to say Mirth & Yift has been completely immune to the blows of the pandemic. In fact, there was once a significant retail order that got cancelled the week the items were supposed to be delivered. To mitigate losses, Samson-Lalata put up the items on promotional sale, the proceeds of which were donated to charitable organizations.
Mirth & Yift's ability to take on such challenges is not the only thing that keeps it going in the midst of these trying times. The way it zeroes in on its market enables the brand to better address its customers' needs while still staying true to its identity and standards. Since it primarily caters to brides, Mirth & Yift knows the value of collaboration and the importance of putting out quality products. Samson-Lalata states, "We do the flowers fresh for each order. I do not use flowers that you see in our samples. When a bride orders from us, I sculpt all the flowers fresh for that particular order."
Customization requests are, of course, welcome. That means materials, colors, and sizes can be tweaked according to the customer's preferences. However, Samson-Lalata makes sure the details still conform with Mirth & Yift's existing designs. "I want Mirth & Yift to be credible enough and decent enough not to copy," she stresses. "We're not saying we own the cold porcelain technique—a lot of designers do that, and I really admire them. I really admire how they sculpt; how they put things together; how they conceptualize. I want to be like them, so why would I copy them?"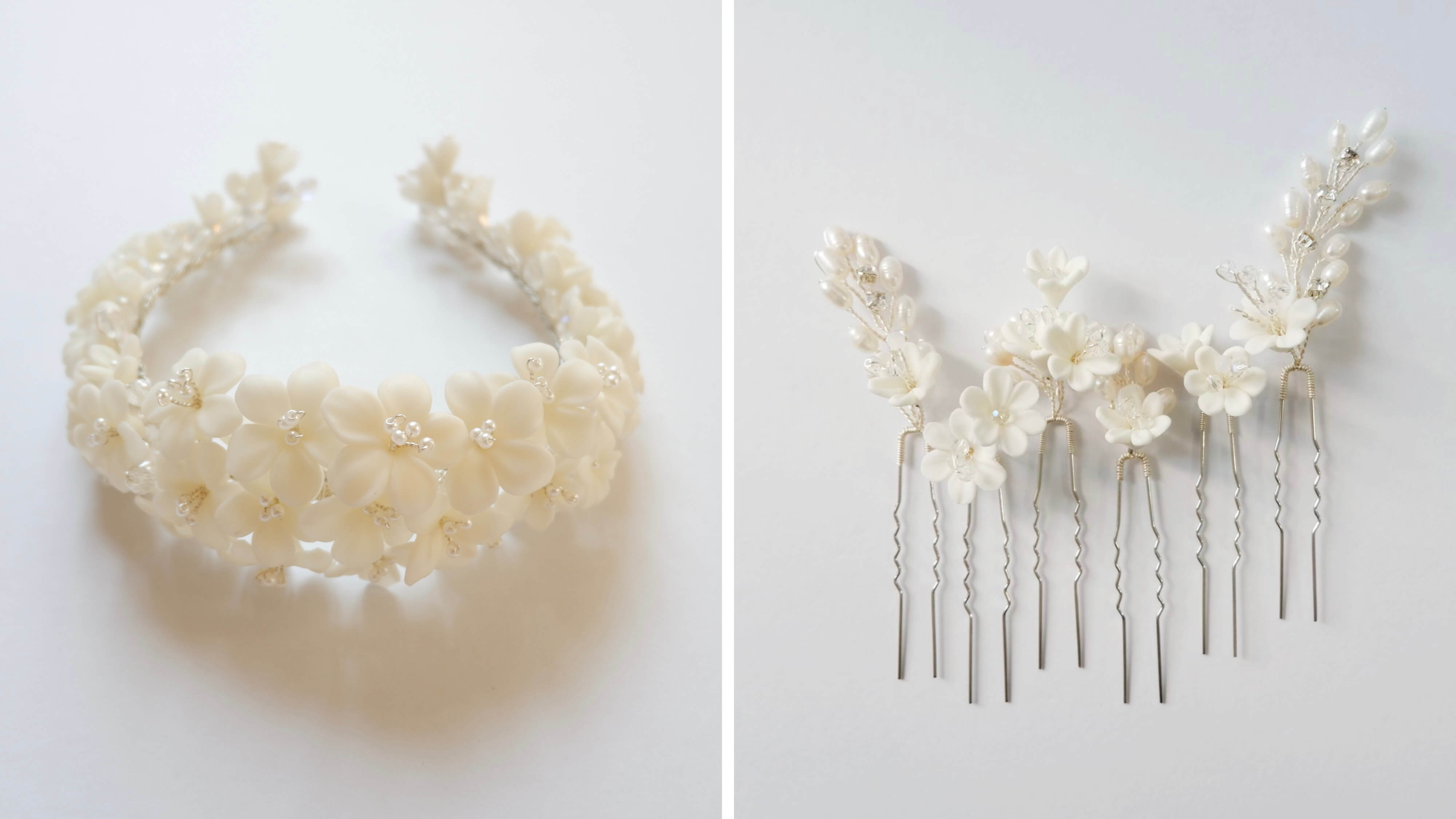 (left) The Jasmine Classic Crown is a new product in Mirth & Yift's line of elegant hair trinkets. (right) These Sampaguita Hair Slides come in a set of six. Each piece is carefully hand-sculpted and hand-sewn on non-tarnish wire and is accented with freshwater pearls

FROM BUD TO BLOSSOM
It's not difficult to surmise what the inspiration is for this brand: flowers. Says Samson-Lalata, "I want Mirth & Yift to be a feminine brand, and that's why I keep my designs limited to just flowers—also, because I know that flowers work for most women. It's a design that would be appropriate for any age. You can expand and think about different product lines just by looking at one design, one flower."
Sampaguita, the country's national blossom, is the starting point for Mirth & Yift's floral accessories. It reminds Samson-Lalata of her childhood spent in Bulacan. Every morning, she'd explore their yard, always excited to see and smell the sampaguita blooms sprinkled with morning dew. "All of these memories… you marry them into something that you can call your own. You relate them to certain things that are important to you," she says about her design inspiration.
Currently, the brand also carries products handcrafted in the image of magnolia, lily, fleur de lis, and periwinkle (what Mirth & Yift dubbed as "Catherine" from its scientific name "catharanthus roseus"). Most, if not all, of these flowers are found in the Philippines.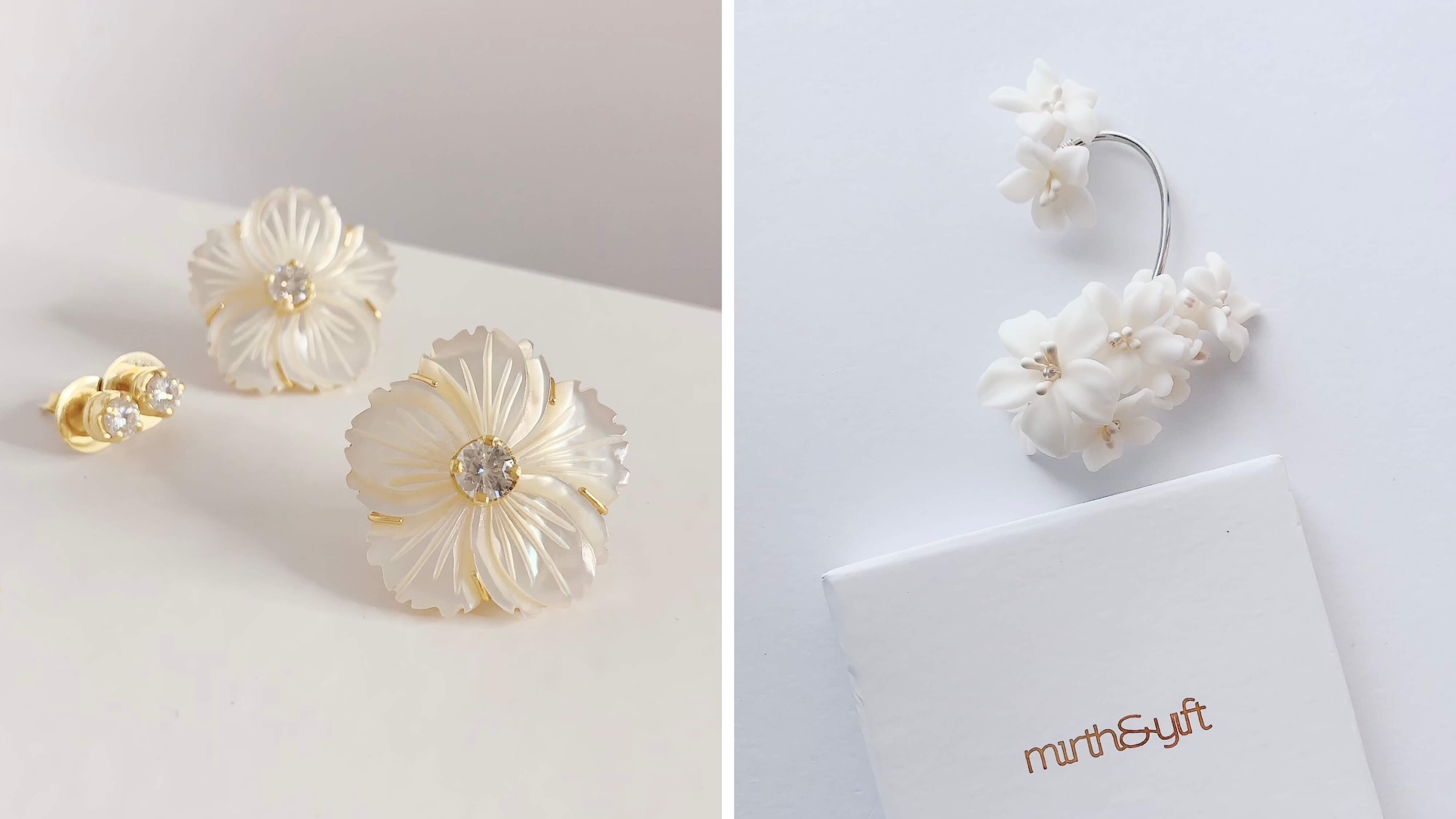 (left) This pair of earrings is one of the new variations of the Belinda design. The flowers come in 28mm and are set in gold-plated silver with 0.5ct moissanite detachable center studs. (right) This ear slide featuring delicate lily blooms will soon be launched, expanding the brand's line of bridal accessories

DELICATE DETAILS
Samson-Lalata takes pride in Mirth & Yift's meticulous attention to its handcrafting process, and she's very particular about the consistency and recipe of their cold porcelain. "There were a lot of combinations that I've tried, maybe a hundred recipes that I've tried only to figure out what works for us. And I think that's the important thing for most brands—to really know the process that works for you," the owner relates. This painstaking process ensures that each cold porcelain piece, when finished, looks just like a real flower and is durable enough in case it gets accidentally dropped. Extra care is also essential in crafting these dainty accessories sans the use of molds or patterns. "Everything is really done freestyle by these two hands," she adds with a laugh.
Meanwhile, accessories made of mother-of-pearls, like the best-selling Belinda earrings, are hand carved. The base flowers are outsourced to artisans in Visayas, where most mother-of-pearls, shell inlays, and freshwater pearls are produced. Items made of these materials are assembled either in Bulacan or in Samson-Lalata's home studio.
Because the pieces are carefully crafted by hand, bespoke accessories take time to make. Hair slides, for instance, can take one to two weeks, while tiaras need a lead time of six to eight weeks.

CARVING A MARK
Mirth & Yift may be barely five years old, but it has already made a name for itself in the local fashion accessories scene. Aside from its collaboration with premiere department store Rustan's and leading fashion e-commerce site Zalora, Samson-Lalata's brainchild also made it to Manila FAME's roster. She admits to wanting to partner with the country's prestigious trade show ever since Mirth & Yift was officially established three years ago. "We really want to be part of legitimate organizations and channels," relates Samson-Lalata. "And being part of Manila FAME, together with being part of retail channels Zalora and Rustan's—these are milestones for us."
Collaborating with these institutions not only attests to Mirth & Yift's credibility and quality; it also opens up opportunities for the local brand to expand. "We want a showcase studio where brides can come in, try on our tiaras, our earrings, maybe have partner bridal designers to be part of the whole experience of the Filipina bride," says Samson-Lalata about how she foresees the brand in the next five years. In the next ten years? "Maybe that's a whole different story. We want, of course, to have expansions in other locations not only in the Philippines. But we know that's going to be a very long road for us," she admits.
With Mirth & Yift's commitment to quality and to its market, traversing that long road may just turn out to be a walk in the park.

Photos courtesy of brand