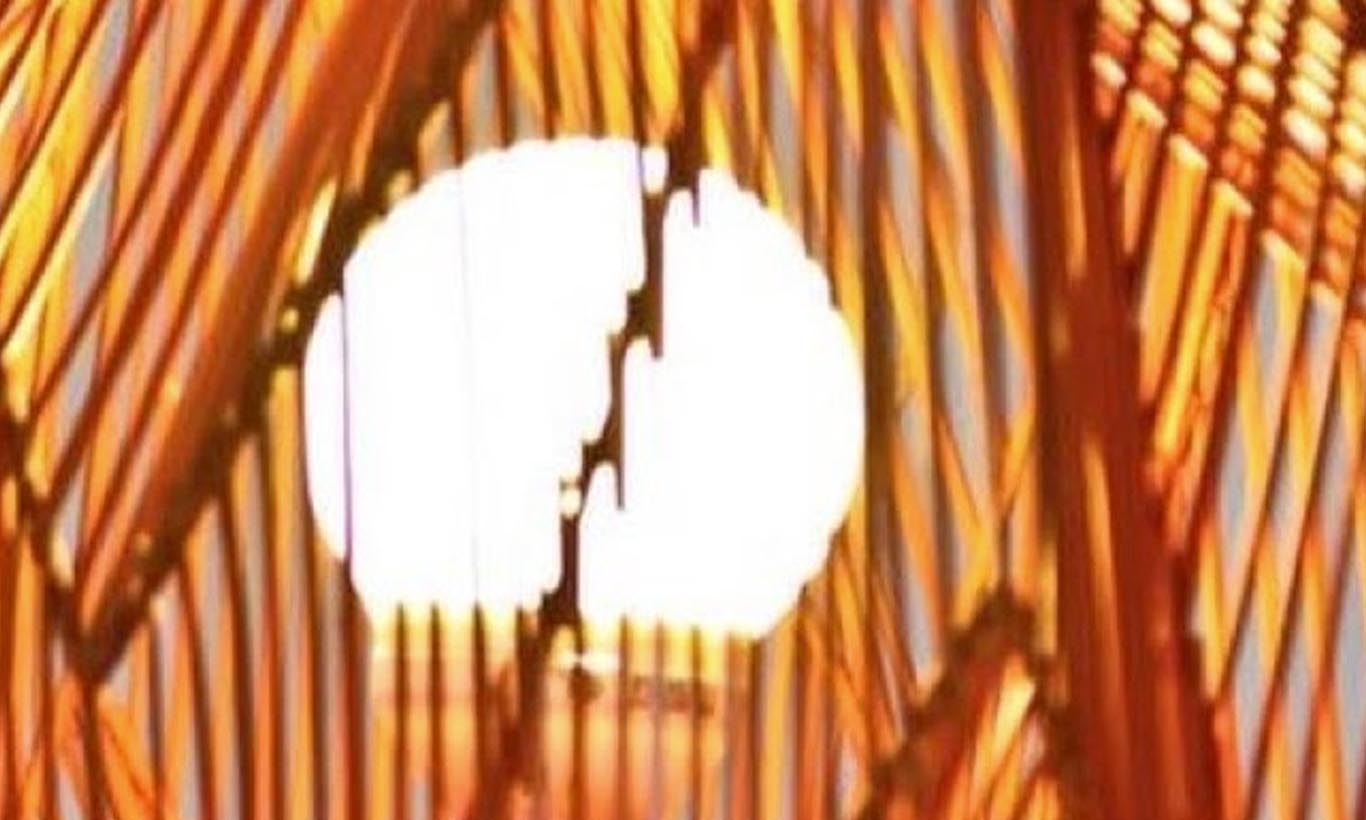 Weave-From-Home
It's a beautiful day on the farm at Manapla, Negros Occidental, a province south of Metro Manila, and as Hacienda Crafts' creative director Christina Gaston walks through her sun-streaked garden while she chats with us, you could almost forget that there is a pandemic.
But even with Negros still under General Community Quarantine (a lower-risk quarantine), many have maintained a work-from-home arrangement for their employees for health safety reasons. Christina, however, admits that they didn't need to do this shift—most of their craftsmen have been working from home since the very beginning.
Noli the broom-maker harvesting from the Buri plant. The midribs of its leaves are used for weaving Hacienda Crafts' lamps. Noli uses another part of the Buri palm for making his brooms.
WFH Means Weave-From-Home

Hacienda Crafts' recent social media posts featured their various artisans and family members weaving sculptural lamps, and forming the enormous baskets. Sometimes, the children are involved too, and some families have all three generations—from grandmother, to mother, to granddaughter—weaving for the company.
"Contrary to what others thought, our workers have always been working from home!" Christina exclaims. "Aside from our finance, logistics, and other office staff, our artisans go to the factory, get the materials, bring them home, weave it, and bring them back to the headquarters to be finished or painted."
This sort of work arrangement has definitely put them at an advantage once the pandemic rolled in. The only change, Christina admits, "…is the supply chain due to [material deliveries]. So, we use materials that are closer to home."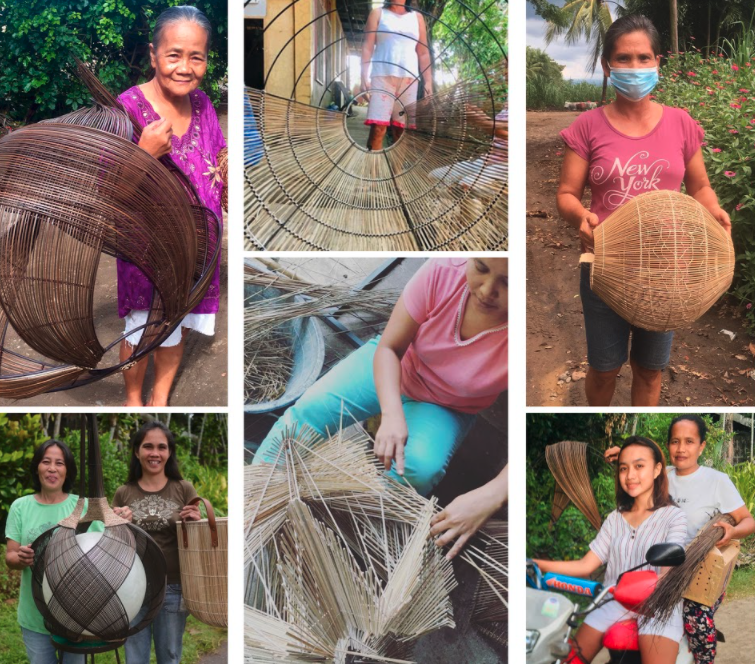 The women of Hacienda Crafts can weave their products in the safety of their homes. (Clockwise from top left): Lily delivering her woven piece to the workshop to have it finished; beginning weaves on the framework of a giant lamp; Christine delivering her work; weaver Myvel rides off to work with her daughter Myel, who is a musician with the Hacienda Santa Rosalia Rondalla; Lorelyn expertly weaving designer Wataru Sakuma's difficult-to-weave ORIAMI Lamp; Isobel with her OBI Lamp, Remily with her woven Metro Basket.
A Community Affair

Each of Hacienda Crafts' artisans have their own story. There is Lorelyn, who is skilled enough to handle the intricate, difficult-to-form origami shape of designer Wataru Sakuma's Oriami lamps. There is Isobel, who weaves the bulbous Obi lamp out of the buri palm harvested by Noli, who is a broom maker (he uses the other part of the buri for his brooms—nothing goes to waste!).
Christina explains that this artisan-centric setup has always been part of the Hacienda Crafts philosophy. "We put up Hacienda Crafts to channel our creative energy, as both Joey (Christina's husband and the company's president) and I are architects. We also formed it to acknowledge the wealth of materials, resources, talent, skills, and culture in our community."
There is also Hacienda Craft's intention to empower the women in that community, who are their weavers. "We want to empower them, to help theirs mothers contribute to their family, and bring in the money," says Christina.
And there is the ecological element in their pieces—aside from encouraging other designers to use their products for their enviro-social projects, Hacienda's processes and materials are sustainable, and their practices are fair-trade. "We have done the whole sustainability/eco/fair-trade thing even before they became labels. We just thought that these were necessary to how things were made."

Hacienda Crafts' lighting pieces are both contemporary yet sustainable. (Left) The sleek and elegant Calligraphy Lamp, and (right) the rustic Coco Twig Oversized Lamp.
Although the pandemic has slowed things down a bit, production continues on the farm. Workers are safe and happy, the decorative items still stylish and functional. It all works out in the end. "Isolation has its benefits, you see!" Christina says with a chuckle.
Photos courtesy of Hacienda Crafts

HACIENDA CRAFTS
Hacienda Sta. Rosalia, Manapla,
Negros Occidental 6120
Email: info@haciendacrafts.com
Facebook: facebook.com/haciendacrafts
Instagram: @haciendacrafts
URL: haciendacrafts.com