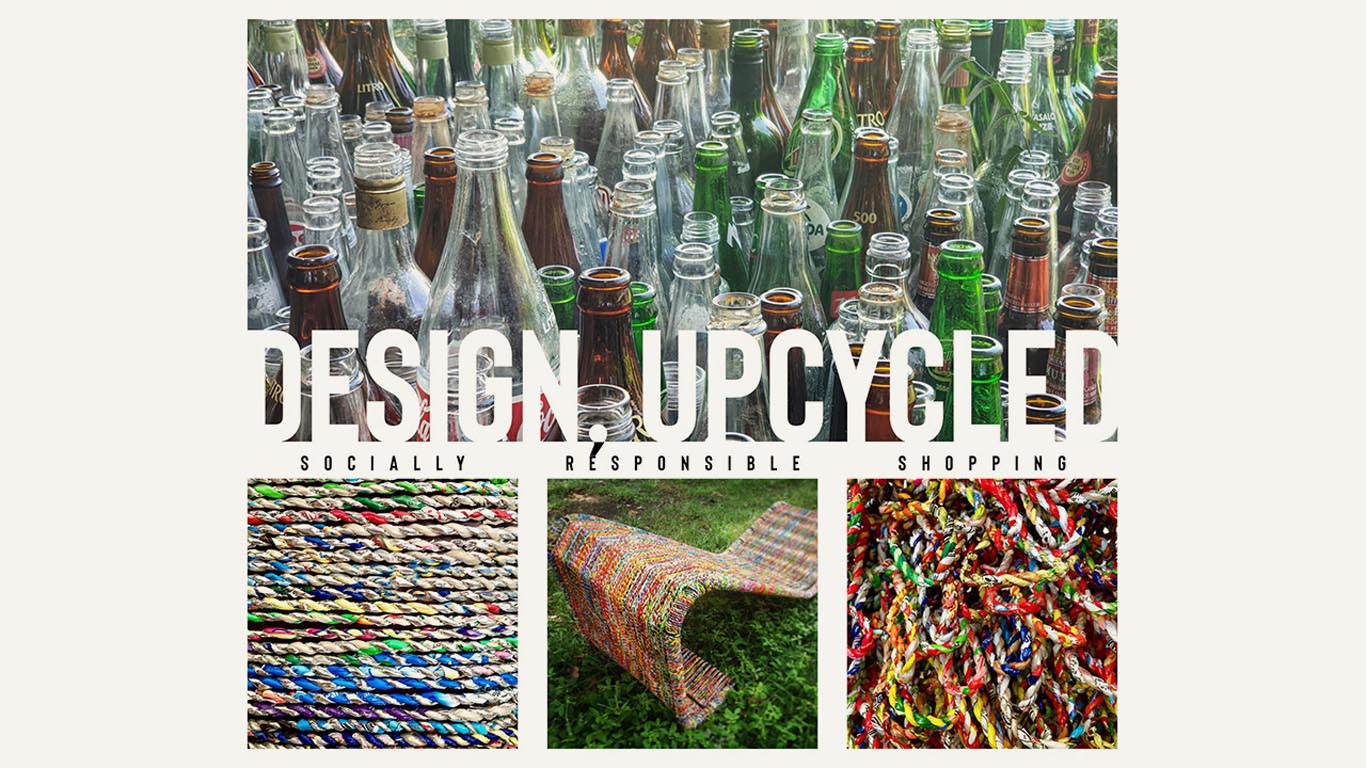 Design, Upcycled
About a decade ago, if you announced that you were going to open a store wherein everything sold would be upcycled out of trash, people would have thought you were crazy. But in early 2020, upcycling advocate and eco-designer Wilhelmina Garcia of JunkNot Eco Creatives did exactly that—she went along and opened the JunkNot Concept Store with several like-minded collaborators who only made home décor and fashion accessories from recycled and sustainable materials.
Garcia, who won the Katha Awards for Eco Design in the 2018 and 2019 editions of Manila FAME, and exhibited at the Paris Design Week in 2018, has always made it her mission to be socially responsible in all her projects. These range from interior design—she is currently working on the interiors of the Climate Change Commission office in Manila—to furniture, which are made out of upcycled materials like recycled plastic wrappers and scrap wood.
"I decided to open JunkNot Concept Store because I was blessed with a lot of eco-friendly projects, so I wanted to extend these blessings to fellow artists and upcyclers with the same advocacy," Garcia explains. "And it's great that because I was able to pull them into my market and to uplift their spirits so that they can continue what they started."
There is a steady growth of socially responsible, earth-friendly stores and manufacturers in the Philippines, and hopefully these could catch up with the zero-waste, fair-trade stores in other parts of the world. One example is Rue Rangoli in Paris, a store that not only sells internationally-sourced sustainable products, but trains and employ artisans from underprivileged communities. Incidentally, Garcia has been selling her JunkNot furniture pieces at Rue Rangoli for years.
The common goal of the artisans at JunkNot Concept Store is to create valuable and useful items repurposed from waste materials to minimize what would eventually end up in landfills. The products, however, hardly look like trash. There are the recycled bottles upcycled into delicate windchimes and vases by Martha Handicraft and Yssa Craft, while those pesky, trash-contributing coffee pods are transformed into trendy earrings and necklaces by NCreative Touch. Siklo fashions the inner tubes of used tires into leather-like bags and belts.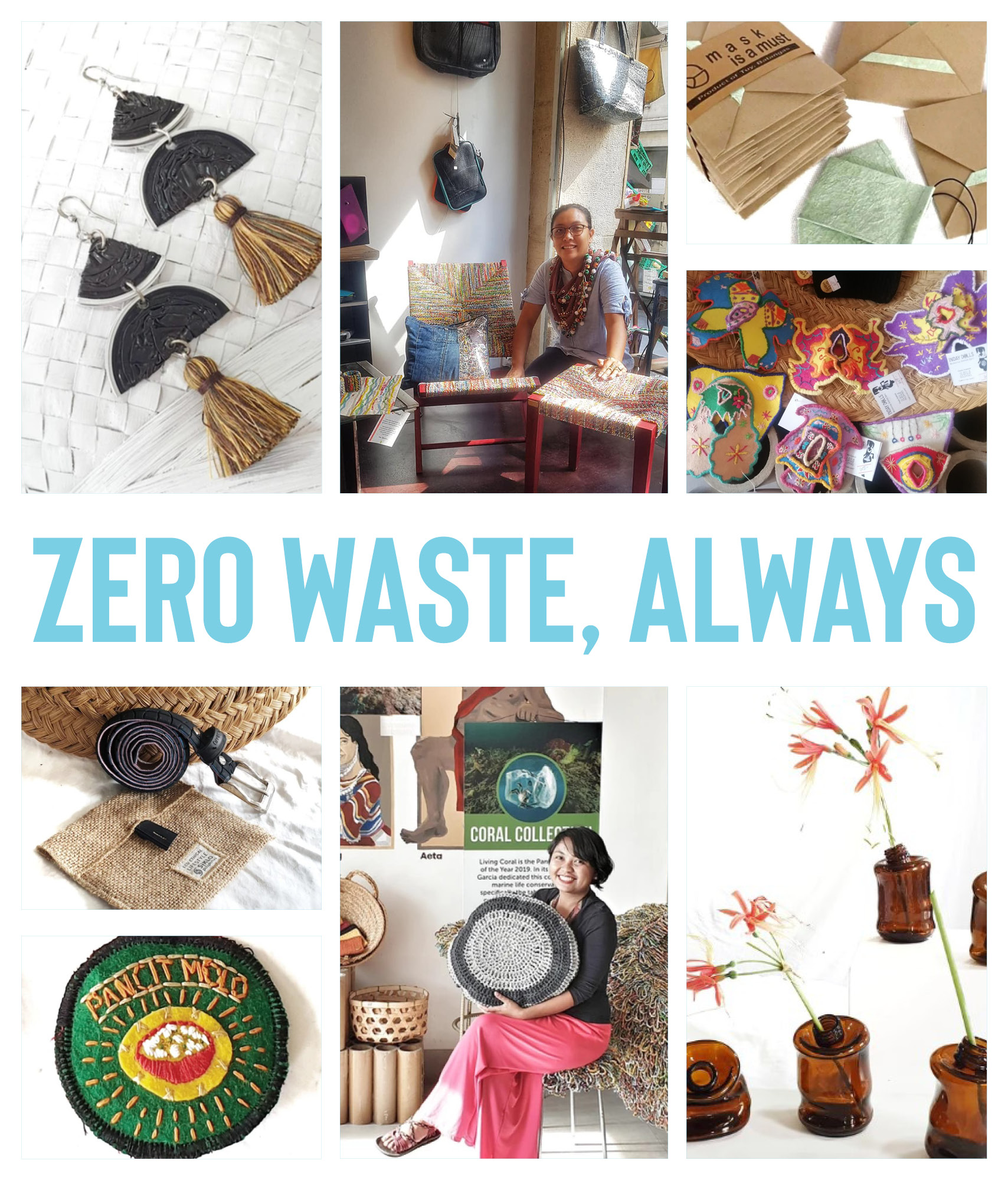 Every item in JunkNot Concept Store is made out of upcycled or recycled materials (Top row, left to right): Coffee Pod Tassel Earrings by NCreative Touch; designer Wilhelmina Garcia and her pieces at Rue Rangoli, Paris; Koobli Mask-Plant Your Mask by Tuy Arts and Designs—masks infused with vegetable seeds that you can bury and plant; "Bilat" (vulva) Scrap Fabric Pins by Inday Dolls. (Bottom row, left to right): Bike Tire Belt by Siklo; Kusina Magnet embroidered by female inmates for Inday Dolls; AkreH Upcycled Crocheted Bags; Slumped Recycled Bottle Vases by Yssa Craft.
According to Garcia, one of their best-selling items is the Koobly Mask-Plant Your Mask, an ingenious mask designed by the Batangas-based paper manufacturer Tuy Arts and Designs. Meant to minimize the growing "Covid waste" of disposable surgical masks ending up in the ocean and the landfills, Koobly Masks (kubli means "to cover") are made out of handmade paper pulp and infused with seeds like tomato and chili. When you're done using the masks, just remove the elastic bands and plant them. "They are usually sold out, and our clients from the US and France love them," Garcia adds.
JunkNot Concept Store used to occupy Garcia's showroom at Selah Pods Hotel in Pasay City, but since the pandemic-induced lockdown, they mainly sell on their website. "There is no other way but to go online during this pandemic," the designer says. "But in spite of this, I was still able to set up another physical store in Laguna, and was able to ship a lot of items from the Concept Store to Rue Rangoli, France."
Garcia aims to foster a circular economy in the Philippines, as well as make consumers aware of their production of waste, and to the further the narrative of responsible design. "Story-telling is key in today's New Normal…people are wiser now, and they want to spend their money with a good and honest story."
[Contact info]
JUNKNOT CONCEPT STORE
Garcia Compound, Barangay Loma,
Biñan, Laguna
Mobile: +6905 424 4255
Email: design@junknot.ph
URL: junknotconceptstore.com
Instagram: @junk_not_concept_store