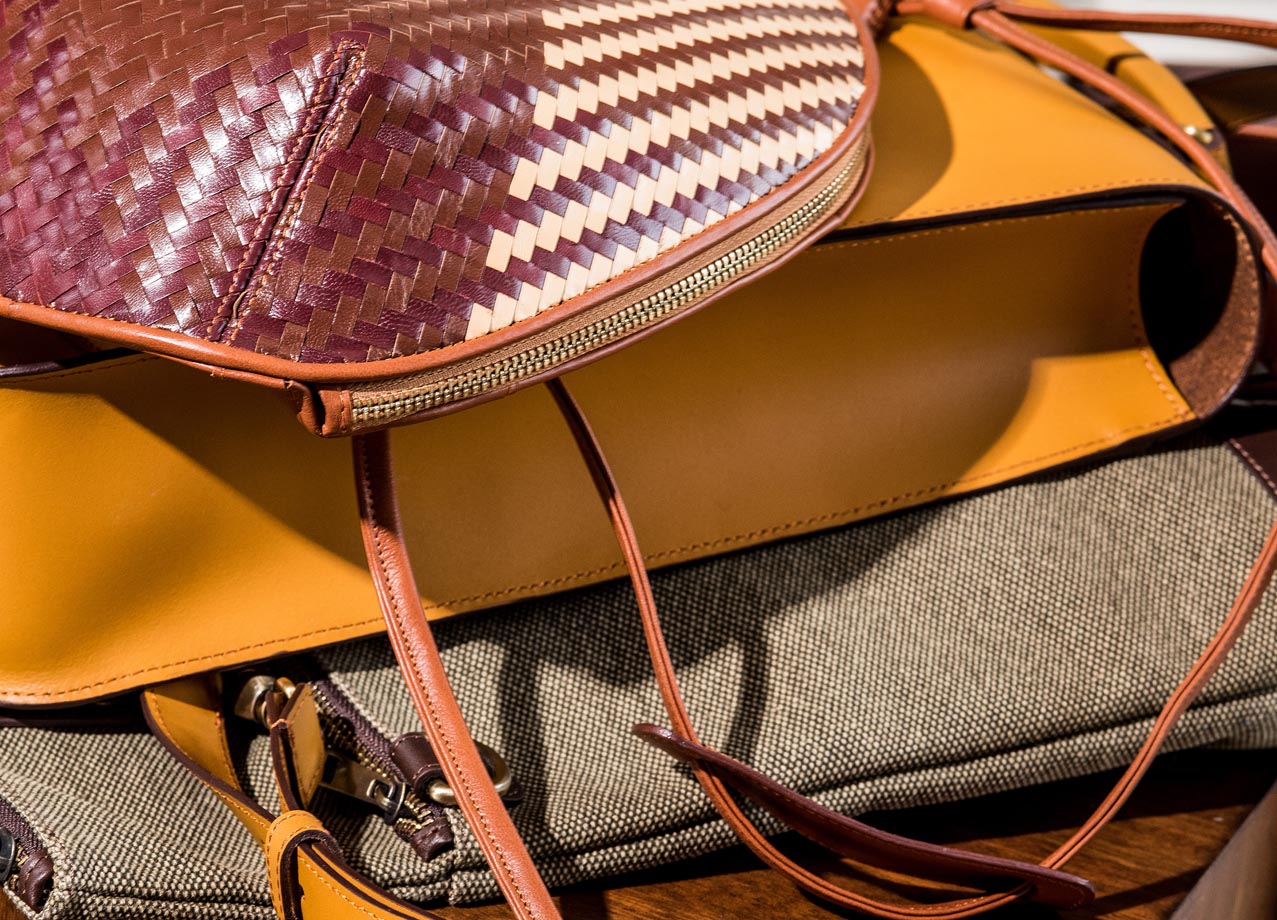 The School of Satchel's Practical Magic
The brand is famed for its classic, high-quality crafted bags, but it also tells a socially conscious and ethical tale of leather


by Vicky Montenegro

Fans of The School of Satchel have owner Diana Ferrer's no-nonsense mindset to thank. For starters, she launched the brand because, as she puts it, "I'm a very practical person." "I only buy what I need and use things for a long period of time," she explains. "I appreciate the aesthetics and functionality of designer bags, but I just find the price too much. I figured that there are other people who also think and feel the same way, and so I thought, 'why not create my own line?'"
She was right. If the local and international sales The School of Satchel has enjoyed thus far are any indication, there are more than enough people who, like her, are looking for quality craftsmanship in reasonably priced bags. The brand started in 2011, in the days of Multiply, as Ferrer laughingly notes. She marketed her bags in the now-defunct social networking service, joined bazaars, and built a website two years later. "We were always active online, even in the early years," Ferrer points out. "Those were challenging times because the market wasn't as mature as they are now in terms of e-commerce." In 2014, she took a hiatus to focus on family and relaunched the brand in the last quarter of 2016, this time, with a bigger portfolio of leather bags and accessories.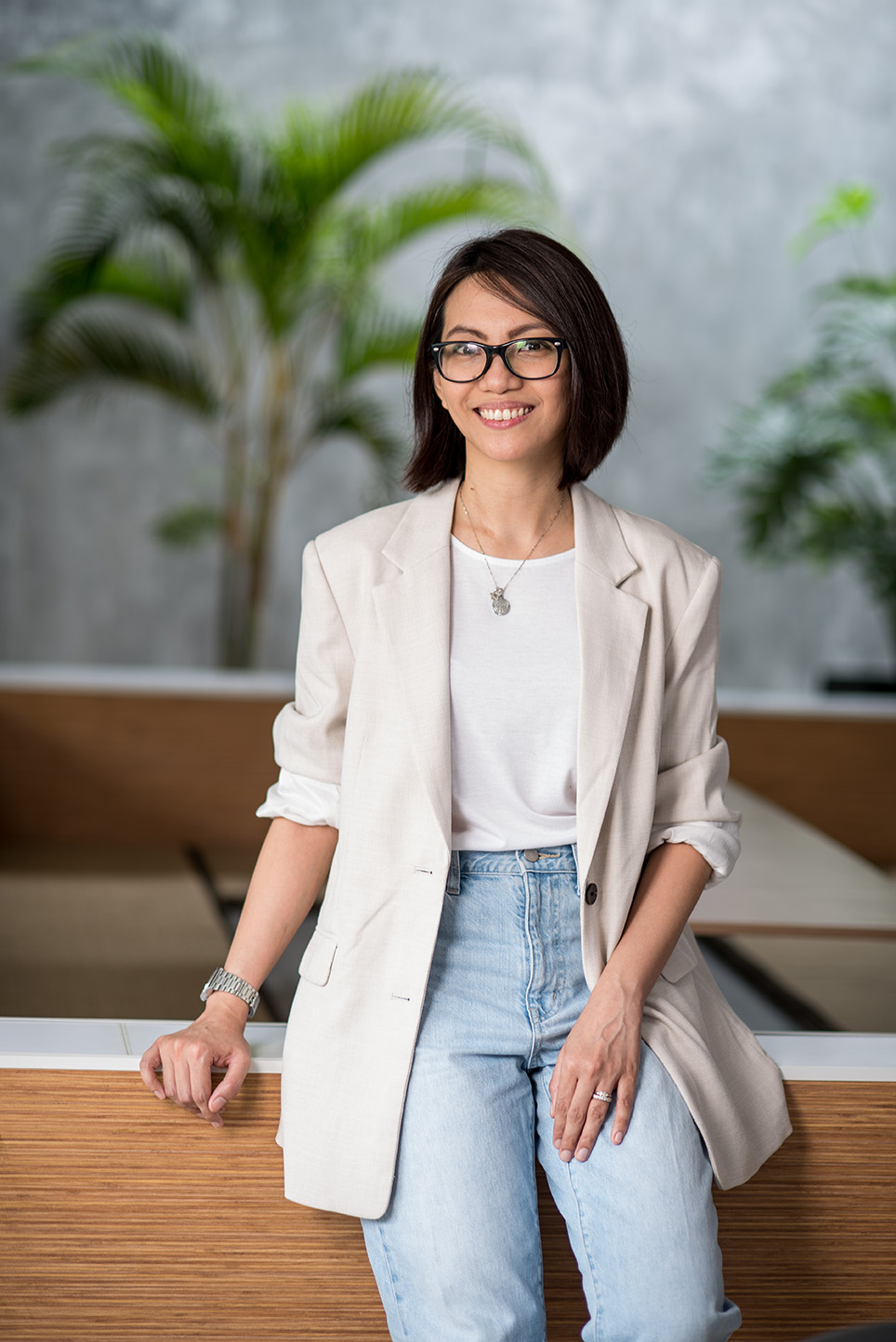 The School of Satchel CEO Diana Santos-Ferrer launched the brand in 2011
"During our relaunch in 2016, the team recognized that there is a niche market that is passionate about supporting local products," Ferrer says. "Then it developed to having more people being mindful about promoting ethical brands. With this market knowledge, we started to be more intentional and conscious in every aspect of the brand. We recognized that this is the future."
The initial challenge was to find a cost-efficient and responsible way of producing vegetable-tanned leather to minimize—if not completely eliminate—chemicals used in producing leather. "We challenged our leather sources and, fortunately, they were able to do it. All our products are made with vegetable-tanned, full-grain cowhide leather. The leather we use are all locally sourced. Every piece is handmade, from pattern-making to cutting, and handled intricately by local leather craftsmen."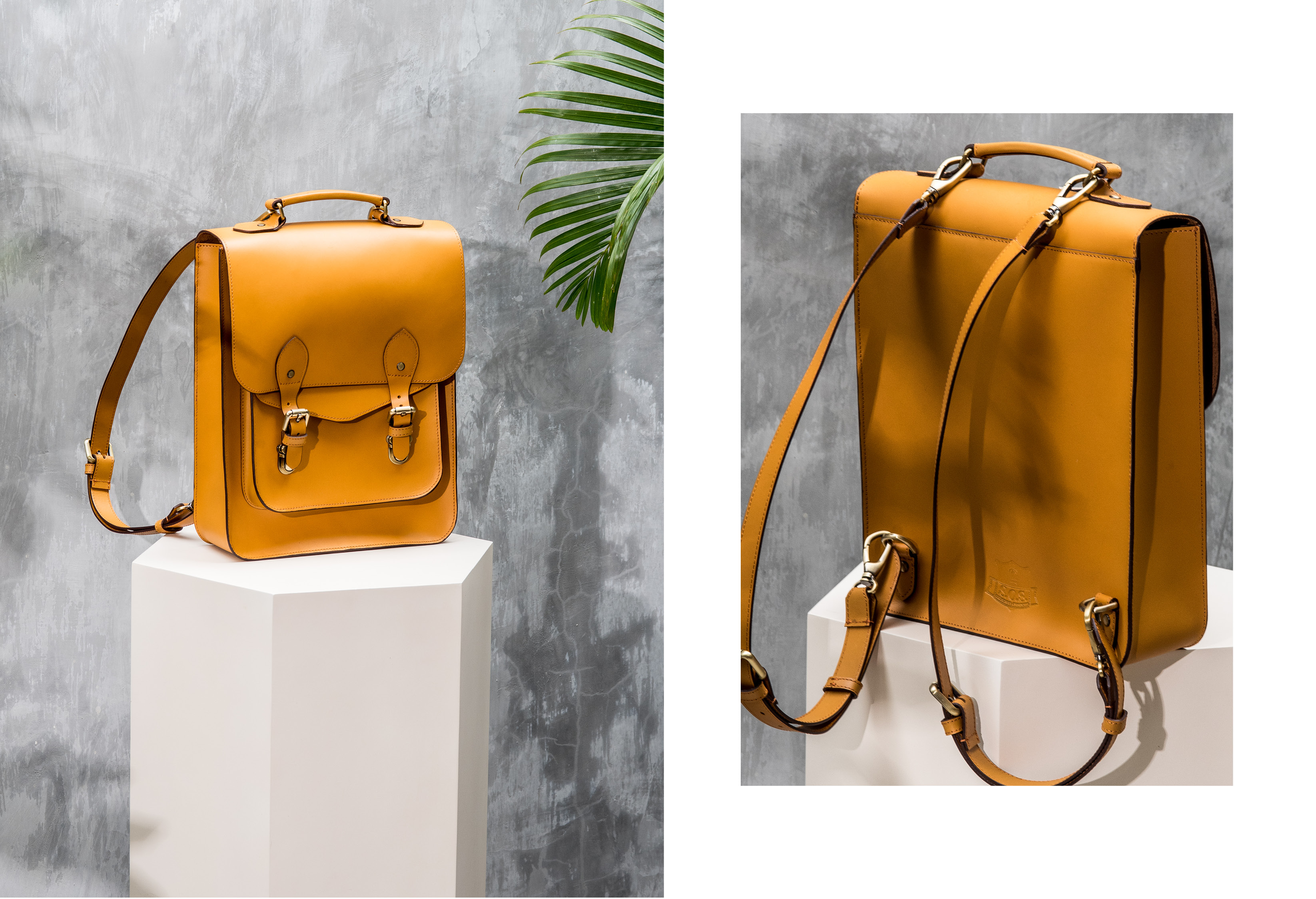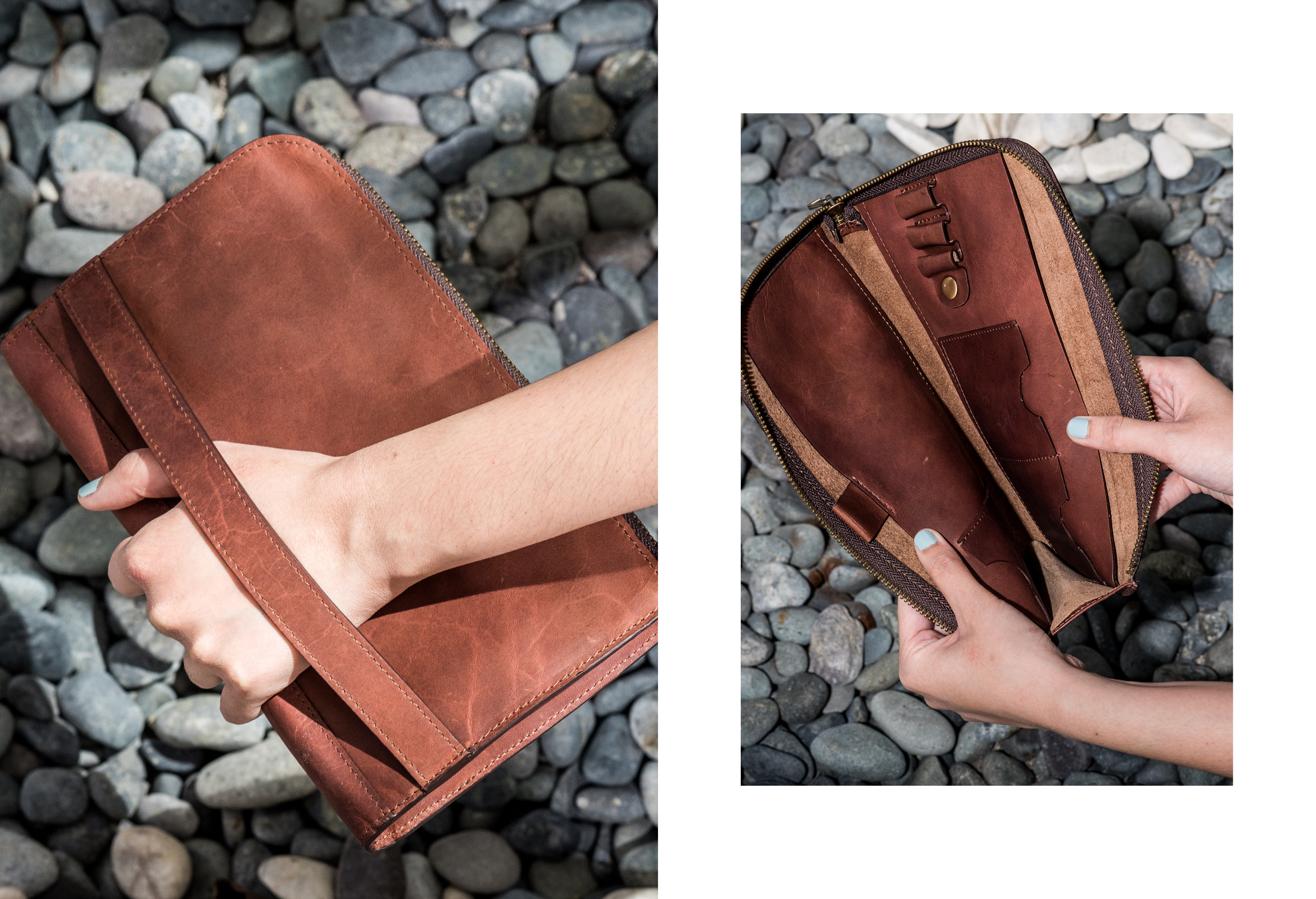 The Morgan 3-Way Satchel (topmost) is akin to the Emma Satchel, but taller; it can also be worn as a backpack. The Dylan Everyday Clutch can house your cards, cash, phone, keys, and other essentials
Besides finding the right backend partners who can support The School of Satchel's ethical mission, the brand has also had to face other challenges. As a startup, they have to closely monitor their cashflow. "Sometimes we have to strike a balance between managing out of stock situations and higher demand versus forecast," Ferrer admits. And there's the already saturated market. "We are in a market that is already dominated by other international brands—and colonial mentality is still present despite the modernization and globalization of the consumer market."
The brand needed to find a way to build traction, and by staying true to the brand's aesthetic and ethos, they've done just that. Since the relaunch, The School of Satchel has earned a steady following of "yuccies." "They are young urban creatives," Ferrer explains, "a new breed of individuals who are ignited by mindful and sustainable lifestyle choices."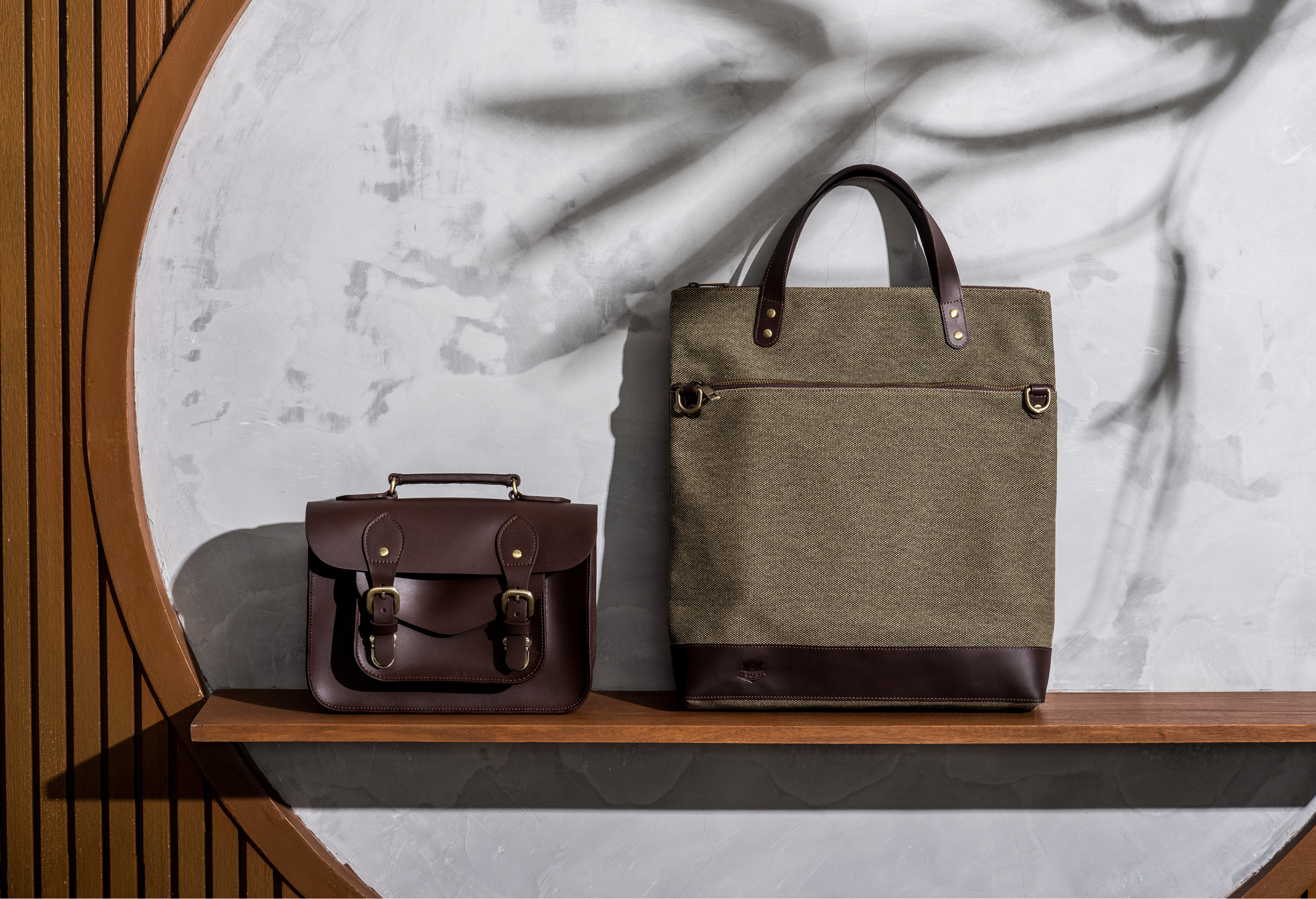 The Emma Satchel (left) is a classic shape with a preppy vibe; while the Harper Tote Bag is a genderless, highly functional everyday bag
Even with the brand's designs, Ferrer, who also acts as lead designer, has never strayed too far from her practical sensibilities. One of the brand's bestsellers, the Emma Satchel, reveals classic and structured lines. And yet it's highly versatile: Emma is a bag that can be used for work and play. The Harper Tote Bag, made of dura canvas cloth, is heavy-duty, waterproof, sleek, and spacious—the perfect everyday bag for both men and women. "When we come up with designs, we always start with functionality, what makes sense," Ferrer says. "We look for inspirations and adjust based on the main objective of achieving functionality. Then we make sure to stay consistent with the brand's minimalist, sleek, and straightforward aesthetic."
Behind the scenes: Making the Franco Laptop Bag, which The School of Satchel produced for The Spark Project Campaign

DREAM WEAVERS
The School of Satchel's commitment to uplift Filipino-made products and promote responsible fashion doesn't end with their materials and processes. The brand has also partnered with the Sibaltan Women Weavers of Palawan. "We have our bag makers who are experts in bringing our design concepts to life," Ferrer explains. "The Sibaltan Women Weavers is a special partnership. We recognized their talent and craftsmanship, and we came up with a weaved leather design for them to produce. They earn for every bag made; this way we ensure that they are properly compensated—instead of the traditional practice of mass production where laborers are usually short-changed."
The result is the Lady Bug Backpack: full-grain cowhide leather strips are handwoven to form an oval, dome-shaped backpack. "Beyond functional leather is artistry and responsibility," Ferrer reasons. "We believe that fashion can act as a vehicle for positive change. There's a lot of negativity happening now; we want to be a positive contributor to society in our own little ways."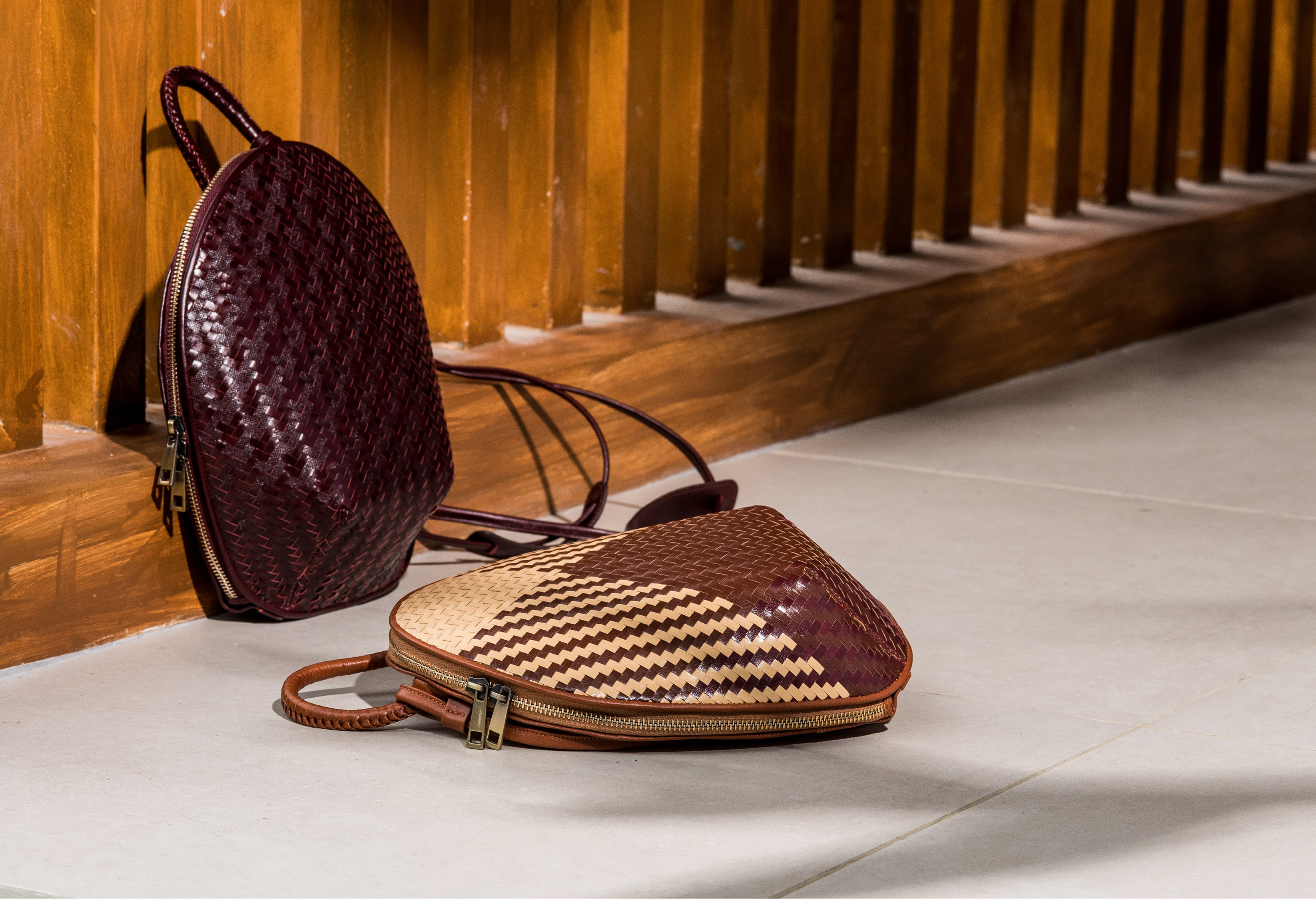 The Lady Bug Backpack made by the Sibaltan Women Weavers
The School of Satchel partnered with the dream weavers of El Nido, Palawan to create handwoven leather bags, elevating this indigenous group's craftsmanship

DIGITAL TRANSFORMATION
While the brand has always had an online presence, the global pandemic has forced them to make the full transition to digital. "We are 100% online especially now that we are not out of the woods yet because of this pandemic," Ferrer shares. "We shut down our physical store at The Park in Shangri-la Mall. We closed down our office and transitioned to 100% work from home. My house became our warehouse. We pulled out from other physical stores and transitioned to 100% online distribution. We launched in LazMall, cut advertising costs, and cut our own salaries."
"Goal in 2020 was to survive and, fortunately, we did," she adds. "Objective for 2021 is to bounce back!" And they are on track. Besides Lazmall and their website (theschoolofsatchel.com), the brand is also available in Singapore and Malaysia through Sift & Pick. There's also an Australia Shop on their site. And while they are mainly a retail company, The School of Satchel also gets orders from B2B customers. "Most of them are local, but before the pandemic, we had a decent international customer base, too."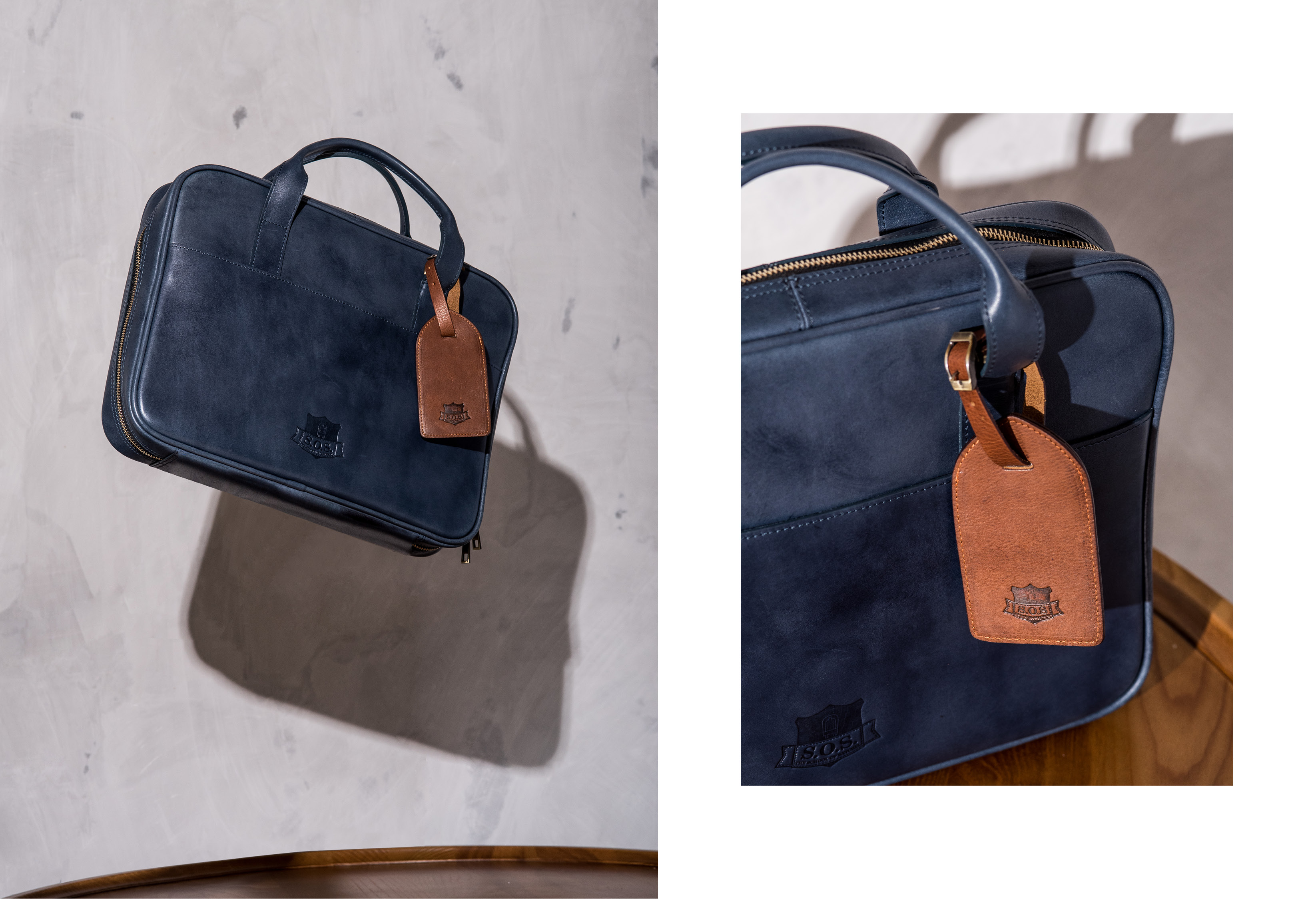 Daily essentials for the creative professional: the Franco Laptop Bag (topmost) and the Franco Wallet, Luggage Tag, Dylan Everyday Clutch, and Luggage Tags
The School of Satchel has plans to launch more designs incorporating their dura canvas cloth, "which is heavy duty, water-resistant, and designed for outdoors." And market expansion will always be a goal. "We actually had several expansion plans in place especially after Manila FAME 2019," Ferrer notes. "Unfortunately, pandemic hit and they were all cancelled. We're hoping and working to revive them this 2021."
"Manila FAME has been an eye-opener for the team in terms of our brand's market potential," Ferrer adds. "It has brought us leads and potential partnerships." It's also given them the impetus to carry on with their brand vision. "We want to empower everyday milestones through responsible and functional ways of creating contemporary leather artistry. And we want to see a community of young urban creatives gaining better appreciation of Filipino-made, ethically sourced leather craft." As always, forthright and sensible.

Art Direction: Kit Singson
Photography: Ron Mendoza
Styling: Tala Singson
Shot on location at Ghost Coffee
Videos courtesy of The School of Satchel