Sustainable Slant
Lolita Cabanlet's experimentations with handmade paper started twenty-four years ago. "I used a blender in my kitchen," was how she described her initial efforts at realizing a noble dream.
"Vision ko nuon, people should fill their homes with sustainable materials and home décor," she said.
In the coming years, Lolita realized her vision by starting her own company, Cagayan de Oro Handmade Paper Crafts while perfecting and professionalizing her methods with courses at the Dept. Of Science and Technology. A self-taught designer, Lolita expanded her creative skills by enrolling in CITEM's Design for Export Program where she learned from industry stalwarts like Tes Pasola and Chilean-born Nelson Sepulveda.
Her sessions with CITEM's designers gave her insights about creating products that would appeal to export buyers. " Ang gagaling nila. Yung designs nila talagang patok na patok sa market. Nagpapasalamat kami sa program na to ," Lolita enthused.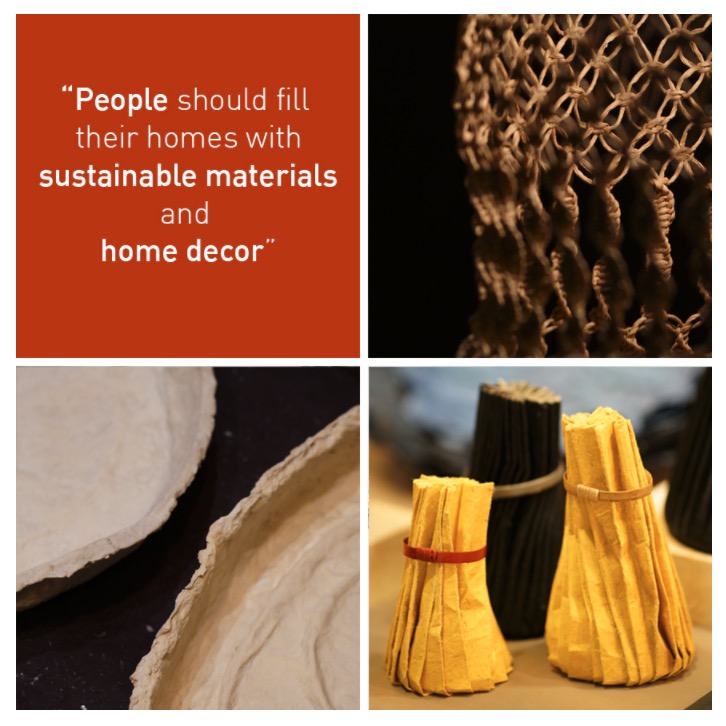 Clockwise from top right : Detail of paper twine Macrame Lamp designed by Lolita's daughter, Nicole Cabanlet;
Paper packaging by Tes Pasola; Paper tray by Nelson Sepulveda.
She started joining trade exhibitions to showcase her paper products - a mix of 80% abaca and 20% colon grass - way back in 2000. "I didn't have buyers," she admitted with a laugh. Despite the challenges, Lolita steamed ahead, believing that sustainable materials will one day have their big moment.
"Nature," was Lolita's quick answer when asked about her design inspirations. Her new collection of lamps which debuted at Manila FAME October 2018 was inspired by the seascape. She is especially proud of her most saleable items - a family of lanterns that she designed herself, alongside pieces created by her daughter, Nicole. On view too were other products, such as stationeries, photo albums, as well as packagings, that sustained her business during the tough years.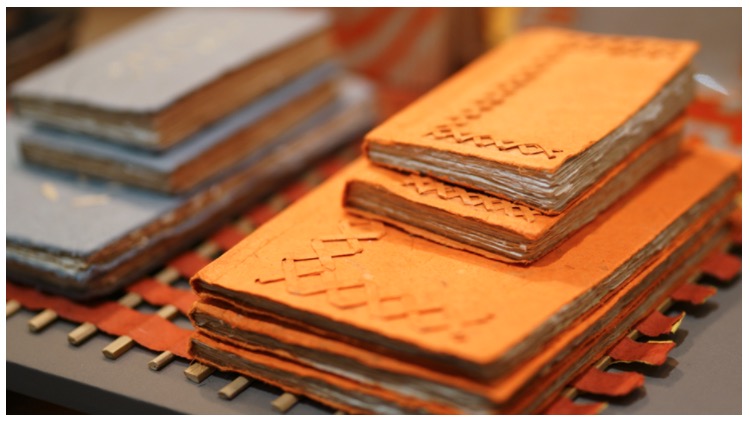 The notebooks are by Lolita's journalist daughter, Eunice Cabanlet.
Lolita recalled the time things started to look up just some five years ago when she joined her first international trade fair. "We really found the buyers who've been looking for our products," Lolita said. Her lucky streak continued at Manila FAME's 68th edition. "We had very good buyers from Australia, Chile, Portugal and Thailand. Nag- book agad!"
Top photo: A striking assemblage of lanterns - the Anemone series by Lolita, and the Shell Macrame pieces by her daughter, Nicole - anchored Cagayan de Oro Handmade Paper Craft's setting at Manila FAME's 68th edition.
CONTACT INFORMATION

Lolita B. Cabanlet
Proprietor

63 088 8507431 | 630888568199
info@cdohandmadepaper.com
www.cdohandmadepaper.com
Zone 1 Barra, Opol,,Cagayan de Oro City,Misamis Oriental, PHILIPPINES