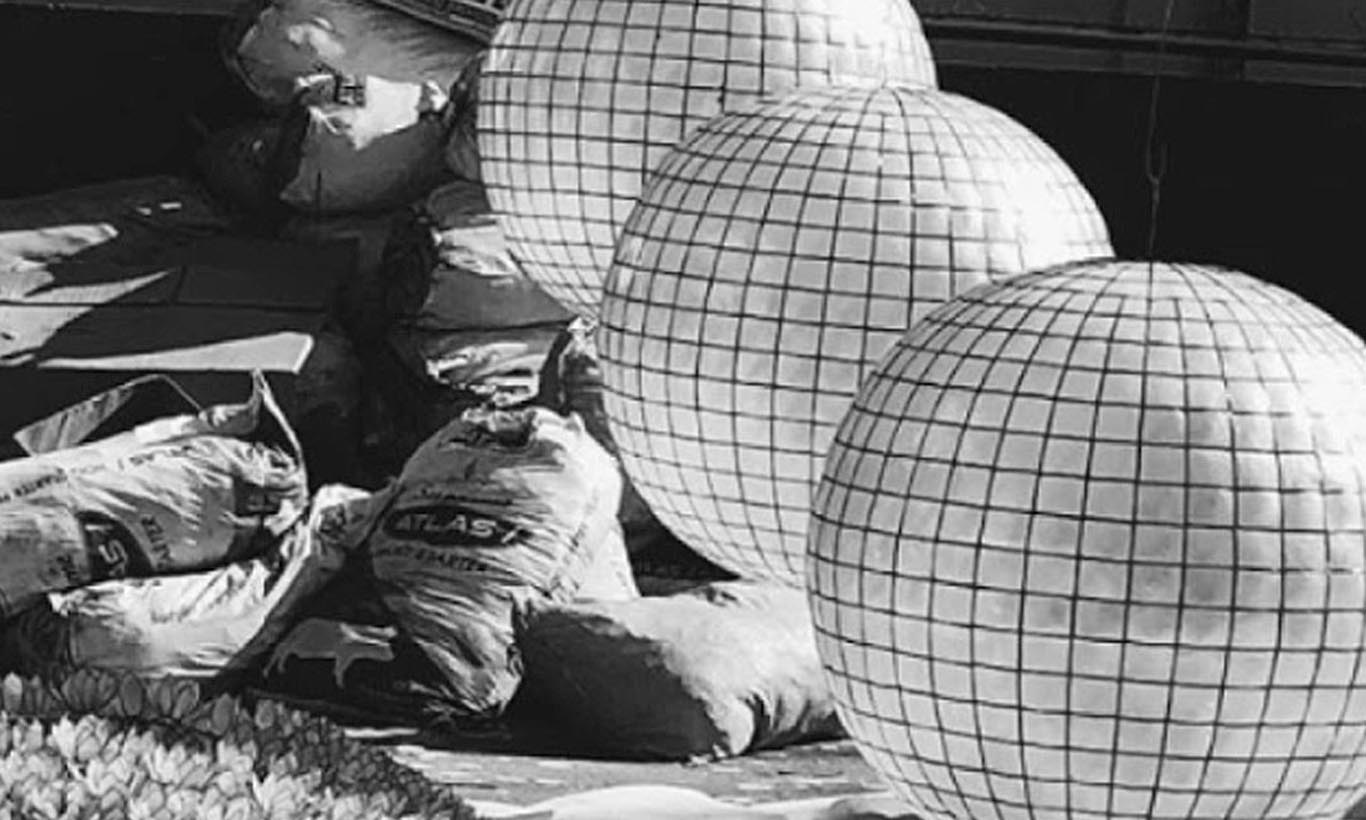 Coming Out Of Their Shell
You can say there is something for almost everyone in a Shell Arts Co. Inc. (SACI) booth, even if their products are mainly made out of capiz, the mollusk with delicate shells that have a translucent glow.
At their exhibits, there is the showering cascade of capiz discs in classic midcentury chandeliers. And the billowing folds of a flamboyant Flamenco vase. Or the Post-Modern polka dot patterns of their 1980s bowls. And the recent collection of minimalist, clean-lined pieces that they exhibited in Tokyo.
This doesn't come as a surprise, as Shell Arts is a heritage manufacturer of sorts, with more than 90 years in the business. But much has changed since the company started out as a humble producer of mother-of-shell buttons.
It is now owned by Virginia Chan, and the family's third generation has hand in SACI. Virginia's granddaughter, industrial designer Meyte Chan, runs the design side of Shell Arts. You could say having young blood in the company would completely turn it around, but instead of doing this, Meyte totally believes in revisiting the past for present inspiration.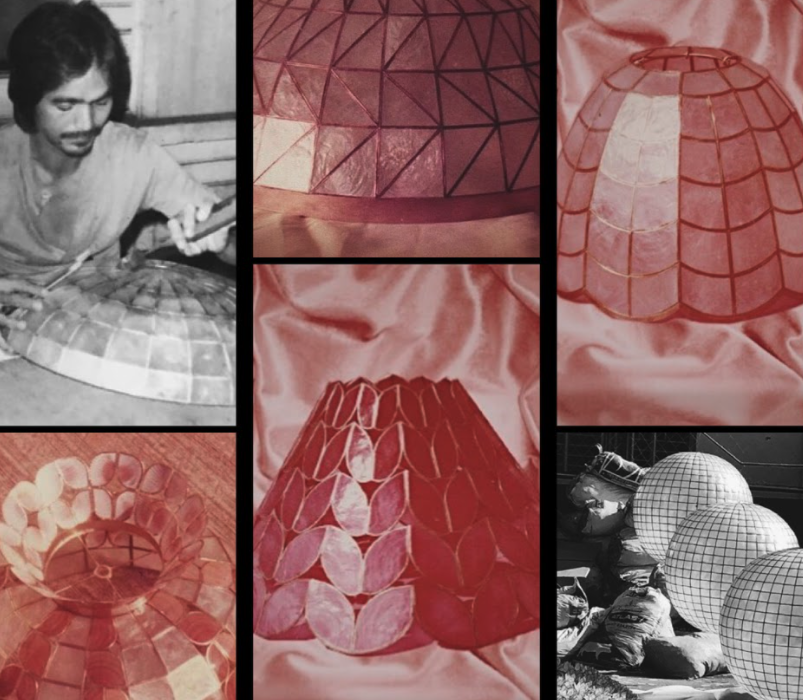 In Meyte Chan's story "Men at Work '76," the industrial designer dug into Shell Arts' archives to rediscover its classic pieces. Each of these capiz lamps, which were made in the 1970s, were named after its maker. (Clockwise from top): Mr. Zossimo, Mr. Manianito, their best-selling globe pendant lamps, Mr. Rosario, Mr. Jorge.
Mining the Archives

"Most of our best sellers are items that were made in the past. [We] just tweaked some processes to make them look and feel more durable, or purely worked on the color scheme," Meyte says, which explains why Shell Arts' collections look fresh, but with a slight nod to the past. "We've been riding the midcentury-modern wave pretty well in recent years, since it's also the design trend I'm very much interested in. It's fun to pull out from the archives from that time."
Meyte says that the 1960s to '70s are the decades that she finds most interesting—and endearing—in her family's and company's history. "I feel a big sense of awe, since it was the starting point of my grandmother [in running the company], and she would've been my age. My father would've just born. To me, that is the most intriguing part."
One of her archival projects was "Men at Work '76." Capiz lamps were at its most popular back then, with its distinct metal bindings. These classic, retro pendant lamps were presented as a conceptual series, with each lamp named after its artisan-maker, as a tribute to their skill.
"'Men at Work' was my effort in storytelling…eventually I started going to our factory more often and my Lola keeps old picture books that date back to the early '70s. I then scoured the whole factory and storage looking for items that a similar look and feel. I released that series back in 2018-2019, not really thinking it would be feasible or not. But now, in 2020, it's one of our strongest suits since it has reached mainstream popularity."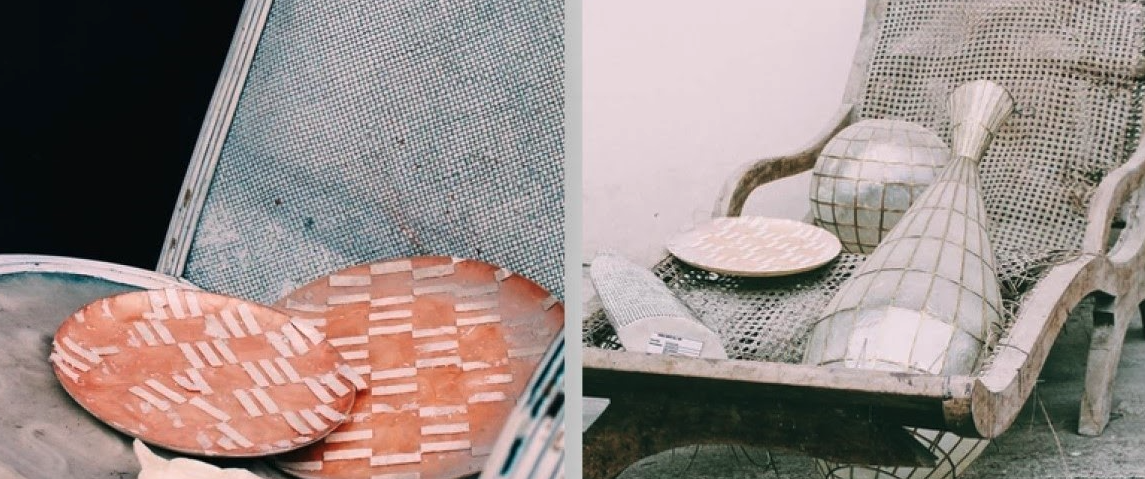 The "Dispirited Series" is also a conceptual story. "The feeling I was trying to evoke was nostalgia," Meyte explains. "I never lived in that period, but I wanted to give a point of view of the products that were stored for decades, forgotten by their original owners, but are now rekindling an interest to a younger audience, hence the narrative."
Diving into the Future

Shell Arts' most recent collections veer from the romantic (inlaid patterns of cherry blossoms and gingko leaves) to the minimalist. And then there is the Woven Collection, where intricately textured rope is wound around each shell vessel.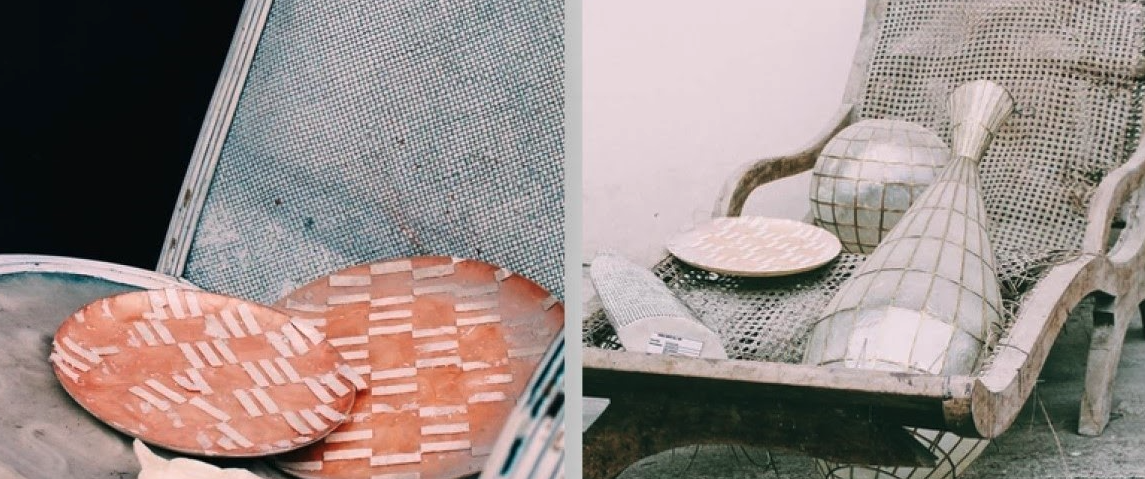 Woven jute, coated with food-grade resin, entwine the edges of various vases, vessels, and jars from Shell Arts' 2020 Woven Collection.
"That was a collection my mother, Marilou Chan, designed," says Meyte about the Woven series. "The SACI collection 2020 was my effort to curate designs, as it was a project I did for a Tokyo fair. And since I was doing the fair all by myself, I wanted to be confident with the preparation. I wanted to solely focus on our branding, so I created the website, catalogue, and flyers myself. My cousin also came to the Philippines at the right time, and managed to take some beautiful shots for the project."


The SACI in Tokyo collection perfectly captures the wabi-sabi vibe of Japan, while highlighting the beauty of Philippine capiz. All pieces are pared down to its most basic form, the natural luster of the shell left without color, but accented with silver.
There's more to see in the future of Shell Arts, and for Meyte, the gears keep on turning. "Since there's always room for improvement, we look forward to changing things up. Our base material will always be capiz, since it's the material we take pride in, but we always find better materials to complement it," she says. "It's what gets our creative juices flowing."

Photos courtesy of Shell Arts
SHELL ARTS CO., INC.
Email: studioconchas.meyte@gmail.com
Mobile: +63917 511 1642/+63917 525 8197
Instagram: @shellartsco
URL: www.saciseries.com/