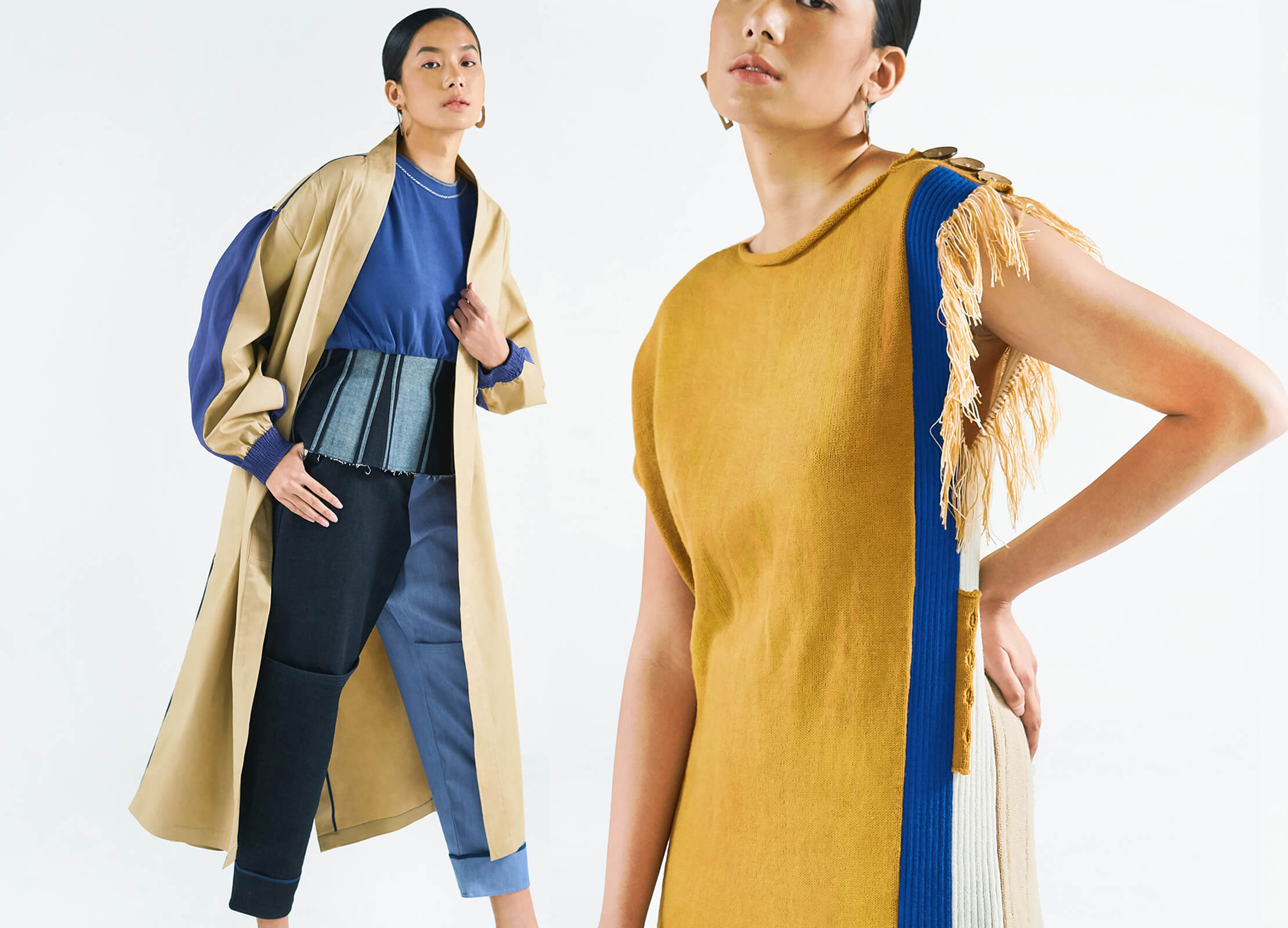 The Minimalist: Seph Bagasao
The boy who graduated at the top of his fashion design class stays true to his roots: structured shapes and clean lines that are anything but basic
by Nana Caragay
"You know, there's no minimalist designer that will win any competition," someone said to Seph Bagasao as he was putting together his graduation collection at the Fashion Institute of the Philippines. But Bagasao could not deny his understated taste. Though he admired the work of Versace, Gucci, and McQueen, soaking up runway shows by religiously watching Fashion TV as a child (a 2008 collection of John Galliano for Dior convinced him to attend fashion school one day), he has always been drawn to the work of minimalist masters like Jil Sander, Helmut Lang, Yohji Yamamoto, Haider Ackermann, and Sacai. "I loved McQueen, but my feeling has always leaned more toward very structured, clean lines," he says.
Undeterred, he stuck to his guns, sending out four looks composed of streamlined sheaths, an asymmetrical pantsuit, and a blazer over a svelte long gown accentuated with cargo-bondage details. It stood out precisely because of its restraint, and by the end of the night, it was judged best in show. It was the first of many lessons to come for Bagasao that, as far as his design instincts go, it pays to pursue his vision and trust his gut.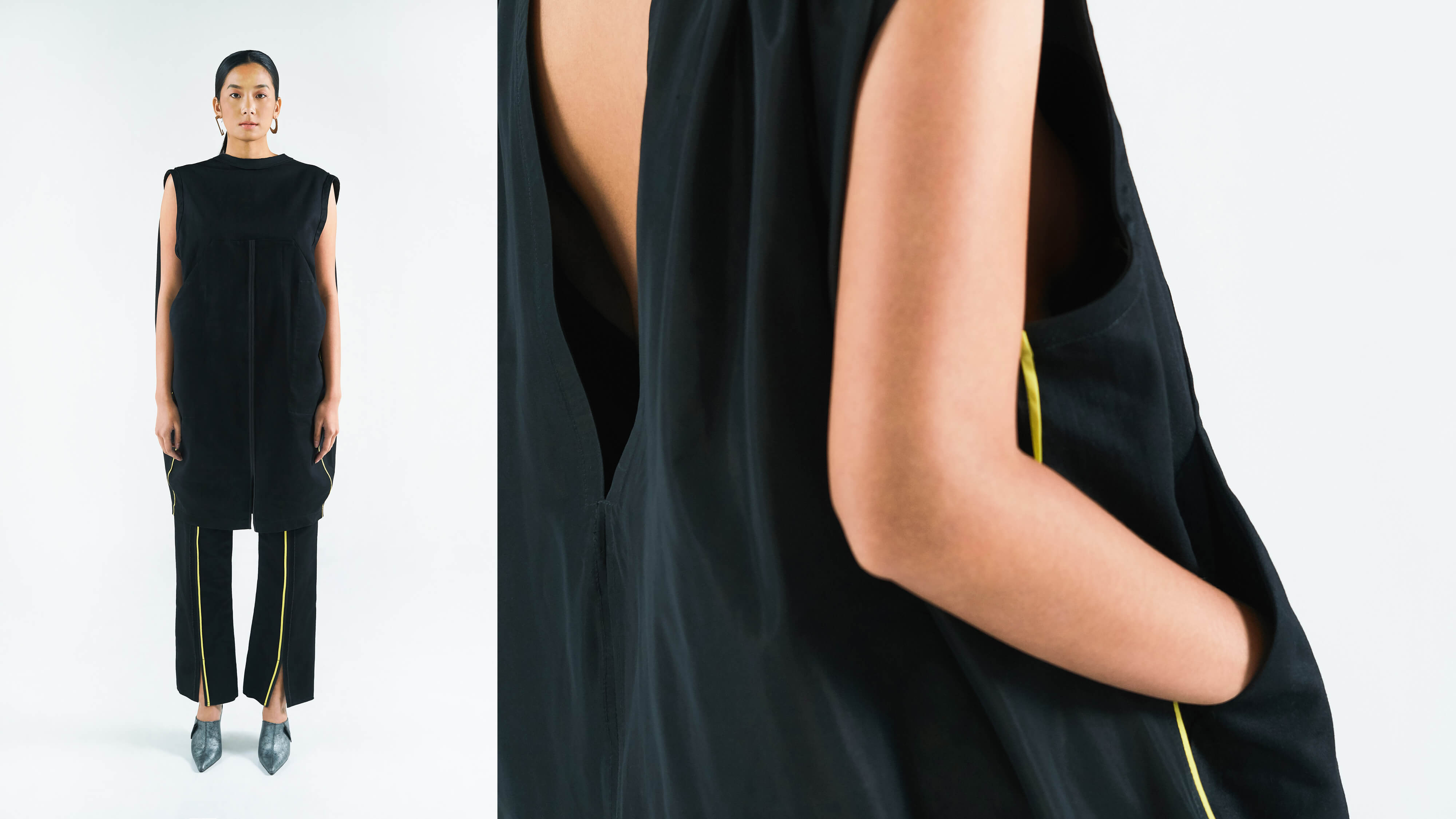 The tunic, made of italian taffeta, cotton bias strip, and Japanese denim, is from the BAGASÁO CN4.5 |The Re Edition collection which was launched last year. "It is a mix of new developments and re-developed pieces that have been crowd favorites from our past collections," Seph Bagasao explains. "With the collection, we aimed to highlight the importance of pattern work—where pieces are able to transform into different styles."

THE INTUITIVE DESIGNER
"Every time I create a collection, it's usually based on how I feel. Like the last detail or thing that I'll add or remove, it depends on if I feel good about it or if it feels right. If it doesn't, it's not going to be in the piece," he says, sitting in his studio as he preps for his latest challenge: a collection that will be showcased for PHx Tokyo, a program under CITEM and DTI.
He's just wrapped an online consultation with mentors overseeing the creation of pieces he plans to accompany, pandemic-willing, to Japan in July; among the consultants are Tetta Ortiz-Matera and Australian stylist and fashion consultant Jason Lee Coates. "They're guiding us from collection inception to actual samples until we reach the showroom, so it's kind of like we're doing it the way real fashion houses do showrooms every season—the full experience," he says.
For his PHx Tokyo collection, Bagasao is drawing from the past via '70s style icons Bianca Jagger and Yoko Ono and Slim Aarons' sun-washed photography, and looking to the future, particularly a time when we are free to see the world again. "I think this collection is a narrative of my response to what we have been living with for the past 12 months. I have been trying to fly and circle around the sky through my imagination," he says. There are crisp white fabrics and draped silhouettes that would look perfectly at home on a seaside escape, the kind he has been traveling to in his mind. "I imagine running, jumping around puddles, swimming in the sky, letting the air linger on your skin a little longer."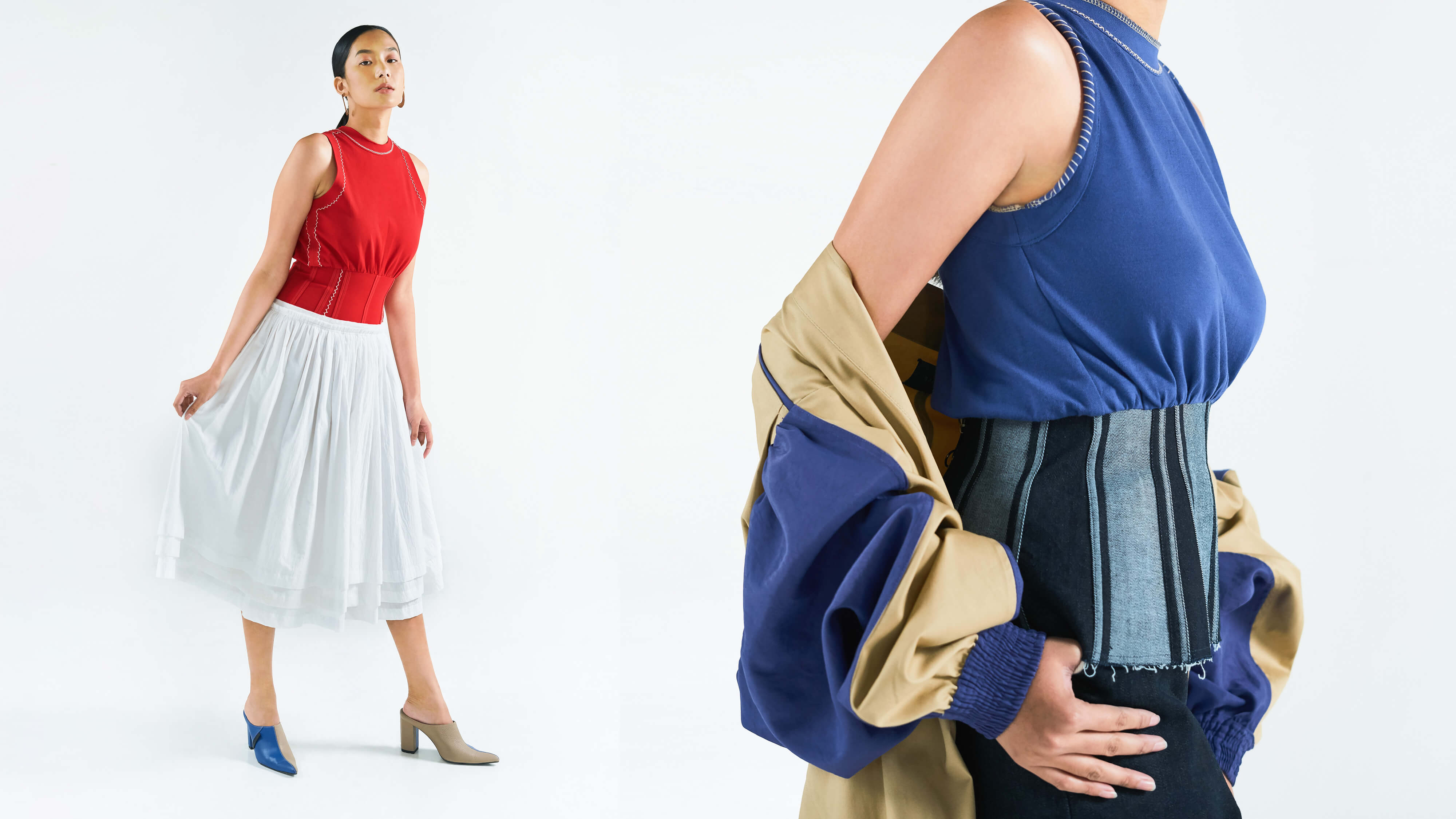 Halter corset dress made of cotton twill and 100% cotton textured voile, which took "180 minutes of hand work," according to Bagasao. The hand-embellished blue corset sleeveless top is made of 100 % Japanese denim and pique fabric. "We wanted to elevate the pique fabric and turn it into a form-fitting structured piece," he says. The long coat is made of khaki (cotton blend) and iris (pu tech fabric) and is from the brand's CN4.5 collection as well

Making his work available on an international scale has long been a goal. He refers to the career of another under-the-radar cult designer, Dries Van Noten, when asked if there is a path his eponymous brand would like to emulate. "I really love the fact that he remained independent for a long time and his design is evolving, but you can always tell that it's Dries. Even if it's totally different, from collection no. 1 to collection no. 20, it still has that same feel. That's what I've always tried to push for my brand—to have that feel more than the visuals."
Perhaps it's why, when the world began shutting down in March last year and he found himself stuck for months at his best friend's home in Napa, the idea came for his next foray: a line of scented candles produced in collaboration with ceramic artist Aly Kangleon. "I've always wanted my brand to become a lifestyle brand—I want to do fragrance and furniture," he says. "That was the longest I'd been away from home, and candles were one of the things that made it feel like home. By the time I got back, everybody was making masks. I was thinking about what I could do that made sense for me, and one of the things was to create a sensory experience for my customers where they light a candle and it creates a sense of memory, making your every day a little bit more special."
The result are two scents, Bodega and Highway 1, that bring him back to the stillness of those early days in quarantine. The speckled and imperfectly formed handmade cups Kangleon created as a vessel for the soy wax reflect Bagasao's commitment to thoughtfully made objects and sustainability, among the tenets of his work. "I grew up in a family that worked in public service, so I have firsthand experience when it comes to seeing people's labor and how they are paid. One of the things that I did when I started my brand was to make sure my people are paid well. For the Philippine market, I've always pushed for pre-order because we don't want to create stock that will be a waste of energy and materials. If you can make clothes of the best quality, people will really wait for it. It's about conditioning people that creating something of value takes time."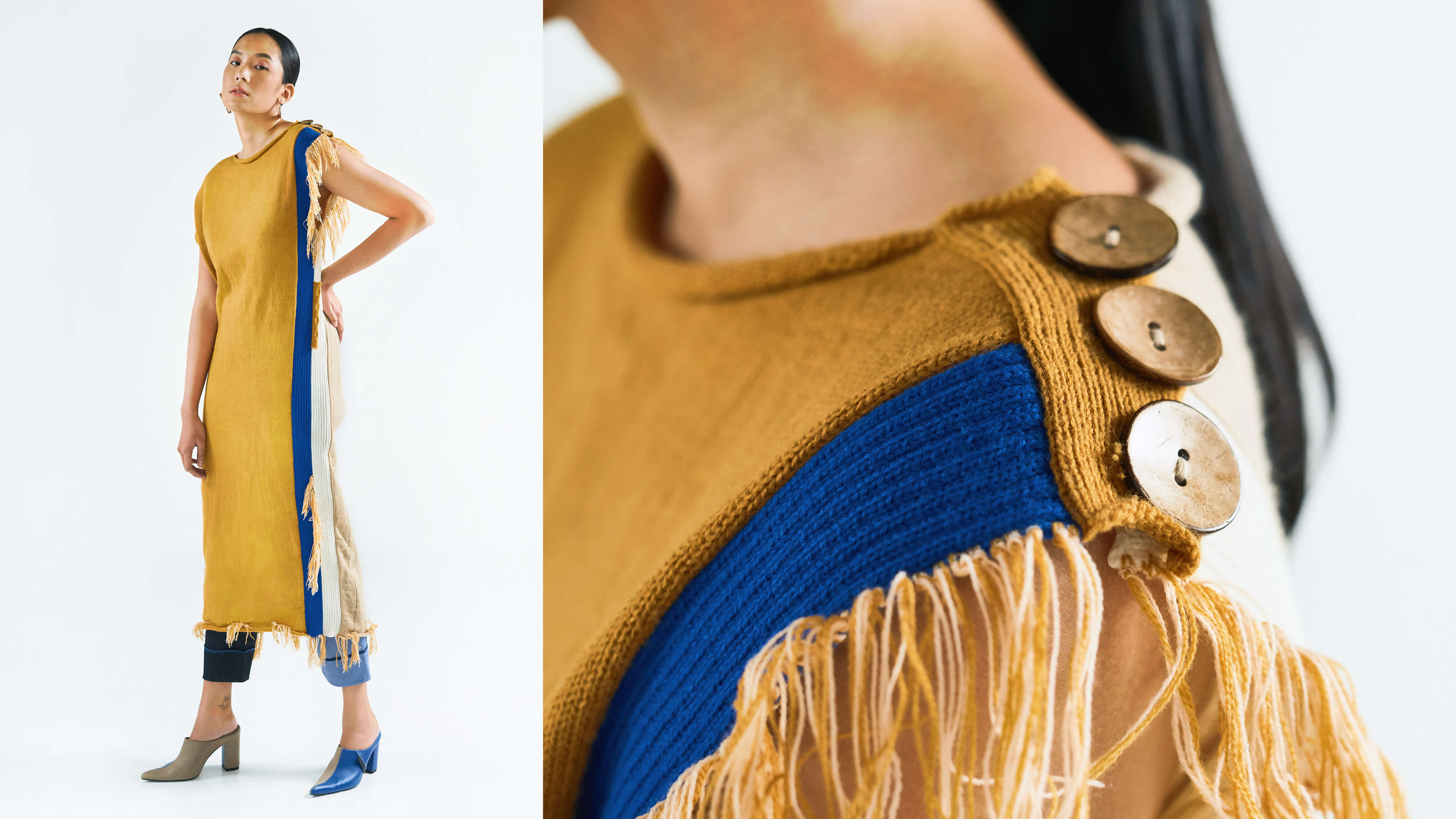 "This multi-colored knit dress was done by a hand-manipulated knit machine and was purely made in the Philippines," Bagasao points out. "With this kind of process, the pieces of the dress are individually knitted and linked together."

AN INTERNATIONAL PERSPECTIVE
All of this is not to say that Bagasao the designer is a mere one-trick pony. Among the formative experiences of his decade-long career is the three years he spent working in the embellishment and embroidery department of New York-based designer Josie Natori. An avowed minimalist, focusing solely on embellishments? "I started as an intern and I was willing to do whatever task they would give me," he recalls. "The first design I did for her, I sketched a long-haired lady without clothes and had it embroidered—and she liked it! My samples were being approved and I thought, maybe I can do this also. I just went with it and I enjoyed doing it. It was kind of like breaking out of my mold, in a way."
The exposure to the inner workings of an international label gave him a sense of discipline and showed him the ropes of developing collections and marketing on an international scale. "I've always had that vision of being a global brand. One thing I liked about Mrs. Natori is that she wants you to tell her the truth instead of just agreeing with everything. She's a great businesswoman and I learned a lot about how I should approach my brand, business-wise. A lot of my business decisions really came from my experience working there—it was eye-opening."
It turned out to be a significant detour, as Bagasao had spent the first few years since graduating trying to build his own business, creating bespoke pieces for private clients but feeling disappointed that work was few and far-between. "After graduating at the top of my class and being recognized as an emerging fashion talent by Preview magazine, I was hoping I would get clients already, but it wasn't happening," he says. "I even went home to the province for a while because I didn't have a lot of work and I wasn't sure of what to do."
With the Natori gig under his belt, he felt it was time to give his own brand another go, launching BAGASÁO in 2016. "If I became too comfortable, I might forget my dream, so I decided to take a leap of faith." The early months were hard, with sales slowing down to barely one piece a month. Upon the encouragement of accessories designer Ken Samudio, he submitted his portfolio to the Japan Fashion Week Organization and was selected to show a 13-look collection, participate in workshops, and meet with suppliers. The experience solidified his resolve that while his aesthetic may not be mainstream, his market would eventually seek him out and follow.
"My clothes are hard to understand, even if they're minimal," he admits. "Not everybody can appreciate it. But I thought that I should stick with what I'm doing, and one day, the right client will appreciate it. And the time came when my clothes started meeting the right clients." These include people whose names and pictures he only used to spot in magazines, like Joanna Preysler, Karen Davila, Trickie Lopa, and Kim Jones. "I feel like the wait was worth it. I didn't give in and just stuck with what I wanted from the beginning."
His most discerning customers, however, are very close to home: his dad, his sister (he created her prom dress back when he hadn't received formal training, yet it earned her the award for best dressed), and his mom—"the most difficult client," he says with a laugh. "I don't make the experimental stuff for them, though… I have to meet them halfway, or nothing gets done!"

About PHx Tokyo
PHx Tokyo is CITEM's showroom incubation program. Eight homegrown fashion labels undergo group and one-on-one mentorship sessions with Japan-based showroom H3O Fashion Bureau and fashion consultant Tetta Ortiz-Matera to help them successfully launch their brands in the Japanese market. The culminating activity is a three-day showroom presentation (July 7-9, 2021) in central Tokyo's fashion district. Each brand will showcase its collection for both buyers and the general public.

Art Direction Kit Singson
Photos and Video Ian Francisco
Hair and Makeup Hanna Pechon
Model Samantha Gomez
Sittings Editor Patti Sunio
Coordination Sheryl Abrera