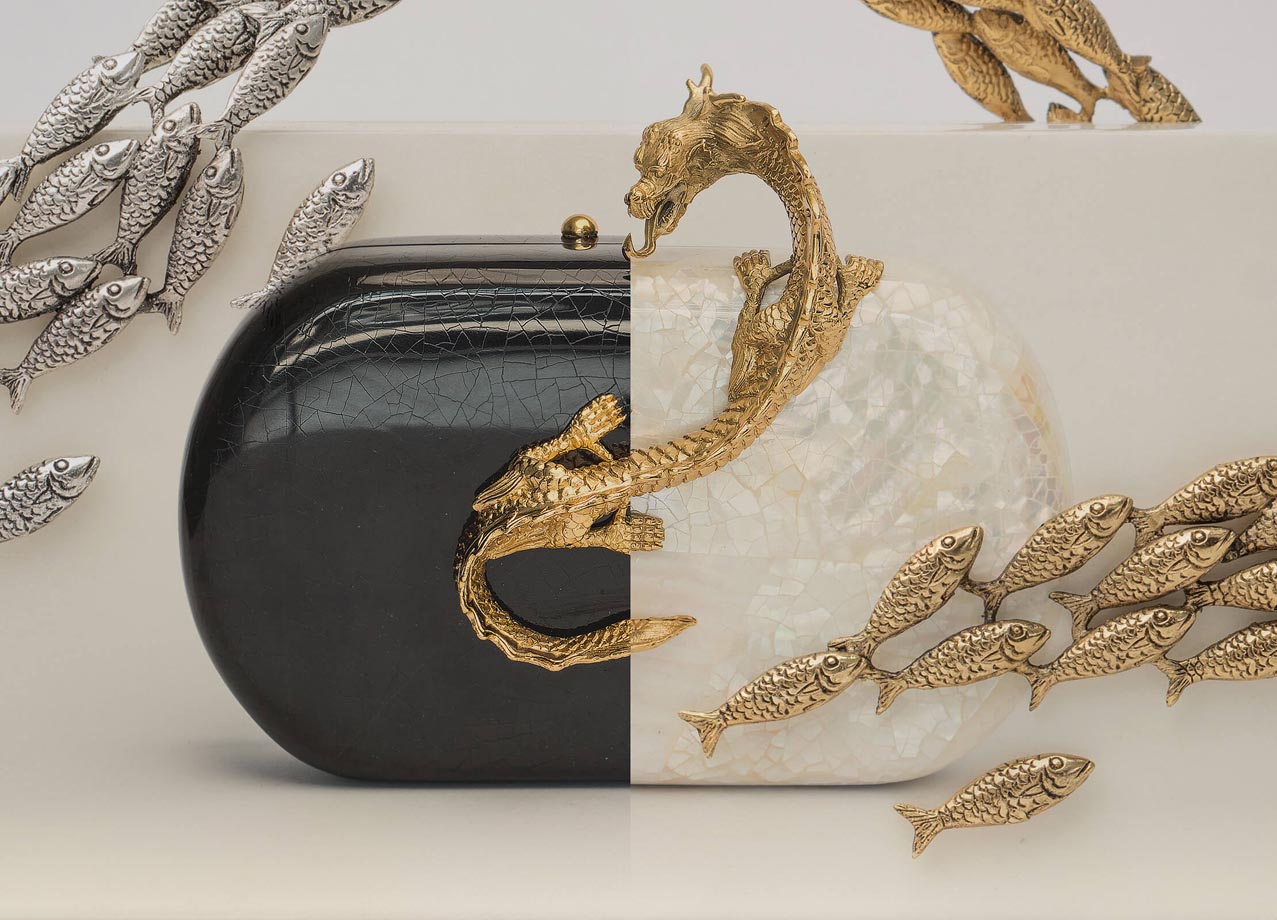 Neil Felipp Creates Stories You Can Hold in your Hand
Through his meticulously hand-crafted pieces, Neil Felipp San Pedro tells stories of sirens and Greek creatures, of fairy tales and childhood memories, and of a deeply personal creative journey

By Pia Chabeli Javier

Most known for his iconic Suzy Wong and Siren minaudières, Cebuano accessories designer Neil Felipp San Pedro gained popularity around the world when one of his creations was showcased in the blockbuster adaptation of Kevin Kwan's Crazy Rich Asians.
The feature in the movie, however, is just one of the highlights in San Pedro's storied career. With ethereal elegance being the cornerstone of his design aesthetic, San Pedro is now the creative director of one of Cebu's most recognizable accessories brands.
It's a journey that started when he created his first piece for his mother in 2013. "Easier said than done," recalls San Pedro, who considers his mother and grandmother as the greatest influences of his brand. It was then that he created the Siren, his iconic piece featuring a shell clutch punctuated by a brass mermaid plated in gold. "When people saw the bag I made for my mom, they liked it! And that's when they started taking notice of my work. This is, so far, what we've been known for."
Memories of childhood—his and others'—also inspire San Pedro's collections. The Siren minaudière, for example, was inspired by fond memories of beach trips with his mom from his younger years, and is a most cherished piece. San Pedro is likewise inspired by the little girl who loves playing dress-up and continues to do so even when she grew up—and imagines designing for her.
The inspiration for San Pedro's designs ranges from his personal memories to his favorite scenes in literature, and this callback to whimsical, slightly nostalgic elements is just one of the reasons people are drawn to his pieces.


Oceania, Medusa & Midas, and Suzy Wong, three of the designer's iconic minaudières, are loved by fashion fans from around the world
Of course, everyone has their favorite Neil Felipp piece. The designer shares that the Oceania, inspired by the sardine run in Moalboal, Cebu, is the preferred piece by clients in the USA, while those from the UK prefer the slithering shapes of the Medusa & Midas.
As for the Crazy Rich Asians connection, it was the golden dragon of the Suzy Wong—the chosen arm candy of San Pedro's friend when she met with Kevin Kwan—that piqued the author's interest.

THE DIGITAL MARKET
San Pedro's brand has since gained a steady following. With the unprecedented events brought about by the global pandemic, physical appointments at his studio have rapidly been replaced by online portals—90% of sales are made online, and 70% of sales are from a more global market.
As a brand, San Pedro's move to digital outlets opened them up to a larger market. The Malaysian digital creative platform Dia Guild (diaguild.com) has also taken notice of the brand and now works hand-in-hand with San Pedro to make his pieces available to a wider market.
The shift does come with its own challenges: delays in shipments and restricted international travel, among others. San Pedro understands that it's important to build a relationship with clients by being a brand they can trust. He reiterates that it's all about being open with the clients, and keeping them updated on any changes or setbacks. He happily adds, though, that his clients have been very understanding so far.

THE DESIGN PROCESS
As the brand flourishes in the multinational scene, the Cebuano creative shares that the first and most critical step in his design process is creating a story.
In the case of the Medusa & Midas, for one, San Pedro imagined a surreal love story between the two mythical characters. "Medusa is this beautiful lady who was cursed to have snakes for hair, and with a gaze that turns anyone into stone, while Midas was this greedy king who was cursed with a golden touch," San Pedro narrates. "So both of these individuals walk through centuries alone, and, all of a sudden, meet and fall in love."
"As cursed as they were, they decided on the deadly embrace," he continues. "As Medusa turns to gold and Midas turns into stone, their lips are sealed forever in a kiss." San Pedro could go on and on about the stories he's conjured up about each of the pieces.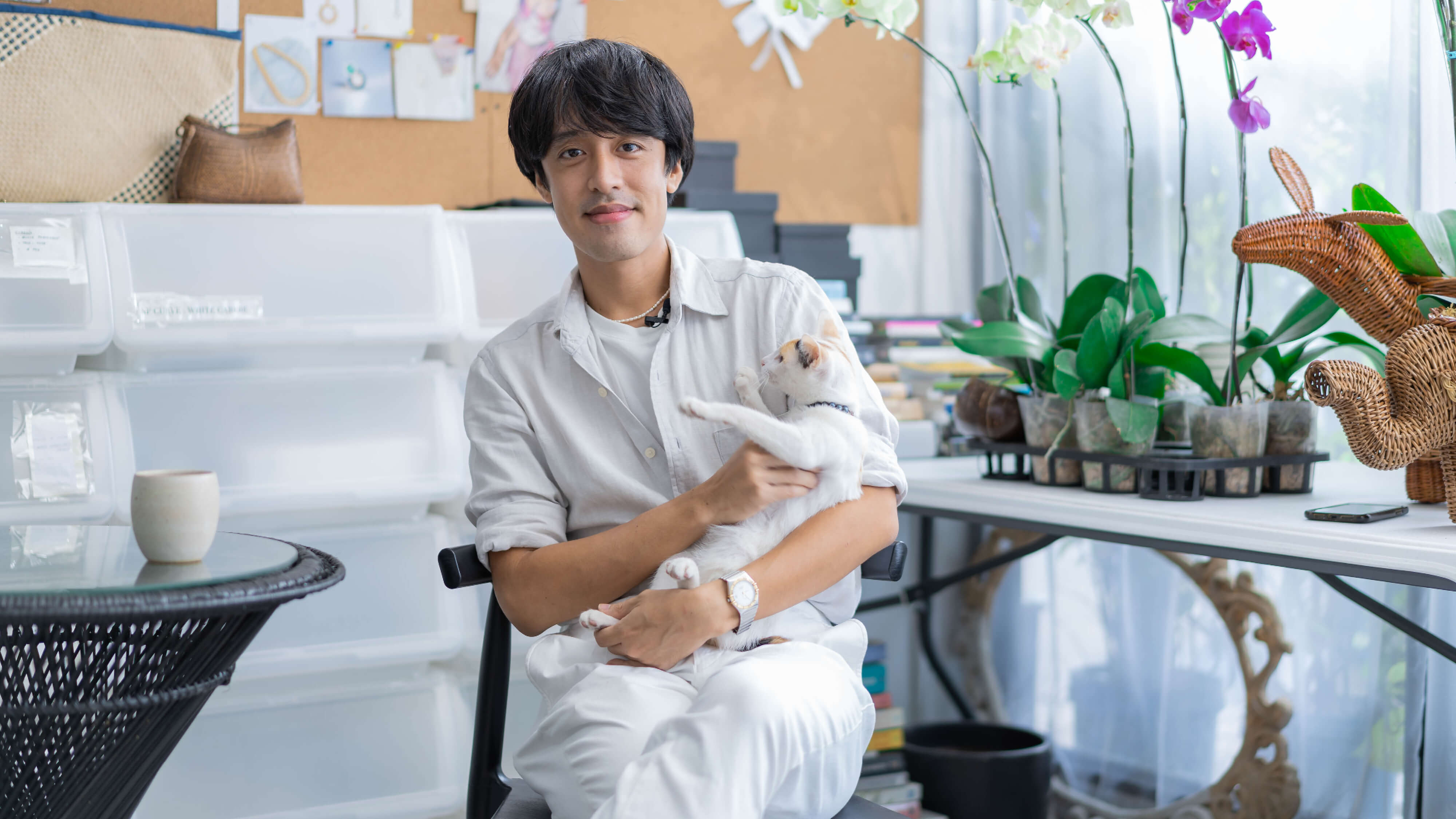 San Pedro, here with his darling pet cat, is fueled by stories, memories, and imagination
Guided by the designer's imaginative musings, the process continues on by selecting materials crafted and sourced in the Philippines, as part of the brand's thrust to source locally made or crafted materials.
The hand-crafted process is something that makes each Neil Felipp piece uniquely yours—no two pieces are completely alike. In the same line of exclusivity, the brand releases only two ready-to-wear collections in a year, and limits made-to-order or Bespoke by Neil Felipp pieces to only three per year. This ensures that each creation is given the right amount of time for quality-controlled production.
One of the most notable aspects of a Neil Felipp piece is the metalwork, and San Pedro has worked closely with three generations of metal artisans. Coming from a family of metal craftsmen who have specialized in the production of class rings and jewelry, San Pedro is constantly looking for ways to innovate and go beyond what's expected of the material.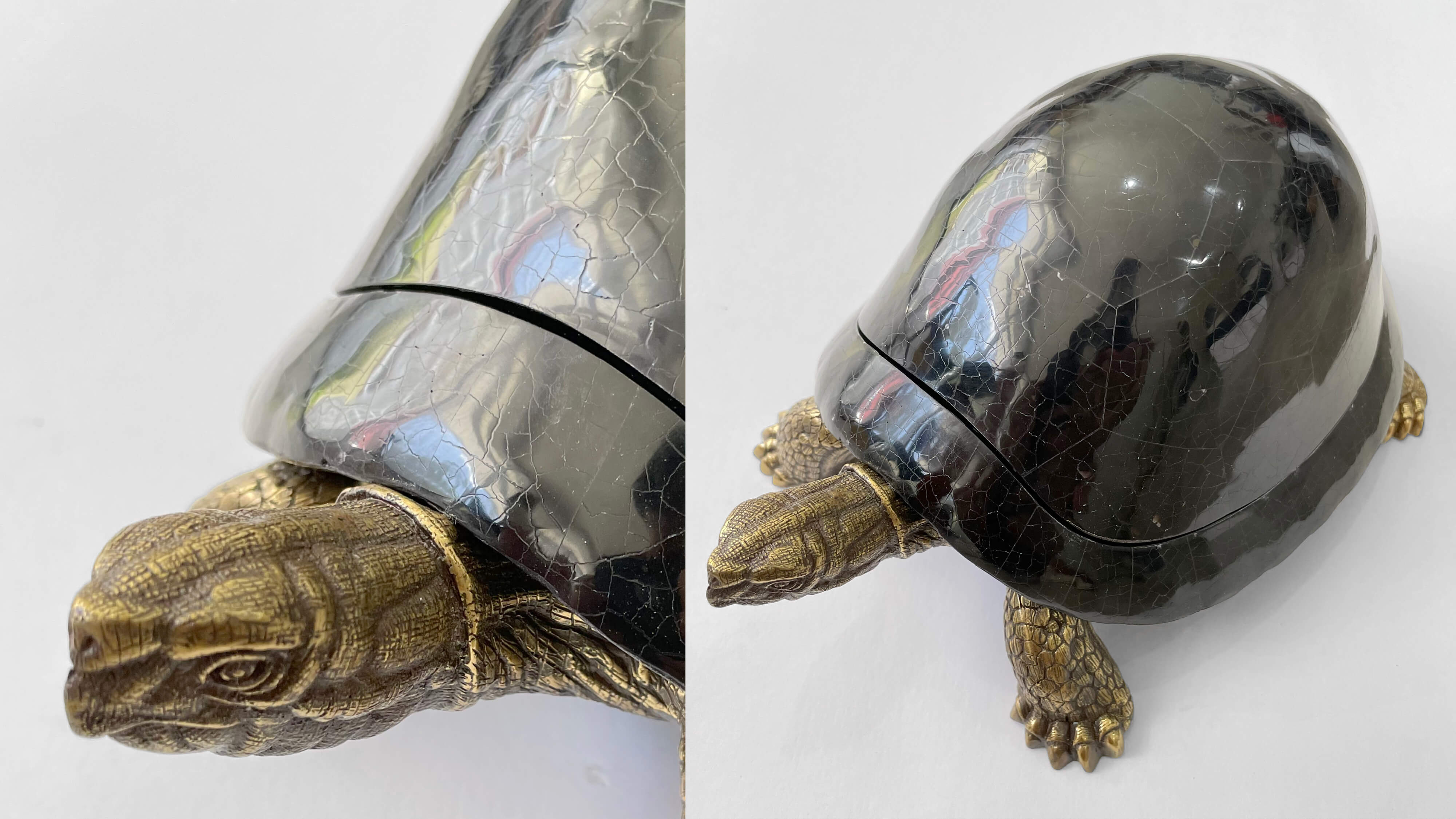 One of his recent designs is the Sulcata Turtle, a curio box hidden in the shape of a brass turtle with a black tab shell
Now, San Pedro and his team have plans of becoming a holistic lifestyle brand, offering high-fashion accessories and jewelry, along with home pieces. He hopes to offer more home décor as well as get into working with textiles in the near future.

PHX TOKYO
The Neil Felipp brand of creativity has earned San Pedro the honor of being part of the PHx Tokyo program organized by CITEM, wherein Filipino designers will be introduced to the Japanese fashion market and mentored by directors Jason Lee Coates and Hirohito Suzuki of the H3O Fashion Bureau as well as fashion consultant Tetta Ortiz-Matera.
For this, he will be expanding the mythical Siren narrative for a three-day showroom that highlights forward-thinking fashion stars. It will be held in Tokyo in July.

The designer talks about his design process and upcoming plans with PHx Tokyo
In creating the collection, San Pedro imagines his iconic Siren on an adventure in Tokyo. "She would want to go into this concrete jungle, but in order for her to go into land, she has to get something from the sea—or else she'll forget herself and forget she's a Siren," the designer narrates. "So she goes into shipwrecks around, and she brings some found objects with her to accessorize herself. This is how she shows off where she's from." In case you're wondering, yes, San Pedro's favorite Disney movie is The Little Mermaid.
As he delves further into the Japanese market with mentors Coates and Suzuki, an enthusiastic San Pedro expresses how he had always wanted to go into the Japanese market. In collaborating with the H3O duo, along with fashion consultant Tetta Ortiz-Matera, he has gained a better understanding of Japanese aesthetics and preferences, and their appreciation for high standards of craftsmanship.

THE STORY GOES ON
San Pedro has definitely come a long way from creating the first Siren minaudière for his mother. In a little less than a decade, the designer has created his own brand of playful sophistication, of pieces that are as highly imaginative as they are high-fashion.
And yet, he still has more stories to tell. A true creative, Neil Felipp—both the brand and the person behind it—won't stop until they bring stories you can hold in your hand, to bring to every corner of the world.

About PHx Tokyo
PHx Tokyo is CITEM's showroom incubation program. Eight homegrown fashion labels undergo group and one-on-one mentorship sessions with Japan-based showroom H3O Fashion Bureau and fashion consultant Tetta Ortiz-Matera to help them successfully launch their brands in the Japanese market. The culminating activity is a three-day showroom presentation (July 7-9, 2021) in central Tokyo's fashion district. Each brand will showcase its collection for both buyers and the general public.

Photography and Videography Ted Bermudez
assisted by MJ Polinar
Video Editing Ted Bermudez
Art Direction Shari Quimbo
Creative Direction Kit Singson
Product photos courtesy of Neil Felipp