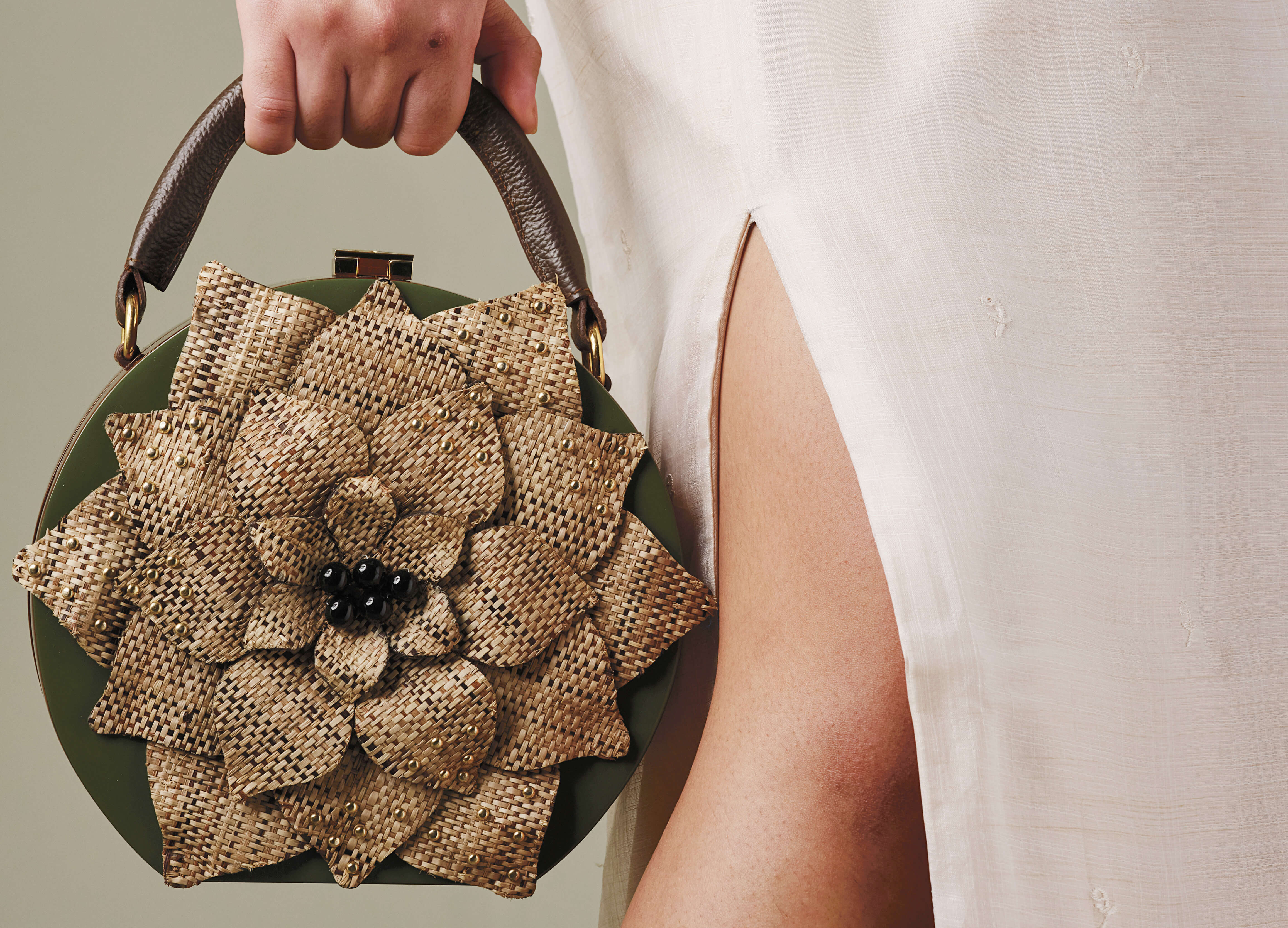 Calli Dreaming
A parade of beauties helped launch the Calli brand of handbags, but it is its distinctly Filipino design and fine craftsmanship that will give it staying power
by Vicky Montenegro

You may know the Calli brand from the bevy of beauties who have been seen clutching their masterfully hand-crafted, impeccably designed handbags. "Calli is very well-known in the Philippines because of the Miss Universe pageants," owner and founder Tessa Nepomuceno laughs. At the height of the Catriona Gray (Miss Universe 2018) fever, Nepomucemo was not even in the country to witness the beautiful chaos that erupted. "I was in the US when Catriona was seen with my bags," she shares. "I received so many messages from people. And then she won, and the sales really shot up."
It made sense that Calli bags were prominently featured in Catriona's—and succeeding beauty queens'—OOTDs. Calli's designs are chic and extremely feminine but also exhibit a festive flair. "My bags are all party bags," Nepomuceno explains. "I always say that they're 'special occasion bags.' It's not like a regular bag that you can use every day."
Nepomuceno started Calli in 2013. Having all sons, she decided to name the brand after her eldest. "I decided to use the feminine version of the name of my son, Khalil; at the same time, 'calli-' means beautiful," she shares. Prior to establishing the brand, Nepomuceno had a boutique of clothing and fashion accessories, but for Calli—at least for now—the goal is to focus on wooden handbags. "I started making just a few pieces of these wooden handbags, and in less than a week, they were all sold out. That's when I realized that there was a potential for this kind of bag."
She joined a bazaar in the US shortly after, and the pieces sold out as well. She joined Manila FAME in 2014 and won the Katha Award for Best in Fashion Design. In her first international show in Hong Kong, Nepomuceno also won an award for Best Product Design. Since then, Calli has sold products around Asia and North America (Canada and the United States), and Western Europe (France, Germany, and the United Kingdom). They have been sold in fashion stores in New York (Dream Floral), Miami (Girlee Boutique), California (Heidi Carey LLC), Canada (MEAG Fil), Japan (Abiste), and Atlanta USA (Hottie Lord). Their online store ships locally and internationally.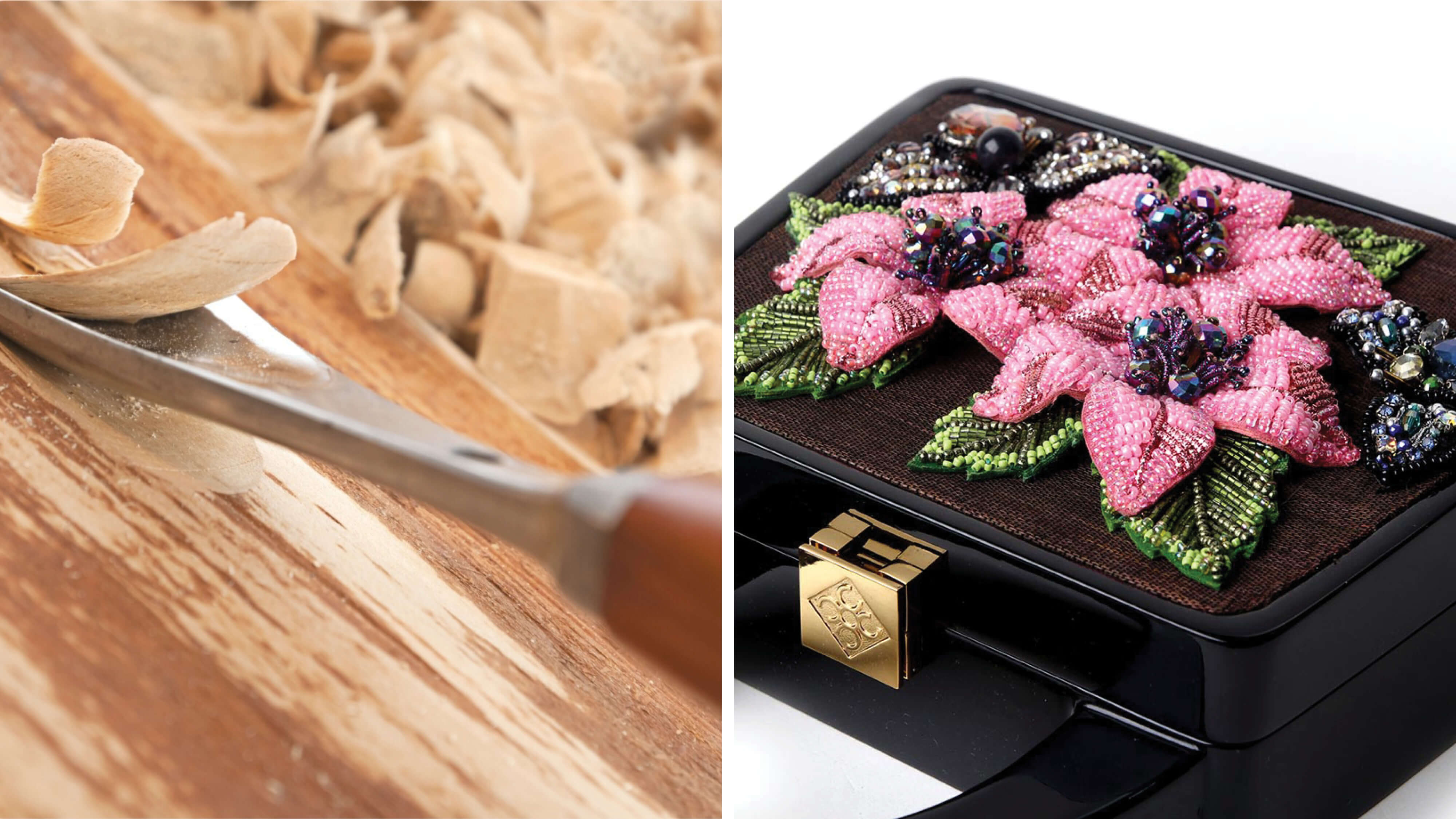 Ninety percent of Calli's materials are sourced locally, and they make sure to source ethically. The brand provides livelihood opportunities to a community of artisans in Paete, Laguna as well. In photo: (left) their main material, acacia wood, comes from fallen trees and is painstakingly hand-carved by skilled woodworkers; (right) the Sonia handbag features pink hand-beaded flower accents, black faux suede lining, and the brand's signature gold metal lock

PROUDLY PHILIPPINE MADE
Calli produces their bags in Paete, Laguna making full use of the town's local communities of carvers, weavers, bead makers, and craftsmen and providing them with livelihood opportunities. They use acacia wood mainly because "it's the only wood you can carve and mold into a handbag," Nepomuceno explains. "It's more malambot (soft) than other kinds of wood." They boil the wood to remove any sticky residue and dry it in an open fire and under natural sunlight.
They then incorporate other materials into the acacia. These other materials include natural raffia, calf leather, vegan leather, natural rattan fiber, sinamay fiber, faux suede lining, denim fabric, and banig fiber, with beads, stones, brass, and metal accents. One material that Calli is especially proud of is the langkit, a traditional Maranao weave that's marked by intricate geometric patterns. It is crafted using the kelim technique. Calli mostly uses the langkit for their handles and straps, which, on their own, already make a design statement.
Calli is also mindful of their sourcing and production. The acacia wood, for one, is ethically sourced—they come from fallen trees—and they choose trusted local suppliers for sourcing the other materials. Ninety percent of their materials are sourced locally; the only material Nepomuceno sources outside the country is the hardware—her signature lock, chain, and label—which she gets from Hong Kong. "I tried sourcing those here, but there's really no one here who can make them."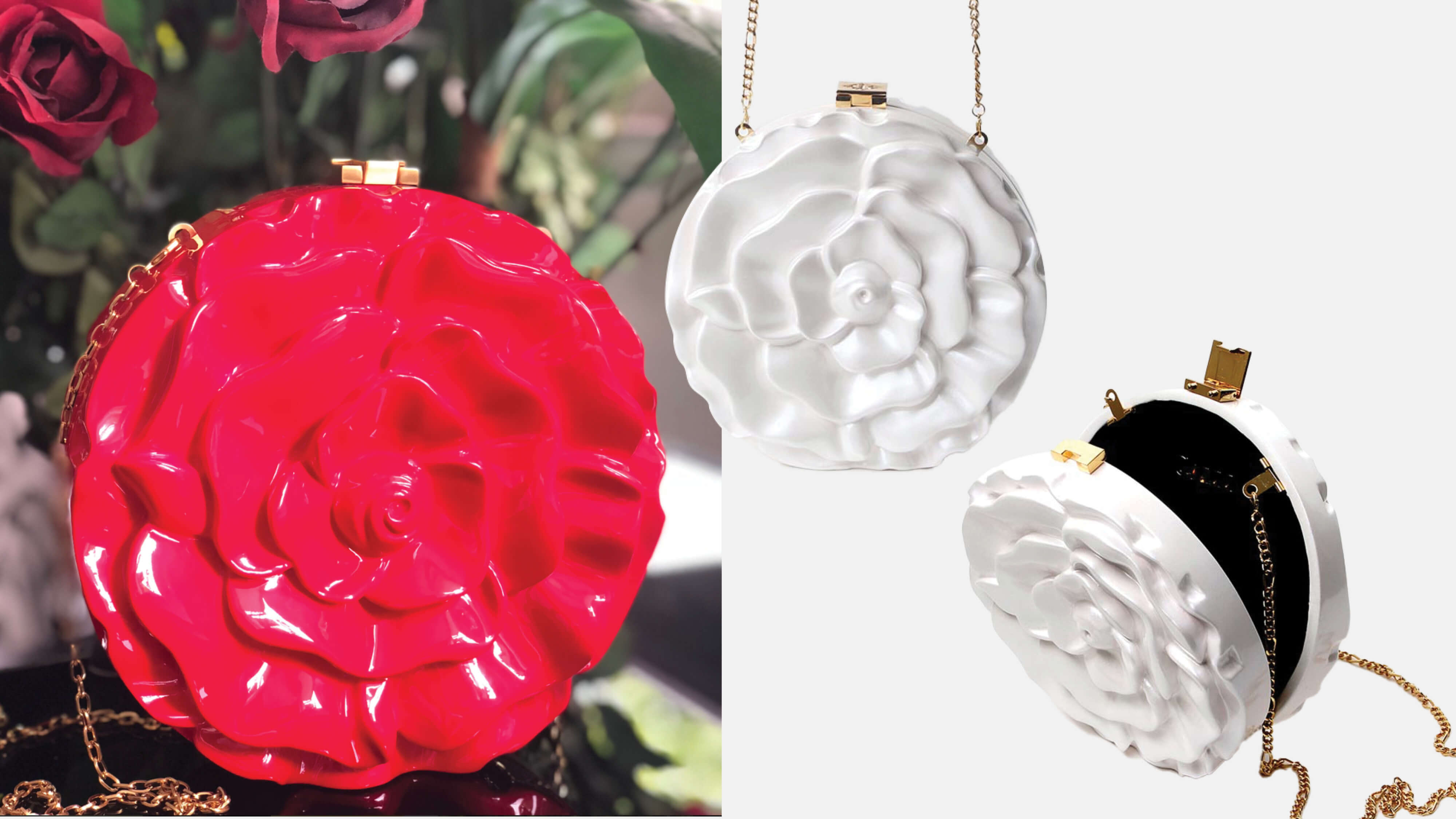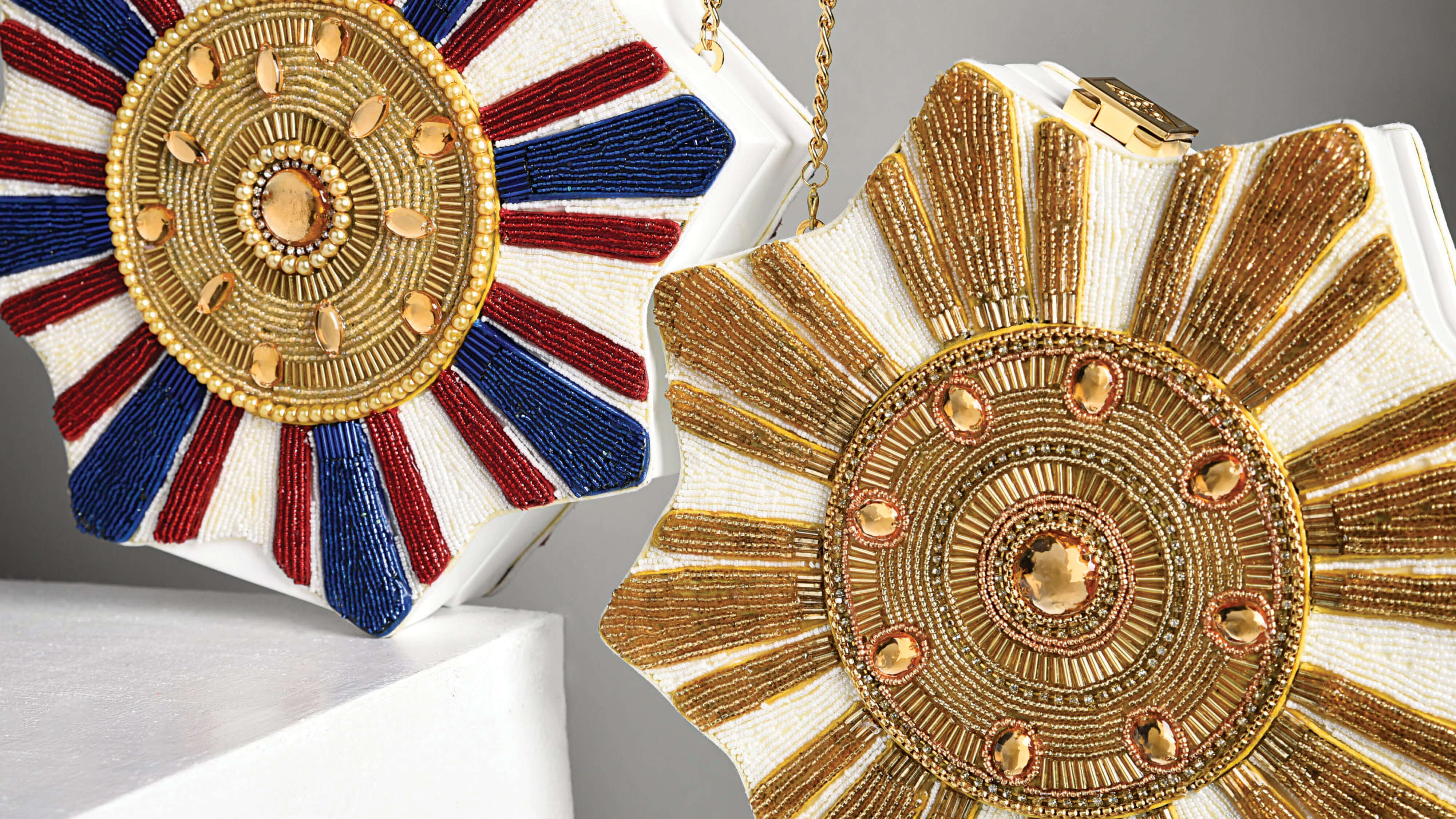 Owner Tessa Nepomuceno launched Calli in 2013 and was astounded by the immediate success. Her initial collection sold out in less than a week, and a year later, in her first trade shows, the brand won awards for Best in Fashion Design and Best Product Design. In photos: (top) their best-selling rose-shaped Rosa bag features an intricate rose design (bottom) the Philippine flag-inspired Adlaw, which means "araw" or "sun," is designed with hand-beaded accents and a chain strap

COLLECTIONS AND COLLABORATIONS
Nepomuceno comes up with a new collection two times a year, and studies the trends for inspiration. Her experience running fashion businesses has likewise helped fine-tune her aesthetic and come up with ideas for designs of the handbags. Nepomuceno, however, mostly relies on whatever she thinks of when designing new pieces, like when she thought of using solihiya and created a whole collection using the weave pattern. "I used to do a moodboard and all," she says, "but these days, I just do whatever I come up with."
Calli's best-selling design is the Rosa. "It's the rose hand-carved bag," Nepomuceno says. "That's the all-time favorite. Also the natural-finish bags." When they started, Calli's market was mostly composed of women aged 40 years and above. Most recently, they have successfully marketed to a younger demographic as well. "I realized that they're really the ones who buy," Nepomuceno points out. "So I had to put some twists on the design—like polka dots or hand painting and beading."
Calli has also done collaborations, most notably with artist Ivan Acuña. "Since we do hand painting on wood, it made sense to collaborate with an artist like Ivan," Nepomuceno says. "I take collaborations very seriously. I'm very picky. I don't want to collaborate with anyone just to show a new thing in the collection."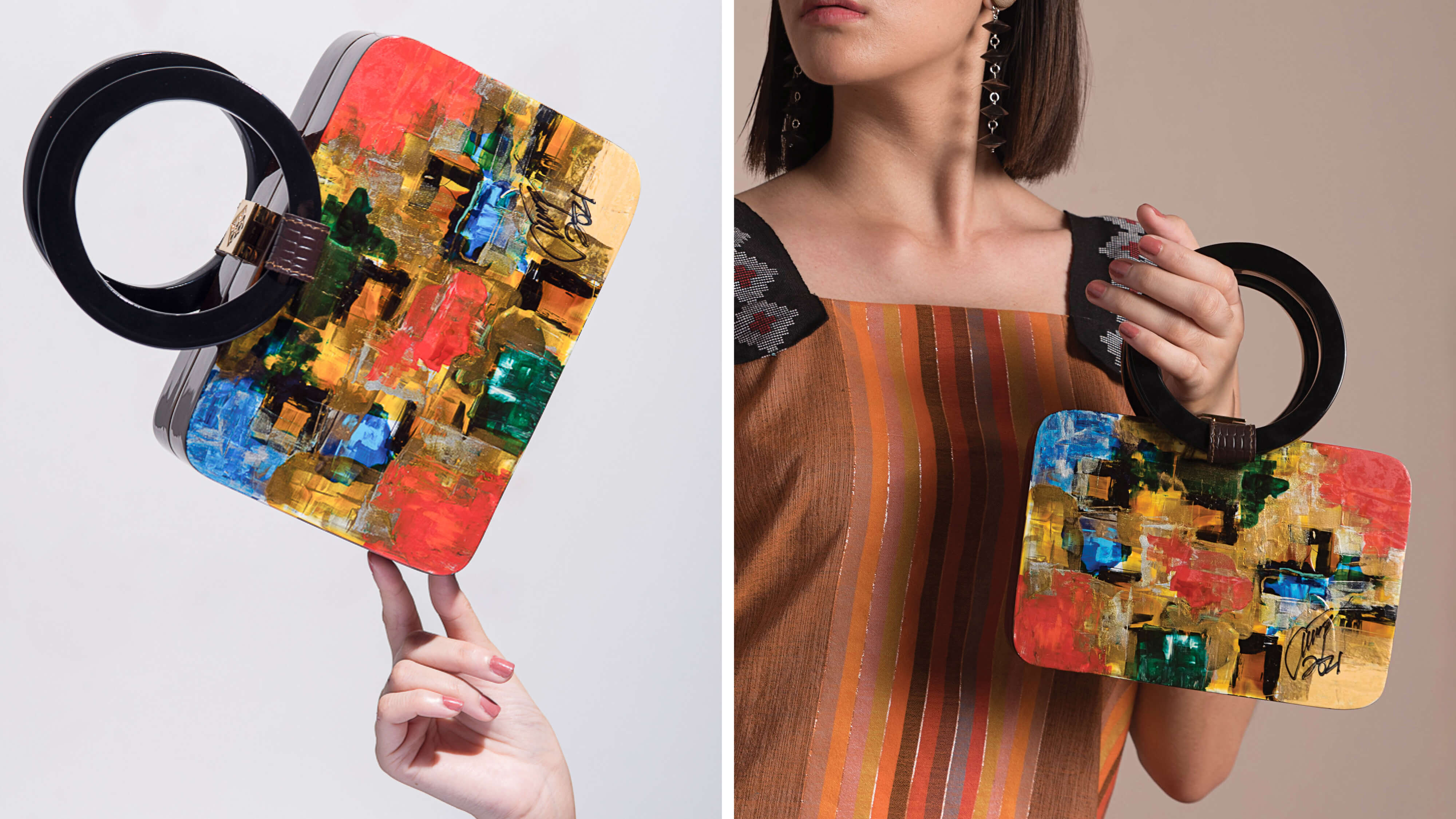 Calli's most notable collaboration was with the artist Ivan Acuña. The Ivan Acuña X CALLI bags feature original paintings by the artist on hand-carved acacia wood. Nepomuceno chooses to focus on wooden handbags for now and expand her offering later on, when she feels 100% ready. "If I feel like something is not for the brand, I won't do it," she says

DISTINCT FILIPINO CRAFTSMANSHIP
The company has their own brand of bags, but they're also in the business of manufacturing for other brands. "I market the Calli brand and the manufacturing side of the business as well," she says. "In Las Vegas, for example, so many brands want to re-label my bags. But, of course, I can't just do that. So these days, my 'policy' is really simple: if you want my design in a small quantity, get the brand. If you want me to manufacture it, sure we can do it, but we have a minimum order. I have done collections for other brands in the US and Paris."
Whether they're producing for their own brand or manufacturing for another company, the quality of the craftsmanship stays the same. Each piece is carved, beaded, and painted by hand—and one piece can take days to finish. "Whether it's just 1 or 10 or 100 bags, the process stays the same. There are no shortcuts," Nepomuceno says. She once tried outsourcing production to China after an international client placed a huge order that required mass production. "I brought my bag to China to have it made there, and saw for myself that the quality of the work is so different from what we do here," she shares. "That's when I realized that China really cannot copy my bag. So I'm ready to go to shows in Shanghai without the fear of my work being copied."
It is this quality in the design and craftsmanship that Nepomuceno really keeps a close eye on, especially to justify the pricing. In the international market, her bags retail for $300-$400, for example. "For a buyer to purchase a bag in those price points, it has to be a really, really good product. That's why the market is also very niche."
For 2022, Nepomuceno wants to rejoin international fairs, and first on the list is a Las Vegas show in February. "The international market really finds the designs very unique," she shares. "Not to brag, but when we're there, a lot of people really show up and check out the bags."
There are plans to expand their product lineup, but only when Nepomuceno feels they're ready. She doesn't want to do anything half-baked. "If I feel like something is not for the brand, I won't do it just for the sake of introducing a new product, even if there's a demand for it," she says. "When I'm 100% sure of what I want to do and explore more and 100% ready, that's when I'll do it."

Photos courtesy of brand