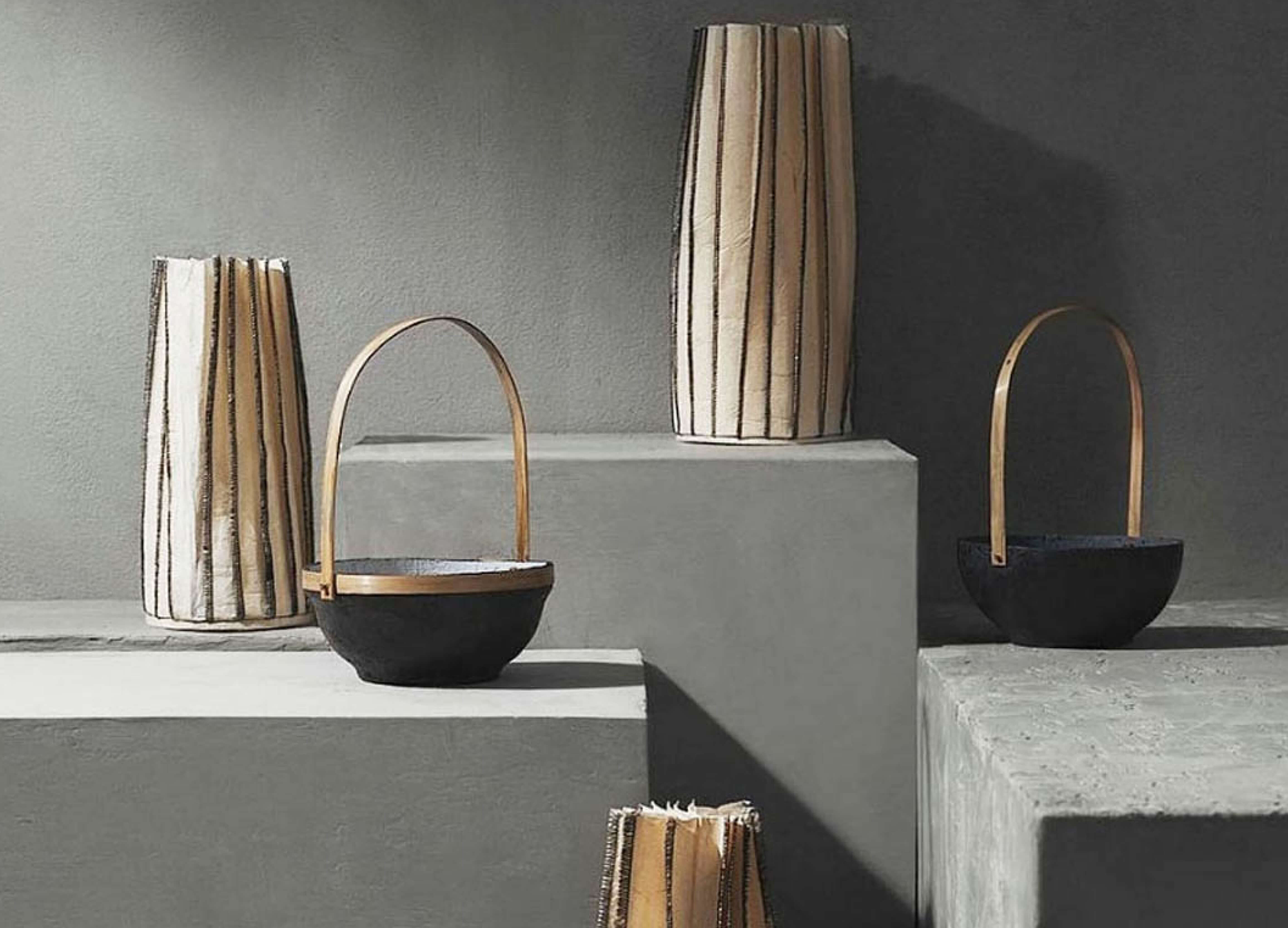 Rooted in Nature and Culture
Tracing roots, studying raw materials, and drawing inspiration from culture transformed a Cagayan de Oro paper craft business into a global eco-friendly brand

by Joy Celine Asto

In 1993, Lolita Cabanlet envisioned something big: living in an eco-friendly and plastic-free environment. Her kitchen doubled as a studio where she experimented with making organic handmade paper as a sustainable substitute for plastic. Her Cagayan de Oro-based B2B business soon took shape, but it wasn't until over two decades later that its brand story as INDIGENOUS would unfold and a market opportunity would emerge.
Aside from stationery items made with handmade paper, the recent years have seen INDIGENOUS including home accents such as lamps, placemats, and wall decor in their product line. Through the years, they have also incorporated raw materials like rattan, abaca, and bamboo which are sourced from rural farmers and tribes of Misamis Oriental, Bukidnon, and Lanao del Norte. Production also includes green factory processes such as solar energy, rainwater collection, and used water treatment for crafting world-class products that are both sustainable and distinctly Filipino.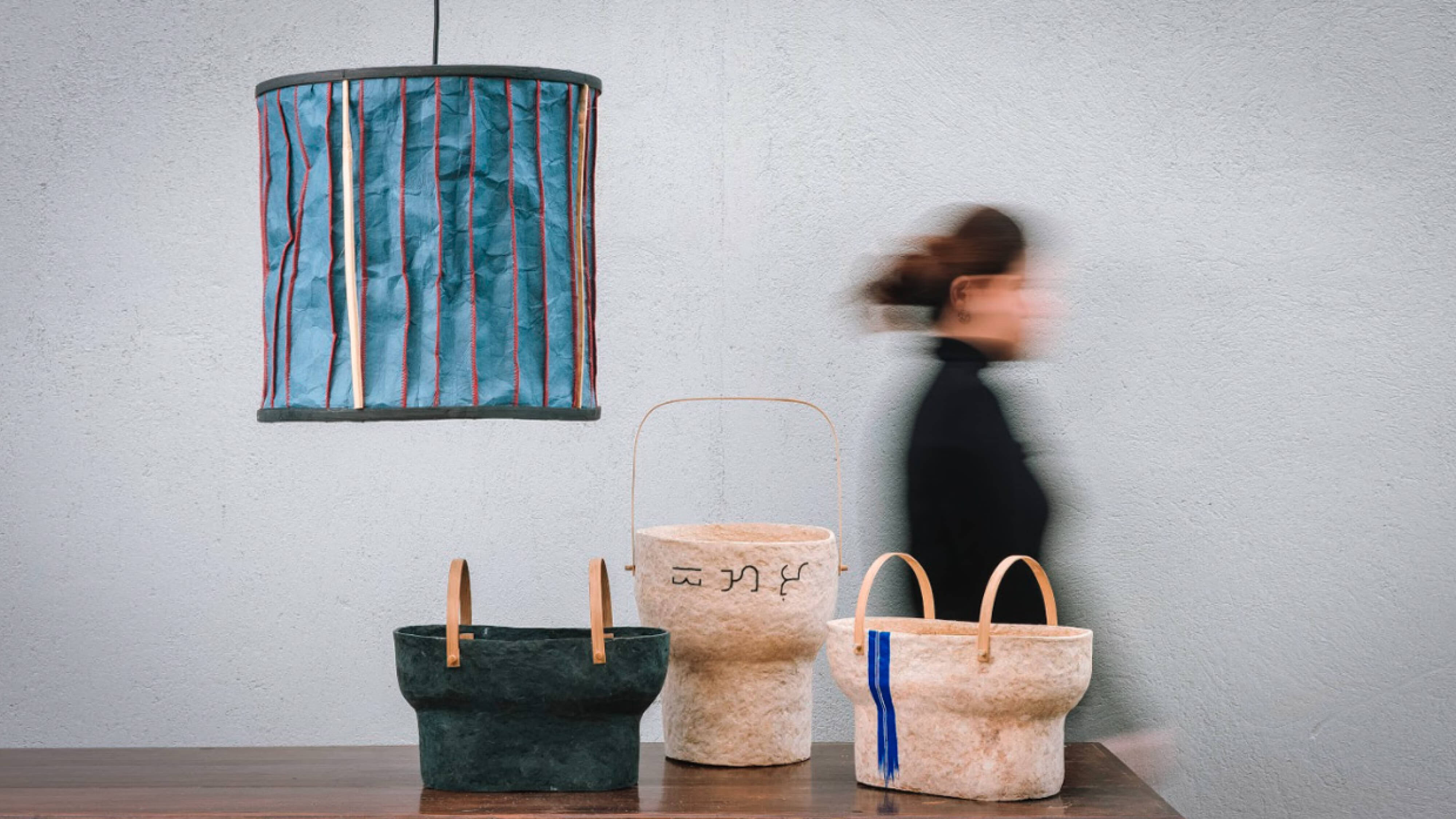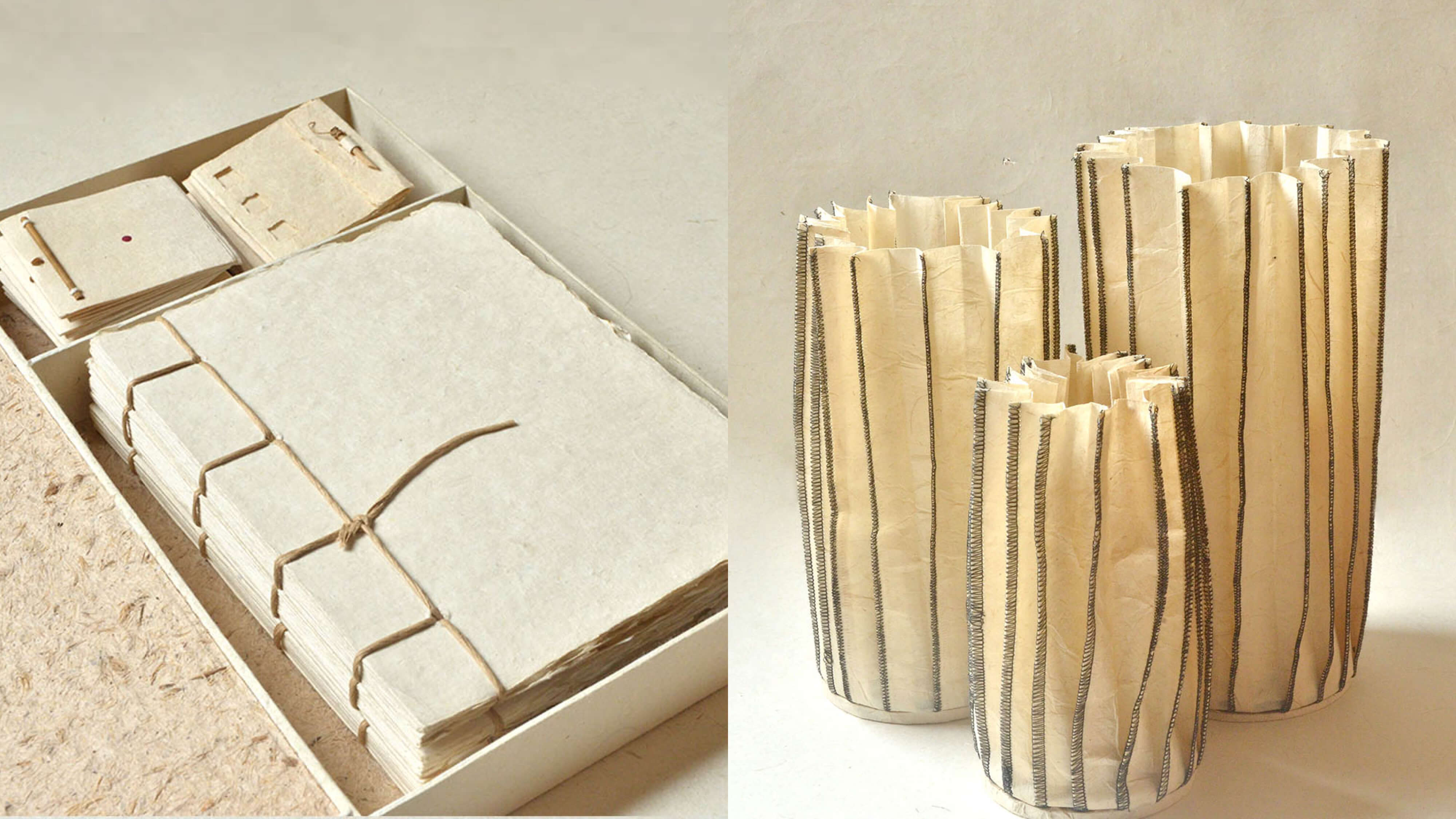 (Top photo) From "experimental" organic handmade paper, Indigenous has created the Stitched Washable Paper Lamp and their now-famous Paper Clay Vases. (Bottom photo, from left) Exceptionally strong and durable Stationery Letter Sets and Washable Paper Stitch Vases handmade from pineapple-based pulp and bamboo skin

FROM A HOMEGROWN BUSINESS TO A BRAND
A Dutch consultant asking about her products in 2005 was the start of Cabanlet's journey to discovering a more fitting brand identity for her business. She was given some clues to help her craft it on her own.
"The consultant said that a brand speaks about the product, as well as our core values and advocacies. By merely reading the brand name, it should inform the reader who you are and what your business stands for," Cabanlet recalls. "A brand name 'screams' your products and values without uttering a single word. By using Cagayan de Oro Handmade Paper Crafts, the consultant said that I was promoting the city where we reside and not our products."
Finally, Cabanlet's daughter led a branding session with the family in 2017. Having just graduated from an international business school in Shanghai, she was the best person to piece together the clues they had for building a brand name. "We traced our roots, our suppliers, studied our raw materials, and dug deeper into how our cultural traditions intertwine into our design sensibilities."
One word kept popping up in their brainstorming sessions. It was in the raw materials that are native to the Philippines, the Higaonon tribe in Misamis Oriental and in Bukidnon who served as their suppliers, and the art and culture that have long been their design inspirations. INDIGENOUS was, without a doubt, the perfect name to represent their mission, vision, and products.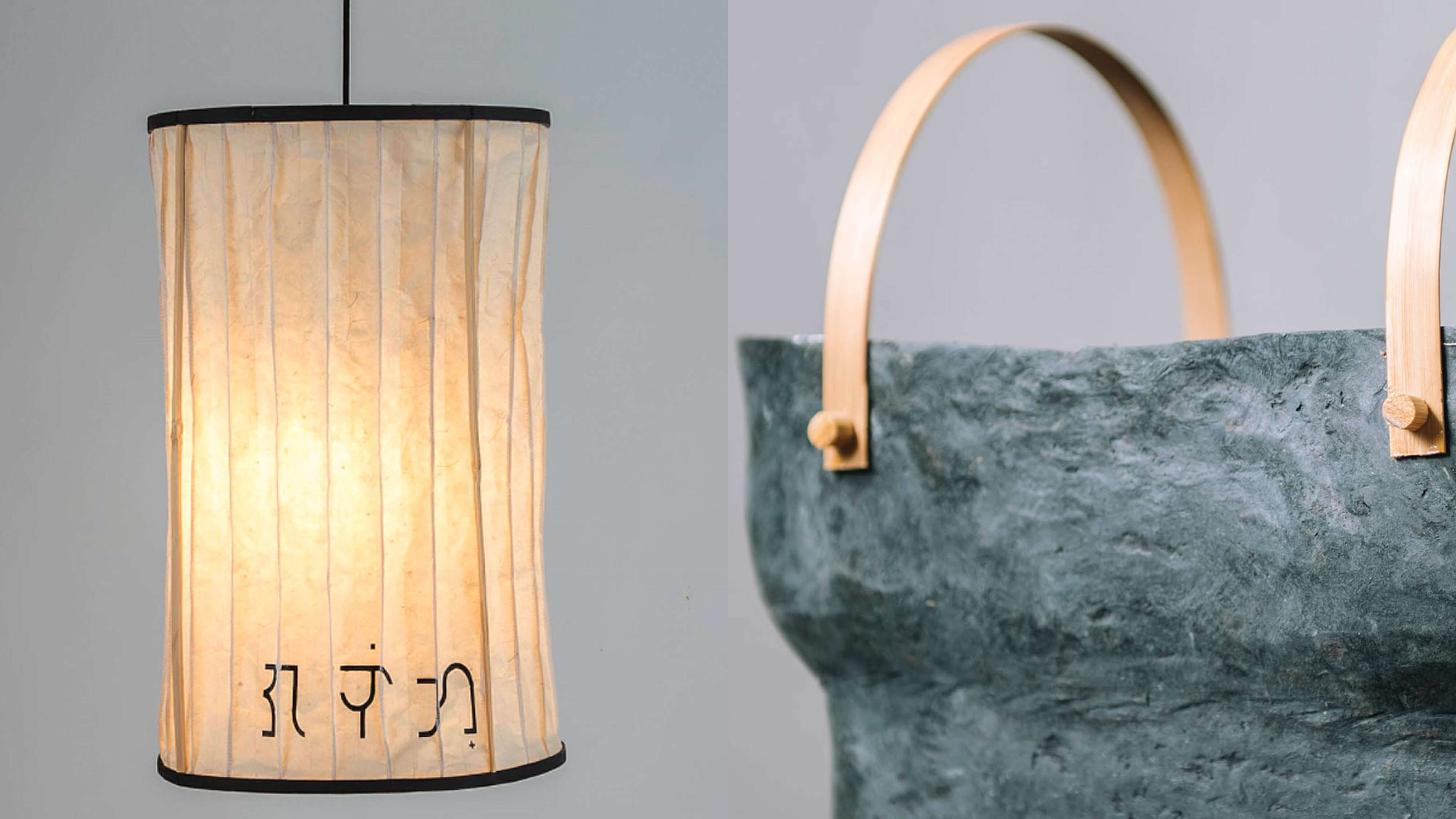 The Stitched Washable Paper Lamp, hand-painted with the word "hangin" (wind), in Baybayin, the pre-colonial ancient writing script of the Philippines, and Paper Clay Vase in Dark Gray with double bamboo strip handles

NAVIGATING A GLOBAL MARKET FOR SUSTAINABILITY
While the local eco-friendly market is still emerging, the global scene has caught up with the need for more sustainable products, such as 100% biodegradable, tree-free paper. Their buyers eventually included wholesalers and distributors in Japan, USA, and Europe. This was what Cabanlet had been pushing for when she started building INDIGENOUS.
"It took several financial crises and natural calamities for the world to realize the need to shift to environment-friendly processes and products," she explains. "More and more market segments that cut across age and culture are now advocating for sustainable practices and a plastic-free environment. We believe we are right at the center of this current trend and demand, after a long wait."
To make a greater impression in the global market, Cabanlet also needed to bring INDIGENOUS to international trade shows. Their participation in the CITEM Product Development Program proved instrumental to this goal. Designers who are well-versed in international trends and demands provided key insights into navigating the global market, as well as joining physical trade shows like Manila FAME, Paperworld, Global Sources, and Ambiente. These events, she said, became the major marketing and advertising tools for the brand and its products.
The recent years saw INDIGENOUS becoming part of the Maison & Objet, a prestigious bi-annual French trade fair for interior design. This year, the brand was given its own digital showroom on MOM (Maison & Objet and More, the trade fair's digital platform).
"As of today the inquiries and valuable leads through the Maison & Objet platform have reached 110," Cabanlet shares on what this exciting venture brought to the brand. "To us, this is a great number of inquiries compared to physical fairs we have attended in the past. For the first time, we have received inquiries from buyers in Latin America, United Arab Emirates, and Scandinavian countries."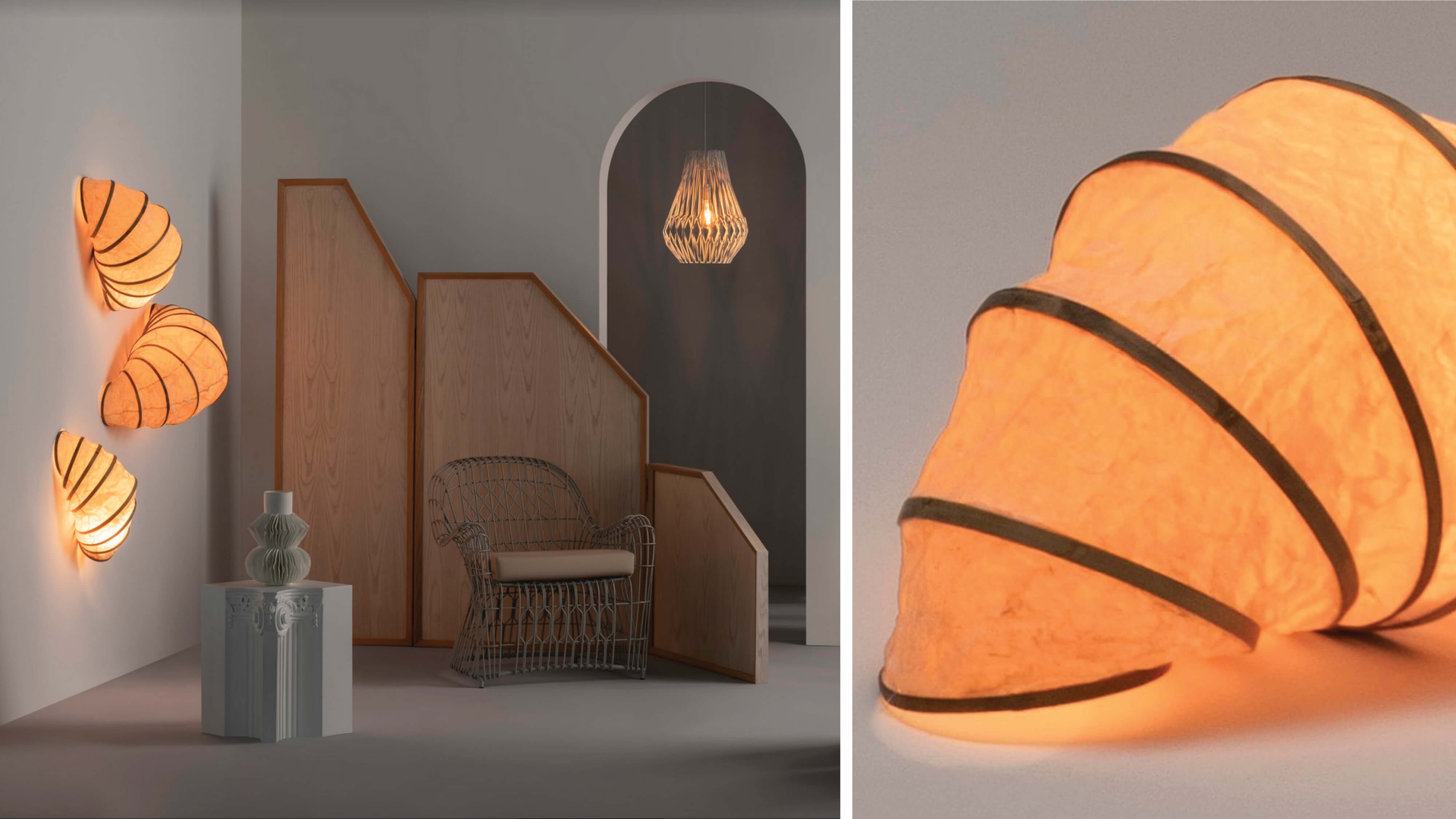 INDIGENOUS has its own digital showroom on Maison & Objet and More and among its offerings is this Washable Cocoon Collapsible Wall Lamp. Designed by Nicole Cabanlet, it is a cocoon-inspired wall lamp in bamboo ring frame shaded with bleached abaca cogon-based leatherized and crumpled handmade paper
NURTURING DESIGN ROOTED IN NATURE AND CULTURE
For a creative business such as INDIGENOUS, elegant and timeless design is key to world-class products. However, Cabanlet's vision remains rooted in the natural elements and local culture that make the brand stand out in the global scene. "We aim for one-of-a-kind designs inspired by nature and culture, and we strive to get interesting contrasts of varied textures while blending different expressions to achieve beauty in imperfections."
Customer feedback is an integral part of ensuring that INDIGENOUS products stay top quality and true to the brand vision. "We always ask our customers about the status of products upon receipt," she shares, "and we keep tabs on their comments for future improvements. If there are problems encountered, we readily offer win-win solutions."
Joining the product development programs of CITEM also helped Cabanlet build on the brand's creative concepts and design aesthetic, making sure INDIGENOUS products embody both international appeal and local charm.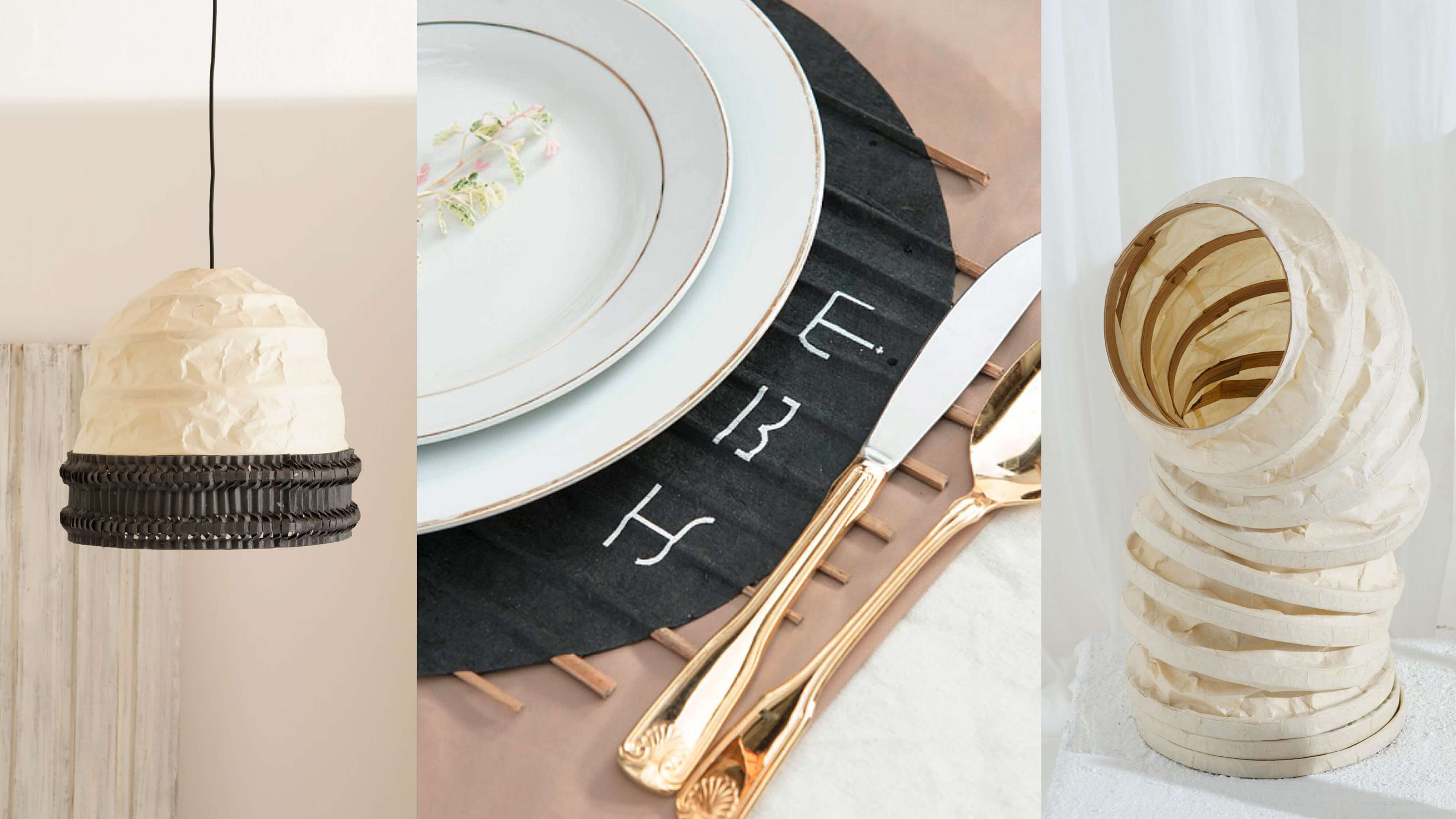 (Top photo) Washable Collapsible Mushroom Lamps with bleached abaca cogon-based leatherized and crumpled handmade paper; Washable Paper Placemats made of engineered leather paper from abaca and cogon grass pulp; and Washable Paper Retractable Bamboo Ring Lamp designed in collaboration with Design Commune consultant Rachelle Dagñalan

"Working with Rita Nazareno and Gabby Lichauco is refreshing, highly educational, and inspirational," she says of her experience with CITEM's design consultants. "Their designs still carry the 'INDIGENOUS look' but also further enhance it by adding modern or trendy twists that elevate the products from rustic to a more contemporary look. We are very pleased about the design directions we are being led to. Our buyers are delighted as well."
With brands and businesses still adapting to the challenges brought by the pandemic, it's easy to see how Cabanlet's vision for INDIGENOUS continues to steer the brand into the right direction.
"During COVID-19, the physical trade fair has evolved into virtual or digital trade shows," she points out. "The brand will continue to pursue sustainability in product designs and production practices. Since we have embraced digital transformation, market expansion will push through via digital marketing."
Still, they will stay true to what INDIGENOUS is. "Our main statement as a brand is staying close to our roots and finding the truth on our way back home."

Photos courtesy of INDIGENOUS