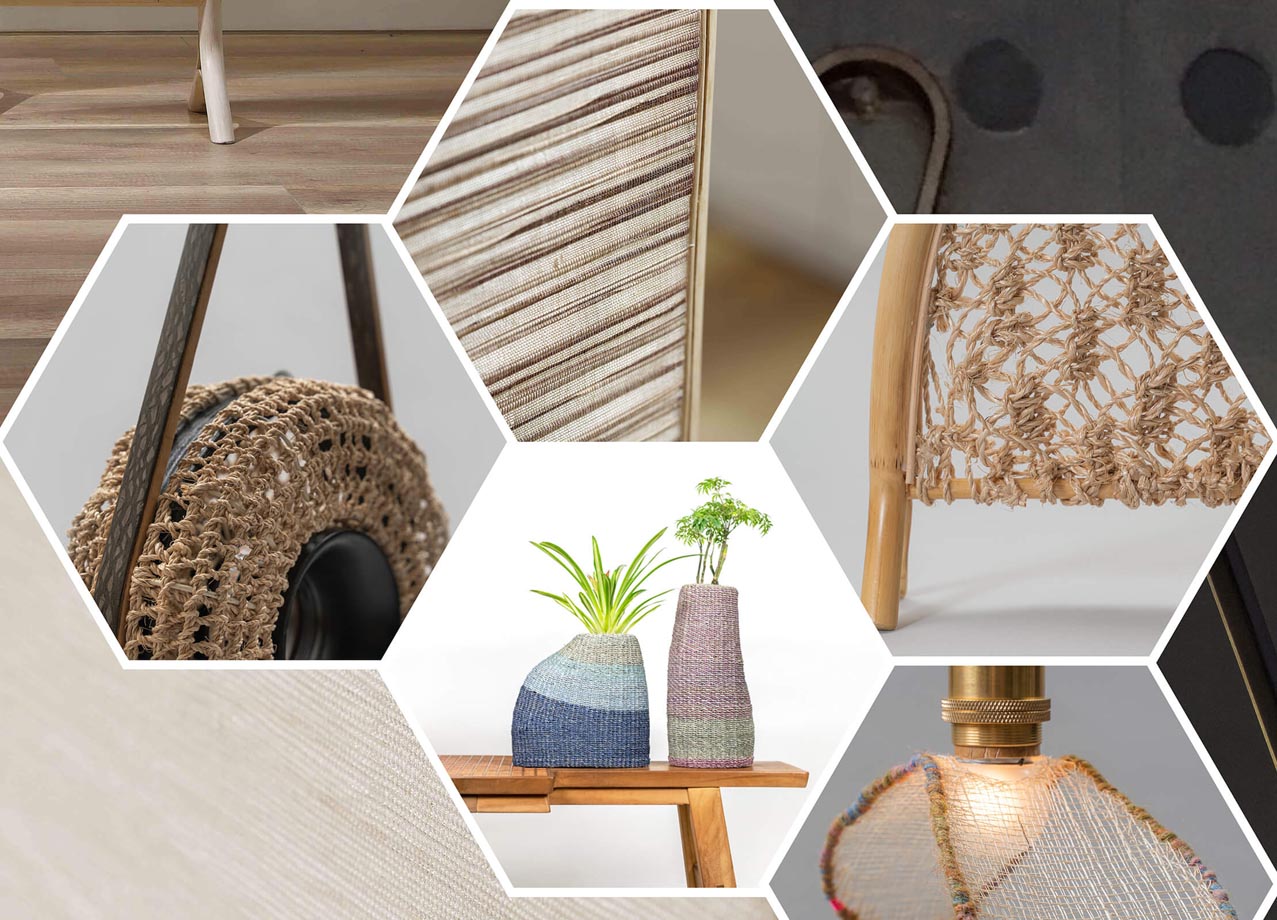 Cottage Treasures
How Shelmed grew their business into a Catholic company that operates like a home, fosters its community of artisans, and recently, opened its doors to young designers from Taiwan through the Taiwan-Philippines Craft Cooperation Project

by Patti Sunio

They say the most important thing in building a home is having a strong foundation, and such is the case for the 48-year-old Shelmed Cottage Treasures. Helmed by husband and wife Sheldon Villanueva and Mary Mediatrix Vallejo-Villanueva, the story of Shelmed is one that's grounded on love—the lasting marriage of its founders, their love and curiosity for abaca and the world of products it can bring, and most of all, their staff and community that have long been with the family.
Mediatrix Villanueva's grandparents were abacaleros or farmers who plant and trade abaca, known as the strongest natural fiber in the world. Her parents who continued the craft as artisans and became one of the Philippines' pioneering abaca exporters, however, decided to discontinue the business after having thought that none of their five children were keen on taking over the company. Villanueva is the middle child, who went out of the country for mission work with the Jesuits right after college, and eventually, left for the USA, was asked by her parents to return to their hometown in Daraga, Albay and help with closing the company.
Instead, her move back home led to an epiphany. "Don and I felt that we have received so much from the people who worked with my parents that it didn't feel right that we would just close it," says Villanueva. "Don was the boy next door, my playmate. He joined the company helping with the technical side of design—he and mama did the colors. His specialization is pagkukulay (dyeing or coloring)."
Young and determined, the two wed, both still in their early twenties. They decided to establish Shelmed in 1973, and have never looked back since. "He was an engineer who had tools in his hands to make sure our company had beautiful products. I was a teacher who chose the workplace to become my classroom," shares Villanueva.

The founders of Shelmed were the youngest abaca exporters in their time. Forever grateful to the opportunities brought about by CITEM, the company took off to a good start, winning the Golden Shell Award in 1983. Villanueva remembers the prize money, PhP25,000, which they used for travel

"Through the years that has been our challenge: to ensure that the global market understands and accepts the characteristics of abaca," she says. "This eco-friendly, biodegradable abaca is good for the world, good for the whole of creation."
The company is recognized for its eco-friendly abaca, as well as its strong sense of community and social responsibility. Shelmed's commitment to providing sustainable livelihood has pulled the company through the best and most difficult times, after all.
When Shelmed received an order for 200,000 bags for the U.S. bicentennial celebration in 1976, they distributed the work among the exporters who were friends of Villanueva's parents. Likewise, in 2006, when Typhoon Reming caused significant damage to Shelmed's quarters, it was one of the most challenging years for the company. Still, Villanueva powered through, keeping in mind the reason she and her husband Sheldon started it all. "We're not business people; we're simple people who find joy in helping people in their livelihood, seeing their own careers grow. Simple lang. (We're simple.) But we're happy."
The following year, Shelmed started the Dios Mabalos Po Foundation, Inc. for the benefit of their employees. "They say that if you say the 'Our Father' daily, and say 'give us this day, our daily bread,' you will realize that you have to stop worrying about the future because you talk to God every day." A Catholic company, Shelmed commits hours to prayer every day and employees are encouraged to participate. "The men in our staff would joke and say they don't need to hear Sunday mass anymore because they've been praying too much!"
The company would continue to reap accolades in the years to come, and from being known for its abaca placemats, Shelmed ventured into making handbags, tote bags, trays, doormats, scatter rugs, storage bins, and lighting fixtures, and even included buri and rattan in their lineup for exports.
In 2019, right before the pandemic, Shelmed opened its doors to another venture: the company is one of the FAME+ brands chosen to participate in the Taiwan-Philippines Craft Cooperation Project, a program that matches manufacturers and designers from both countries, to develop and design new works through collaboration.
In their headquarters in Albay as well as in Manila, Shelmed took under their wing four teams of young designers from Taiwan: Wanshan Lin and Helen Chen of A.M Ideas, Eileen Chung of mee.textile, Ron Lin and Ru Wu of Arrt Studio, and Kai-Ping Liu and Ya Ching Lee of Essence Design & Craft. "I met with them, introduced the material to them. They were very hands-on, working on the floor, on the table, working with their hands. All of them called me 'Tita Med' and my husband, 'Tito Don'."
Working closely with the product specialists from Taiwan was another chance for Shelmed to further their hopes for the world to appreciate the wonders of abaca.

INTRODUCTION TO ABACA
"We had a very exciting relationship," begins Villanueva. "Every designer had a different approach to how they wanted the material to be shaded, woven, and used. They were curious to know about all the possibilities and potential of processing abaca fiber."
Abaca is derived from the leaf stalk around the trunk of the abaca plant, a relative of the banana plant, which share similarities in appearance and characteristics. It is made into fiber for use in clothing, furniture, and other decorative items. "This is the first time they worked with abaca," reveals Villanueva. "They didn't know what it was, and so we told them this is part of our tradition, our heritage, our pride."
They were schooled on the wonders of abaca, starting with an orientation on the material, a rundown of the different processes, and how abaca can be dyed, bleached, and how malleable it is. "I showed them all the equipment we use in our processes and told them not to be shocked. I told them that the most important part of the body, as far as this business is concerned, are the two hands, and the eyes that can see. Even the hearing-impaired can work with their hands."
"In the development process, the happiest thing is getting to experience the sharing of Tita Med—she is a very cool woman! From the work to the foundation, we loved hearing the stories from her," says Chung, who worked with Shelmed to produce a beautiful hanging lamp with a woven shade.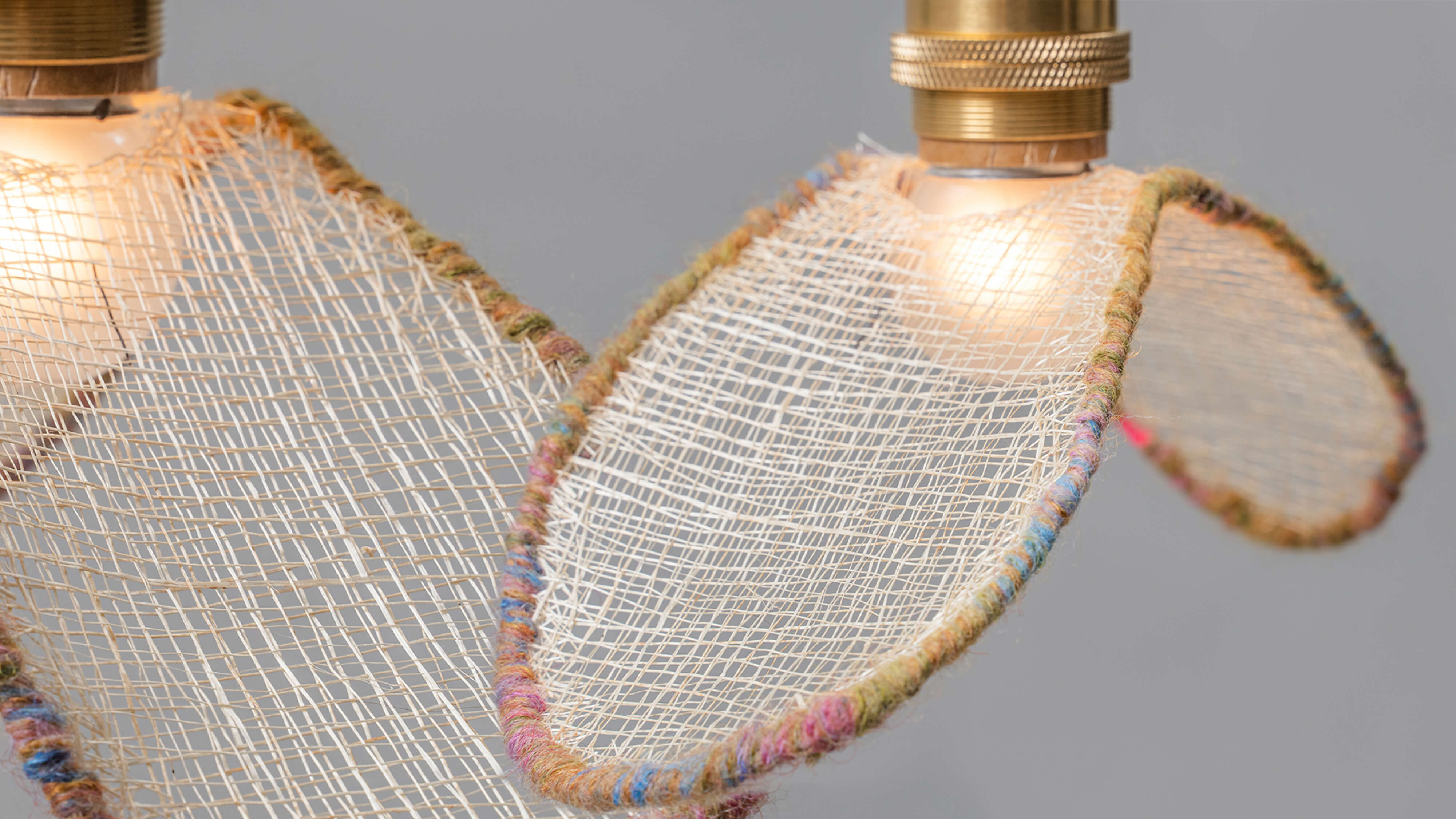 "We are amazed by its transparency, luster, and toughness of the material," Eileen Chung of mee.textile shares. "Under the light, the texture of abaca is shining bright. We hope to present the uniqueness of this material in the most beautiful and simple way, so we came up with the design of the lamp from the imagination of our mind." Established in 2015, mee.textile has since been focused on the service design of textile craftsmanship and the promotion of fiber art through commercial space installations, designing merchandise sales, and education in workshops

"In the beginning, we used the design to match the material. But after understanding the material, we developed the product from the characteristics of abaca," says Chung. She experimented with knitting, winding, and other methods, but later on decided to abandon these complicated techniques. "It was a very interesting attempt. We turned our thoughts around and let the material lead the design. It can be seen what a delightful material this is!"
"By using a dense plain weave to make the object 'talk' to the environment, and with the combination of colors and different materials, such as wool, we hope people feel the light from the conflicting design."

DETAILED SPECIFICATIONS
"They were very conscious of the shades and hues, and even had a kodigo (cheat sheet) of what the color forecasts are. For shapes, we tend to be more standard with our circles and squares, while the Taiwanese have curves and waves," observes Villanueva. "They came complete with tools, detalyado (very detailed), and they even have a checklist."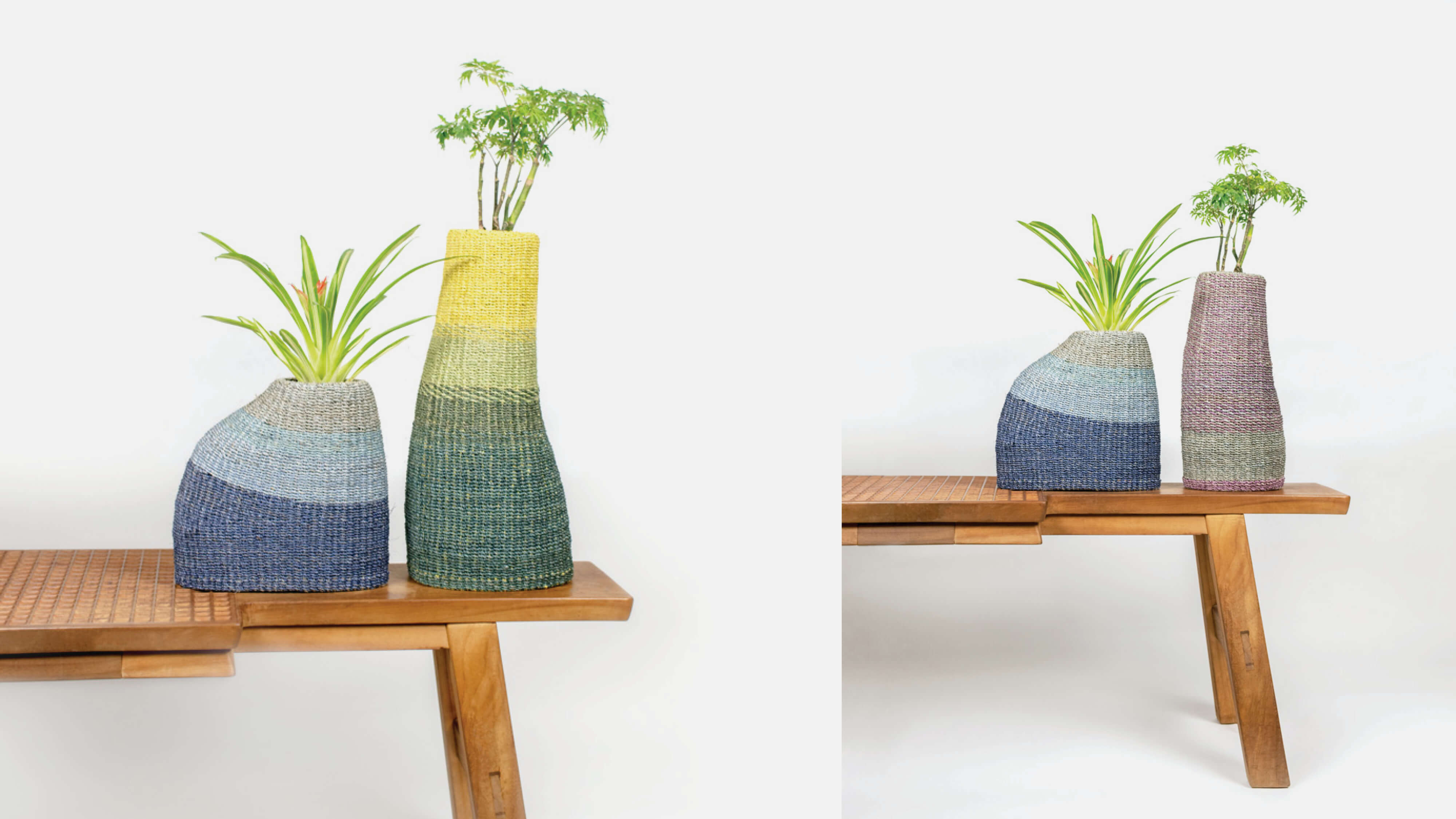 "We wanted to infuse modern interiors with a sense of raw adventure and freedom, hence we created a series of minimal, safari animal inspired sculpted planters," explains Helen Chen of A.M Ideas. "We wanted the planter enriched and balanced with the natural beauty of the plants. Abaca was a great medium to convey this design concept." Founded in 2010, A.M Ideas has worked with master artisans in creating minimal and playful designs, with the goal to connect with nature and blend elegance into one's lives

"The initial challenge was how to communicate our design concept and specifications to the Shelmed artisans," says Chen. "For example, the colors we wanted were not feasible at the time, fortunately we were able to be onsite as the prototyping process unfolded, hence we were able to select what was available for use. It turned out even better than we had imagined."
Lin and Wu only met Shelmed once, face-to-face, at the Manila FAME trade show, yet despite the limitations of meeting up and discussing in person, both teams were happy with the result. "The result is a 'yes!'," says Lin. "We think the biggest challenge is the distance and time. So it was not easy to check every detail as Shelmed was making the sample. But we think Shelmed is trustworthy and has many experiences. We managed to communicate after our meeting at FAME over emails and messaging apps."
Villanueva adds, "At the last hour, Ron asked if they could work with us and I said, 'yeah, let's look at the items that you want.' And it turned out to be a blessing! Ang ganda ng ginawa nila! (What they ended up making was beautiful!)."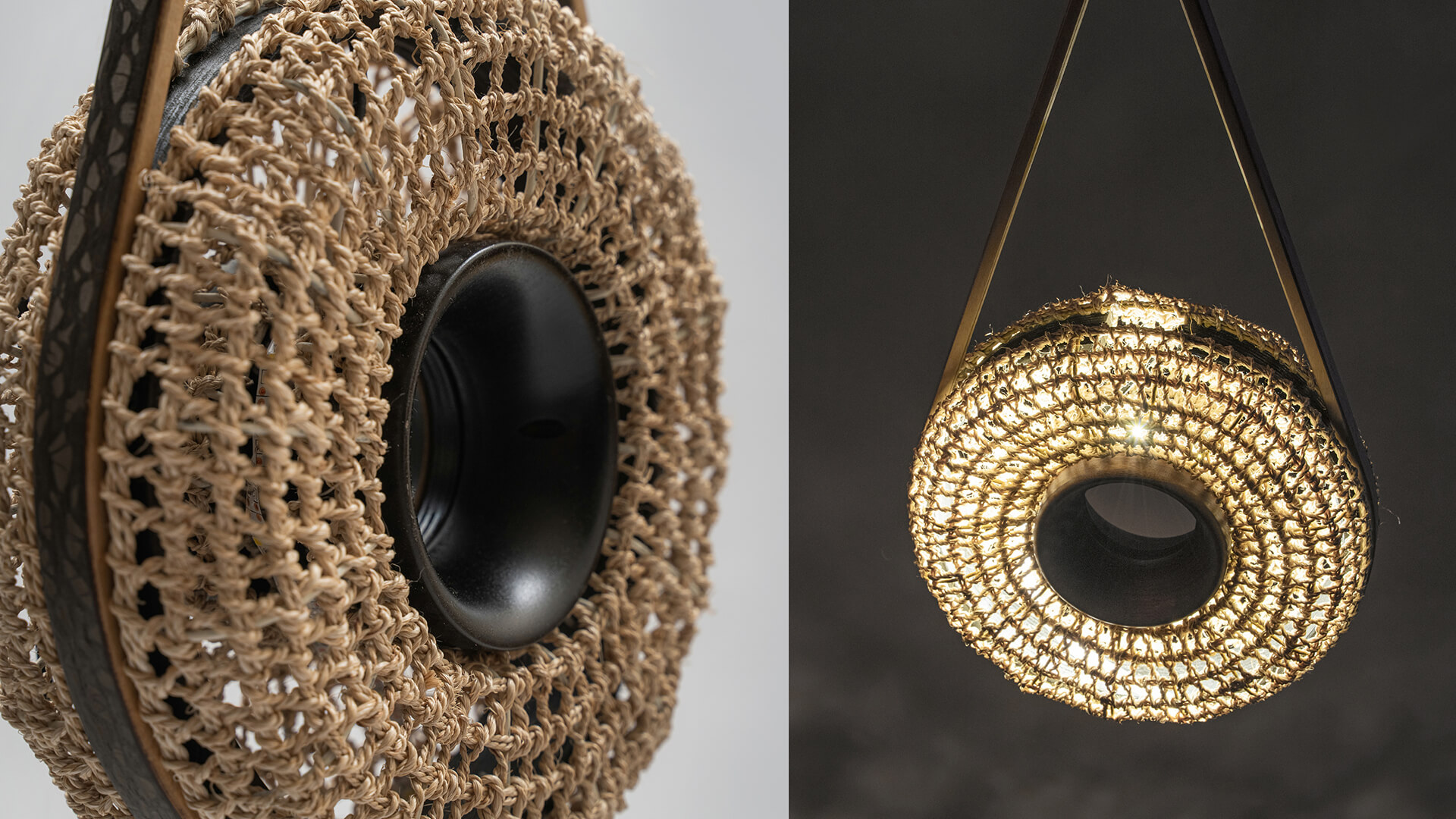 A hanging light wrapped in woven abaca by Ron Lin and Ru Wu of Arrt Studio. Their company, called LIDESIGN CORP., holds a special patent called MELV (Multi Engraved Layers Veneer), which combines multi-veneer layers and engraving, resulting in astonishing wooden patterns that can be designed by a computer. They also use a bentwood technique, which makes the design jump out of the wooden surface, giving a feel of a heavy and solid shape

THE ESSENCE OF HANDMADE
As the Taiwanese designers had very specific sketches and a step-by-step guide on how to go into product development, they were used to having everything standardized. "But I pointed out that, 'hey, we're working with hands here so there will always be a difference.' Perfection isn't something that one can expect from a natural product," says Villanueva. "And they welcomed it—it wasn't something that discouraged them."
This, too, as Villanueva, shares, is what the Taiwanese designers foresee would be the response of the market in their country. "They said that there would be a need for people to know that the products are made by artisans, that it cannot be exact. We need to see if they understand that there's a little bit of a difference in the material, and that it doesn't mean it's a bad material, but that it's natural for the fiber to have differences."
Before the pandemic, the Shelmed team had initially planned to visit Taiwan as well, in order to hear the comments of the buyers, answer their questions, and give them tips. "In all our experiences at international trade shows, our presence always made a difference," she shares. "Because we heard and studied the body language of the people who came by."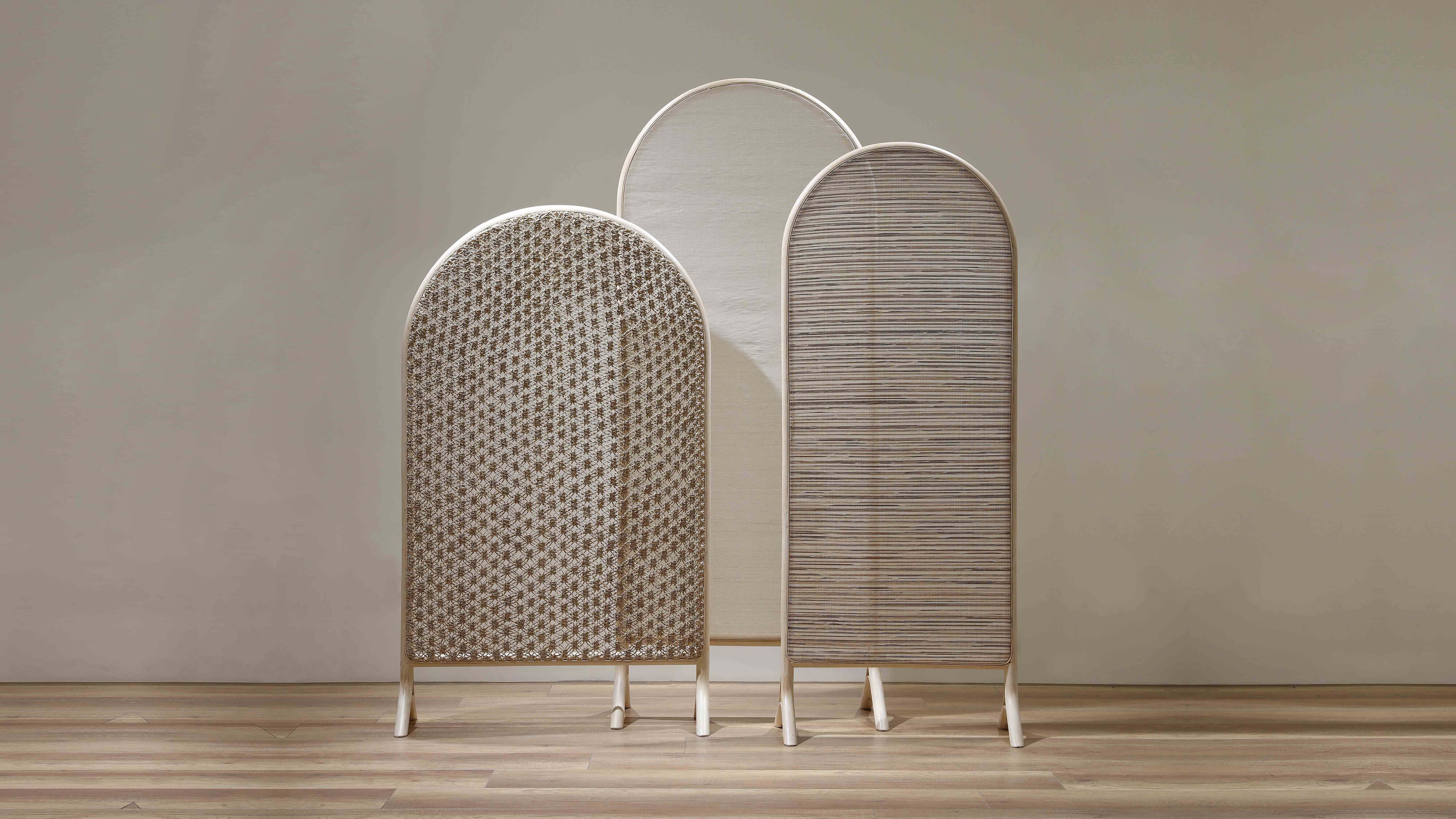 "Our design, called the "Between" screen series, is made together with Shelmed. The collaboration work produced many different styles of abaca weaving and crocheting, and made use of the rattan frame," says Kai-Ping Liu of Essence Design & Craft. "In the beginning, our design sketches were only half-completed, and for the other half, we wanted to find Philippines-specific materials and manufacturing methods. Then, we chose to use the abaca material. And it took a lot of time to communicate and discuss before steadily cooperating with Shelmed

For Liu and Lin, despite the challenges in the differences in work cultures, weaving and crocheting methods, and creation of fabrics that were suitable for the screen products, steadfast communication and working hard together on research and development proved more important. "Shelmed is a very experienced and systematic manufacturer, and we have learned a lot during the cooperation process," says Liu.

COLLABORATING CULTURES
Many factors such as cultural (and even language) differences posed communication challenges, but Villanueva laughingly points out that it only made the whole experience more exciting. She recalls incidents wherein foreign buyers would request for rectangular items, but in their vocabulary, they use the word oval. Another mixup happened when the company shipped green-colored baskets all the way to the United Kingdom, but the client requested for orange-colored ones. Villanueva rounded up her team to identify where they lapsed, until one of her staff asked, "Ma'am, hindi ba po ang orange ay green? (Aren't oranges green in color?)"
Villanueva's husband, Sheldon, was chuckling right across the room upon hearing this. "Yes, oranges are green. Dalanghita," he pointed out. In the province of Albay, oranges are called dalanghita, which means 'small oranges,' and are green in color.
"I always tell my people, do not take unnecessary risks. Bawal ang akala. (Don't guess or assume). But that is not akala. (The staff didn't guess or assume)," Villanueva says of the orange incident. "It's cultural differences."
What Villanueva finds fascinating about the culture among the Taiwanese designers they've worked with was how they were very open and friendly with each other, because in the Philippines, the tendency is to be too protective of one's brand and products. "The Taiwanese designers respected each other's capacity, potential, and their being artists. Ang ganda. (It's beautiful.) I saw that it was so good. They came as a group and were very welcoming."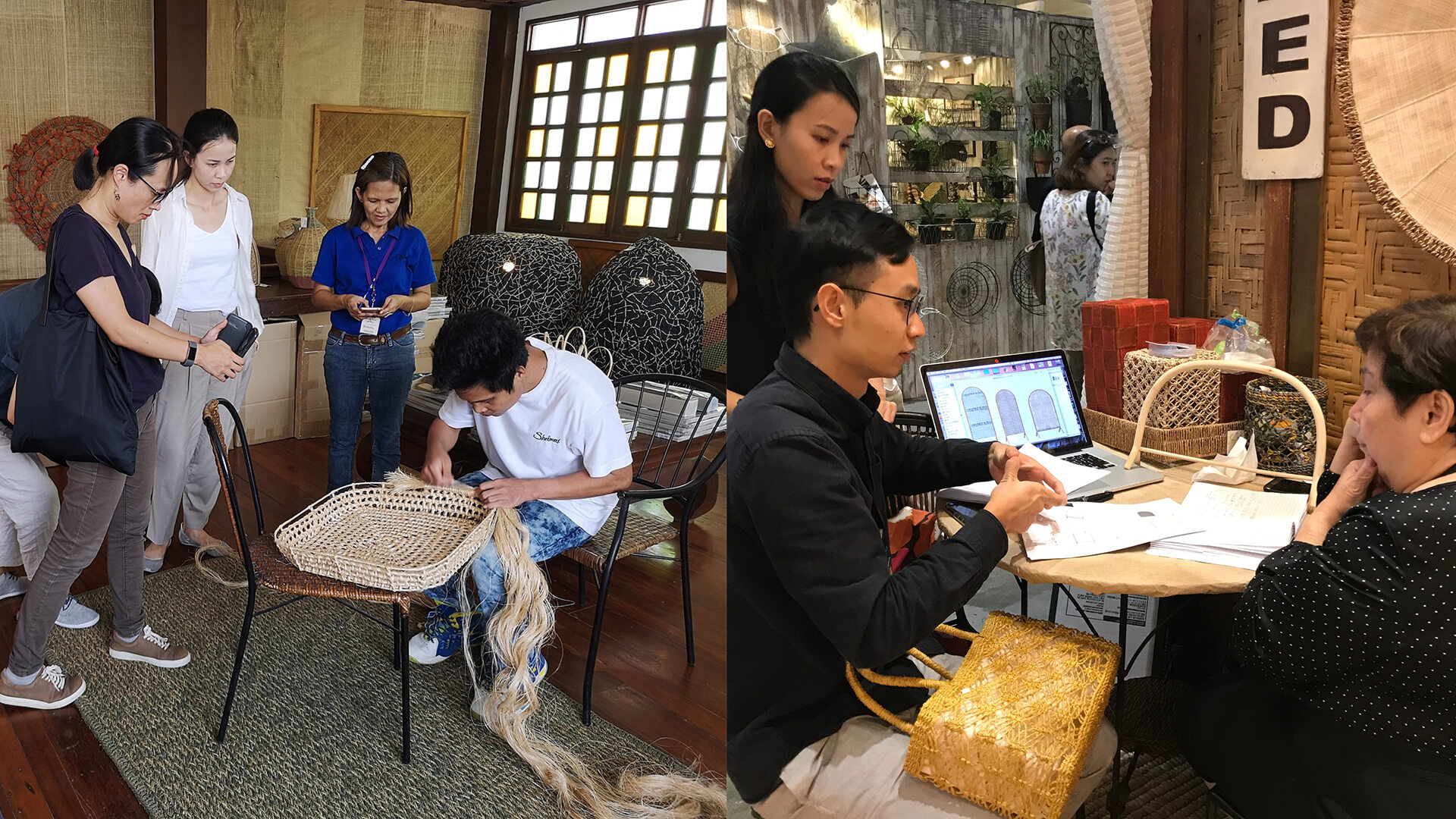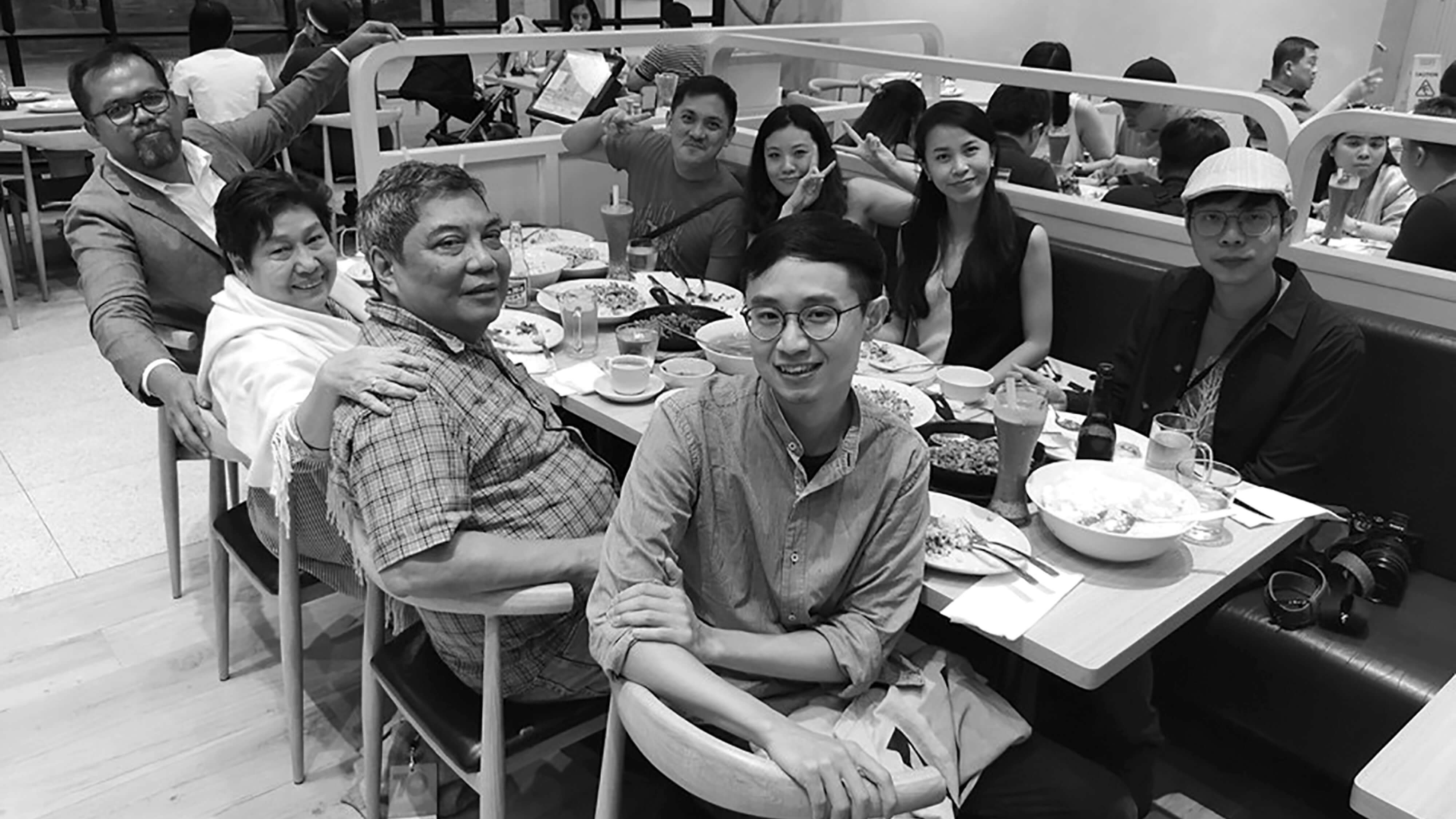 "Tita Med and Tito Don sharing a hearty Pinoy meal with the designers from Taiwan. "Every time we finished a product, we would celebrate together."
Villanueva doesn't subscribe to keeping the so-called trade secrets to herself and encourages friendly competition among Philippine manufacturers. "The world is big, the market is big."
She recalls a time when abaca was not initially well-received in the global market, that is, until they continued to attend trade fairs and European countries like France and Italy started to buy from them, prompting younger markets from other countries to follow suit.
"I believe that the good people of Taiwan will be good friends of Filipinos when it comes to the international trade fairs," she concludes. "Good things come from international cooperatives and we shouldn't miss out on that."

To know more about the Taiwan-Philippines Craft Cooperation Project, visit Creative Expo Taiwan.
Photos courtesy of Kai-Ping Liu, Noni Agulto, and Shelmed Cottage Treasures