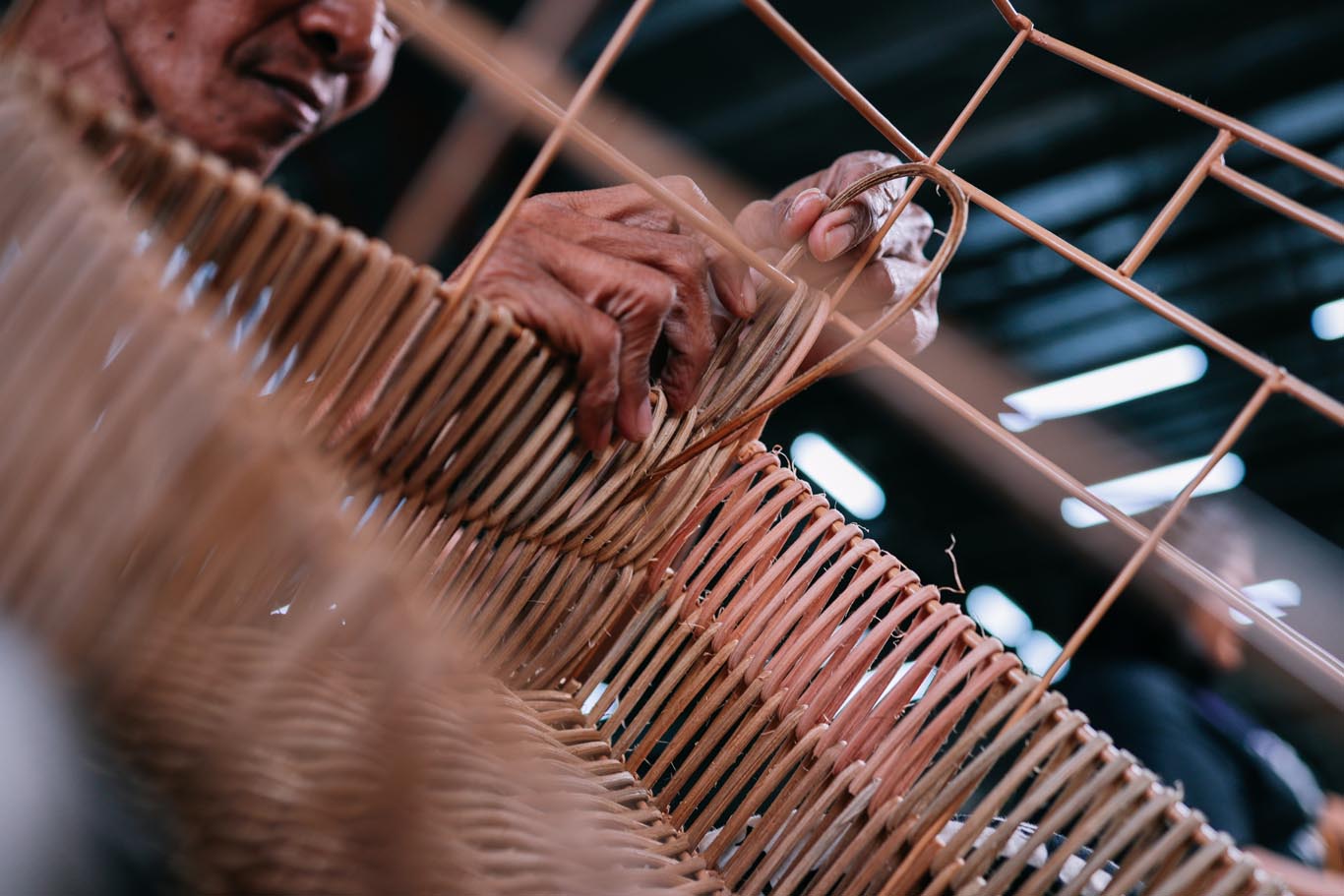 Luxury Department Stores Clamored for this Pampanga-Based Furniture Brand
For 45 years, Calfurn has been championing Filipino design and sustainably sourced local materials in the global export scene


by Hannah Lazatin

The Calfurn aesthetic gives many a cause for pause. From afar, the traditional weaving method looks cool and sleek, like machine-generated. Take a step closer and one will see the intricacy of traditional handweaving and the manifestation of hours of labor. The weaving patterns are not all the same—there are closely woven patterns, various types of mesh, and fine twills to name a few. Some are more intensive than others and that's because much goes into Calfurn's research and development to produce a final product. Weaving patterns and unique silhouettes are conceptualized, and various finishing techniques are employed. The team then takes time to constantly source new indigenous materials, innovate its core materials and create new patterns, and collect insights from this process for future productions.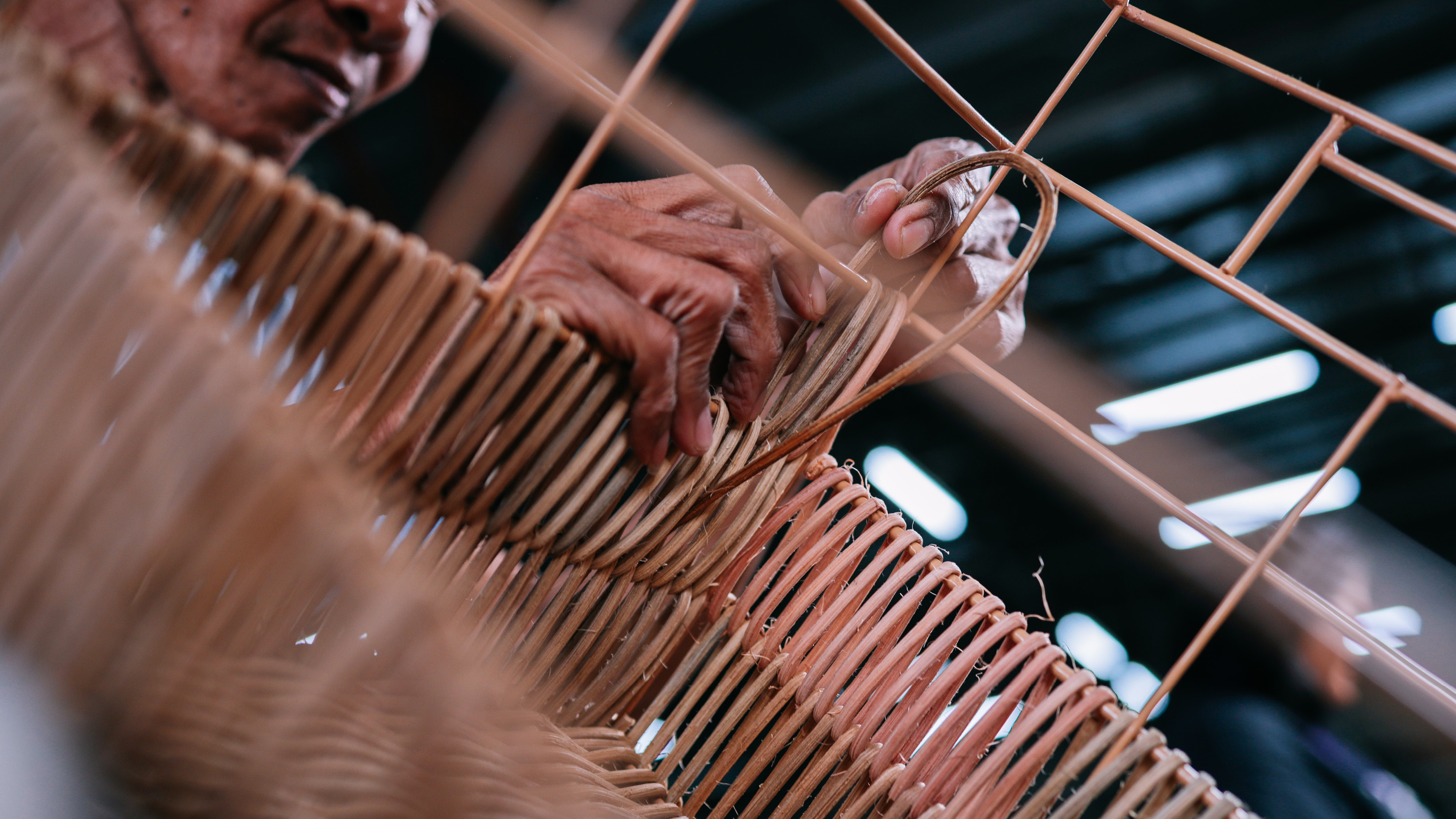 A worker weaves what looks to be a basket base. Calfurn trains its partner communities in weaving for around a month in order for them to perfect the craft
"Our company trains its people on the creation of the rattan furniture process to preserve the mastery of our craft," Julie Sarmiento, VP of Marketing and Sales, says. "We also put in contemporary or modern touches to traditional designs to keep abreast with the current market needs." Anchored on utility and form, the Calfurn catalog of products breathes life into an old art form and creates a space for it to mingle with contemporary designs. This statement is evidenced in the eclectic designs and variety of rattan products that fill the massive two-floor showroom at Calfurn's headquarters in Angeles City. Standout vignettes include a bar set-up with rattan stools and living spaces with their trademark woven armchairs and tables and statement mirrors in wooden frames.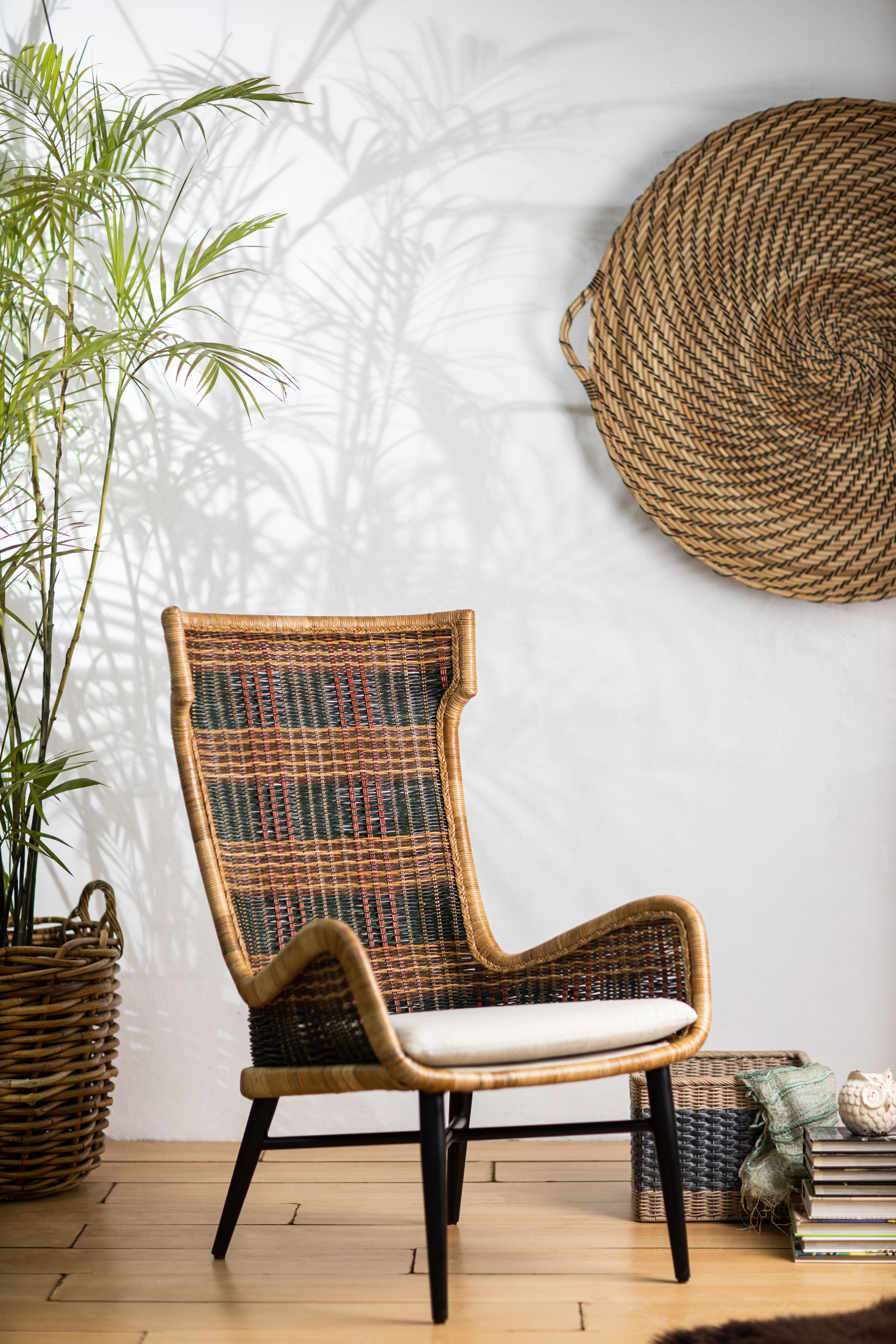 A woven armchair blends into a tropical living space
Calfurn is celebrating its 45th anniversary this year. It's testament to the company's longevity in the industry, but it also marks yet another year for its loyal employees, many of whom, Sarmiento included, have been in their employ for 32 years or more. There seems to be an established allegiance between the Pampanga-based furniture manufacturing company and its workers, and the same can be said of their relationship with clientele. Calfurn lists on its roster of regulars a customer who's been coming back to them for four decades.


Calfurn boasts a team of loyal employees, some of whom have been there since the company's start
Since establishing Calfurn in 1976, Eredito Feliciano has always fostered a people-centric and collaborative approach to business. He was 23, two years out of college, when he first manned operations at Calfurn. Business was simpler in those days, he recounts, as customers would come to them with a magazine or catalog in hand and merely point at the designs they wanted. The business guarantee was to deliver the final product in 30 days. He paid his small team of 20 workers weekly, or even daily, and materials could be bought on loan. Sales were up and the margins were fruitful.

Calfurn founder Eredito Feliciano started the business with a lean team of 20 workers
The limited local market was not a cause for hindrance, which is why Calfurn's strategy shifted to exports two years after. Buying agents from American department store chain Bloomingdale's would scout for products in Manila and became one of Calfurn's very first exporters. Following suit, Macy's (known as R.H. Macy & Co, after its founder, at the time) and luxury giant Neiman Marcus placed large orders of their own. It was a good time to enter the business, as the Philippines was a center for rattan furniture ever since the 20th century and was a popular source for Western countries like the United States.
When asked about Calfurn's performance in 2020, Feliciano himself was happy to report his surprise at the export market bringing in more orders than the year before. With the pandemic leading people to spend more time at home, they get to see what's lacking, he deduces. Because of this, 2020 was a race for Calfurn to fulfill their growing deliveries. While the majority of the business—at Feliciano's rough estimate, around 95%—comes from international orders, a number of local businesses, such as Astoria Palawan, Boracay, or Bohol, still opt for Calfurn's famous rattan pieces for display at their establishments. "If the world can appreciate our products," Feliciano says, "then, of course, our own countrymen should be able to appreciate them, too."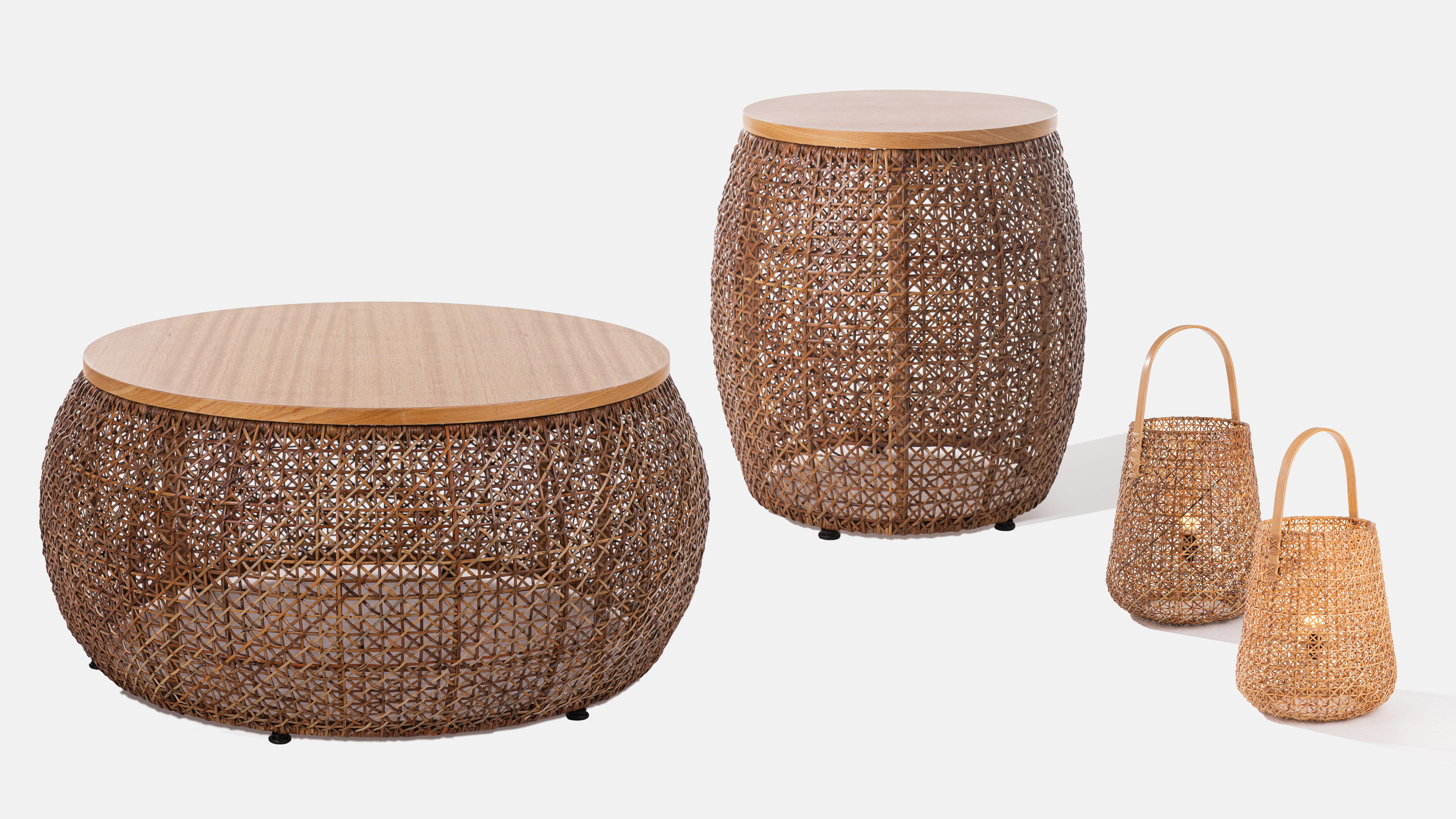 A lamp, coffee table, and stool designed in collaboration with Stanley Ruiz for Design Commune. These are made of rattan skin on weaving or open weave
The team can easily create bespoke pieces, but Calfurn constantly produces new collections as well, including collaborations with esteemed designers. One of their most notable design collaborations was with celebrated industrial designer Stanley Ruiz, for Manila FAME's merchandise development program, Design Commune. Since 1989, Calfurn has been religiously participating in Manila FAME—it's another avenue for them to attract more buyers and it's their way of supporting the furniture industry as well.

SUSTAINABLE ROOTS
Forty-five years in and Calfurn has developed an understanding of the industry and what they need to do to distinguish themselves from direct competition. The answer is all around them, in the natural products that are sourced in Pampanga and its neighboring provinces, and in the communities they tap to weave the materials they have become known for.
Before sustainability became a buzzword, it was already ingrained in Calfurn's DNA. The company engages with nearby local communities and trains them in weaving techniques that can serve as a source of livelihood for low-income families.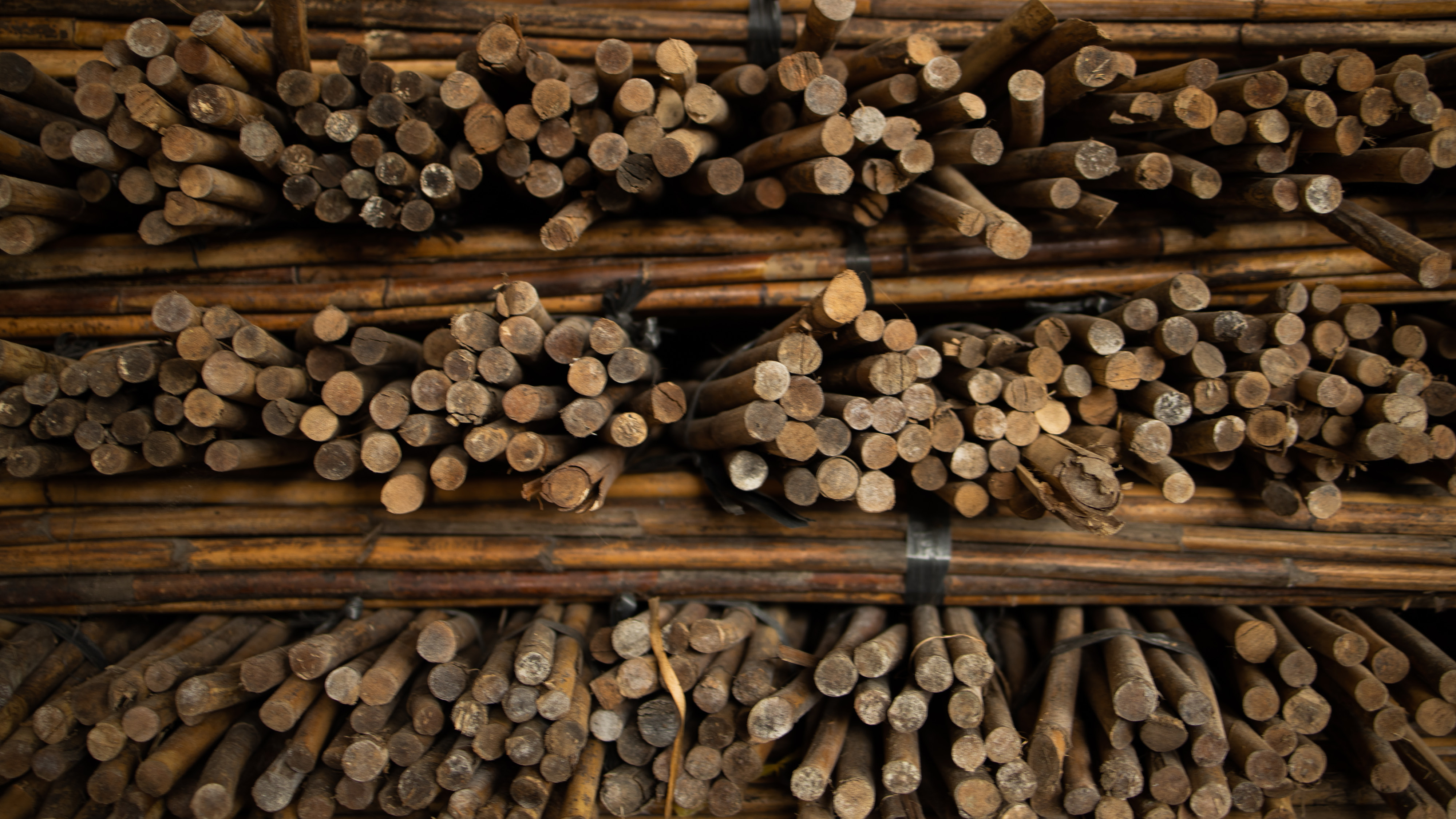 Locally sourced wood and other natural materials are used in creating each piece. The pieces are heavily dependent on what is available
Alongside training communities for free, Calfurn's staff also discovers new potential materials to experiment with. In 1995, they discovered the use of abaca that came from waste, sourced from Bicol. "We played around with it, and eventually, we used it," Feliciano shares. "And now, it has become expensive." They likewise sourced seagrass found in the swamps of Bacolor, and created many functional home pieces out of it.
Also ingrained in their brand identity is exemplary customer service. Calfurn always endeavors to cater to their clients' needs and deliver on their promise of high-quality craftsmanship. "We are happy and enjoying our long-term partnership as we and our business partners grow together," Sarmiento says.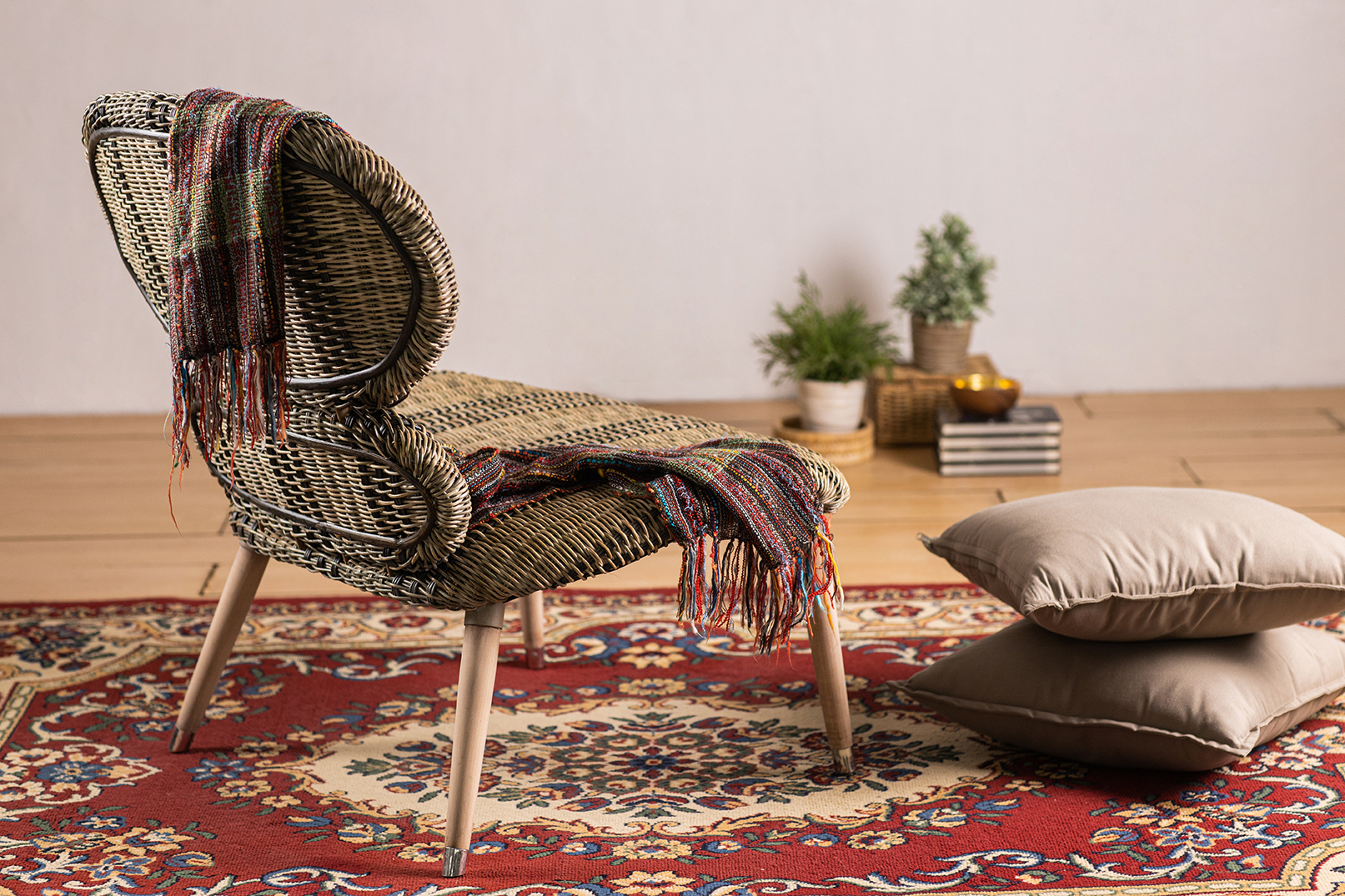 A cozy vignette blends traditional and modern elements
As they focus on scaling their growth, Calfurn will remain a champion of Filipino design and a customer-first model, both of which have contributed to its success, even in the midst of a business-altering pandemic. Under Feliciano's leadership and with the involvement of the family's next generation, we will continue to see the vision and innovation that have contributed to Calfurn's wins.
Photos courtesy of Paolo Feliciano