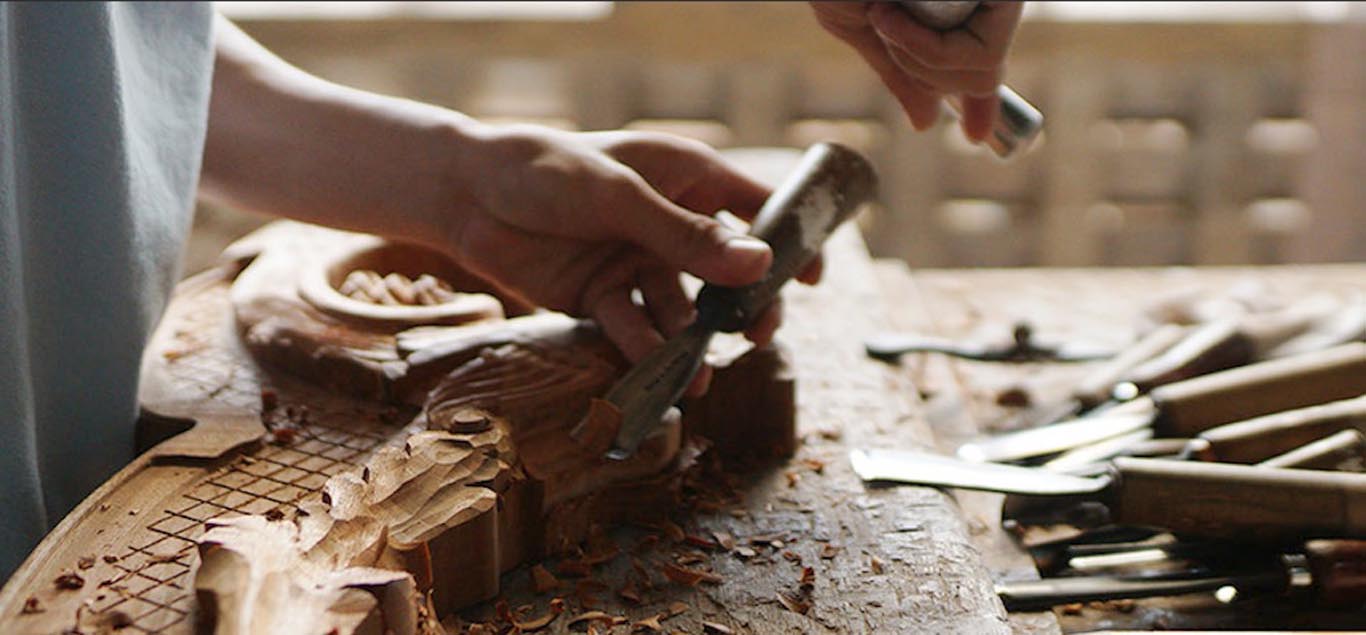 Preserving A Romantic Legacy
As the daughter of JB Woodcraft's founders, joining the family-owned company was just natural for Leslie Bituin-Mendiola. "I thought it was about time," she recalled, "so it was an easy decision."
Established in 1972, JB Woodcraft pioneered in the export of hand-carved components and furniture which were made out of the Bituin family's hometown of Betis in Pampanga. In 2002, Leslie started work as the company's Associate Marketing Manager. One of the challenges of her job was establishing a separate identity for JB Woodcraft to distinguish it from the Bituin family's other businesses, most especially Betis Crafts.
At first glance, some might confuse the product lines of the two companies since both convey a romantic, old-worldly look and feel expressed through the style's distinctive triumvirate - voluptuous detailing, gold and silver leafing, and also marquetry. But Leslie pointed out the differences that can be spotted with a closer look.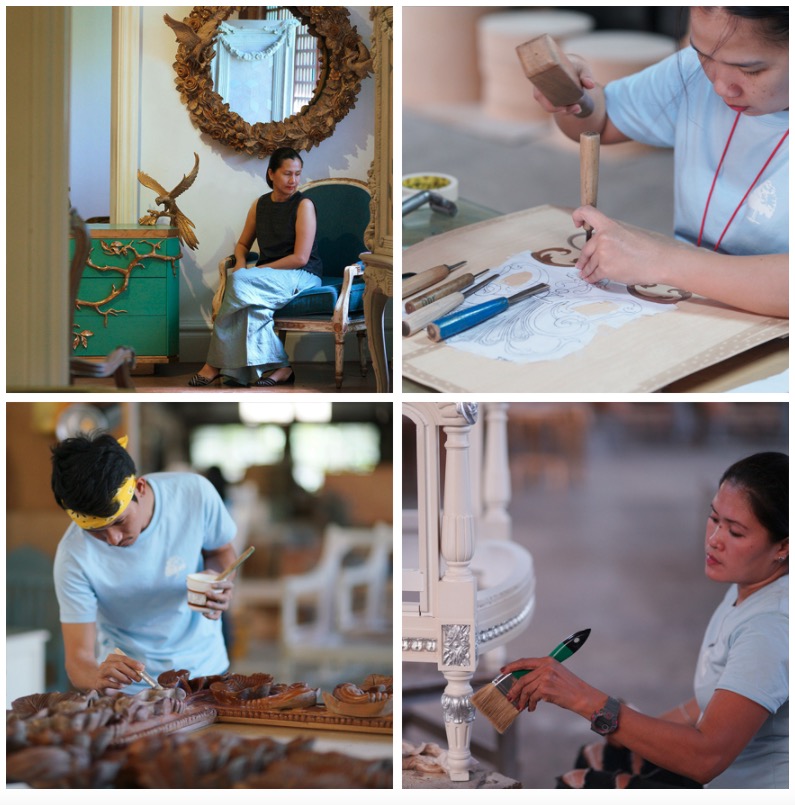 JB Woodcraft has retained its highly specialized craft methods such as (clockwise from top right) marquetry,
silver leafing, and gold leafing. Leslie Bituin-Mendiola in JB Woodcraft's showroom in Pampanga (top left) .
"I give more depth to the carving and finishing," she said. "For example, the thickness of the frame of a Betis Craft piece might measure two inches. Mine has to be four inches." The carving is bolder too, or "in your face" as Leslie described it, "para mas buhay."
Their strategies are different as well with Betis Crafts manufacturing volume pieces and JB Woodcraft creating one-of-a-kind designs. "One more thing," Leslie added, "Betis Crafts creates matching sets, like a whole living room with a sofa, armchairs, center and side tables, while I do mostly accent pieces."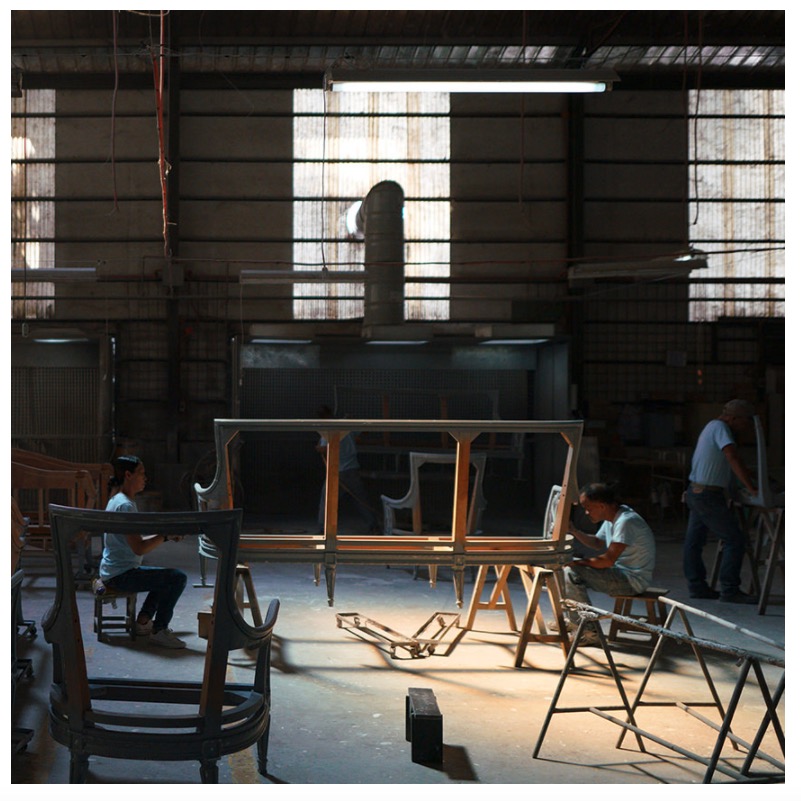 Workers sanding a sofa in JB Woodcraft's sprawling factory.

The family decided to reintroduce JB Woodcraft in 2006, due in part to the shift in buyers' tastes with more opting for less detailing. "My mom wanted to keep the skill of the workers, who are used to these kinds of carvings," Leslie explained. She relaunched the company at a local trade exhibition with a setting sparsely decorated with various pieces. "You really don't have to fill up a whole space to say what we can do," Leslie said.
JB Woodcrafts re-emergence was met with enthusiasm, providing the momentum for the introduction of an experimental collection - a hybrid of contemporary and classical styles developed with interior designer Eric Paras. Launched two years ago, it was well received especially by the younger audience. "Basically, it opened up a new market, compared to our usual buyers who prefer pieces na ma-ukit lang."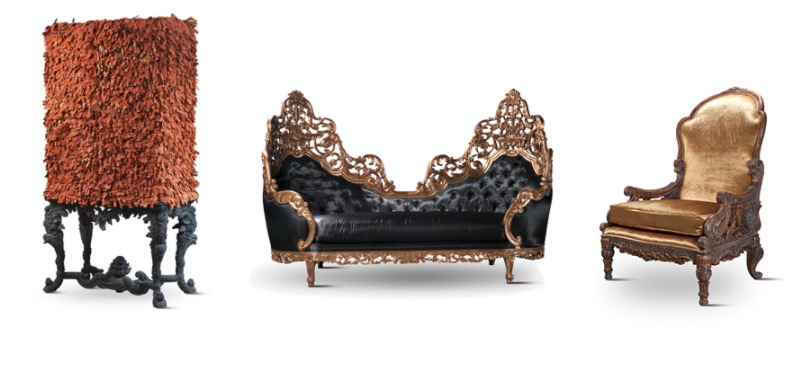 Left to right: Bar cabinet with leather strips and carved wooden base and frame, designed by Eric Paras;
Tufted chaise lounge with carved trims; armchair with plush velvet upholstery and carved wooden frame.

As JB Woodcraft nears its half-century mark, Leslie is preparing for its next phase. Part of her plans include stronger presence in local and foreign exhibition and trade venues to strengthen recall, and repositioning JB Woodcraft for a generation clients by way of her experimental collections.
"Our style isn't for everyone, but there is a niche market that appreciates the mark of the hand," Leslie said. "That's an affirmation of the JB Woodcraft tradition."
CONTACT INFORMATION

Emy Evangelista
Marketing Executive

63 45 9002750
info@jbwoodcraft.com
www.jbwoodcraft.com
380 San Miguel BetisGuagua, Pampanga,PHILIPPINES