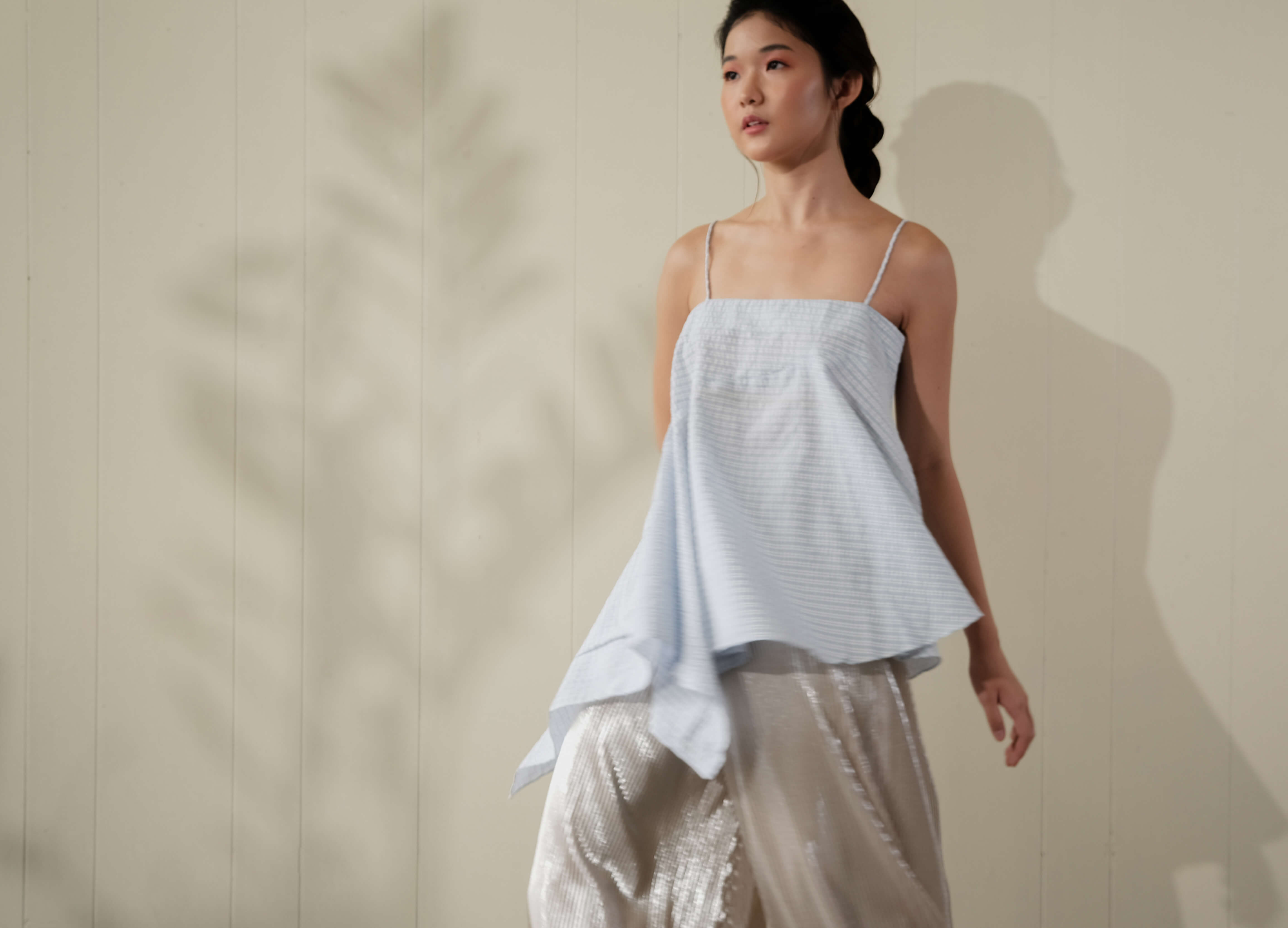 She Came to Make Clothes
Designer Jill Lao marries pretty with practical, with a no-fuss, no-nonsense approach to fashion made for the modern woman

by Patti Sunio
Fashion wasn't Jill Lao's dream career from the get-go. It took her several years working a 9-to-5 job before finally deciding to pursue it. "It was a very slow path for me because I didn't grow up wanting to be a designer," she begins. "I had no idea that this could be a career."
That is until she realized that fashion could be an avenue for her to create clothing that made sense, solve women's body issues through design, and channel her inherent creativity and timeless style. "Of course, before, I couldn't connect the dots. Now, looking back, there were really small snippets in my life that were very telling of where my path could lead to in the future."
As a young girl, Lao wore "these really poofy, itchy dresses" because her mother wanted her to look like a princess. But she'd always end up having to sit out on a lot of games to avoid ruining her dress. "My face looked miserable and I was scratching my shoulders out because the dresses were really itchy," she recalls. "I couldn't play patintero (a traditional Filipino children's outdoor game). I couldn't jump into the ball pits because I had to be ladylike in my dress."
She came to think that, in fashion, it always had to be one or the other: looking pretty and looking good versus being comfortable enough to move and play.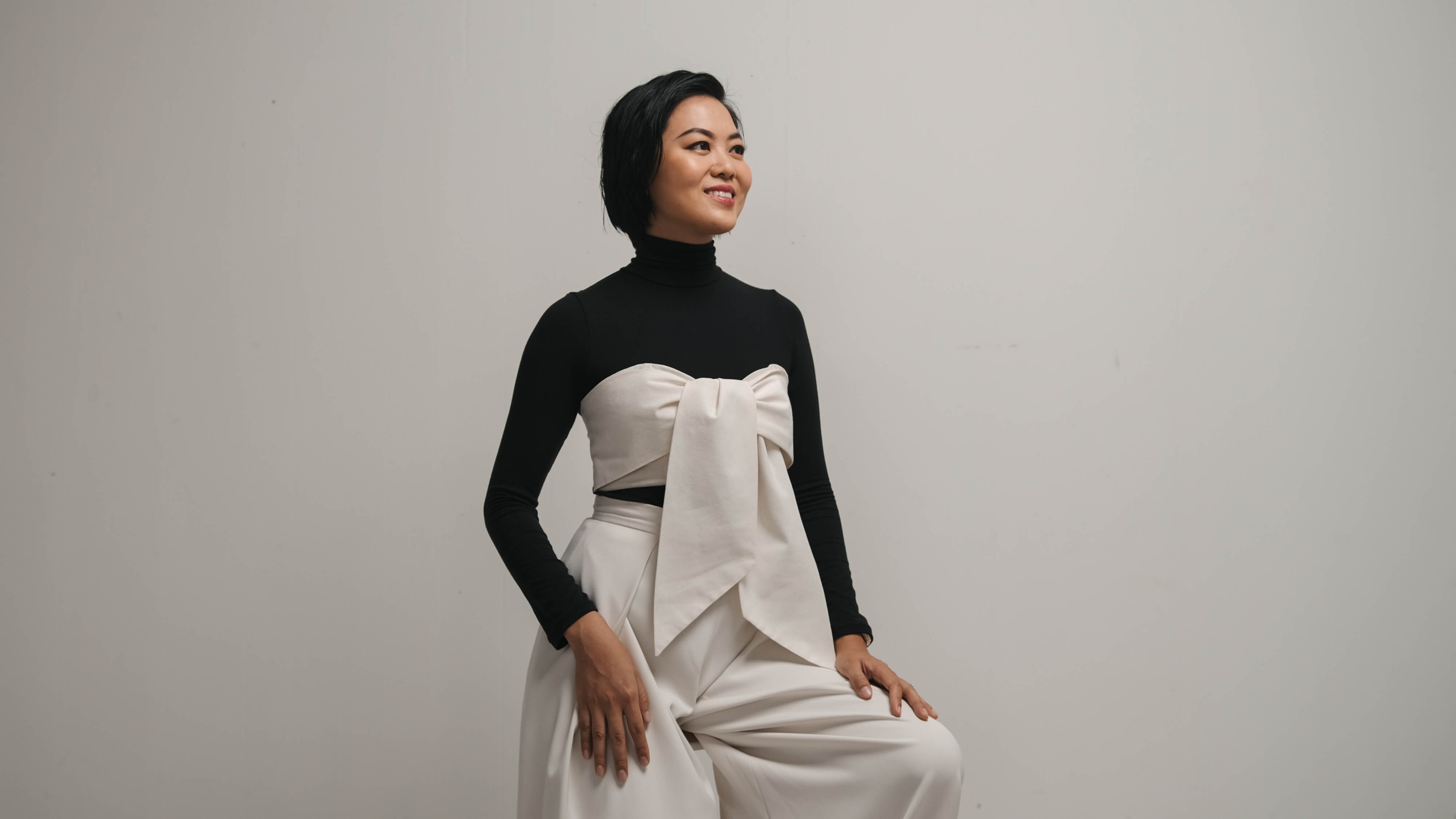 Designer Jill Lao is one of the eight Filipino designers set to showcase at PHx Tokyo
In school, Lao enjoyed her art classes the most. She liked painting, sculpting, tearing stuff, and crushing eggshells to make into art and paint over. "But I was also decent in math and I had good grades in English." And so in college, Lao took the course that made the most sense to her: business management, a practical course that can be applied to whatever one decides to pursue in life. "I come from a Chinese family so business is a way of life," she adds.
Lao's first job was in management consulting, a "very left-brained job," where she excelled at crunching numbers. She inched closer to the fashion world in her next role as a merchandiser, where she used her analytical skills for forecasting and budgeting. "After three years, I really felt that that was it. I really wanted to do something in fashion, but I still couldn't figure out what exactly."
Making the jump, Lao left her most secure job yet to become an assistant stylist—"my lowest-paying job ever." It was this stint, however, that led her closer to the path she was meant to take. In one particular job, she had to procure a wedding gown for a soap opera shoot that was scheduled for the next day. "I needed to find a similar wedding dress that they shot 100 episodes ago; they had already lost the dress," she shares. "The scene was going to be shot at 11 in the morning, and malls open at 10. I hurriedly bought a white dress off the rack and, referring to the photo of the original dress, I remade the dress, reworked, and hand-sewed it."
Lao delivered on time, the wedding dress unofficially being the first garment she ever created. "It finally came to a head, and I realized that I liked seeing the finished product that materialized after all the sweat and hard work. That gave me such a thrill."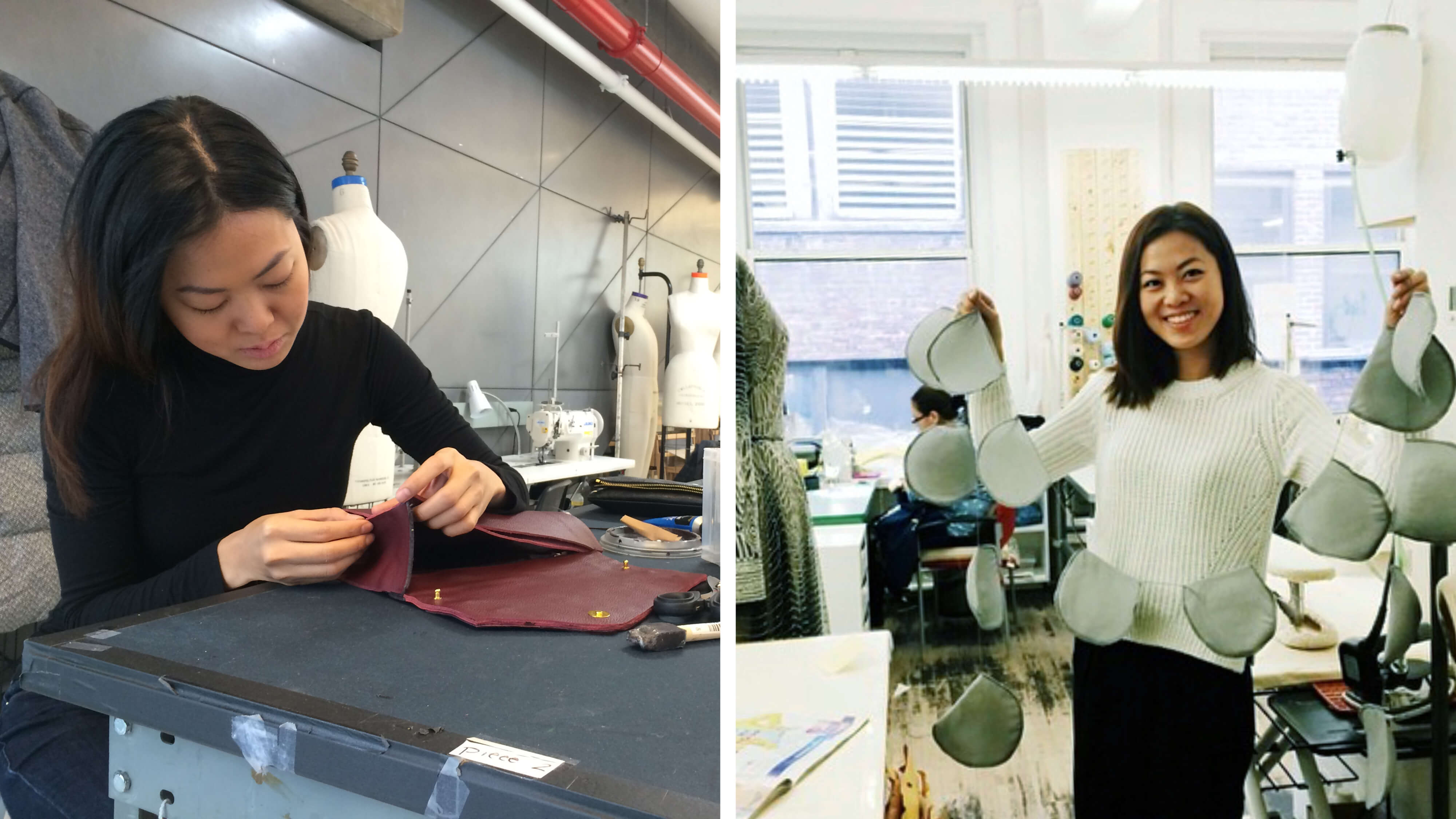 (left) The designer in a bag-making class; (right) encasing shoulder pads in silk at Naeem Khan. "Fashion design is a very intense course. We would hardly sleep and we'd go home at 3 or 4 in the morning. Spending so much time in the studio, we get a lot of feedback from each other, suggesting a technique or an idea," shares Jill Lao

A SECOND CAREER
Lao eventually decided to pursue further studies and set off to Parsons School of Design in New York City, where she was accepted into the fashion merchandising program. Her first semester wasn't as exciting as expected. "We studied theories like management principles, branding, and operations, but I found myself getting bored," she admits. So in her second semester, she decided to take up the most basic fashion design classes. "I really fought for it because I was told by my advisors that it's not allowed," she says with a laugh. "I pushed for it, and I found out that I really like working with my hands. I like folding, draping, and sewing."
She found herself in a class that was very diverse. "I was classmates with a criminologist, someone who's made so much money from oil, and others who really worked hours to afford fashion school." The common factor that Lao shared with everyone else was that fashion was already their second or third career, and it's an industry that's completely different from what they first studied. "It felt like we had all firmly decided that we wanted to be in fashion. Everyone's serious about it and there's no one who's being complacent."
Living in New York at that time also made Lao see the business side of things. "I realized that out of all the fashion capitals, New York is the most commercial out of all of them," she muses. "Americans have made good businesses out of fashion and that was very valuable for me to learn because I do want to make a decent living out of this."
During her stay, Lao also signed up for internships with contemporary brand Marissa Webb, bridal and evening gown designer Naeem Khan, and Oscar Dela Renta. She was determined to make the most of her experience, and learn what she could, from materials sourcing to embellishing gowns, to working outside one's role and being flexible in a small team. "Not everyone would be working as hard," she shares. "Some were a bit more entitled, and would only do in-office type of things like designing. As for me, I'd say yes to any errand."
At the end of the internship, Lao was approached by her boss who told her they appreciated how hard she worked, and were willing to put in a good word for her. "Fashion isn't glamorous. I never got into it for the glamor," Lao points out. "I knew it would be hard work. And I got into it because I wanted to make clothes."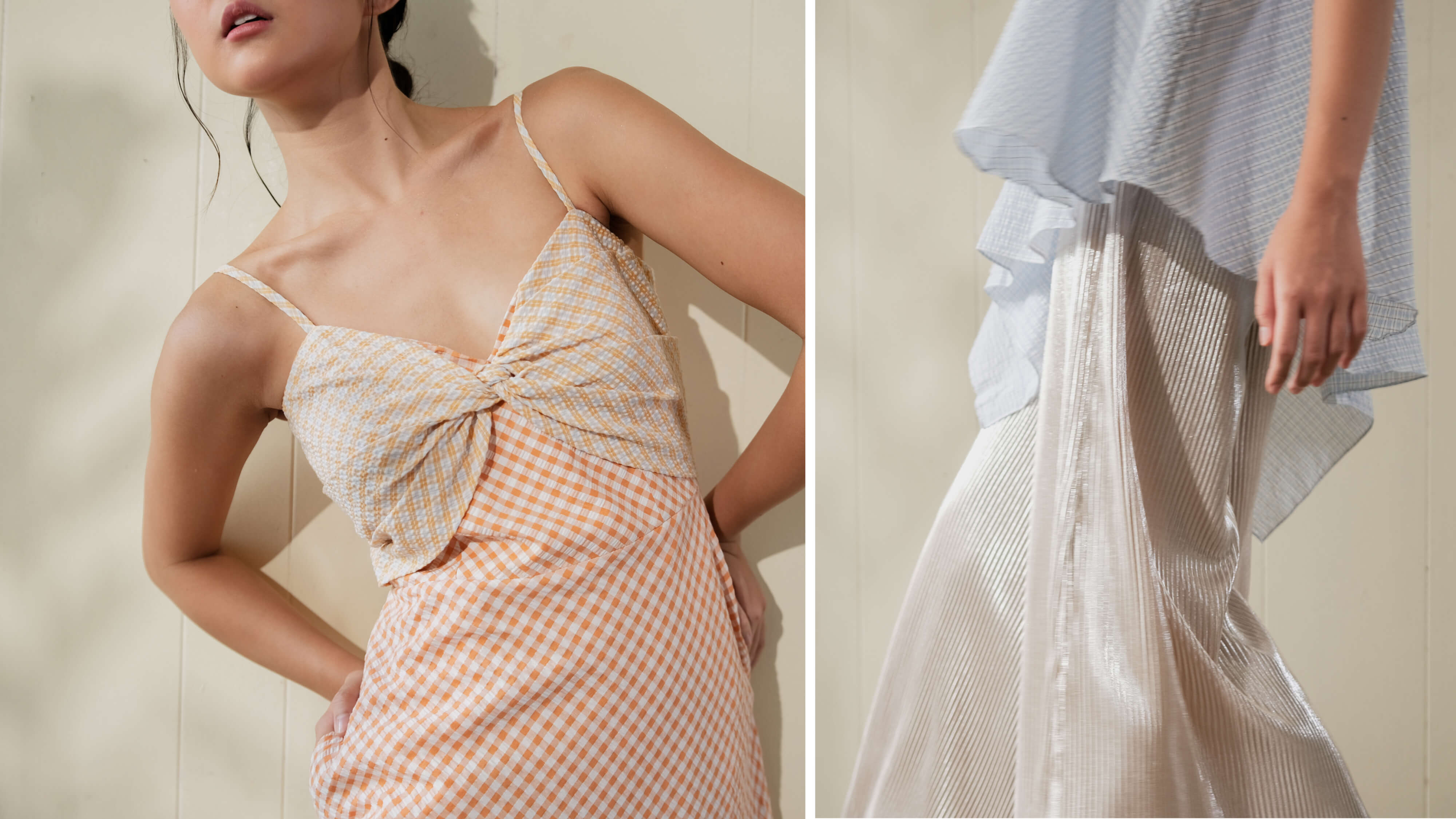 The fact that clothing is a necessity for everyone makes Jill Lao all the more committed to making clothes for real women. She is, after all, a creative at heart with a sensible head on her shoulders. "Fashion is design, and design is a marriage of form and substance.
(left) The Diana Tiered Maxi Dress has a twist detail in a contrasting print that shows Lao's playful love of color and pattern; (right) the Lorr Apron Top is a asymmetrical draped trapeze top cut close to the chest, allowing for maximum ventilation on hot summer months; the Angel Reversible Palazzo Pants is a shimmering silver on one side and a satin champagne on the other, in wrinkle-free pleats and an elegant, roomy silhouette
THE PRACTICAL DESIGNER
After spending time in New York and Paris, Lao found herself heading back home, informally starting her fashion business in 2017. "A lot of designers in the Philippines make custom or couture pieces that you'd only wear once or twice, for PhP30,000 or PhP40,000. And the local market here is really willing to spend for a gown," Lao observes. "It kept me wondering how come designers weren't willing to put more thought into regular clothes, and why customers weren't willing to pay PhP3,000 to 5,000 for well-made clothes that you'd wear every day?"
For Lao, it makes more sense to spend more time and money on clothes you practically live in. "I wanted to challenge that distorted belief that gowns are priced high because they're special," she says. Her goal was to make clothes that struck the balance between being too dressed up and too laid-back. "My brand is all about empowering the modern woman. It's all about clothes that allow us to live our lives. It shouldn't be restrictive."
Through no-fuss, comfortable clothes, Lao wants to make the process of dressing up easy. It's a common dilemma for women: opening a closet full of beautiful clothes, taking hours to decide, and ending up feeling like they have nothing to wear. "When I say 'easy to wear,' I don't only mean easy to put on and be in. It's really about the process of deciding what to wear or deciding to buy that piece of clothing. With my clothes, I don't want people to have to think twice or thrice or have to spend hours deciding what to wear. When you open your closet, the decision should come easily: 'I'll wear this today.'"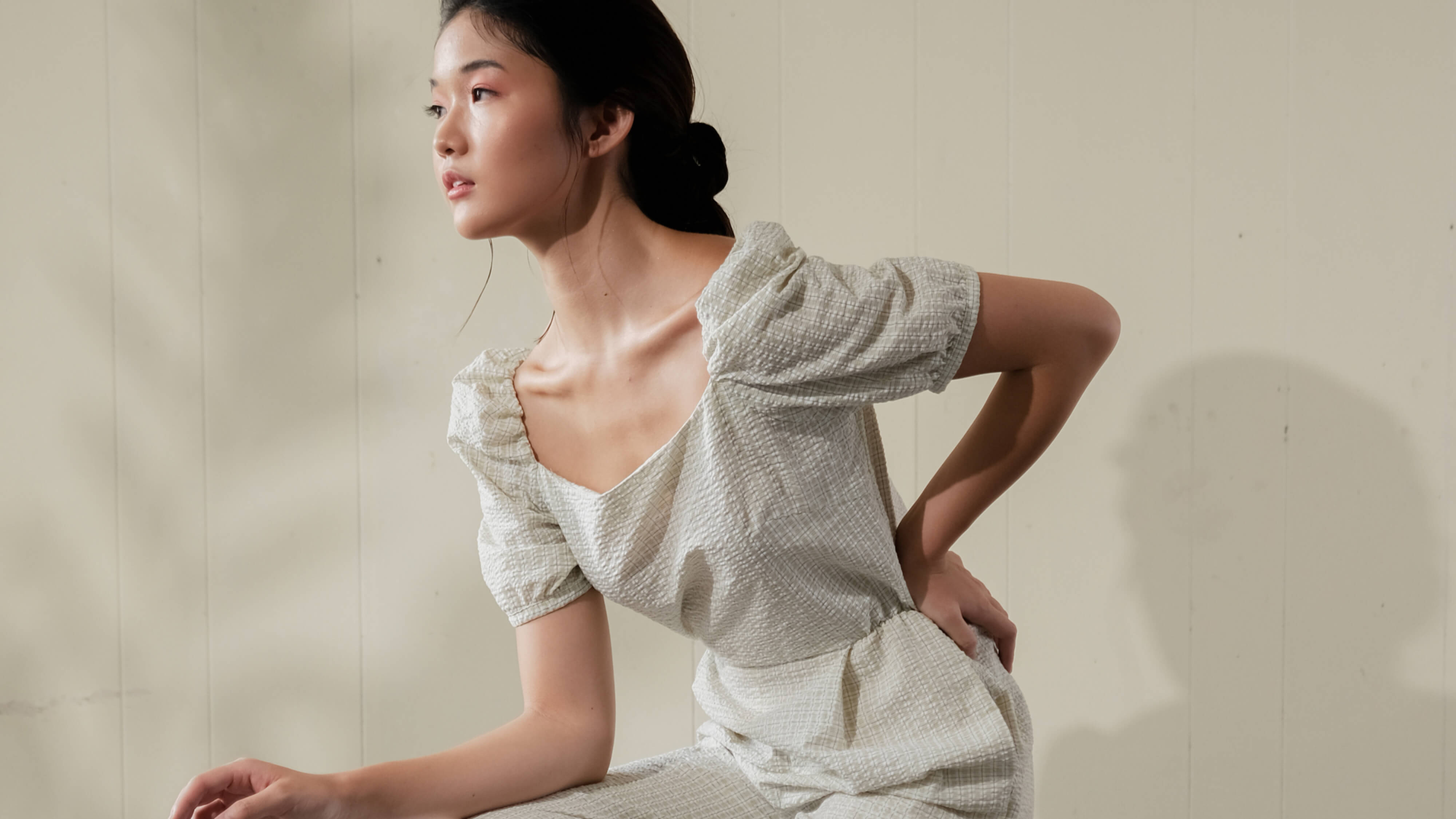 In her design process, Jill Lao is first inspired by the fabric. "When I touch or feel them, I'll know what I want to do with that fabric." She also finds herself drawn to vintage styles and seeks to know what it is that makes her attracted to them, be it the tiny details or the emotion it evokes.
In photo is the Franny Puff Sleeved Jumpsuit, a relaxed, versatile piece that can go from supermarket and pick-up-the-kids errands to a casual date

FASHION FOR REAL WOMEN
Designing for the modern woman is no walk in the park. Always one with a practical sensibility, Lao takes into account many things, from one's lifestyle to the hot and humid weather. "My clothes have to make sense with the rest of your wardrobe and your lifestyle."
Custom-making clothes for clients has also allowed her to understand what women want, fashion-wise, allowing her to solve their body issues through her clothes. "I learned that this client, for example, doesn't like wearing pants because it's hot. Or I learned that one client is a dress kind of woman, but another isn't because she's conscious of her legs," explains Lao. "From these, I am able to sense their need and interest, and it helps give me insight into the clothes I should make for my ready-to-wear line."
Real women and their real lives influence Lao's design process. She also loves to travel and see the world, soak up the culture through cuisines, art, architecture, and music. "Other markets are so much more diverse in terms of style and character," she says. In New York and Paris, Lao would frequent subways where she'd quietly observe people and all types of characters on the streets: the busker, the street musician, the street performer, the cool artist. "I'd get inspired by their attitude, what they're doing, or what they're wearing."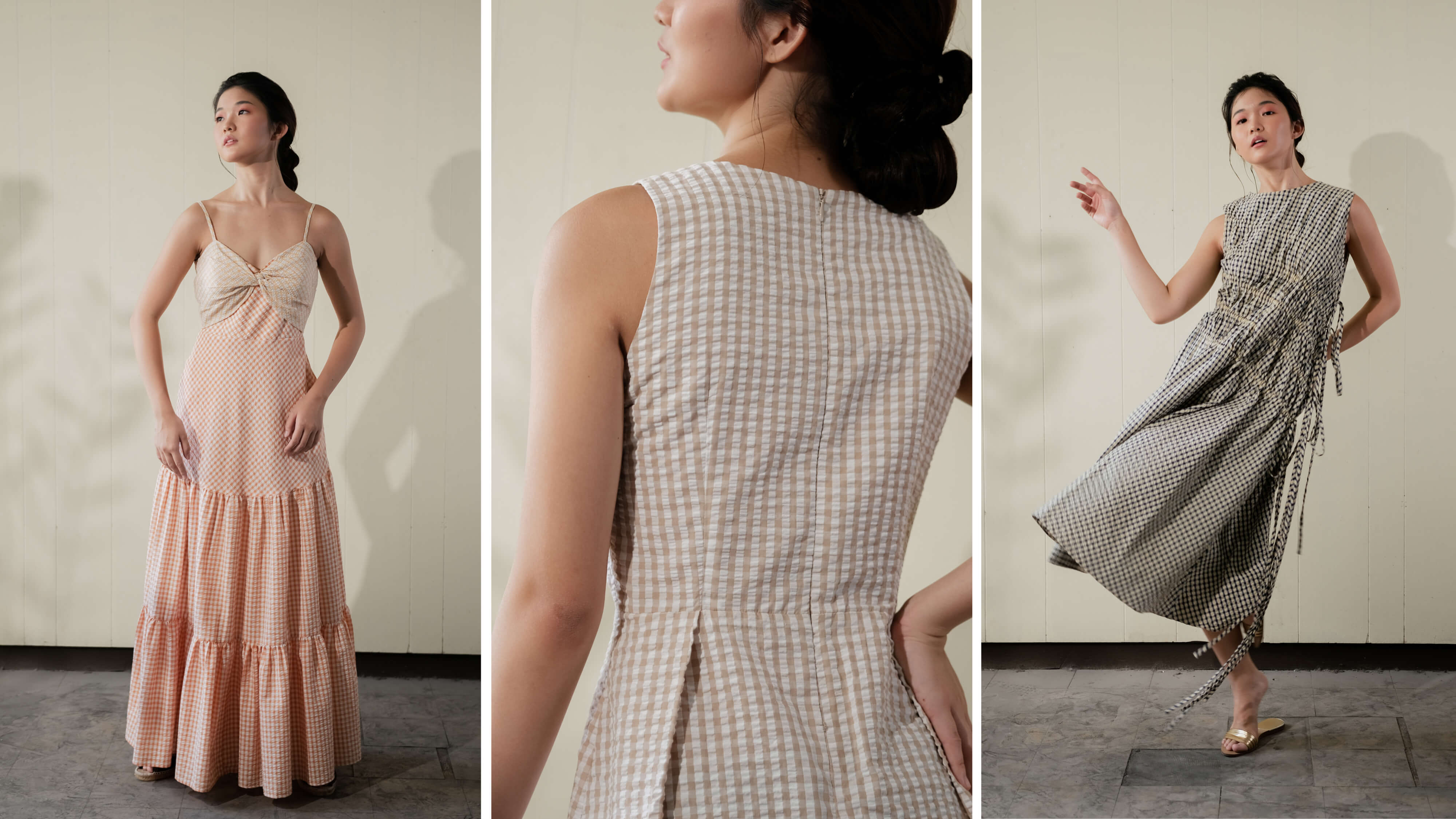 "Whatever I design, I have to be able to wear it in our weather," says Jill Lao. "It has to be really cool and lightweight.
(from left) the Diane Tiered Maxi Dress in full glory; a closeup of the Kim Fit-And-Flare Dress' thoughtful tailoring; and the Darla Drawstring Dress, which is inspired by the local daster or house dress, has a spacious and shapeless silhouette that "won't drown the wearer" and rows of drawstrings that can be adjusted for a slimmer fit
Lao is one of the eight Filipino designers chosen to showcase a collection in Japan's discerning fashion capital, under the PHx Tokyo design mentorship program headed by CITEM and the DTI. And for her PHx Tokyo collection, she takes inspiration from power women Amelia Earhart and Enola Holmes, who are all about breaking traditional gender roles. Through her clothes, Lao intends to highlight the multi-dimensionality of women who embrace their femininity, while standing their ground as strong, independent women who manage multiple roles. Her clothes allow them to transition through the many hats they wear with ease.
"The Jill Lao woman is someone who's more assured," she says. "She wants a little something that's special and she isn't driven by trends or peer pressure anymore. She invests in clothes and understands that not because it's for every day, it can be just a random shirt."
About PHx Tokyo
PHx Tokyo is CITEM's showroom incubation program. Eight homegrown fashion labels undergo group and one-on-one mentorship sessions with Japan-based showroom H3O Fashion Bureau and fashion consultant Tetta Ortiz-Matera to help them successfully launch their brands in the Japanese market. The culminating activity is a three-day showroom presentation (July 7-9, 2021) in central Tokyo's fashion district. Each brand will showcase its collection for both buyers and the general public.

Art Direction Kit Singson
Photos and Video MV Isip
Makeup Jinx Aggabao
Hair Fhedz Cordero
Model Reins Mika Melitante
Sittings Editor Patti Sunio
Coordination Sheryl Abrera