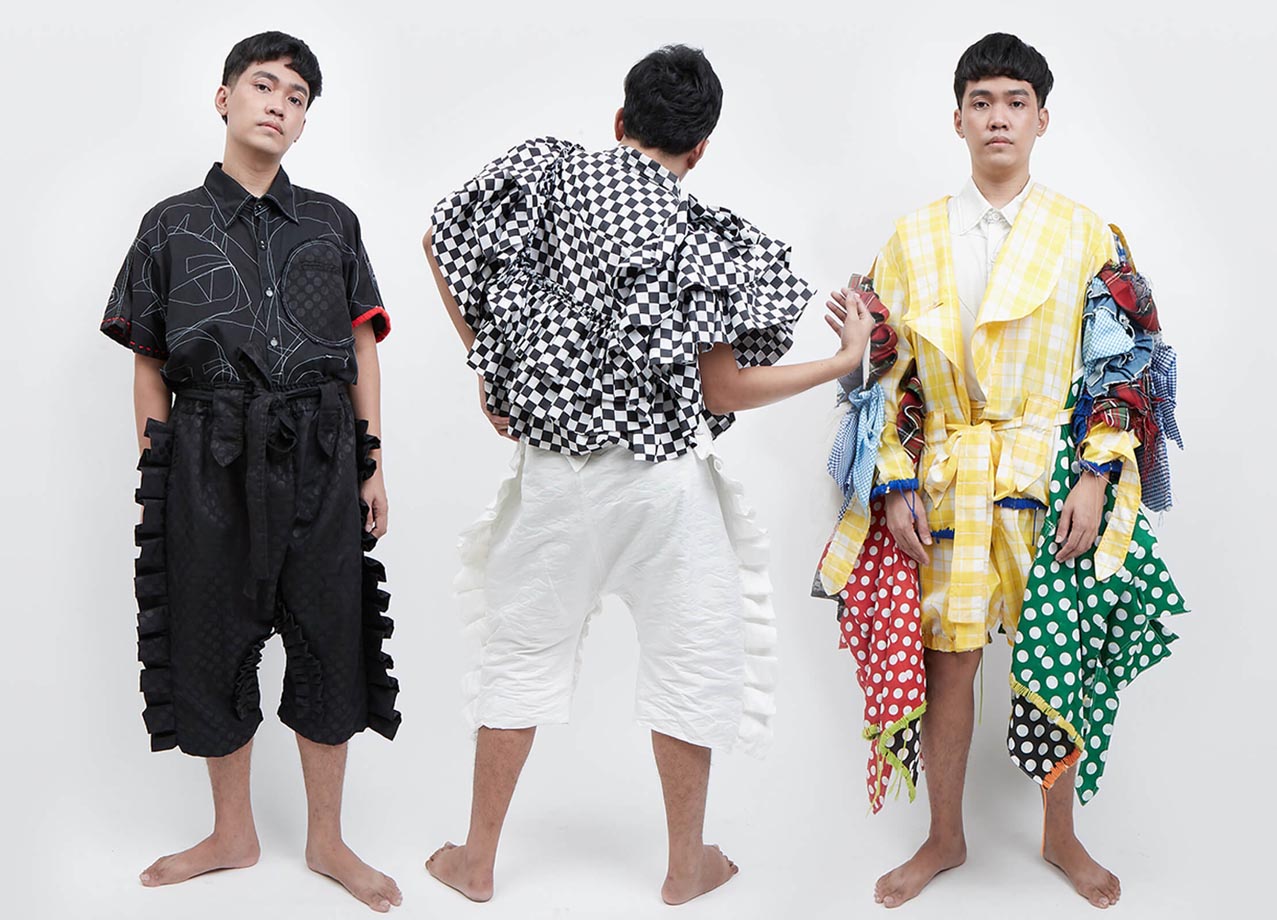 Fashion for Free Spirits
Abraham Guardian and Mamuro Oki of the fashion brand HA.MÜ are challenging fashion conventions one genderless dress at a time

by Vicky Montenegro

Theirs is a classic tale of opposites attracting. Back when they were still studying AB Fashion Design and Merchandising at De La Salle-College of Saint Benilde, Abraham "Ham" Guardian's and Mamuro "Mamu" Oki's works were often compared—not for their similarities, as is often the case for comparisons, but for their glaring differences. Guardian was a proud maximalist who used a lot of colors and prints in his designs, and he had a penchant for manipulating fabrics, transforming them into big, complicated silhouettes. Oki, meanwhile, was a minimalist in his design approach, favoring black and white, boxy silhouettes, and sharp tailoring.
The two had such distinct styles that the idea of merging their designs became a topic of interest among friends and schoolmates. "Eventually, on our final year in college, I asked Mamu if he was interested in doing our graduation fashion show collection together," Guardian shares. "Our professors were all very supportive of the idea since, from our submissions, they had become aware of the pieces we produce and they wanted to see more of what we can bring to the table." The two would then work on producing an avant-garde collection of six looks for their 2017 graduation show, setting the stage for what would then become their own fashion brand, HA.MÜ.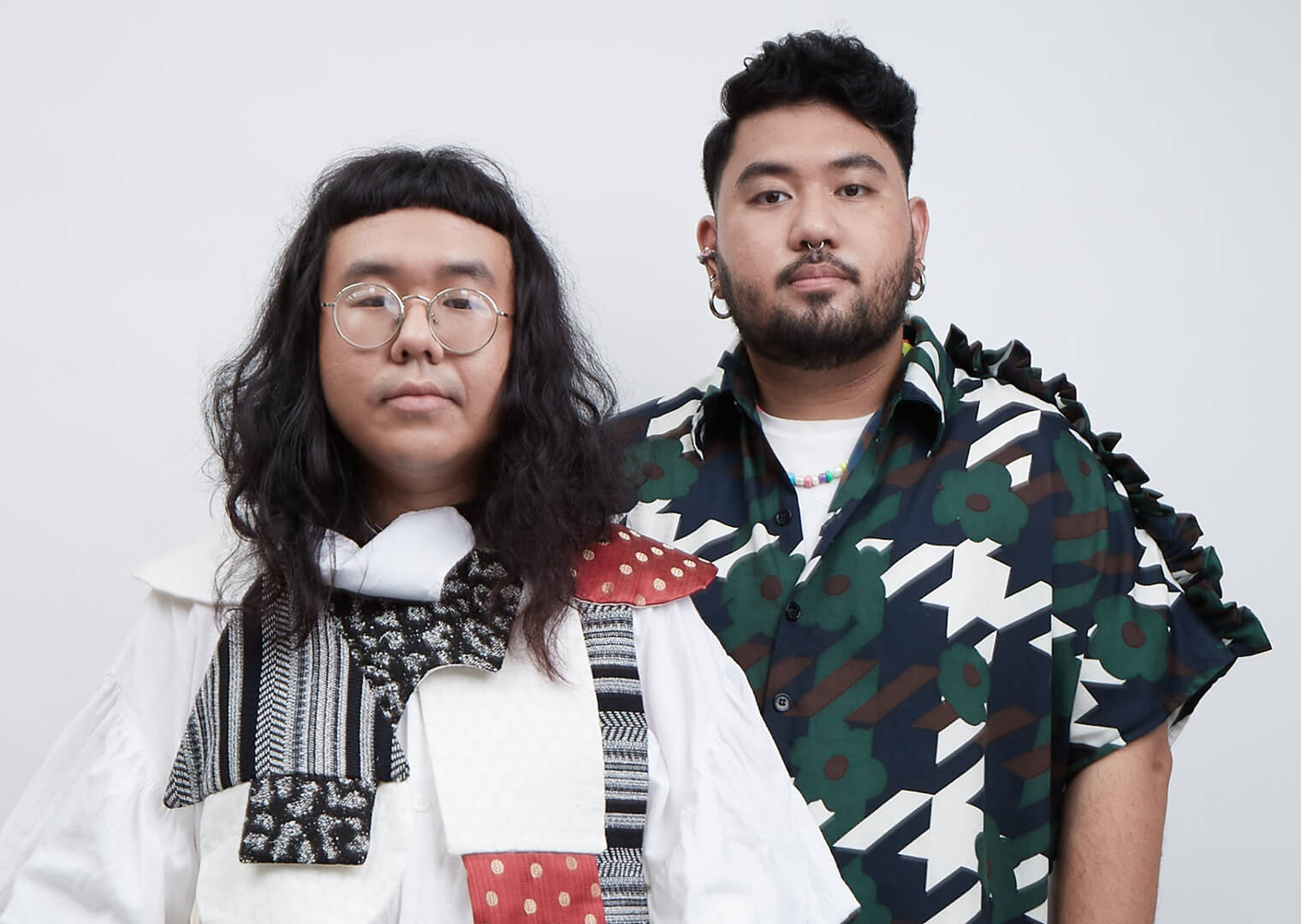 Abraham "Ham" Guardian and Mamuro "Mamu" Oki, the duo behind HA.MÜ
Guardian and Oki didn't waste time launching the brand, but not without challenges. "We were a couple of fresh graduates and we quickly realized that what we learned in school was not enough in the real world," Guardian points out. "We were no longer students who could go through a trial-and-error process. Every choice and decision we made had its consequences."
Starting the brand was easy; running it like a real business was not. Guardian and Oki were challenged by the everyday decisions—production, overhead, marketing, distribution, and sales—that directly impact their long-term goals. They weren't very certain on how to make operations functional and systems efficient, but it was clear to them that they had to make sure that the brand would only move forward.
What was also always clear to them was how they would position HA.MÜ. "We wanted to capture people who have a high appreciation for the arts and who are open to new concepts of wearing clothes," Guardian explains. "We wanted to be a brand for people who dare to challenge the norms on how clothes should be worn."
"Our brand's aesthetic has always been reminiscent of our childhood," he continues. "We like to reflect on our childhood and cross-reference it with our current situation, and so we try our best to think like a child when we come up with ideas and concepts. We work on a basis of freedom of expression, fused with the idea of love and confidence in one's self."
It is with creative rebellion that HA.MÜ chooses to highlight a person's individuality and idiosyncrasies. Their creative direction seems devoid of guidelines that most fashion brands have, and their design process is just as free-spirited. "We tend to be flexible when we conceptualize our ideas and designs," Guardian explains. "This is the same for our collection concepts. We always try to think outside the box and just go wild. But we still pay attention to how all the details come together and we make sure that we are able to tell the stories that we want to share."
Not surprisingly, a big chunk of HA.MÜ's business relies heavily on custom orders. "We do mostly made-to-order pieces because our brand is well-known for the art pieces we do and the intricate details that go on them," Guardian says. "We attempted to do a complete ready-to-wear line once, but in the end, we ended up getting custom orders based on the line we produced."

"We tend to be flexible when we conceptualize our ideas and designs," Guardian explains. "This is the same for our collection concepts. We always try to think outside the box and just go wild."
BIRTHING THE BUSINESS
They used to source their fabrics from the "palakpak" ("clap") merchants in Divisoria. These are vendors illegally stationed—thus selling their merchandise at even lower costs—along the streets of the famed bargain commercial center in Manila, and who would clap to call the attention of buyers. "But over time and through our experiences in reproducing our popular designs, we realized that getting fabric from suppliers who restock their inventory is a more efficient way of purchasing our materials," Guardian points out.
Comfort is key for the brand. They choose fabrics based on their wearability. "If it is not comfortable, we try to find ways to make it wearable," he explains. "Other times, if we cannot find the specific material we need, we end up just making an alternative on our own."
It took the duo a few years to nail their production system, but they are continually improving operations because every day has become a new learning experience for them. Oki is in charge of production, and Guardian helps out when the workload gets heavy. They produce everything in-house so they have full control of the process and can quickly step in when problems and complications arise.
They market and sell directly to their target audience. In 2020, they consigned with Basic Movement (basicmovement.ph), an e-commerce platform for curated local brands created by Esme Palaganas. And they have plans to make HA.MÜ available to the international market via a global e-commerce channel. For now, most of their sales and inquiries come from social media. Social media has been a very important tool for the brand. With minimal effort ("All we have to do is just post and share our works and also connect with people via the comments section and direct message"), they have been able to connect with a larger audience share, some from other parts of the world.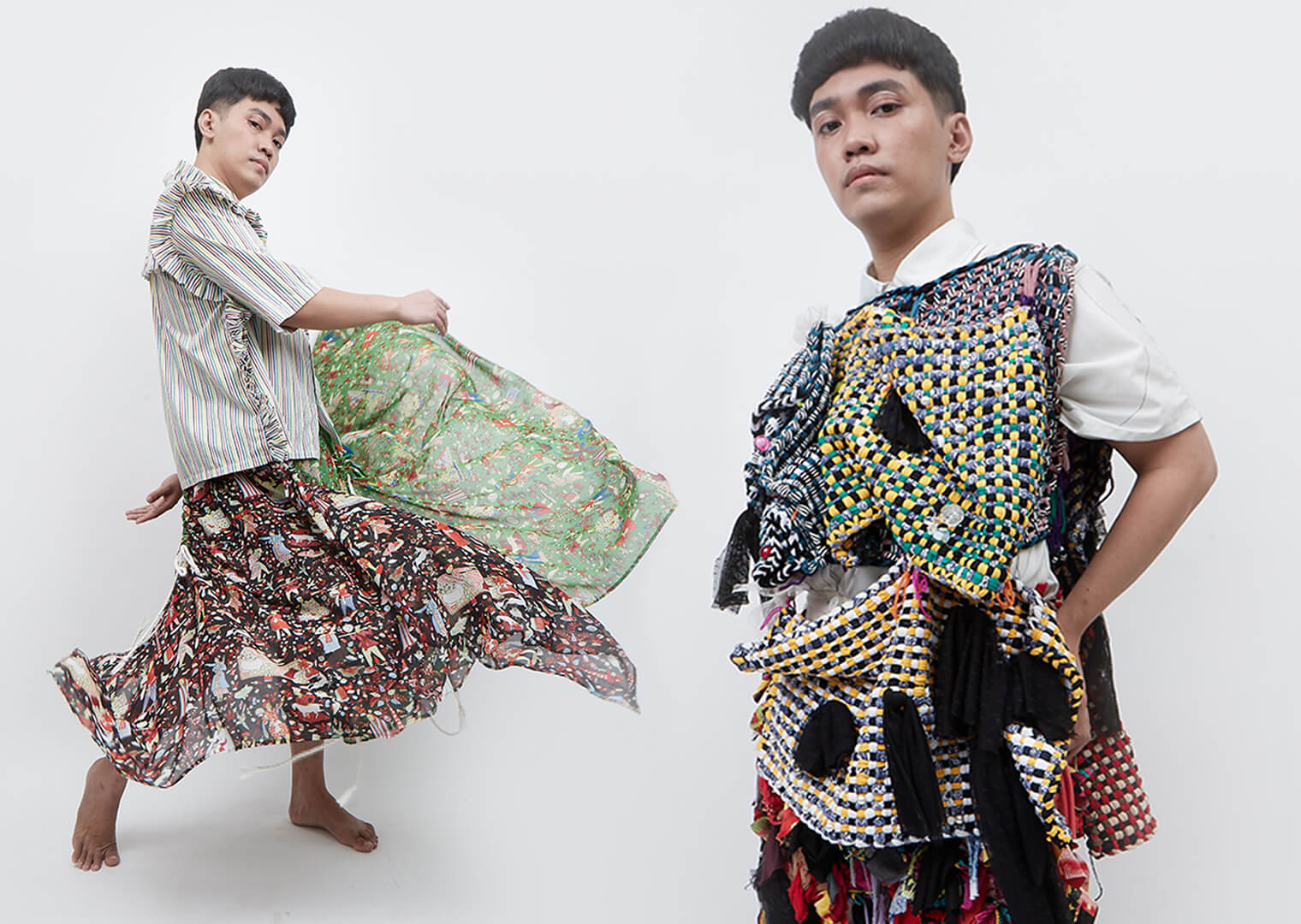 HA.MÜ espouses free-spirited fashion, creative expression, and individualistic thinking
Guardian is in charge of marketing and advertising. "We usually try to document our process so people can see what goes into each piece that we create," he says. "We also enjoy sharing photos of people wearing our pieces because we enjoy seeing how other people interpret our pieces according to how they see or understand them."
"We love interacting with our customers in any way that we can," he continues. "The beauty of having customers come to us for custom pieces is that, in the process of discussing what they want in their pieces, we get to know them better—on a more personal level. And sometimes we try to incorporate their personalities into the details of their bespoke pieces. I consider it a personal achievement when I develop a friendship with a customer."

COLLABORATIONS AND A DIFFUSION LINE
Like many other brands, HA.MÜ had to hit pause on some big plans in 2020. They also had to get more creative in getting more business. They usually receive custom orders for major occasions like weddings, parties, and holiday festivities, but because social distancing has prevented these events, they've had to tap into other sources of income, mainly orders and queries coming in from Instagram, their "main tool and best friend," as Guardian calls it.
They also worked on collaborations with other design brands, among them a line of accessories with Tropik Beatnik and their Barong T-shirt with Tan-Gan, designer Lulu Tan-Gan's eponymous label. "Normally the collaboration starts organically, if one of the parties has an idea in mind that might interest the other," Guardian shares.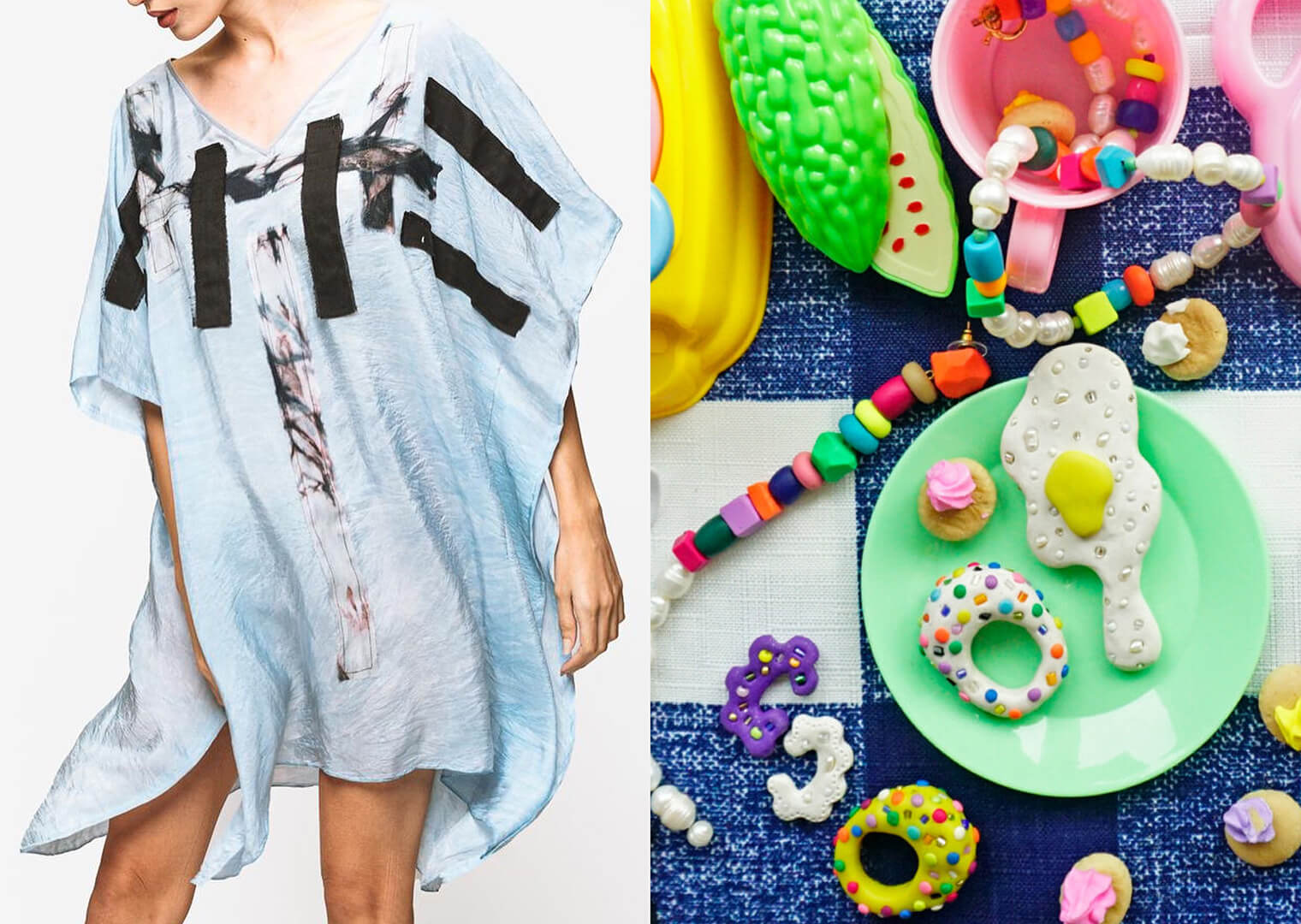 HA.MÜ has collaborated with Tan-Gan (left) and Tropik Beatnik

They also spent the months in lockdown wisely. They did a review of their business operations and re-strategized. They took stock of their sales and determined the most popular silhouettes and the best-selling designs, and so far the list has included the All-Seam-Ruffled button-down, the Doodletime button-down, puff-sleeved pieces, the Egg and Pillowcase tote bags, their piña (natural fiber derived from pineapple) coordinates, and, understandably, their facemasks.
One project that had to be momentarily put on hold was their ready-to-wear diffusion line, müü.haa. In 2019, the pair was approached by the De La Salle-College of Saint Benilde's Hub of Innovation for Inclusion (HiFi) Peter D. Garrucho Jr. Innovation Institute (PDGii). They were asked to be part of the institution's incubation program that focuses on helping start-ups, innovators, and dreamers. "At that time, Mamu and I were planning on expanding the team but we were not sure on how to go about doing that," Guardian admits. "Through their program, we were able to get mentorship from professionals from our field and we were also able to study management practices that we can use to better manage our brand. By the end of 2019, Mamu and I decided that we should venture out into doing a diffusion brand that will focus on a different style and direction towards the way we design and conceptualize our clothes. This was the birth of müü.haa."
But then COVID-19 happened. Guardian and Oki had originally designed a capsule collection for müü.haa, inspired by another collection they did for HA.MÜ. With the pandemic, they were suddenly unsure of the relevance of the new pieces—or of the whole diffusion line for that matter. In June 2020, HA.MÜ worked with Esme Palaganas and Basic Movement for The Masks for Masks Project—a collection of non-medical grade, reusable face masks by local brands and designers—and experienced their "version of 'mass production'" for the first time. The experience helped them realize how fashion—and HA.MÜ—can proactively react to the pandemic or any social and economic situation. They also began to understand fashion's new direction and function.
By August of 2020, through the support of HiFi, Palaganas became a mentor for the müü.haa team. "Through our mentorship with her, we were able to better understand müü.haa's branding and how we can differentiate the two brands we now run and manage," Guardian explains. "We completed our prototypes by the end of the year and perfected our first small collection of uniform-like pieces for müü.haa."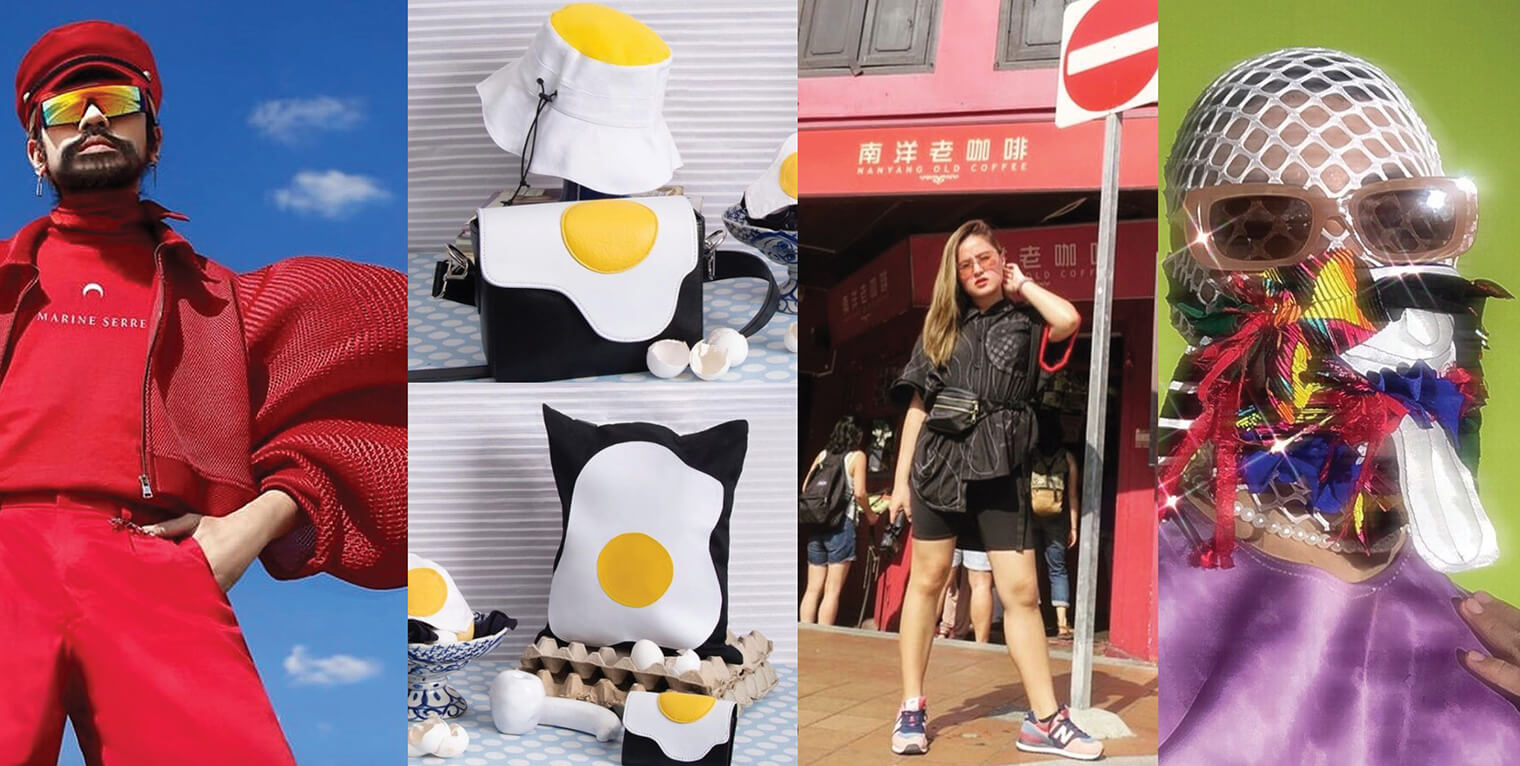 Bestsellers include (from left): puff-sleeved pieces (as seen here on André Chang), their Egg collection, the Doodletime button-down, and facemasks like their iconic Monster Retaso Face Mask

PHX TOKYO PRESENTS HA.MÜ
In July 2021, HA.MÜ will be launched in Japan via PHx Tokyo, CITEM's showroom incubation program which aims to launch homegrown labels in the Japan market. HA.MÜ was one of eight fashion labels handpicked by CITEM, fashion consultant Teresa Ortiz-Matera, and H3O Fashion Bureau, a reputable Tokyo-based fashion showroom and sales agent, to join the program.
It's a totally new market for HA.MÜ, and a totally different ballgame. "Whatever perception we had of the Japanese market before turned out to be totally different from what it really is," Guardian admits. HA.MÜ will be presenting a new ready-to-wear collection "that will showcase our capabilities, including catering to various markets," he notes. "We also plan on pulling out past popular works from the archives and sell them again as part of our ready-to-wear line."
The past year may have presented a whole set of business challenges, but HA.MÜ is excited for what's coming next. "We are thrilled and honored to be a part of this program because we know the training we will get is something that can help us in the long run," Guardian says, "especially when it comes to marketing and presenting ourselves to the international market. This will definitely open more doors for us."

About PHx Tokyo
PHx Tokyo is CITEM's showroom incubation program. Eight homegrown fashion labels will undergo group and one-on-one mentorship sessions with Japan-based showroom H3O Fashion Bureau to help them successfully launch their brands in the Japanese market. The culminating activity is a three-day showroom presentation (July 7-9, 2021) in central Tokyo's fashion district. Each brand will showcase its collection for both buyers and the general public.

Photography by Erwin Canlas
Art Direction by Kit Singson
Sittings Editor Patti Sunio
Coordination by Sheryl Abrera
Hair and Makeup by Aria Ortega
Model Eron Sagun
Video shot and edited by Erwin Canlas
Lookbook Video edited by Ian Francisco
Additional photos courtesy of HA.MÜ