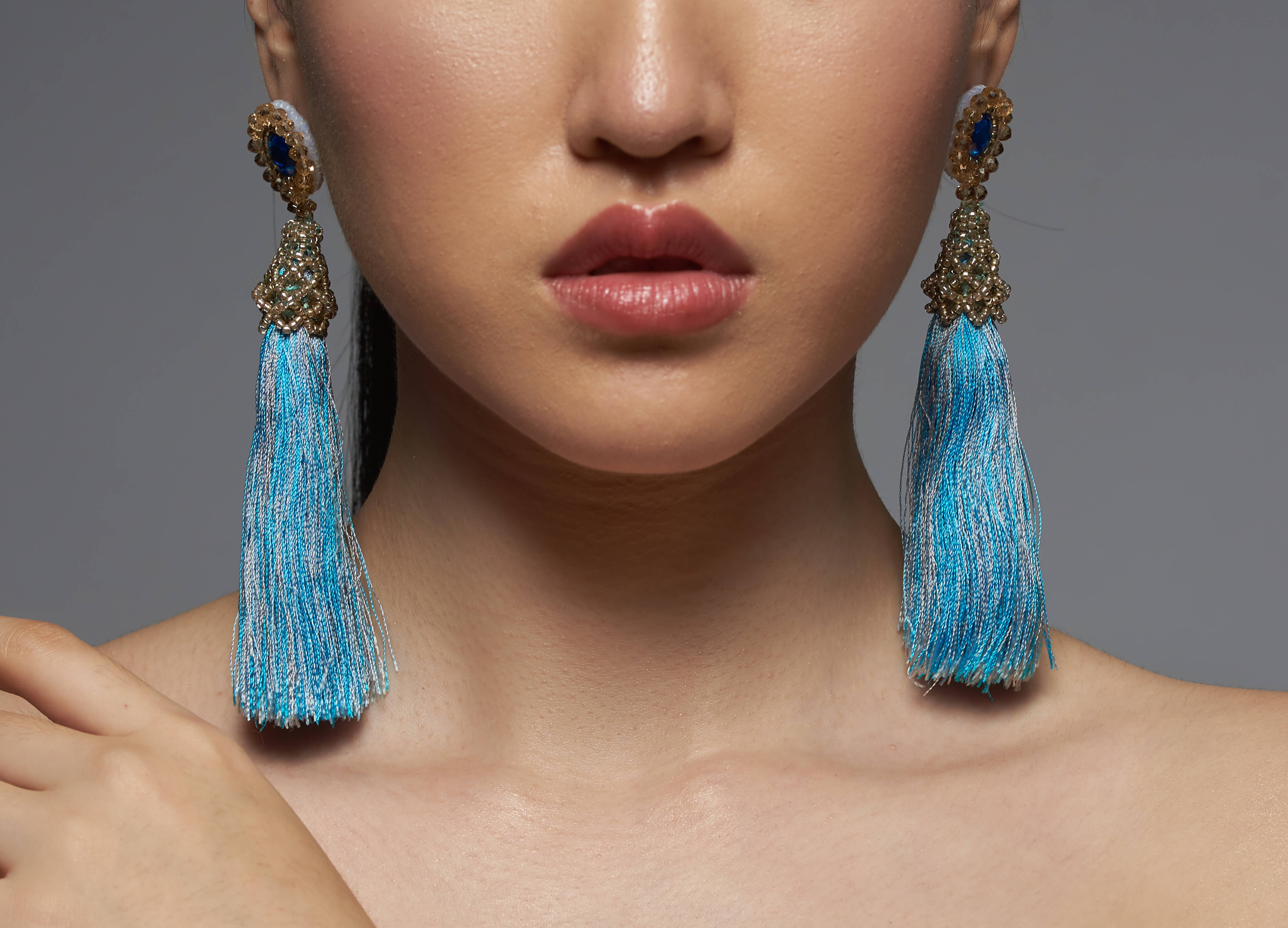 Piece by Piece
Behind every Tina Campos design is a story personal to its wearer, the designer herself, or the materials used and the artisans who made them
by Patti Sunio

Tina Campos' eponymous jewelry line is an amalgamation of her purpose and passion. An entrepreneur and mother of three, the designer hopes her brand to be a vehicle for women empowerment, and an avenue to express her creativity through local crafts-making traditions.
What started as a hobby has grown to become a full-fledged family business. Campos is a business management graduate, yet her interest in fashion led her to work in a magazine for a good four years. "Exposure to the industry led me to further my interest and finally start my own business," she shares.
And so in 2002, her own Filipino luxury jewelry brand was born. "Our designs are constantly evolving," she explains. "We want to offer contemporary designs while maintaining handcrafted traditions and making sure that our designs are still at par with global standards." This is expressed in Campos' use of raw materials abundant in the Philippines, such as freshwater pearls with semi-precious stones, corals, antiques, wood and shell, crafted into fashion accessories which she describes as "design-intensive."
"Self-expression through wearable art is a calling," says Campos. "The people around me are my inspiration," she explains. She designs her own, but also frequently collaborates with clients and the artisan communities that help make her pieces. Their input is as valuable as her own. Whether it's a one-of-a-kind piece from her imagination, or one crafted together with other creative minds, "each piece tells a story of its own," she adds.
The Cebu-based accessory line Tina Campos, to date, is part of FamPh, PhiExport Cebu, and FAME+. The brand has also been exporting to Alberta, Dallas, and the United Kingdom. Locally, Tina Campos has her creations on display at Lily at Discovery Primea in Makati, Plantation Bay Resort and Spa in Mactan, Crimson Resort and Spa Mactan, Crimson Resort and Spa Boracay, and Fiesta Souvenir Shop in Iloilo, although some have been halted or put on hold due to the pandemic.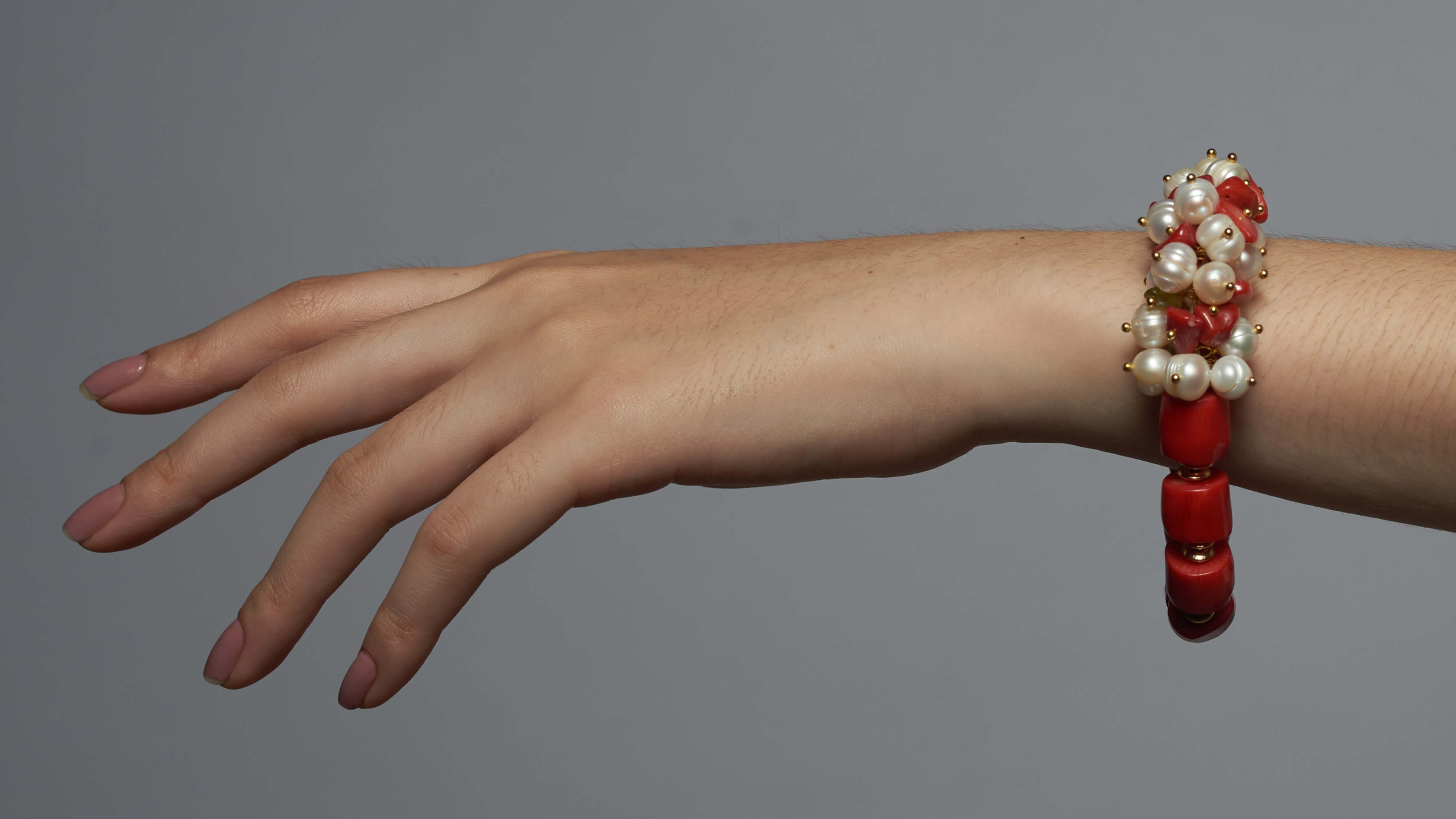 Jewelry designer Tina Campos combines a variety of materials, resulting in unique pieces that tell a story. In photo is a statement coral bracelet with freshwater pearls

CRAFTING STORIES TOGETHER
In her works, Campos hopes to promote two things close to her heart: local craftsmanship and women empowerment. "As a designer, my creation of art is in the process of bringing together a new combination of elements that involves an understanding of our surroundings and creating stories out of it through my designs."
In her current roster of pieces, she considers her coral necklace and the keshi pearl statement necklace as the piece de resistance. "It expresses who I am as an artist, my feelings, and how I execute the complexity of the necklace," she reveals.
Outside her own creativity and personal experiences, she draws inspiration from stories of others, be it from her clients or the communities she works with. "I want to make something unique and wearable that celebrates important life events," she explains. "Part of my design process is creating works of art inspired by people's stories and their journey, and combining them with my own experience and cultural background."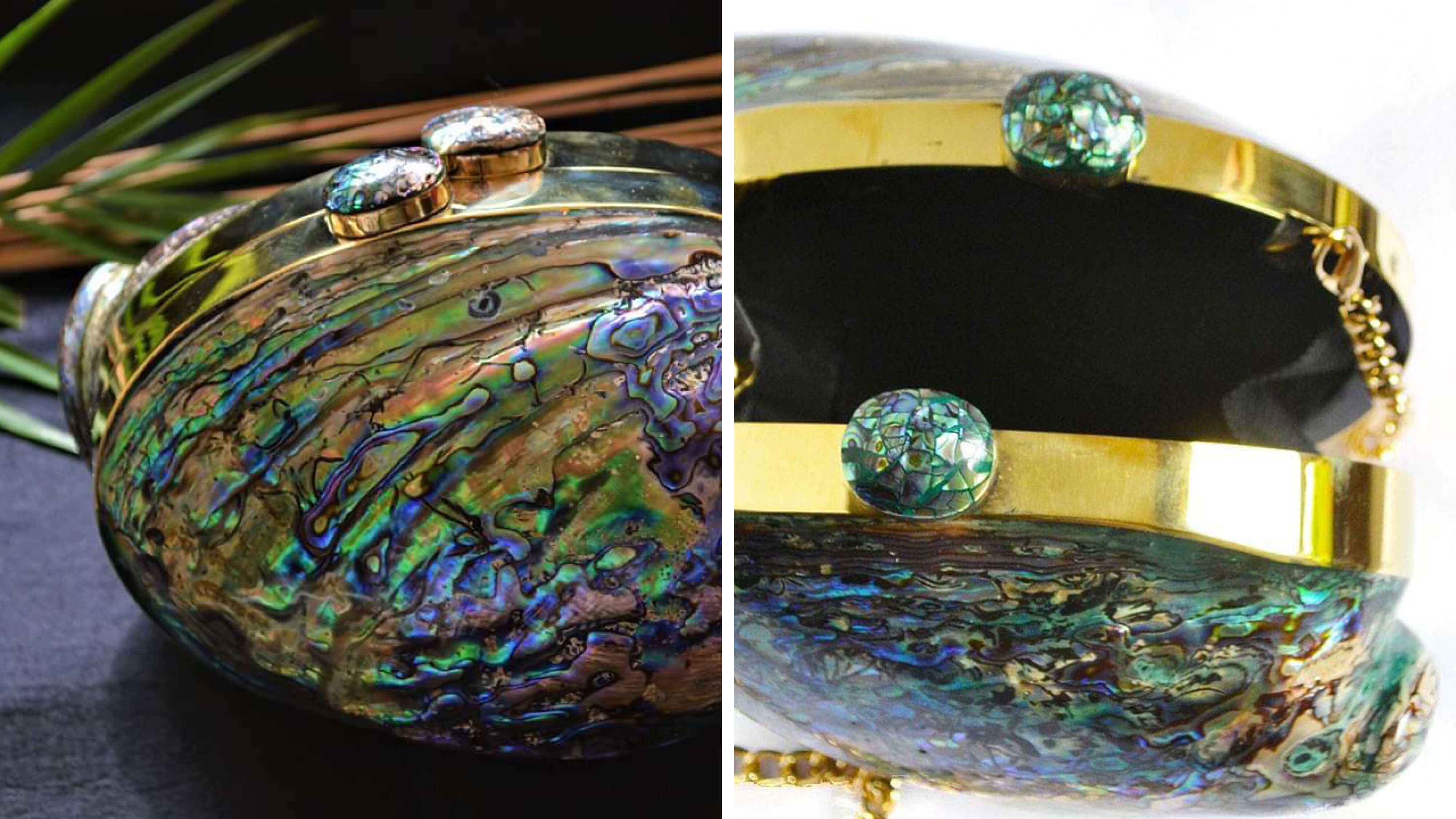 A favorite of the designer: an ethereal clutch bag made of hand-carved Paua shell, brass metal, with a gold brass chain and velvet lining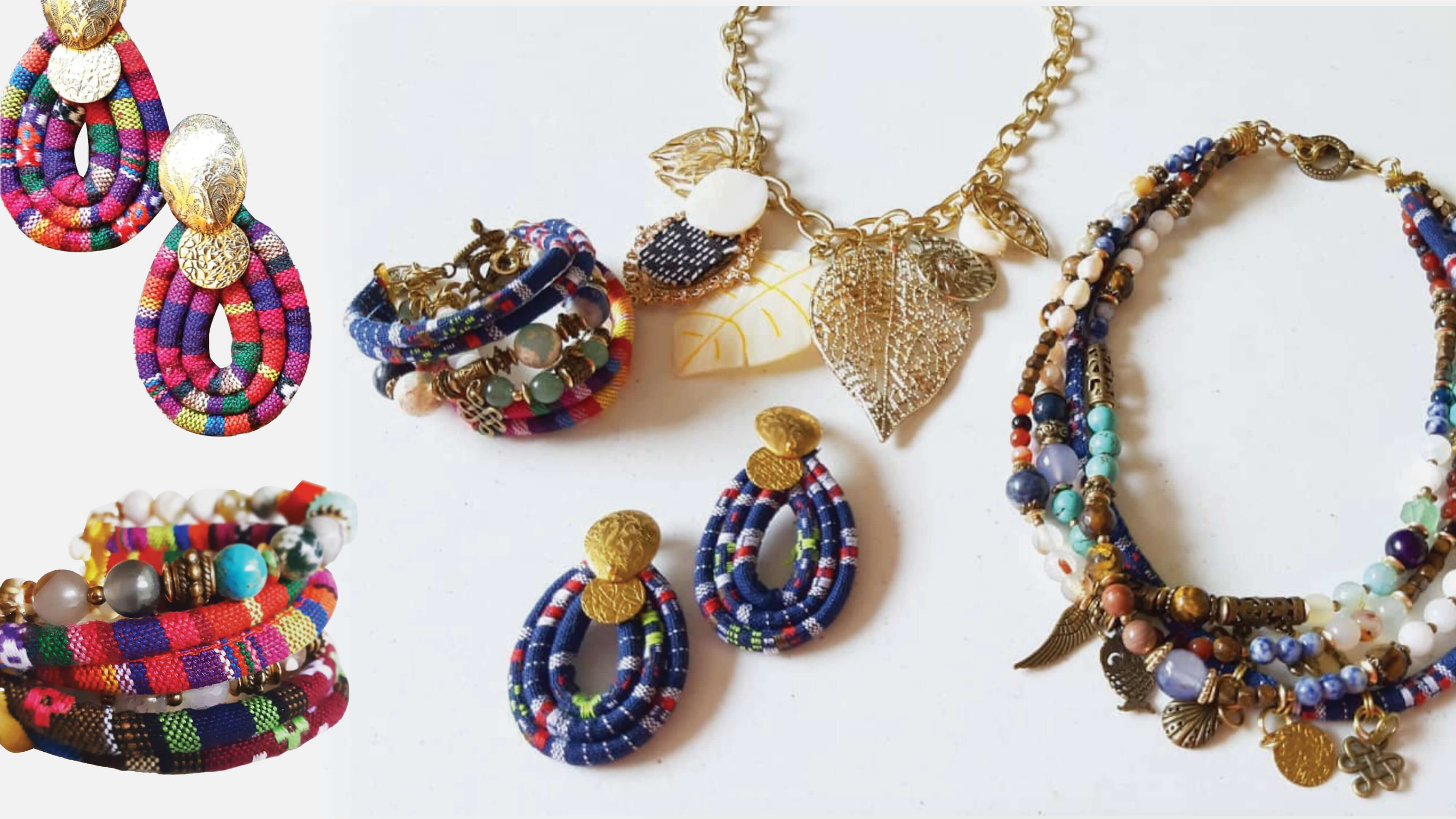 Colorful Yakan fabrics adorn Tina Campos' jewelry pieces

WORKING HAND-IN-HAND WITH WOMEN
Women empowerment, for Campos, refers to two things: one is empowerment through fashion, making a statement with her "elegant jewelry that transcend trends and time," and another is empowerment through livelihood and support.
The luxury jewelry line is made possible through partnerships with a number of livelihood and craft initiatives. For her new mother of pearl shell clutch purse, earrings, and necklaces, for example, Campos worked with Cebu's shell crafters. She's also previously purchased yakan fabric from residents of Lamitan, Basilan and worked together with the community's livelihood organization to help in the making of her colorful collection of jewelry and bags. In the past, she has collaborated with weavers in the Ilocos region and Iloilo.
The designer is one who enjoys the process of sourcing the best material from wherever part of the Philippines, and figuring out how to use them best and creatively in her works. It's a mishmash of materials and her work as a designer is to make perfect sense out of it all—and stylishly so.
"More than a success story of Filipino entrepreneurship that works hand-in-hand with communities," Campos concludes, "I want our brand to be remembered for our advocacy, which is to empower women from all walks of life through our local craft and design."

Photos courtesy of brand