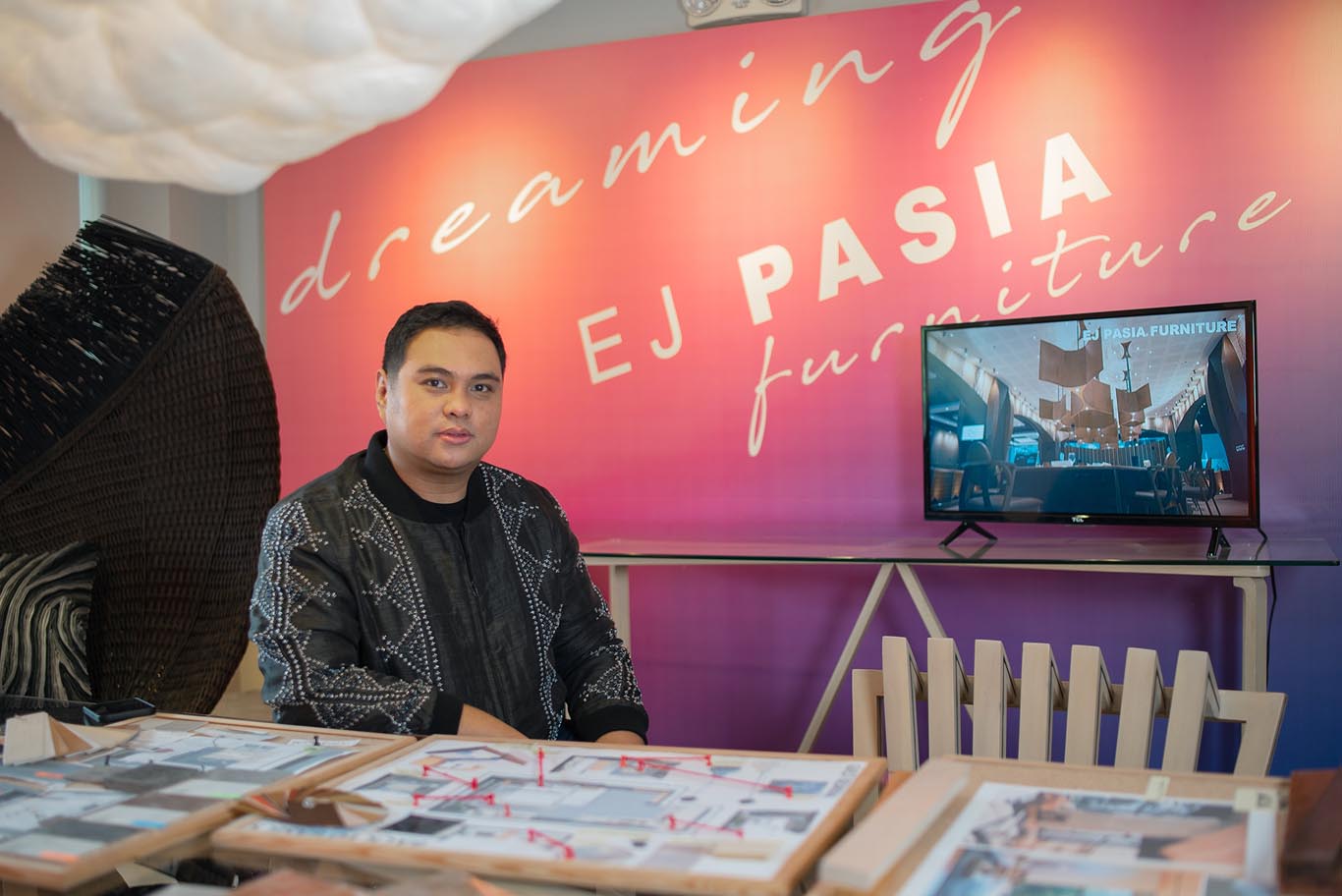 Label X Marks the Spot
Architect and furniture designer EJ Pasia has a practice of keeping things on point


by Jesse Boga Madriaga

Coming from Mindanao, south of the Philippines, architect Emmanuel Joseph "EJ" Tan Pasia has all the cultural and historical references to draw upon for his practice. His hometown Davao is where durian, orchids, the Philippine Eagle, and diverse ethnic groups thrive.
However, he takes on a different route and instead taps on his emotions and senses to create his own story. "I revisit the idea of being original by being a rebel of sorts," he smiles. "You can't be really polite when it comes to design. At some point, you have to clash with ideas and question them. In a way, I deviate from traditions but still have a good knowledge of what they mean to me and to my practice."
For example, Pasia starts from scratch and works toward sprucing up a simple stool into a statement piece. The result is the Myra, and it came about by putting together a velvet floral-motif upholstery and a bright yellow metal chain over a mahogany wood frame. Quirky.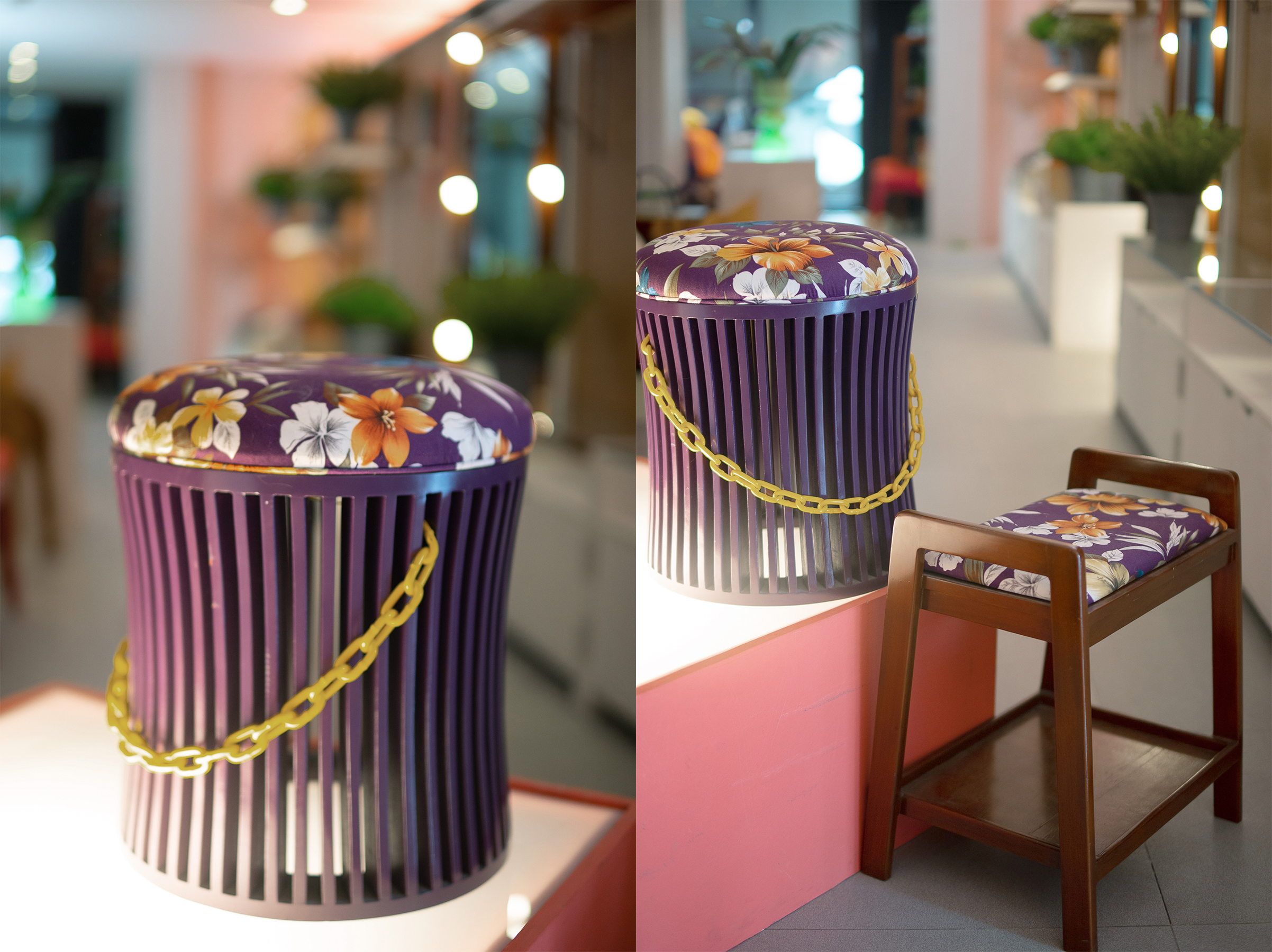 True to his unconventional ways, Pasia's Myra stool is both decorative and functional
The Ateneo de Davao-educated architect-designer puts his design practice into order by following an approach that he refers to as DAFT—the culmination of dependable design, architecture in form, fun experiences, and timelessness.
In reality, it is much simpler than that.
"I design with my own heart and get inspired by my own experiences," Pasia explains. "I explore bottled up feelings; produce pieces based on events that have happened in my life; and tap into images from my relationships and dreams. I look at things as they are. Once I get a firm grasp on an idea and its form, I refine the form. I go over it and remove elements from the prototype. As I take away from it, it becomes more."

ALTERNATIVE SOLUTIONS
He expresses this the best with Label X, a line that he imagines would evolve into a lifestyle brand someday. It offers alternative design solutions for modern living spaces; in the future, the line plans to carry home essentials and even ready-to-wear pieces.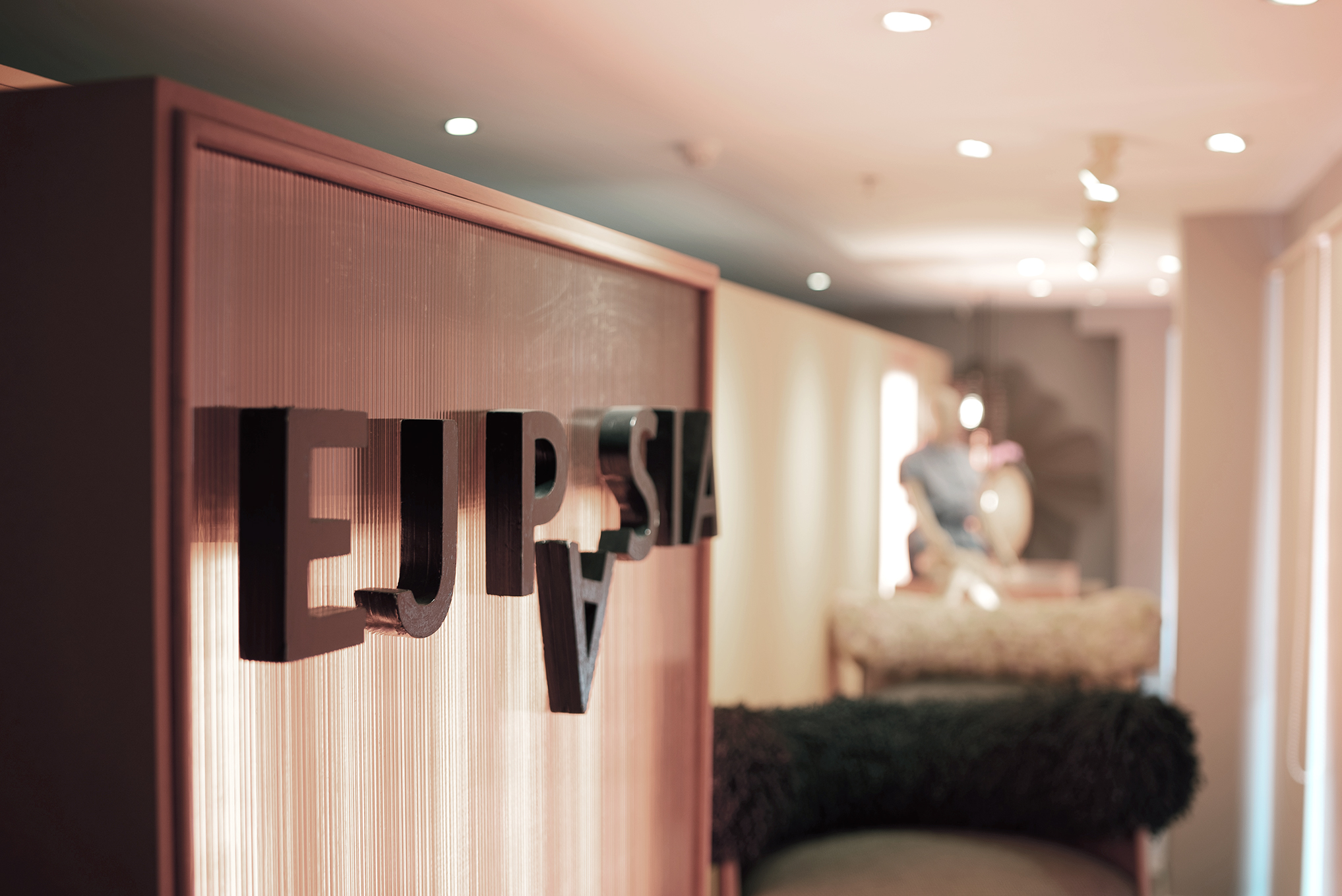 At the entrance of his studio reads EJ PASIA, with the 'A' deliberately falling off alignment. Fun and playful, vibrant, and on a league of his own, his studio immediately sets the tone for what his brand has to offer
"In most advertising media, 'label x' usually refers to the unfavored brand. With my Label X, I imagine going against the grain by highlighting function no matter the space," he points out.
The home accessories are built using locally sourced mahogany and reinforced with powder coated steel; while the larger furniture pieces are made of laminated marine plywood and "very random materials you can source in the hardware." Label X pieces are modular, designed to work with each other, and offer space-saving features. It was important for Pasia to give clients the creative freedom to put the pieces together based on how they deem fit and their interpretation of how each piece should function.
"Label X furniture may have basic materials but these are value-engineered to be mixed and matched into a space to make it more efficient but compact," he notes. "Label X does not want to be the best in offering modular pieces. It wants to be understood by young couples, students, and professionals seeking function in its truest form."
Pasia achieves this by following a creative process close to his heart: faith in how things work and trust in how people and ideas come together.

CREATIVITY IN THE WORKSPACE
Where he works is fundamental to Pasia's creativity and thinking. Having a sense of calm gives him clarity and he nurtures creativity in the workspace by striking a balance between work and everything else.
Pasia relies on a rigid workflow. "For us to be at our best, I always make sure that our workflow is systematic," he reasons. "I make sure that tasks are equally divided among my teammates. I never let anyone bring work home. I also always make sure that my team is connected. We have access to various media for work and for fun."
There is also a peculiar sight in his showroom: his feline friends. "You will see that we also have three cats in our office: Lilly, Lemon, and Covie. They bring us joy and surprise all day; they make our work environment playful and that reduces our anxiety. In a way, being around them is therapeutic."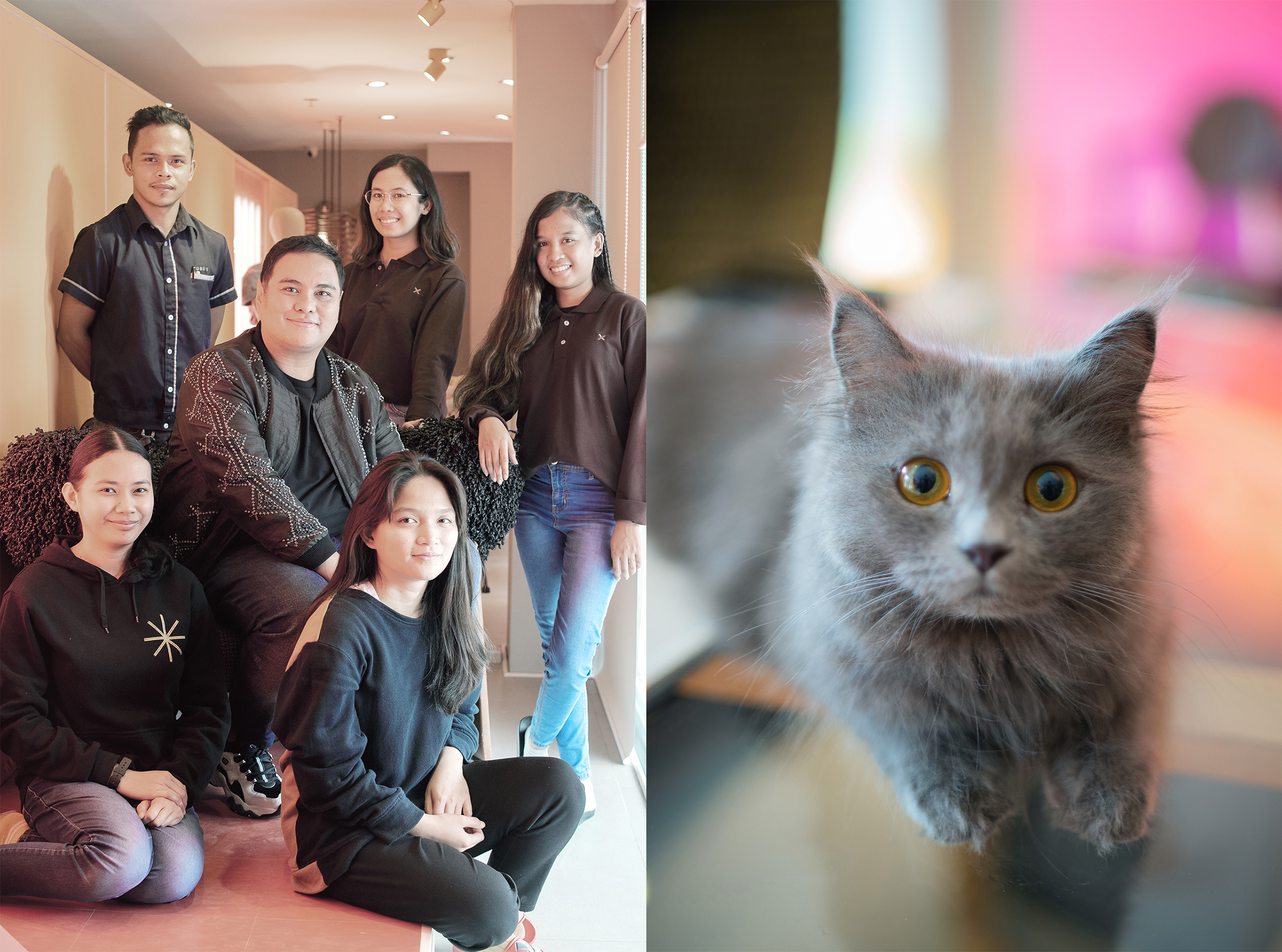 When the going gets tough, Pasia and his team turn to K-pop, whatever's on Netflix, and their cats around the office. Meet Covie
Pasia has his own way of taking a breather, although he himself is uncertain whether that is what he is really doing. "I also take my own breaks, although my hobbies outside work still feel like work!" he exclaims. "I recently got into restoring vintage cars. I bought myself a rundown Mercedes-Benz W211 (E240) and I'm trying to revive it."

RESILIENT INSPIRATION
Creative challenges are a constant in Pasia's life. "I tend to question my aesthetic every time I finish a collection," he admits. "I always feel that I shouldn't just stick to what I believe in. When I do that, I tend to stop pushing myself and exploring new ideas."
He keeps himself on his toes by being on the lookout for trends and inspirations but never strays from his true inspirations, such as architects Zaha Hadid, Le Corbusier, and Frank Gehry. "They inspire me. They changed the architecture landscape by creating their own visual aesthetic. They were pioneers of their time when it comes to design progression. I like how their practice focused on refinement and a complete detachment to tradition."
With Pasia, every progress in his practice appears to naturally unfold, taking him from architecture to design without even trying. "My architecture practice came hand in hand with furniture and interior staging," he shares. "I have always been fascinated by crafts and woodwork. It all happened organically."
His architecture practice started in 2006 and he ventured into furniture design in 2010. He's grown attuned to his environment, has adjusted to its pace, and churns out furniture like clockwork. "As a designer, I make sure that my senses are in tune with common and daily experiences here and around the world," he notes. "There are so many untapped materials, designs, and ideas. This is why I refocused my aesthetic; it's a response to the needs of my environment."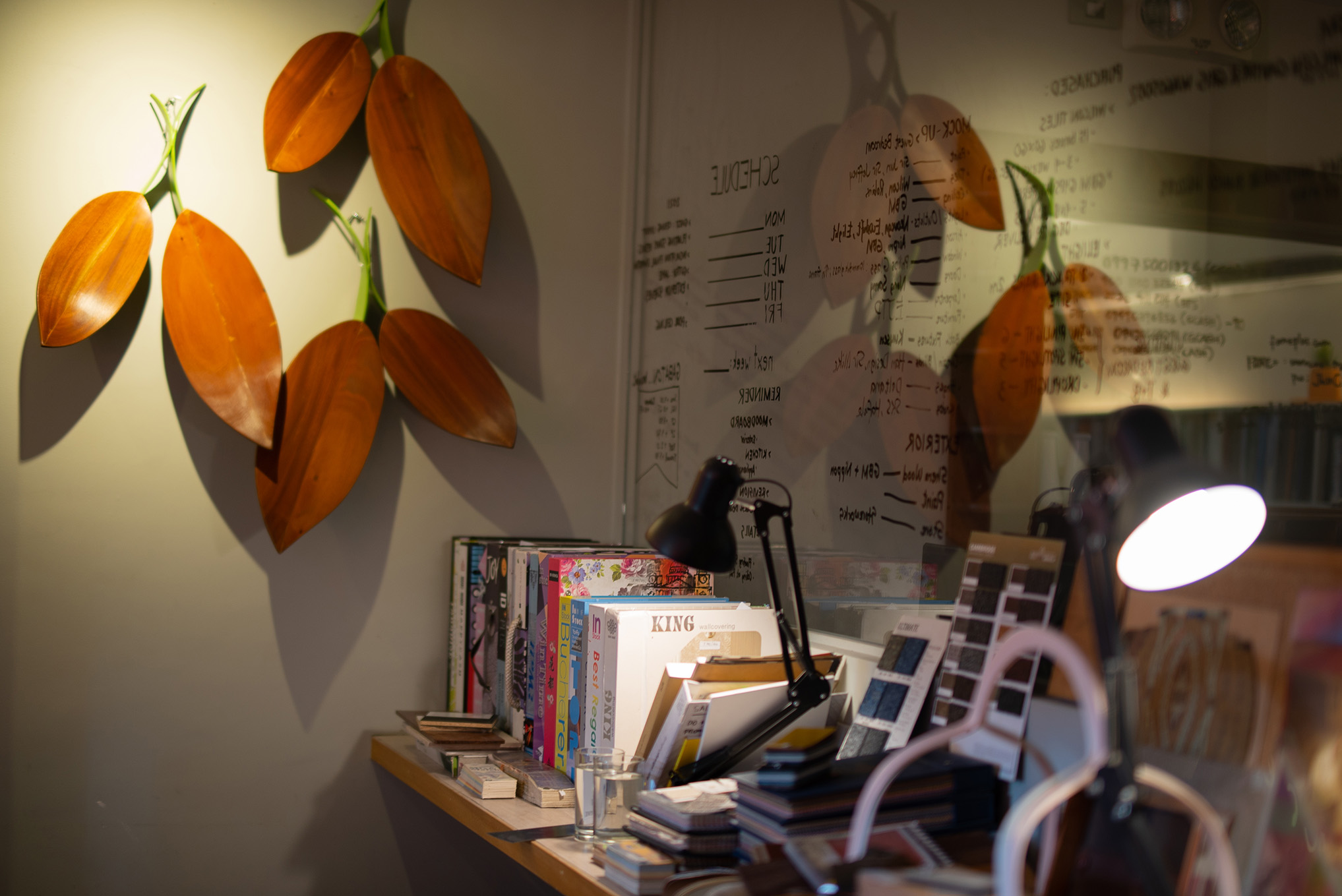 An architect, furniture maker, and designer all rolled into one, Pasia does not limit himself to one discipline—he goes where his inspiration leads him

The learnings from his mentors—even from way back—also keep him calibrated and ready for any design work. He recalls his Manila FAME Design Commune experience by describing it as a pivotal moment in his practice.
"In 2018, when I was doing prototypes, I got to meet people who are the best in their fields," he recalls. "It was their mentorship that shaped my practice and helped me in the way I create designs. I would say that my time with Design Commune designers Detlef Klat and Tess Pasola really gave me a better picture of my practice. Their mentorship helped me realize that there are a lot of new-found strengths and techniques that we can do within our own production capacity."
He likewise attributes his state of mind to an old mentor from college. "I will always remember the words of architect Renato Basa from my Ateneo de Davao days," he adds. "His teachings continue to guide me to this day."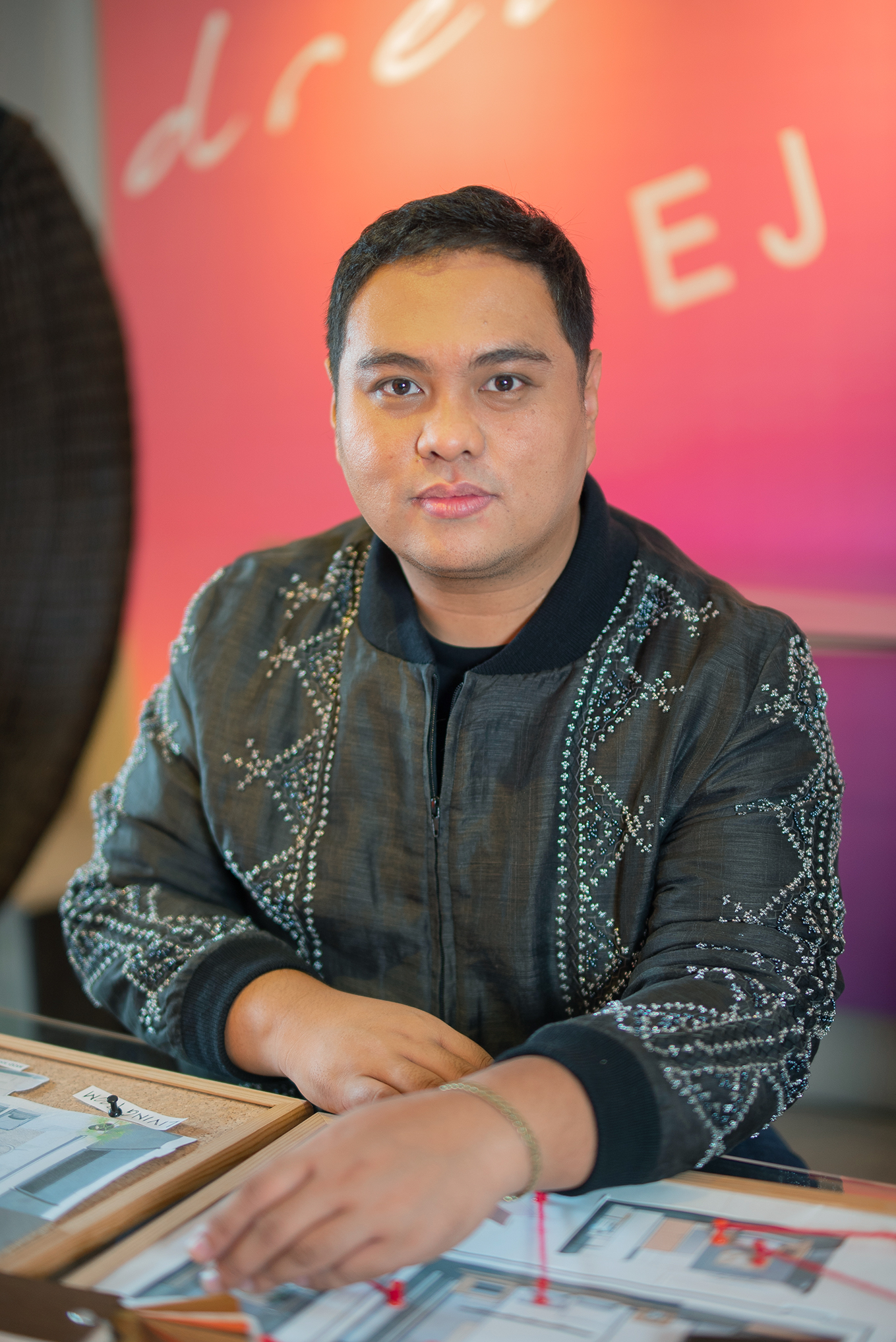 EJ recognizes that his past experiences, especially the lessons he's gained from mentors, play a big role in shaping his own design philosophy and what makes Label X what it is today
The guiding principle he refers to is trite but enduring: to KISS—Keep It Simple, Stupid. "I make sure to simplify the form but that time and effort are put into the craftsmanship. Everything that I do is a refinement of what I conjure up in my mind."

Photography: Rap Meting